We received a VIZIO TV and Crave Go speaker for review. All opinions are our own.
There comes a time in many nomadic people's lives when the open road doesn't hold as much interest as it once did. That was around two years ago for us when we decided to set up a home base back in Canada.
Now, that doesn't mean we don't still love to travel, because, well, we do, but living out of a perpetual suitcase can take its toll on the spirit. Especially the consumerism spirit. You know, the one that prefers Black Friday to Thanksgiving, Boxing Day to Christmas, and well, you get my drift.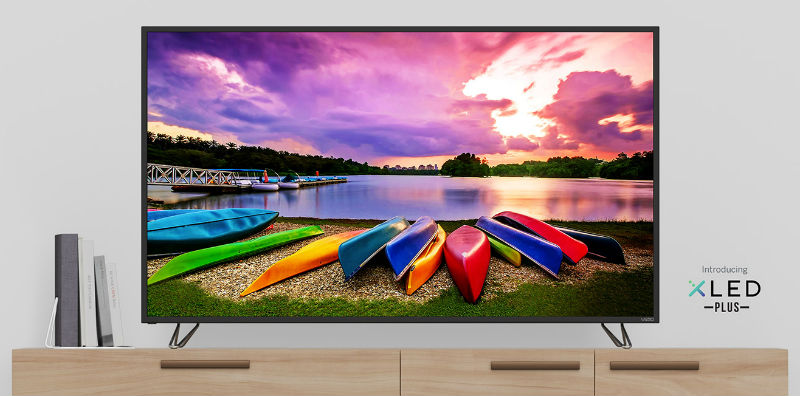 While living out of a suitcase can be liberating, freeing you from the things that hold you back, it can also limit you from achieving total comfort and relaxation. While I admit nothing beats lounging in a world class spa or floating in a warm sea for relaxation while I'm out globetrotting, when it comes to comfort, at least in my mind, nothing beats a warm comfortable bed, or a beanbag chair (see this Yogibo Max review).
That said, one of the things we recently picked up that has made our life more enjoyable while not on the road is a new VIZIO 4K TV for our bedroom. Talk about total comfort. A super comfortable bed and a TV that streams 4K Netflix whenever I want? Yeah, you'll thank me later.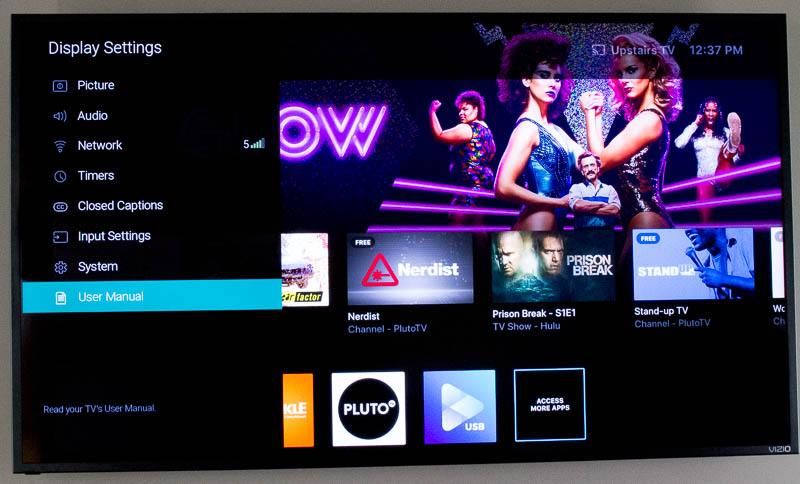 Not wanting to overdo it, we limited ourselves to a 50 incher. I mean, there's comfort and then there's just decadence. Especially for a bedroom TV. We did however get the second highest quality 4K LED TV that VIZIO offers, the M50-E1. The only better model that VIZIO currently offers is the P series and, to be honest, we're more than pleased with the M series.
Check out our unboxing video below.
Unlike the previous generation models, the M series doesn't come with a tablet, but this time it has a fully functioning, normal remote control, which I prefer. We already have phones and tablets to spare, so having another one to charge and deal with would have been more of a hassle. Of course, this VIZIO model still features Chromecast abilities included with its VIZIO SmartCast suite, so if you want you can still stream just about anything to the TV via your own phone or tablet.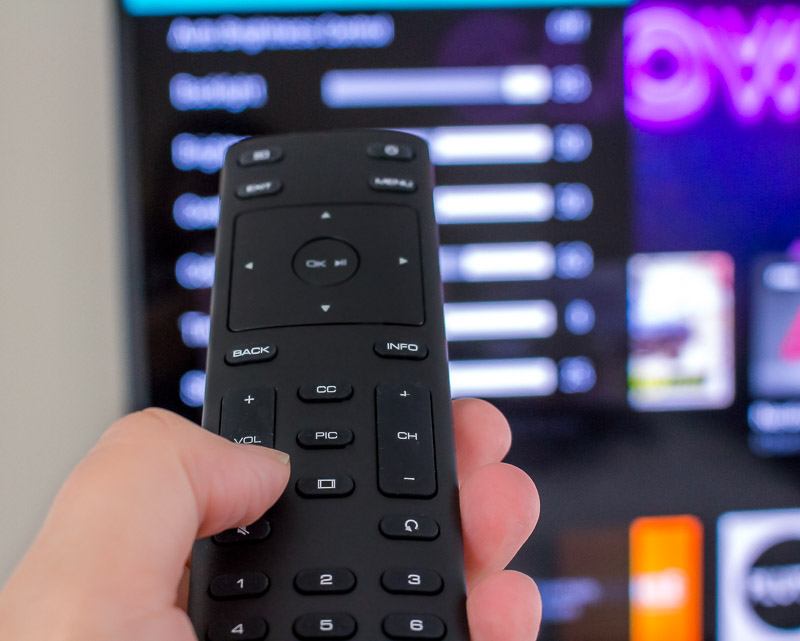 Another nice perk this year compared to last, is that the VIZIO TV also has built in apps like Netflix, Amazon Prime Video and YouTube. This is great, since it allows us to start watching the moment we turn on the TV and doesn't require an outside source. The fact that it still has Chromecast built in also allows us to say to our Google Home (another small luxury we recently purchased), "Hey Google, play Stranger Things on the TV in the bedroom" and when we get up the stairs our show is waiting for us.
Here's a little peek at of some of the apps that are available to cast with Chromecast.

You can also control your VIZIO's SmartCast 4K display using Amazon's Alexa. There's a tutorial on how to set it up here.
Now, luxury has its cost, but the VIZIO TVs are priced well for what you get. Plus, they're often on or leading the best 4K TV lists. As a matter of fact, the M series are usually noted as one of the best 4K TVs on a budget or off.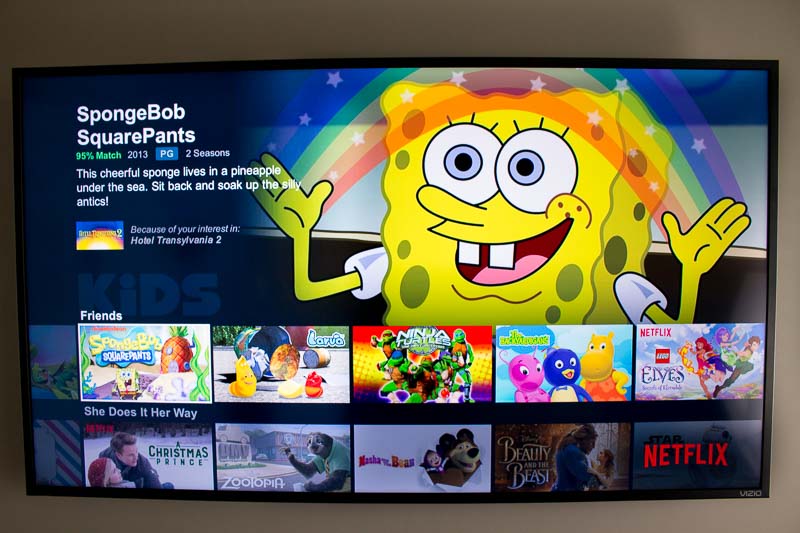 Since the VIZIO M50-E1 is a 4k Ultra HD LED TV with HDR10, that means 4K content from Netflix and YouTube looks amazing. Since it comes with both HDR10 and Dolby Vision HDR formats, you don't need to worry about which format their HDR content is in. The display defaults to Dolby Vision, which typically offers a better picture than HDR10, when it's available.
It also has 32 local dimming zones, which means you get great blacks compared to other LED TVs, which is great for dark scenes in shows or movies. Its V8 processor means it's quick at navigating in the apps, and with 802.11ac WiFi it can connect well with our router without buffering issues or requiring me to run Ethernet cables to it.
I also like its small bezel, and though we hung ours up on the wall (it comes with 400×400 VESA mounts), it comes with cute little metal feet. When it comes on, the VIZIO's colors are vibrant and the picture quality is fantastic. Because of the auto dimming zones, movies and dark shows look great on this TV.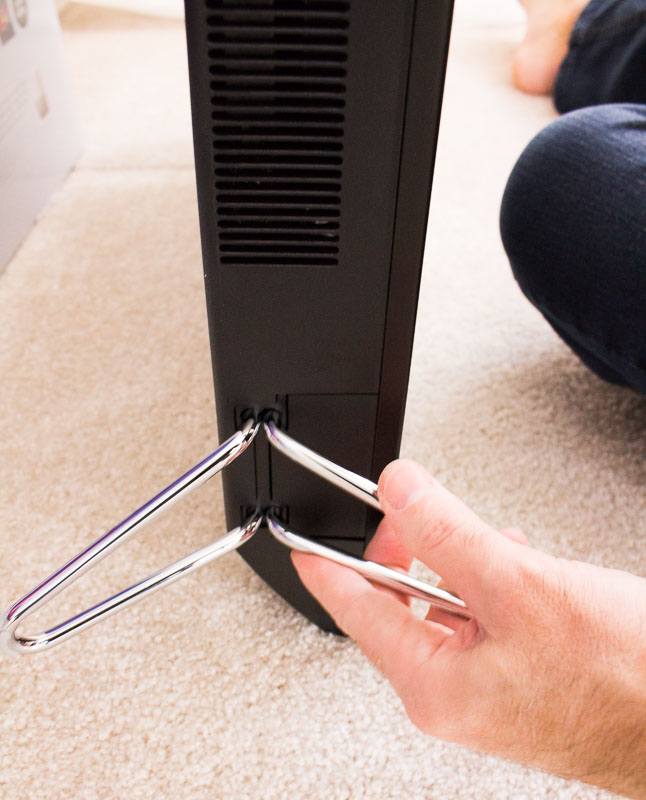 Some of my not so favorite aspects of the VIZIO M50-E1 is that the viewing angle seems fairly limited. It tends to wash out the farther away you are from center, but that doesn't matter in our room where we sit directly in front of the VIZIO TV. I also find it has a bit of a glare with its somewhat shiny screen, but we usually watch this TV at night with the lights off so it's not a big deal for us either and, in my mind, the dark blacks more than make up for these issues.
The VIZIO TV line up don't include a built-in tuner, so you can't watch over the air broadcasts without a separate device. This isn't a problem if you have cable or satellite since you'll be using those boxes anyway, but it does force you to pick up a cheap box if you wanted to capture free over the air signals. Our city only gets one over the air channel so it's not a big deal for us either.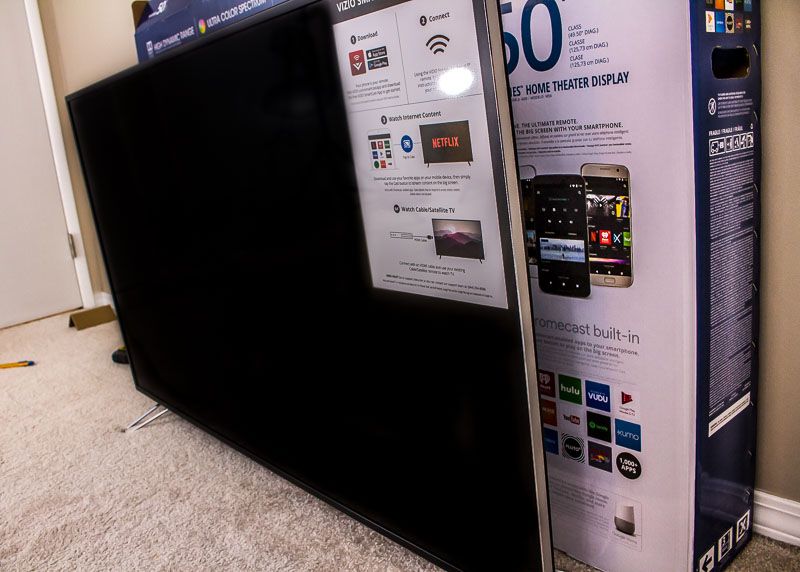 One of our favorite things about this TV is that casting videos to it is just so easy. We just start whatever app we want on our phones, like YouTube or PopcornFlix, and with a tap and swipe it shows up right away on the VIZIO. Like I previously said, the VIZIO also plays nicely with our Google Home and Google Home Mini and you can tell it to play videos directly as well as control the TV with your voice.
We truly wish our main TV had this functionality, and you can rest assured our next one will have Chromecast abilities built in as well.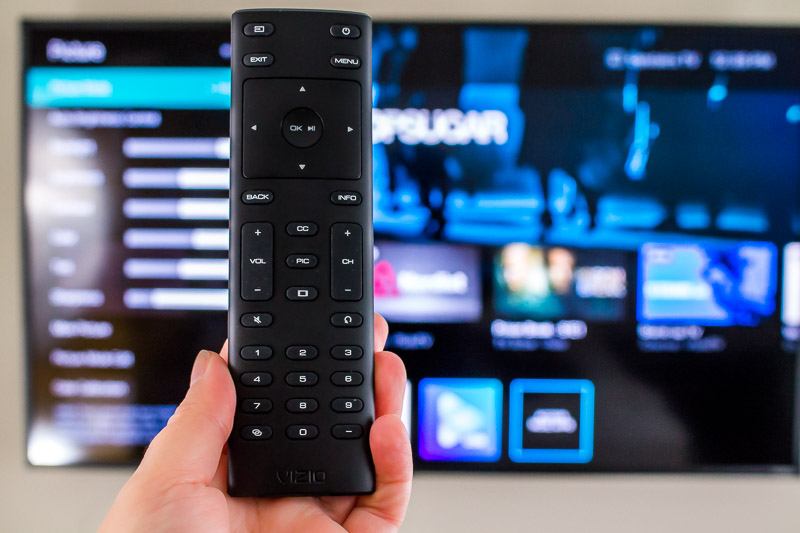 All in all, we love our new VIZIO bedroom TV and it makes coming back to Canada from a long jaunt out in the world that much easier. A bigger problem is that we get so comfortable it makes it harder and harder to leave…
Casting with the VIZIO Crave Go speaker
In our time off from travel, we've also been having a blast casting to our VIZIO Crave Go speaker using our Google Home.
The VIZIO Crave is a wireless speaker with Chromecast built-in, which means it's compatible with Google Home, Google Home Mini, and the Google Assistant. The Crave Go is compatible with all your Chromecast-enabled audio apps, like Spotify or Pandora.
We've been using it to cast Google Play Music into our kitchen, from the Google Play in our living room.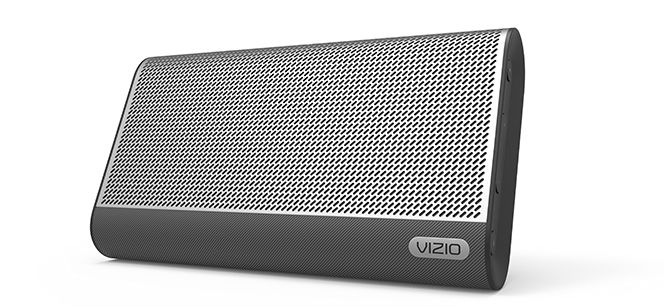 Since it's wireless, we're really looking forward to using it to listen to tunes on our back patio when the weather warms up a bit. VIZIO says there are six hours of battery life, so that should give us plenty of time relaxing in the hammock in the back yard. Just note that it isn't water resistant!
What's really cool is that when we cast over WiFi from our phone, it means that our music isn't interrupted, even if we get a text or phone call.
This is definitely one nice looking speaker. There's a good looking metal grill that over the front and top of the speaker. Since it's portable, there's soft, rubberized, plastic on any sides that may bump while it's being moved.
It has a nice, sturdy feel, and it definitely has a look of quality.
There's a kick stand on the back that we use to keep the speaker upright. Underneath, you'll find a USB port, the power button, a charging port, and an auxiliary port. The volume buttons are on the side, as is a Bluetooth and a play/pause button.
How does it sound? It's plenty powerful, and teamed with our Google Home, it has a nice sound for around the house, though we found the bass a bit muddy.
The Crave Go or Crave Pro(see below for a little chat about the Crave Pro) can be part of a multi-room system. If you have multiple speakers, you're able to link them together to play the same thing everywhere, while still playing different things in different places.
Crave Pro wireless speaker
If you're looking for an at home (non portable) speaker, VIZIO also offers the Crave Pro, also with Chromecast built-in.
The Crave Pro speaker is designed for multi-room pairing, to connect with other VIZIO SmartCast™ Crave Wireless Speakers for seamless listening throughout your home.
We didn't get a chance to try the Crave Pro, but we thought we'd give it a mention, as it's VIZIO's slightly higher quality speaker, and its sound gets great reviews.
Like the portable Crave Go we tried, the Crave Pro works with Google Home, Google Home mini, and the Google Assistant. The Crave Pro is compatible with all your Chromecast-enabled audio apps, like Spotify or Pandora.