What's the best way to keep your credit cards, cash and passport safe when you travel?
The default is usually a money belt or fanny pack that you wear around your waist, and may tuck away under your clothes. But there are much better options out there for keeping your stuff safe, like neck wallets. This review looks at money belts, neck wallets, leg and wrist wallets, belt wallets, bras and clothes with hidden pockets.
We've tried on, used, researched or received recommendations on each of the products we've listed. We only recommend products that we would use and would recommend to friends. We don't accept advertorials or payment for positive reviews.
Money Belt

Like the maligned fanny pack, the money belt suffers from a bit of an image problem. Money belts are usually associated with dopey Western tourists in plaid shorts and white socks with sandals. That said, money belts can be a practical choice.

Money belts hidden under the clothes can hide your stash from pickpockets, but they're not much of a defense against getting held up. One of the first things a robber will look for is the classic money belt around your waist.

It can also be a little awkward removing money if you keep your money belt tucked under your pants. You may want to find an inconspicuous place to pull the belt out, rather than reaching into your pants at the till.

If you get a money belt, make sure you get one with an adjustable waist that is comfortable against your skin. Silk is a great choice, as it's soft, durable and washable.

This highly rated Rayix RFID Blocking Money Belt gets great reviews if you're in the market for one. Check prices here.

Money Belts for Women

Personally, I don't like money belts. On my first overseas trip to Amsterdam, I used a waist travel pouch. I'm a smallish woman, and, even with only a passport, two cards, and a little cash inside, the money belt was just too big to hide under my clothes. I spent my whole trip looking like I was wearing a colostomy bag.

On top of this, the money belt was made of a rough linen-like fabric, and rubbed against my skin the whole time. The elasticized waist strap was also hot and uncomfortable. Very irritating.

That said, I may have been better off using a smaller waist wallet designed for runners. I've been using the small but extremely stretchy original SPIbelt Sports / Running Belt off and on for the year, and it's a much better alternative to bigger money belts for me. It will easily hold an iPhone 6 or Galaxy phone, but squeezing in a smartphone, a passport, and a bit of cash is a challenge. When the SPIBelt is full, it's difficult to get items out again without spilling all of the contents. See it on Amazon here.

Fanny Pack

There's no escaping that a fanny pack is generally considered to be one of the dorkiest things you can wear (with the possible exception of pants hiked up to your chin). That said, if you're willing to brave social ostracism, a fanny pack is pretty practical.

They come in some reasonably cool new designs, and they hold a lot. You can even slap a water bottle on the side of some of these suckers. Manufacturers are getting wise to the uncool factor, and have started branding these as kangaroo or lumbar packs.

A lot of the newer fanny packs can also be worn across the body; either on the back or front.

The feature-packed YUOTO Outdoor Fanny Pack and the SAVFY fanny pack both get great reviews and are available from Amazon.

Click here to check YUOTO prices.

Fanny Pack (Security)

The major problem with fanny packs is that your valuables are not hidden, like they'd be with a neck wallet or money belt. This not only tells crooks the location of your stash, but opens you up to pickpockets sliding open the zipper. Some of the more expensive fanny packs like the Pacsafe Vibe 4 liter Anti-Theft Hip Pack have smart RFID -blocking pocket that help protect personal data on passports and credit cards, plus slash proof straps. The Pacsafe fanny packs also are lined with a slash-proof metal mesh, and can be locked.

Pacsafe also makes a anti-theft waist wallet/money belt that gets great reviews. It's the Pacsafe Coversafe X100 Anti-Theft RFID Blocking Waist Wallet.

A word of advice: When talking to a British person, don't use the word fanny. In England, the word fanny has an entirely different meaning. In the UK, the word fanny is slang for a woman's privates, making for some interesting interpretations of "Could you grab my fanny?". Fanny packs are called bum packs or bum bags in the UK.

Neck Wallet

Admittedly, a neck travel wallet is still not extremely cool, but at least it's not a fanny pack. And travel wallets are cheap.

Charles and I used a neck wallet extensively in the past. It has room for passports, credit cards, money and the like. It's small enough that you can wear it under your shirt and no one can see it.

The most secure way to wear a neck wallet is like a gun holster; over your neck, with one strap under one arm. If you wear it only around your neck, it's easy for someone to rip off. The only downside is that it's a bit embarrassing to have to lift up your shirt to access your wallet if it's slung under your shoulder. Keep it slung in front of your body.

You can easily convert a neck wallet into a money belt by strapping it around your waist and tightening the straps. Try hanging a money belt around your neck – it just won't work.

There are always downsides. Neck wallets can sometimes pull against your neck and become uncomfortable. They can also be bulky under clothes if you're carrying a lot of stuff. My nephew was accused in Amsterdam of being an undercover cop when someone spotted the black strap for his neck pouch under his shirt.

A soft fabric on the back that feels good against the skin is a good choice for a neck wallet, along with one that's durable, washable and lightweight. I wore a neck wallet like the Zero Grid RFID Undercover Neck Wallet almost every day for a year. It was lightweight, thin, and comfortable, though I did have to sew the straps back on after about nine months.

The Venture 4th security travel neck wallet, gets a four and a half star rating from over 3,000 people on Amazon, so it may be a good alternative if the Zero Grid isn't your thing.

Tips for Using a Neck Wallet

Black is a good color for a neck wallet or money belt, as it hides dirt well. My first neck wallet was beige silk, and after wearing it every day for a month, I noticed it had changed to a funny off-dirt color. Even after washing, it didn't return to it's original color.
Keep some day to day cash in your pocket so that you don't need to go digging into your pack to buy a bottle of water or a quick bite to eat. The idea is to keep it hidden if possible.
You may have to sew the strap on the neck wallet to make sure it's the perfect size. The neck wallets I tried on were far too long, and hung down past my waist – not exactly inconspicuous.
Check periodically to make sure that the straps holding the wallet are secure. Over time, my wallets have begun to fray, and I've had to sew the straps back on.
Some neck wallets have sliders that allow you to adjust the size. This is a great idea in theory, but some of the sliders can pinch and rub your skin, and also show through your clothing. Some of Eagle Creek's neck wallets have these types of sliders. When we bought an Eagle Creek neck wallet, I simply slid the slider off the strap, and sewed the straps to be shorter.
You don't need to buy the kind with a clear cover over your passport. You'll need to take your ID out of the holder at the airport anyway.
Women, wear the neck pouch under your breasts, as it's much less visible.
If you can help it, don't overload the neck wallet, making it heavy and uncomfortable, and bulky under clothes.
Waterproof neck wallets can be clammy and uncomfortable against your skin. Instead of buying a waterproof neck pouch, use a sandwich size Ziploc bag to waterproof your valuables, and put the Ziploc inside your neck wallet.
Pacsafe has a neck wallet with slashproof straps, the Pacsafe Coversafe X75 Anti-Theft RFID Blocking Neck Pouch. We haven't tested this out personally, but it gets good Amazon reviews. Check prices here.

Belt Wallet

Belt wallets are simply a hidden pocket along the inside of a belt. They're very secure, but usually best for men, as they're a bit over-sized for women and don't come in a wide range of styles and colors.

Some belt wallets can trigger the metal detector alarm in airports because of a metal zipper.

The Jasgood Security Belt – Hidden Money Anti-Theft Travel Belt was designed by a fellow backpacker, and has a  hidden zippered security pocket to hold your valuables, with a hidden zipper and enough room to store a bit of cash.

Bra Stash

Ladies, this one's just for you. One variation of these is like the Pacsafe Secret Bra Pouch that loops over the center of your bra. There are also variations that tuck into your bra itself.

These sound like a great idea, but the one I tried on made me look like the three breasted alien from Total Recall. This isn't the greatest choice for a bulky passport or a lot of stuff, but can be useful to stash an emergency $100 USD, your driver's license and a credit card.

Leg Wallet

You can get wallets that attach to your leg or ankle. These would definitely work to hide your stuff from thieves and pickpockets, but you'll need to store the stuff you'll need on a daily basis elsewhere. If this is your only stash, you'll need to take your pants off every time you pay for something. This could make for some interesting transactions.

Some leg wallets can snag pantyhose, and rub against the sensitive skin on your thighs. I tried one on (hoping that it would make me feel like Lara Croft in Tomb Raider). It felt uncomfortable, and just too large, though I may have been able to adjust to it after wearing it for a while.

Next time, I'm going to suck it up and try the shockingly, unabashedly, ugly Raine Gear Tactical ankle wallet. It claims to be able to hide cellphone, cash, credit cards, I.D., lipstick, keys, and a passport.

The Enroute Deluxe Travel Leg Wallet rates well is well rated, and seems to hold a lot. It looks fairly bulky, and would probably be a better fit for a larger person.

Wrist Wallet

Wrist travel wallets are usually not large enough to hold a passport. Since these are usually visible, they don't do a great job of hiding your stash, though they're useful for preventing pickpockets. A wrist wallet is a great alternative if you're going on a quick run. Some will even hold your iPod or iPhone.

None of the wrist wallets I researched had stellar ratings, but it's worth noting the unisex Clöudz Wrist Wallet, which also offers RFID protection.

Shoe Wallet

Shoe wallets have a loop that tie around your laces, and they sit on the front top of your shoe . The main problem with shoe wallets is that they're only large enough for a little cash, and maybe a credit card or a key. Some brands, like Chums, are known for zippers coming undone or sliding around on your shoe.

The AmphiPod Shoe Wallet is available at Amazon.

Clothes With Hidden Pockets

These are clever in theory, but unless you're going to wear the same shirt of pants every day, not too practical.

That said, we've been hearing good things lately about Clever Travel Companion underwear with hidden pockets. They come in T-shirts, Stashitware women's boy short underwear, men's boxers, unisex tank tops, and even long john thermal underwear. We haven't tried them ourselves, but they get pretty decent ratings on Amazon. The only downside may be needing to sneak somewhere private to fish your passport out from your skivvies.
Just Use a Small Daypack
Another alternative is to use a small daypack to hold your valuables. Even better is a small bag that you can sling in front of your body, making it harder for pickpockets to access. Keep your wallet, passport, and essentials in the daybag, but have a small stash of cash in a pocket for incidentals so you won't have to pull out your wallet for every transaction. We bought an Eagle Creek daypack in 2003 (it came as a zip on addition to a large backpack).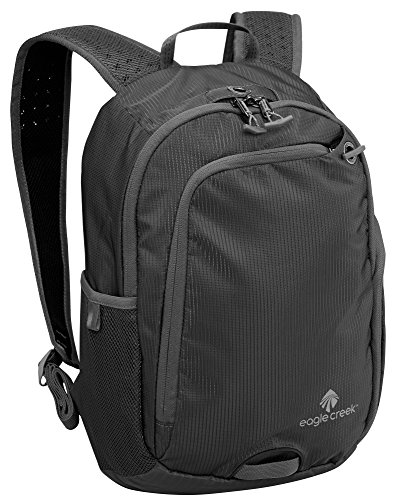 I kid you not, that Eagle Creek daypack was probably the best purchase I've ever made. We used it everyday on our year-long trip in 2003, on a six month trip in 2012, and on a three month trip to the Philippines and Hong Kong. It's been slammed around in airplanes, ferries and Thai longboats, shoved on the top of shared vans, and dropped into the luggage compartment of trains. It's traveled through over 20 countries.
I also used it almost every day for a few years just as a bag to carry my odds and ends to work and back. I've never had to do anything other than wipe it off occasionally. Not a stitch or repair.
It finally tore in the bottom and on the shoulder on our trip to Ecuador and Mexico in 2017, after 14 years of hard use.
These days, we're trying out a top-loading Pacsafe anti-theft adventure backpack. This new backpack is a thing of beauty. It's surprisingly lightweight, has a padded tablet sleeve, a wealth of pockets and locking zippers I'm still deciphering, and anti-theft Slashguard stainless steel wire mesh embedded into it. At 18 inches high and 9 inches wide, it's small enough to use as a personal item with most airlines, and it hold a LOT.
We haven't used it for much more than day use on a few hikes, but it's been very comfortable for a couple of hours on the trails. It seems to be well made, and like it will last a long time.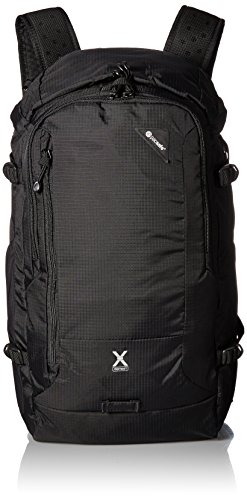 Do It Old School
The most old fashioned, and probably the most secure, way to protect your stuff is to sew an extra pocket into the inside of your shirt or pants, and store some emergency money and a credit card there. If you're not a seamstress, you can use a safety pin to attach a few dollars to the inside of your clothes.
Sliding a $100 into your shoe also works, though it's easy to lose, and can end up smelling like dirty cheese. Women can even slip a little cash inside the lining of a bra.
Keeping Your Stuff Safe
Probably the best defense against getting robbed or pick pocketed is how you act.
Don't flash cash, jewelry, electronics or anything expensive and keep out of dangerous areas, especially at night.
Don't put everything in one place. Keep a second stash stash of money in your pocket or somewhere else easily accessible. That way, you don't have to fumble with your hidden stash when you pay for something. It also acts as a lure for pickpockets – they'll go for the easy $$ and leave the neck wallet alone.
If you do get held up, just hand over your wallet and money. It's not worth getting killed over material things that can be replaced.
The Bottom Line
Overall, we found that a neck wallet is a good combination of security, accessibility and comfort.
What you choose also depends on how much stuff you have. For us, the days of traveling with a single passport, a credit card, and a little cash are gone for now. We now have more essentials to carry wherever we go, including four passports, wet wipes, Kid's Tylenol, lollipops for air pressure changes in airplanes, travel insurance information, boarding passes and so on.
We shove all of the non-essential stuff in a small backpack, and the passports, credit cards and cash in a neck wallet worn under our clothes. The backpack acts as a pretty good lure for pickpockets and thieves. If the backpack's lost or stolen, it's a hassle, but nothing's too hard to replace.
| Type | Rank | Hides Valuables? | Ease of Access | Discourage Pickpockets? | Big Enough for Passport? | Comfort | Best for Men or Women? |
| --- | --- | --- | --- | --- | --- | --- | --- |
| Neck Wallet | 1 | | Medium | | | High | Men and Women |
| Money Belt | 2 | | Medium | | | Medium | Men |
| Belt Wallet | 3 | | Low | | | High | Men |
| Small Daypack | 4 | | High | | | High | Men and Women |
| Fanny Pack | 5 | | High | | | High | Men and Women |
| Leg Wallet | 6 | | Low | | | Medium | Men |
| Clothes with Hidden Pockets | 7 | | High | | | High | Men and Women |
| Bra Stash | 8 | | Low | | | Medium | Women |
| Wrist Wallet | 9 | | High | | | Medium | Men and Women |
| Shoe Wallet | 10 | | High | | | High | Men and Women |
*We do earn a small commission if you purchase a product on Amazon however it doesn't cost you anything. These sales help pay for the time it takes to research and write thorough reviews as well as provide upkeep for the rest of the site.