It's no secret that we love staying local while we travel. Nothing lets you soak up a destination's culture more than staying for an extended time. We also love home stays for longer periods because it's usually a lot cheaper to stay somewhere for a month rather than a week.
Are you an Airbnb fan? Click here to get a $35 credit on your first Airbnb stay with a new Airbnb email!
The problem with renting someones home or vacation rental is that you never know exactly what you're going to get. This is especially true if you're staying long term. You can put up with things for a weekend but if you're staying someplace for a week or longer, the place needs to be exactly what you're expecting.
That means we're always excited to check out an alternative to the standard peer-to-peer vacation rental sites. So, when Vacasa reached out to us to check out their website, we were curious to try it. While we had only heard of Vacasa in passing, we quickly realized Vacasa is a fairly big company, with 1,600 employees and a headquarters fully accredited by the Better Business Bureau.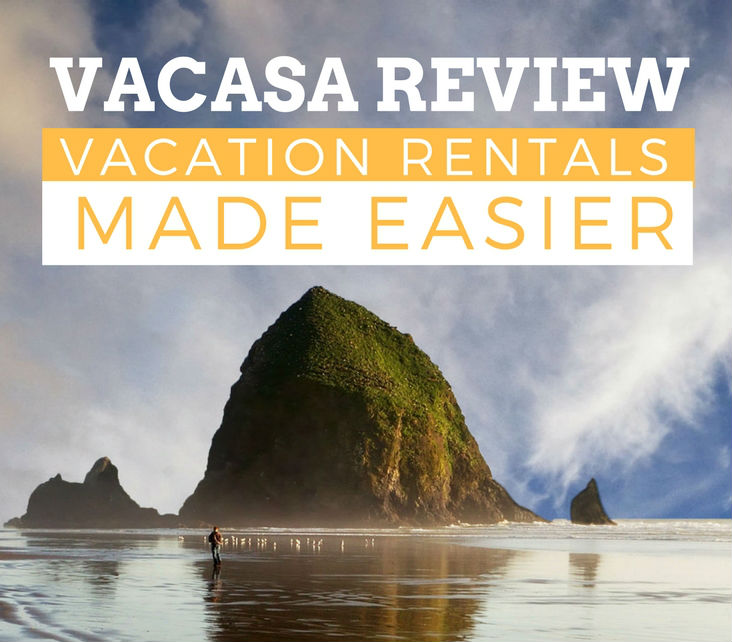 Vacasa Reviews
What I found interesting about them is that unlike most other peer-to-peer vacation rental companies, Vacasa manages all of their 6,000 properties properties themselves in multiple countries and nearly every state in the USA. Plus, they're their own property managers, housekeepers, photographers, reservation agents, and support. What that means to vacation renters like us is that the level of communication, the quality of the stay and the cleanliness of the property should be at a consistently good level.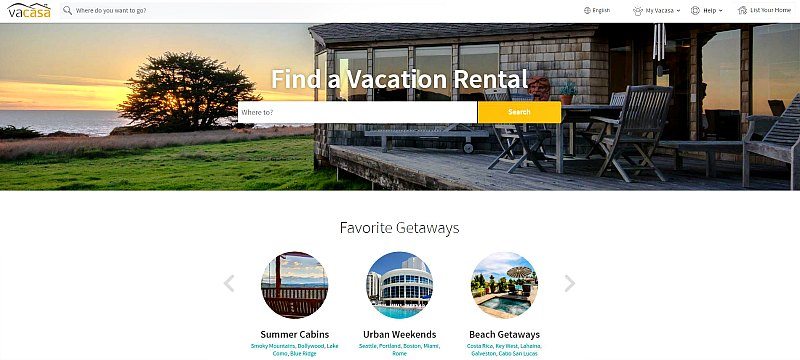 To start, we wanted to check out how well the Vacasa website is in helping us plan a vacation rental along the Portland and Oregon Coast. That means asking a lot of questions for this Vacasa vacation rentals review, like how easy it it to find a rental? Do they have plenty of listings to choose from? Are the listings good quality and a good fit for us? Is the website easy to use? Does the website feel safe and secure?
Vacasa Portland
First up, we checked out rentals in Portland in September. There were plenty to choose from, all with bright, attractive photos. For us, lots of good quality photos are absolutely essential when we choose a place to rent. We like to see exactly what we're renting.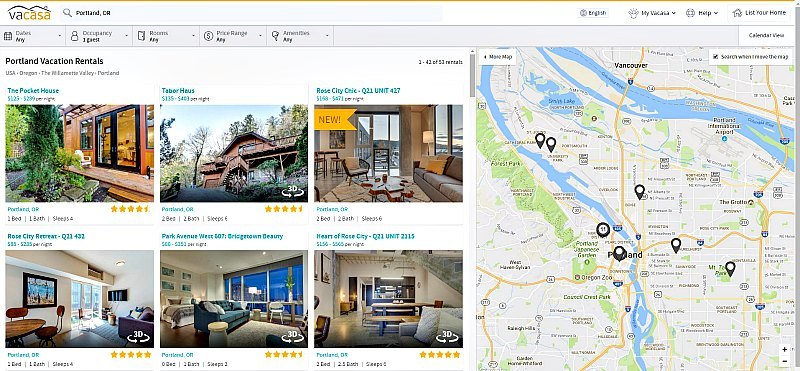 The first thing I noticed is that Vacasa has a Calendar availability view that lets you compare availability for all of the listings in your search.
I probably can't overstate how fantastic this is, especially since I know that a few of the other booking sites we generally use don't let you compare availability for different properties at the same time.
With no jumping back and forth between ads, this saves me so much time! One quick look and I can tell what places are free for the dates I need and what their nightly rates are. It's especially nice during very busy periods when I need to book more than one rental someplace due to lack of availability.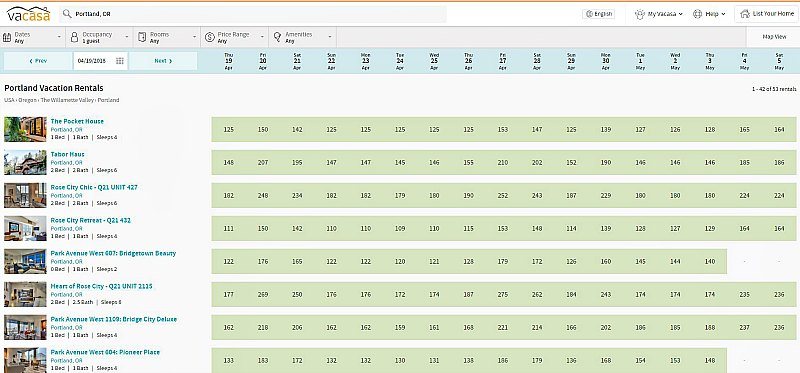 I pretty quickly fell in love with a Northwest Portland townhouse, with two bedrooms, building amenities that includes a game room and a fitness center, and an location close to restaurants and breweries. At $160 a night, with that kind of great location, it's a pretty good deal.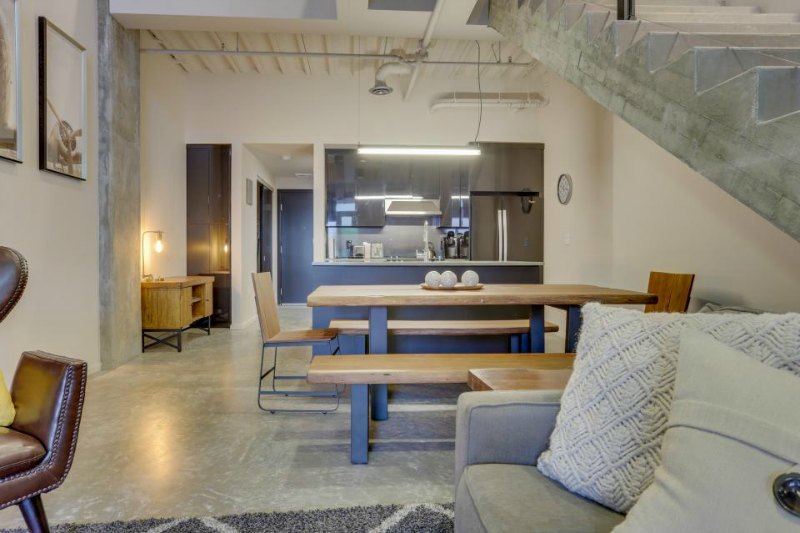 Vacasa Oregon Coast
Next up, we wanted to check out the inventory along the Oregon Coast. During our search of Portland we found plenty of great vacation rentals, but we wanted to make sure that wasn't a fluke based on the location in a big city. Turns out that definitely wasn't the case. We found a whopping 880 rentals along the Oregon Coast.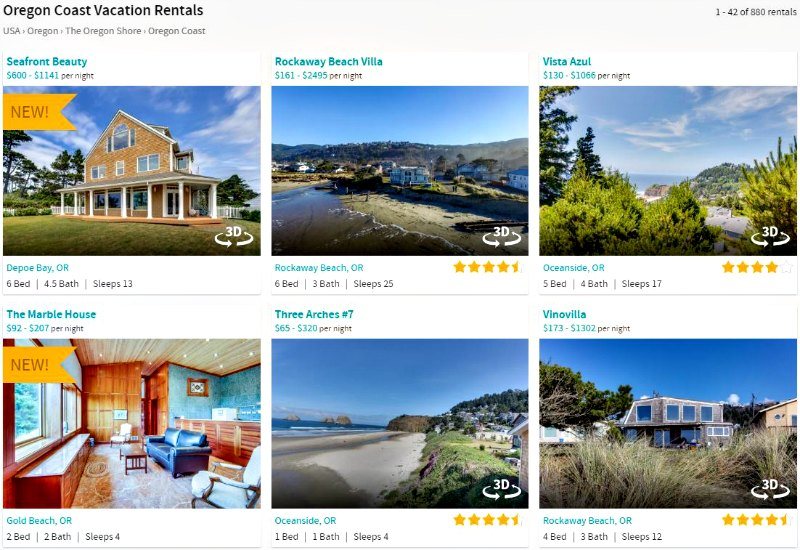 Once we narrowed it down a bit, we decided to take the Vacasa map search for a spin. It worked like a charm, as we zoomed in and out to find a vacation rental near Canon Beach. The beach, if you haven't seen it, is absolutely stunning. It's been a lot of years since I've visited, so staying localy was essential.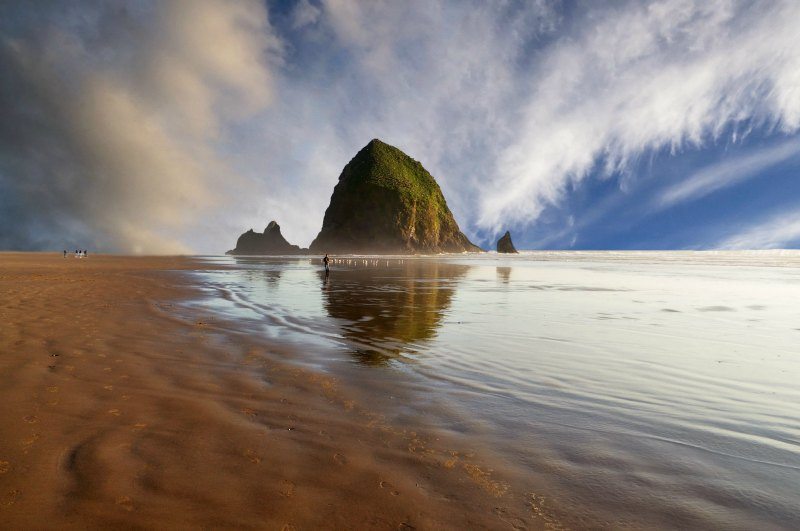 It didn't take me long to zoom in to this beauty – Haystack Views Vacation Rental right on Canon Beach. It overlooks Haystack Rock from nearly every vantage point, has a hot tub and fireplace, and can sleep up to 12 in its four bedrooms plus loft. I think that our Oregon vacation is just calling for a few friends to join in!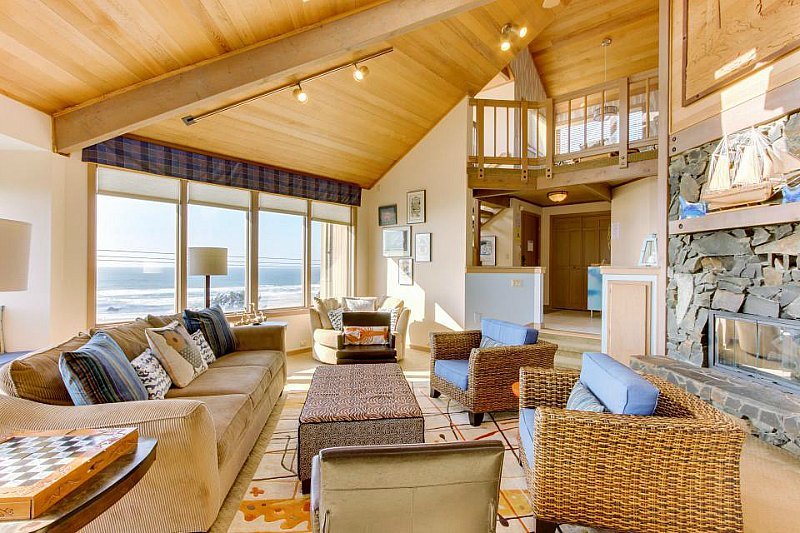 To book, just select your dates, and enter your name, email and phone number in the contact form. A rental agreement will pop up, and they you can pay by credit card.
What we liked
The Vacasa website (try it for yourself here!) was fast, easy to use, and I was really impressed by the quality of the places for rent. There are some beautiful vacation rentals on this website!
I especially loved the calendar availability comparison, which let me compare availability for all the properties in my search in one location. Such a time saver!
For all reservations, you can cancel within the first 24 hours of booking the reservation with a full refund.
What we didn't like
I would love to see more reviews on some of the vacation rentals. However, most of the rentals had plenty (the house we are interested in on Canon Beach had 121 reviews!).
I'd also love to see a Vacasa app, but I'm guessing that's probably in the works.
Want to learn more about Vacasa?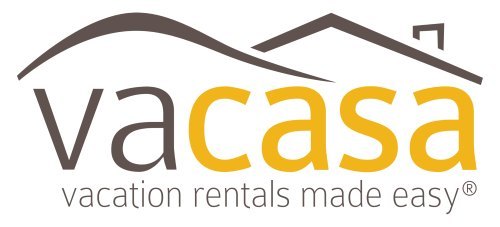 Visit the Vacasa website now to see some listings for yourself, or see them on Facebook.
Have you tried Vacasa? What did you think of your experience?