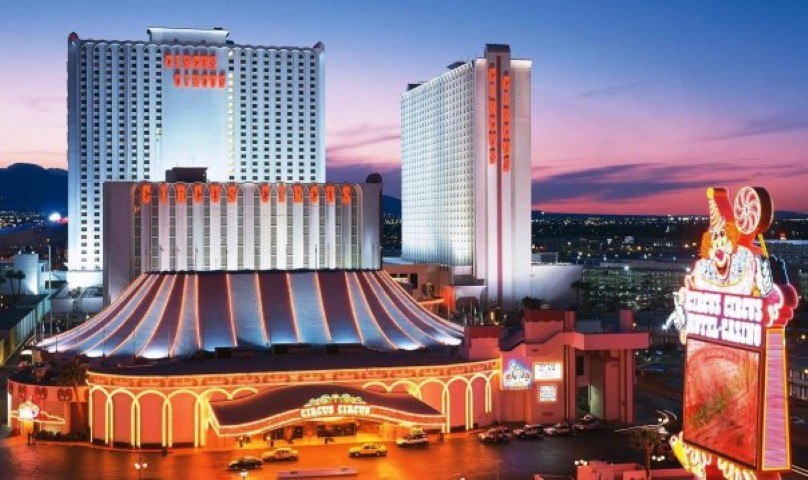 If you're in Las Vegas with little kids, Circus Circus is the place to be. Our little ones were completely transfixed by the idea that we were staying in a Circus hotel. They'd never heard of anything so cool.
Personally, I love the hotel's tagline Act Your Age Somewhere Else.  That's my philosophy pretty much anytime.
We easily whiled a way a few days taking in the in-hotel entertainment. The circus acts were great, with a few shows a day. They featured David and Dania, the quick change artists from America's Got Talent, along with a pretty talented assortment of acrobats and clowns.
Our kiddos loved the midway. We ended up with half a suitcase full of stuffed animals from the various booths. My pockets are still stretched out from carrying quarters for the carnival games.  The price was reasonable, the games were entertaining, and the carnival booths were pretty fair with the prizes.
The Circus Circus Adventuredome wasn't all that awesome, though.  It seemed pretty tired, and almost a bit neglected.  Still, there were enough fun rides and diversions to amuse us all for a couple of hours.
Getting There and Around
Circus Circus
Saturday night rate was pretty darn high, at $137.98, tax in. They more than made up for that by charging us all of 43.96 per night for the other nights, tax in. We got a $10/night discount with Expedia, which helped lessen the pain. We had a room in the West Tower, with two queens, non-smoking. The hallway smelled a bit smokey, but the room didn't have any smoking smell. All in all, not a bad room. Clean, roomy, comfy beds, flat screen TV. A bit worn around the edges, if you looked carefully at the carpet and trim, but not bad. The reviews for the sections of the hotel outside the West Tower aren't as good, but they were cheaper.
Airfare:
Allegiant Air. One way from McAllen, Texas to Phoenix, AZ, $591.69, tax in for four passengers, including baggage fees.
Car rental:
Fox. This was our first time with Fox. And judging from the nasty reviews we read, I was a little nervous. Cost: $227.52 for a standard/intermediate car for a one week rental from Las Vegas to Phoenix, Arizona, including drop-off fee and taxes. The car was fine, definitely not top of the line, but perfectly servicable. Like the reviews noted, there were long line ups for both pick up and drop off. Long as in about 30 minutes each time.
Tip: You can get a great baseline for car rental costs from a quick search on Expedia. This is where we discovered Fox.
In a nutshell, why Fox is good:
It's cheap. The cars get you from point A to B.
Why Fox sucks a bit (sorry Fox):
Long line ups. The airport location in Las Vegas is very much off airport. This may be a nasty surprise for some people who need to catch a flight in a hurry.
When we rented, Fox had an irritating policy in Phoenix that meant we couldn't extend our car's reservation by phone or email. Instead, we had to physically go to the rental location and extend in person. Seriously, why on earth?
This meant we needed to drive all the way to the airport (their only Phoenix location) to extend our reservation. Except we decided to get a new reservation since it was far cheaper than extending, and since we needed to go to the airport anyway. And then we got to wait in line twice, just for fun. Once to drop off our old car. And once again to pick up our new rental. We did this twice when we were in Phoenix. Once it took an hour and a half, and once it only took about 45 minutes.
And why, you ask, would we put ourselves through this? Fox is cheap. They were well over a hundred dollars a week cheaper than the competition. We could have rented for two weeks at a time, but their two week rentals were (sigh) much more expensive than getting two one week rentals.
Check out prices for Fox and their car rental competition with a quick comparison search on Expedia.
Simple travel hack
Before you book with a hotel directly, always check online rates at a site like Booking.com
. Often they're lower than the hotel itself.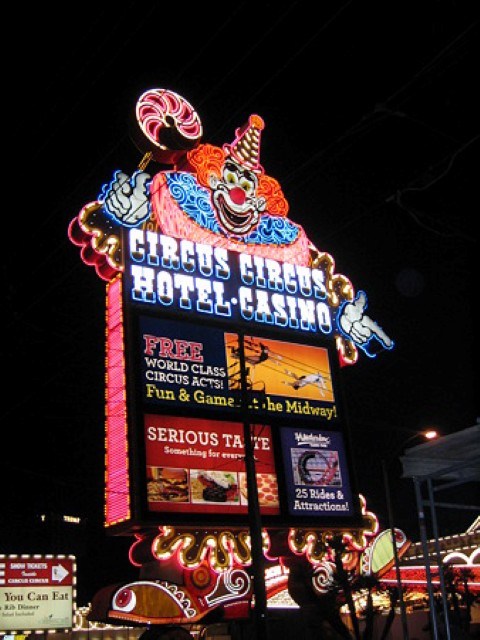 Don't forget to check Living Social – they often have great deals on hotels in Vegas.