A few hours south of Puerto Vallarta, Mexico lies a quiet area of natural beauty. Nestled on the clear waters of the Pacific coast, Manzanillo is the sailfish capital of the world, and also boasts miles of pristine beaches, a thriving cargo port, huge fruit plantations and tons of unspoiled wilderness.
My sister and I had a rare opportunity to spend a week together in Manzanillo enjoying everything the area had to offer. Not only was it the first time we had traveled together since we were kids, it was also both our first time in Manzanillo.
Our adventurous sides loved the wilder activities like getting to the peak of a local mountain via off-road ATVs and the water lovers in us both enjoyed snorkeling off the beach in the warm water of the Pacific as well as kayaking the beautiful bays right off our resort.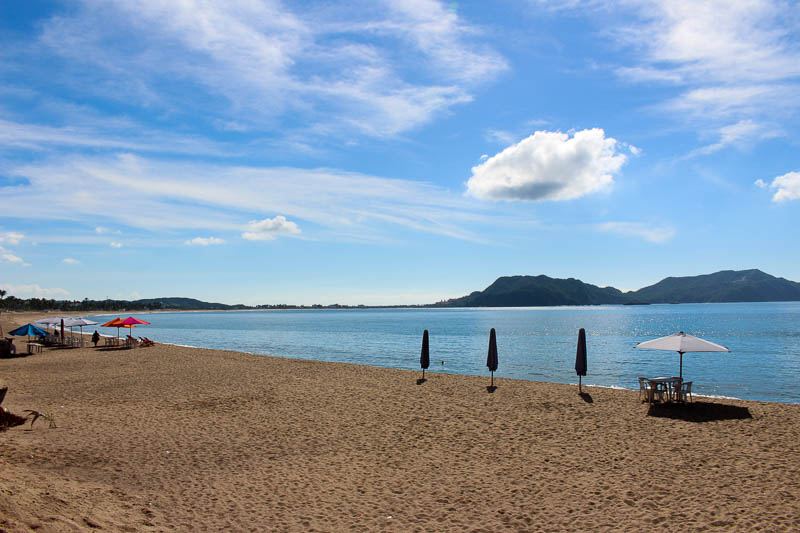 Touring the local towns and cities made our cultural side smile from ear to ear, and checking out the local artisans filled our bags full of souvenirs. Our curiosity was peaked at the feet of the Colima volcano in the Magic Zone (Zone Magica) and our taste buds danced with delight getting to try out the local cuisine.
We went on a tour every day we were there and definitely got a solid taste of what Manzanillo and its neighbors had to offer. Rather than tire us out, it just made us want to come back for more.
So without further ado, whether you're flying in, getting off a cruise ship or just hanging out for the winter, here are 10 things to do in and around Manzanillo, Mexico.
Look like too much work to organize on your own? We understand. You can also book a guided tour with Viator that takes in the sights of Manzanillo that includes hotel pickup and drop off.
Check tour prices and other details here.
Go Sport Fishing
Dubbed the sailfish capital of the world, there's no doubt Manzanillo has some great sport fishing. Whether you're after sailfish, marlin or swordfish, there are dozens (if not hundreds) of boats ready to take you out for the day.
Manzanillo is also home to some of the largest fishing tournaments in the world with prizes routinely in the millions. Sometimes the prizes even include houses and boats. The international tournaments draw people in from around the world and the town itself proudly boasts the largest Sailfish statue you're ever going to see.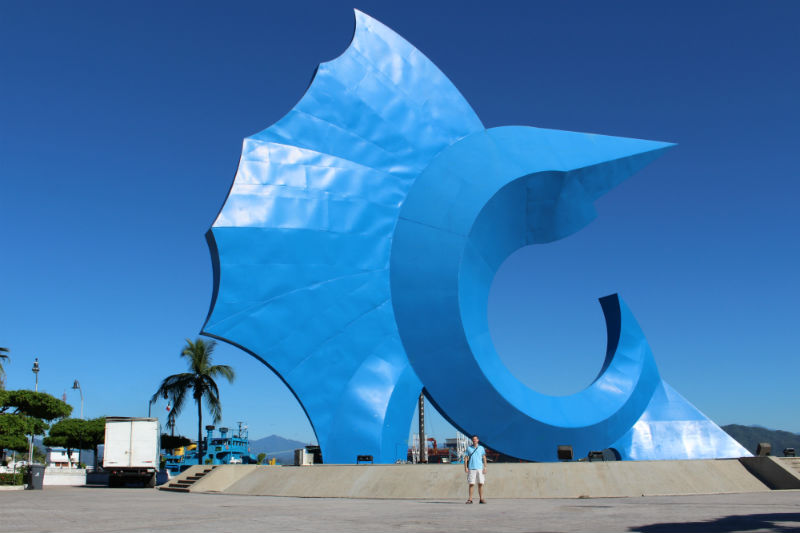 About an hour and a half inland from Manzanillo proper lies 2 towns that are both amazing in their own way. Most day trips include both Colima city and Comala, however both deserve their own mention so they've been split in 2.
Visit Colima
Colima, the capital city of Colima State, is a clean, thriving city. Driving down its paved boulevards gives you a good sense of an economically rich Mexico and the city boasts some of the best shopping in the state.
In the old square of Jardín Libertad (Liberty Garden) you can check out the Basilica Menor cathedral, the wonderful mural paintings of local artist Jorge Chávez Carrillo in the adjacent government building as well as the renowned Hotel Cevallos with its arched columns. Some of the best urban shopping is only a block from the central pavilion as well.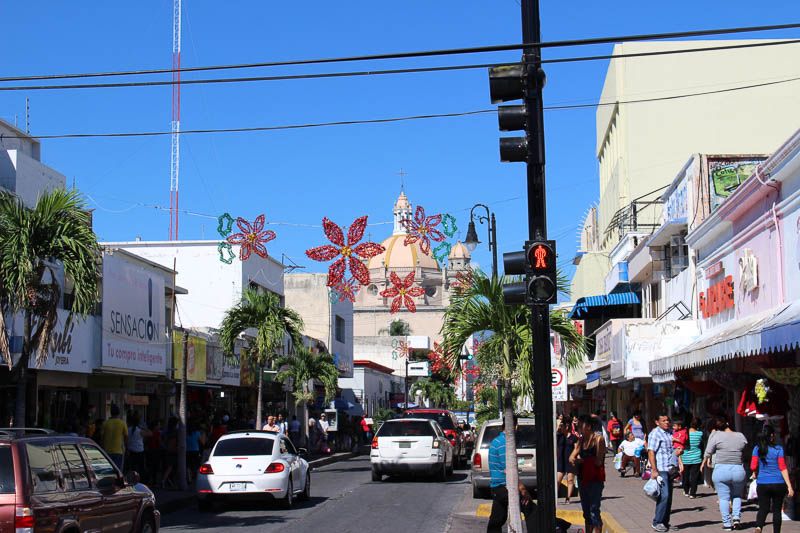 Just a short drive away, on the road to nearby Colima Volcano, is an area called Zona Magica. Cars and water attempt to defy gravity as they seem to roll upwards rather than downwards. Illusion, magnetism, optical effect? Check it out for yourself while you're there. It's close to Colima and the price is free. Watch for the signs as you get closer to the volcano.
Click here to see hotel prices and details.
Visit Comala
Comala, only a few miles down the road from Colima, offers a completely different take on Mexican life. This popular little historic town is entirely painted in white and walking it's streets paved in river rock is like stepping back in time.
Stopping to grab a bite to eat and a drink at Don Comalon right next to the main plaza Benito Juarez is almost a given since they offer a great selection of local foods that will make your mouth water. From there you can check out the main square and cathedral before taking a short stroll around town.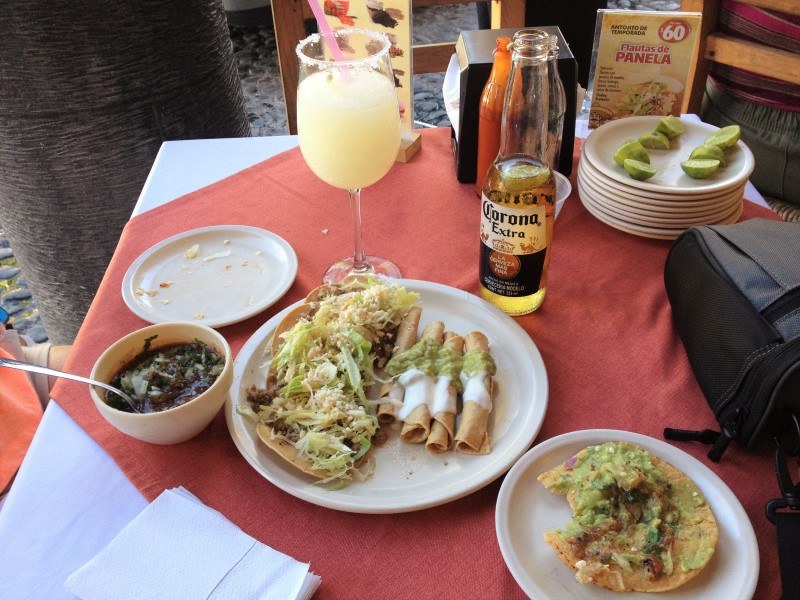 If you have a few spare minutes, check out the local bakery and sample some of the locally produced ponche a few doors down. Similar to tequila, it comes in a variety of flavors and is unique to Comala.
If you love volcanoes, Comala has great views of Colima Volcano in the distance. This cone shaped volcano is once again active and occasionally plumes of smoke can be seen rising in the distance.
I've included both Colima and Comala on this list however if you want to read more about them you can read about my fun day trip to them here.
Check out hotel prices and details here.
Go offroading
If you're looking for a little excitement, jumping on an ATV and heading out for some offroad driving is a sure fire way to get your adrenaline up. There are numerous ATV tours in the area that include sand or mountain riding.
On our tour with Tlaloc Tours, we raced up the side of a mountain along a winding sandy road and crossed streams, mango plantations and toured an avocado farm high above the valley. The views from the top were beautiful and the drive down was just as fun as going up.
Viator also offers a fun ATV jungle adventure tour.
Click here to see prices and details.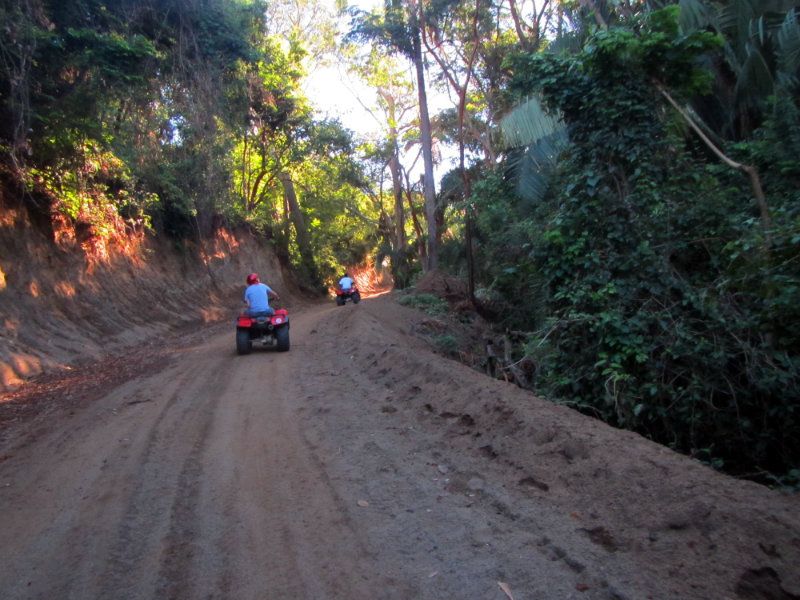 Laze at the beach
With miles of beaches, Manzanillo is a great place to relax on the sand. It has two large, 4 mile long crescent shaped bays separated by the very picturesque Santiago Peninsula. The Bahia de Manzanillo runs from downtown to the peninsula and Bahia de Santiago runs from the peninsula to the northwest. They're both great beaches to spend the day, however the areas closest to the Santiago Peninsula are the prettiest.
Even though all the beaches in Mexico are public, some of the smaller beaches are only accessible through the larger hotels. Without exception, all the beaches we saw in Manzanillo were golden sand without any seaweed or any detritus. In truth, they were some of the cleanest beaches I've ever seen anywhere in the world and the water was incredibly warm even in comparison to the Caribbean.
Check out the Iguana Sanctuary
Right downtown Manzanillo, close to the central plaza, Jardin, the Iguana Sanctuary is a local family run favorite that boasts hundreds of large iguanas just hanging out on the grounds. Some of the biggest iguanas can be found outside on the trees hanging over the water however once inside you can get a closer look at them and watch them chewing on lettuce leaves.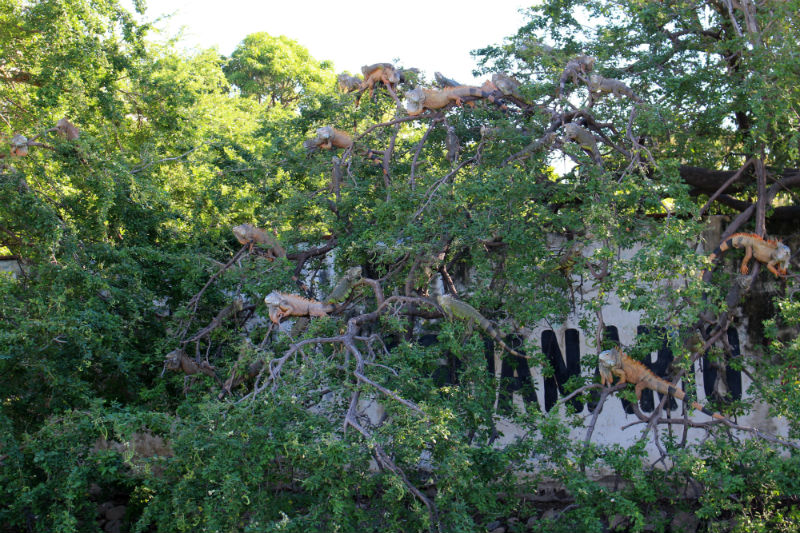 To get there you can grab a 10 peso bus directly to the sanctuary or get a cab to take you. Entry is by donation and you can even bring in your own fruit to feed the iguanas and other animals including raccoons and wild pigs.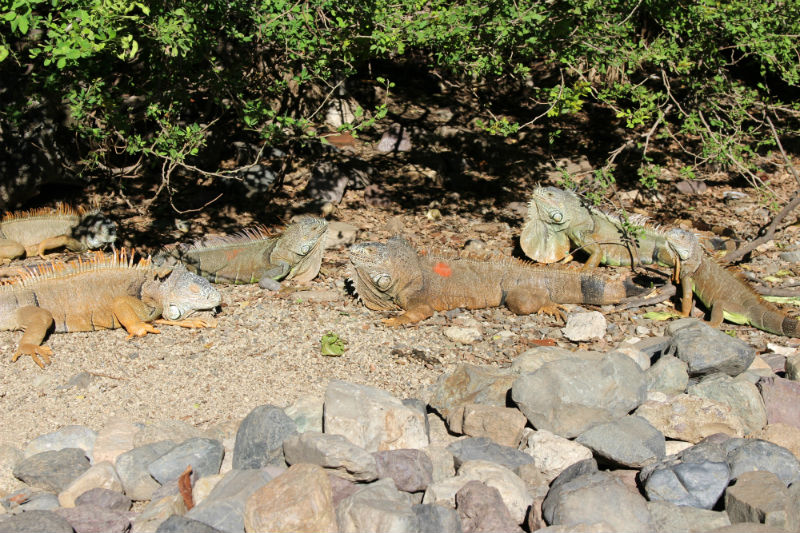 Go Snorkeling
There are tons of places to snorkel around Manzanillo. The warm, calm waters make snorkeling a joy and most of the reefs can be reached directly from the shore. If you want, you can take a 1/2 snorkeling, 1/2 fishing tour where your guide will cook your catch for you right on the beach for lunch.
If you're going it alone, Playa Audencia next to the Tesoro Hotel is a very popular snorkel site with decent visibility. Playa La Perla (Playa Club de Yates) is another great place to snorkel and is actually part of Playa Audencia. Follow the shore from the left of Playa Audencia to get to it.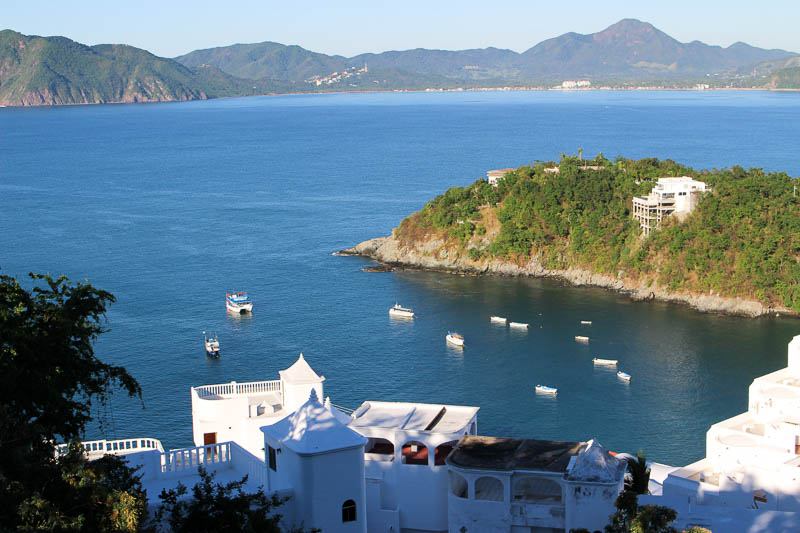 Finally, at the northernmost tip of Bahia de Manzanillo close to the Santiago Peninsula is Playa Boquita. Here you can find both The Aquarium, a football field sized area teeming with life and also the 300 foot shipwreck San Luciano. Being only 4 to 25 feet below the surface, the shipwreck is very popular for snorkelers and divers alike and features some of the biggest blowfish you'll see anywhere in the world.
To the northwest of Manzanillo, about 20 minutes from the Manzanillo airport are 2 beach towns that are well worth the short trip. Most day trips from Manzanillo include both towns however they each deserve their own entry.
Visit Melaque
Melaque is the quintessential small beachfront town where everybody seems to know each others name. Filled with lots of locals and winter residing Canadians and Americans alike, it appears that this caravan friendly town is the perfect place to relax and have a siesta while sitting on the beach. Small shops line the main road and everybody seems friendly.
The traditional carpet maker's shop on the main road was our favorite store here and watching him use his handcrafted loom to produce colorful works of art was a joy to see. There's also quaint little restaurants that overlook the seafront and small boutique hotels that cater to tourists.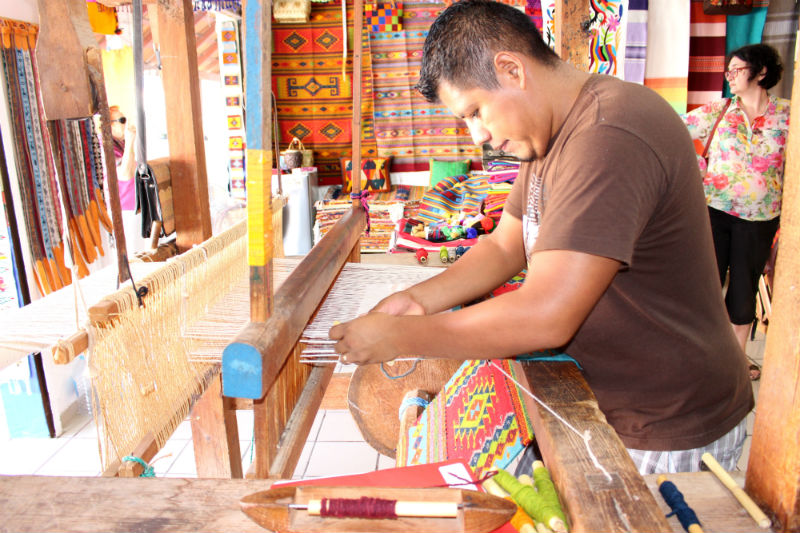 Visit Barra de Navidad
Barra de Navidad is just a stones throw away from it's smaller neighbor, Melaque. It features tons of shops and a huge flea market bazaar twice a week. Located on a long sandbar, it's surrounded by water and one portion of town, Laguna de Navidad is filled with water canals. Docks and boats as well as dozens of homes can be reached via the canals and taking a water taxi to check them all out is quite enjoyable.
Viator has a fun tour that pics you up in Manzanillo, and takes in the attractions at Barra de Navidad.
See tour prices and details here.
You can also hop a water taxi to take you over to Grand Bay. This huge, upscale hotel has a gorgeous view of the area and there are numerous small restaurants just past the main hotel open to anyone. Most offer fresh local seafood and though some can be a little pricey, eating lunch right on the water is a great way to spend some time.
You can find water taxis that will take you to Grand Bay, the waterside restaurants or the water canals all along the Malecon in Barra de Navidad.
Go Shopping at Local Markets
Whether you're picking up something to take home for the kids or to hang on your our wall, local Manzanillo artisans offer something for everyone. From colorful rugs and jewelry to paintings and pottery you can find it all in the area.
La Primaveras is one of the best places in Manzanillo to browse through unique pottery, ceramics and straw goods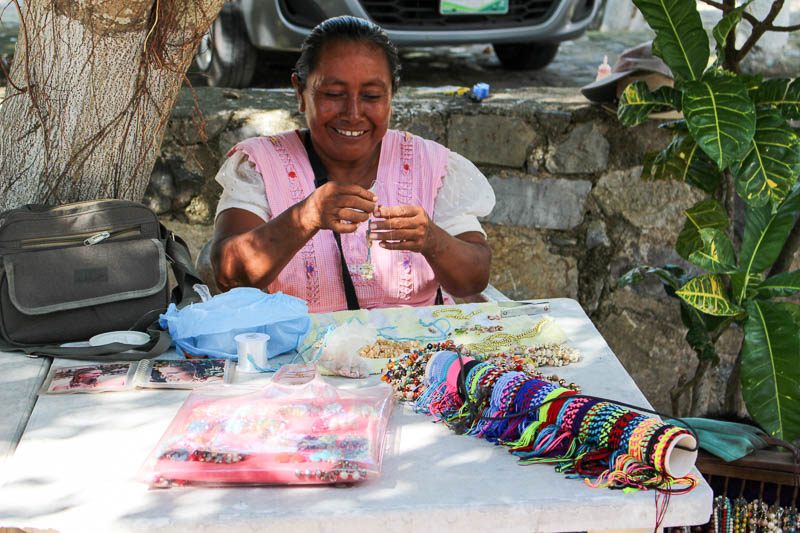 In the winter months you can find the Mercado de Artesanias handicrafts market right next to Walmart offering pottery to clothing.
All year long you can also check out the deals at the Miramar Flea Markets across from the hotel Club Maeve. This market runs all along the beach and the surf there is fun so make sure you bring your bathing suit and take a dip when you need a break from the deals.
More things to do in Manzanillo, Mexico
Besides for the list above, there are many other things to do in Manzanillo as well. There are numerous restaurants and bars to wile away the hours as well as the city has two casinos directly in town.
Just outside of the city there's banana, mango, avocado and papaya plantations you can check out as well as numerous fresh fruit stands along the main roads.
Click here to see Manzanillo hotel prices and other details.
On the water you can go kayaking, paddleboarding, jet skiing and scuba diving is fairly common in Manzanillo as well.
For those that like their sports above water, Manzanillo has three year round golf courses that are very well regarded.
Have you been to Manzanillo? Do you have any tips to share? Let us know in the comments below – we'd love to hear!