In a break from what's becoming the norm for us, I'm going to gush about something. The other week we were looking for something to do around Playa del Carmen while we had our rental car for a few days. Since we had never been to Puerto Morelos before (it's about a 30 minute drive north of Playa del Carmen and about 20 minutes south of Cancun), we decided it was high time to see this quiet little fishing town.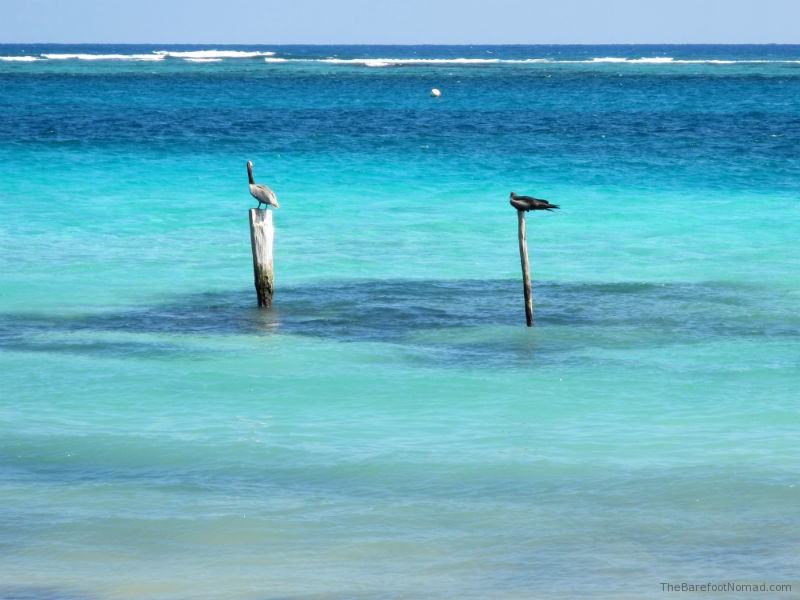 We arrived a little later in the day than we were expecting and the sun was shining brilliantly as we pulled into the little town square. With most roads ending at the ocean, we decided to forego our usual long walks of exploration and just drive around and see the place by car.
With a few main streets, it didn't take long to get the lay of the land and their relation to the pier as we quickly backtracked to find some parking somewhere off the main square. Parking wasn't the easiest and we ended up a few blocks farther North than we hoped. Though we were grumbling about it as we walked to the main square, this turned into a good thing.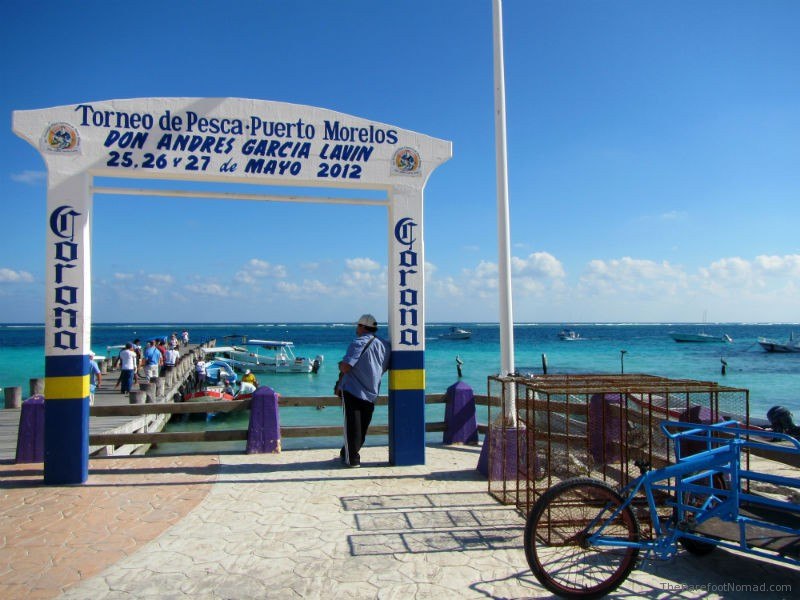 We were originally going to head straight for the beach, but the kids were a little hot and hungry so we went searching for a bite to eat first. We had read that there was a good new and used English bookstore in town (Alma Libre Bookstore – the biggest English bookstore in the Yucatan) and quickly discovered it on the south side opposite the main square. Putting aside our hunger for the moment, we decided to quench our thirst for knowledge first. To the delight of our kids, we found a few cute used children's books to add to our growing collection. We were sorely tempted to pick up a few things for Micki and myself as well but our hunger finally got the better of us.
You see, right next door to the library happens to be an ice cream shop with the loveliest chocolate fudge and freshly made waffle cone smells oozing out their doors. The open door bookstore was filled with these smells and my mouth still waters at the memory. By far it was the best smelling bookstore I have ever walked into.
Knowing that man cannot survive on ice cream alone (though if you read our site regularly you might realize how often we try) we knew we needed something more substantial. A few doors down we found El Nicho. Currently ranked number one on Tripadvisor's Puerto Morelos restaurant reviews and owned and run by the head culinary chef at The Little Mexican Cooking School, I was confident the place was going to be decent…
I'm not going to beat around the bush. El Nicho delivers in spades! With remarkably reasonable prices for a mainstream restaurant in a tourist zone, the food and service were exemplary.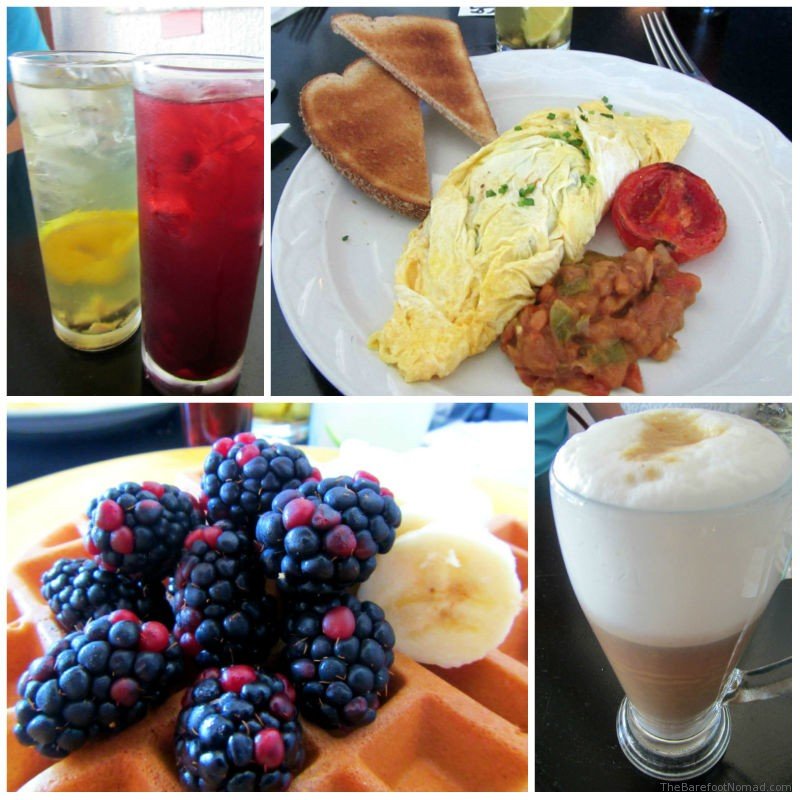 I ordered the El Nicho Omelette and it was, without a doubt, the best omelette I ever tasted. The chorizo sausage and goat cheese blended together inside were magnificent. Micki ordered the torta vegetariana and said it was excellent. She said the coffee was also some of the best she had tasted in a while. The kids loved their banana and berry waffle (so did I since I wanted to taste everything). The freshly made orange juice and ice teas were also especially tasty. I don't usually paste direct links to restaurants however they were so good and their hours are a little irregular (open from 7:30 to 2 and closed Mondays) so here's the link.
After that deliciously late breakfast (they were closing the doors as we left), we decided to walk down to the water. With a few small piers and dozens of little boats perched alongside them, it's easy to see that Puerto Morelos is still a fishing village at its heart. Though tourism is constantly growing, it pales in comparison to its neighbors Cancun and Playa del Carmen.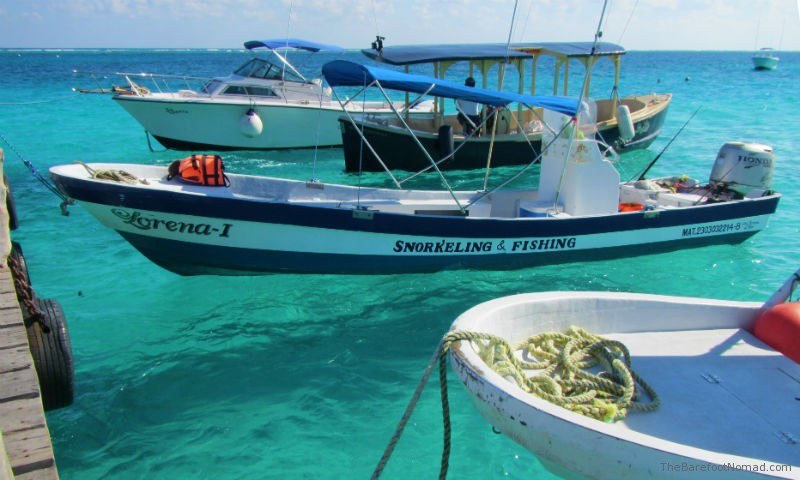 Most resorts along the long stretch of beach are still small and we didn't see one that dominated all the others. In fact, we had to walk a few minutes to the north to really find any large concentration of people. Even the crowds were nothing compared to the concentration of tourists you would find in Playa or Cancun.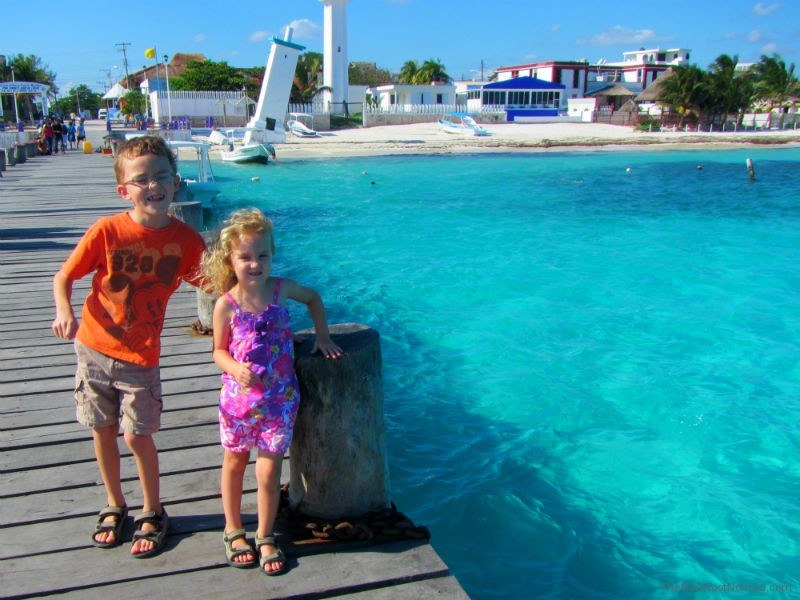 On the pier you can see the symbol of Puerto Morelos (a lighthouse that was tilted by Hurricane Beulah in 1967) and watch the boats bob around in the waves. The beach here isn't the best due to all the seagrass on the shore, but don't be fooled into thinking that Puerto Morelos lacks a decent swim area.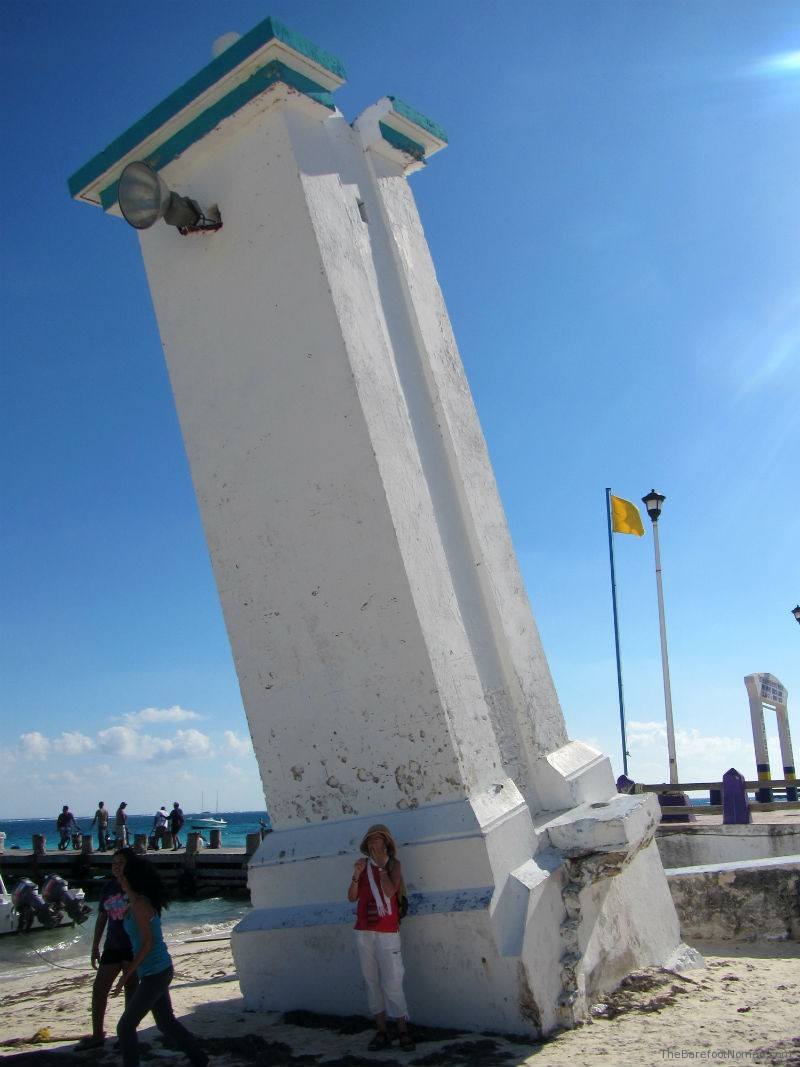 If you walk onto the beach near the lighthouse and head north a few hundred paces you'll start to see people in the distance. If you keep walking (a few blocks) you'll see a lot of water areas roped off. It's here that we set up camp for the day.
We were hot and the sun was a little intense so we decided to splurge the 120 pesos and get a set of lounge chairs and umbrella for the afternoon. We didn't use it as much as I thought simply because the kids were fascinated with a gorgeous mound of bright white sand that the wind had piled up close to us. All they were interested in was playing in that sand and we all took turns digging and piling. We did enjoy the little washrooms and change area that our chair rentals included so they weren't a total waste.
Unlike Playa, the beach had a lot more seagrass along the shore and the waves were bigger. That didn't stop me from throwing on my mask and snorkel and seeing what the water had to offer.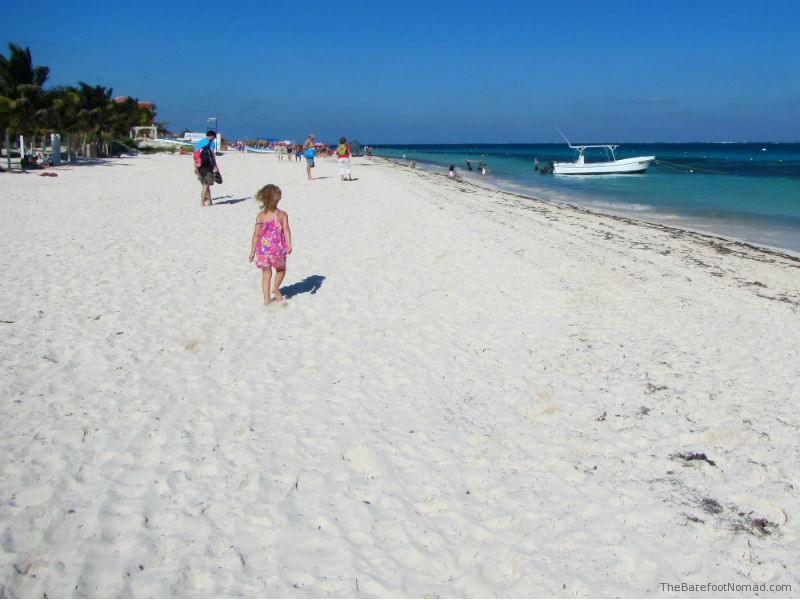 The water was perfectly clear and I quickly stumbled upon a large hawksbill sea turtle. I've mostly seen green sea turtles along the coast so was thrilled to come across a hawksbill. I followed it for a while and then got sidetracked as a huge barracuda swam under me. I've never seen one that large except while diving. I followed it along for a while before finding small groups of them scattered throughout the area. Though there wasn't a lot else to see where I was, the hawksbill and the barracudas made my day.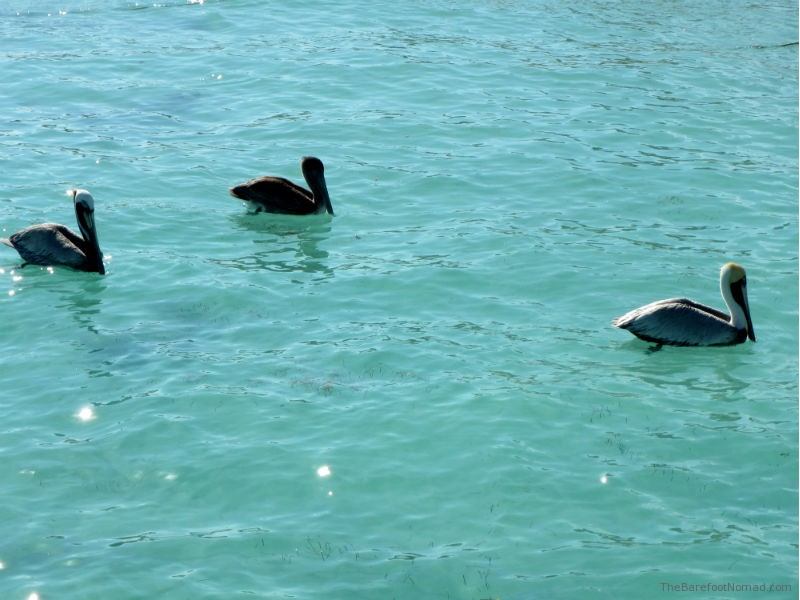 To top it off, as I was coming in I saw a pair of stingrays in the short grass that covered the odd patch here and there. In all it was a great experience and I was sad I decided not to bring along my camera. I don't know if the water current is normally that strong but if you plan on snorkeling here I strongly recommend you start further up north and let the current push you to your intended area. I didn't notice any undertow however the side to side current was pretty strong.
In the end we all enjoyed our day in Puerto Morelos more than we expected and plan to visit the place again the next time we're in the area.
As to our car, it turns out that it was parked only a few hundred feet from where we were sitting on the beach. When we realized how close we were to it, we were thankful we didn't end up getting something closer to the center. We were all tired from all the sun and fun we had in quaint Puerto Morelos and I knew it was going to be a quiet ride home.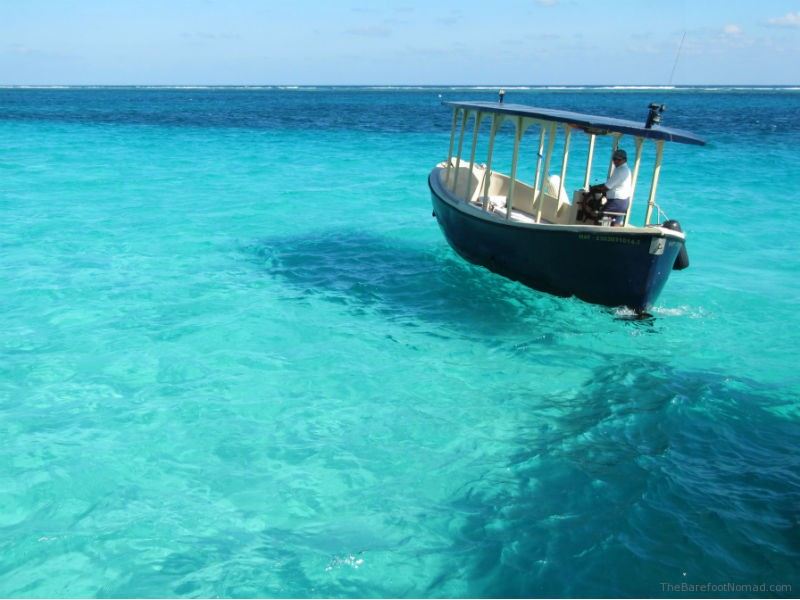 I'm not sure what the kids were dreaming of in the back, however, for some reason, I had visions of tasty omelettes and chocolate covered waffle books running through my mind. Mmmm, chocolate covered waffle books….