Looking for the best things to do in Cancun? We can help!
Over the years, we've spent many months in and around Cancun, and have done just about everything there is to do.
Cancun is best known for beautiful beaches and great nightlife, but there are plenty of fun cultural things, family fun, and there's even great food.
Cancun, found in Mexico's Mayan Riviera, is an area of beautiful beaches, stunning scenery and is teeming with a range of activities.
Some of our fondest memories of Cancun include lazy afternoons on the beach, mornings exploring nearby cenotes and Mayan ruins with visiting friends, and sunny days snorkeling as a family in underwater wildlife sanctuaries and visiting eco-theme parks.
We loved spending evenings watching amazing shows, hanging with the locals downtown on Sundays, spending warm days in parks and cooler days in malls, as well as going to far flung restaurants all along the coast and even over to Cozumel.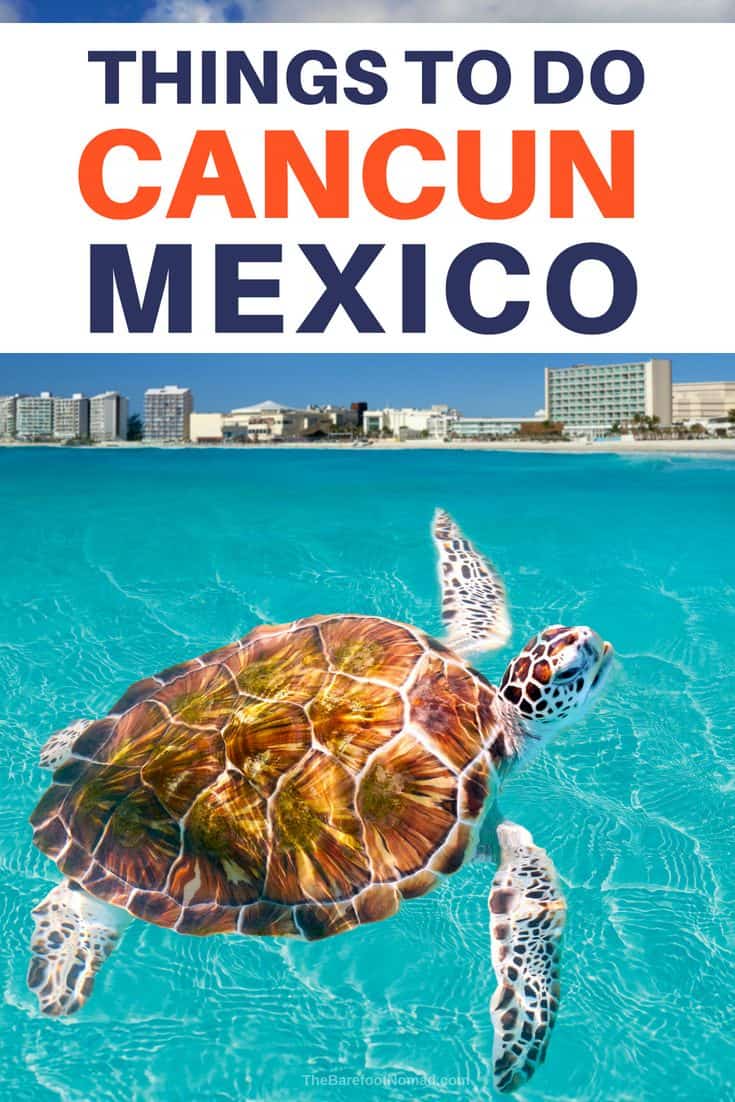 We're even so enamored with Mexico's beautiful gulf coast that we've seriously considered buying property in Mexico on numerous occasions. Once the kids are on their own, Mexico's Mayan Riviera area will likely be our winter home. We're also always one click away from hopping on a plane to Cancun any time we see a hint of snow here in Canada.
With all that said, we've discovered more than a few of the best things to do in Cancun, Mexico, along with the Mayan Riviera. Let us know which ones are your personal favorites!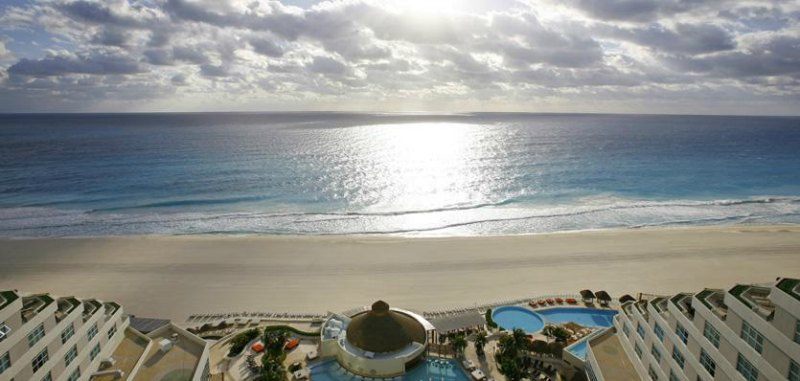 Best things to do in Cancun Mexico
Hit the beaches
It might seem obvious, but if you're visiting Cancun, you're likely here for the miles and miles of beautiful white sand beach and warm azure waters. Before all the other once sleepy fishing beaches along the coast followed suit, Cancun was welcoming visitors from all around the world to enjoy its 14 miles of pristine paradise.
The most popular beaches in Cancun include Playa Delfines (Dolphin Beach), Playa Forum, Playa Caracol, Playa Chac Mool, Playa Tortuga and Playa Del Nino. Generally, the waves are calmer on the northern side of the hotel zone, and the powder soft sand in Cancun can't be beat.
Playa Delfines is a beautiful spot nestled away from the bustle of the regions many hotels. Around 20 km long, and home to the always busy Cancun sign you see in every other selfie coming out of Cancun, there are also many amenities, water sport rentals and a playground for kids here.
Playa Tortuga and Playa Del Nino are two family favorites since they're on the far northern reach of the hotel strip. Both are protected by Isla Mujeres meaning the water is some of the calmest in Cancun – great for the little ones.
Playa Forum, situated at the northeasterly tip of hotel row, is famous for its party scene. While nearby Playa Chac Mool (Chac Mool Beach) has a nice set of free palapas to hide from the afternoon sun. The water at both places can be pretty rough, so make sure to watch the flags and lifeguards are letting people in the water.
Playa Caracol, slightly north and around the corner of Playa Forum, is another popular beach in Cancun. There aren't a lot of amenities, but it's a great place to stretch out on the public beach.
Note: All beaches are public in Mexico so you can walk anywhere along them. However, getting from the street to the water or finding parking can sometimes be a hassle. Most of the beaches in Cancun have hotels with private loungers set up everywhere, however you're always free to pay for a seat in one of the many beach clubs or just drop a towel anywhere you want to be. They can't stop you.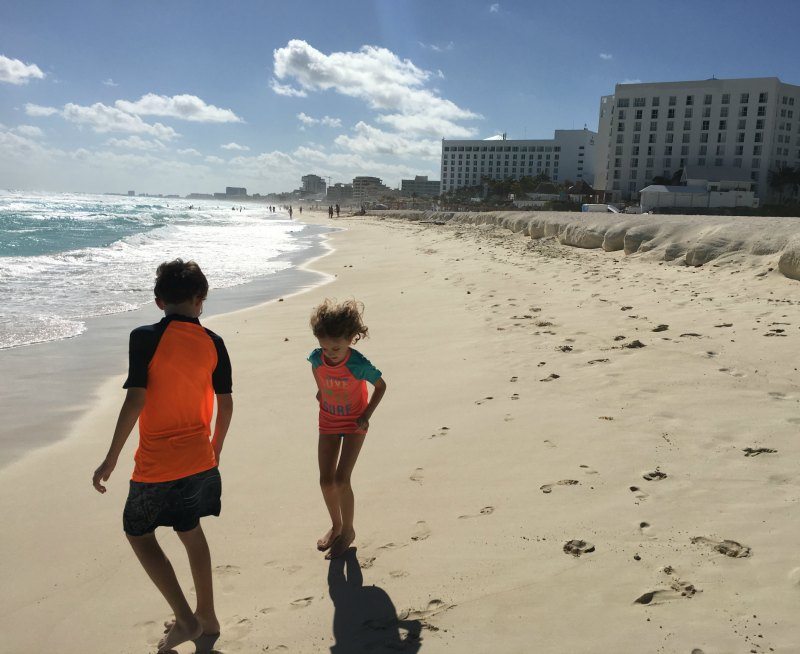 Go deep sea fishing
Cancun is a great jumping off point for deep sea fishing, with tons of options from which to choose. There's always something biting no matter the season in Cancun, with Atlantic Sailfish, Blue and White Marlins, Grouper, Wahoo, Tuna and Red Snapfish all calling the waters around Cancun home. If you're interested in deep sea fishing in Cancun, check out this handy chart to let you know which fish is in season.
Take a day trip to Isla Mujeres
The closest of Cancun's neighboring islands, Isla Mujeres is only a 15 minute ferry ride away, but it feels like another world with its roads filled with golf carts, smaller beaches and quaint eateries strewn about the island.
Journey to Isla Mujeres in the morning, rent a golf cart and drive the entire length of the island checking out the turtle sanctuary, Mayan ruins, some of the nicest ocean side cliffs in Mexico, as well as some unique snorkeling. Or experience the islands exhilarating zip line and watercraft that circles the island to gain a unique and fun view.
You can check out this post on things to do in Isla Mujeres for more hints on what to do once you get there.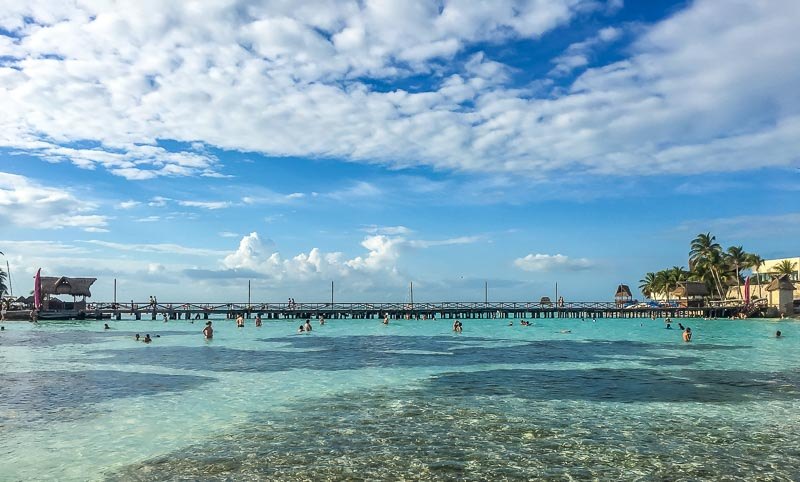 Go shopping
With Cancun's gorgeous temperatures, why would you want to hit a mall? Well, besides for the occasional rainy day, and when that sunburn takes hold and you just can't handle another hour in the sun, Cancun is accustomed to its global visitors boasting a ton of international shops to accommodate them.
As well as high end malls like Plaza Las Americas, La Isla Shopping Village and Luxury Avenue Cancun, there are outlet malls like Las Plazas Outlet Cancun, as well as handicraft stores like Ambarte, that feature gorgeous locally made hand crafted items. For the thrifty, or those looking for unusual finds, there are also plenty of flea markets and local handicraft markets all around Cancun.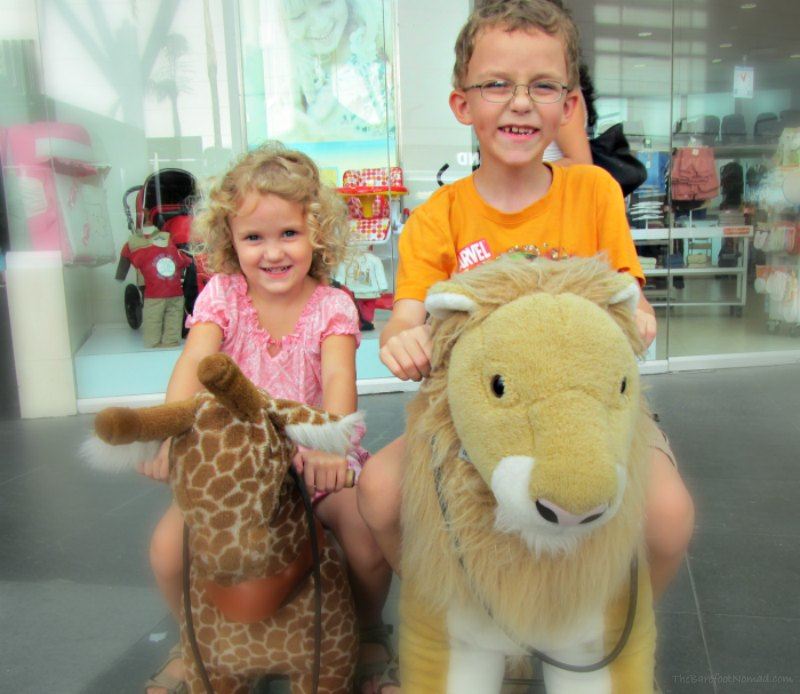 Go snorkeling or scuba diving
Want to get away from the beaches but love being in the water? Cancun offers snorkeling and scuba diving trips right from the town centre. Most head out towards Isla Mujeres while some go south towards Playa del Carmen. With warm clear blue waters, it's easy to spot fish and coral.
If you want something a little different, consider going scuba diving to the MUSA Underwater Sculpture Museum in Isla Mujeres. This is the largest underwater museum in the world, and seeing fish and coral make their homes among the hundreds of works of art is a once in a lifetime opportunity.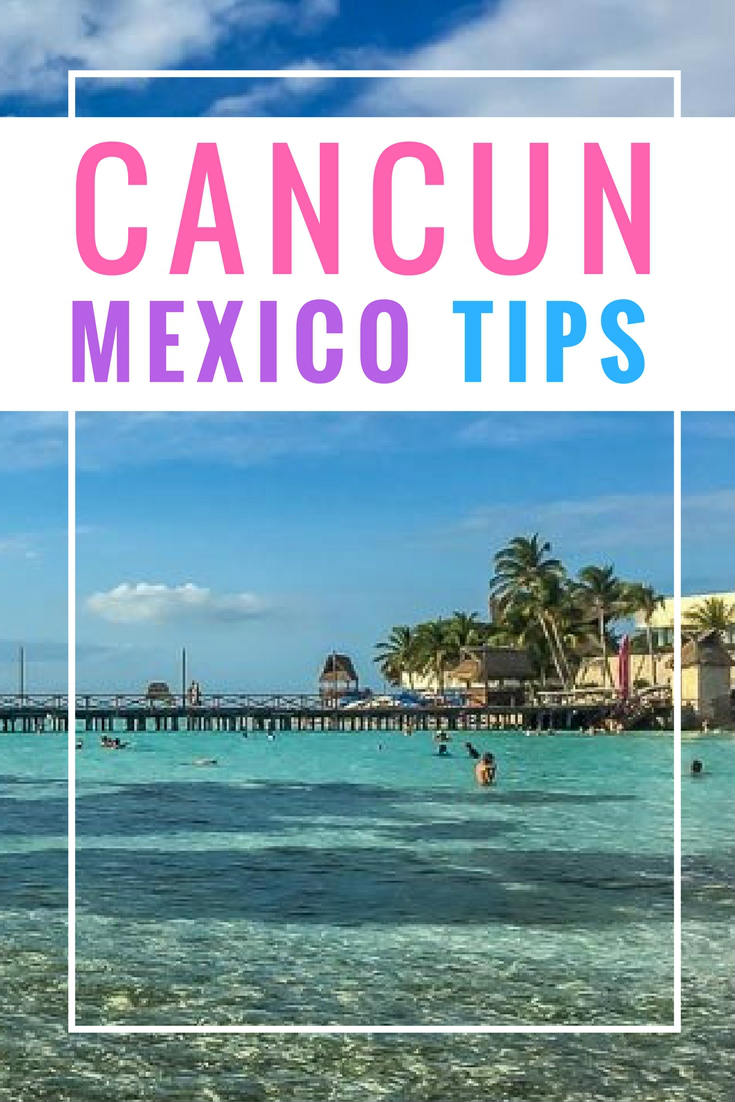 Take a catamaran cruise
Prefer the water topside? There are plenty of ways to get out on the ocean that don't involve getting your feet wet. Taking a catamaran cruise is one idea. There are plenty of boats to choose from family friendly boats to party boats. There's even a pirate cruise featuring a live action pirate adventure. Most Cancun boat cruises include meals and alcohol so it's up to you to decide if the party booze cruise, the family cruise or if a always romantic sunset cruise is more your speed.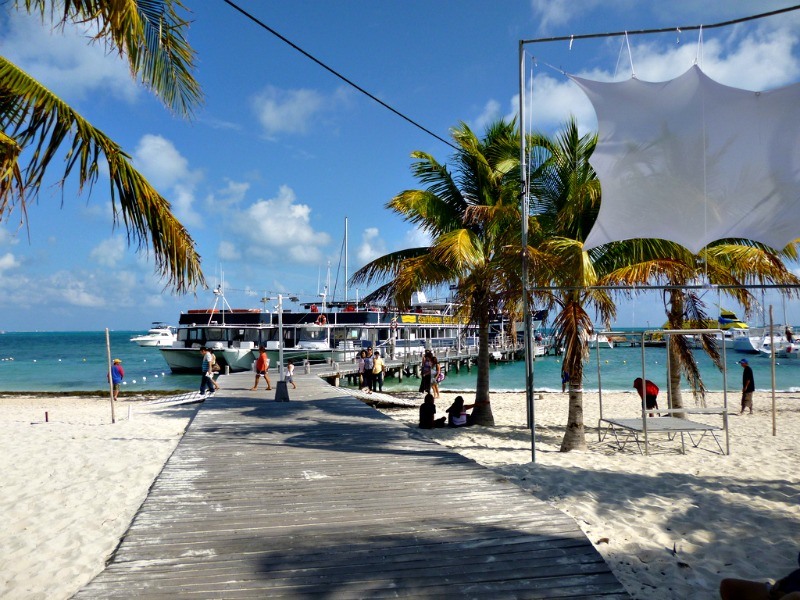 Party the night away at Coco Bongo's and enjoy Cancun's wild nightlife
Love to party? Cancun is generally regarded as the party capital of the Mayan Riviera and as such it has a thriving night scene. From wild shows and antics at Cancun's Coco Bongo's to early morning nachos and cervezas at Carlos and Charlie's there's surely something in Cancun for the night time party animal. Cancun really gets wild during college Spring Break so if madness and mayhem are your thing, then book accordingly.
Columbus Lobster Dinner Cruise
The Columbus Lobster Dinner Cruise makes the most of Cancun's magical atmosphere, adding a romantic vibe and fresh local food.
The ship sails the Nichupte Lagoon and sunset serves as a romantic backdrop for a romantic lobster dinner with the wine and soothing music.
Rent a jet boat in Cancun
Catamaran not fast enough for you? Then maybe you want to rent a jet boat in Cancun and go on a jungle expedition. There are several companies in Cancun that rent two seater speed boats and take you on a follow the guide, hold onto your hat and ride with mad dashes through mangrove lagoons and rivers. You'll also get a chance to snorkel along a gorgeous coral reef. We haven't done this one yet, but rest assured it is on our list.
Ventura Park Cancun
Fans of amusement parks and families with children will enjoy a day in Ventura Park.
The facility is made of seven different worlds and provides free meals and beverages for the visitors.
Visitors keen on adventure can go zip lining, fans of water activities can enjoy the water slide park, the Fun World offers entertainment for the kids, the Grand Prix surprises with a spectacular go-kart track, the Underworld gives visitors the opportunity to enjoy Virtual Reality.
Things to do outside of Cancun
We've done almost everything there is to do in this part of the Yucatan, from enjoying the beaches of Cancun with the kids, golf carting around Isla Mujeres, and walking along Quinta Avenida in Playa Del Carmen, to swimming with turtles in Akumal, wandering the ruins down in Tulum, and crossing over to the lovely city of Merida. The list goes on.
A favorite of ours was when we took a ferry to Cozumel, and a bus then a high-speed ferry to Belize. All of these paradises originating from the Cancun and Playa Del Carmen area.
With so much happening all along the Mayan Riviera, limiting yourself to just staying in Cancun will mean you're missing some of the best things to do on this side of Mexico. Playa del Carmen is only a forty minute drive from Cancun and even Tulum can be easily reached for a day trip.
Of course, you have the pyramids of Chichen Itza, the island of Cozumel, swimming with turtles down in Akumal and dozens of cenotes within easy reach of Cancun as well.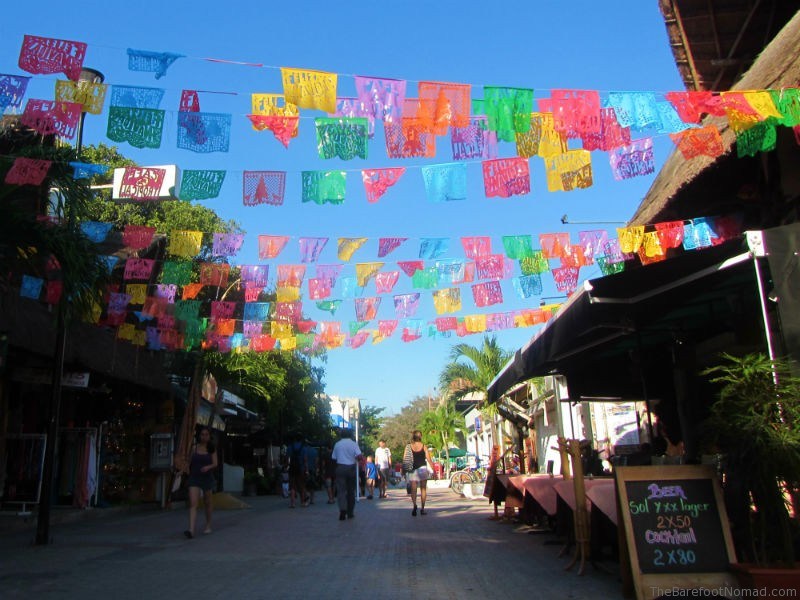 If you like the comfort of knowing when you're starting and when you're returning on your excursions, there are hundreds of day tours available that will get you to where you want to be and save you the hassle of figuring it all out for yourself.
If you want to jump on one of the nice long distance buses or even one of the ridiculously cheap local buses, you can do that too. We've also rented cars to tour the peninsula and have taken both collectivos (local mini buses) as well as taxis on many occasions.
Chichen Itza
Chichen Itza is a complex of ruins that date back to the Mayan civilization, and one of the most popular day trips from Cancun.
Chichen Itza's pre-Columbian ruins are remains of what was once one of the largest, most developed cities in the region. The ruins have been restored now occupy around five square kilometers.
The site attracts hundreds of thousands of visitors each year, especially on the days of the equinoxes, when the site shows its most mysterious face.
Sian Ka'an Biosphere Reserve UNESCO World Heritage Site
Nature lovers will love a trip to the 120,000-hectare Sian Ka'an Biosphere reserve. It's a UNESCO site that lets outdoor enthusiasts visit tropical forests, mangroves, even the barrier reef. Visitors report sightings of birds, jaguars, ocelots, pumas as well as marine wildlife like sea turtles and hundreds of fish species.
Valladolid
Valladolid is a smaller city that's rich in local culture and history, combined with natural attractions. The city's atmosphere is vibrant and cozy at the same time.
Take time to visit colonial era cathedrals and convents, piazzas with friendly restaurants and bars, or natural sites like a nearby cenote. In the city itself, a local mercado makes shopping a unique experience.
Quick recap of some of the best things to do outside Cancun
Looking for things to do in Cancun with kids? Check out this post we wrote about things to do in Cancun with kids, or things to do in Cancun on a budget.
Some of our favorite things to do just outside Cancun include:
Have we missed anything? If you think there should be something added to our list of things to do in Cancun Mexico please let us know in the comments.