Well it's been almost ten days since we arrived in Playa. Time seems to be flying by. We've been to the beautiful beach and the overpriced markets numerous times. We've walked La Quinta Avenida (the popular 5th Avenue pedestrian corridor) from one end to the other. We've tasted the delicious (and not so delicious) fares of several high and low end restaurants and have enjoyed countless hours on our deck and by the pool.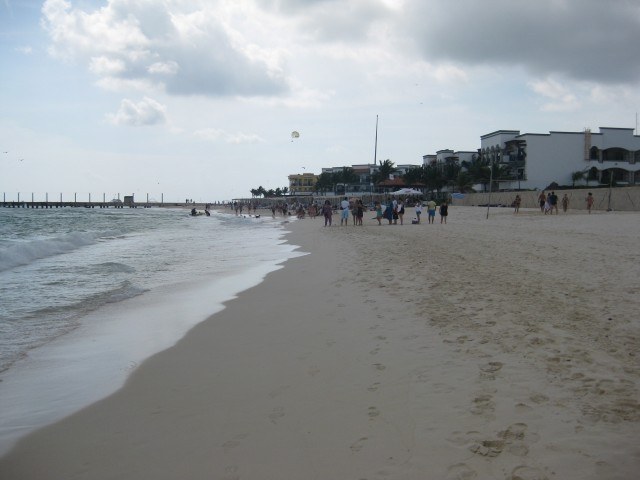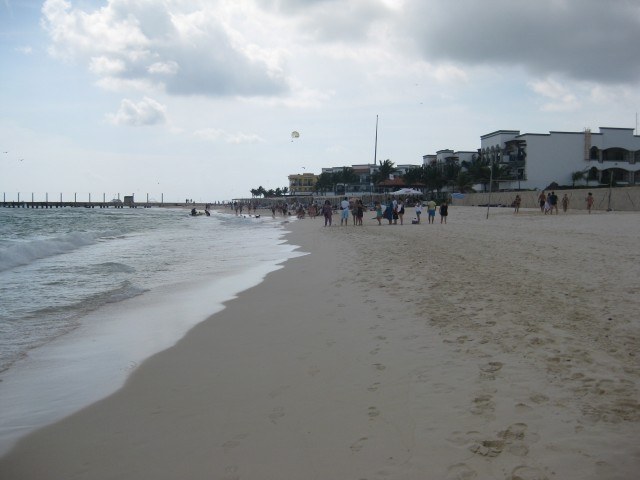 Amazingly enough to some of you, we haven't gone on any big excursions or taken any tours yet. We've looked into heading to Cozumel by ferry and are planning that for the next time the sun is shining and the wind isn't blowing. We've found that almost every day we've had one or the other.
At this point, neither of us are willing to haul the kids anywhere without the proper conditions. I think that's where the mindset of a typical vacationer differs the greatest from ours. When you realize you only have 6 days to enjoy your hard earned vacation you want to suck every last bit of enjoyment out of it. You've paid for every ounce of sunshine and you're going to spend or do whatever you have to maximize your time here.
When you're in it for the long haul however, dropping $300 US or more for 5 or 6 hours of "amazement and wonder" seems a little steep. The funny part is that the shorter the stay, the more people are willing to spend to be entertained. "Hell Wilma, we already spent 4 grand for this vacation, what's another grand? Besides, think of the memories we'll be taking home with us." (Don't ask who the hell Wilma is or why I chose her but I think you get the idea.)
After reflecting back on our previous one or 2 week trips I realize that we've done it both ways on several different occasions. Sometimes we hung around the beach, pool and over-sized hotel grounds for the week and other times we've gone out and done everything they can throw at us. I think it all depended on how burnt out or bored we were before we left. Micki and I still talk about the time we went to Vegas for a quick 4 night fix and came home twice as tired as before we left. Though we enjoyed ourselves tremendously, Las Vegas might not have been what the doctor ordered for us right then.
And so, to get to the heart of this post, I find ourselves exactly where we need to be at this moment in time. We're staying in a not so touristy condo in a very touristy town surrounded by activities that we could or couldn't do and frankly not care either way. The odds are strong that we'll back in this area at some other point in our lives and both of us feel as though we can do more activities then. For now, I'm content with lazing by the poolside and enjoying the dozens of Corona I have cooling in the fridge.
Cozumel can wait another day and swimming with those turtles in Akumal can happen next week. We'll see the ruins and blue waters of Tulum on our way to Belize and neither of us have any desire to fight the crowds at Chichen Itza. As to the other wonders that this place offers, we're still shopping around. Some of the caves look nice and Cole might enjoy swimming with dolphins or sharks. A few of the shows look neat and golly gee it would be nice to see some authentic Mexico at some point of this leg.
Hmm, maybe that's the part that's missing the most and the main reason for our reluctance to venture too much. Mexico the country seems to be missing and is being invaded by the "Zona Turística". I might have to give some more thought to that and maybe even address it another post. Maybe Micki might have a thought or two about it as well.
In the meantime, honey, please pass me another cerveza and do you think the kids need another coat of sunblock?