Yesterday was kind of a unique day for us here in Playa. Not only was it Sunday but it was also the last day of the Jazz Festival. The reason Sunday is kind of special here is that most Mexicans (or I guess anybody who lives and works here) gets the day off. Most of the locals work 6 days a week and Sunday is their one day to get out and enjoy what this area has to offer. A lot of quiet areas around town are suddenly filled and there are times where it actually feels like you're living in a Mexican town and not some immense resort.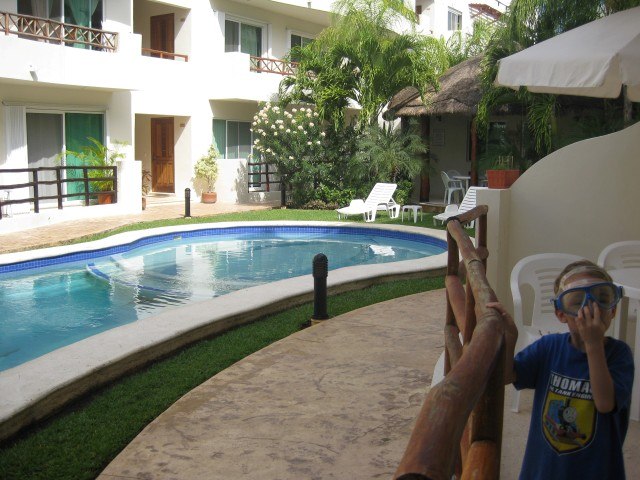 We had heard that it could get a little busy on Sundays and to be honest the first two Sundays we kind of stuck around the condo. One thing we've learned early on about ourselves is that we're not big crowd people. We usually love when something big is going on but not for the same reasons as most people. We've learnt when the crowd goes one way, we go the other. It's usually the best time to see and explore touristy areas without having a million people ruining the fun. It usually works well for us.
However, since we got here, we've learnt to appreciate Sundays just for the crowds. There's something more authentic about seeing the locals out enjoying the beaches, cenotes and natural wonders that surround us. You know these people are living and working in the same area but they're usually behind the scenes. In the restaurants, shops, hotels and everywhere else us foreigners congregate we simply take them for granted. We neither see or think about them having family and friends outside of their 9 to 5 jobs. In truth, most vacationers here rarely venture west of 30th Avenue. That seems to be the delineation point between "Playa The Dream" and "Playa The Reality".
West of 30th the restaurants are all Mexican and the language is 100% Spanish. Here you find that the core businesses revolve around real life and day to day living for the average Mexican. We find that every time we venture that direction the realization that Playa is an actual city in Mexico hits home. East of 30th could be any of dozens of Spanish speaking resort towns. I would bet that if you dropped off 10 average vacationers on the beach it would take 7 of them the majority of the day to figure out where the hell in the world they were. (Short of directly asking that is). I bet 9 out of 10 wouldn't have a clue if I dropped them at an all inclusive out here. That all being said, we enjoy being out with the locals. It makes us feel like we're a part of them and their culture. I'm sure they don't feel the same way but this is my post and I can only comment on my perspective.
Anyway, we had seen posters all around town about the Jazz Festival and Claudia (our property manager) had said that is was worth checking out. We knew it was by the beach but we didn't realize until we went down that it was right on the beach. Luckily, it was on Mamita's Beach, pretty close to where we usually hang out. When we got there we saw the grand stands in the distance and it was a much bigger setup than we anticipated. Both of us had thought that it would be some small venue with a few seats and not the near concert like stage that it occupied.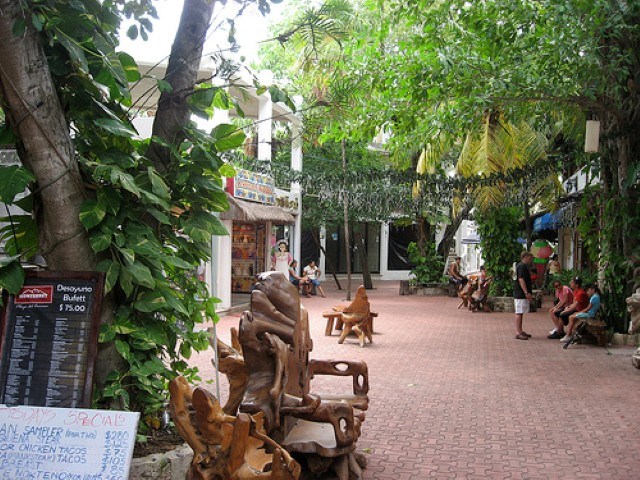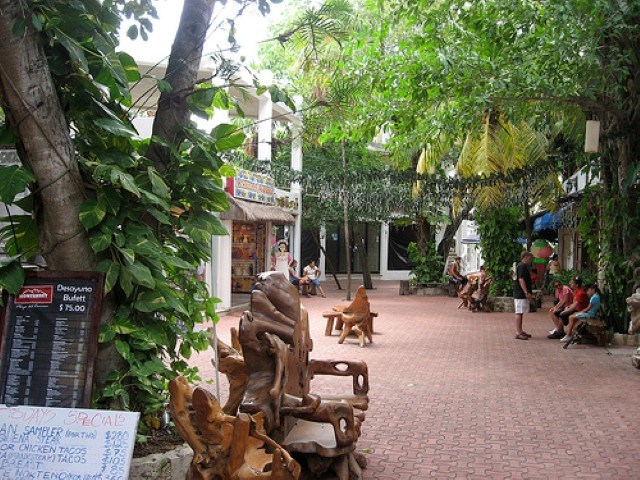 Luckily, we weren't close enough to be swarmed by the crowds but due to the Latin affinity for all things loud we could easily hear the music. We got to sit under our palapas (basically a wooden umbrella with interwoven palm leaves for the top) surrounded by the locals. They were usually surrounded by their families and more often than not had a cold beer in their hands. The weather was great and the ocean was calm. We made a bunch of large sand sculptures. A four walled castle complete with parapets, moats and drawbridge, a sea turtle, a large kayak (with Cole at the center) and a canoe which a bunch of the local boys wanted a ride in. We all had a great day while listening to the sweet sounds of jazz and imagining what life would be like if we made this place our home. It would be pretty sweet I have to admit. Especially if we ever get around to learning the language. 😉
Have a good week everybody. We're heading down to Tulum tomorrow for a few days to see the ruins and check out the beach there. We hear it's one of the nicest around and, well, I like to be the one verifying those claims. It's a hard job but someone has to do it and in all honesty, I'm quite happy that it falls to me. Hasta luego!