Last year, I was lucky enough to spend a few days at the Marival Residences Luxury Resort (officially now called the Marival Distinct Luxury Residences) in Mexico's Riviera Nayarit. So, this year, when Marival invited the whole family along to check out their Family Emotion Program we were happy to join in.
When you need a break, sometimes an all inclusive hotel is the perfect choice. Winter was creeping in on us in Canada, and the idea of a stress-free vacation somewhere with a long stretch of beach and some nice warm swimming pools sounded like exactly what we needed.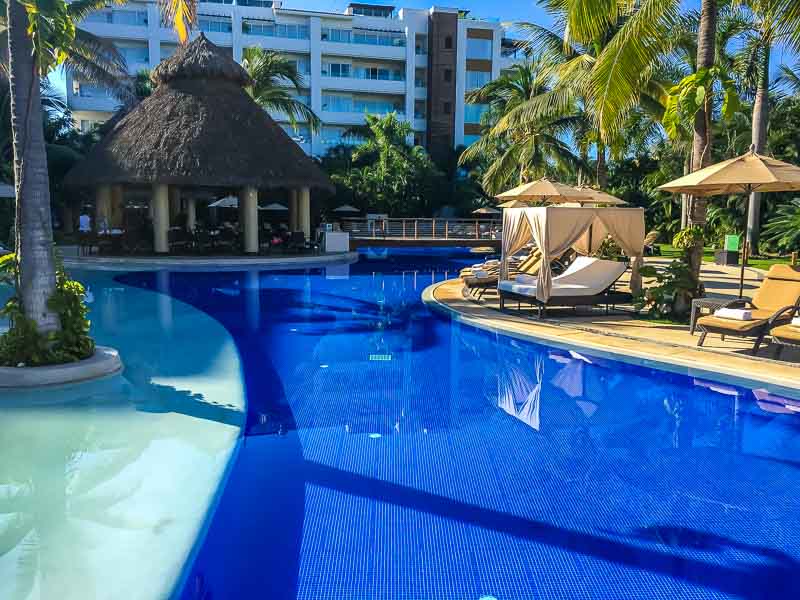 Why a special family program? If you've ever traveled with kids, you know that it's a completely different experience than traveling alone or as a couple. Days of lounging on the beach and partying the night away are long gone, and replaced by playtime in the sand and mid-afternoon naps (it's not all bad).
How much does it cost? Click here to find out.
The Family Emotion Program at Marival does a really good job of figuring out what parents and kids want. There are plenty of fun activities, a concierge to help organize your trip, and goodies for both the parents and the kids!
The Marival Family Emotion program
Marival's all-inclusive Family Emotion program is just for families. It includes a ton of goodies, all which are customized for your family's needs. I'm pretty sure they thought of absolutely everything!
Family concierge service
I think the very best part of the program is that each family gets a family concierge to help with their stay. Our Family Emotion concierge, Raquel, was absolutely wonderful. She was attentive to us (but never intrusive), and always helpful and welcoming. We had absolutely first class service from her – as good as any hotel we've ever stayed in.
Welcome basket
Inside our room, we found a welcome basket of healthy and sweet snacks. With hungry kiddos, this was the perfect welcome!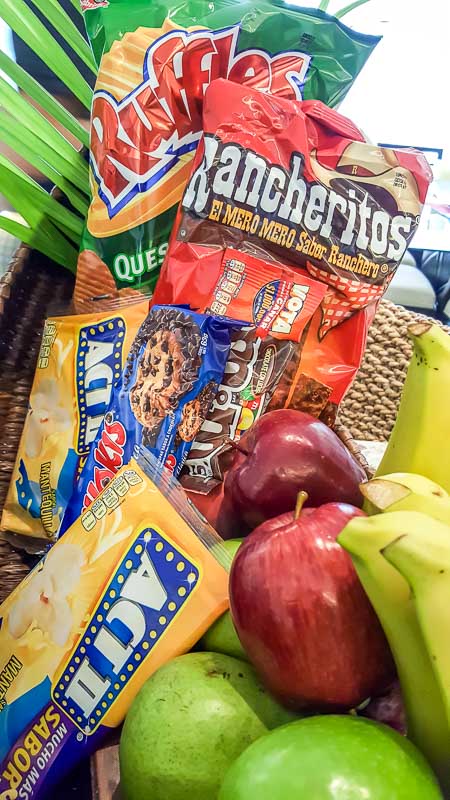 A stocked mini-bar with family goodies
Our full size fridge came stocked with soda, beer, juice, yogurt and chocolate milk! Even better, it was refilled every day and we could request just about anything from the resort.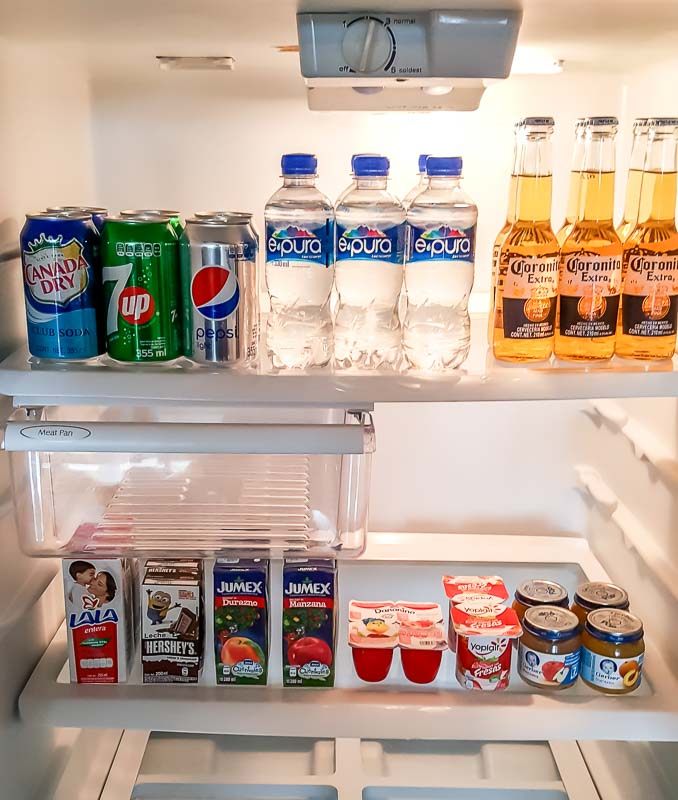 Nanny Service!
Yes, you heard me right: up to eight hours of child care is included during your stay (conditions apply). That means that if you want to go out together for anything from a special meal to a few hours at the spa you can knowing your children are in good hands.
Kids Club
Every day from 9 am to 5 pm, you have the option of dropping your kids off at the kids club. They can play video games, do crafts, and have a lot of fun while you enjoy a few kid free hours.
Gifts for the kids!
There was an adorable bath basket in the kid's bathroom, waiting for each child. This included some tub toys and some special child friendly bath products.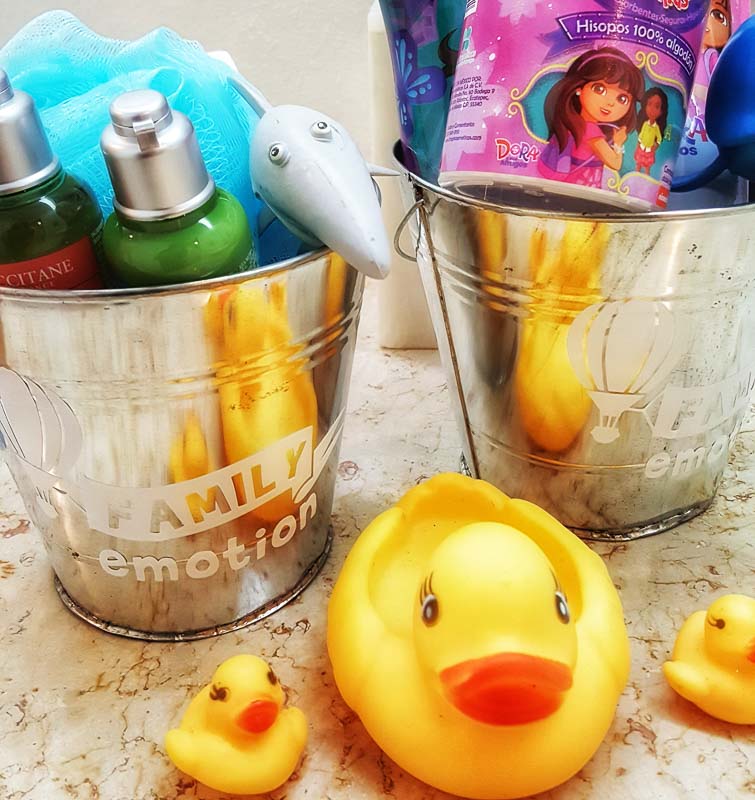 Pampering for Mom
Our room came with a gorgeous basket of high end L'Occitane pampering essentials for Mom, and a gift certificate for the on-site spa (more on that later!)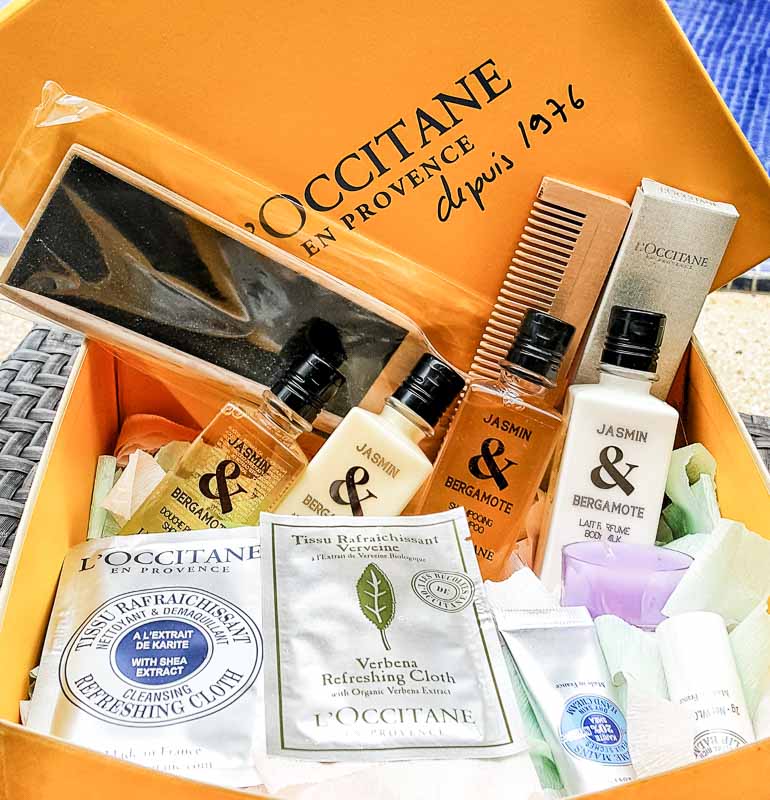 Beach essentials and toys
In our suite, we also found a bag filled with sunscreen and beach essentials, plus a family menu to help us select from a broad choice of beach and pool toys, as well as other vacation essentials. Once you've selected from the list, pass the form back to the Family Emotion concierge and they'll deliver everything right to your room.
Family picnic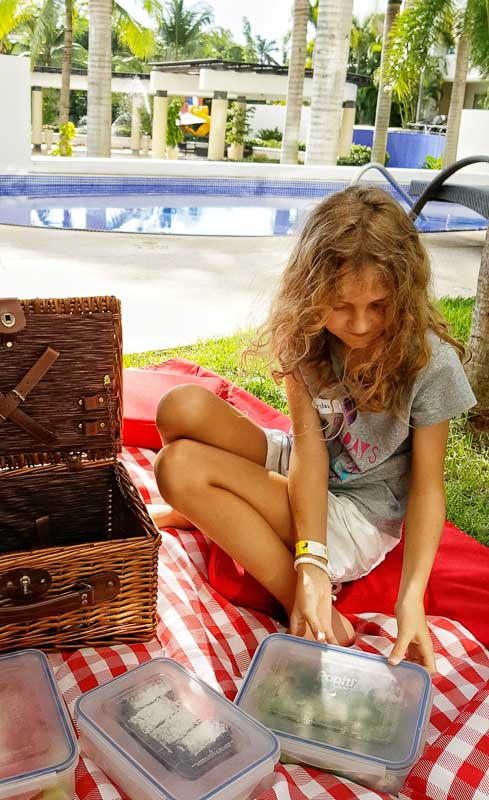 One of the great Family Emotion options at Marival Residences is that you can order a fully prepared picnic for wherever you like. You can have it delivered to the beach or by the pool. We had ours dropped off in our room to enjoy beside our semi private demi pool. The chocolate cake dessert where a huge hit with the kids and we enjoyed the mountain of guacamole they included in our specially made picnic basket.
In Room Family fun!
When we ventured out on our own, our kids adored the free Xbox console and game rental they provided. There are also DVD players, movies, electronics, water toys and more available via the Family Emotion program.
Outdoor family fun!
As well as the kid pool and the always entertaining splash pad, Marival Residences also has a playground area and they even rent out free bikes so you and the family can go for a family excursion. The best news, a few of them are 3 seaters so even the littlest riders don't get left behind.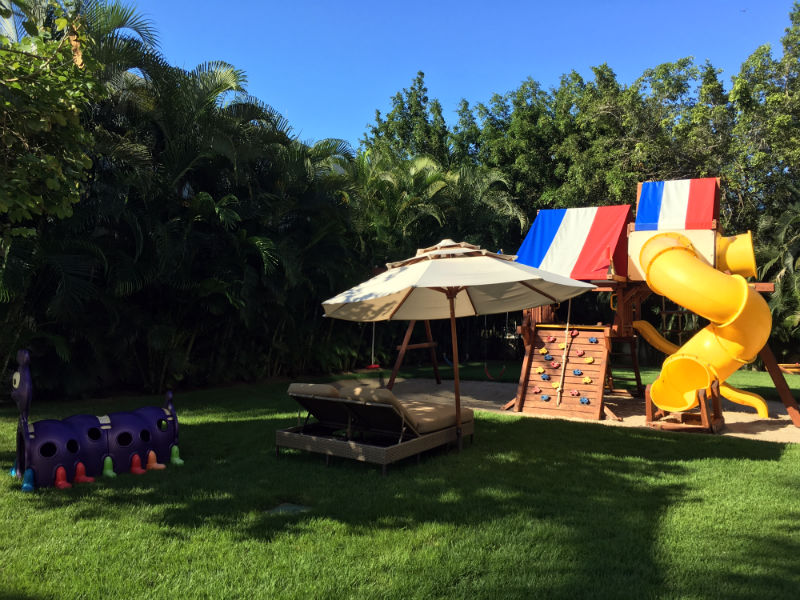 A family photo shoot
I couldn't remember the last time that we had a family photo shoot!
The Family Emotion Program comes with a professional photo shoot, with a photo album and CD, plus a gift card to develop prints when you're back home.
We were very happy with our family photo session. The sky was a little cloudy however the photos turned out beautifully and the photographer was fun to work with.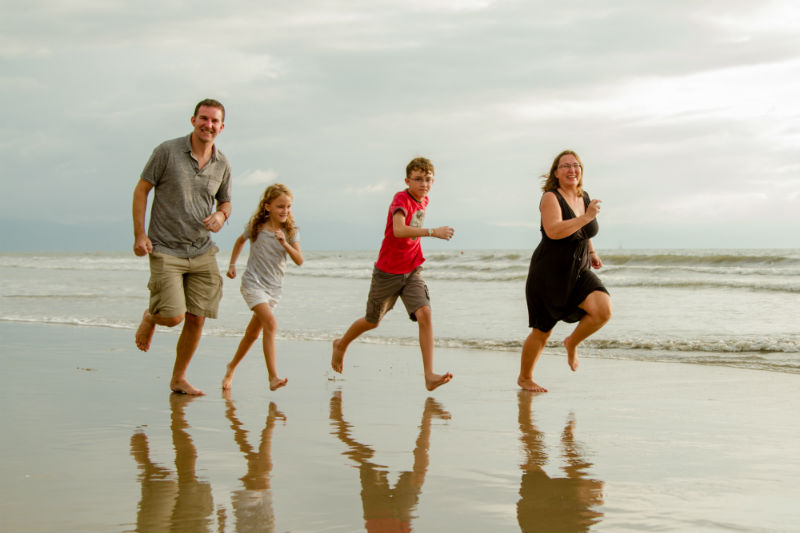 Included Tours and fun!
The Family Emotion package comes with a free off site activity for every person, as well as a free second family tour.
There are numerous options to choose from so went zip lining as a family, and also had a blast driving on a little RAZR off road vehicle over a giant swinging suspension bridge.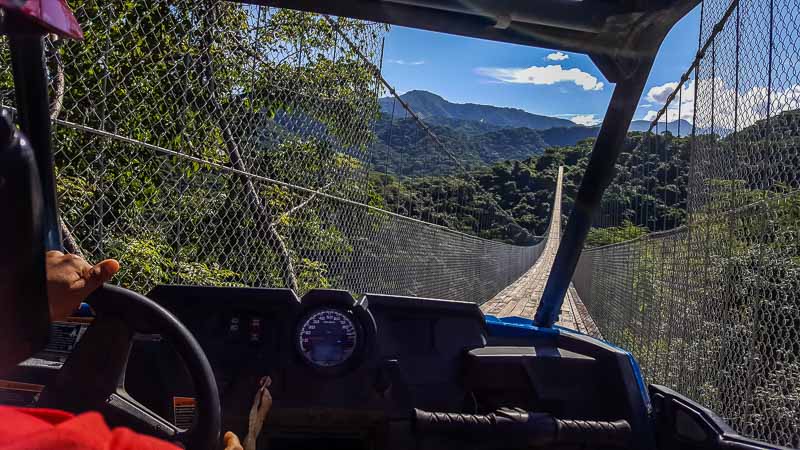 Want to learn more? Check out our article on what to do in the Riviera Nayarit, with 23 wonderful experiences, from visiting the bustling surfing town of Sayulita, to checking out the idyllic vibe of San Pancho, to snorkeling the aquamarine waters off Marietas Islands (where you can see birds like blue-footed boobies of Galapagos Islands fame).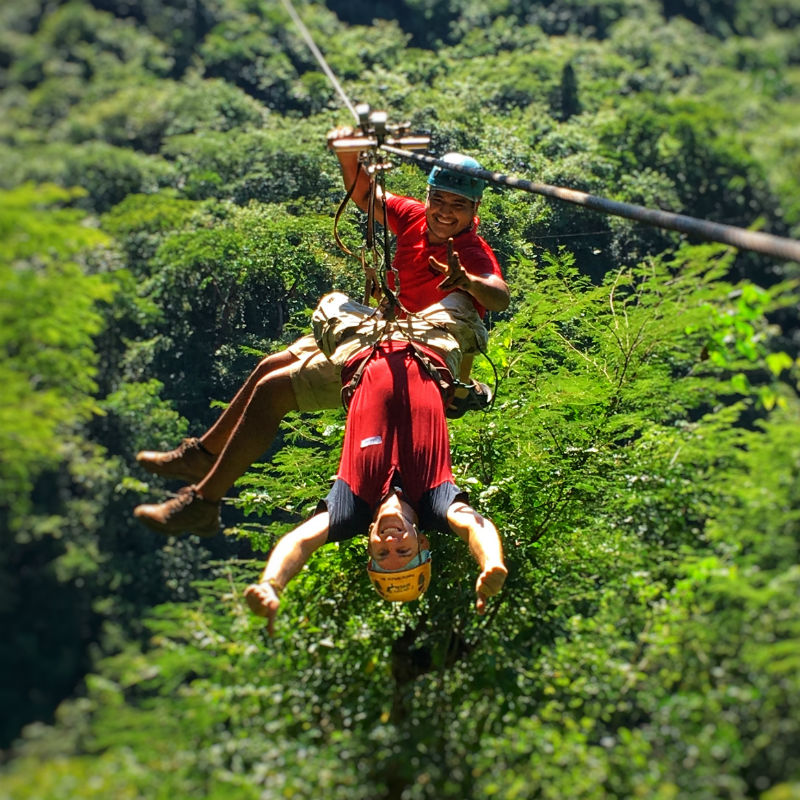 Our room at Marival Residences
Our two bedroom Family Emotion suite with a semi private demi-pool was a whopping 1,711 square feet. That's huge!
When we walked into the nicely air conditioned space, we saw a modern open-plan living space with a full kitchen, dining area and a living room with a large flatscreen TV.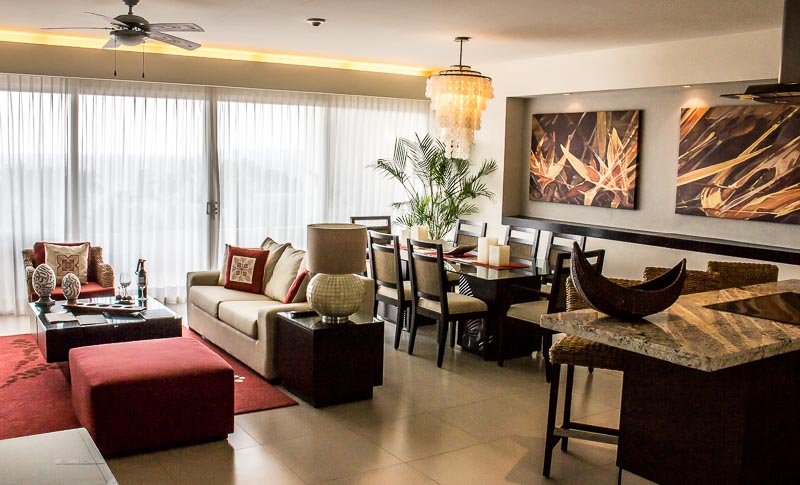 The two bedrooms each had a private en-suite bathroom, plus each had a flatscreen TV. Our master bedroom had a lovely deep bath and King-size bed, while the kid's room had two double beds.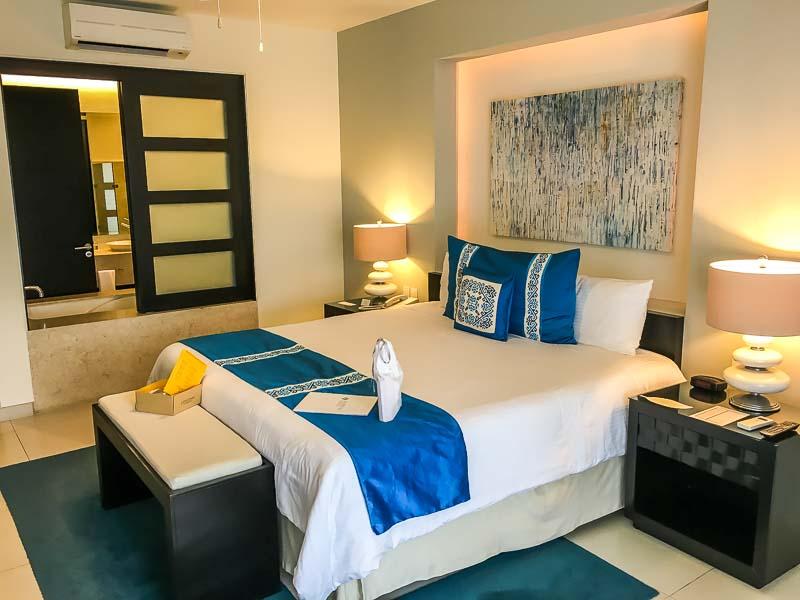 We even had our own private washer and dryer, plus our ground floor suite had outdoor lounge chairs by the pool as well as a patio table and chairs.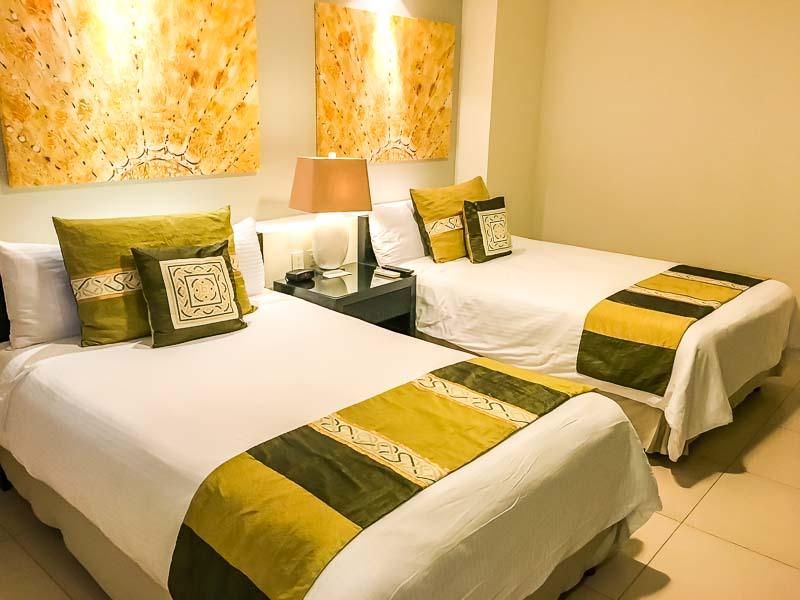 The kiddos loved the fridge filled with drinks, and the fruit and snack basket. Anyone with kids knows they get hungry at the most inconvenient times so that was a huge plus when the kiddos were feeling peckish.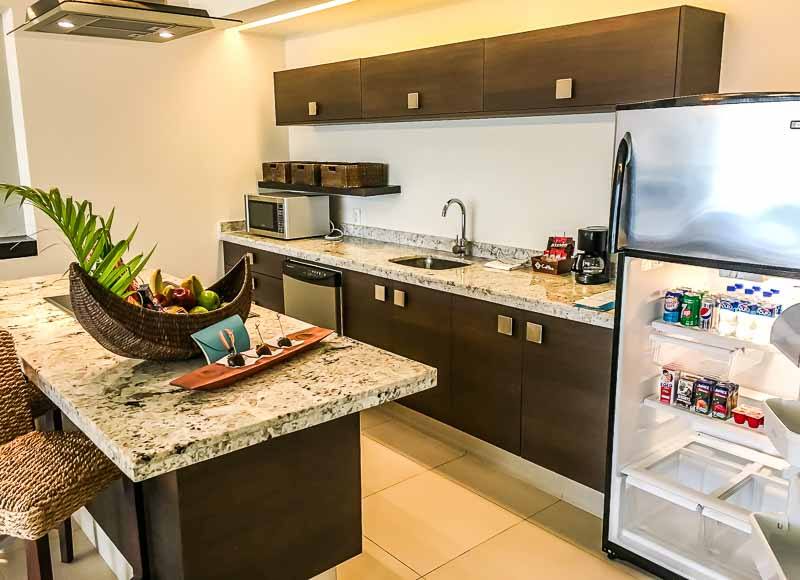 What about maid service? Yep, it's included. Our daily cleaning service was always on time, and did a great job. They also provide turn down service complete with tasty little snacks like chocolate or cookies.
All of the Family Emotion accommodation is in two or three bedroom suites, with the option of an ocean view, a demi-pool, a penthouse suite, or even a three bedroom private villa.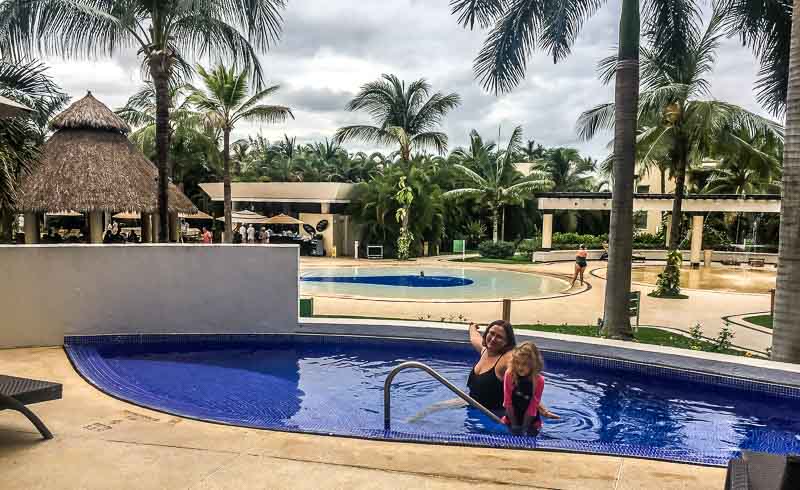 The Hotel
There's definitely something wonderful about an all-inclusive, no worries vacation. Once we donned our cool, braided bracelets from the Marival Residences Luxury Resort, we could eat and drink all we wanted. Not only could we enjoy all of the facilities at our resort, we also had access to the nearby Marival Resort's facilities and restaurants.
This is a great deal, as you essentially get two resorts facilities for the price of one. The Marival Resort sister hotel is just five minutes away. There's a free shuttle that runs every 15 minutes from the main lobby and the Marival Resort also has a special area devoted just to the Marival Residences as well as the rest of the resort.
WiFi: There's WiFi Internet access throughout Marival Residences Luxury Resort. I had great luck with my connection, which rarely dropped, and worked reliably in my room and all throughout the resort. That said, if you find your internet connection to be slow, ask for an upgrade, as they do have faster speeds available.
The Food at Marival Residences
In general, we found the food quality well above what we've had at a typical all inclusive in Mexico.
The all inclusive program includes all snacks, breakfast, lunch, drinks and a la carte dinner specialties, plus national and international brand drinks.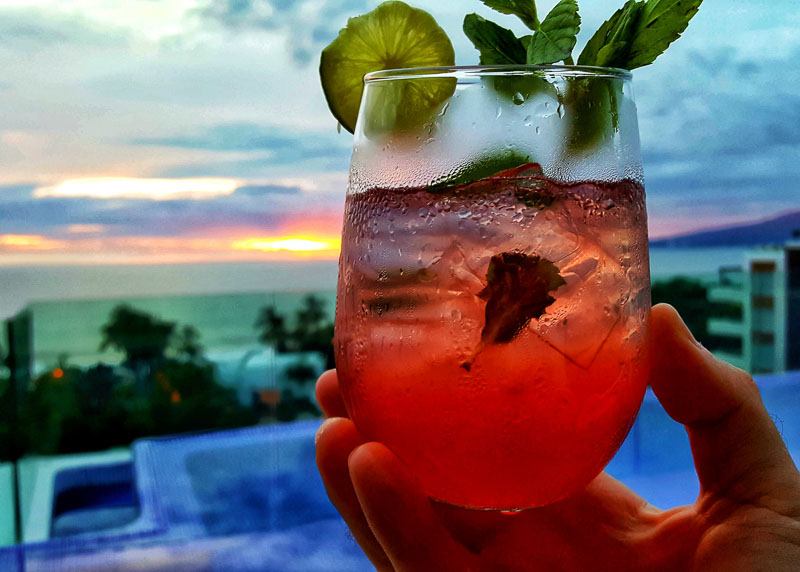 There are five restaurants on site, plus the VIP beach club, room service and poolside service, in addition to six restaurants at the sister resort, Marival Resort & Suites.
As vegetarians, the kids and I were very happy. There were always vegetarian options available, which is wonderful, because we often have a difficult time at resorts!
There's really not much bad to say about the food here, but we'd love to see a few more family friendly menu items always available at the hotel, like pasta or pizza. Since the menu for the Lemmon Grass was a set menu, there wasn't a lot for kids there. When we went inside to Omaggio, the theme night was Asian, and like many US and Canadian kids, ours don't love Asian foods. When we went upstairs to Insu, we found a few items that the kids loved, but it would be nice if the main restaurant, Omaggio, always had a few kids' items available, or a separate kids menu.
Room Service!
Room service is included with the all-inclusive package at Marival, though you do pay a 10% surcharge. Being able to get room service 24 hours a day, seven days a week was one of my favorite parts of staying at the Marival Residences. The kids loved it too!
We had great luck with room service, as it came quickly and everything was the correct temperature and quite tasty. Our room was close to the main lobby, so that may have made it especially fast. Their breakfasts were especially tasty.
Insu Sky Lounge
Insu was my favorite restaurant at Marival Residences Luxury Resort. It's located in the penthouse of the main building, above the lobby, with an impressive view overlooking the Pacific Ocean.
Menu items are all bite size to share, and we all found everything to be delicious. My kids adored the bite sized Caesar salad and especially the grilled cheese while Charles raved about their great sliders.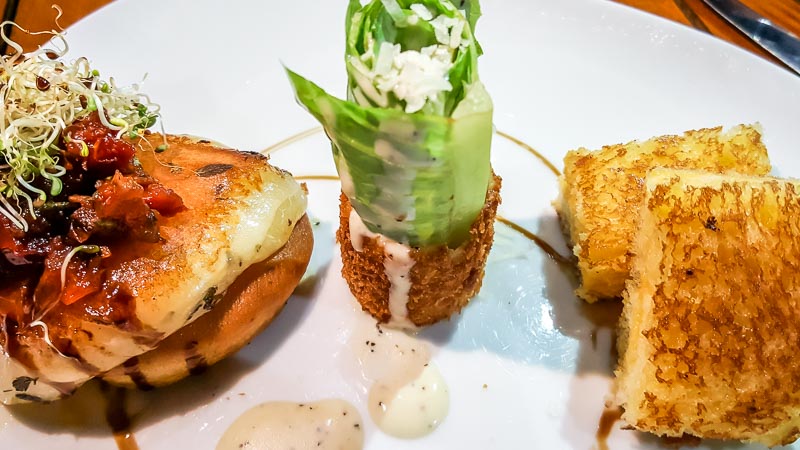 Omaggio
The largest restaurant at Marival Residences is Omaggio. The menu is huge, with a great selection, and it offers a themed evening menu for each day of the week.
Lemmon Grass
Located outdoors, Lemmon Grass is a casual and elegant poolside restaurant. It has a set menu at night however the menu varies by day.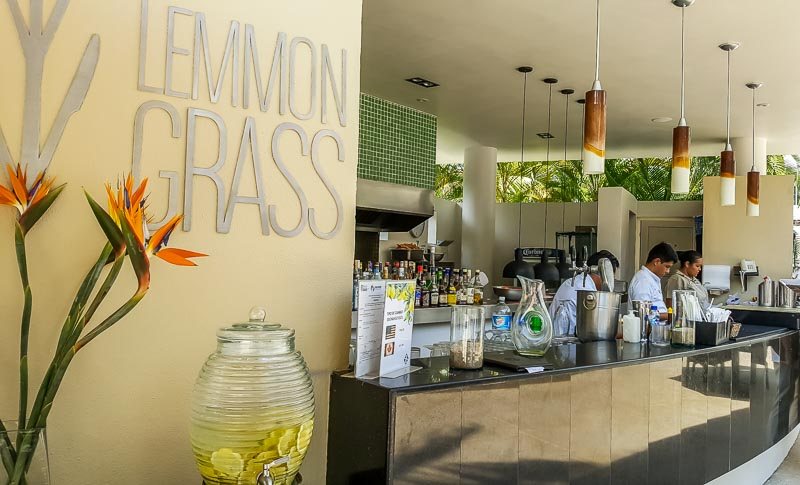 Grill al Fresco
Grill al Fresco is outside by the pool, and has plenty of dishes for breakfast, including Mexican delights, an omelette station, and a selection of fruits, juice and pastries. At night the Grill al Fresco transforms into a barbecue.
Brunello Lobby Wine Bar
Brunello Lobby Wine Bar is a lovely, intimate spot to enjoy tapas and a glass of wine (some wines are not included in the all-inclusive plan).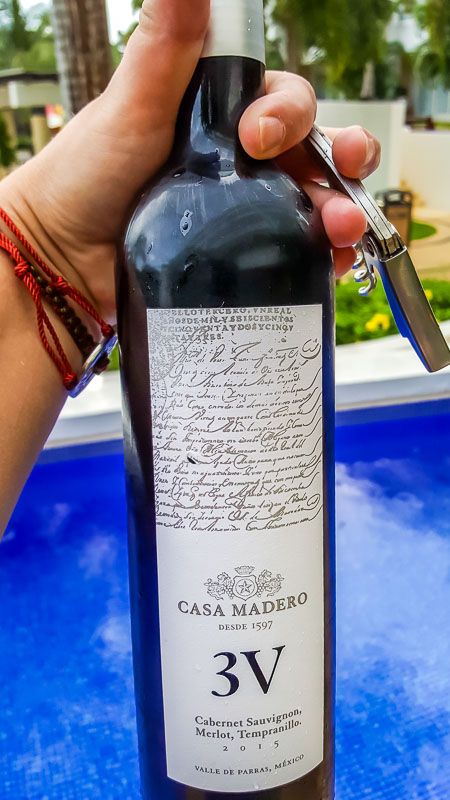 Poolside snack service
If you're in the mood for a snack by the pool, just wave over a server, and they'll bring you snacks and drinks poolside. Our family can wholeheartedly recommend the chips and dip as well as the fries. The guacamole everywhere in the hotel is extraordinary!
Mozzamare Beach Club
The brand new, ocean side Mozzamare Beach Club serves up (my favorite!) tasty guacamole and chips, fresh seafood as well as gourmet dishes and beverages. They were still partly under construction when we were there however the area was already looking gorgeous and, judging by all the smiling people, a huge hit with the crowds.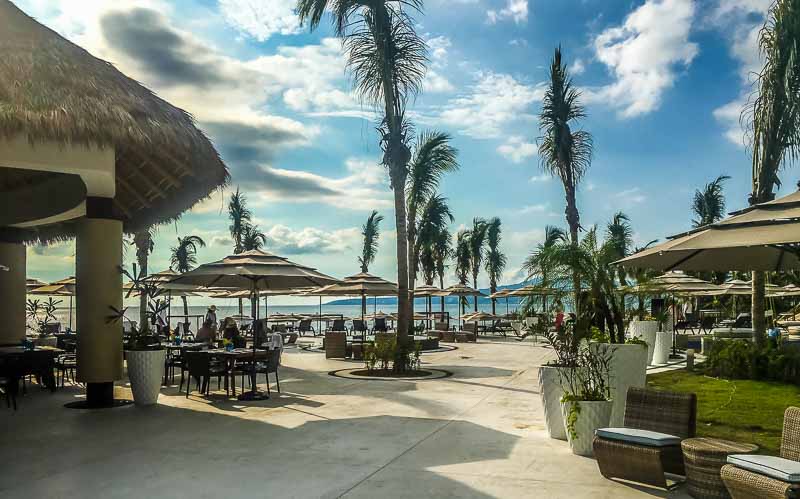 There's beach access, a Palapa Restaurant and another gorgeous pool here, and this beach section is only a few minutes walk from the main area, conveniently on site at the Marival Residences Luxury Resort. Charles and Cole both grabbed a free boogie board and enjoyed the waves while we all enjoyed watching dolphins jumping out of the water in front of us. The Mozzamare beach club is new this year, and it's a fantastic addition from my trip last year.
We also enjoyed a special night time celebration at the Mozzamare Restaurant and think that it would be the perfect location for an outdoor wedding!
Food at the sister Marival Resort
Guests of the Marival Luxury Residences can also eat at the sister hotel, the Marival Resort. The Marival Resort has several restaurants, including La Pergola (the large buffet restaurant), Piazzetta del Forni (thin crust pizza), Las Palmas (Mexican cuisine), La Palapa and Miramar Bars, La Bamba Rodizio, and Amalfi (Italian).
The Melange World Spa
If you're a spa lover, then the onsite Melange World Spa is for you. The spa treatments and decorations are based on therapies from around the world so if you love choices, then this is the spa for you!
At Melange, you can enjoy a specialized World Spa Experience from Mexico, Italy, Japan, Turkey, Russia, Bali, India, Thailand, or the USA. Each spa is unique, and based on the spa history and culture for which it's named.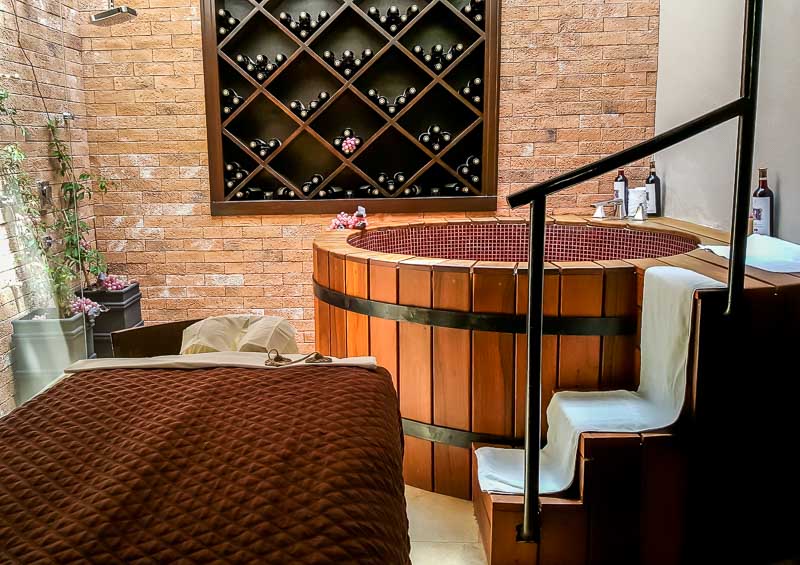 We had a wonderful time with the family spa package. Both of our kiddos (aged eight and twelve), enjoyed a facial and massage with us. I think that our daughter may have found one of her new favorite things to do on vacation.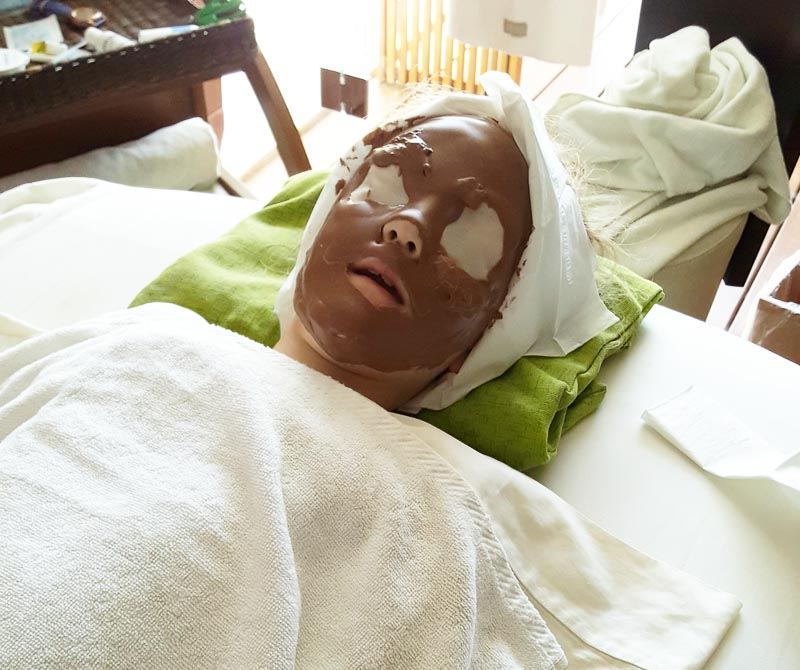 If you're interested in a few of the other World Spa experiences, these two definitely stand out as all around faves:
The Italy Vendimia Wine Experience starts with a wine therapy bath in an original wooden winebarrel, where you enjoy a wine tasting, followed by a full body relaxing massage.
The India Shirodhara Spa Experience includes a Shirodhara treatment with herbal oil that is poured in a steady stream onto your third eye, and a gentle scalp massage to help relax the nervous system. All of this is done on a traditional wooden table (with padding to make it comfortable) that was imported from India. Following the oil treatment, there's an Abhyanga therapy whole body massage with warm herbal oils, followed by a steaming hot water bath in a luxurious copper tub.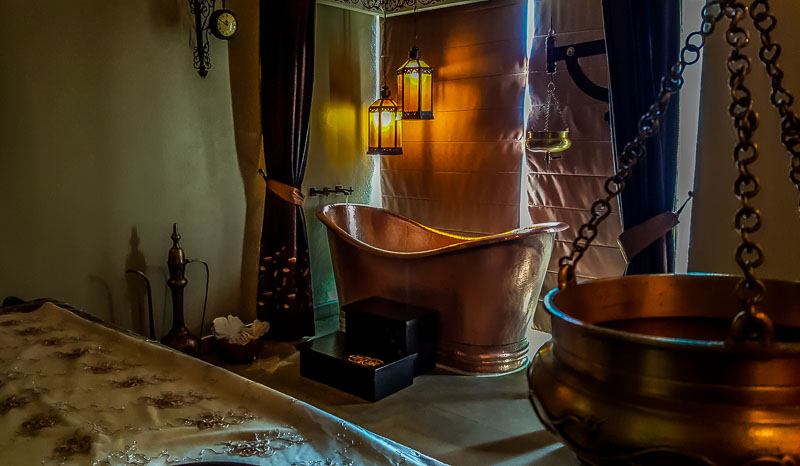 All of the spa treatments are uniquely customized to the area of the world where they originated. For instance, the Mexico Agave treatment (which I enjoyed last time) featured a facial and body wrap with the native agave plant, cacao, honey, aloe vera, and Mayan mud, with a facial and body exfoliation and a light body massage. There's also a specialized couples massage, or a men's wellness & renewal treatment.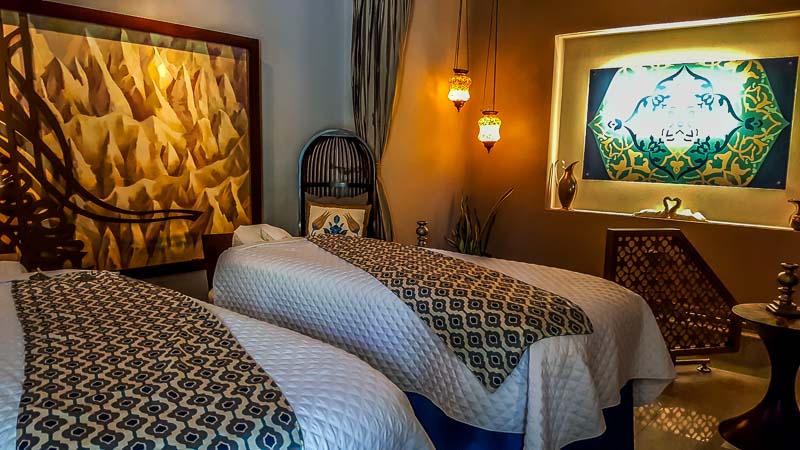 Melange also offers traditional spa treatments, including facials as well as hand and foot treatments.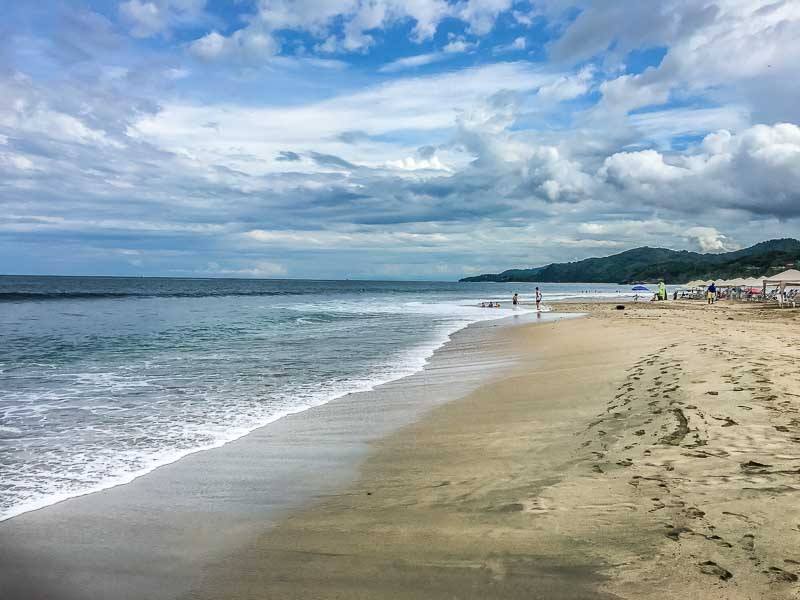 Where is Riviera Nayarit?
The Riviera Nayarit, which includes Nuevo Vallarta, is the northern neighbor of well-known Puerto Vallarta, on Mexico's ruggedly beautiful Pacific Coast, famous for its luxury vacation homes and exclusive resorts. The Puerto Vallarta airport serves both areas and is actually closer to Marival Residences (around 15 minutes) in Nayarit than some of the downtown hotels on the Jalisco state side in Puerto Vallarta.
The bottom line
Like many Canadians, we've been to plenty of all-inclusive resorts, and we've visited Mexico many times over the years.
The Family Emotion Program at the Marival Residences Luxury Resort was, hands down, one of the very best family programs we've ever enjoyed. It's a perfect place to visit for a stress-free, relaxing holiday with the kids!
Want to book? Just head over to the Marival website to book directly with the hotel.
Looking for a family tour in the Riviera Nayarit?
There's a lot to do and see in the Riviera Nayarit, and Viator has a pretty big selection of tours and activities in the Riviera Nayarit.
There's a lot to choose from, including a Marietas Islands SCUBA adventure, whale watching, surf lessons in Punta Mita, an ATV tour, professional photography packages, and even private Spanish lessons.
See Viator tour packages and prices here now.
Get Your Guide offers a snorkeling tour or Coral Island Snorkeling paired with a visit to Sayulita, including a seafood meal.
See tour prices and more here.
You need to know:
Hotel: Marival Residences Luxury Resort
Where to book? We book most of our trips with Booking.com. Check prices and availability here on Booking.com.
Online Reviews: TripAdvisor Certificate of Excellence
Address: Av. Paseo Cocoteros Lt 53 Villa 8, 63732 Nuevo Vallarta, Nay., Mexico
Location: Half-hour drive from downtown Puerto Vallarta
Nearest Airport: 15 minute drive from Puerta Vallarta's PVR airport, the Licenciado Gustavo Díaz Ordaz International Airport
Phone: +52 322 226 9740
This trip was in partnership with Marival Residences Luxury Resort and the Riviera Nayarit tourism board.