Thinking about a visit to Cenote Dos Ojos? We share everything you need to know, from entrance prices to how to get there to our first hand experience visiting.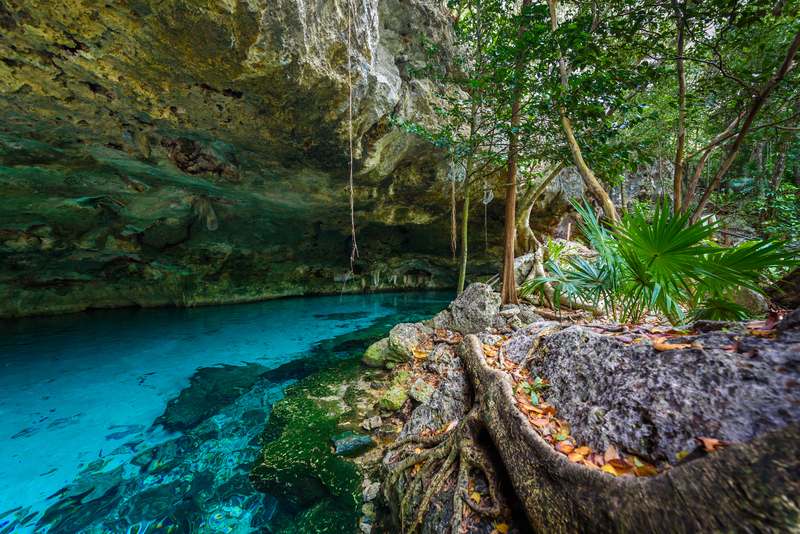 While we were in Mexico, we had the good fortune of meeting up with a few traveling families like ourselves.
One of the families we hung out with was Erin and Josh from Travel With Bender. Not only do they have their own travel blog, they have two young ones as well and it was great to let our kids hang out with kids their own age.
After tons of back and forth, our two families rented a couple of cars to check out Cenote Dos Ojos (Spanish for two eyes) just outside of Akumal, which is between Tulum and Playa del Carmen.
Cenote Dos Ojos rightfully gets great reviews, and offer something for swimmers, divers and snorkelers (we weren't diving that day).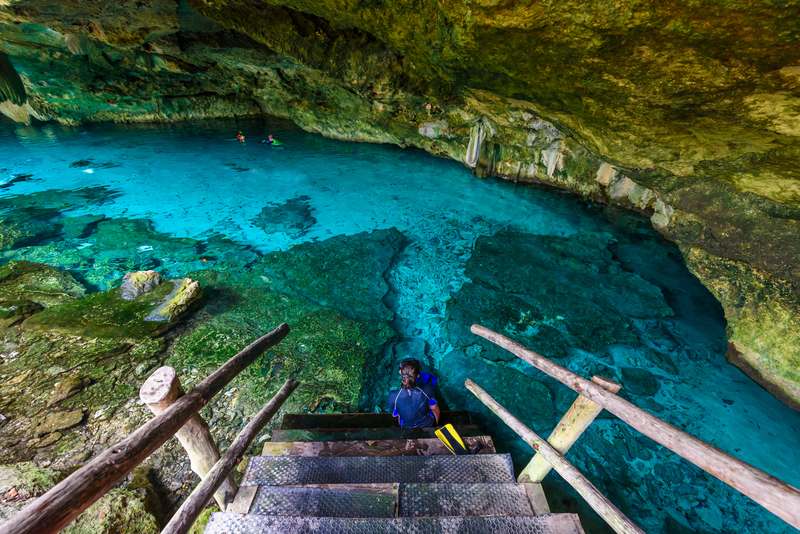 Unlike our visit to Cenote Cristalino, which we visited the last time we were in Playa, Cenote Dos Ojos requires walking down into its depth to access the water. We weren't sure what that would entail, but we knew it would be very different than Cristalino.
What is a cenote, anyway?
If you're not familiar with a cenote (pronounced Se-Noh-Tay), they're large sinkholes that occur naturally in the limestone rock in this area of Mexico. Sometimes they're open air pits and sometimes they're caved in caverns. With the vast network of underground rivers throughout the peninsula, they also occur underground.
There are dozens of fresh water cenotes from Cancun down to Tulum in the Riviera and all the way to Merida further west in the Yukatan.
Once worshiped by the early Mayans as entrance ways to the underworld, today cenotes are quickly becoming a way to attract visitors and generate a little income. More seem to be opening up everyday.
Dos Ojos Cenote
We had heard that Dos Ojos was one of the most popular diving cenotes in the region. This didn't fully hit home until we drove into the parking lot and listened to the diving pitch. The salesman at the entrance seemed awed that we weren't interested in doing a dive.
With two young kids in tow, diving has taken a back seat these last few years, but Micki and I are confident that once we can trust the kids not to do something dumb while we're gone we'll definitely take it up again. To be perfectly honest, Dos Ojos was the first time since we had kids that I truly wanted to strap a tank to my back and plop a regulator in my mouth.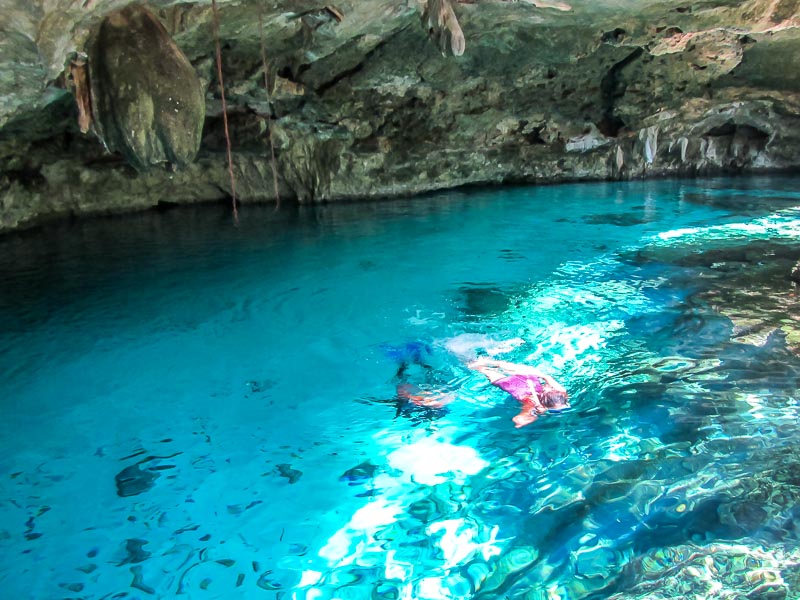 How much is the entrance fee?
The entrance fee is 200 pesos or about $14 US dollars. You can rent snorkeling equipment for around an additional 100 pesos.
After paying near the entrance just off the highway south of Akumal (four-year-old Jordan was free), we drove the two graveled kilometers to the site proper.
We quickly understood that Dos Ojos is a serious diving destination when we were forced to park our cars just outside the main gates while divers got to drive right in. As we walked the extra few hundred feet past the cars, vans and trucks full of divers and their gear in various stages of preparations, we knew it would be busy.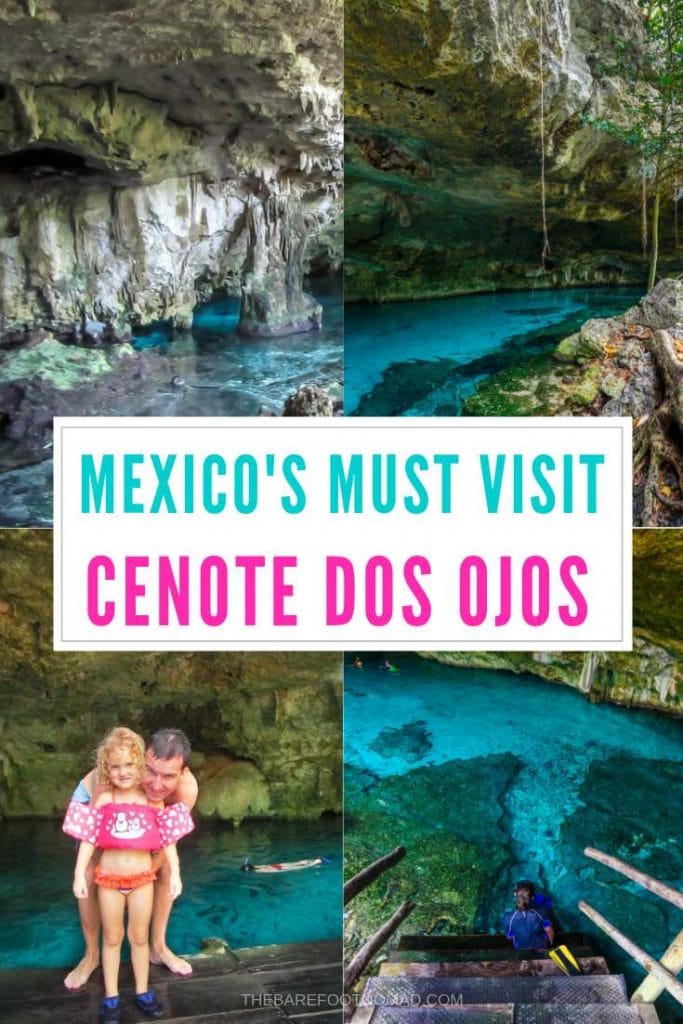 Where do you swim?
There are two main platforms where you can enter the water.
The first platform is to your left after you go through the entrance. This is the larger platform where we spent most of our time. The first platform is also where divers come in and out of the water, so it can be busy. There's also a nice shallow area at the bottom of the stairs here, but it tends to be pretty busy with divers, swimmers and snorkelers coming out of the water.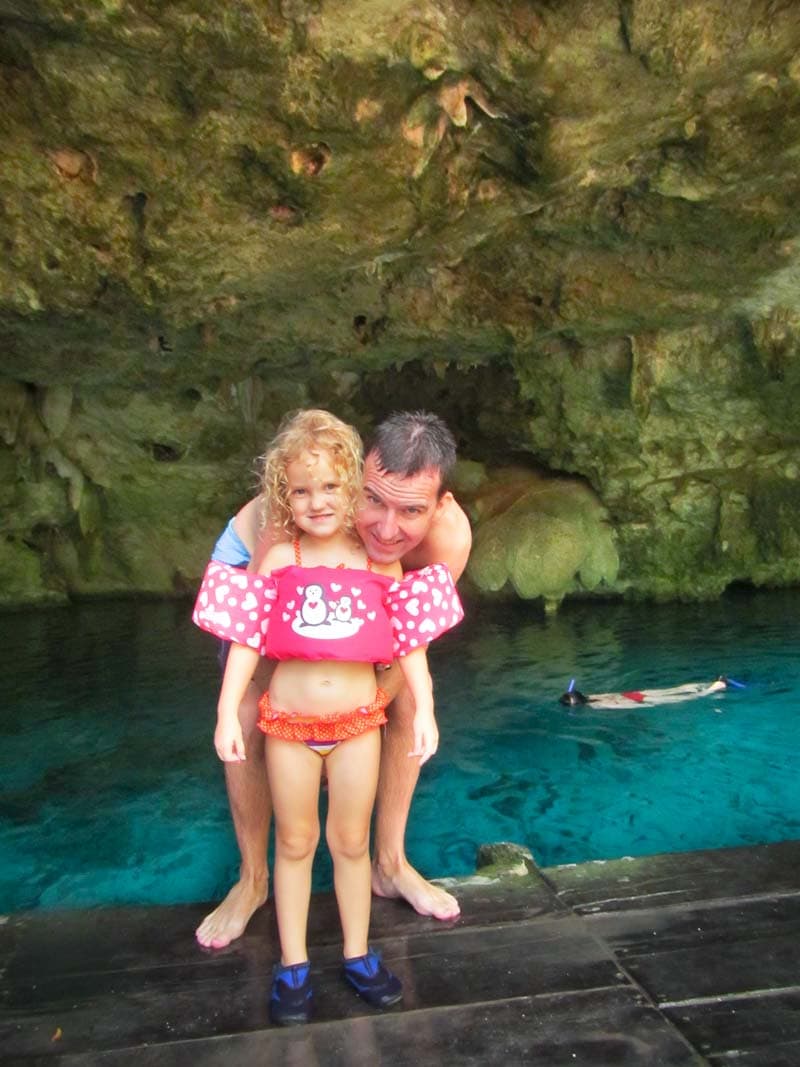 There's also a nice area where divers can fall backwards into the water, which doubles as a good jumping point for all of us non-divers. It was in this congested area that we spent most of our time.
The second platform is to your right after you go through the entrance. The platform here is smaller, and basically just a jumping off point to get in the water. There are stairs leading into the water, and they can be slippery.
Is the water cold?
The water temperature anywhere in Cenote Dos Ojos is a consistent 24 or 25 degrees Celsius (77 degrees Fahrenheit) throughout the year. It's comfortable for swimming, and we found it refreshingly cool after coming in from the hot sun outside.
The water is pretty deep around the second platform, however there are shallower areas around the first platform.
Will I see fish?
Absolutely! The water is full of fish, but they're mostly quite small.
You'll need to use environmentally safe sunscreen.
What is it like to snorkel in Cenote Dos Ojos?
We decided to check out the first platform and as we descended the long steps down to the entrance, divers were everywhere. With a bunch of bench-like tables set up for diving gear, we were surprised there was no dedicated area for the snorkelers. It definitely made it awkward for the kids and our bags, but we found an empty space behind one of the tables and set up shop.
One thing nice about recessed cenotes is that we didn't need to apply any sunscreen on the kids. We're not sure who enjoyed that the most, them or us. 😉
Tip! If you're snorkeling more than once in the Mayan Riviera, save the snorkel kit rental fee (100 pesos), and bring your own snorkel. You can pick up a cheap kit for around $250 Mexican pesos ($13).
Dos Ojos is definitely primarily a diver's cenote, though there are plenty of snorkelers. At Dos Ojos the divers are queen and king. There's not a lot of of room to maneuver and the steps of the first platform, which was one of only a few handful of locations our young kids could touch the bottom. The steps were constantly busy with divers coming out of the water.
Of course, anyone who's ever lugged around a 40 lb tank strapped to their back while in full diving gear and wearing fins knows that mobility on land isn't the easiest. We quickly learned to get out of the diver's way when they were on the move.
Regardless, we had a good time snorkeling and swimming at Dos Ojos.
The fresh, cool water is crystal clear, the light strong enough to see fish and cool rock formations while snorkeling, and the water is deep enough that there is plenty of room for both divers and snorkelers once they're off the platforms and in the water. The drop down is impressive, the caverns gorgeous, and watching the divers enter the dark tunnels from above made me wish I was with them. It was amazing to see how far the diver's small flashlights reached in the dark caves that they were entering.
Though divers constantly came and went, for the most part Dos Ojos was full of playful snorkelers who swam around the first cavern. The kids enjoyed a round of platform jumps and we all had fun.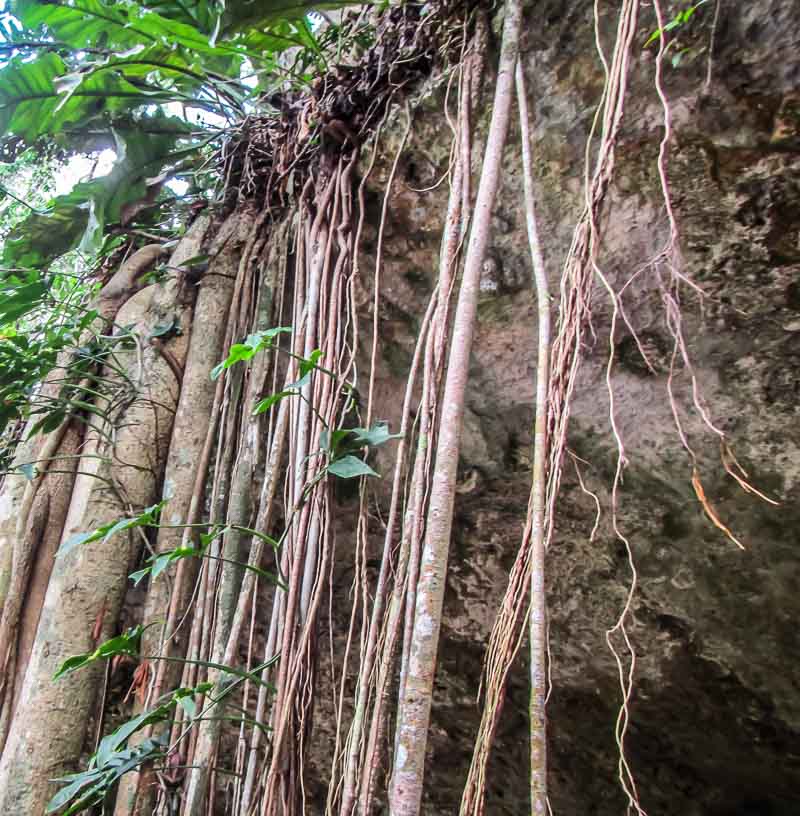 After a good hour or more at the first cavern, we made our way to the second cavern. By then we were all ravenous and the kids were a little tired so we didn't spend much time there.
From a snorkelers point of view, the second platform to enter was a little darker and not as inviting as the first entrance, so we decided to call it quits and jumped in the cars and headed to Tulum for lunch.
From a divers perspective, the second entrance looked promising with a long underground cave system linking the two caverns together.
There are stunning stalactites and stalagmites in the caves.
When the water level is just right, you can snorkel to a bat cave. It's accessible by swimming through a dark, narrow cavern, and our kids weren't interested, so we skipped it this time.
Don't touch anything in the caves, since the cave formations are fragile, and can be broken easily by an errant fin.
You may also see other jungle creatures near the cenotes, including iguanas, snakes, and birds.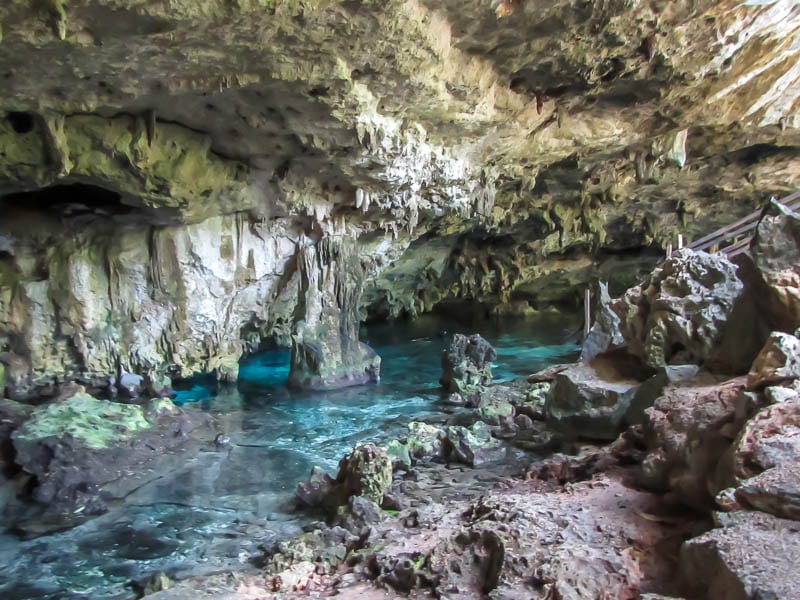 I would look into diving there if you have your certification and aren't afraid of dark, underground worlds. The place was featured in the 2002 IMAX Film Journey into Amazing Caves and the cave system is supposedly one of the longest underwater cave systems in the world.
There are dive tours right on site (though you can hire outside dive companies as well) and the prices seemed reasonable for a dive. Unfortunately, I didn't write any of the prices down so you'll have to shop around if you decide to dive the place yourself.
In all, Dos Ojos was a great cenote to check out and we all enjoyed our morning there. Regardless of whether you're a diver or a snorkeler you'll probably enjoy what it has to offer.
What amenities are at the cenote?
There are a few little snack shops on site and hammocks strewn up here and there in the relaxing zone at Do Ojos.
There are also bathrooms and fresh water available for the divers to rinse out their gear.
Is there a bathroom?
Yes, there's a washroom on site.
Are there lockers and changing rooms, and can you rent equipment?
Yes, there are lockers on site, as well as changing rooms.
You can rent snorkeling gear (mask, fins and snorkel) for 100 pesos extra.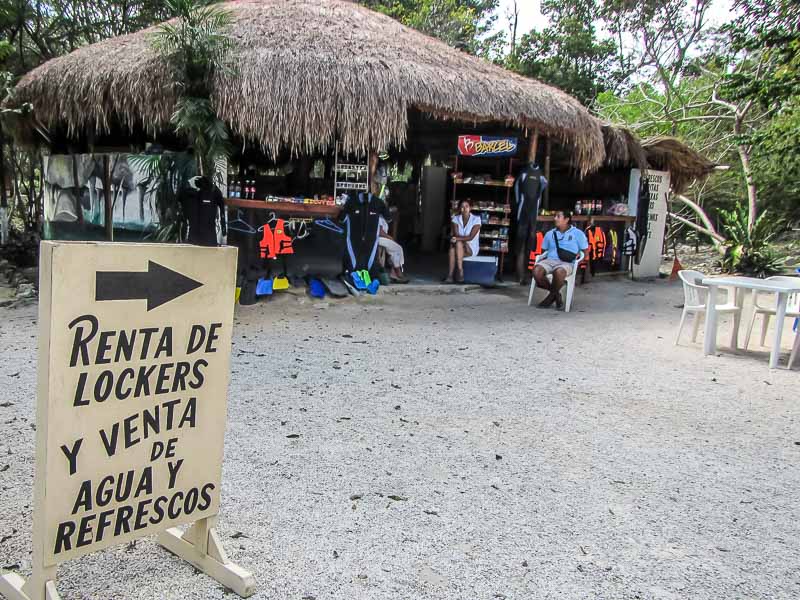 Is there a restaurant?
Yes and no. There's no restaurant directly at the Dos Ojos Cenote. However, there are restaurants at the first highway entrance, and further down the road on the way to Dos Ojos.
Restaurante Dos Ojos and Restaurante Juanita are near the parking lot area.
What does admission cost?
You can buy a ticket at the entrance. Current admission is 350 pesos in 2019 (approximately 18 USD) for adults. (This is a huge increase from our 2013 visit when we paid 100 pesos)! Children under six are free.
Life jackets are included in the price of your entrance ticket.
At 350 pesos a person for snorkelers, the price seemed a little high to me, but Cenote Dos Ojos is beautiful and fun so it's not a ridiculous fee.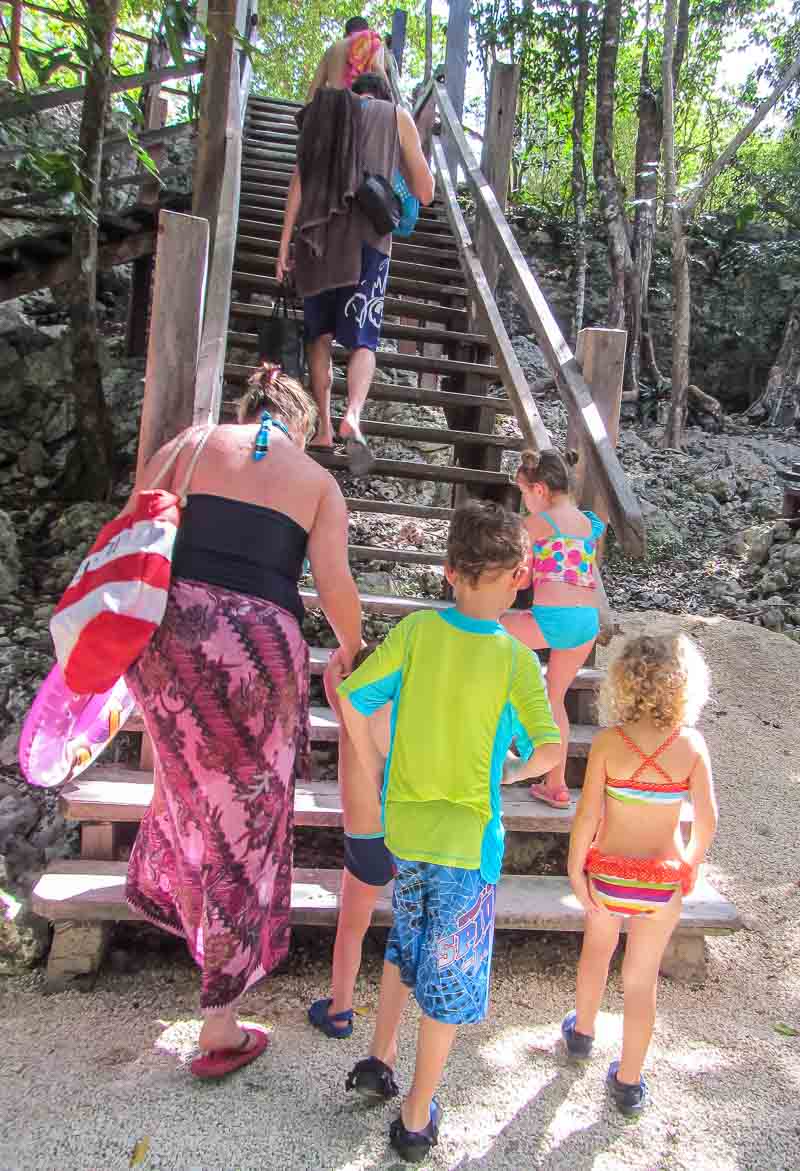 Can I take a tour?
Yes. You can buy a tour on site when you arrive, or buy a tour before you visit.
Dos Ojos tours
If you want to buy a tour ahead of time Get Your Guide offers a tour here.
See prices for a Viator private tour that offers cenote admission and a Mayan lunch (it also includes hotel pickup and drop-off from Playa del Carmen to Tulum hotels).
More Viator tour options here.
Dos Ojos tours at the gate
When you arrive at the gate, you'll be pitched snorkeling and diving tours.
For diving, we'd recommend visiting with a reputable diving school instead, and booking ahead of time.
If you buy a snorkeling tour at the first entrance on the highway, make sure that it takes you to Cenote Dos Ojos. Tours sold at the front entrance will often take you to other cenotes in the complex, and not Dos Ojos. We've heard good things about the tours, just know that you may not be going to Dos Ojos specifically.
Where is Cenote Dos Ojos located?
Cenote Dos Ojoys, also known as Two Eyes Cenote, is between Playa del Carmen and Tulum, Mexico, but closer to Tulum. It's just a little bit south of Akumal.
How do I get there?
We found that taking a car was, by far, the most affordable option for the four of us. It cost us around $25 USD per day for a rental car, and that let us go to Cenote Dos Ojos, visit other cenotes and check out Playa del Carmen, Akumal, and Tulum as well.
By car, Cenote Dos Ojos is a 40 minute drive south of Playa del Carmen. Turn right just after Xel-Ha onto the marked gravel road.
When you drive in, you'll enter Parque Dos Ojos. On the road to Cenote Dos Ojos, you'll pass Cenote Jaguar (with a zip line), Cenote Nic Te Ha, and Cenote Tahal Tulum, with Cenote Taak Bi Ha further down the road.
Make sure you stop at Cenote Dos Ojos, which is an entrance on the left hand side.
From Playa del Carmen, a colectivo (shared bus) should cost around 30 pesos per person (approximately $2.50 USD). You can catch the colectivo in Playa del Carmen on Calle 2 Norte between Av. 10 and 15. It's about a two kilometers (1.25 miles) walk to the Cenote Dos Ojos from the entrance on the highway.
A taxi to Cenote Dos Ojos from Playa del Carmen costs around 600 pesos one way (approximately 32 USD).
Cenote Dos Ojos is also called Sistema Dos Ojos, Two Eyes Cenote, and Cenote 2 Ojos, and sometimes (incorrectly) spelled Cenote Dos Ojos.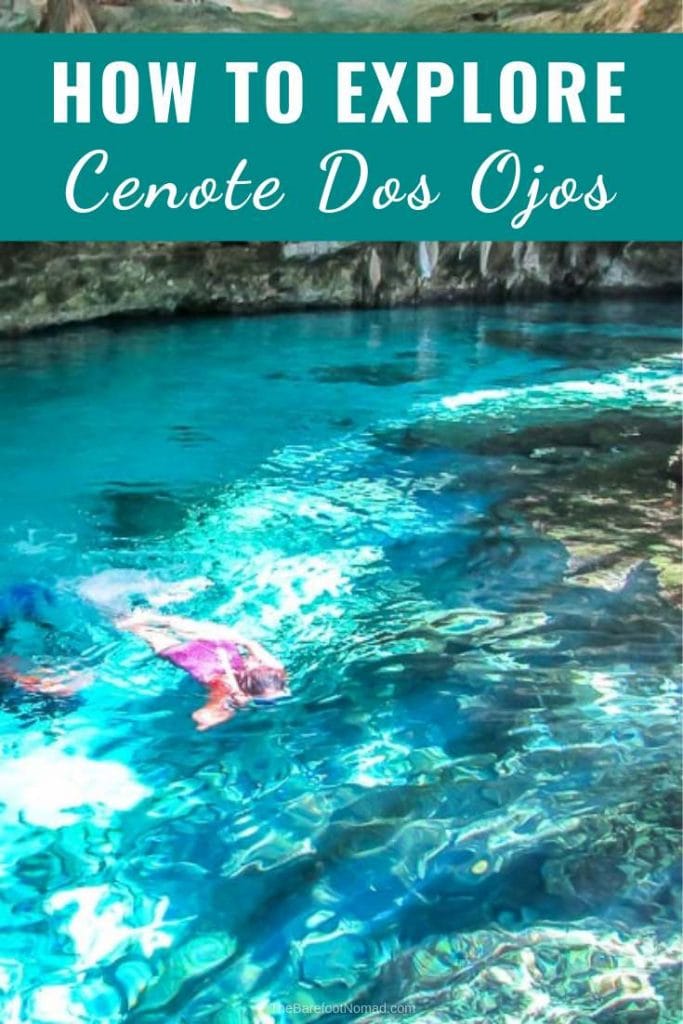 Love Cancun? Check out the best things to do in Cancun, our things to do in Cancun with kids, and our things to do in Cancun on a budget.