Thinking of visiting the beautiful island of Cozumel with your family? Whether you're in port for the day, or on the island for a week, there are plenty of family things to do in Cozumel with kids.
We just finished up a five day stay on the island. Between this trip and another visit a few years ago, we've found a lot to keep our family of four busy.
Fun family things to do in Cozumel
Cozumel is an island in the Caribbean sea that's famous for some of the world's best snorkeling and scuba diving, and it's only a short 15 minute ferry ride from Playa del Carmen, Mexico.
This all means that there's a lot for families to do in the area, whether you're looking for beach fun, shopping, or exploring ancient Mayan ruins.
Find a beach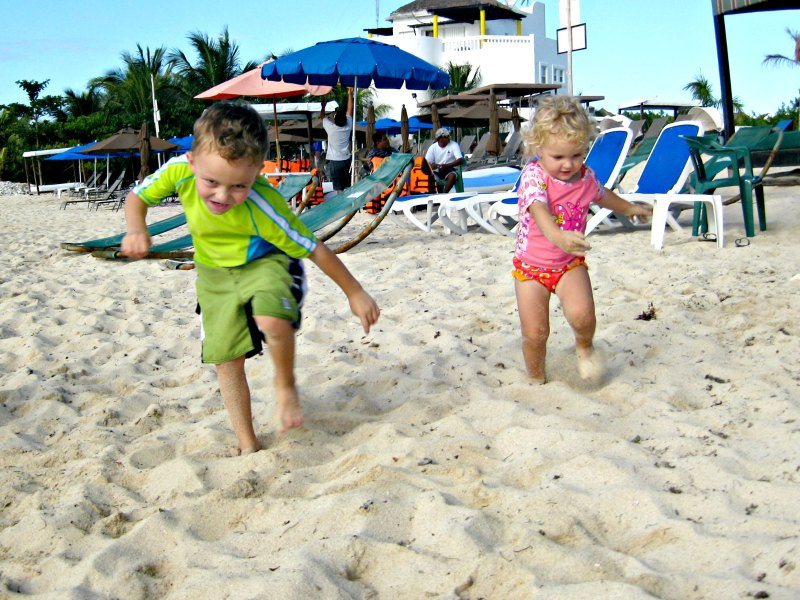 Two of the things that make Cozumel kid friendly are its beautiful climate and small beaches. With crystal clear water and white sand, beach time is probably the most affordable and fun thing to do with kids on Cozumel. Because Cozumel is such a relatively small island, it's easy to reach most beaches from a great vacation timeshare.
Check out tours and activities in Cozumel.
If you have smaller kids, you'll want to stick to the sheltered west side with its reefs to protect against crashing surf. Southern beaches like Playa San Francisco or Playa Palancar are a good choice.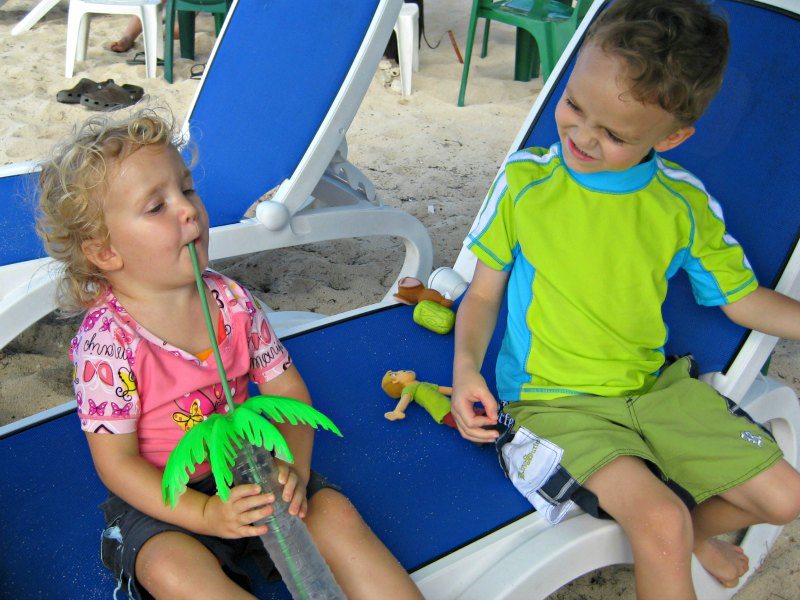 With only a few decent beaches to choose from compared to nearby Playa Del Carmen, Beach Clubs are huge on Cozumel and they can be a lot of fun with the family. We had a blast at the typically touristy and fun Carlos and Charlies beach bar on our first visit to Cozumel.
Often there's an admission charge for beach clubs, and you're definitely expected to order food or drinks there if there's not, however nearly all of them offer you a lounge chair and shade.
Water trampolines and water parks!
f your kids are big enough to enjoy them, there are some fun water trampolines at Mr. Sancho's Beach Club on Paradise Beach, which is just down the beach from Carlos and Charlies beach bar.
Playa Mia Beach Club will also keep you and the kids occupied. There are water slides, kayaks, water toys, an on-water trampoline park, and the little ones will love Bucanneers Bay, which has a kids lagoon pool with a pirate ship, water spray-cannons and all the fun they can handle.
You can get a day pass to Playa Mia Beach Club on Get Your Guide here, or just show up at the gate.
Snorkel or SCUBA dive
If your kids are too little, skip snorkeling and SCUBA in favor of beach time. That said, Cozumel is home to some of the best snorkeling and diving in the world. If your kids are old enough to snorkel, they'll find an abundance of colorful fish and corals at Cozumel's Mesoamerican Reef.
Older kids and teens will love snorkeling at the Chankanaab Adventure Beach Park, while smaller kids will likely do better snorkeling from shore somewhere like the Money Bar Beach Club.
We only snorkeled on our own in Cozumel.
San Gervasio Mayan Ruins
Despite its small size, Cozumel has an interesting Mayan site, the San Gervasio ruins. Check out the video below for a walk through the site.
Atlantis Submarine
We took an Atlantis Submarine ride in Oahu, and absolutely loved it. In Cozumel, Get Your Guide offers a Atlantis Submarines tour.
Shop Plaza del Sol
Plaza del Sol is the zocalo (town square) in San Miguel, Cozumel's only square.
There are plenty of souvenirs to be found in the streets around the Plaza del Sol, including hammocks, embroidered and lace clothing, silver jewelry, and little wooden toys for the kids. There are also plenty of places to stop for lunch or ice cream.
Kids will enjoy the street performers and musicians who are ever present in the square.
Chankanaab Adventure Beach Park
Chankanaab is located inside Cozumel´s National Marine Park. You can swim, snorkel in the lagoon at the Chankanaab reef, grab a snack and check out the exhibitions, spa or zip line. Cost is $21.00 USD for adults and $14 for kids age 3 to 11.
Punta Sur Park Ecological Reserve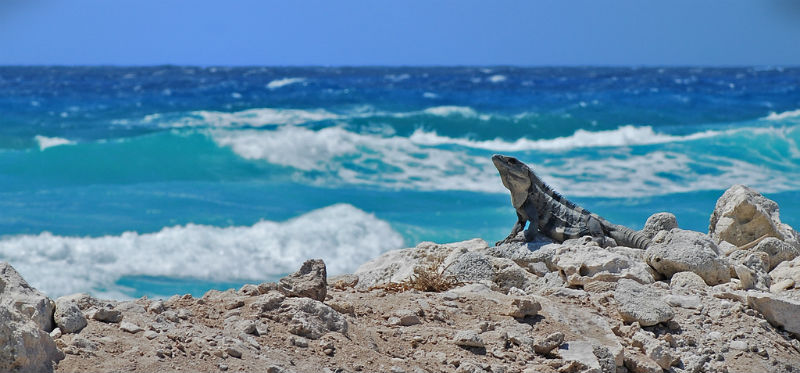 Punta Sur is Cozumel's largest ecological reserve. It boasts a gorgeous white beach and reef for snorkeling as well as tons of wildlife on the lagoon side. In the lagoon you can see crocodiles, turtles and tons of birds including flamingos and there is a free pontoon boat ride available. The cost is $14 USD for adults, and $8 for children age 3 to 11. It's open Monday to Saturday and there are change rooms, hammocks, chairs, showers, restaurants and even lifeguards on duty there. The Faro Celerain lighthouse is also at Punta Sur.
Faro Celarain lighthouse
One of Cozumel's most iconic buildings, the Faro Celarain lighthouse is located in the Punta Sur ecological reserve. It's included in your admission to the park and you can climb to the top for some of the best views on the island. It's a bit of a climb though so make sure you and the kids can handle it. There are nearby hammocks at the bottom for those that prefer to wait for others in comfort.
Cozumel Pearl Farm
If you're looking for something unique and memorable to do in Cozumel, a visit to the Cozumel Pearl Farm may just be it. This is around a six hour tour that gets stellar reviews, where you learn how pearls are made and farmed, with time to relax on a private beach, eat lunch and play in the water.
I only wish I'd seen this while we were in Cozumel. It's a must-do for our next trip. Reviews say it's good for small children, as well as older kids.
Cozumel Glass Bottom Tour
A glass bottom boat is a great alternative for those who don't like to snorkel, or if you have little ones that are too young to SCUBA or snorkel. Viator offers a three hour glass bottom boat tour in Cozumel.
Find out prices and more here.
Drive around the island
If you have a little time on your hands, you can rent a car in town and see most of the sites above all in the same day. Prices for cars are decent and there is only the one ring road so it's hard to get lost. The road only covers the south side of the island so if you want to see the northern end you either need to take a boat or rent some atvs. In both cases it's better to take a tour.
For those on a more tight deadline, you can always hire a private driver that will take you around the island. Most cruise ship day tourers opt for this to make sure they're back in time for departure. You can often just hire a taxi driver to take you where you want to go however the taxis aren't metered on Cozumel so make sure you agree on the price before you get in.
Day trips from Cozumel
While Cozumel is a lot of fun in and of itself, there are quite a few family friendly day trips from Cozumel that are worth checking out.
See our day trip suggestions from Cozumel here.
Day trip to Playa del Carmen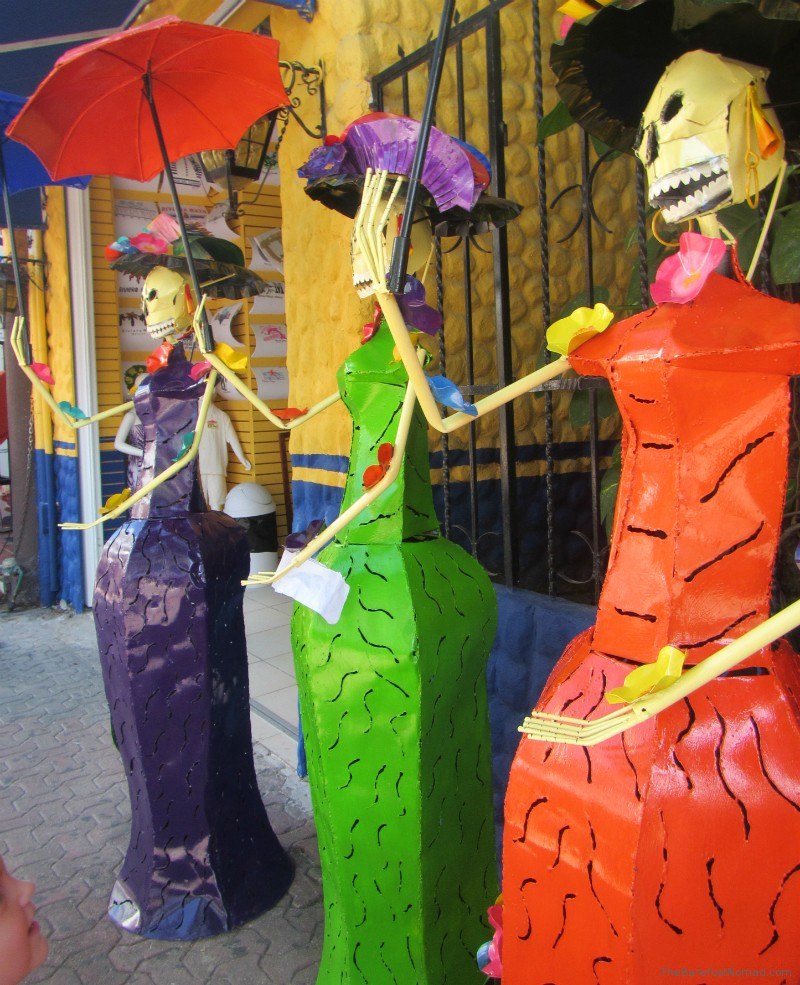 It's no secret that we're big fans of Playa del Carmen, returning every couple of years to spend a month or two. It's just a 15 minute ferry ride from Cozumel, with the pedestrian friendly Quinta Avenida (5th Avenue) just in front of the ferry terminal. With plenty of shops and restaurants, there's also many family friendly activities in Playa del Carmen itself, and lots of free things to do.
There are also miles of beaches right in town that are free and easily accessible for families with children.
Xcaret Theme Parks
While you're in Playa Del Carmen, you may want to check out one of the parks in the Xcaret family, including Xcaret itself (our favorite for kids), Xel-ha (where you can snorkel and swim to your hearts content), Xplor (which has some fun ziplines, ATV tours and swimming), or the new and quirky Xsenses, which we loved.
IMPORTANT: You can get 10% to 15% off admission to the parks if you book online through this link.
Day trip to Tulum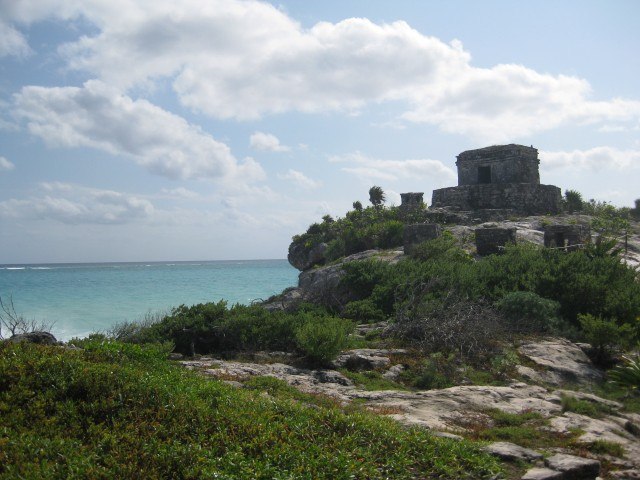 While most first time visitors make a beeline for the Mayn Ruins at Chichen Itza or Coba, the ruins at Tulum are closer and are perched spectacularly at the edge of the Caribbean sea. Make sure you make time to visit the seemingly endless stretch of beach in Tulum, and nosh at some of the good restaurants on the main road through town.
Visit a Cenote!
The most popular cenotes (clear, natural, freshwater limestone pools) are located on the mainland near Playa del Carmen and Cancun. If you're looking to visit one, blogger Anna Everywhere has a helpful article on the best centotes in Mexico and we've visited more than a few ourselves including nearby Cenote Cristalino and Cenote dos Ojos.
Cancun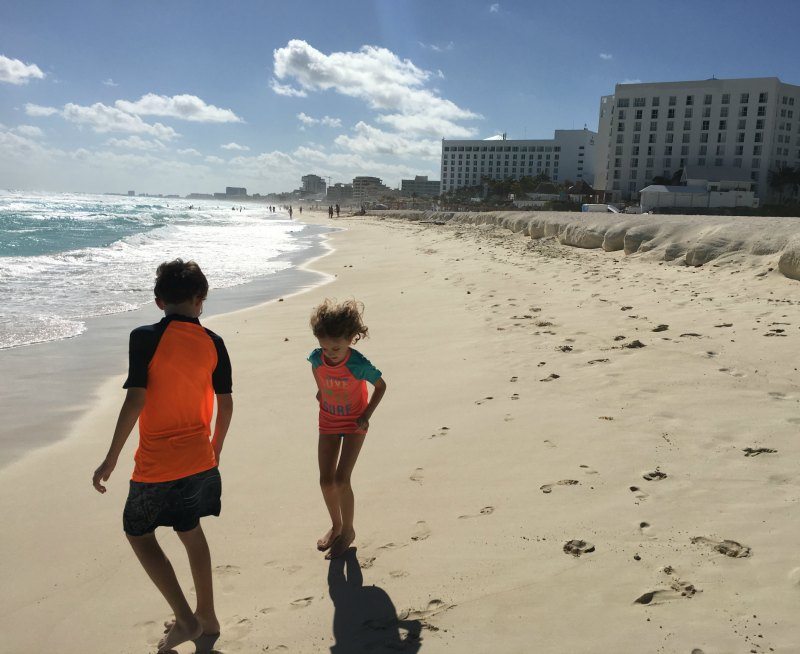 Generally, we prefer Playa del Carmen to Cancun, as we find Cancun to be more touristy, its beaches are rougher and the town less walkable. There's no shortage of things to do in Cancun, but it's a little trickier to visit Cancun on a budget.
That said, there's a lot to do in things to do in Cancun for kids, and it can make for an exciting day out. Cancun is also a quick and easy bus ride from Playa Del Carmen and the main ADO bus terminal is only a few blocks from the ferry terminal.
Day trips to Coba or Chitzen Iza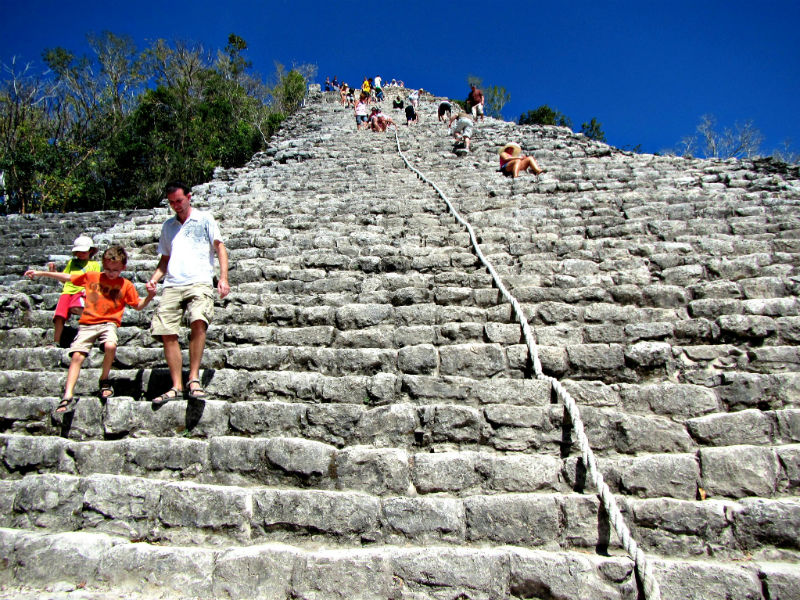 Most visitors to the Mayan Riviera make a beeline for the famous Mayan Ruins at Chitzen Iza and the massive El Castillo pyramid.
We loved our time at the smaller, but definitely impressive Coba Mayan ruins. It was an incredibly important site for the ancient Mayans, and because it's a little less known than Chitzen Iza, you can climb many of the pyramids with fewer other tourists around.
Viator has some fun tour options for both Chitzen Iza departing from Cozumel and a fun looking tour that takes in cenotes, Coba and the ruins at Tulum.
What to bring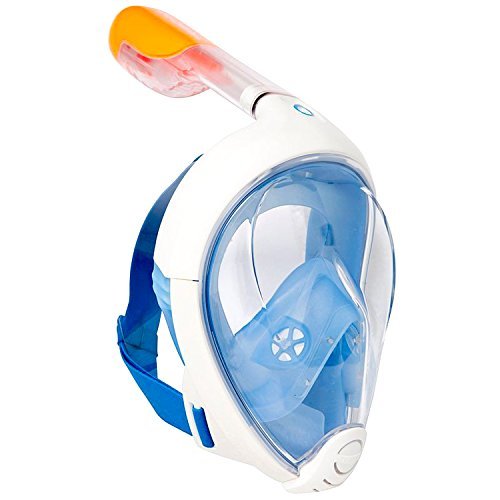 You can rent masks, snorkels, and fins at any hotel or beach club, or simply bring your own. We haven't had a chance to try them ourselves, but we've heard great things about the adult full face Tribord EasyBreath mask and the kids Cressi DELUXE Youth Mask Snorkel Set.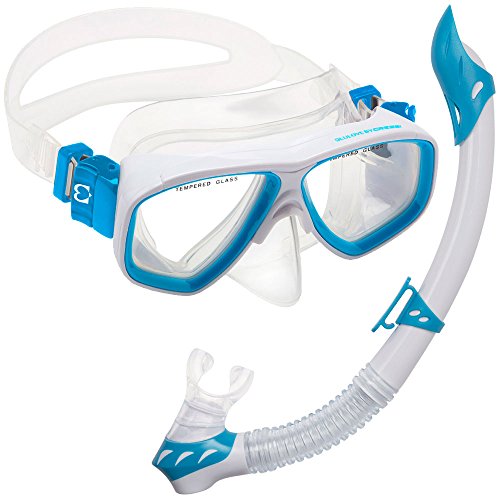 Most tour operators include children's and adult life jackets, but inquire first to be sure.
Also make sure that you have waterproof sunscreen on hand if you go snorkeling. Xcaret and most of the nature reserves require you to use biodegradable sunscreen when swimming in the water however we haven't loved the biodegradable sunscreen we've tried so far. Our friends swear by the Badger Sport Sunscreen Cream and it gets great reviews on Amazon so we'll give it a try next.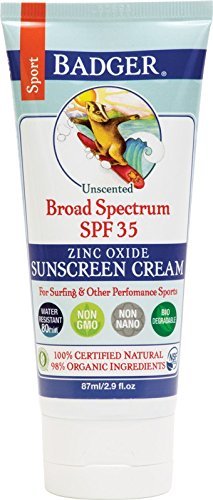 Another great option for kids (and even adults) is to get a SPF 50 rash guard t-shirt like this one. We've used rash guard shirts on our kids for years and they're so much easier to deal with rather than constantly applying sunscreen. Our kids love them and they're great when snorkeling or even just hanging by the water. We plan to pick up one for ourselves when we get back for when we go stand up paddle boarding or kayaking.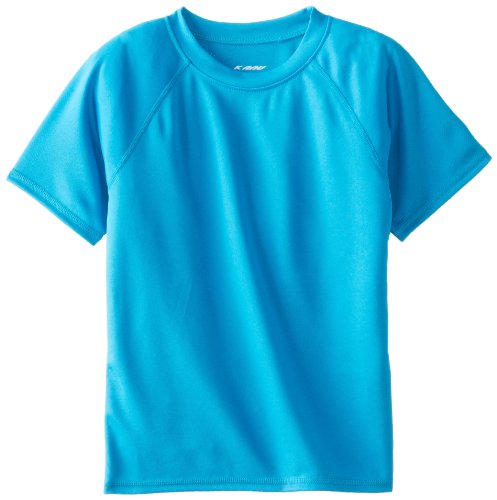 When we're in a beach destination, we also like to have two sets of swimwear for everyone. That way, one swimsuit is always dry, and we don't have to deal with putting on a cold, clammy suit.
Most hotels and tour operators provide towels, though we carry a lightweight travel towel that works as a cover up, towel, and a lightweight blanket for cold airplane rides. It also makes a great impromptu fort for the kids.
Looking for something else?
If you can't find something that suits you above, check out all of Get Your Guide's Cozumel Tours and Activities.
Where to Stay in Cozumel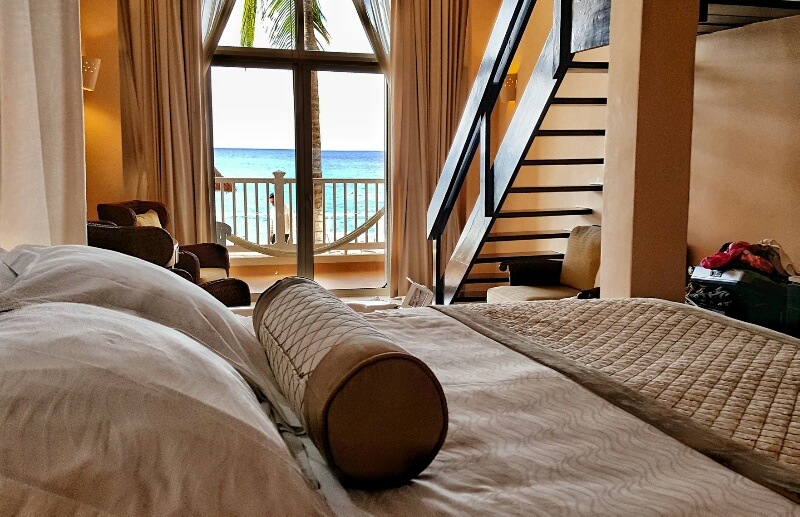 If you're looking for more fun family things to do in Cozumel, be sure to pick a family-friendly hotel.
We stayed at the Cozumel Palace all-inclusive, and the kids loved it. It's an intimate all inclusive, with a kids' program (yay, for free time for Mom and Dad!), and kid-friendly swimming pools and restaurants. It's also nice and close to Cozumel town, giving this Cozumel family resort one of the best locations in town.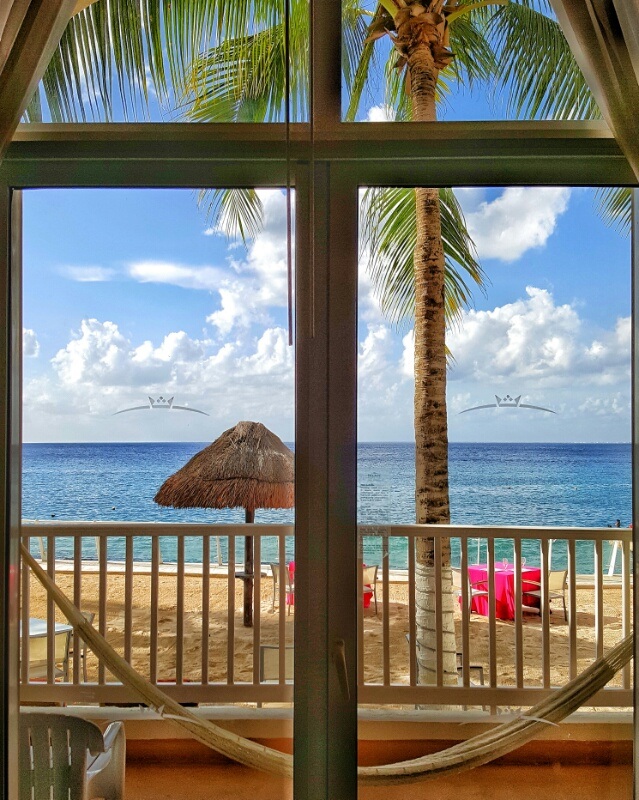 Tip: If you're looking for easy, cost-effective help with family activities in Cozumel, ask about the offer for a Palace Resorts credit with every stay.
You can read about our stay at Cozumel Palace here.
See prices and availability for Cozumel Palace.
What you need to know
Nearby airports: Cancun (CUN) and Cozumel (COZ)
Language: Spanish, but English is widely spoken in tourist areas
What to do: If you can't find family activities in Cozumel that suits you above, check out all of Get Your Guide's Cozumel Tours and Activities.