It's no secret that we love Isla Mujeres on Mexico's Gulf Coast. Warm blue waters, fantastic beaches, good snorkeling, and a great selection of restaurants all make Isla Mujeres a must see if you're on Mexico's Mayan Riviera.
Located only a short 20 minute ferry ride from Cancun, Isla Mujeres makes a great day trip and an even greater longer mini escape from your Cancun vacation.
Oh yeah, have I mentioned you can drive the entire island on a golf cart, in half a day? We did it the first time a few years ago and it's still one of our favorite family travel highlights.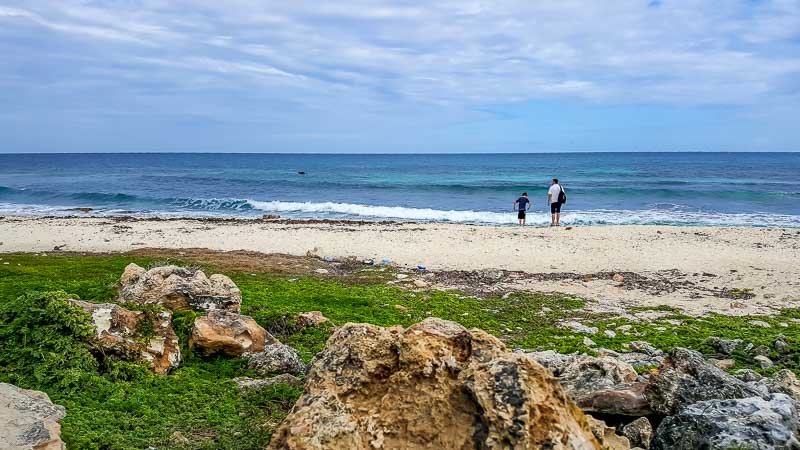 Likewise, if you find yourself down in Playa Del Carmen, Akumal, Tulum or even staying on Cozumel, then Isla Mujeres is pretty easy and inexpensive to get to. We've done the trip from Playa del Carmen more than a few times now and have enjoyed our trip to Isla Mujeres every single time.
Now, we've written about Mexico's Isla Mujeres a few times over the years and, to be honest, not much has changed. Of course it's grown, but that only means more golf cart rentals and more options. We don't find that it's gotten any busier and it seems there's just more to do there these days with a lot more places to rent from.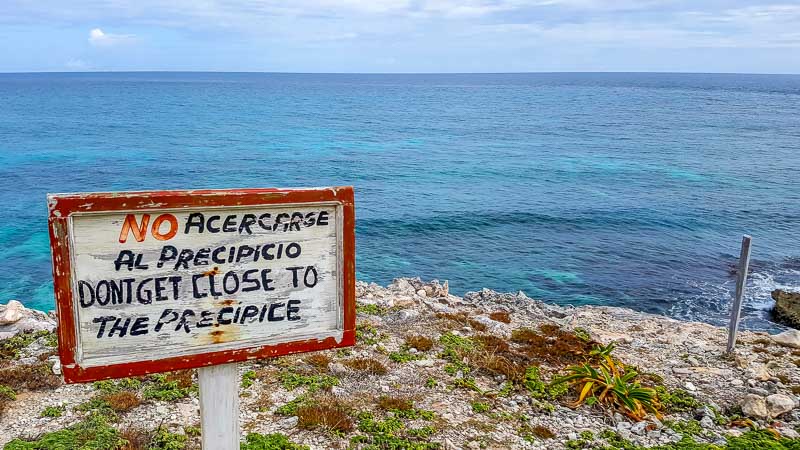 Things to do in Isla Mujeres Mexico
So, without any further ado, here are our things to do in Isla Mujeres.
Rent a golf cart on Isla Mujeres
Haha, if you read our previous Isla Mujeres post you don't think I'd miss this one. There are now dozens of golf cart rental companies on Isla Mujeres, and though they do still occasionally run out during the holidays and busiest times of the year, most days you're fine as long as you arrive before noon.
You can pretty much drive to every place on the island, and if you're there for multiple days, you can spend lazy afternoons on different beaches every day. You can walk or take a taxi most places on the island, but if you want true freedom, rent a golf cart and enjoy yourself.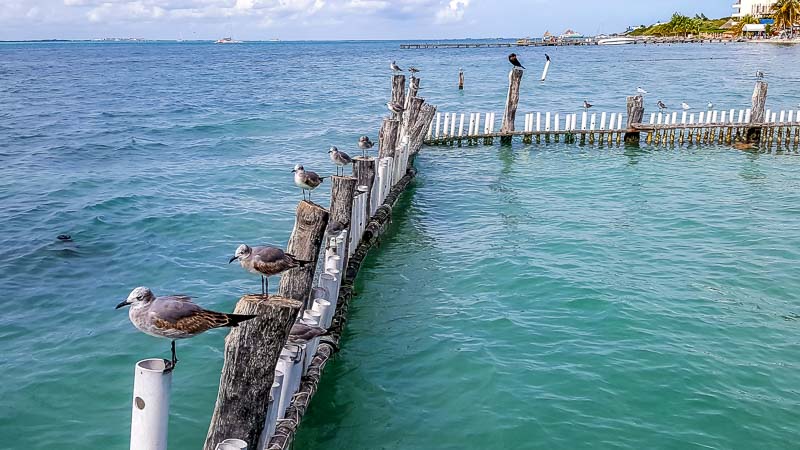 Relax on the beaches on Isla Mujeres
Since we just talked about beaches, there are around six semi-official major beaches on Isla Mujeres and a bunch of smaller ones. Some, like Playa Norte, feature bars and beach chairs and on many you can rent SUPs, kayaks, water toys and even snorkeling equipment.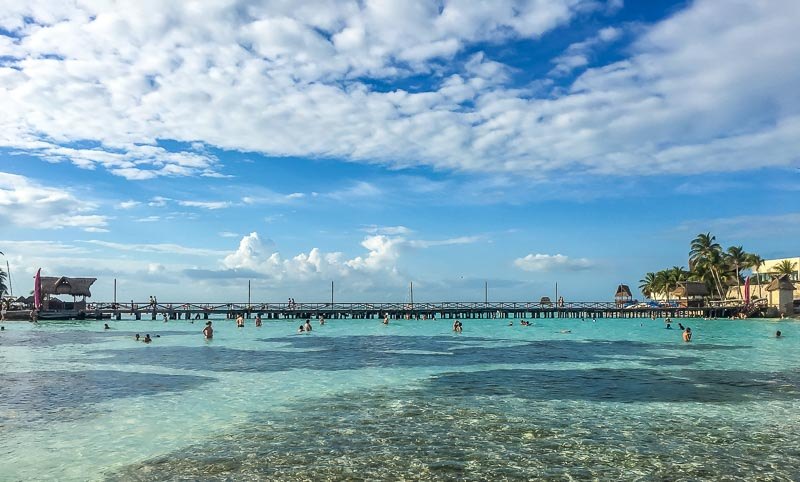 Playa Norte (North Beach) is by far the most popular and is often rated one of the best in the Caribbean. Playa Norte is just minutes from downtown, and the palm trees and luxurious white sand make Playa Norte muy hermosa. Playa Norte has almost no current, and kids and adults can wade pretty far out and the water will only reach their waist.
Playa Posada, found along the west side isn't as crowded, however the water isn't as clear, and Playa Media Luna is a beautiful crescent shaped beach but the water can be rough.
Playa Indios, Playa Paraiso and Playa Lancheros are all more secluded beaches found on the west side facing Cancun. You can rent beach chairs and umbrellas there, and open air restaurants, gift shops and public bathrooms are close by.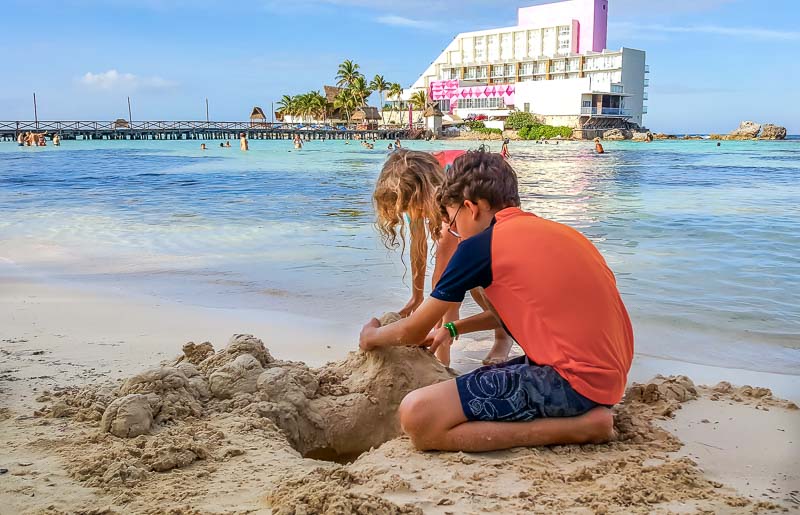 Stay in one of the many lovely hotels in Isla Mujeres
There are lots of hotels to choose from on Isla Mujeres, and they cater to every taste and budget. You can stay on the beach or off, with a family or as a couple. With swimming pools and all inclusive plans, staying at a hotel in Isla Mujeres can be a great way to start or end a long day seeing the sites.
La Tortuga Granja (The Turtle Farm)
Love sea turtles? So do we, and that's why we always stop by the Turtle Farm in Isla Mujeres. Since large sea turtles have made Isla Mujeres their breeding ground for generations, the Turtle Farm gathers up the eggs it finds along the beaches and incubates them at the Turtle Farm thereby greatly increasing their chances of survival.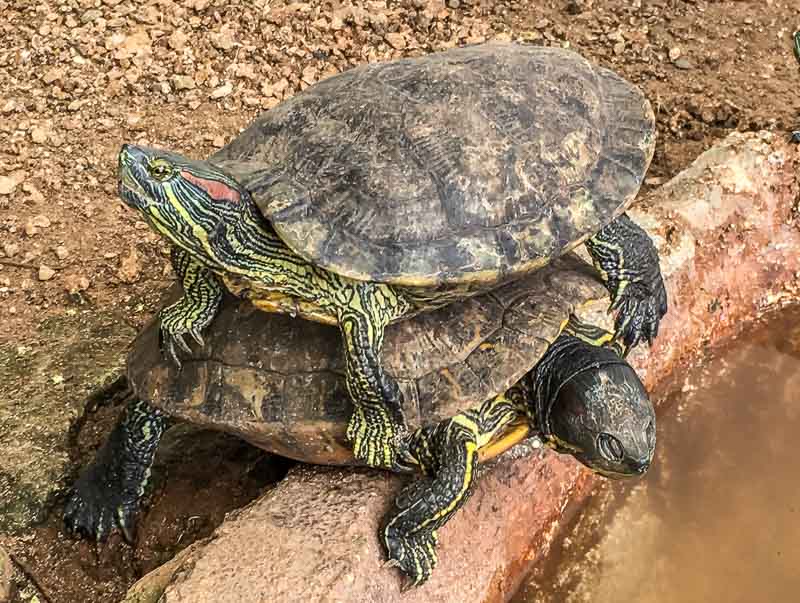 Depending on the time of year you're there, you can see hundreds of turtles in the tanks growing up in the large tanks around the property. There is a great celebration the day they're released back into the wild.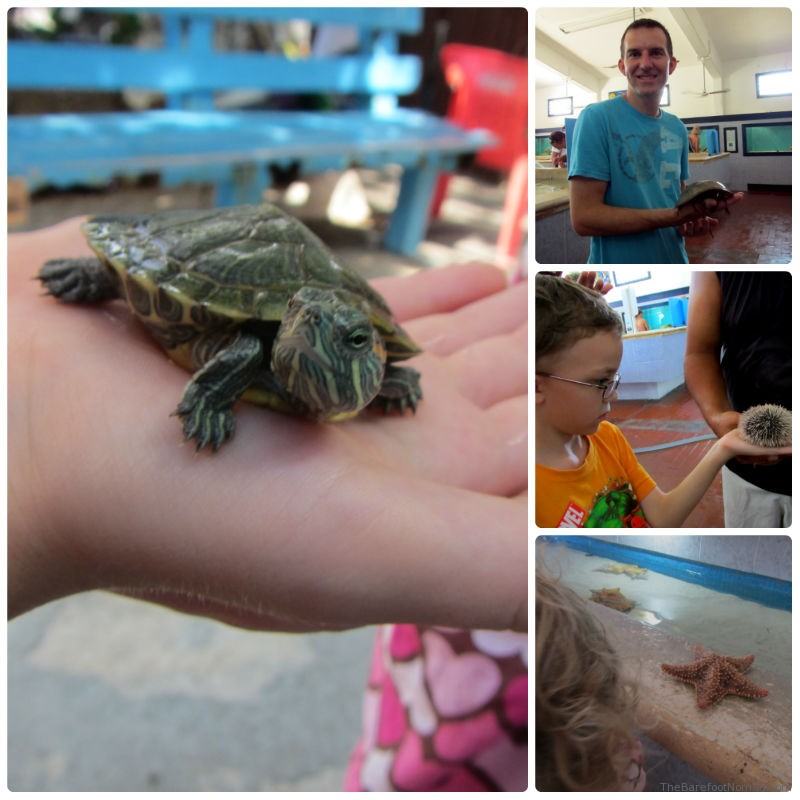 In the main building there is also a small aquarium with sea horses, lobsters, crabs, tropical fish and even an octopus. There are also a few land turtles and family of iguanas who hang out along one side of the building.

The Joysxee Floating Bottle Island
If you're looking for quirky things to do in Isla Mujeres, you can check out the Floating Bottle Island. Created a few years back by Richart Sowa, this floating recycler's dream is completely built using used plastic water bottles and recycled materials, including a three story house and an outdoor bar. You'll need to talk to the locals about its current location, since the floating house moves around the island from time to time. There is a small entrance fee.
Punta Sur
Located at the far southern edge of Isla Mujeres, Punta Sur features not only the highest elevation in all the Yucatan, but it's also the easternmost point in all of Mexico. That's right, the sun hits Punta Sur before anywhere else in Mexico and we've heard that it's a glorious sight.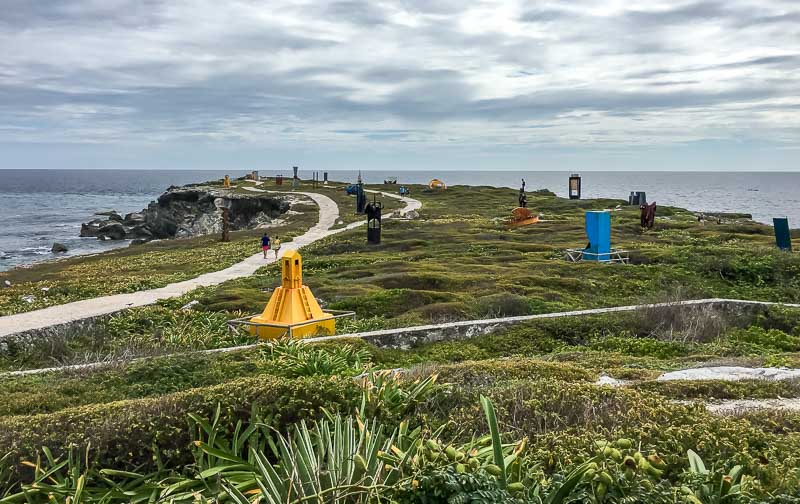 Featuring an ancient Mayan temple honoring the Mayan Goddess Ixchel, it also boasts a lighthouse and dozens of modern sculptures around the property. Due to some of the most dramatic sea cliffs in all of Mexico, Punta Sur makes a great place to grab a bite to eat while looking out to sea.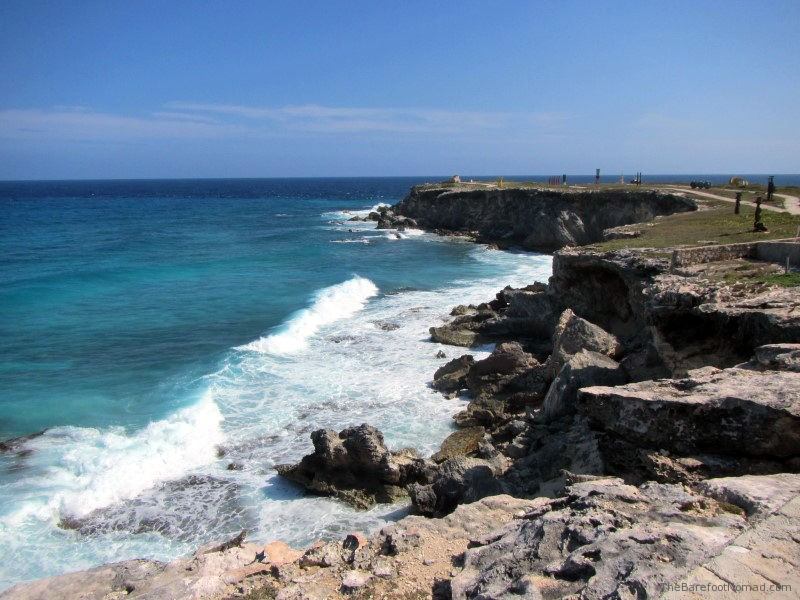 MUSA Underwater Sculpture Museum
Conceived by Jason deCaires Taylor, Isla Mujeres is home to the largest underwater museum on earth. The clear waters off Isla Mujeres make a great place to scuba dive or snorkel while seeing how thousands of underwater sculptures change in time in regards to coral growth and marine interaction. The scope of the project is mind blowing and the combination of art and marine conservation is great to see.
Garrafon Reef Park

The Garrafon Reef Park is a great place to spend an afternoon. Its all-inclusive packages include a buffet lunch and an open bar. Not only do they feature zip lines over the clear aquamarine waters, you can rent kayaks, snorkel equipment, life jackets and they have plenty of hammocks to lounge on as well as relax in their infinity pool. Admission includes bathrooms, lockers, showers and entrance to the Sculpture Garden and Punta Sur.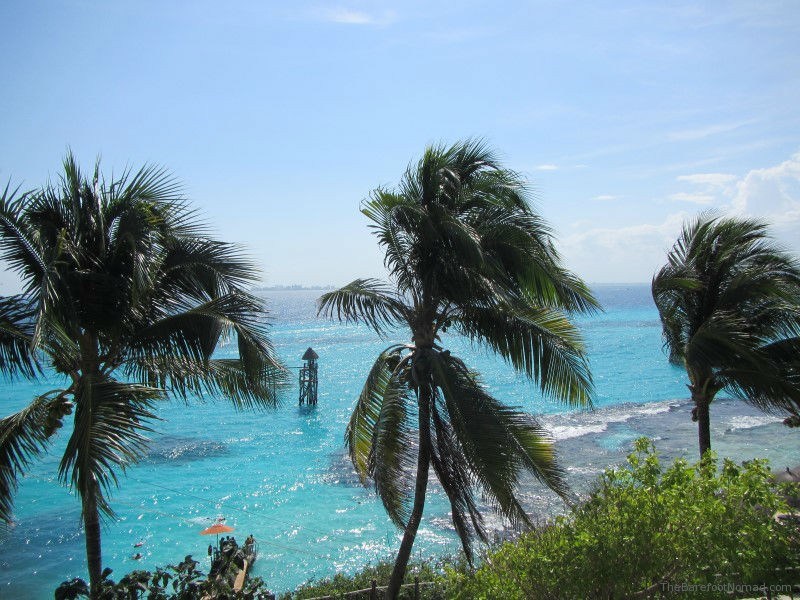 Garrafón de Castilla
The Garrafón de Castilla is right next to the Garrafón Reef Park at the south end of the island, and your entrance fee includes lounge chairs with beach umbrellas, restrooms and shower areas. You can rent snorkel gear and lockers here. They have a small snack bar and a restaurant right on the property.
The Zocalo (Town Square)
Located in the center of town, the Zocalo or Town Square comes alive most evenings as celebrations, dances and events kick up with local Mexican families and tourists alike sharing in the celebrations. You can eat tacos and pastries from the vendors lining the park, as well as pick up souvenirs from local artists. The kids will enjoy the small playground.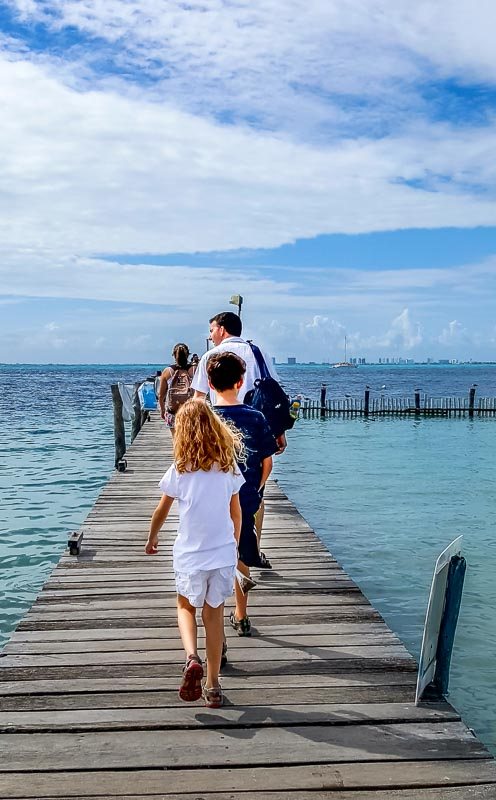 Fun on the water in Isla Mujeres
We've talked about the beaches, but there is also world class deep sea fishing in the water of Isla Mujeres. From deep sea fishing for marlin, sailfish and dorado to spear fishing tuna and barracuda, Isla Mujeres has some of the best sea fishing in the Mexico. Tours and guides can be hired for the day or the week.
Fun under the water on Isla Mujeres
Being surrounded by water means some of the fun things to do in Isla Mujeres occur under the water. You can snorkel and scuba dive all around the island and there are dozens of companies that will take you out on a scuba or snorkel tour to see many types of corral and colorful tropical fish including sailfish from December to June.
From June to September you can swim with giant Whale Sharks and anytime of the year is great to swim in the National Park that's filled with the MUSA Underwater Sculpture Museum's sculptures. Most tours include lunch buffets as well as snorkel gear.
Have you been to Isla Mujeres? Do you have any tips? Let us know!