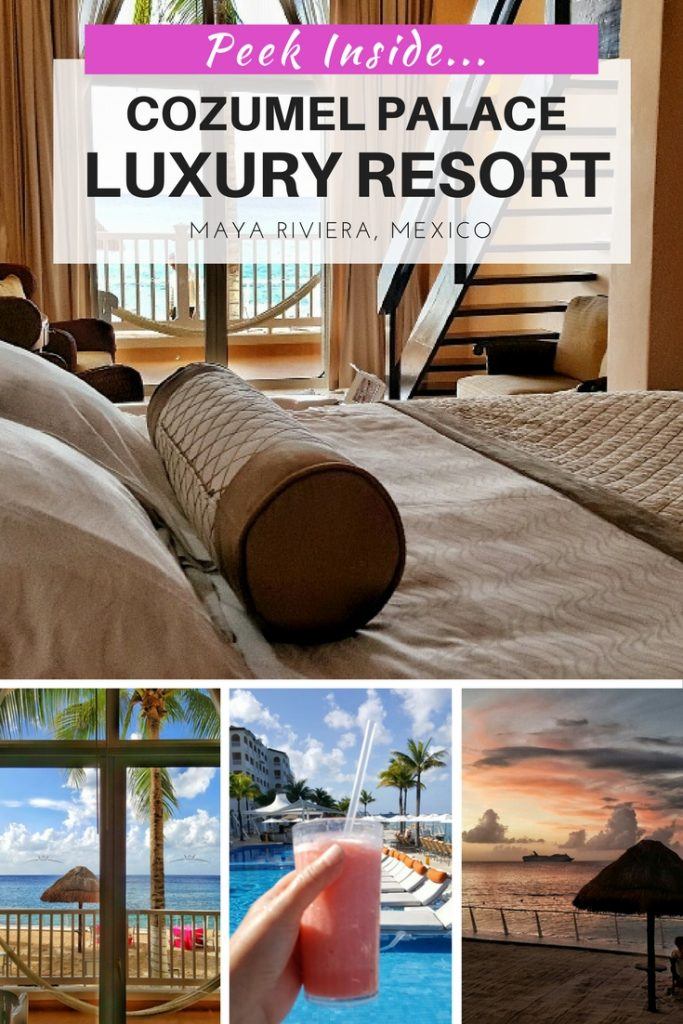 Sometimes in life it's nice to hit the easy button.
Cozumel Palace on the beautiful island of Cozumel just off Mexico's Mayan Riviera is one such option. Close enough to town, but far enough away from the hubbub of nightlife, you can walk from Cozumel Palace to almost every major area in the area in under 15 minutes.
We Review Cozumel Palace Riviera Maya
Situated only a few blocks from the main cruise ship docks and 10 minutes walking distance of the hourly Playa Del Carmen ferry, it makes a good base while you explore the island.
It's smaller size means you'll get to know the staff well and after a week they'll be like family.
In our review, we'll show you inside our suite, introduce you to the restaurants, pool area, activities and amenities.
Our room – the loft family suite suite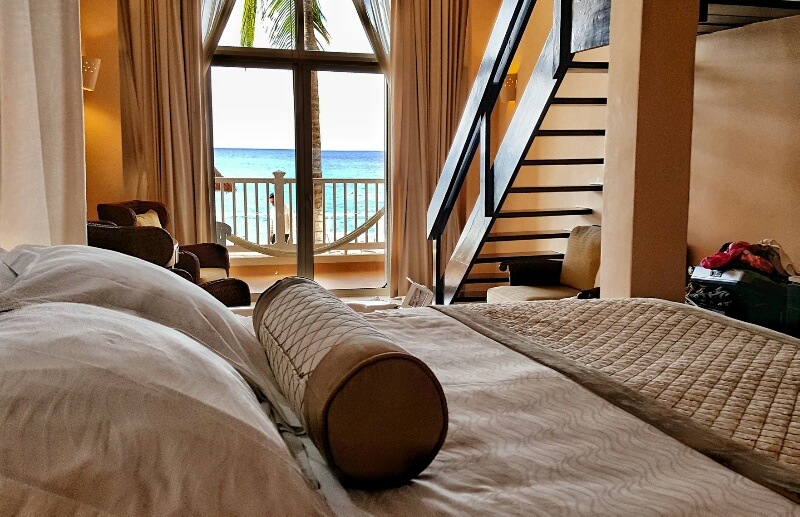 Our room at the Cozumel Palace was a two level loft family suite that overlooked the ocean.
The nicest part was that the kids had one level with their own queen beds, a nice bathroom, a well stocked mini fridge as well as their own flatscreen tv while we had all that except a super comfy king sized bed instead.
Did we forget to mention we also had a very large two person jetted tub right in the room complete with bubbles? Yup, we had that too and Jordan spent hours lounging in it after long days spent by the pool and exploring the island.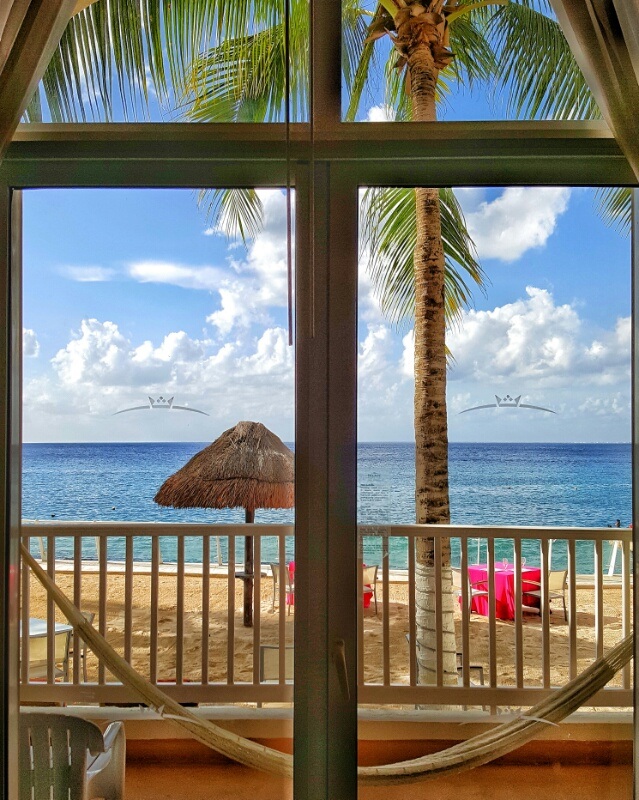 As a matter of fact, every room at Cozumel Palace overlooks the ocean so you can't go wrong no matter which room you stay in. They're all clean and well equipped, but I'll get back to that in a bit.
Cozumel Palace pool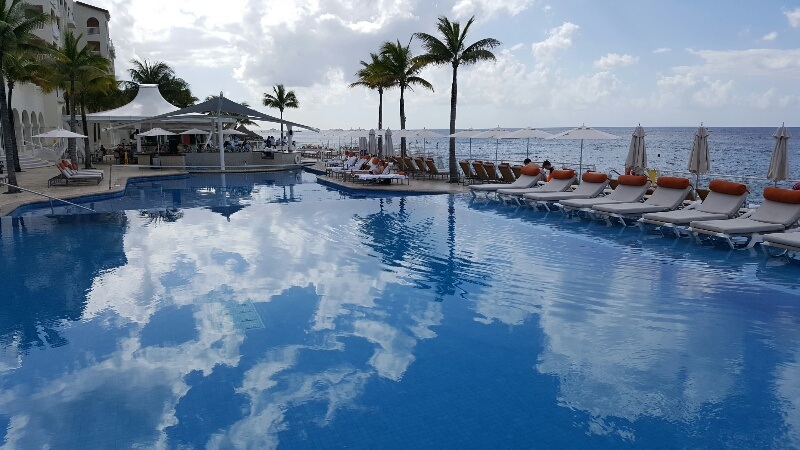 This all inclusive resort features two heated pools overlooking the ocean, docks where you can go swimming in the ocean from and lots of areas to sit on a chair and enjoy the beautiful sea. You can even throw on the included mask, snorkel and fins and do some snorkeling right in front of the resort.
Cozumel Palace beach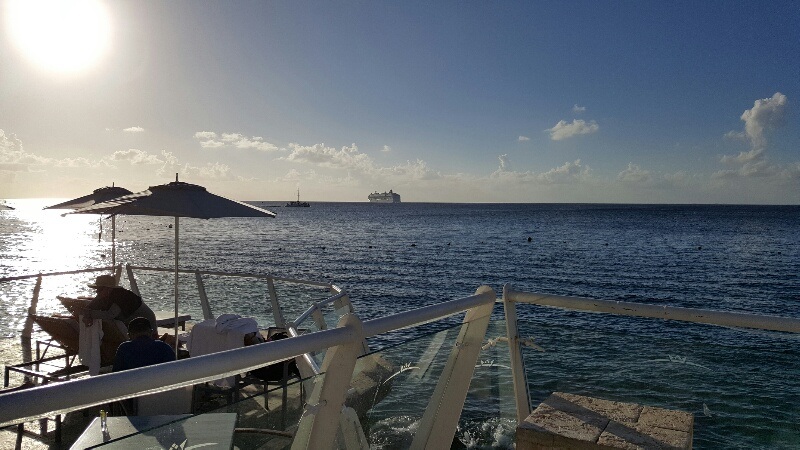 Like most places on the island, Cozumel Palace doesn't have a real beach. There are lots of sandy areas complete with comfortable chairs and umbrellas but when you come to Cozumel, you're mostly coming for the excellent snorkeling and diving the island offers. Of course, jumping into the ocean from one of the two docks is a great way to cool off during the day if you crave your water more salty than the pools offer.
Cozumel Palace meal plan
In terms of food, the Cozumel Palace has numerous options for a hotel its size. There are three main restaurants, as well as a snack shack and buffet restaurant for breakfast, lunch and supper. There is the Italian restaurant (Turquesa), the Oriental-inspired restaurant (Momo No Hana), and the Mexican restaurant (Bugambilias). We had the opportunity to sample all three, and the Italian restaurant ended up being our favorite.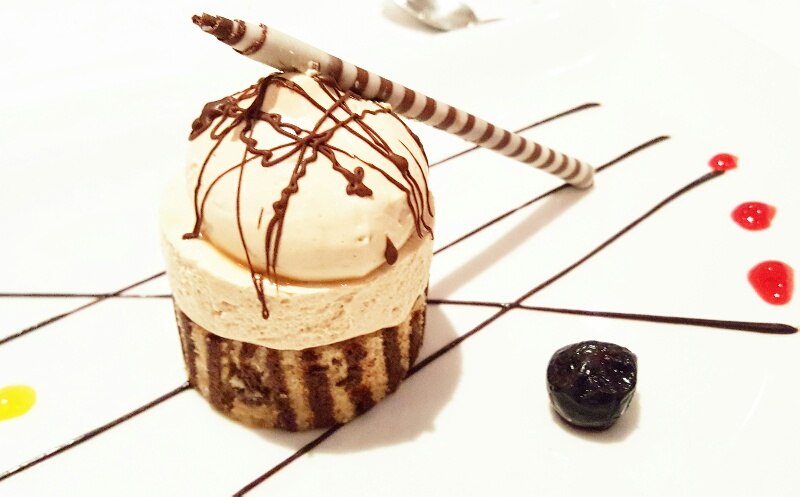 There were also generous amounts of dessert options that we tried on a daily basis. The black and white chocolate cake was a big hit, and the coconut and strawberry non sweetened bar was delicious. The first few days we ordered four different desserts then shared them all, however by the time we left we each had our favorite.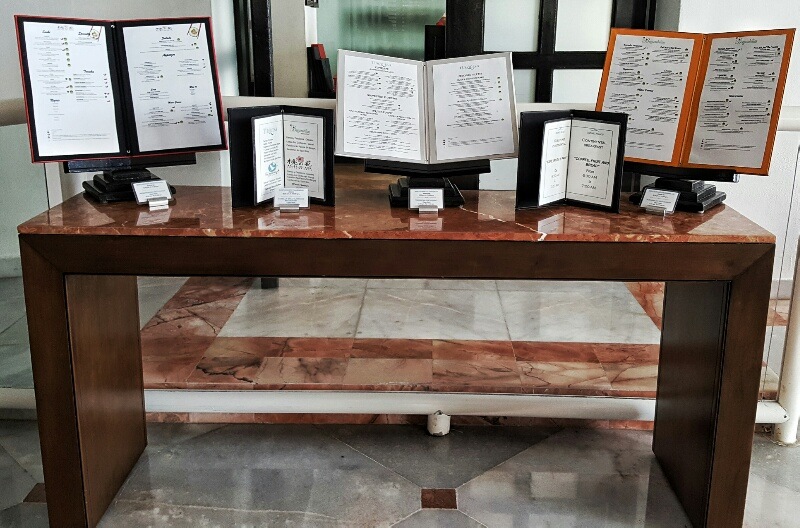 One of the nicest Cozumel Palace features (at least for us) was that free room service was included in our stay. You could order food 24 hours a day and it turns out that their lunch time menu was some of the best food we enjoyed while staying at the resort.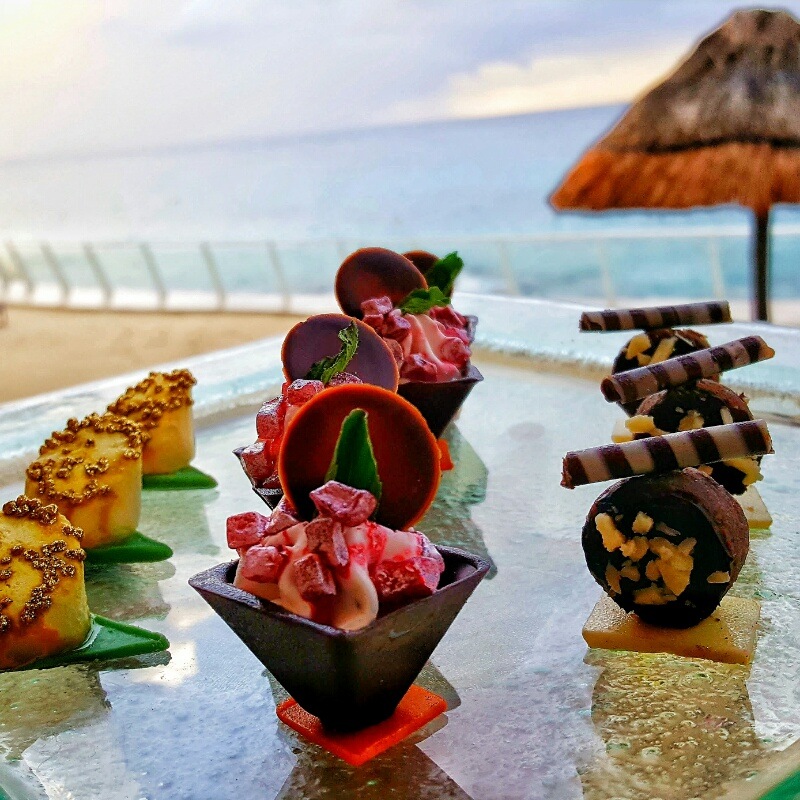 They also provide a nice menu card for ordering breakfast. On it you can select exactly what you want to eat for breakfast (and how many of each) and tell them when you want them to deliver it. The only catch is it needs to be completed by 3 am the night before. That said, one morning we just called into room service and got them to bring us breakfast however there weren't as many options as the breakfast card permits.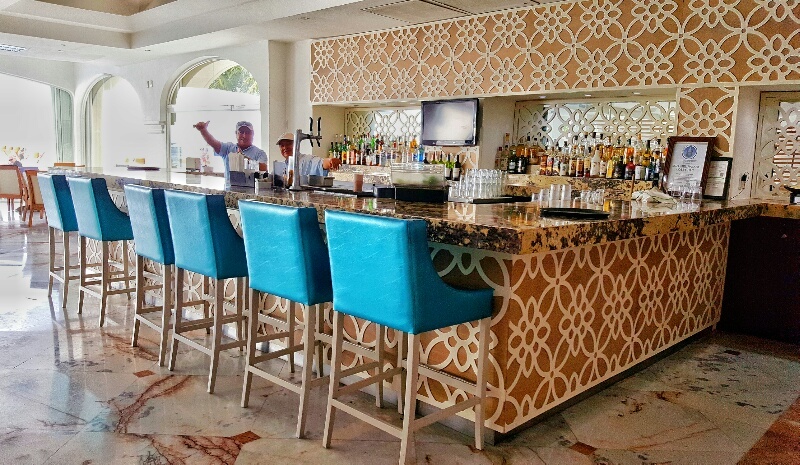 Another feature that was really nice was the in room mini bar.
Unlike most all inclusive hotels that offer you a few beverages in your room, our room came with 2 mini fridges (one up in the loft and the other on the main floor) stocked with different beers, pop and water. They refilled the fridges twice a day. Once while they cleaned our room and the other during the nightly turn down service complete with delicious chocolates for each of us.
The stocked mini fridges were nice but what sets Cozumel Palace apart from the rest is that they also provide two cabinets with four liquor decanters, each loaded with full sized bottles of premium liquors such as whiskey, rum, scotch and vodka.
When we checked in they said we can request any liquor on site and they would swap the bottles out for whatever we wanted. Awesome!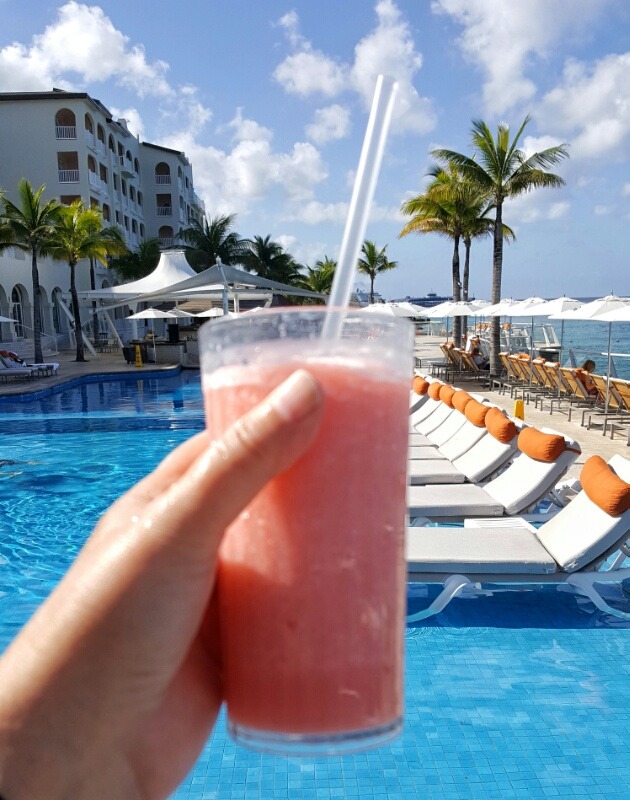 We also received a nice bottle of bubbly in a bucket of ice to enjoy when we checked in so having a few drinks while staying at the resort is basically called for and they made one of the best mojitos I've ever had outside of Cuba.
The kids enjoyed their own special drinks while staying at Cozumel Palace as well. No matter whether we were swimming in the pool, lounging by the water or having our meal, the super friendly waiters were happy to fulfill any of our drink orders and offered some excellent suggestions for us and the kids to try out.
WiFi Internet Access
The free WiFi in the hotel was some of the best we've seen at a resort and working online from the comfort of the hammock on our balcony overlooking the ocean was a personal highlight during our stay there.
Children's Program
While we there, we also put our two kids into the kid's club one morning. The Cozumel Palace offers this service free of charge. They have a rotating schedule of activities featuring everything from painting to building sandcastles to playing in the pool to playing with the numerous gaming consoles they have for when the kids have had enough sun for the day.
The morning we went our kids were the only ones scheduled for that time and as such got to decide what they wanted to do. They opted for a little drawing and some gaming on the Wii. After having spent the entire previous day outside by the pool we didn't mind the kids spending a few hours inside and it gave us a few hours to get some work done so it was a win-win situation for everyone.
Activities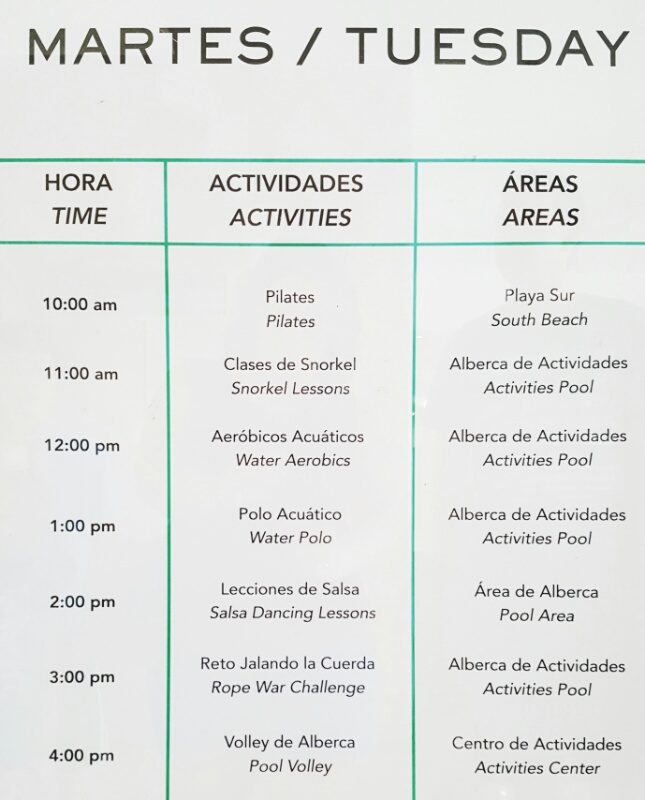 In terms of activities, there's plenty to do at the resort itself. The pool activity team has a daily rotating list of activities they set up to keep you busy and entertained. The nice part was that compared to a lot of large resorts, the pool activity schedule wasn't overbearing and it was easy to find quiet times just relaxing by the pool or playing ping pong.
If you wanted to partake in the more non traditional pool activities (like sitting on a donkey statue and trying to lift a bottle of tequila off the ground with a rope and loop), you can also win prizes like t-shirts and bottles of alcohol just for playing.
At night, there were also activities for those looking to interact with the other guests. From shows to bands to karaoke to a hilarious him vs her competition the staff will keep you amused as the well stocked bars keep you from getting too thirsty.
Cozumel Palace Dive Shop Aqua Safari
One of the biggest draws at Cozumel Palace is the on site dive shop, Aqua Safari. Cozumel is known as a diving mecca and there were daily excursions that left directly from the dive shop. If you opted to go with a different company, they could also pick you up and drop you off on the private dock in front of the hotel.
That's right, whether you're going on a diving, snorkeling or fishing trip, you can typically arrange it in Cozumel for them to pick you up and drop you off directly on the dock in front of Cozumel Palace. It's definitely very handy not having to deal with shuttle buses and long loading times if you want to get out on the water and since Cozumel tends to attract people looking for water activities, there are a lot of tours out there revolving getting your feet wet.
Amenities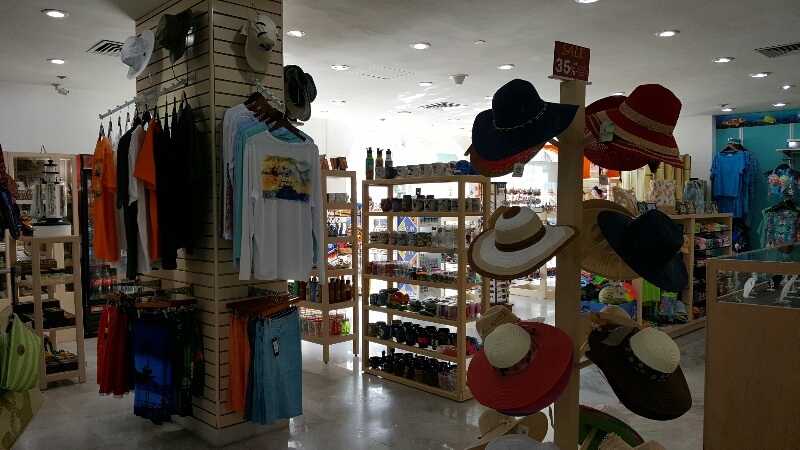 Aside from the pool, the spa, the kid's club and the restaurants, Cozumel Palace has a lot of different amenities.
On site, you'll find a gift shop, an professional photographer, a small playground outside for the kids and free snorkeling gear. There's also a workout room and a spa called Awe Spa.
The rooms at Cozumel Palace include all the usual amenities, including a blow dryer, laundry service, a personal safe and quality toiletries provided for you. The resort also provides unlimited long distance calls so it's easy to keep in touch with family and friends back home.
Cozumel Palace Resort Credit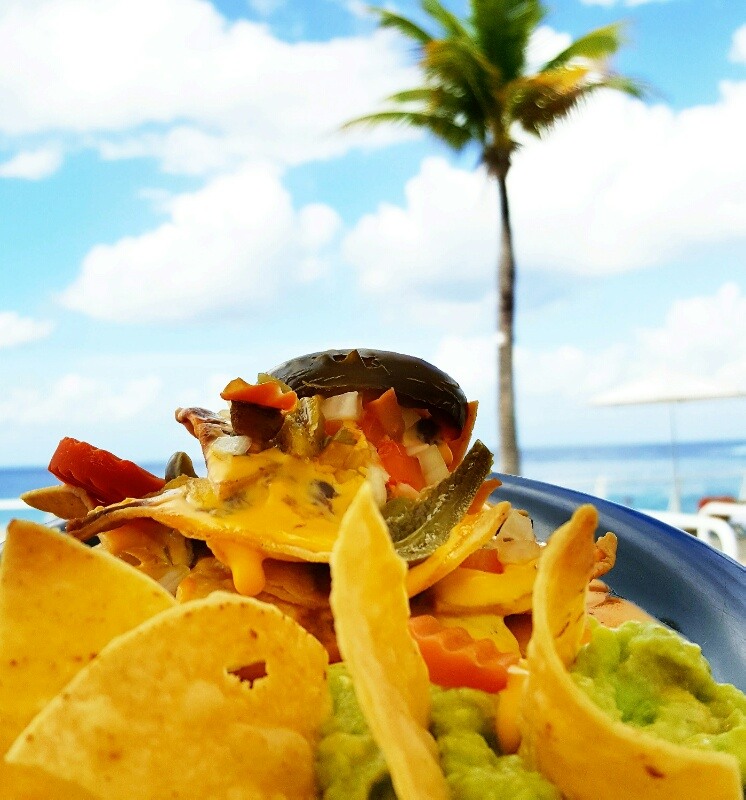 When we stayed, Palace resorts offered a Palace Resorts credit with every stay. The amount you received was based on the length of your stay, so stays of 5-7 nights were $1,500 in resort credit, and three night stays were $300.
You could use the resort credit on activities and excursions from the hotel, including spa experiences, day trips and diving tours.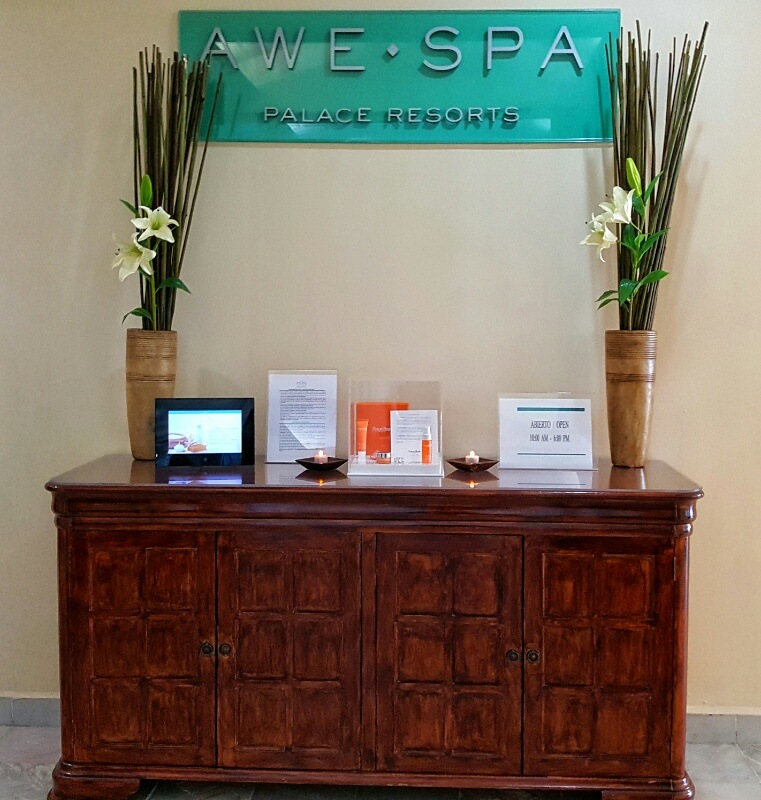 Tip: You do have to pay taxes on any experience or activity you book with the resort credit and the value could be higher than similar tours so always check the tax value to make sure it's worth using the credit!
Free access to other Palace resorts!
One of the things I really like about Palace resorts is that they offer full access to their other resorts during your stay.
Guests at Cozumel Palace can use the facilities of any of the other Palace Resorts while staying at one of their properties. Unfortunately they only have the one place on Cozumel, however a short ferry ride will get you back to the mainland and you can check out the one in Playa del Carmen or one of the five up in Cancun. Both Playa del Carmen and Cancun are easy to get to and can make a great day trip from Cozumel.
Cozumel Palace day pass
Unfortunately, Cozumel Palace isn't offering day passes right now.  
If you're looking for a day pass only, search the options on the resort for a day website.
Check prices on resort for a day.
Who would love this hotel?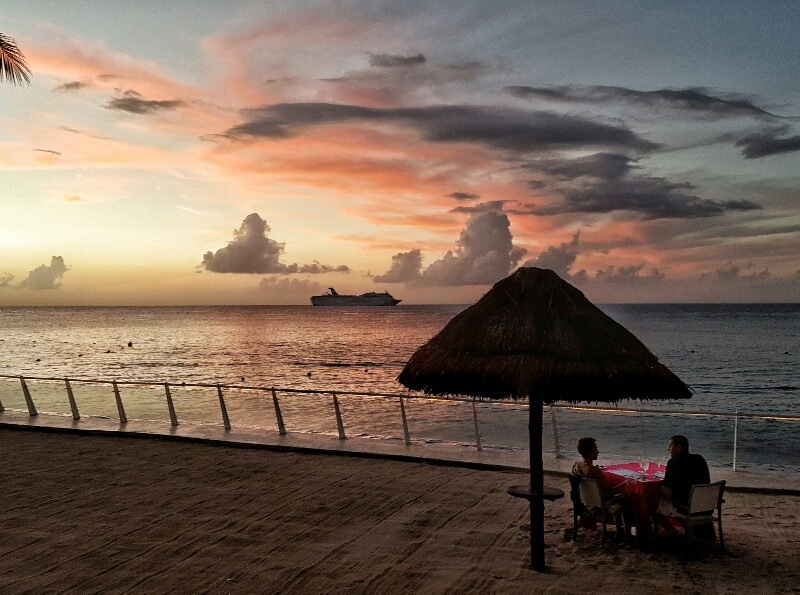 Cozumel Palace is a cozy, welcoming all inclusive resort. It sports several pools, several restaurants, and grounds that are easy to navigate, unlike some other huge all inclusives.
This would be a great resort for you if you like a relaxed, intimate stay. It will appeal to families, couples, and divers.
Want to find out more?
Check out the Cozumel Palace official website here.
You can also find Palace Resorts on Facebook, Twitter and Instagram.
Cozumel Palace is consistently one of the highest rated hotels in Cozumel. Check their reviews on TripAdvisor now and Booking.com here.
How much does Cozumel Palace cost?
A loft suite runs about $500 per night, which includes all-inclusive food and amenities for two adults, and two children. Palace Resorts offers a Palace Resorts credit with every stay. It's $1,500 for a 5-7 night stay, and you can use it on "spa treatments, rounds of golf, tours and other above-the-ordinary experiences."
Be sure to watch out for specials and promotions on the Palace Hotels website.