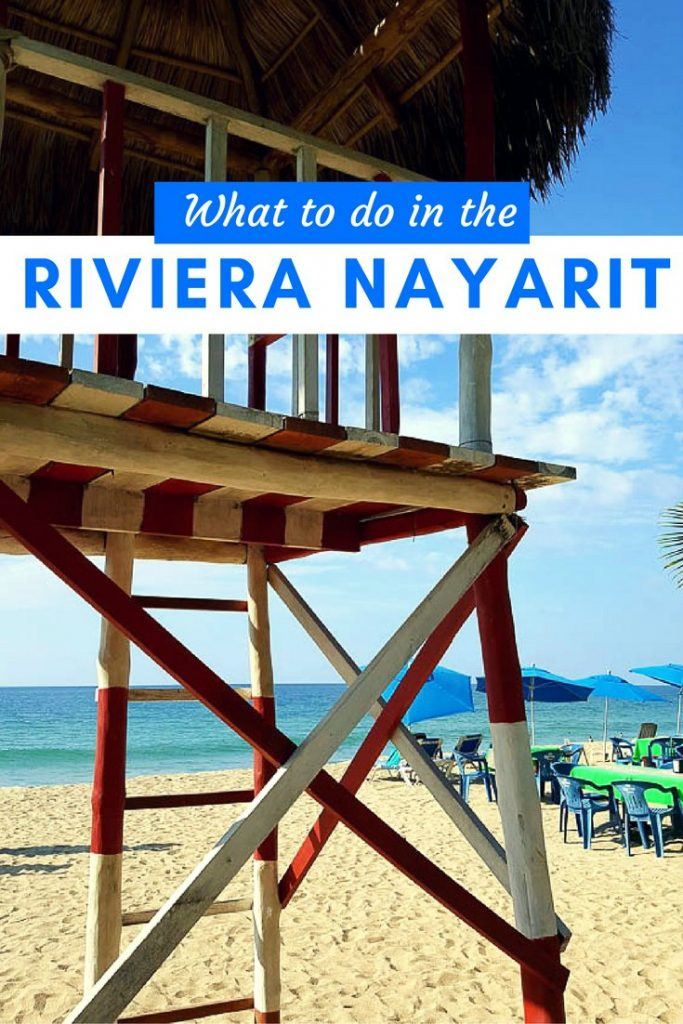 Wondering what to do in the Riviera Nayarit? I found plenty to see and do, from outdoor activities like snorkeling and golfing, to more relaxed pursuits like shopping, spas, and checking out the charming colonial towns.
One thing that I didn't find in the Riviera Nayarit Mexico were throngs of tourists crowding its beaches and attractions. Located just north of Puerto Vallarta on Mexico's West Coast, the Riviera Nayrit does have plenty of visitors, but you'll find that there's generally a relaxed vibe, and plenty of space on the beach.
What to do in the Riviera Nayarit
The Riviera Nayarit' sweeping swath of coastline that's about 100 miles wide attracts nature lovers, surfers, golfers, fishermen, beach lovers, culture lovers and deep-sea fishermen. There's plenty to see here in towns like charming Sayulita, idyllic San Pancho (San Francisco), and colonial San Blas, plus lovely resorts, and marine and bird life aplenty at the stunning Marietas Islands.
Sometimes you'll hear the area called Nuevo Vallarta. Nuevo Vallarta is a residential area that makes up part of the Riviera Nayarit, extending only up to the lovely Marival Distinct Luxury Residences Resort.
Where to stay: I stayed at the fantastic all-inclusive Marival Distinct Luxury Residences, where all the rooms are residential suites, ranging from 1-4 bedrooms. You can book on Booking.com, check reviews on TripAdvisor, or directly with the hotel. See our review of their special Marival family emotions program here.
Cruise to the Marietas Islands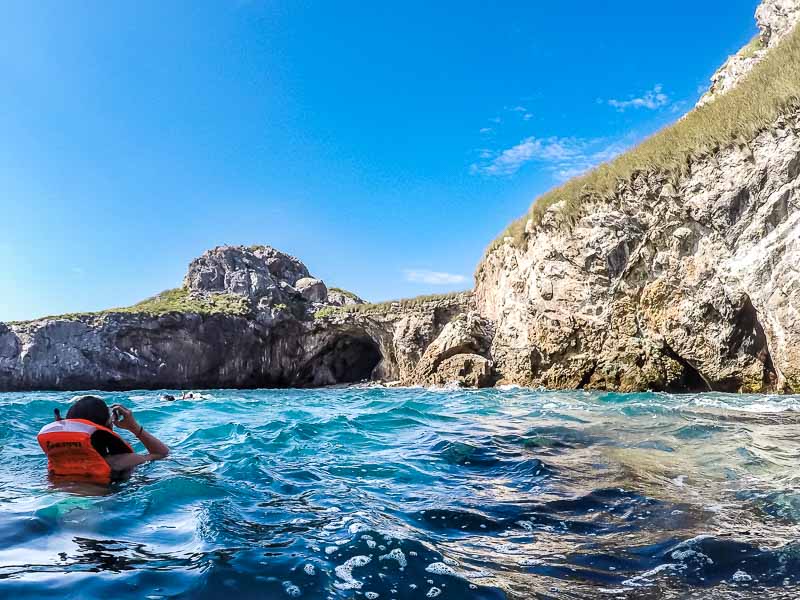 Just a few miles offshore, the Marietas Islands are accessible by boat with Punta Mita Expeditions. If you're lucky, you'll see dolphins and whales on your trip.
At one time, the Mexican military used the islands for bomb targeting practice, decimating the local flora and fauna. Today, the islands are now a protected bird sanctuary, within Isla Marietas National Park, and teeming with life both above and under the water.
You can't set foot on the island with out special permission, but you can cruise by its scenic coves and caves, and watch the teeming bird life from the comfort of your boat.
See the blue-footed boobies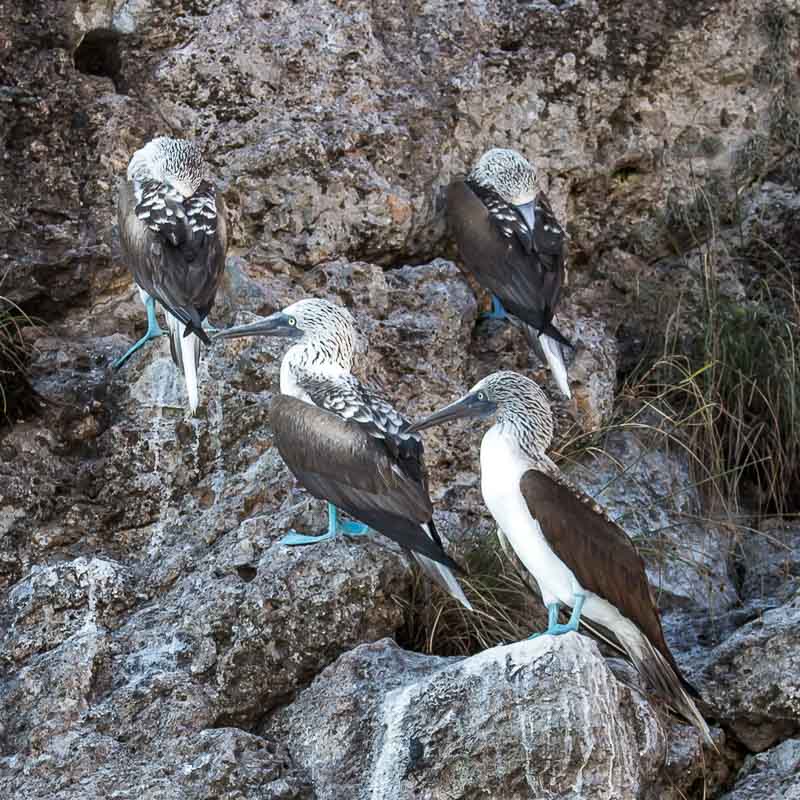 Did you know that the Galapagos isn't the only place you can see a blue-footed booby in the wild? I found flourishing colonies of them on the rocky shoreline of the Marietas Islands.
Visit Hidden Beach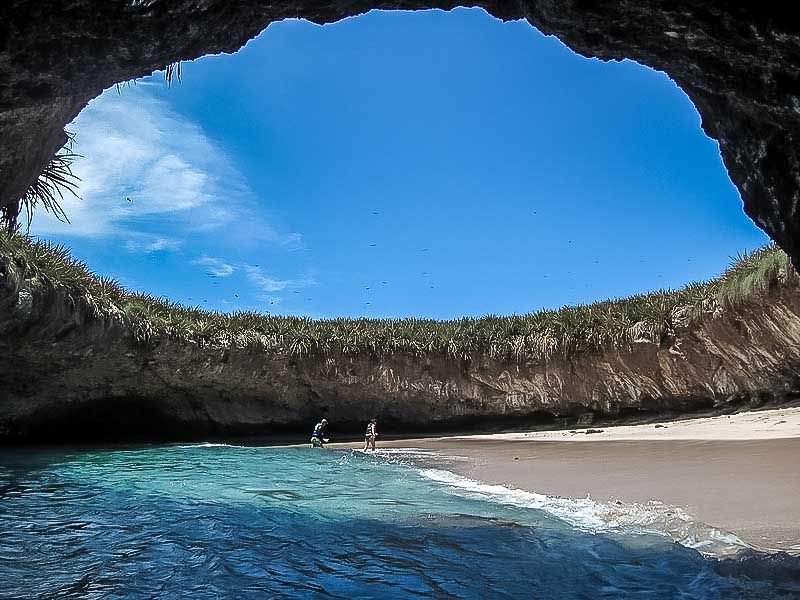 Hidden Beach (also called Playa del Amor or Lover's Beach) on the Marietas Islands is only accessible with special permission. Unfortunately you can't access the beach during high tide, which was when we visited. I'm putting this on the bucket list for my next visit!
Snorkel the Marietas Islands
One of the best ways to see the islands are to snorkel by their caves, arches and hidden beaches. I was greeted by stunning views as I snorkeled through arches and past caves, watching tropical fish swim by in the clear, aquamarine water. Take a look at the video above, which gives you an idea of how beautiful this area really is.
Paddleboard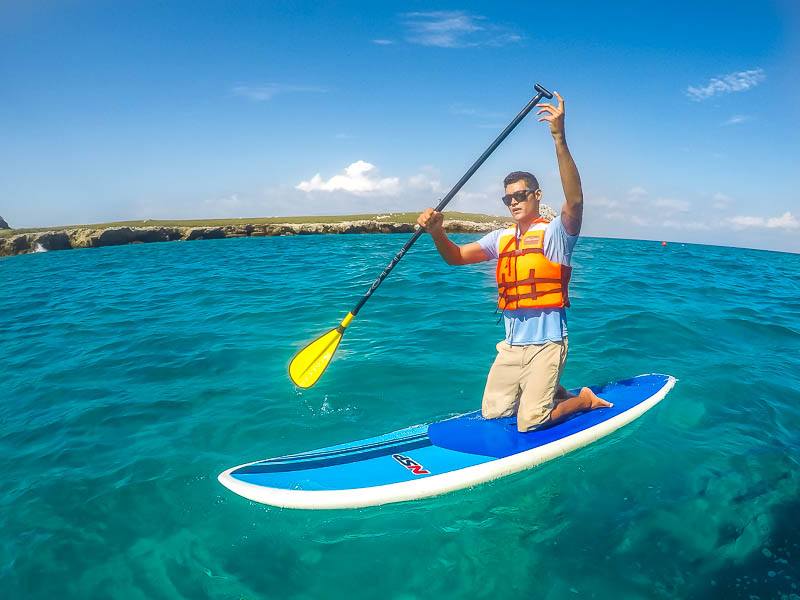 After snorkeling, we went over to the protected side of the islands to try our luck at paddle boarding. I was nursing a sore foot, so I didn't do much more than sit down and paddle, but it was a lot of fun to get out on the clear water.
Visit Sayulita
A bustling surf town, but with a relaxed vibe where tourists mingle with locals, Sayulita is home to great restaurants, picturesque beaches, and plenty of local charm. I was only here for an afternoon, but I found plenty to do, and I'd love to come back again.
Try a tequila or wine tasting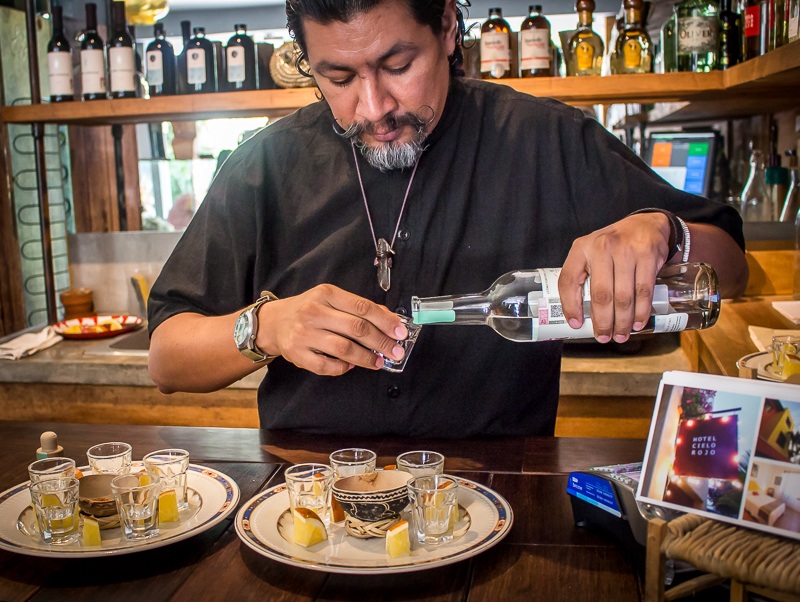 Walking into the Sayulita Wine Shop, I was greeted by the friendly owner, who sported the perfect handlebar mustache. I ended up staying for an informative, helpful tasting of tequila and agave. I may just end up enjoying tequila yet.
Eat right on the beach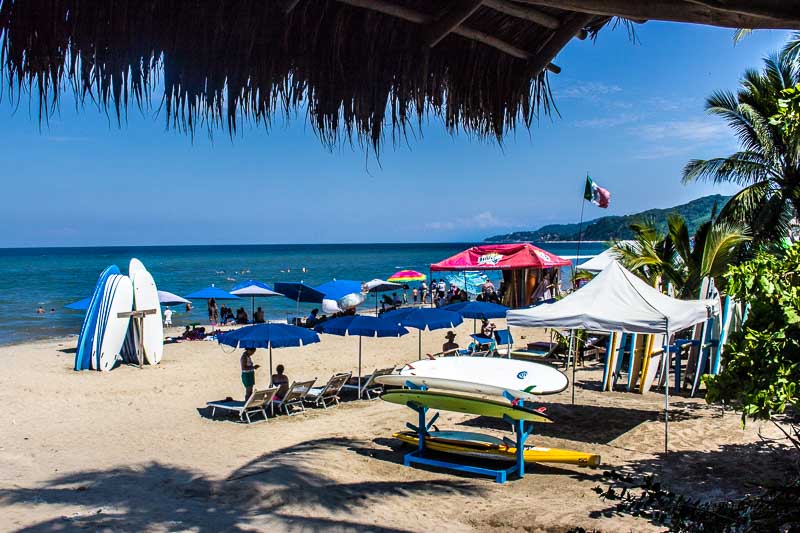 With the perfect location right on Sayulita Beach, Don Pedro's serves up tasty Mexican fare, and ice-cold drinks. This is the place to see and be seen.
Tip: If you're a veggie lover like me, Don Pedro's makes a delicious grilled artichoke. If you're a seafood lover, my table mates were raving about the delicious shrimp tacos.
You also can't go wrong with a taco snack at the informal and inexpensive Pedrito's, or at one of the dozens of other highly-rated restaurants around town.
Check out the eclectic local stores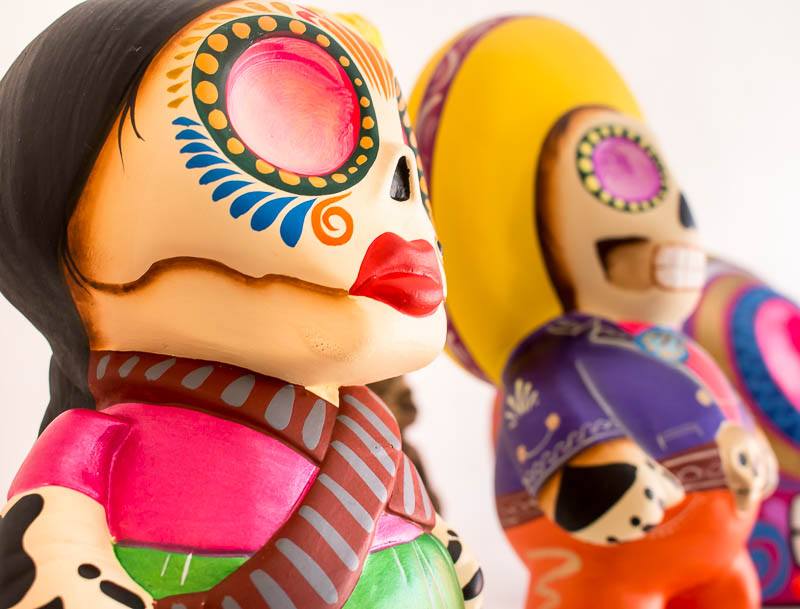 There's a strong commitment to local artisans and sustainable practices in Sayulita, and it shows in the local shopping experience. There's a fantastic Mercado del Pueblo (Farmer's Market) brimming with locally sourced food and works by local artisans, and the streets of the town are peppered with unique shops.
Surf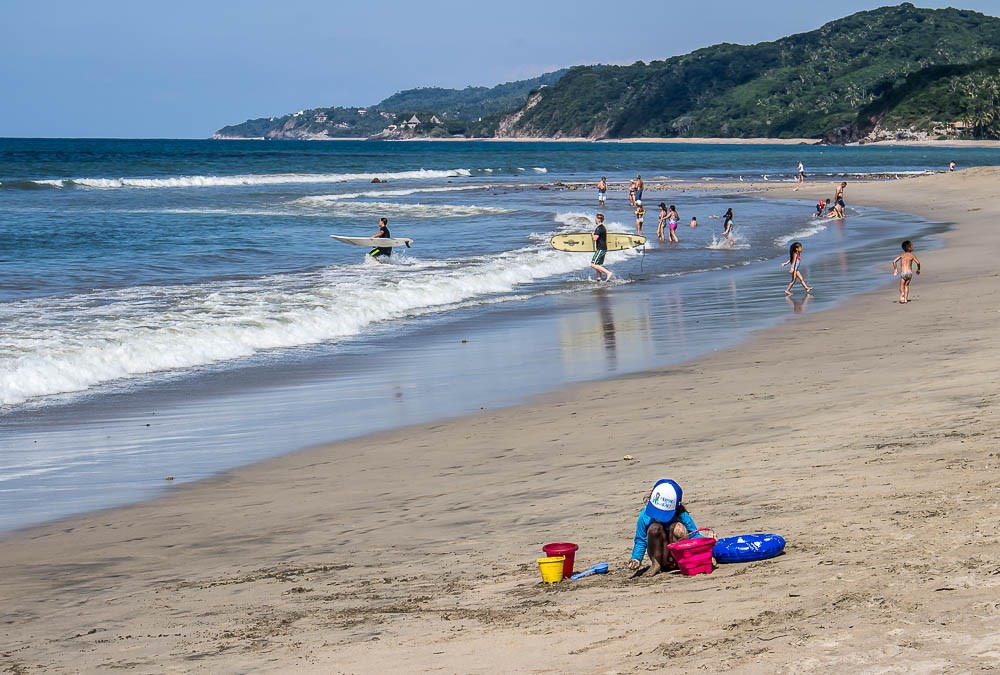 I didn't have time for a surfing lesson in Sayulita, but the waves looked like a lot of fun for a lesson. Next time I'll be sure to catch some surf! If you're a little more adventurous, there's also windsurfing and kite surfing.
Spend some time on the beach
The main beach in Sayulita is long, curved, and perfect for a quick dip in the ocean, paddle boarding, or just lounging in the sun. If you have time, take a walk to Playa los Muertos, which is a little bit quieter.
San Pancho (San Francisco)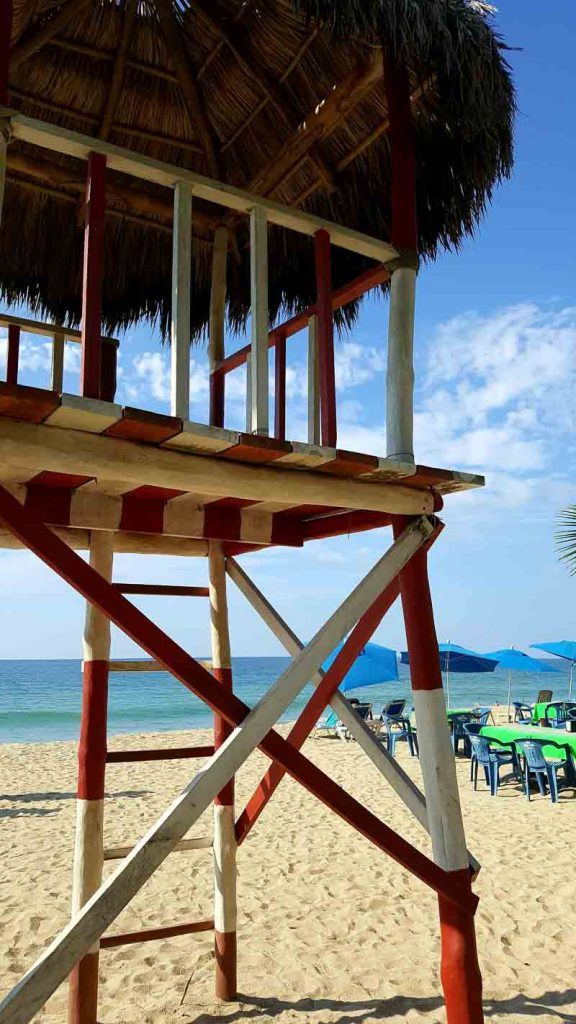 Just down the road from Sayulita, the town of San Pancho (also called San Francisco) is the kind of place you could while away a lifetime, just lazing on the beach, reading a good book, and eating at the little restaurants in town.
Hang out on the beach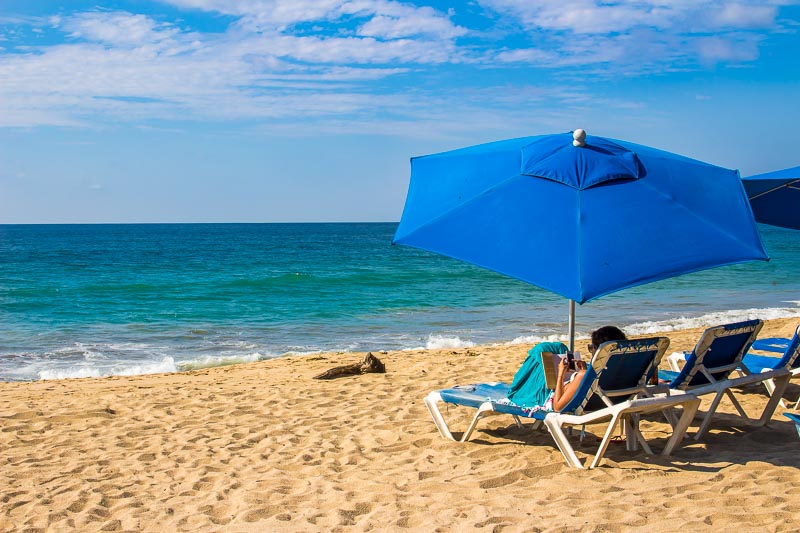 San Pancho's idyllic vibe and quiet beach make it perfect for watching sunsets. The waters here have a stronger undertow than in Sayulita, meaning few water sports, so activities in town tend to be a little more relaxed.
Yoga
In keeping with San Pancho's chilled vibe, yoga is big here with studios like El Estar and Yoga San Pancho.
Enjoy the local culture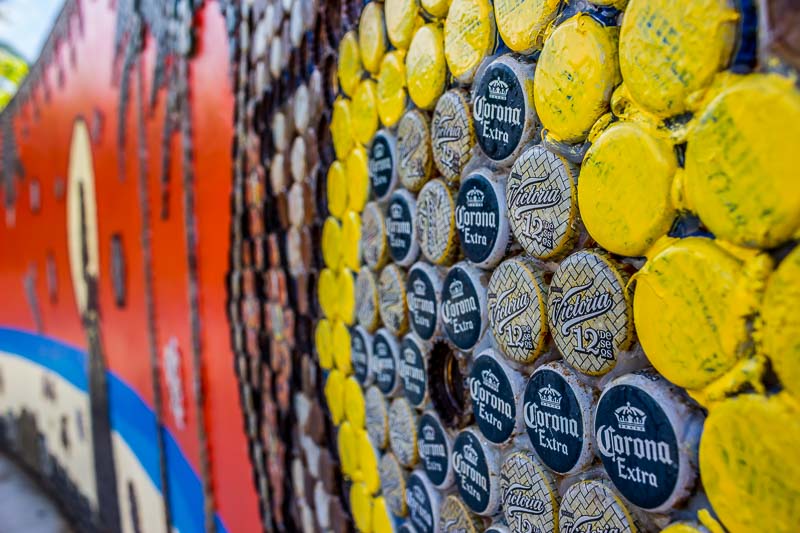 You can find excellent art galleries like Artesanias Silvia's with Huichol handicrafts made by locals, and even interesting sculptures and street art in San Pancho.
Do some good at Entreamegos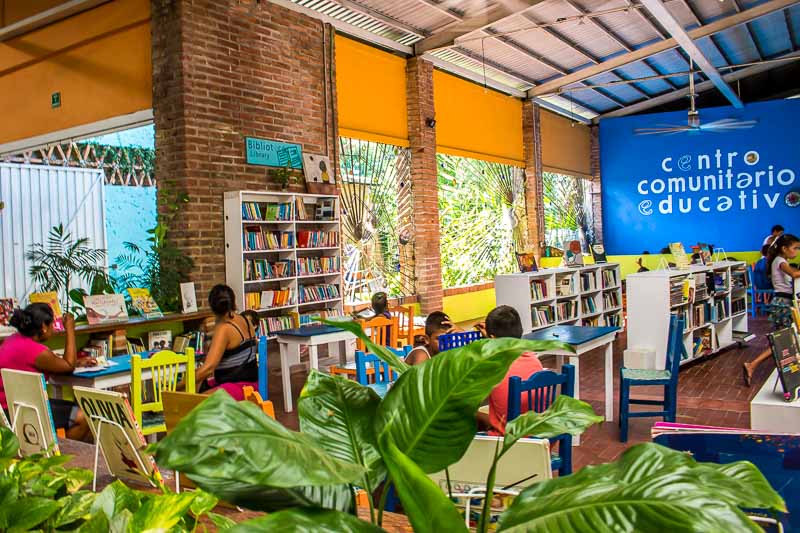 Entreamigos is a community-based organization that aims to help children and families learn through educational programs. They offer scholarships, a free public bilingual lending library, a recycling center, after-school tutoring, and even a shop that features the work of San Pancho artisans, plus a thrift store.
When I visited, Entreamigos was bustling with children and families.
It's a non-profit community development organization that relies on volunteers and donations to survive. You can find out more about volunteering at Entreamigos here or donate online.
Sea turtle rescue and nesting programs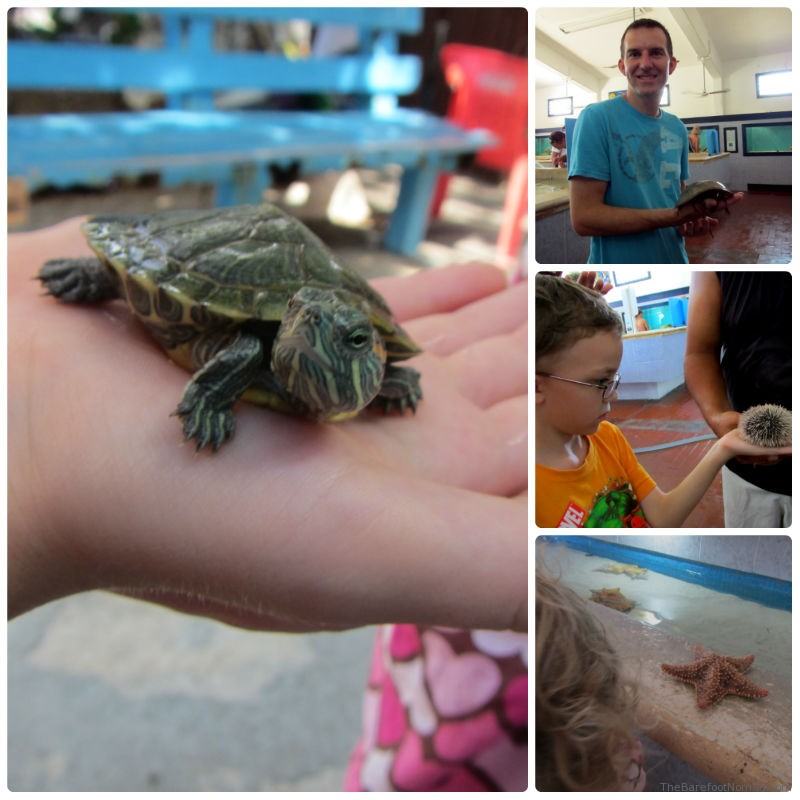 We've been lucky enough to swim with sea turtles, and even see a Leatherback laying her eggs by moonlight in Costa Rica. Just outside San Pancho, a non-profit group operates sea turtle rescue and turtle nesting programs, protecting Olive Ridley and Leatherback Turtle eggs. I was sad I didn't have time to visit this trip, but I'm impressed with the results. In the last 20 years, the sea turtle population has increased from 200 to 1,170 nests.
Live music at night
San Pancho may be relaxed and serene, but that doesn't mean there's nothing to do in the evenings. There's always some sort of live music in the evenings at local restaurants.
Relax and Enjoy
After the business of exploring Sayulita, Marietas Islands, and San Pancho, I enjoyed taking some time enjoy the beach, some great food, even a spa experience. The Riviera Nayarit definitely has some fantastic ways to unwind.
Pool time!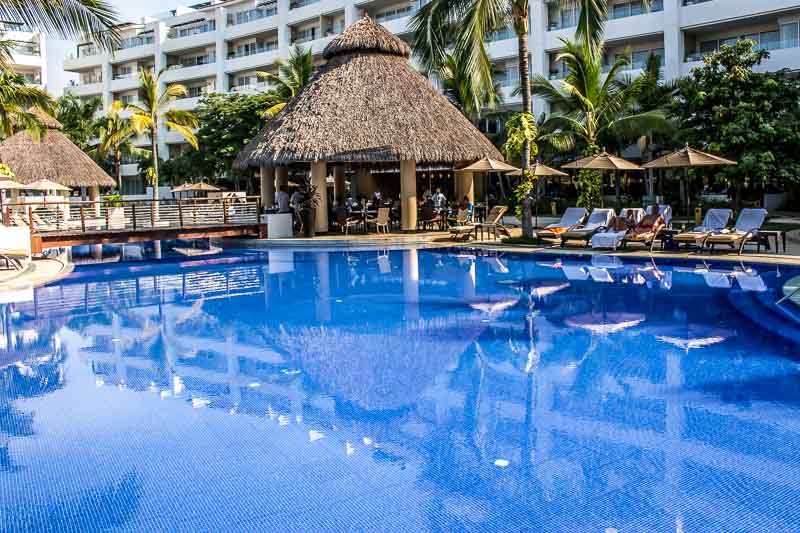 My favorite pool time was spent floating in the crystal clear, relaxing pool at the gorgeous all-inclusive Marival Residences.
Massage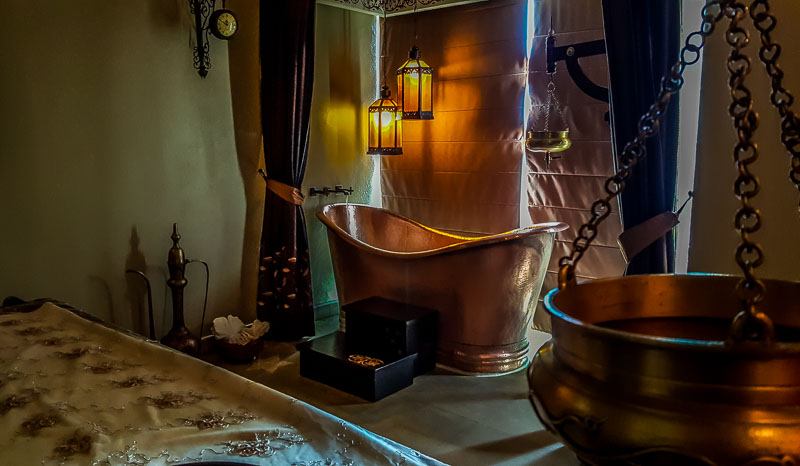 I was lucky enough to spend an afternoon at Melange World Spa, with specialized massages from around the world. You can have a World Spa Experience from Mexico, Italy, Japan, Turkey, Russia, Bali, India, Thailand, or the USA.
I had the Mexico Agave treatment, with a facial and body wrap with the native agave plant, cacao, honey, aloe vera, and mayan mud, a facial and body exfoliation, and a light body massage. Heaven.
The Italy Vendimia Wine Experience starts with a wine therapy bath in an original wooden barrel, where you enjoy a wine tasting, followed by a full body relaxing massage.
Spend a day at a VIP beach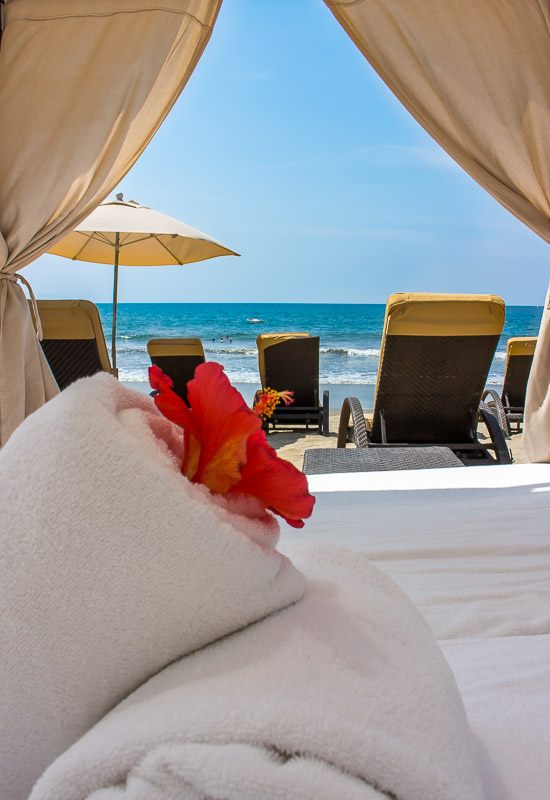 With so many great beaches in the Riviera Nayarit, you'll have a lot of choices for where to relax.
I spent my time at the VIP Beach Club at Marival Residences Luxury Resort. It's exclusive to guests of the resort, and offers plenty of loungers and sun beds, and personalized service to bring drinks and food to your beach chair.
Golf
I'm not a huge golfer, but I heard from several other travelers that the Riviera Maya has some fantastic courses. They include the Vista Vallarta Golf Course (home of the EMC World Cup in 2002 and the 2006 PGA Seniors Tours), Tom Weiskopf Golf course and Jack Nicklaus.
More things to do in the Riviera Nayarit
If you're looking for more activities in Riviera Nayarit, check out the Riviera Nayarit tourism board's helpful website. Local towns like San Blas, La Penita, Lo de Marcos, Punta de Mita, Bucerias, San Sebastian del Oeste and Talpa are well worth a visit.
Looking for a Riviera Nayarit tour?
Viator offers a wide range of tours in the Riviera Nayarit.
There's a lot to choose from, including a Marietas Islands SCUBA adventure, whale watching, surf lessons in Punta Mita, an ATV tour, professional photography packages, and even private Spanish lessons or a tour of San Sebastian del Oeste.
See Viator tour packages and prices here now.
Get Your Guide offers a snorkeling tour or Coral Island Snorkeling paired with a visit to Sayulita, including a seafood meal.
See tour prices and more here.
Riviera Nayarit Essentials
Location: half-hour drive from downtown Puerto Vallarta
Nearest Airport: PVR, Puerto Vallarta
Reviews: TripAdvisor Certificate of Excellence
Where to stay: I stayed at the fantastic all-inclusive Marival Residences, where all the rooms are residential suites, ranging from 1-4 bedrooms. You can book on Booking.com, check reviews on TripAdvisor, or directly with the hotel.
Average beer price: 20 to 40 pesos ($1-2 USD) for Corona in a restaurant or bar
Trip in partnership with Marival Residences Luxury Resort and Riviera Nayarit tourism board.