After spending more time in Mexico's Mayan Riviera area this winter we decided to check out some of the nearby eco-parks. Our kids loved our last visit to Xcaret Cancun so much that we decided to go back again.
There's plenty to see and do at Xcaret, which is just outside Playa del Carmen, including floating down the underground river, lounging on hammocks by the lagoon, enjoying a buffet lunch, touring the aviary, checking out the many animals and marine life as well as all the cultural centers and the huge Xcaret Mexico Espactacular night show.
Important tip: If you're looking for the best price, we've found the best discounts online through Xcaret's website, where you can get 10-15% off booking at the gate.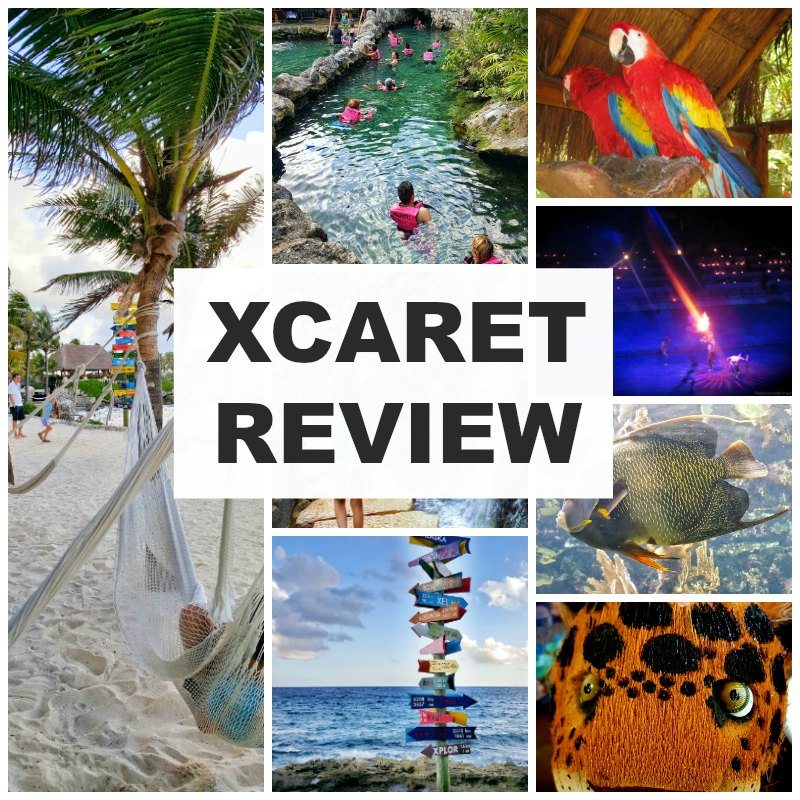 Since it's been a couple of years and a few things have changed, including some great new attraction additions, we're writing a brand new review of Xcaret in Cancun Mexico, with plenty of information to make your visit easier and more affordable.
In this Xcaret review, we'll tell you:
Before we get to our Xcaret review, let's take a quick look at how to get to Xcaret from Cancun or Playa del Carmen.
Xcaret Transportation Information
Xcaret is 37 miles (60 km) south of Cancun, 4 miles (6 km) south of Playa del Carmen, 20 miles (30 km) north of Akumal and 34 miles (55 km) north of Tulum.
We've spent a lot of time in the area, including several weeks in Cancun, and months at a time as a family in Playa del Carmen.
By far, the simplest way to get from Cancun to Xcaret is to get a transportation included package from Xcaret. They'll pick you up at your hotel, drive you to the front door at Xcaret, and pick you up after the evening show to whisk you back to Cancun. You can also get transportation to Xcaret from Playa del Carmen and practically anywhere in the Riviera Maya. The cost is currently about $27 USD for return transportation from your hotel, however that varies on which package you go with.
Tip! If you book online through this link you can get up to a 15% discount on your Xcaret transportation and admission from Cancun. Click here to check prices.
Click here to see options further down for driving yourself to Xcaret, taking the bus to Xcaret, or taking a taxi to Xcaret.

Our Xcaret Cancun review
First, we'll talk about our trip and what Xcaret has to offer, and then give you some helpful tips to make your trip easier (and hopefully save you some money, as well).
Animals everywhere!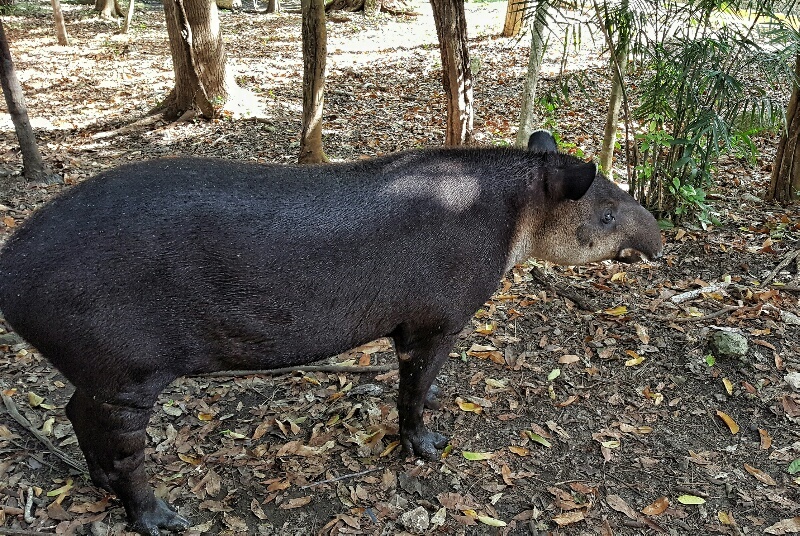 Our kids are huge animal lovers, and Xcaret doesn't disappoint in this regard.
There are plenty of animals scattered throughout the park, including a huge variety of butterflies and birds like parrots, macaws and flamingos. There's also tons of animals like monkeys, jaguars, panthers and deer as well as marine animals such as stingrays, sea turtles, sharks, manatees, and a sizable aquarium full of colorful fish and jelly fish. A lot of the animals, like the giant tapir above, are native to the area so it's nice to get to see them up close as well.
Aquarium with many different fish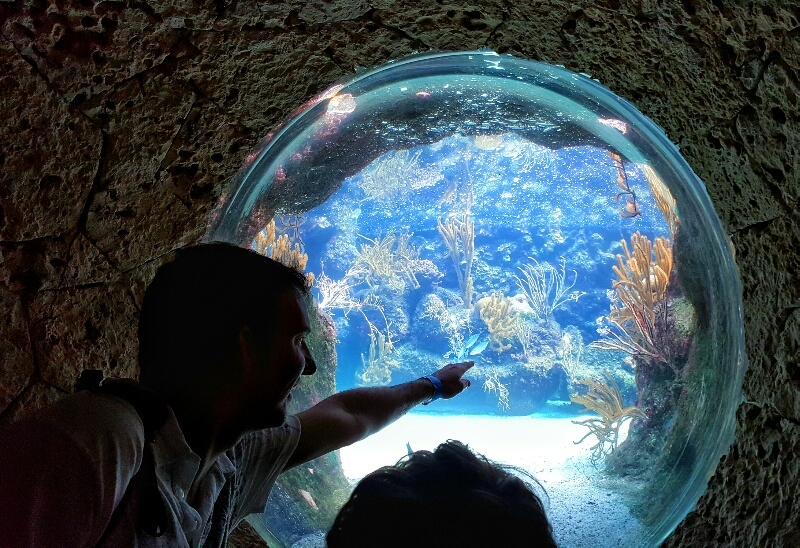 Be sure to set aside a good half hour to walk through the Xcaret aquarium. We've seen quite a few aquariums worldwide, from the wonderful Vancouver Aquarium to the Aquarium in Lisbon, Portugal, and we still enjoyed Xcaret's display with over 500 coral reef structures, hundreds of colorful fish and varied marine life.
Inside, besides for the fish exhibits, there are shark and jellyfish exhibits as well a touch pool for the little ones complete with starfish and sea cucumbers.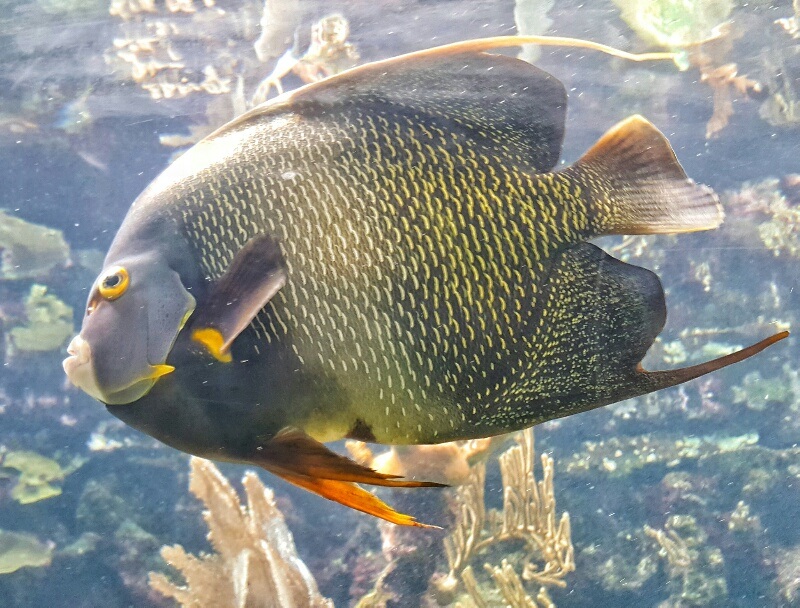 Outside exhibits house giant sting rays, a manatee lagoon, and, our favorite, sea turtles. Not only can you see baby sea turtles, but large adult ones as well. The sea turtle lagoon where they stay is gorgeous and we could sit and watch the sea turtles swimming around the natural pool for hours.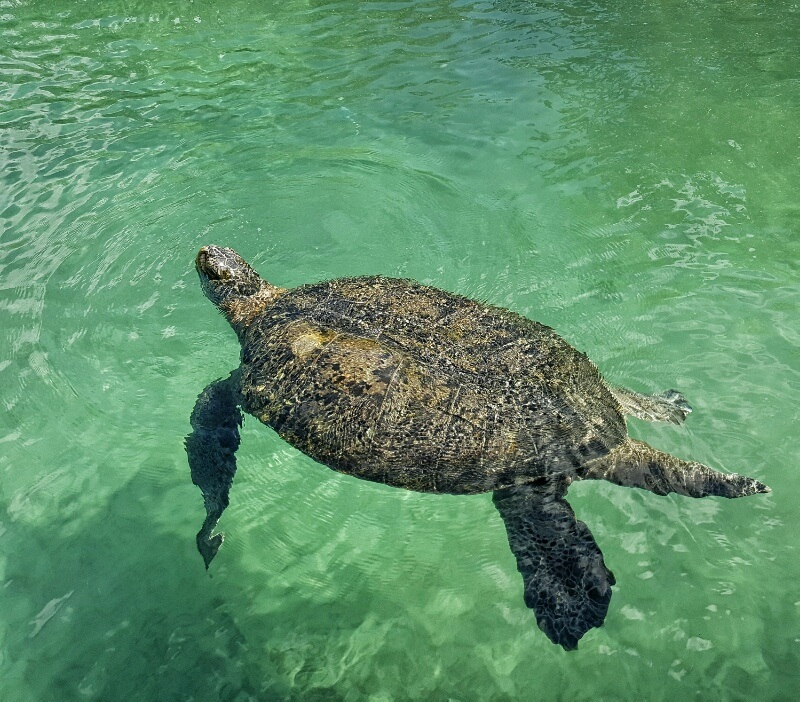 Bat cave!
Both times we visited Xcaret, the bat cave was a huge hit with our kids. Unlike most bat exhibits, this one is in a real, underground cave. To see the bats you enter via a long set of stairs and stand in semi-darkness until your eyes adjust to the lack of light. Once your eyes are acclimatized, you realize you're in a real bat cave with live bats flying around you.
Bird aviary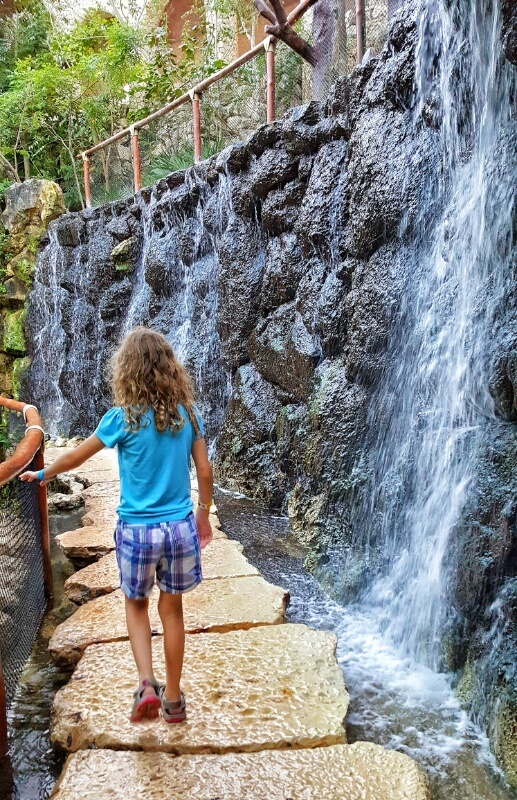 Xcaret's bird aviary sanctuary is gorgeous, with waterfalls and ramping pathways on multiple levels. We visited this as one of our last stops in Xcaret, but I really wish we'd had time to linger more. There are over 1,500 birds in here, most housed in one giant aviary, with verdant vegetation and blooming tropical flowers everywhere. It's well worth an hour or so to visit if you're a bird lover.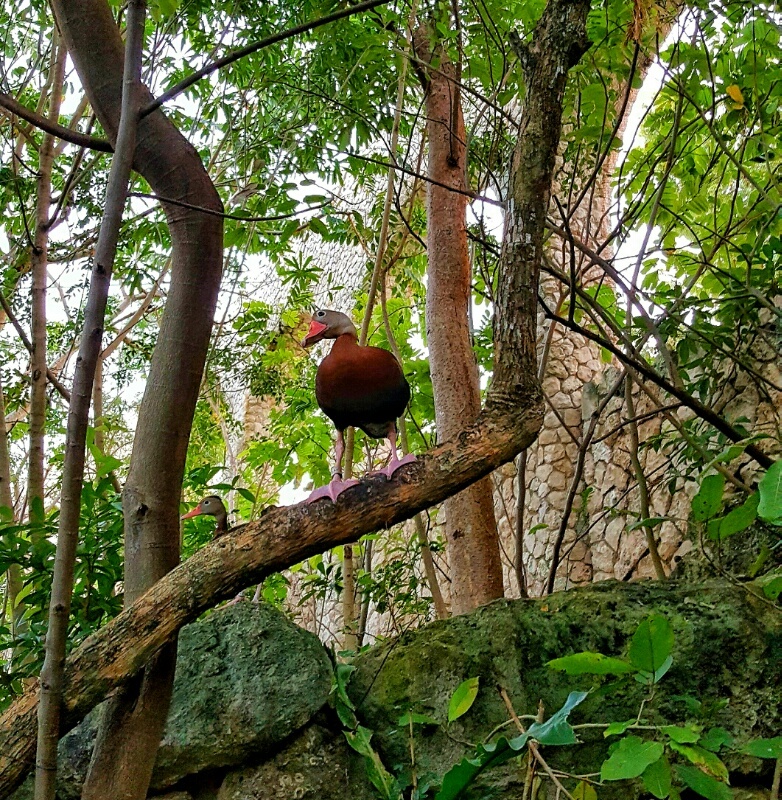 Butterfly Pavilion
Right next to the Bird Aviary is Xcaret's Butterfly Pavilion. Here you can see 20 different species of butterflies in one of the largest butterfly enclosures in the world. Similar to the aviary, there are pathways and waterfalls aplenty, as well as a hatching area complete with explanations of for all stages of the butterfly life cycle.
Monkey Island
Xcaret features both spider monkeys and howler monkeys in the park. Though they tend to quiet down in the heat of the day, you can see them climbing around in the morning and right before dusk.
Xcaret Underground River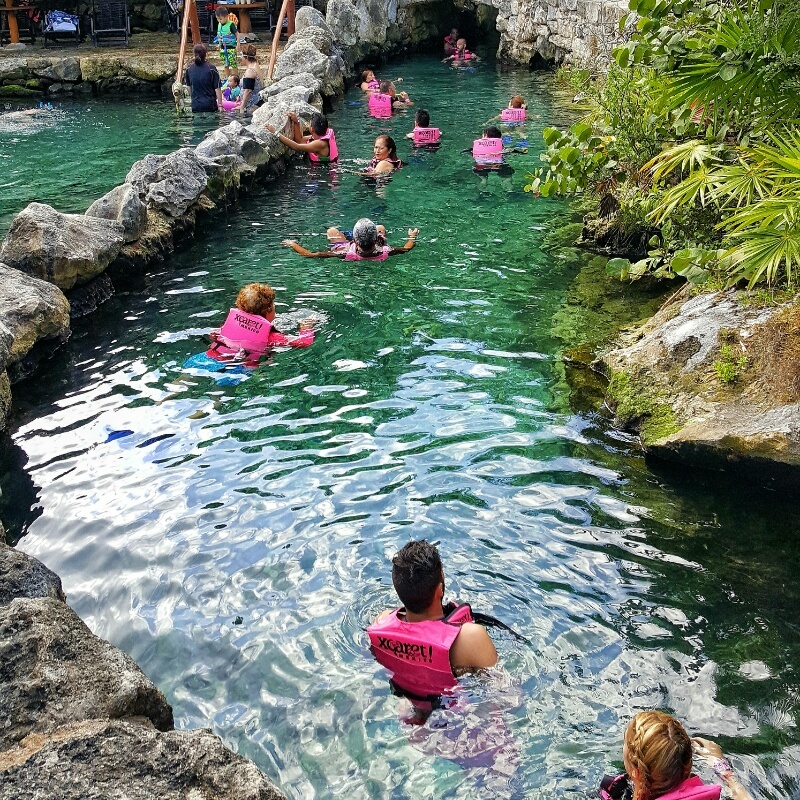 One of the most popular attractions at Xcaret eco theme park is their underground river. The river winds its way through naturally formed caverns and caves under Xcaret. The water is a crystal clear aquamarine, and you can even find little fish along the bottom. Floating from beginning to end can take about an hour, however there are numerous locations along the way to get out if you want to.
Tip! We found that the water got a little cool for our eight-year old after a while and we decided to exit around the 3/4 mark. Because of that, it's a good idea to rent or bring flippers to speed up your journey (we didn't have any) since the water slows down in certain areas and the flippers will help you along. If you get a Xcaret Plus pass, snorkeling equipment is included in your ticket price. Life jackets are free (and mandatory) for everybody.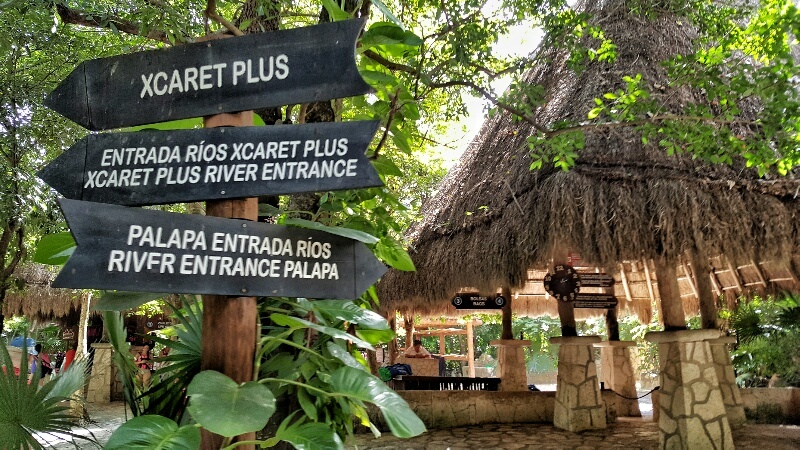 At the start of the underground river, Xcaret staff put your belongings in a duffel bag, and transport it to the end of the lazy river for you to pick up. You'll get a waterproof label with your number on it for pickup, and the duffel is stored in an area with Xcaret staff at the end of the river. You'll need to show the number to pick up the duffel.
We did find that the duffel bags were slung around and piled on top of each other. If you have any breakable equipment or valuables, you may want to rent a locker instead of using the free duffel bags. Because we were going to the lazy river, but we had our DSLR camera with us, we elected to use the secure locker area. It's $5 for the day and there is also a $10 key deposit that is returned once you leave.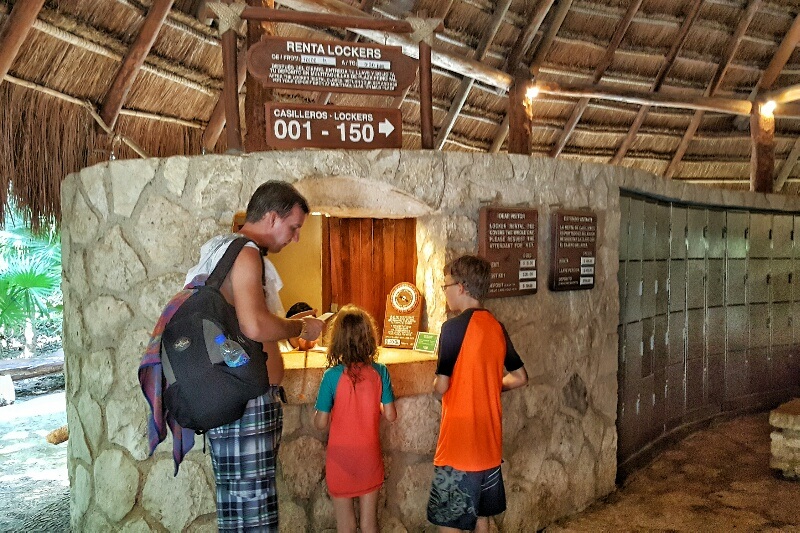 Tip! You may want to bring water shoes or waterproof sandals for the Underground River. Charles found that the rocks along the underground river were a bit hard on his feet, and sandals or water shoes would make standing up in, and getting out of, the underground river much easier. I was wearing my trusty waterproof Keen sandals (with an enclosed toe), so I had no problems.
There are showers and washrooms at the main exit point of the underground river, however it's a long walk back to the rental lockers if you need to pick up any of your other personal belongings. It's definitely a good idea to throw some sandals or shoes in the provided duffel bag if you elect to go barefoot or use flippers down the river for your return walk.
Lagoon and hammocks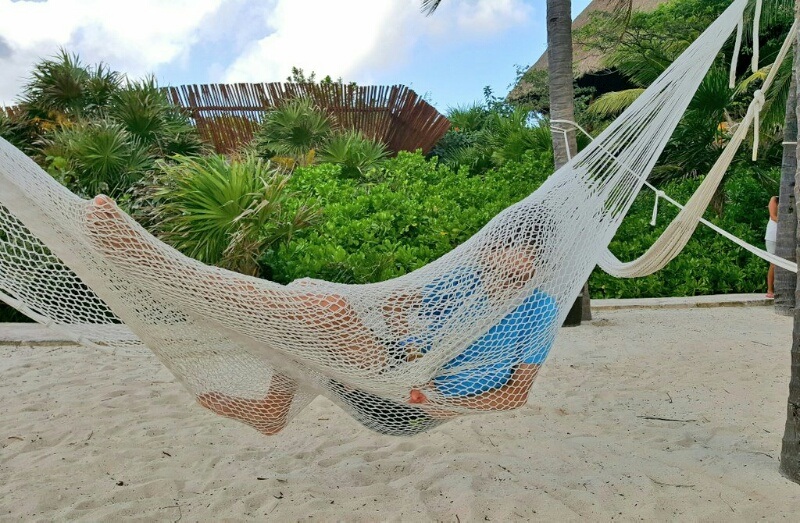 Xcaret has a gorgeous location on the Caribbean sea, with a calm-water lagoon between the beach and jungle areas at Xcaret. There are lots of hammocks along the beach to the right of the lazy river exit, as well as lounge chairs and tables set out around the inner lagoon.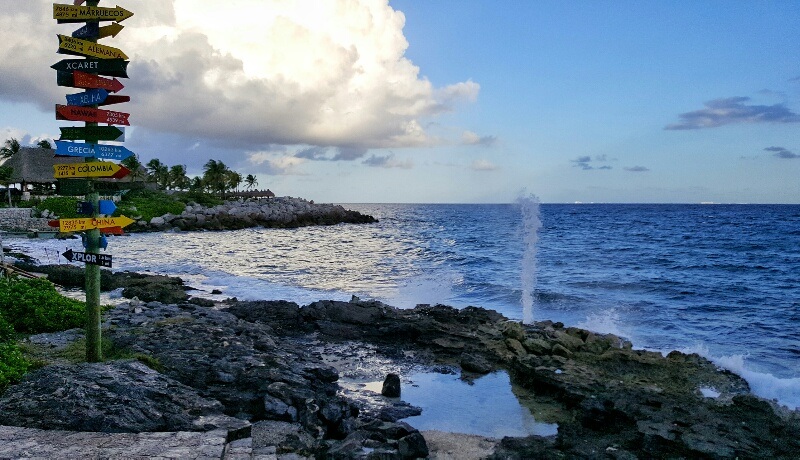 We loved lounging in the hammocks on the white sand, watching the little blowhole spray and looking out over the ocean. There's also a protected lagoon for swimming nearby and some fantastic photo opportunities all along the water.
Xcaret Children's World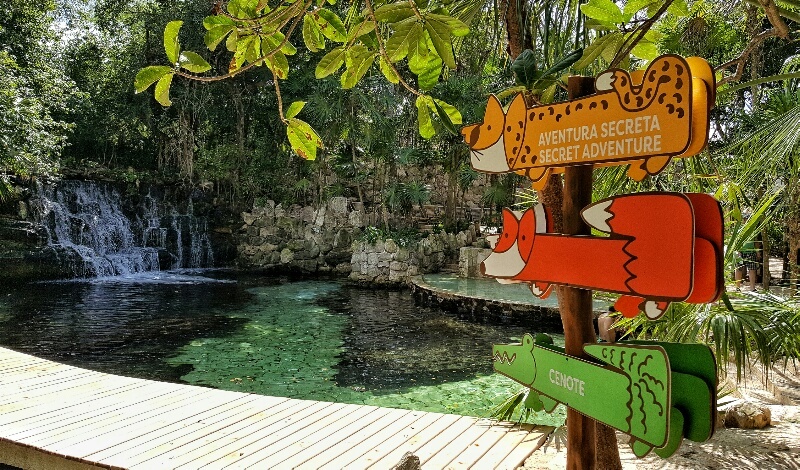 Xcaret's new Children's World area is lots of fun for kids aged 0 to 12. There's a playground, a small splash park, a small beach, a parakeet habitat and a cenote (natural freshwater pool). We found the cenote to be a little full of leaves the day we visited, but otherwise looked like a great way to cool down in the hot afternoon.
Our eight and eleven year old both loved the Children's World Secret Adventure area, which has four water slides, hanging bridges, a waterfall and lots of rope climbing. It's like a mini adventure for kids and is a good distance from nearly everything else in the park so it's a fairly quiet area.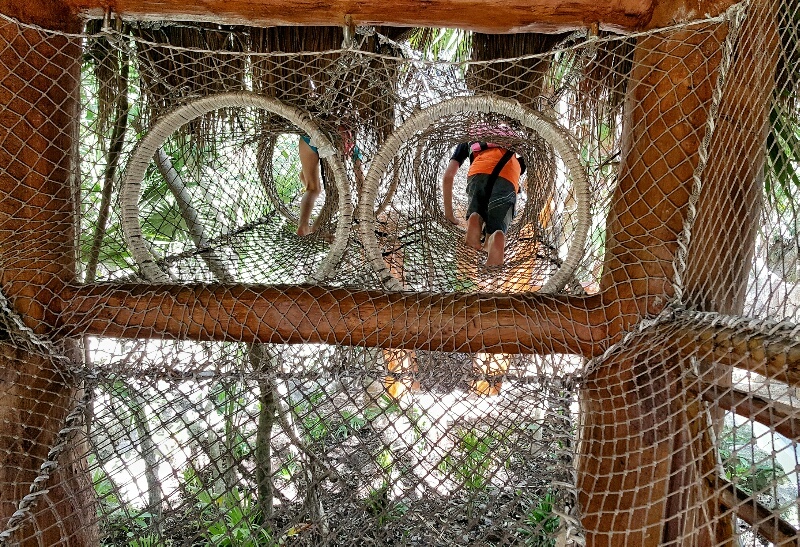 Parents can walk alongside on a separate path around the activities, but the adventure area is meant for 4-12 year olds and most adults won't fit through the ropes even if they wanted to join in.
Note: To get the most out of the area, kids should wear water shoes, otherwise their feet could get sore on the ropes and rock walkways. Ours didn't have any and had to be a lot more careful where they stepped and while playing in the water than other kids we saw wearing some. The cenote is a natural pool and as such, there are rocks and sharp areas along the sides as well if they decide to explore a bit.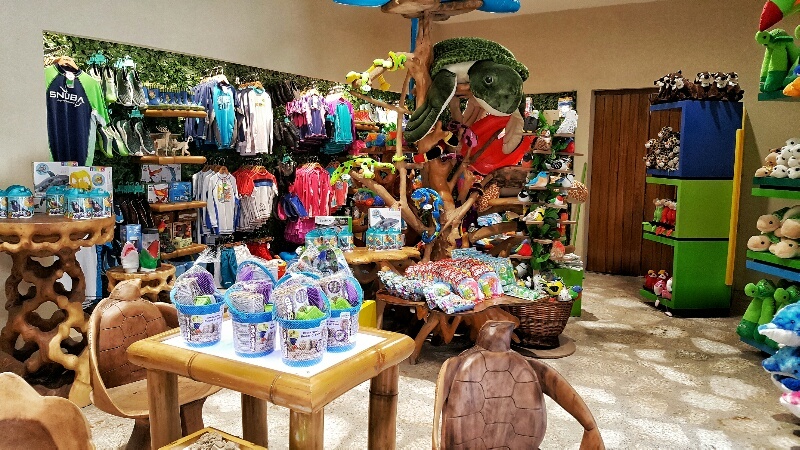 The Children's World zone also has it's own washroom and a small store complete with drinks, small snacks and beach toys. There's also a small sandy area for the little ones and lots of seating for everyone in the shade. The children's area is not near the ocean side of Xcaret and is off to the side, far away from the crowd. Expect a bit of a walk getting to it.
Xcaret restaurants, buffets and snacks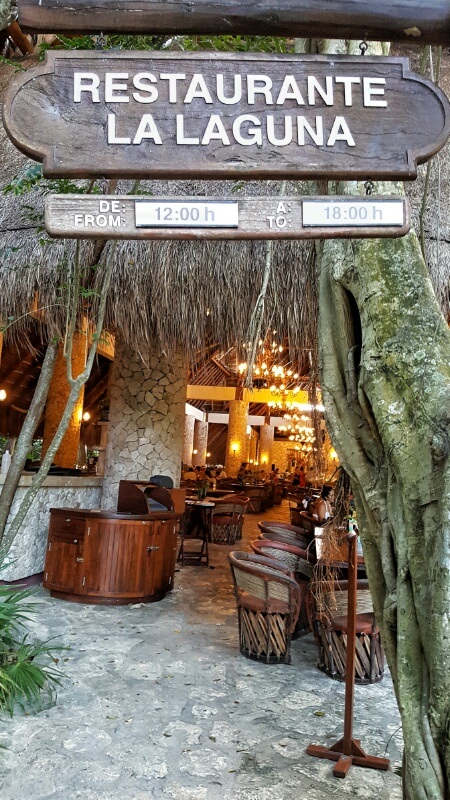 Xcaret natural adventure park has many snack areas and several buffet restaurants.
Tip: We found it a much better value to get Xcaret Plus than to pay for the buffet and flippers separately.
Both times we've visited Xcaret, we've eaten at the largest buffet restaurant, La Laguna. There's a wide variety of food there, and it seems to be restocked quickly. Our kids loved the desserts and the soft serve ice cream bar.
The first time we were at Xcaret, we ate around 2 pm and it was quiet. On our second visit, we ate right at 12:30, and it was very busy. Servers were constantly re-stocking the buffet, though we only needed to wait ten minutes for items to be refilled, as the restaurant looked to be at full capacity. I'd suggest eating slightly before or after noon to make sure the buffet was less busy.
Soft drinks, coffee and tea are included in the buffet price, but you'll pay extra for fancy drinks or additional alcohol at the bar.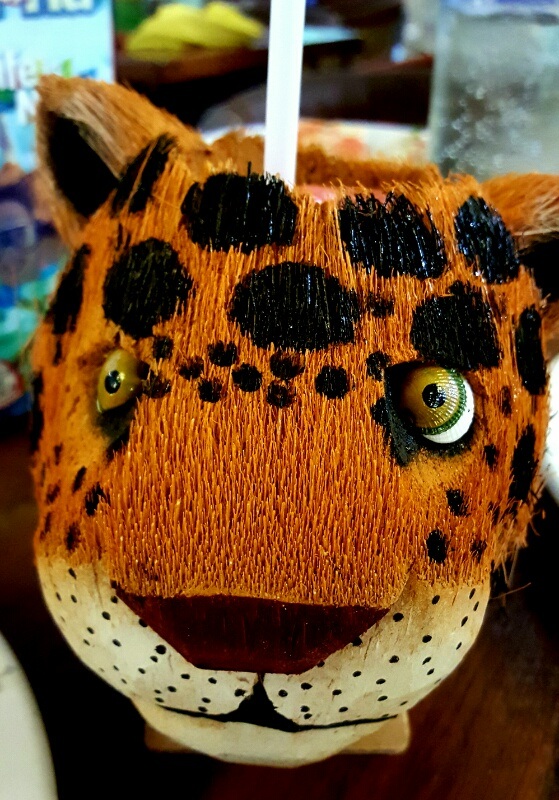 Here's a list of the restaurants at Xcaret.
Dos Playas
This is the restaurant at the beach area, where you can get a Mexican snack or a Caribbean buffet.
La Península
La Peninsula specializes in seafood and offers a buffet.
La Laguna
A large restaurant near the center overlooking the Jaguar exhibit, La Luguna is an international buffet, with plenty of pasta, pizza and sushi.
La Cocina
A smaller restaurant near the park entrance, La Cocina offers Mexican snacks and is a great place to sit and watch the daily equestrian show while enjoying a cold beverage.
La Orquídea
This restaurant offers a la carte breakfasts and snacks.
La Caleta
If you're a carnivore, this is the buffet restaurant that specializes in meats.
El Manglar
El Manglar is only open during high season, and focuses on seafood.
La Isla
This is a restaurant for private events, like weddings, that seats up to 500.
Mexico Espectacular Dinner
This is where you'll sit if you opt to buy supper with your Mexico Espectacular night show tickets.
As well as the above, there are many other smaller snack areas and bars all throughout Xcaret Park Cancun.
Cultural activities in Xcaret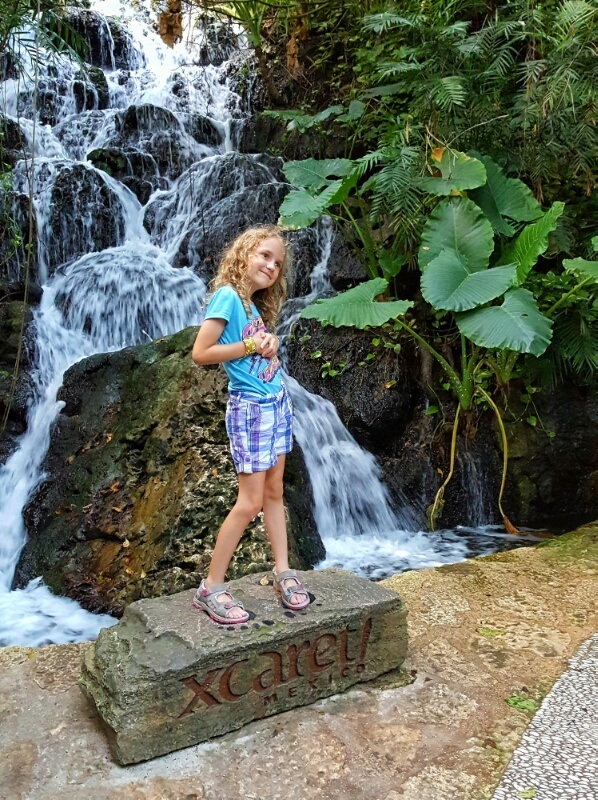 If you're interested in Mayan or Mexican culture, there's a lot to see at Xcaret. The big draw, of course is the Mexico Espectacular show at night (more on that later), but there are also many interesting smaller attractions in the park like watching the high flying Voladores.
Unfortunately, we always seem to be in a hurry to finish and grab supper before the nightly show when we visit the Mayan villages and colonial Mexican areas. It's a shame, because the traditional Mayan mini villages, with displays of traditional houses and cooking, look interesting.
The Mexican graveyard, next to the bird aviary, is colorful and gives a glimpse into Mexican culture, though I do wish there had been more signs explaining its significance.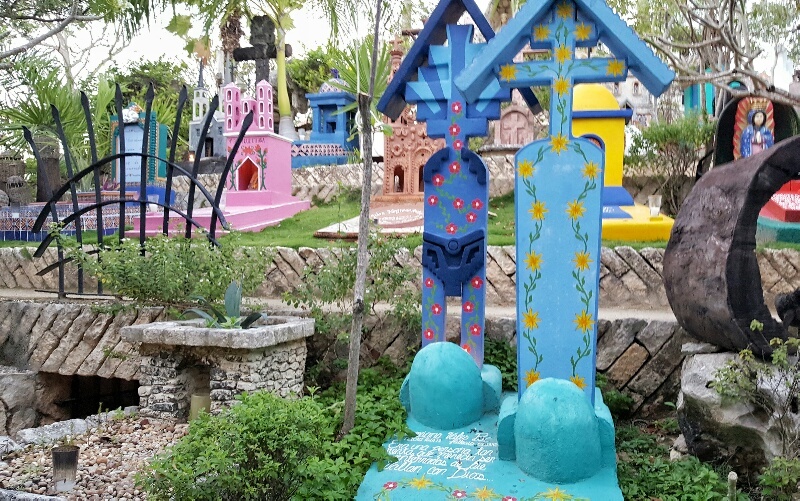 We saw the equestrian show on our last trip to Xcaret, and it was well done and interesting. I suggest you check out our previous Xcaret review if you want to read up a bit more on the traditional aspects of the park.
Some of the cultural highlights in Xcaret include the Mayan archaeological sites found throughout the park, the Hacienda Henequenera with its 19th century story, the views from the St. Francis of Assisi Chapel overlooking the bay and the Mayan Village with its fascinating take of pre-Hispanic living.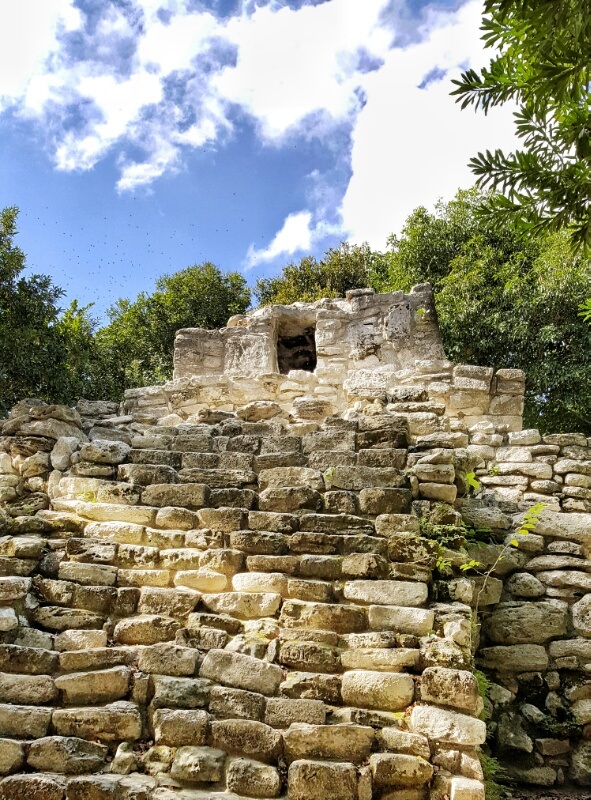 There's also a chocolate cafe, and chocolate and coffee workshops. Unfortunately, we just didn't have time to visit them on this trip, but it's high on my list for our next visit!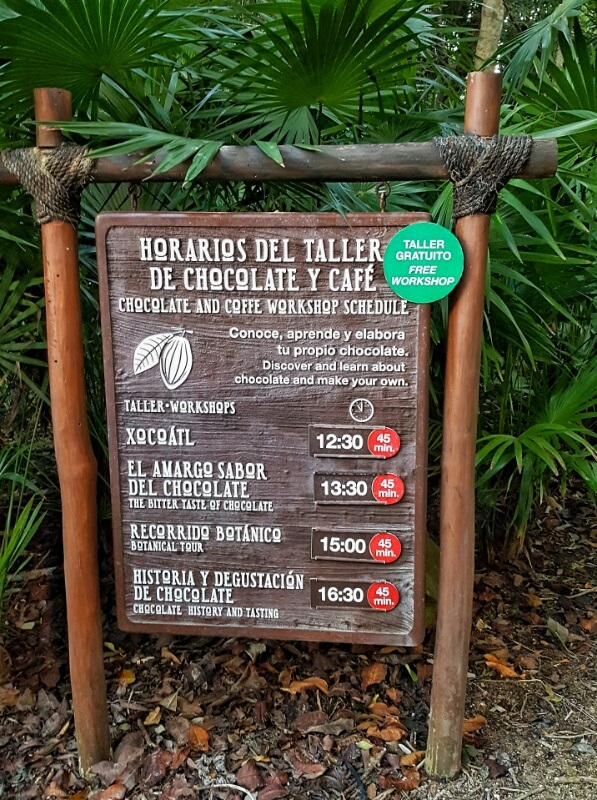 Nightime Xcaret Mexico Espectacular show
This is a huge draw for Xcaret, and it's easy to see why. The show is two hours long and it has a cast of hundreds, colorful and varied costumes, plus a spectacular lighting show. The performances showcase Mexican culture and history, from the time of the ancient Mayans, through the arrival of the Spanish, to modern Mexican culture and music.
You can buy tickets for the night Espectacular show only, if you don't want to visit the Xcaret park. The Xcaret at night includes admission to Xcaret from 4:00 pm to 10:00 pm so you can see a few exhibits before the big show.
Honestly, the full Xcaret admission is only about $20 more than Xcaret at night, and you get a lot more, including admission for the full day.
Click here for our link to get up to 10-15% off admission to Xcaret.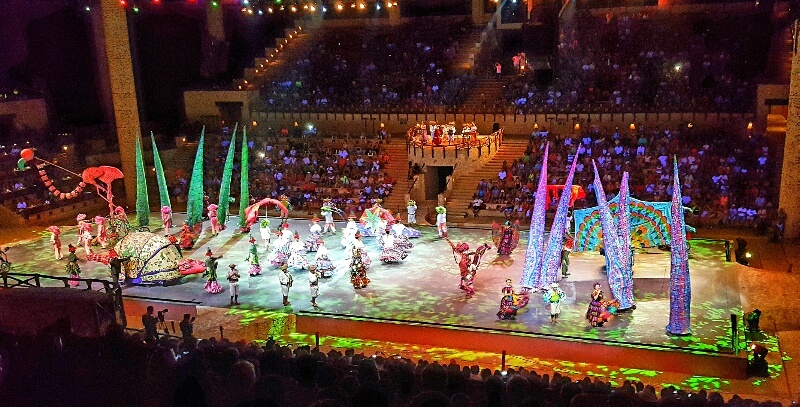 You can also add the Xcaret Xclusivo to get a reserved seat at the Grand Tlachco Theater, a selection of dried fruits, one bottle of sparkling wine, soft drinks for kids and personalized attention.
We've been to see the night Espectacular show twice, and enjoyed it both times. It's fun for adults and kids, and both our kids watched the entire two hour show without fidgeting in their seats. It may have helped that we fed them cotton candy from the snack shops outside.
Tip! Head over to the night show by 6 pm if you want to be near the center lower down for a better view.
Xcaret Amenities
Photos
There are plenty of photo ops throughout the park. When you enter, you're given wristbands that are tied to your ticket. Throughout the park there are locations that allow you to scan in your wristband and take a picture with fixed cameras. The online system keeps track of your photos throughout the day. There are also photographers on site at various locations, with distinctive yellow shirts and plenty of signs indicating they work with Xcaret.
At the end of your visit, you stop by a kiosk, and can get all your photos. The cost onsite is $100 USD for digital photos of your entire group, or you can opt to pre-pay for them as part of your admission.
We found the onsite cost for photos a bit pricey for us, so we just used our own phone cameras at their photo op locations (since they're so well placed). That said, there are plenty of photo stations throughout the park and it saves you from having to carry your camera throughout the day so they can be a great way to keep your memories alive once you leave the park.
Tip! The best deal for photos is online, where you can buy a photo pass with your park tickets for around $59 USD. Even better, that photopass covers ALL the photos for up to a group of 10.

You can get details on the photopass here.
Souvenirs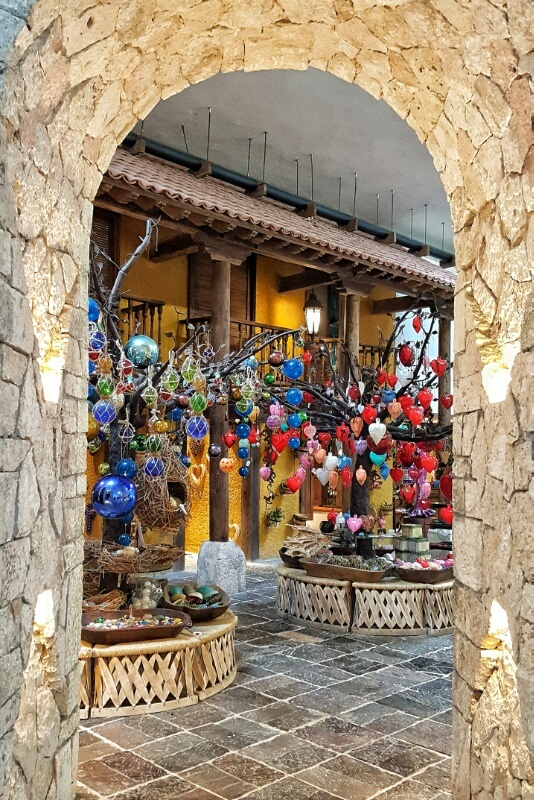 There is no shortage of souvenirs at Xcaret, ranging from T-shirts to stuffed animals to magnets and postcards.
Pick up your souvenirs before the nightly Mexico Espectacular show. We were busy during the day, so we decided to pick up a small souvenir for Jordan on our way out of the night show.
Unfortunately, after the Espectacular show, the gift shop was so packed with people leaving for the front gates that we decided it wasn't worth the wait. It would have been much easier to pick up a souvenir during the day when the gift shop was quieter.
Need a break?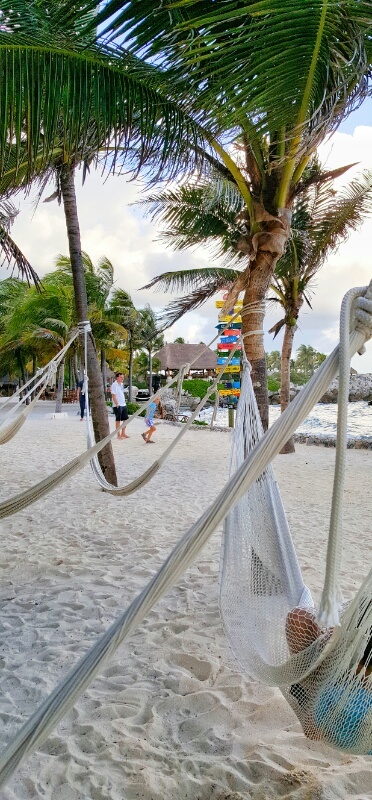 Xcaret is a lot of fun, and it's also a lot of physical activity like walking and swimming. Our favorite place to take a rest are the hammocks on the beach, which are a beautiful place to relax for a while. However, if you have little ones, the new Children's Area is a great place to unwind away from the crowds and in the shade.
Sunscreen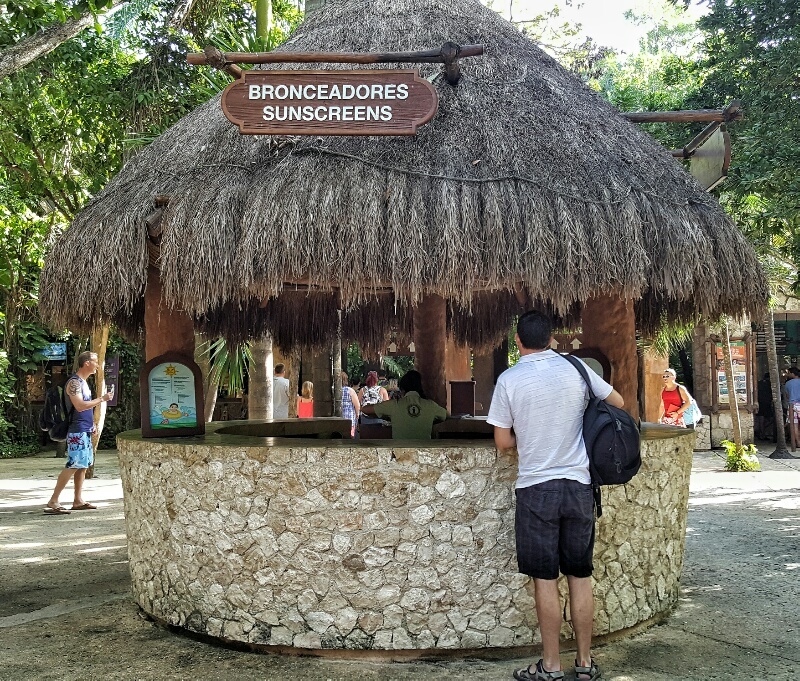 Xcaret wants to encourage using biodegradable sunscreen. You can deposit your regular sunscreen at a booth when you get there and they give you biodegradable samples for free. Be sure to remember to grab your own sunscreen on the way out. You'll need to show the claim ticket they give you.
Lockers
Lockers are by the Xcaret Plus zone. The cost for lockers is 100 pesos (about $5 USD at the time of writing), with a 100 peso deposit fee for the key. There are changing booths in the locker area, along with benches and shade. Because we were going to the lazy river, and had our DSLR camera with us, we elected to use the secure locker area.
Xcaret Spa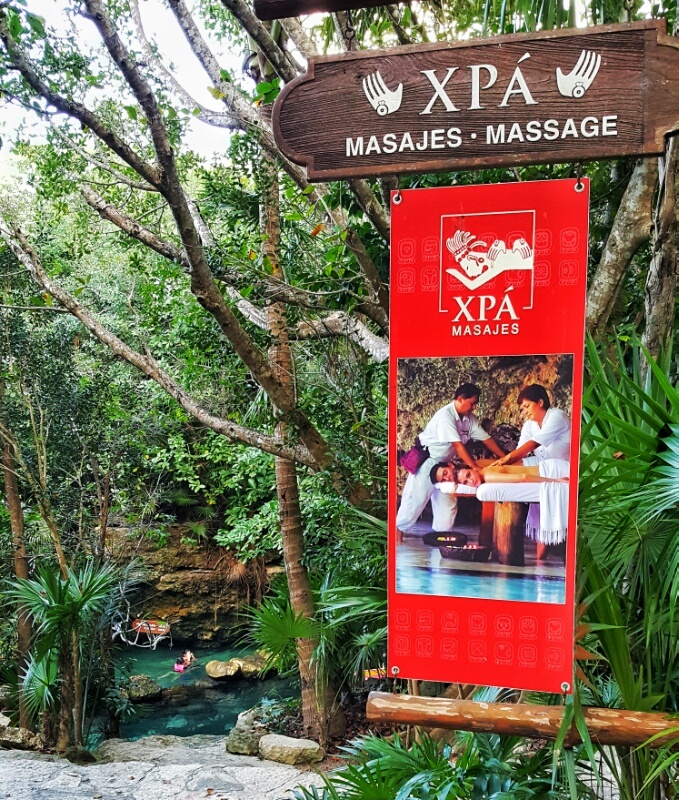 Unfortunately we didn't have a chance to check out the Xcaret Spa, but it definitely looked inviting. It would be a great way to spend a few hours away from the kids and be pampered so maybe next time!
Weddings
While we were there, we happened to see a wedding by the lagoon at Xcaret! It's a gorgeous setting, and I would have loved to see more, but unfortunately we had to leave for the evening show. You can contact customer support if you're thinking of having a wedding at Xcaret to find out what kind of services they offer.
Xcaret Admission Plans
Xcaret Plus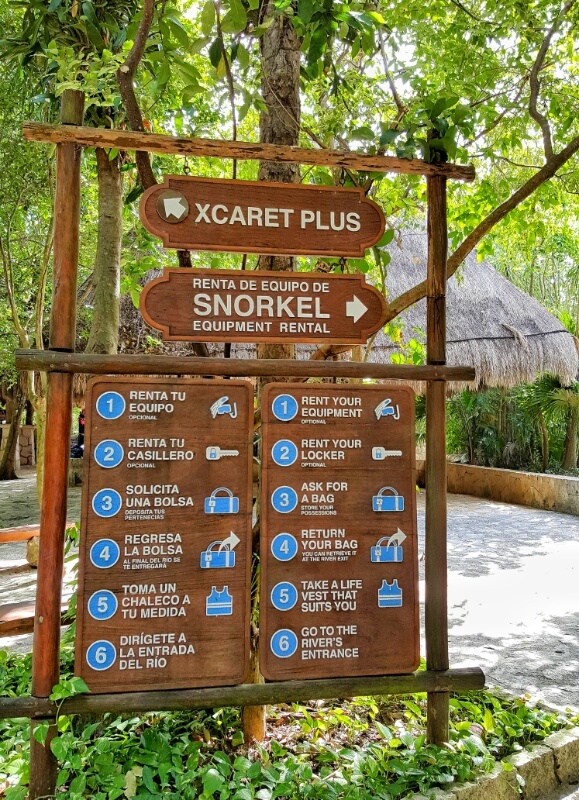 Regular (Basic) Xcaret admission doesn't include lockers, flippers, or any food (but it does include life jackets for the underground river).
When you get an Xcaret Plus admission, you get lockers, flippers, snorkel and mask, towels, and a buffet meal, as well as access to the Xcaret Plus locker area. It's a good value if you're planning to do the underground lazy river and eat at one of the buffet restaurants.
Your buffet meal includes one beer and unlimited beverages (soft drinks, flavored waters and coffee) while consuming food at the buffet.
The Xcaret Plus admission was $109 USD at the time of writing, while basic admission is $84. Both prices are the discounted online price you'll pay, 21 or more days in advance, on the Xcaret website.
Xcaret Optional Activities
You can add on optional activities like SNUBA, the Adrenelina jet boat, the Mexico Espectacular Dinner, Dolphin Ride, Swim with Sharks, Stingrays Encounter, Sea Trek Stingrays and Adventure Kids, a children's ray and shark encounter, when you buy your tickets online.
You can see all of Xcaret's optional activities here.
Xcaret Total
The Xcaret Total admission package, which will get you one optional activity from three Optional Activities: Adrenalina, Sea Trek® or Snuba®. You also get the lunch buffet and Xcaret Plus admission. This is a great deal if you're already planning to check out one of these activities anyway.
Xcaret Tips!
Xcaret is a big park, and planning a bit before your trip can help make it a lot more comfortable and fun for the whole family.
Plan your day
Xcaret is a huge place with lots of walking. We found that with kids, it just wasn't possible to see and do everything we wanted in one day (though we came close!). You may want to make a list of must-see items, and do those first, to ensure you don't run out of time.
Our must-see list this time included seeing the animals, checking out the aquarium, lounging in the hammocks, floating down the underground river and watching the Xcaret Espectacular Show.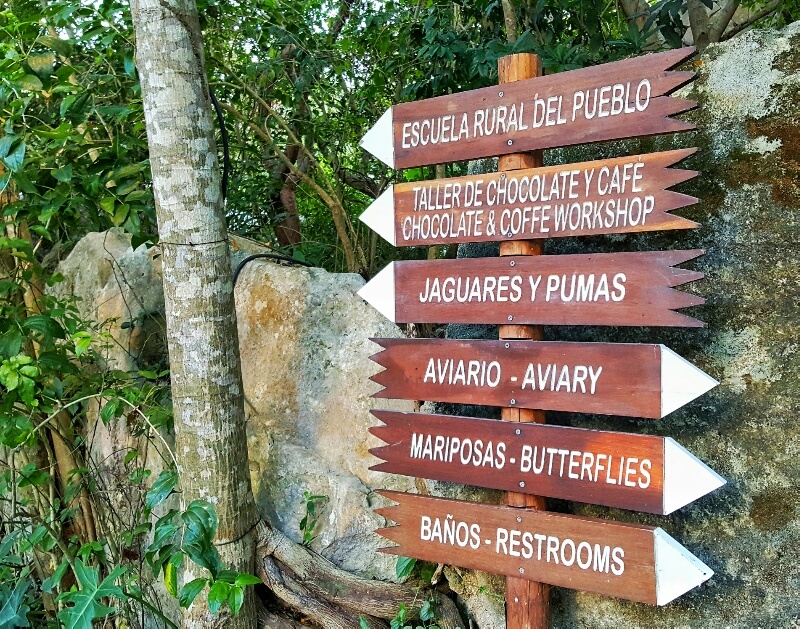 Prepare for the heat
Even in Mexico's cooler season, it's hot. Make sure you wear lots of sunscreen, a hat, cover up, and drink lots of water or non-alcoholic liquids.
Wear comfortable shoes
Xcaret is big, so you'll be doing a lot of walking, with some of it up and down stairs. Make sure your shoes are comfortable.
You may also want to bring water shoes or waterproof sandals. These will make standing up in, and getting out of, the underground river and some of the play areas much easier.
Xel-ha vs Xcaret
Have
unlimited fun
at
Xel-Ha
, an
All-Inclusive
park full of water related activities such as
snorkel
, zip-lines landing on the ocean, and the
highest waterslide (98 ft.)
at the
Rivera Maya!
Includes
buffet
meals,
open bar
and
unlimited
beverages.
Save 15%
booking online.
We get a lot of questions as to whether Xcaret or Xel-Ha is best for kids. While Xcaret is a huge park with an underground river and lagoon, it also has a lot of space devoted to aquarium, cultural and animal displays. Xel-Ha's focus is much more on water activities and adventure, with snorkeling, zip lines over the water, caving, cliff jumping into the water, rope swings, and more.
It very much depends on your children's level of activity and adventure, but parents of children under six, or kids who aren't as comfortable in the water, will probably enjoy the activities at Xcaret more than Xel-Ha. Teenagers or those kids who crave wilder adventures might prefer Xel-Ha however, that said, no one is too young or too old to enjoy Xcaret.
Xenses vs Xcaret
If you only have a limited amount of time, you can read our Xenses review as well. (Subscribe to our newsletter above to be informed when that gets posted in the coming days).
Just across the road from Xcaret, Xenses is a unique park, owned by Xcaret, that delights in shocking your senses. If you have around 4 hours to spare (it's also cheaper than Xcaret) and you're looking for a different experience, then this newly built park might be for you.
I don't want to spoil too much but if you like to experience new things, have a sense of humor and a sense of adventure then you'll probably enjoy Xenses. It's such a different take on a theme park that Xcaret vs Xenses can't really be compared but to give you an idea, our older son actually prefers Xenses while our younger daughter says Xcaret is still the reigning champ of eco-parks.

Xcaret coupon code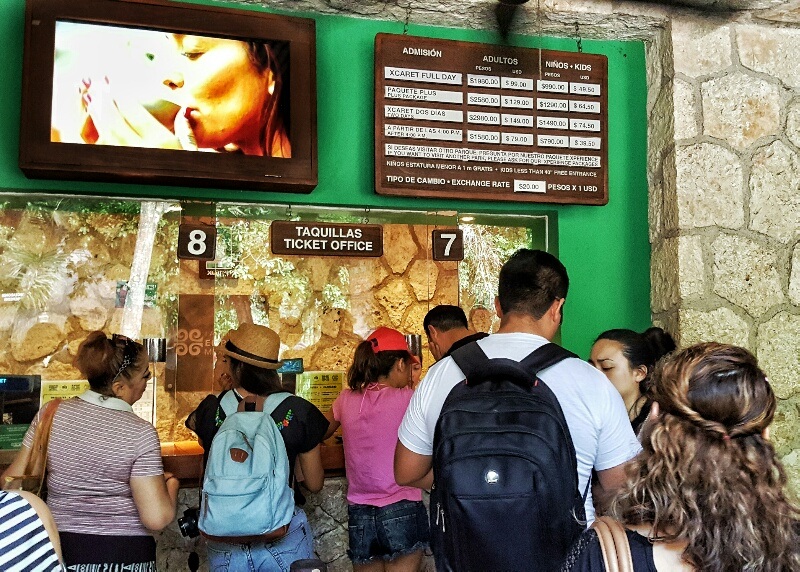 We've found that the cheapest and easiest way to get tickets for Xcaret is to buy them online on the Xcaret website. Click here to check prices online at Xcaret now.
You can get Xcaret discount tickets that are between 10 to 15 percent off when you buy online, and the park also offers package discounts if you buy multiple parks or add on transportation to Xcaret. If you're planning to visit multiple parks, these can be a great deal.
You can check out the package discounts here.
Kids are half price! If you buy online, there's even a weather guarantee that will let you rebook any day within one year.
You can use our link to check out the online discounts.
Important! Xcaret often has specials on the website.
The specials change every few months. The best way to see current deals are to go to the Xcaret promotions here.
Click here go directly to Xcaret Promotions to see the deals.
How to get to Xcaret park cancun
We talked about this at the beginning of the article, but the easy button for getting from Cancun to Xcaret is to add transportation to your Xcaret ticket. They'll pick you up at your hotel, drive you to the front door at Xcaret, and pick you up after the evening show and drive you back to Cancun.
If you book through this link you can get up to a 15% discount on your Xcaret transportation and admission from Cancun.
Driving from Cancun to Xcaret
If you want to self drive, it's an easy, flat road from Cancun past Playa del Carmen to Xcaret. The 50 miles (80 kilometres) should take you about 60 minutes from the Hotel Zone in Cancun. The highways are in good shape and signs are everywhere for Xcaret. Parking at Xcaret is free.
Tip! Whenever we rent a car, we quickly do a search on Expedia or another booking site to compare costs for different rental car companies.
Driving from Playa del Carmen to Xcaret
It's just a short 15 minute (6 mile/10 kilometer) drive from Playa del Carmen to Xcaret. Just head south down Highway 307 (the main highway) and follow the signs to Xcaret. The turn is on the right from the highway but veers over. Parking is free.
Taxi from Cancun to Xcaret
Few people opt to take a taxi all the way from Cancun, because of the cost, which should run between 60 and 100 USD one way. You may also have trouble finding a taxi at the end of the day outside Xcaret that's willing to drive you all the way back to Cancun.
Taxi from Playa del Carmen to Xcaret
From Playa del Carmen, it costs about 150 pesos ($8 USD) to get a taxi to Xcaret, and typically about 180 pesos ($9 USD) to get back. You can hail down a taxi anywhere in the city however if you're having a hard time finding one you can try outside either of the ADO bus stops or outside any of the larger stores like Walmart or Chedraui. Like anywhere, it's not a bad idea to agree on the price before you get in so there are no surprises when you get there.
Uber to Xcaret
Uber has just started operating in Cancun, but isn't in Playa del Carmen as of mid-2017. You'll need to check the Uber app to see if a driver is available to pick you up in Cancun for drop off at Xcaret, but you may need to arrange alternate transportation back to Cancun.
Bus from Cancun to Xcaret
You can take the ADO bus from Cancun Airport or the downtown Cancun bus terminal to Playa del Carmen. It's about 114 Mexican pesos, or 6 USD). Once in Playa del Carmen, you'll need to transfer from the Playa del Carmen bus terminal to either the ADO bus that runs past Xcaret (ask at the terminal), or grab a collectivo (shared van/taxi) for about 3 USD on Calle 2.
However, and this is important, the collectivo will only drop you off at the highway. There's a tunnel you need to walk through off the highway and then there should be an Xcaret bus waiting that will shuttle you to the park entrance. If for some reason the shuttle is not available, I estimate that it's at least a 20 minute walk (1 mile) from the highway to the Xcaret entrance.
On the way back to Cancun or Playa del Carmen, you'll need to grab the ADO bus back since there are no collectivos available then. It was a long wait, and we were all tired and worn out, so we took a taxi. It cost us about $10 USD to get back to Playa del Carmen from Xcaret via taxi.
Staying near Xcaret
Thinking of staying at Xcaret?
2018 Update! Xcaret parks now have their own official hotel, called the Hotel Xcaret! Your stay includes fully free access to Experiencias Xcaret Nature parks and tours, as well as each of their dining plans. There's a free shuttle to the parks.
Click here to see the on site Xcaret Hotel prices and details.
Click here to see Xcaret Hotel all-inclusive plans! In addition to day and night time activities and meals at the resort, it includes full access to Experiencias Xcaret's nature parks and tours, as well as each of their dining plans.
If you don't want to stay at the Xcaret Hotel, the all-inclusive Occidental at Xcaret Destination (also known as the Occidental Grand Xcaret Hotel) is right next door. It gets great reviews (we may even stay there the next time we're in Playa!) and features 10 bars, 11 restaurants & 5 outdoor pools to keep you busy as well as their own jungle excursions and Mayan ruins.
If you like, you can even get their Unlimited Xcaret Xperience which gives you full access to Xcaret for the entirety of your stay.
Click here to check prices at the Occidental at Xcaret Destination.
Are you thinking about going to Xcaret? Do you have any questions? Ask us in the comments below and we'll do our best to help you out!
Where is Xcaret?

Disclaimer: This article contains affiliate links. If you book after clicking on one, we may receive a small commission at no extra cost to you.