Need a little break from the every day? Turns out, a girlfriends' getaway in Boston fits the bill perfectly.
In the past 10 years, I can count the number of times I've been away with just me and the girls and it isn't much. Being a mother, running a business, travel commitments and well, just life, tends to have that effect.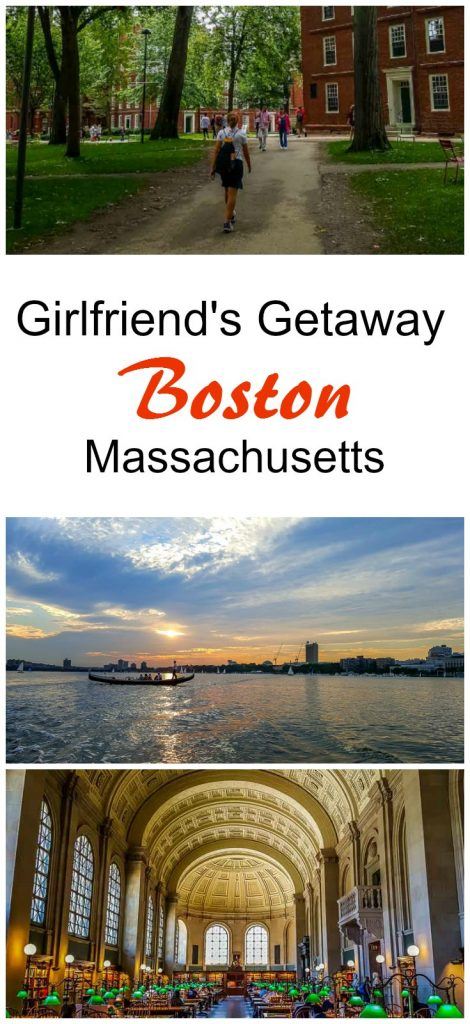 So when one of my best girlfriends reached out to invite me to Boston for a few days, I resisted the urge to feel guilty about leaving the kiddos and business in Charles' highly capable hands, and I jumped at the chance.
And you know what? They did just fine without me, and I had a wonderful time in one of North America's coolest and most historic cities.
Here are a few of our favorite things we found to do, see, and eat (and where we stayed) during our girls getaway in Boston.
Tip! If you're planning to take in a lot of activities and sights in Boston, you can save some $$ with the Boston CityPASS.
What to do on a girlfriend's getaway in Boston
Honestly, I had a heck of a time planning our time in Boston. There's just so very much to see and do that I ended up with over 40 items on my must see list. Unfortunately, with only four days in town, that just wasn't going to cut it, so we honed our list down to the absolute must dos.
Boston Duck tour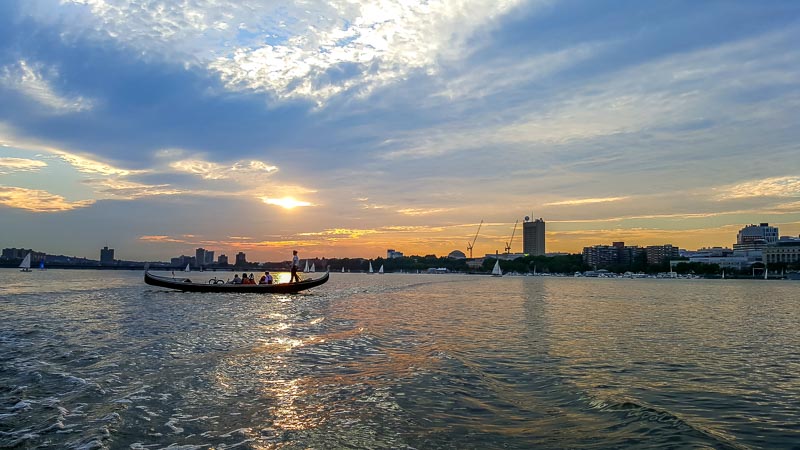 OK, OK, I know Duck tours are insanely touristy, and probably not what you expected from an independent travel blog. They may be touristy, but they're also a heap of fun, especially if you're with a group of girls who are willing to have a blast with the campy atmosphere.
The Duck serves as an excellent, whirlwind tour of downtown Boston's main attractions. In between our driver's cheeky jokes and radio jock demeanor, I actually learned a lot about Boston's history. I'd recommend taking a Duck tour at the very beginning of your weekend to help you quickly get the lay of the land.
We took the last Duck Tour of the day, and by the time we finished, we had spectacular sunset views on the water on the Charles River.
Walk the Freedom Trail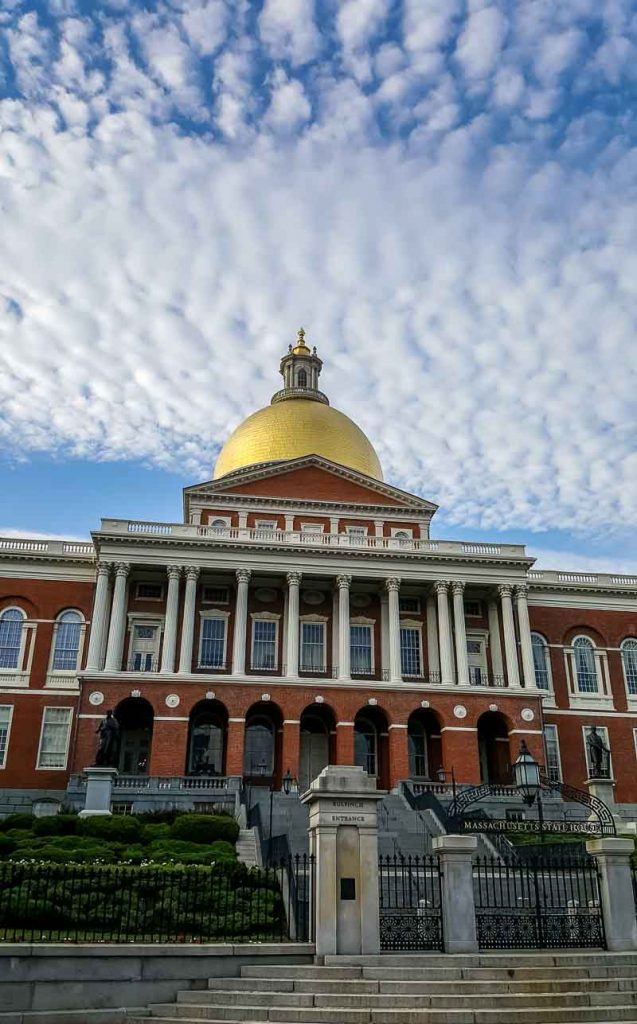 If there are any history lovers in your group, make sure you walk the Freedom Trail, a 2.5-mile, red-lined route that takes in many landmarks related to the rich history of the American Revolution. You can easily grab a map and walk the route by yourself, or take one of the many tours available.
Viator has a great selection of Boston tours, including Freedom Trail walking tours.
Shop Back Bay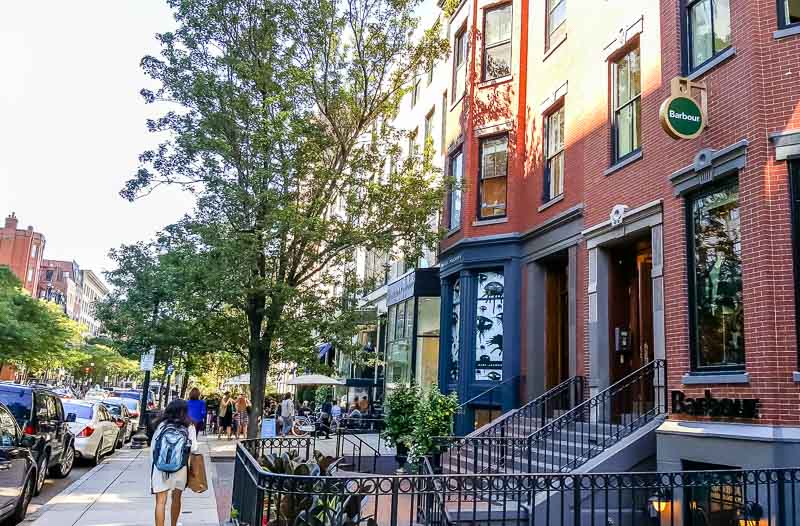 Up for some serious retail therapy? Then check out upscale Back Bay.
Start at Copley Place shopping center, which is packed with designer shops like Christian Dior and Louis Vuitton, then move on to Prudential Center, at the base of the Prudential tower.
Make sure to take time to browse the even more upscale Newbury Street, which is a lovely stroll among historic brownstones and leafy trees.
Take a Boston Harbor tour
I highly recommend getting out on historic Boston Harbour. You'll be greeted by a stunning view of downtown, and it's a lovely chance to get out of the bustle of the city.
Money saving tip
Grab a Boston CityPASS before you go. It includes admission to New England Aquarium, the Museum of Science, the Skywalk Observatory, and the Museum of Fine Arts, Boston OR Boston Harbor Cruises.
Boston Public Library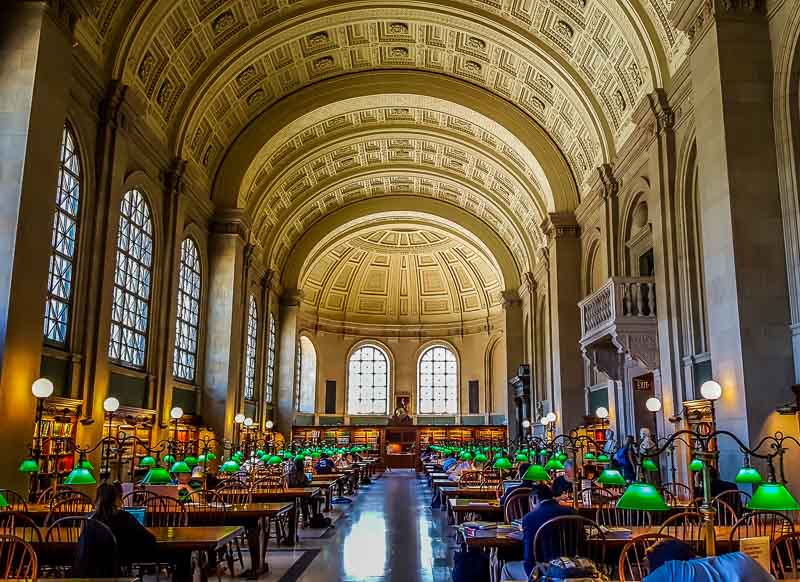 The Boston public library is absolutely, unequivocally, stunning.
This is just a quick pic taken with my smartphone, and it definitely doesn't do the library justice. Just go. It's a book lover's heaven.
Go to Harvard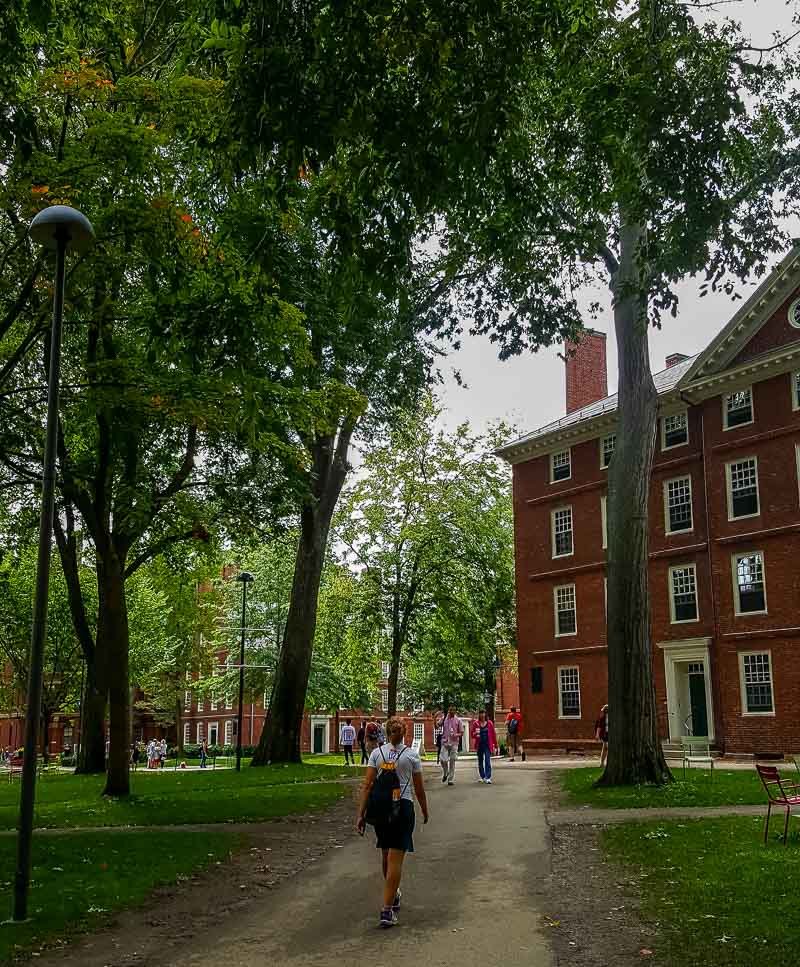 Come on, you know you've always wanted to tell your parents that you're going to Harvard. Here's your chance.
It's worth the visit just to enjoy the leafy Harvard campus, but there's also bustling Harvard Square nearby, which is full of quirky little shops and restaurants.
Visit the Boston Common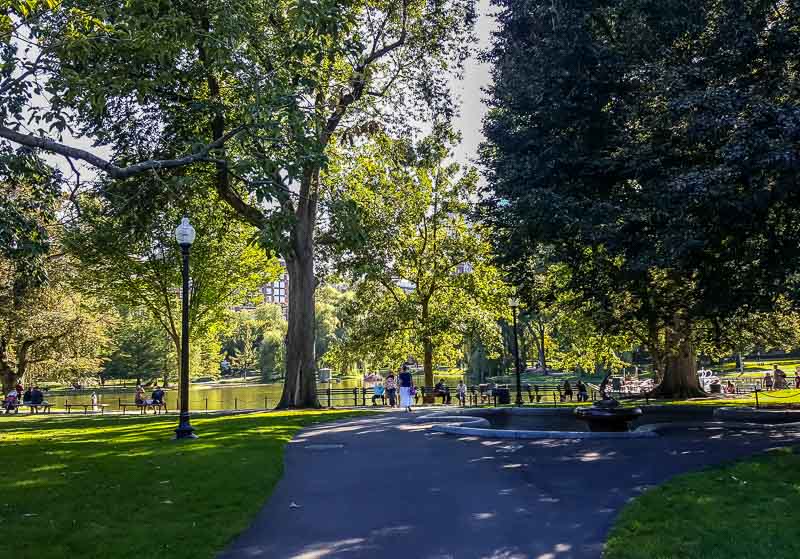 The Boston Common, smack in the middle of downtown Boston, is America's oldest public park. It's a lovely stroll, and makes a great place to start a Freedom Trail walk.
Cheers!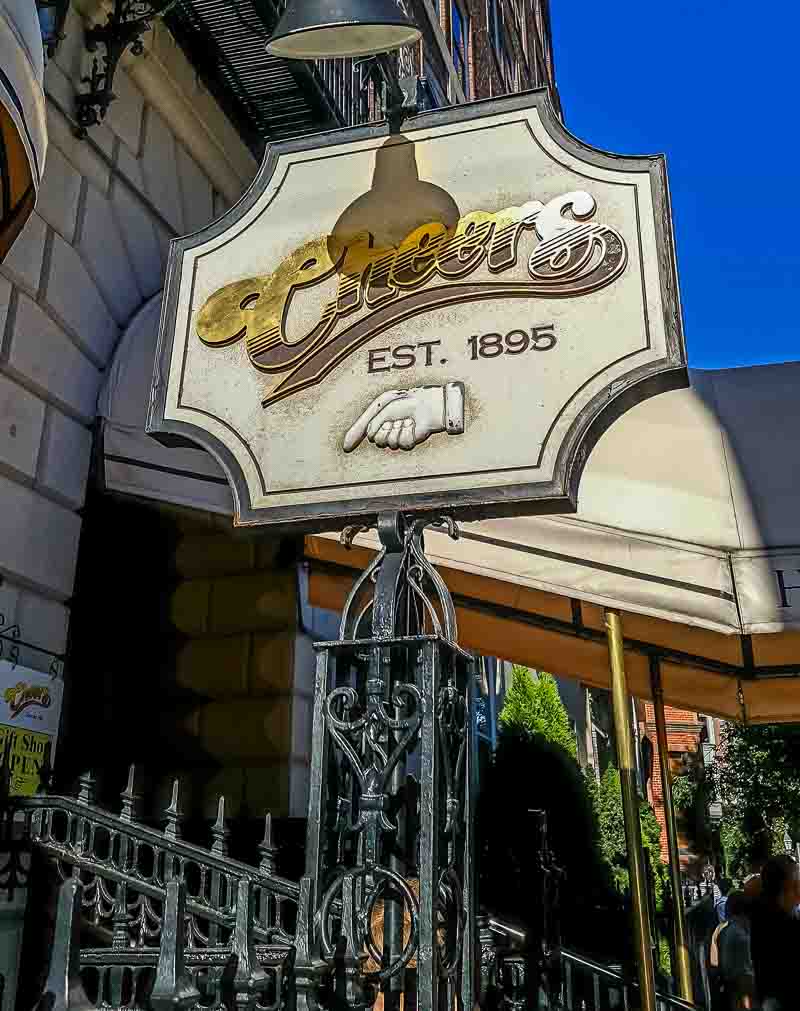 If you're a fan of Sam Malone and the Cheers gang, then a stop by the Cheers bar location is an absolute must! It's on Beacon Hill, near the Boston Common.
Explore Boston's unique neighborhoods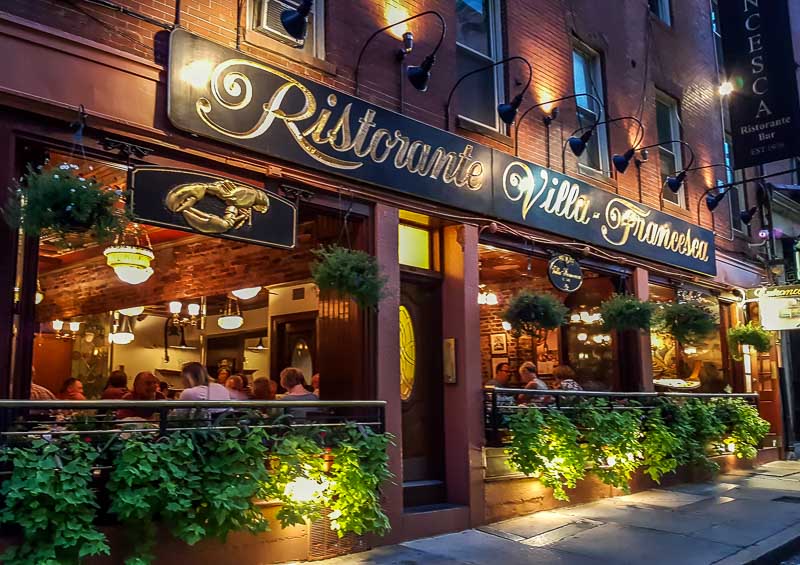 Boston has many iconic neighborhoods than are worth a visit, from downtown to strolling through the North End.
Little Italy is well worth your time, with cute shops, and outstanding bakeries and restaurants. In fact, we loved little Italy so much that we ate here three of the four evenings of our stay.
Tip – Press the easy button
If you want a little guidance checking out Boston, browse through Viator's Boston tours. They have dozens of tours, one of which is probably perfect for you.
Click here now to see Viator's Boston tours.
Where to eat
It's a tough job, but us girls were happy to check out some of Boston's great restaurants and report back to you. Turns out, there's a heck of a lot of great food in Boston!
Brunch and Lunch
We did some research before we visited, and found some of Boston's best brunch spots. Turns out, the reviews were right, and these places were all fantastic.
Kirkland Tap & Trotter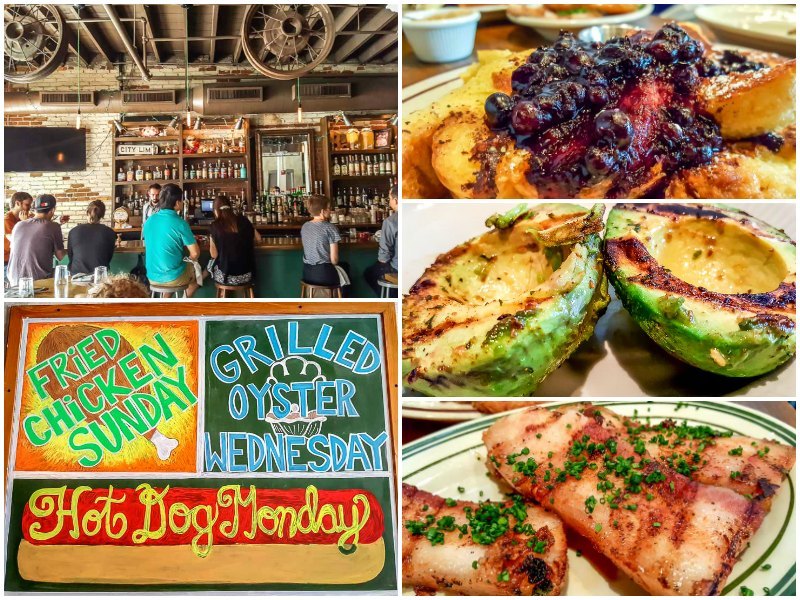 We stopped at the The Kirkland Tap & Trotter on our way from downtown to Harvard, and it was well worth the detour. The Kirkland Tap & Trotter has a stylish rustic decor, with plenty of craft beer on tap, and a menu by chef Tony Maws.
I tried the brioche french toast fruit compote with Vermont maple syrup (delicious), and my friend tried a side of the grilled pork belly. She said it was probably going to take a decade off her life, but it was well worth it.
Tip! Make sure you grab a side of the grilled avocado, it was something new to me and tasty!
OAK Long Bar + Kitchen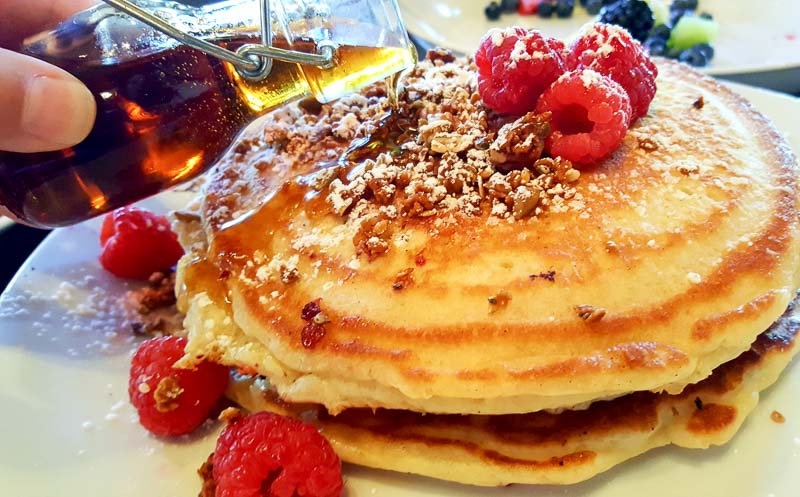 The first thing you can't help but notice about OAK Long Bar + Kitchen is the stunning setting inside the elegant Fairmont Copley Plaza.
We stopped here as a start to our shopping along Black Bay, and I'm so glad we did. They offer a farm to table menu, and have a focus on signature cocktails.
It's relaxed elegance at its best. I never felt out of place in my casual sandals and shorts, and the food was fantastic.
I had the pancakes with pecans and fresh raspberries, and they were absolutely perfect. The next time I'm in Boston, this is a must-do stop.
Savin Hill Diner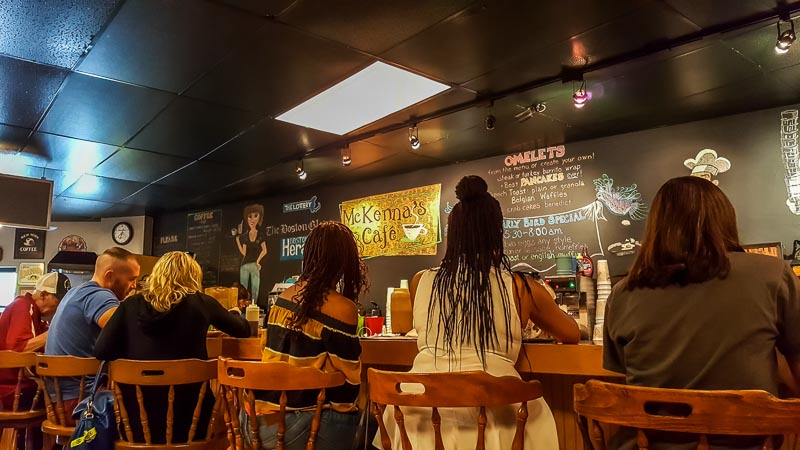 If you're in the Savin Hill or Dorchester areas of Boston, be sure to check out the neighborhood McKenna's Cafe. It was jam-packed on the morning we went, and prices were affordable, and the food was good.
Tip! Be sure to grab an iced coffee to go. The cup was as big as my head and the coffee was delicious. Get the original; we didn't like the flavored versions as much.
Supper
Oh, Little Italy! I think it says something that we loved the food here so much that we ate here three nights during our stay.
Tip! When you're in Little Italy, make sure you stop by Mike's Pastry for authentic, Italian pastry. We stopped by two nights, and everything was delicious, but the tiramisu was out of this world incredible.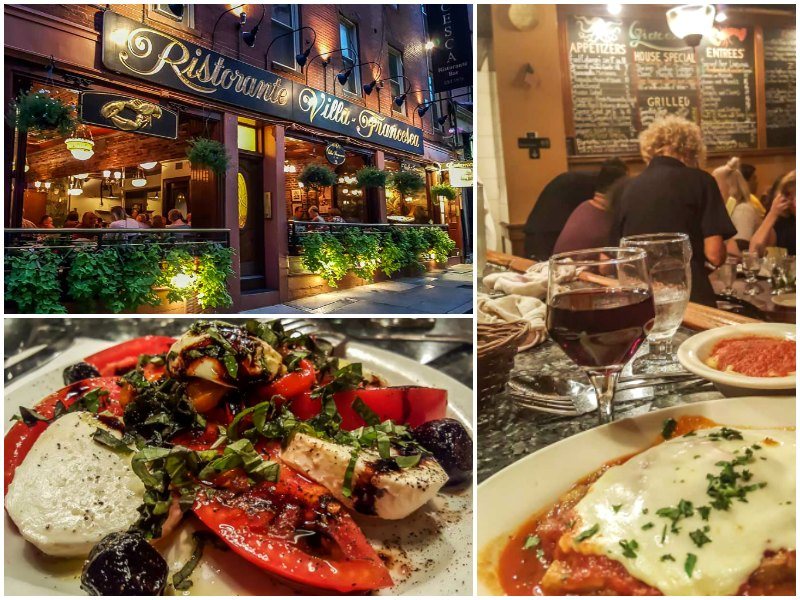 Where to stay
There's no getting away from it: Boston hotels are pricey. To cut the cost, we decided to stay a little ways fromdowntown, but within an easy transit commute.
Hotel AC Boston North
A short search later landed us at the uber-stylish Hotel AC Boston North. It's an easy, 20 minute, commute on the Orange Line to downtown.
This is a gorgeous hotel, with a swank, stylish lounge and breakfast area downstairs.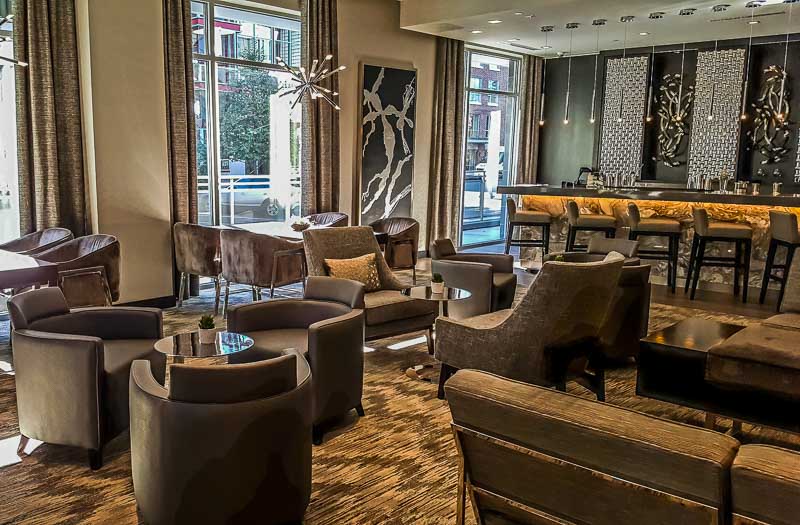 The rooms are beautifully spacious, clean and modern, and there's an onsite pool and gym.
My only real complaint was that the front desk had a bit of trouble with my wake up call. One morning, they called a day early at 3:30 am. I went to the front desk that night to sort out a call for the next morning at 3:30 am, which never came. Luckily, my smartphone alarm was a bit more reliable.
Airbnb in Boston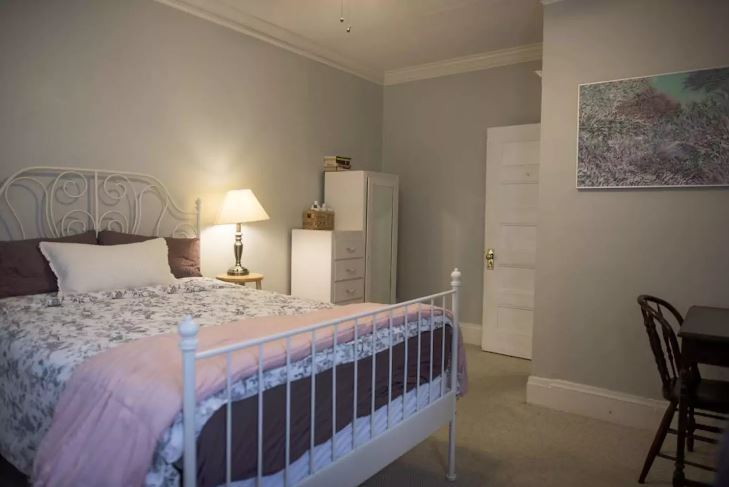 My first night in Boston, I got in after midnight, so I crashed the first night with my girlfriend in a private room in an Airbnb in Boston's cool Savin Hill neighborhood. It was a lovely room in a second floor unit in a private home, and hosted by Rebecca, who was helpful and friendly. This would be a great stay for a solo female traveler in Savin Hill.
Getting around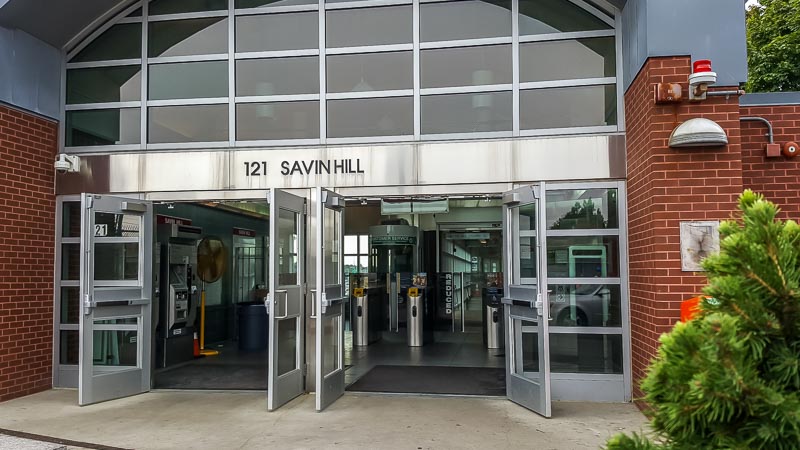 I found Boston's public transit, nicknamed the T, to be fantastic. We used buses and the subway line, and found that they ran on time for us. The schedules were also very reasonable. It's ful name is Massachusetts Bay Transportation Authority (MBTA, or the T for short).
There are dispensing machines in all T stations, where I got a CharlieCard, with a magnetic strip. The card is free (thanks, Boston!), and can be reloaded at any T station machine. You can get a day pass, a week pass, or just load the card with whatever dollar value you want. Machines take cash, debit cards, and credit cards.
Tip! If you're in Boston for more than a day or so, or plan on taking a lot of trips, consider getting a weekly pass. I was there for four days, and didn't get a weekly pass. Paying for individual trips ended up costing me about $10 more for fares than I would have if I'd bought the weekly pass.
Plan Your Trip to Boston
Flights to Boston
These days, we're finding that Google flights is the most accurate flight search engine around. We also love Skyscanner, a flight comparison website that shows a month's worth of fares at a time. Once you find the best deal, Skyscanner connects you so you can book directly with the airline.
Click here to search Skyscanner.
Car rental in Boston
Sixt is a fast, no hassle, booking site that compares car rentals from all major car rental companies and local specialists. They cover over 29,000 locations, 197 countries, and there are no credit card or booking fees.
Things to do in Boston
If you're planning to take in a lot of activities and sights in Boston, you can save some $$ with the Boston CityPASS.
Click here to see Boston CityPASS savings.
Boston Accommodation
Booking.com is our go-to hotel search engine (we've booked through them on 21 different trips). We find the prices are always great (sign up to see special members-only deals) and you can get free cancellation on many hotels.
We also use vrbo consistently.
Click here to see vrbo deals in Boston.
Have you had a girls getaway in Boston?
Or are you planning a trip to the city? We'd love to hear your tips or questions!
We were hosted by Kirkland Trap & Trotter and OAK Long Bar + Kitchen, and the Boston CityPASS were provided to us.