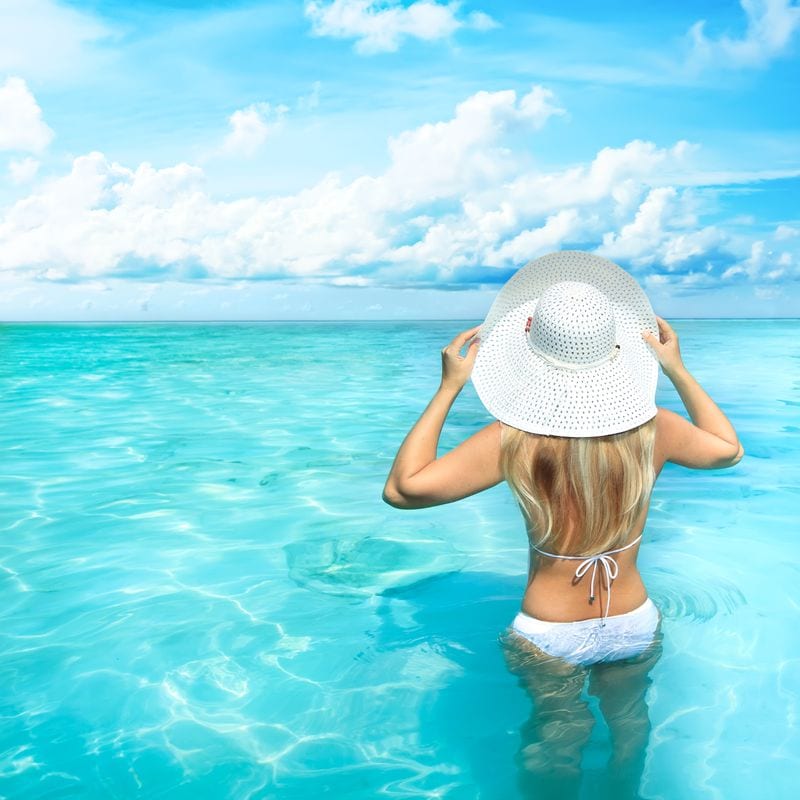 Looking for some fun Destin activities?
If you love beautiful beaches and great water activities, it's good to know that Destin is one of Florida's not so hidden treasures.
Situated around the halfway point between Florida's theme park mecca of Orlando and Louisiana's very popular city of New Orleans, Destin is a Florida Gulf Coast playground with miles of white sand beaches and calm ocean currents.
The water activities in particular around Destin are what typically draw in the visitors and why Destin and it's neighbor city of Fort Walton are known in the Florida Panhandle as places not to be missed.
Things to do in Destin Florida
So, whether you're in Florida for a day or for a week, if you're looking for fun things to do in Destin with or without kids, here's a list of some of the best activities Destin and the surrounding areas have to offer.
Crab Island
One of the biggest draws to the region is the ever popular Crab Island which isn't an actual island but a large submerged sandbar situated between Destin and Fort Walton in the entrance to Choctawatchee Bay.
With water depths ranging from 2 to 4 feet, gorgeous sand beneath and zero waves, Crab Island is a great place to hang out for the day. Check out our post on things to do in Crab Island if you want to find out more about it. Crab Island is one of the most fun things to do while in Destin Fl!
Take a Cruise in Destin Florida
No matter your tastes, Destin has some amazing day and night cruises. Whether you want to party like a local, capture the wind and go sailing, search for friendly dolphins or just cruise the beautiful blue green waters off the coast, there's a Destin cruise perfect for you. Not sure which one to choose? Here's some of the more popular Destin area cruises.
Destin Dolphin Tours on a Boat
With several well known dolphin pods surrounding the waters around Destin, going on a dolphin cruise in Destin practically guarantees some dolphin time. As well as dolphin spotting, several Destin dolphin excursions include fishing and a lunch. Kids will especially enjoy a Destin Dolphin tour.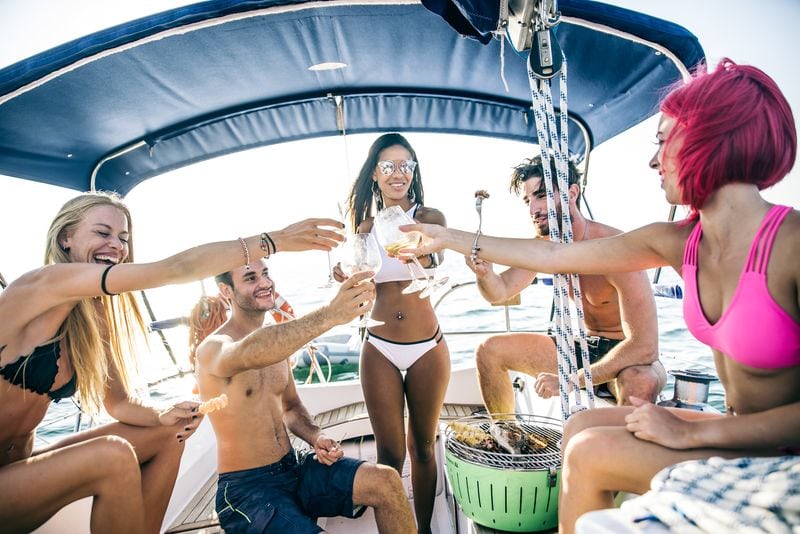 Dolphin Tours on a Jet Ski
Don't like crowds? Crave a little more speed or want to be closer to nature? Then take a guided Jet Ski tour and get up close to nature. There are a few options for guided dolphin jet ski tours out of Destin and Fort Walton that will have you smiling ear to ear as you zip across the water. If the call of nature includes zooming around at 30 miles an hour then this is the cruise style for you.
Destin Sailing Tour
Whether you're jumping on a small single sail boat or hopping on a huge catamaran, the outcome will be the same. At Destin that means the wind at your back and no sounds save the waves slapping your bow. With miles of gorgeous coastline and calm seas all around, going sailing on the Emerald Coast is a guaranteed good day.
Sunset Cruises around Destin Florida
Love sunsets? Who doesn't. Due to the angle of the coast in this area, Destin has some amazing sunsets that can only be truly enjoyed while on a boat. Whether you're looking to be inspired by nature's beauty or just want that perfect pic to send back to your loved ones, going on a sunset cruise in Destin is a surefire way to end the night on a high note. Coupled with some dolphin sightings and maybe a drink or two, going on a sunset cruise is a great couple or family activity for everyone.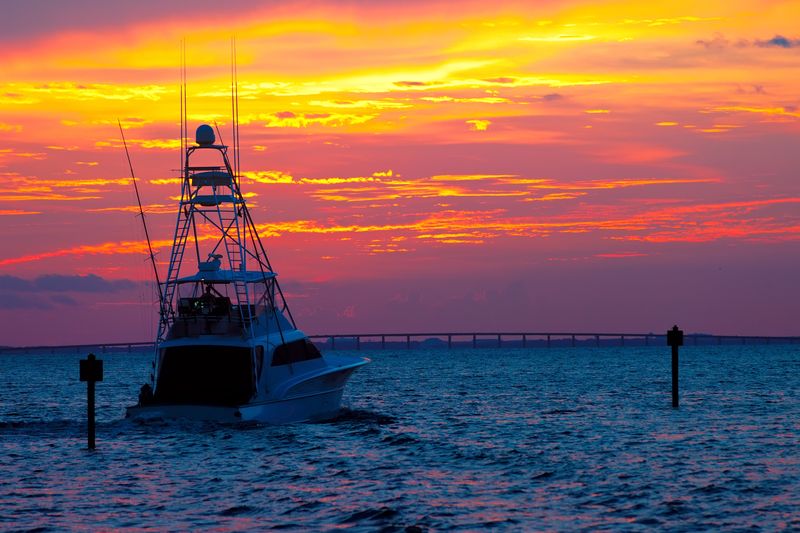 Destin Tiki Cruises
Enjoy partying while the sun sets on one of Destin's infamous Tiki Cruises.
Sure, you can jump on a pontoon boat (great for families) or get on one of the larger party barges (great for dancers), but Miami has nothing on a Destin Tiki party boat. This one definitely isn't for the family and a few last the night so choose your party boat wisely. These floating Tiki Huts come complete with a bartender and how hard you party just depends on who you take with you. A tiki cruise is one of the most unique Destin Florida attractions you'll find!
Go Jet Skiing
Hate dolphins, yeah, who doesn't. (Just kidding.) Love speed, freedom and the open sea? Well, if you've never done it then it's time to get on a Jet Ski. With some great options around Destin and Fort Walton, renting a Jet Ski is a great way to get away from it all and leave your troubles behind.
Rent a Stand Up Paddleboard
Prefer a quieter existence to the roar of the Jet Ski but still want some alone time? Then renting a paddleboard is where it's at. We love ours and use them every chance we get. You can rent a stand up paddleboard in Destin by the hour, day or even the week. Not much beats a slow paddle with the chance to see dolphins or even giant rays beneath you while you check out Crab Island or the miles of coastline.
Rent a Kayak in Destin
Love everything about stand up paddleboards but hate standing? Then maybe renting a kayak in Destin is more your thing. We love them both but when we really want to put on the miles or don't want to risk getting wet we take out our kayaks. Destin is a great place to rent a kayak and is an easy way to get yourself out on the water if you want to save a little bit of money.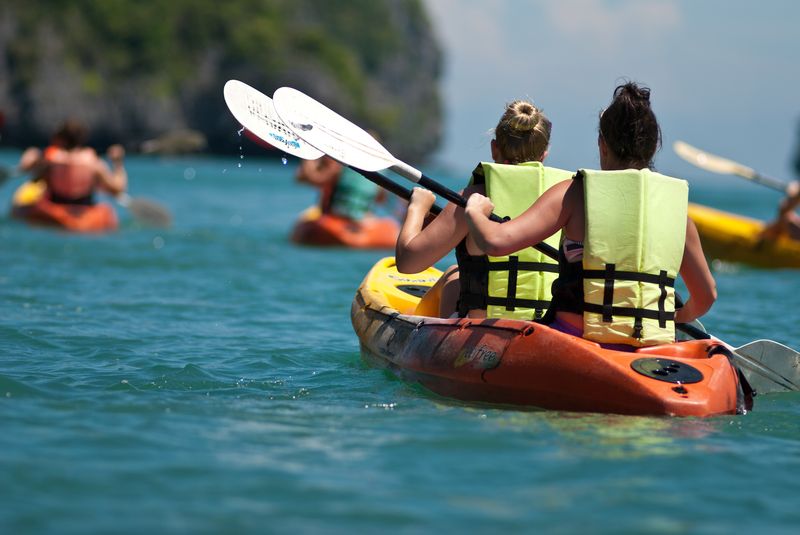 Go Fishing in Destin Florida
Whether you love deep sea fishing or just catching a few small ones for an impromptu fish fry on the beach, Destin has you covered. With options ranging from renting a small fishing boat to chartering a large captained vessel, the options are huge. With one of largest fish chartering fleets on the east coast, You can see a few Destin fishing options here on Tripadvisor.
Rent a Pontoon Boat
Want to do all the above? Then maybe a pontoon boat rental is the thing for you. With captained and self guided rentals available, you can rent a pontoon for the day and get a chance to do it all. It's one of the best things to do in Destin Florida with kids, for sure.
Start by some early morning dolphin spotting followed by a little fishing for that tasty beachside fish fry then follow it up with a few hours hanging with the locals at Crab Island before stopping at one of the several delicious restaurants that permeate the entire Destin area. Then get back on the boat for a little more dolphin sightings as you wait for sunset. It really doesn't get much better than that.
Want the best of both worlds? You can rent both a pontoon boat and a jet ski.
Banana Boat
While many head to Florida to visit the popular theme parks surrounding Orlando and others head down to Miami for the nightlife, far away from the hubbub of Disney or the wizarding world of Harry Potter you can find an area ripe for entertainment. That's right. I'm talking about Banana Boat rides. Nobody does them better than the crews around Destin. Haven't tried it? I dare you to grab a few friends and tell your driver to hit it.
Parasailing in Destin
Far below the clouds but high above the crowds, you'll find me. That's right, due to the calm waters of the bay, parasailing is a popular activity in Destin. Whether you brave the skies alone or with a friend, there's several outfitters in the area who can tow you up for a view of the area that only the birds know.
Destin Beaches
Love beaches? We sure do and we've walked on some of the best in the world.
Hitting the beach is definitely one of the best family things to do in Destin, and it doesn't hurt that it's a free thing to do in Destin as well!
Destin has some great beaches and even more importantly, has some great sand. If you love to make sandcastles but want a little tutelage, then maybe think about taking some sand castle lessons while you're in Destin. The best part is they come to you!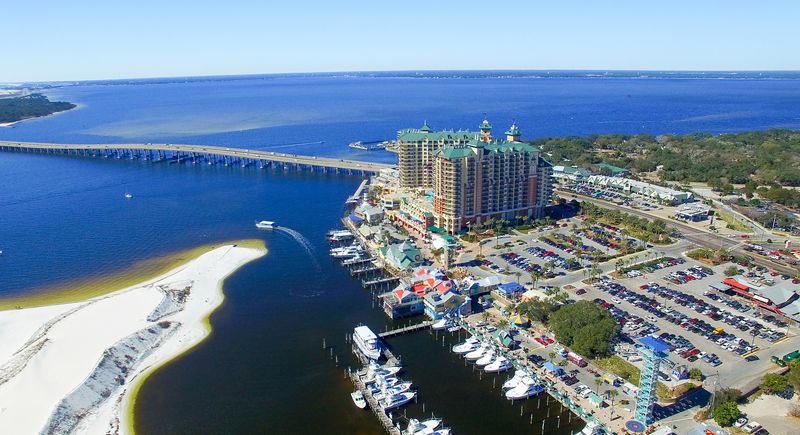 Destin Harbor Boardwalk
After a long day on the water, stretching your feet is a great activity. so make sure you check out the Destin Harbor Boardwalk. With dozens of restaurants, including some of the freshest seafood in the country as well as shops, hotels and attractions you'll almost be sad you stayed on the water so long.
Gulfarium Marine Adventure Park
Penguins, dolphins, alligators and more can be found at the Gulfarium Marine Adventure Park located on the nearby beach in Fort Walton which happens to be just a few minutes drive from the Destin Harbor. Dancing dolphins, inquisitive sea lions, sharks, rays and even pelicans can be found at one of the Panhandle's first aquariums and wildlife education centers.
Big Kahuna's Waterpark
Waterslides, tube runs, mini golf and more can be found at the Big Kahuna's Waterpark during the summer months. If your kids (or your adrenaline seeking friends) need a little more excitement than a day at the beach can bring, then hitting the local Destin waterpark might raise their spirits.
Other things to do in Destin Florida
While there are plenty of things to do in Destin Florida, the most important thing to remember is to have fun and be safe.
Let us know in the comments below if we missed any of your favorite things to do in Destin Florida!
Want to have some more Florida fun? Check out our posts on the best beaches in the Florida Key, and family fun at LEGOLAND Florida