Are you thinking about spending some time around Jackson Hole, Wyoming? If you're not, then maybe it's worth considering, since there are plenty of fun things to do on day trips from Jackson Hole.
We haven't spent as much time exploring the USA's gorgeous Rocky Mountain region as we would have liked, however, we're hoping that soon changes. Though we've recently been to New Hampshire and this spring to Orlando's Wizarding World of Harry Potter, after seeing what the Jackson Hole area offers, it would be fantastic to spend a day or two touring the amazing Grand Teton National Park, or even taking a Yellowstone Park day tour from Jackson Hole.
There are also great restaurants, lots to see outdoors, and some fantastic Jackson Hole rentals that let get up close to the natural beauty of the region.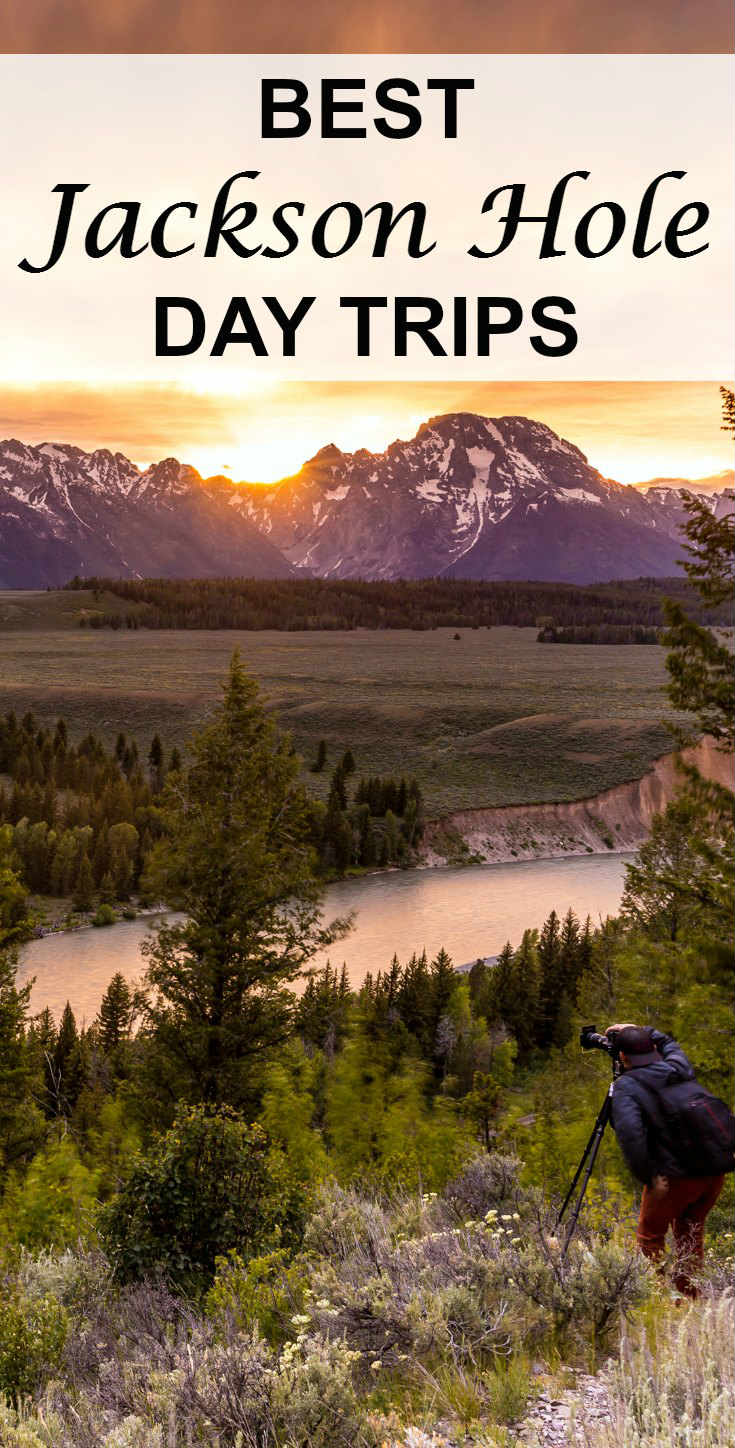 Wondering what to do around Jackson Hole? Go no further; we tell you some of our favorites below.
Day Trips from Jackson Hole
In a region known for stunning outdoor adventures, it's probably no surprise that our tips for Jackson Hole day trips focus on things you can do and see in the great outdoors.
Sure, there are the don't miss visits to Yellowstone and Grand Teton National Park, but there are also some fantastic, lesser known adventures to be found floating down Snake River, fishing, taking a road trip, and camping nearby.
First, let's look at visiting the stunning Grand Teton National Park.
Note: Jackson Hole isn't a town. Jackson Hole is actually a valley between the Teton Mountain Range and the Gros Ventre Range in Wyoming. The hole, or valley, is 48 miles long and about six to eight miles wide. The town of Jackson, within Jackson Hole, is where the name of the valley comes from.
Visit Grand Teton National Park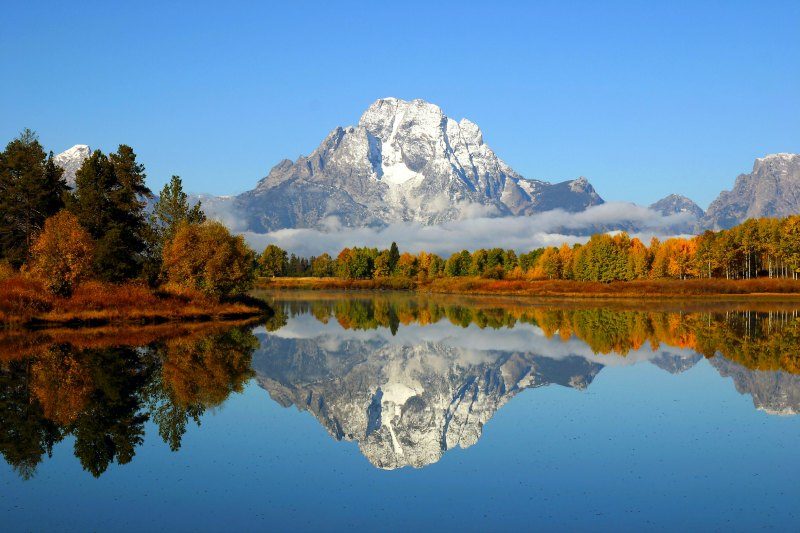 Now, technically, many people don't consider Grand Teton National Park to be part of Jackson Hole, but we decided to include it in this post as it's an absolute, not to be missed nearby area.
The park is not only beautiful, but it also offers plenty of wildlife for visitors, including elk, moose, black bears, grizzly bears, bison, deer and many smaller mammals and birds. You'll find the best scenery walking through the park, with easy day hikes to multi-day backpacking trips on over two hundred miles of trails.
A day trip can take in some of the most beautiful spots in the area including Snake River, Jackson Lake and also Jenny Lake.
How to get there: Grand Teton National Park is one of the easiest day trips you can imagine. It's a 22 minute drive from the town of Jackson to Teton Village.
Campgrounds are open from mid-May to mid-June and close late September to early October. Check the National Park service for more info.
Cool tip! On August 21, 2017 the center-line of the solar eclipse will pass over Grand Teton National Park, making for some amazing viewing. Be sure to plan for this if you're in the area. More on NASA here.
Yellowstone day tours from Jackson Hole
Yellowstone really needs no introduction. It's the United States' first national park, and home to stunning scenery, one-of-a-kind natural wonders, and an abundance of wildlife.
Yellowstone National Park Wildlife Safari
While most people think of Yellowstone's stunning geysers and hot springs first, the park is home to a wide diversity of wildlife, including predators such as wolves and bears as well as beaver, moose, many smaller mammals, and plenty of bird species. There's so much to see that it's hard to pick the best hikes in Yellowstone.
Make sure you take some time to learn about how the re-introduction of the wolf to the Greater Yellowstone Ecosystem in 1995 changed Yellowstone significantly. After the wolf was re-introduced, Yellowstone saw a "still-unfolding cascade effect among animals and plants" (Yellowstone National Park), which includes increasing numbers of beavers and other wildlife.
A day trip to see Yellowstone's diverse wildlife will also take you to the most amazing places in the area including unique places to truly enjoy the lush and scenic beauty of the natural environment.
How to get there: To get to Yellowstone from Jackson, Wyoming, it's about an hour and a half drive. You'll pass through the stunning Grand Tetons, so budget a bit of time to stop and take in the views along the route.
Visit Yellowstone National Park's Hot Springs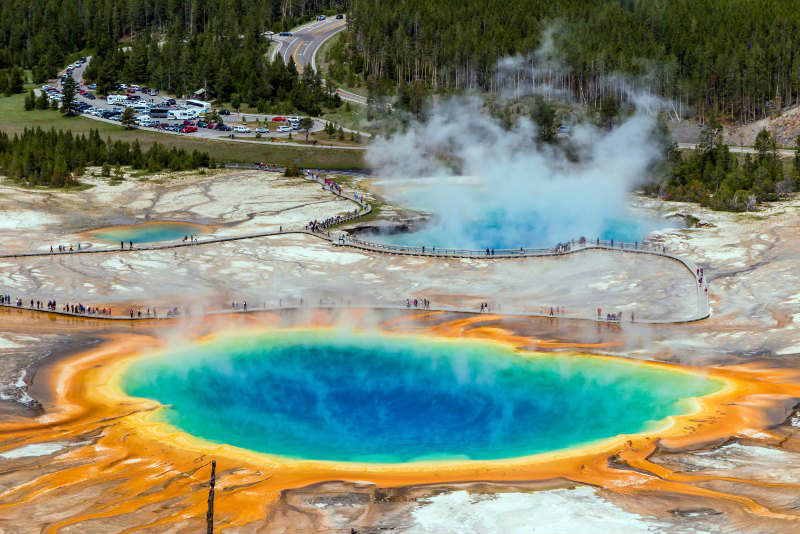 Besides the many rivers, streams and lakes, Yellowstone is most famous for its amazing hot springs. The Granite Hot Spring Pool is just half an hour from the town and the Grand Prismatic Spring is a must visit stop.
Wondering where to stay in Yellowstone? Check out these Yellowstone accommodation options from Wonderful Wanderings, with ideas for cozy cabins, modern hotels, camping, and rental homes.
How to get there: The Grand Prismatic Spring is in the Northern part of Yellowstone, and almost a three hour drive from Jackson.
More Jackson Hole day trips
While nearby Grand Teton National Park and Yellowstone are the biggest draws around Jackson Hole, there's definitely a lot more to see in the valley proper. Day trips near Jackson Hole involve getting into nature by either camping, hiking, or even going on a short road trip, so be sure to bring your sense of adventure.
Camping near Jackson Hole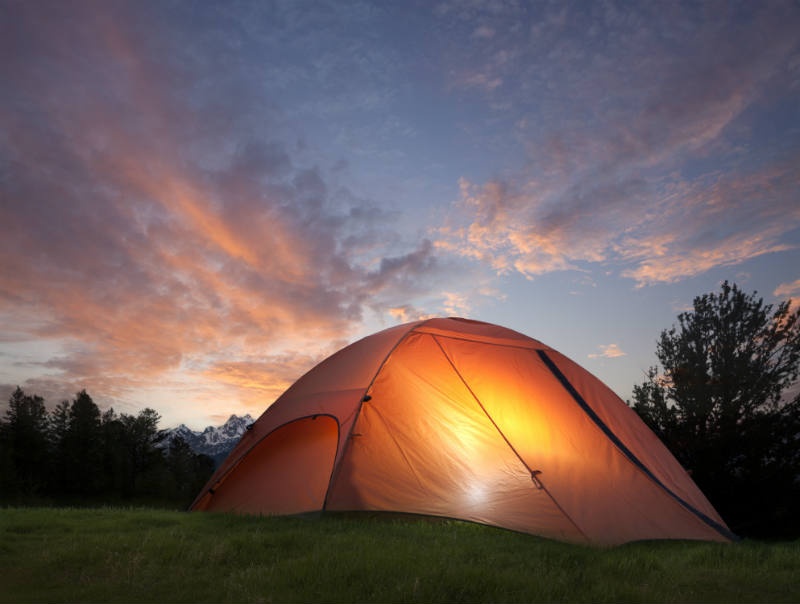 There are plenty of places to camp in the valley, from Curtis Canyon and Cascade Canyon, to Paintbrush Canyon or along the Teton Crest Trail. Shadow Mountain, just outside the Grand Teton National Park boundaries doesn't require a permit, and has stunning views. There are many other, similarly scenic camping places in the Tetons that invite you to explore and enjoy.
How to get there: Shadow Mountain is about a 40 minute drive from Jackson.
Float down the Snake River
Snake River is one of the most scenic rivers in Wyoming. It starts in Yellowstone National Park, and weaves its way down through the Jackson Hole valley. You can take an adventurous white water trip, or just float down calmer sections on an inner tube or even kayak.
How to get there: This one's easy. Just take a guided tour from Jackson that will include everything from life jackets and vests to transportation and you're all set.
Go on a Scenic Drive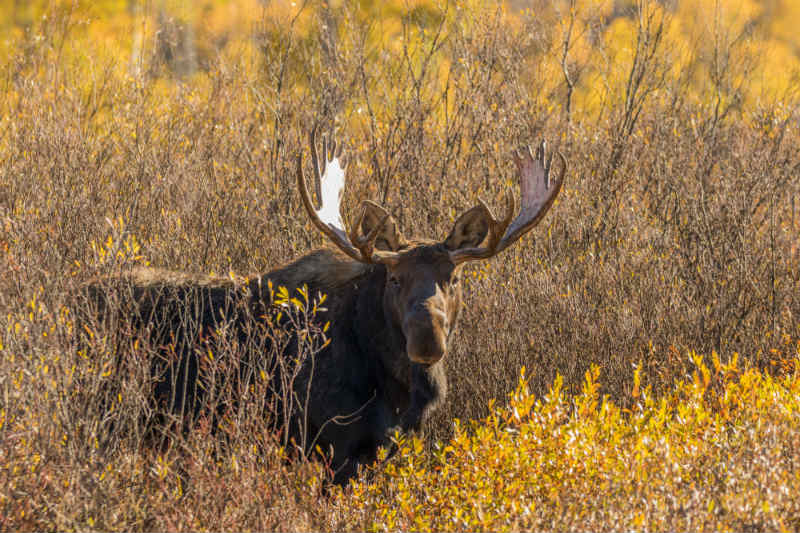 In an area filled with stunning scenery, it's no surprise there are plenty of scenic drives. If you want to see bison, take the Kelly loop from Gros Ventre Junction. Plenty of moose and elk can often be seen on Moose Wilson Road, and stunning, 360 degree views can be seen from the summit of Signal Mountain in Grand Teton National Park.
How to get there: Check out this helpful article from Travel + Leisure.
Jackson Hole Fishing
Fly fishing is one of the most popular outdoor activities in Jackson Hole. You'll need a valid Wyoming fishing license to fish on public waters.
While the air temperatures can be warm in Jackson Hole in summer, the glacier fed streams and rivers are often icy cold, so you'll want a pair of fishing waders.
Where to Fish in Jackson Hole
Jackson Hole has a wide variety of fish in both the Snake River, Jackson Lake Dam, and Yellowstone National Park. There's also good fishing in lakes like Jackson, Jenny and Leigh Lakes, creeks and rivers like Green River, Granite Creek, Hoback River, Pacific Creek and Buffalo River.
Types of Fish in Jackson Hole
There are plenty of types of fish in Jackson Hole. Species of trout in the area include:
Rainbow Trout
Brown Trout
Bonneville Cutthroat Trout
Colorado River Cutthroat Trout
Brook Trout
Snake River Cutthroat Trout
Yellowstone Cutthroat Trout
Westslope Cutthroat Trout
Walk in fishing is available for DIY anglers, or you can hire a guide.
Guided Fishing Trips
Fly fishing is one of the must-try activities in the Jackson Hole area. Snake River and the smaller rivers that flow into it are known as world-class fishing spots, teeming with trout and other fish – some species can be only caught here. You can easily arrange fly fishing tours from Jackson.
How to get there: The easiest way to almost guarantee good action is to take a guided tour from Jackson with one of the areas many fishing experts.
Have you taken a day trip from Jackson Hole? Tell us in the comments!