As a family of true Potterheads, we're always on the search for the best Harry Potter souvenirs, and we've found our top picks at the stores in Universal Orlando.
We're pretty picky souvenir buyers. We'll only buy souvenirs that we truly love, that we think are worth the money (meaning that we think they're good quality and we enjoy them).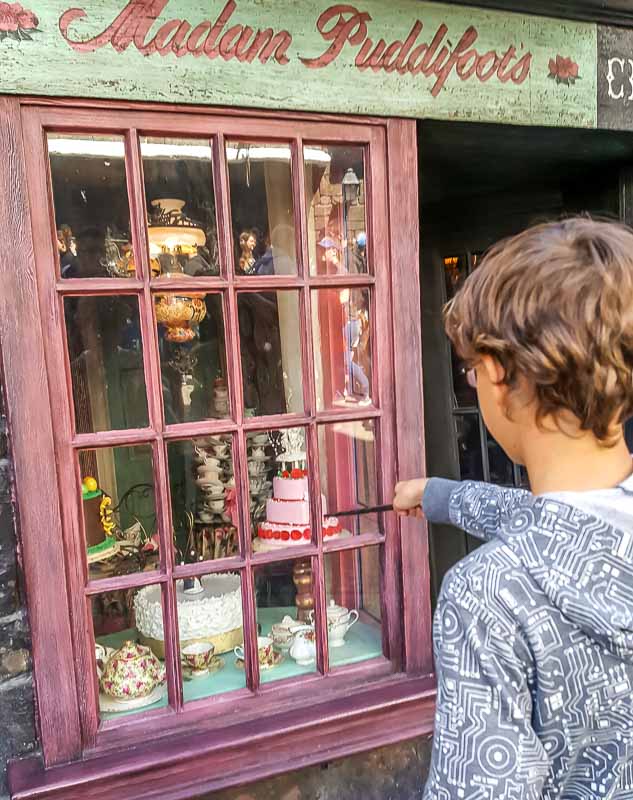 Universal Orlando is a fantastic place to shop for Harry Potter merchandise, because the park carries items you just can't find anywhere else, there's a fantastic selection, and the quality there tends to be better than online stores.
In this post, we mention stores at the Wizarding World of Harry Potter in Universal Studios Orlando instead of Universal Hollywood, because, Universal Orlando is larger, and there's more selection. Even so, we saw most (if not all) of these items at the smaller Wizarding World of Harry Potter in Hollywood, California, too.
Every time we visit Universal Orlando, we come home with something new and interesting. My personal favorites are usually snacks from Honeydukes, but the kids really love the wands from Universal.
Looking for a great deal on tickets to Universal Orlando? Click here to save $53 on Universal 2-Day Park-to-Park Tickets with ONE Extra Day FREE with Undercover Tourist.
If you're looking for some more help, check out our helpful article on Wizarding World of Harry Potter tips and hacks that can save you time, hassle and money!
Harry Potter souvenirs
Ready to get some great Harry Potter gear? What's stopping you? Put on your driving gloves, book a rental car in Orlando, and make your way to what we think is the world's best place to buy Harry Potter Souvenirs: The Wizarding World of Harry Potter at Universal Studios Orlando.
Here are our picks for the best Harry Potter souvenirs at the Wizarding World of Harry Potter in Universal Studios Orlando.
Where to buy Harry Potter souvenirs at Universal Orlando
There are plenty of stores in where you can pick up Harry Potter World merchandise at Universal Orlando. Some are incredibly specialized (like Gringotts, where Muggles can exchange their Muggle currency for Gringotts Bank Notes) others carry a wide range of goodies (like Honeydukes or Weasley's Wizarding Wheezes).
Here's a quick list of the Wizarding World of Harry Potter stores.
Gringotts Money Exchange
Honeydukes
Weasley's Wizarding Wheezes
Sugarplum's Sweet Shops
Scribbulus
Filch's Emporium of Confiscated Goods
Madam Malkin's Robes for all Occasions
Borgin and Burkes
Ollivanders (Hogsmeade)
Shutterbutton's
Globus Mundi
Wiseacre's Wizarding Equipment
Wands by Gregorovitch (Diagon Alley)
Owl Post
Quality Quidditch Supplies
Magical Menagerie
Dervish and Banges
Wand carts
Butterbeer carts
It's one thing to know where you can buy stuff, but what are the really good Harry Potter Souvenirs? Here are our top picks.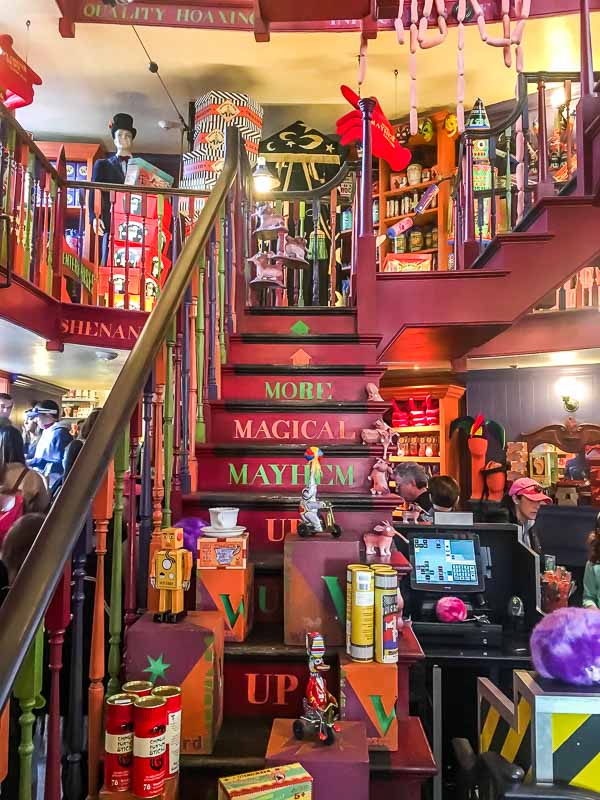 Wands
Whether you're a fan of Dumbledore's ornate Elder wand, Hermione's delicately carved wand, or Harry's simpler wand, there's a wand for you here.
Buying an interactive wand at Universal Orlando is almost a must to get a full, immersive experience at Harry Potter World. The interactive wands help wizards and witches cast spells at special shop windows throughout both Diagon Alley and Hogsmeade.
Interactive wands cost around $50 USD. For us, they were were worth every penny, as they made our kids feel they weren't mere muggles, and helped them feel like a true wizard and witch in training!
What's really great is that you only need to buy an interactive wand once, and you can use it the next time you visit. We've used the same wands at both Universal Orlando and Universal Hollywood.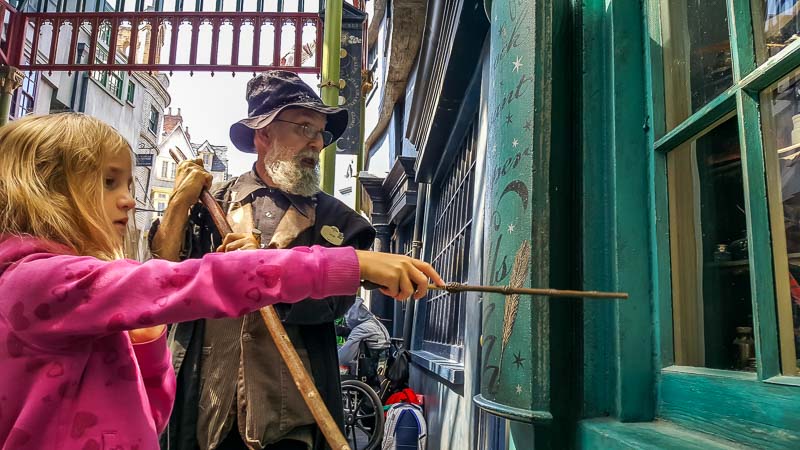 You can buy a wand at Ollivanders, Wands by Gregorovitch, or at a wand cart. Wands by Gregorovitch is in Diagon Alley only, but you can visit an Ollivanders' branch in both Diagon Alley and Hogsmeade. Wand carts are scattered throughout the Wizarding World of Harry Potter.
If you want the full experience of having the wand choose you, stop by
Ollivanders wand show. There's often a line, but the wand show only lasts five minutes, and Ollivander personally selects one person from the crowd to demonstrate a wand selection ceremony. The show's free, but you'll have to pay for your wand.
Want to save time buying a wand? It's usually quieter at Ollivanders in Diagon Alley than Ollivanders in Hogsmeade.
When our kids got their wands, it was an especially busy time, so we stopped by one of the wand carts. The carts have a good selection, but don't carry every wand. Since the wand chooses the wizard, Dumbledore's wand chose our daughter, and Sirius Black's wand chose our son, and they were both ecstatic with their wands.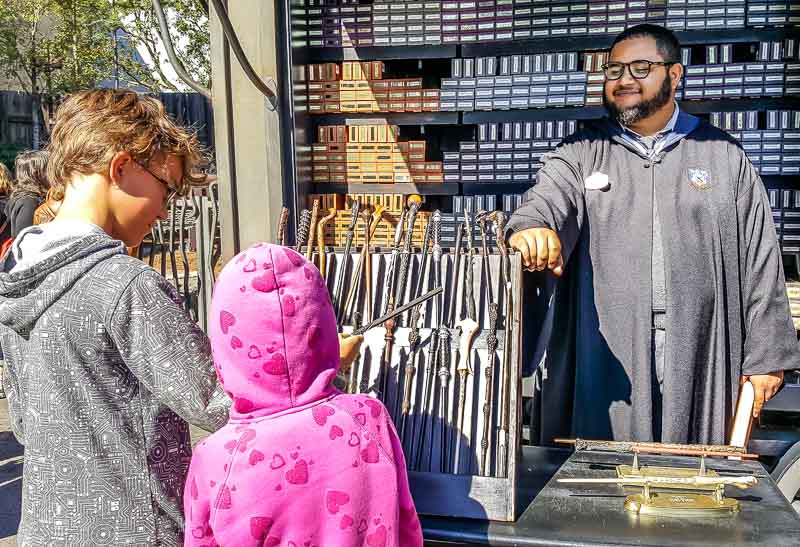 Amazon also has a good selection of wands.
See prices and more for Noble Collection Harry Potter wands.
Robes
Whether you're Gryffindor, Slytherin, Ravenclaw, or Hufflepuff, any Potterhead worth their weight in Floo Powder would love to get their hands on a house robe.
Madam Malkin's Robes for all Occasions in Diagon Alley has the best selection of robes.
There's a nice weight to the robes, and they're made of good quality fabric here, too. They feel like real robes, rather than a costume.
Madam Malkin's isn't just about robes: you can also pick up Hermione's Yule ball gown, and full uniforms for Hogwarts students, with ties, scarves, and sweaters and more.
Robes definitely aren't cheap here: plan on spending over $100 USD.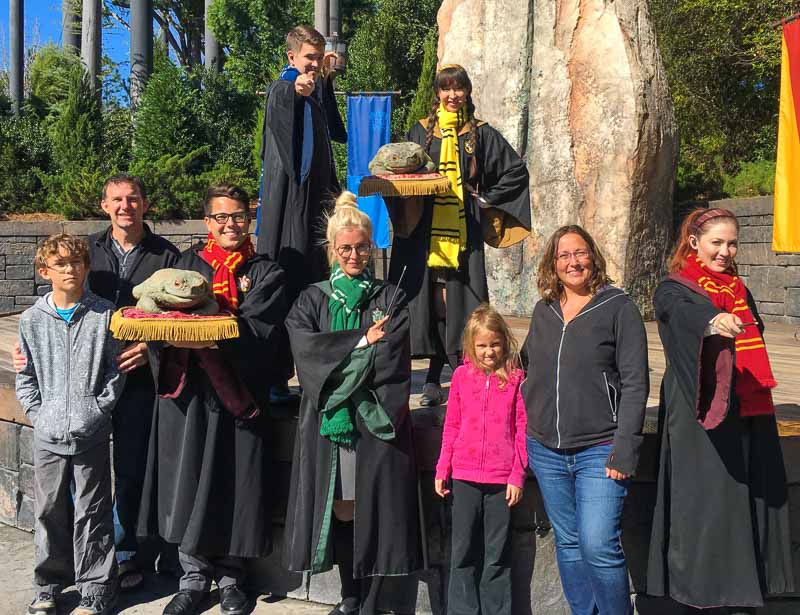 You can also pick up some good quality Harry Potter robes on Amazon if you're not quite willing to pay the price at Universal, or you can't find your favorite size or style.
See Harry Potter Wizard Robes by Cinereplicas prices and more.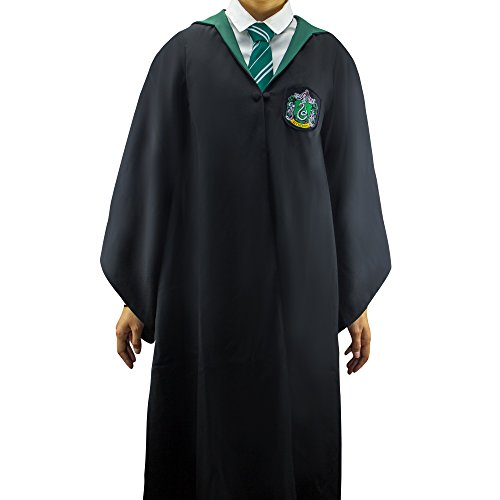 Harry Potter candy and confections!
One of my favorite things in the world is to walk into Honeydukes and browse through the isles of candy and sweet confections. It's definitely my personal favorite Harry Potter candy store.
We always pick up a few goodies at Honeydukes. One of our top picks are Fizzing Whizbees, which are tasty milk chocolate treats with fruit flavored popping candy inside. I didn't count exactly, but there must be 20 candies in each box, making it perfect for sharing.
The chocolate frogs are also great, and in a cute box, but they're harder to share as there's only one frog in a box.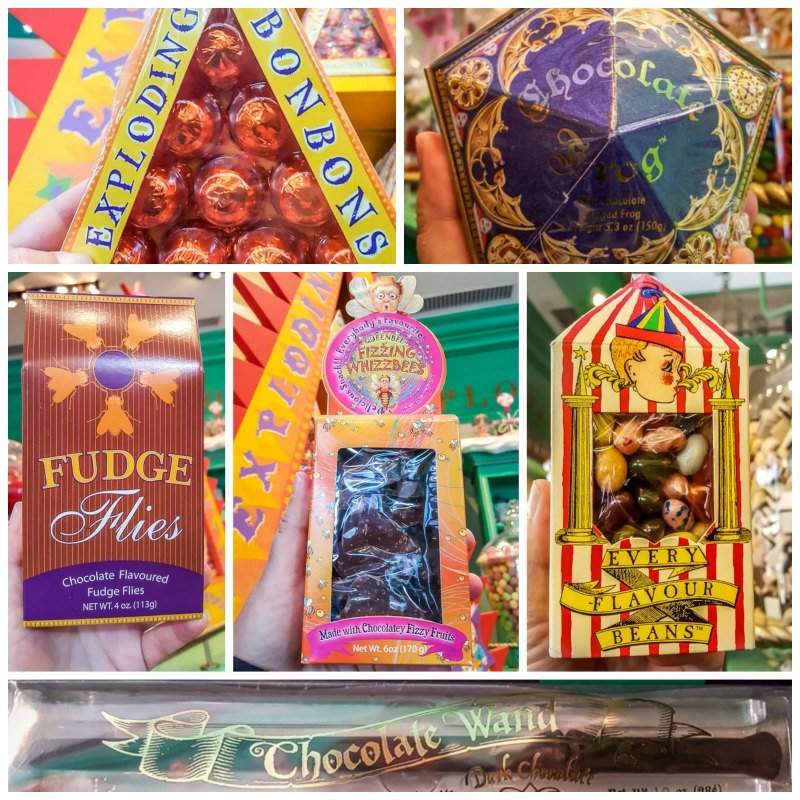 Sugarplum's Sweetshop is a great favorite of ours as well. Our kids loved the inventive Bertie Bott's Every-Flavour Beans. Watch out, though, they come with vomit and booger flavors. You can also pick up goodies like Cauldron Cakes and Exploding BonBons.
Weasleys Wizard Wheeze jokes and novelty items
Our favorite shop in Diagon Alley was Weasleys Wizard Wheezes novelty joke shop run by the Weasley twins Fred and George.
You'll find fantastic jokes and magical stuff like Pigmy Puffs, U-No-Poo pills and Puking Pastilles.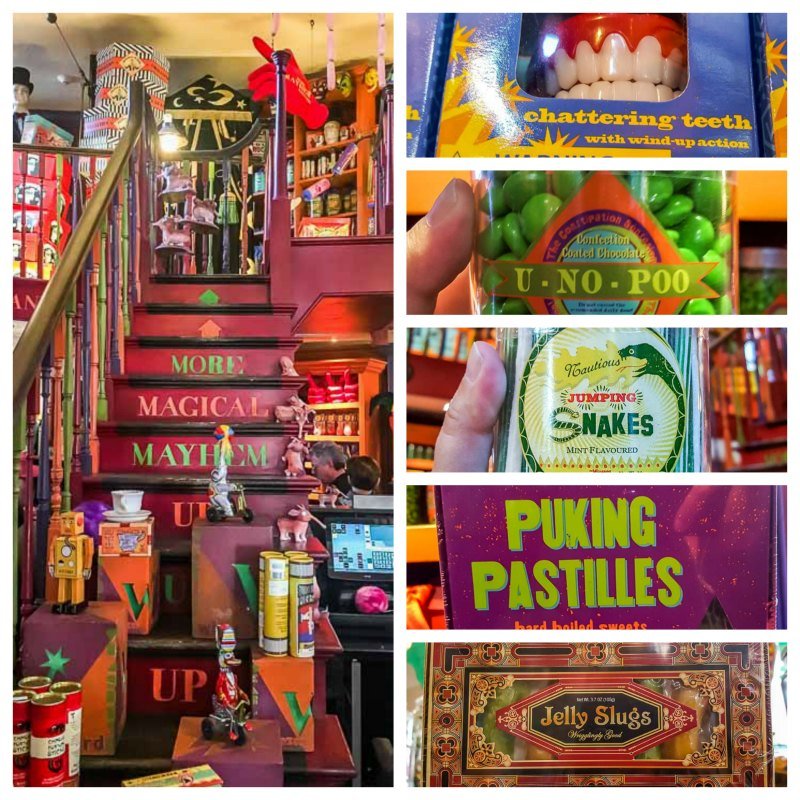 Butterbeer
Unfortunately, you can't bring home butterbeer from Universal Orlando. Actually, that's probably a good thing. I love the cold butterbeer so much that I'd probably have it a few times a week at home, which is definitely not good for the waistline.
While you can't bring butterbeer home, you can do the next best thing: buy a refillable Harry Potter mug to take home. You won't get a discount on your butterbeer refill, but they will refill it for the same price as a regular butterbeer.
If you purchase a souvenir butterbeer mug, we were told it CAN'T be used for discounted soda refills at all the same locations as refillable cups.
It'll cost you around $15.99 + tax for a souvenir butterbeer mug, which includes one butterbeer of your choice.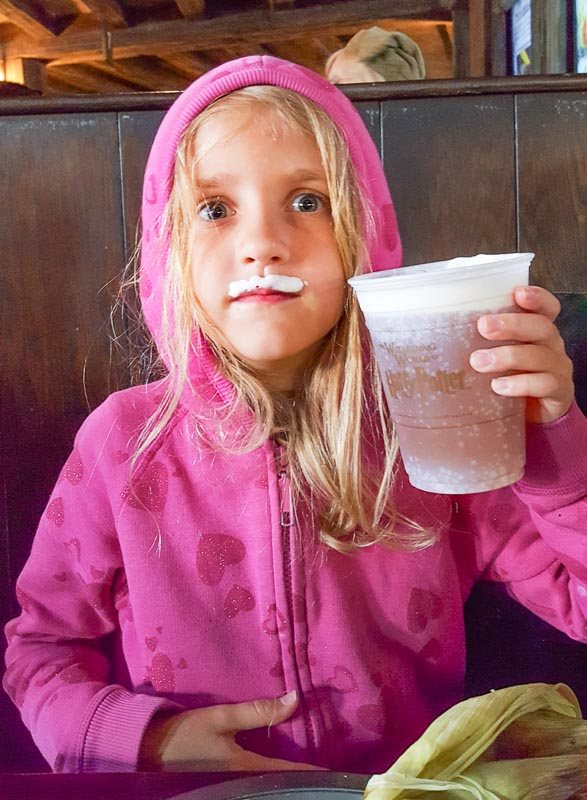 If you can't get a butterbeer mug you like at Universal, there are a few on Amazon as well.
See Wizarding World of Harry Potter Butterbeer Mugs on Amazon.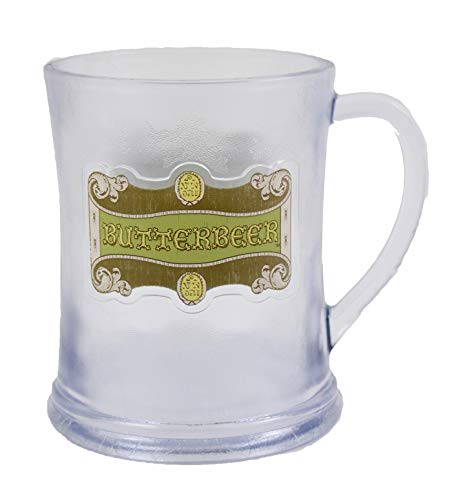 Harry Potter Stationary
Owl's post is the place for all Harry Potter stationary. You can buy stationary, quills and ink, and then send a postcard from the Hogsmeade Post Office that's stamped with a Owl Post postmark.
Gringotts Money Exchange
When you're at Universal, stop by Gringotts Money Exchange to trade U.S. currency for Gringotts bank notes ($10 or $20 denominations). You can use your Gringotts currency for purchases at Diagon Alley and Hogsmeade, as well as a few other locations.
At the end of the day, you can keep unused Gringotts currency as a souvenir (or exchange it back for U.S. currency, if you prefer).
You can also pick up some nice looking Harry Potter Gringotts coins online as well.
See details and prices for this Harry Potter Gringotts Bank Coin Collection.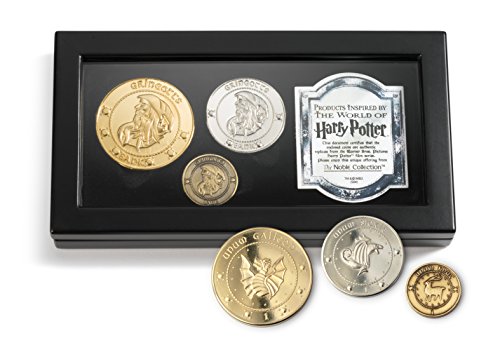 Magical items
Dervish and Banges is a great place to pick up magical items. There's a lot in here, with fun magical items like Golden Snitches, and brooms like the Nimbus Two Thousand.
Wizarding World of Harry Potter t-shirts, caps and more
If you're looking for standard souvenirs like t-shirts and postcards, a quick place to grab them is Filch's Emporium of Confiscated Goods in Hogsmeade. Filch's Emporium is more like a regular gift shop with merchandise like clothing and more.
Dark arts merchandise
If you're a wizard or witch with a dark side, you'll find that there's something for you at Universal Orlando. Just visit Borgin and Burkes in Knockturn Alley where you can dabble in dark arts merchandise.
Photos at Shutterbuttons
If you're looking for some Harry Potter themed photo keepsakes, then stopping by Shutterbuttons is a must. In the shop, you're guided through 12 scenes where your photo is taken in costumes. You can purchase a DVD photo album in a collectible Shutterbuttons' tin.
Looking for Harry Potter souvenirs online?
We really like this affordable Harry Potter themed jewelry on Amazon.
See prices and more for Harry Potter costume jewelry.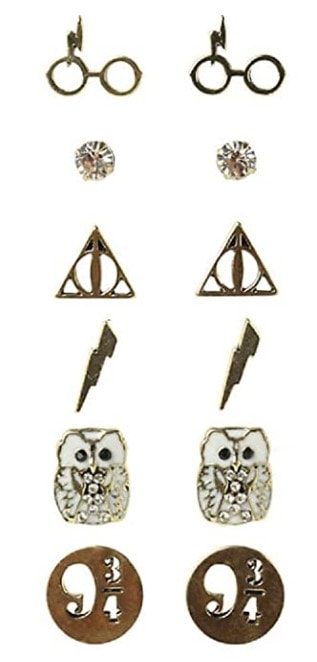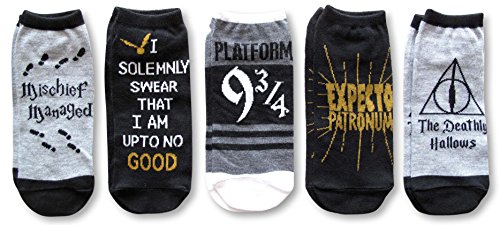 See more for Harry Potter Deathly Hallows I Solemnly Swear 5 Pack Ankle Socks.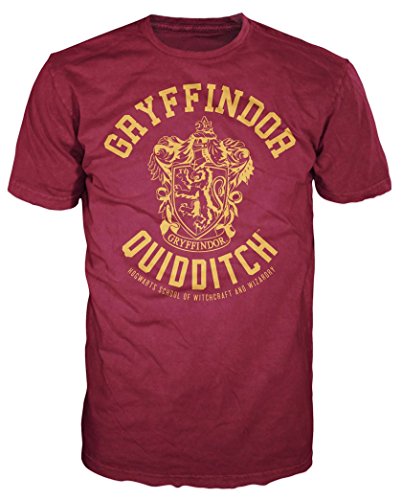 See prices now for this Harry Potter Gryffindor Quidditch T-Shirt.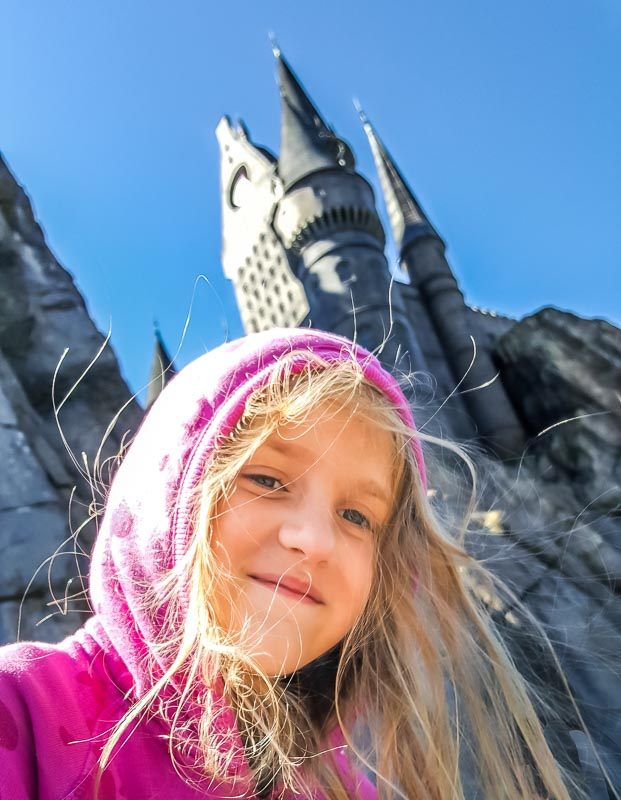 Quick tips for shopping at the Wizarding World of Harry Potter at Universal Studios Orlando
Use the gift concierge service
Both Universal Orlando Parks (Hogsmeade and Diagon Alley) have a pickup service, so you don't have to tote your purchases around all day.
Just buy your souvenirs and pick them up at the end of the day. If you're staying at an on-site hotel, you can even arrange to have your purchases sent directly to your room.
Shop when everyone else is at the rides
The Wizarding World of Harry Potter can be an incredibly busy place. If you want to browse the shops for keepsakes when it's quieter, consider going first thing in the morning.
Most people head straight for Harry Potter and the Forbidden Journey (my favorite) or the Escape from Gringotts rides first thing in the morning when the lines are shorter. If shopping is a priority for you, then consider heading to the shops first thing when the parks are quieter, and anyone who is there is heading to the rides.
Quick tips for Universal Orlando in general
Universal Orlando is a big, busy place, so your Harry Potter keepsakes shopping will go much more smoothly if you follow a couple of helpful tips.
Consider staying at an on-site hotel
Not only will you save money on parking, and time driving, but Universal Orlando hotels have great perks like shuttles and early access.
On our last trip, we chose to hire a car in Orlando, and parked in the Universal parking lot, but plan is to save some time and hassle and stay in a Universal hotel on our next visit.
Get a two day Park to Park Pass
if you want to access all of the shows, rides, restaurants, and attractions at the Wizarding World of Harry Potter you'll need to visit both Hogsmeade and Diagon Alley.
The Wizarding World of Harry Potter is split between the two Universal Florida parks (Islands of Adventure and Universal Studios). Hogsmeade is in Universal Islands of Adventure, and Diagon Alley is in Universal Studios. Both Hogsmeade and Diagon Ally have unique shops, rides and experiences, so you'll want to go to both. You'll also need a Park to Park pass to ride the Hogwarts Express!
You could visit both parks in one day, but you'd miss a lot, and you'd definitely be exhausted! On our last trip, we spent two days almost exclusively checking out the Wizarding World of Harry Potter, and we still didn't see and do everything in both areas!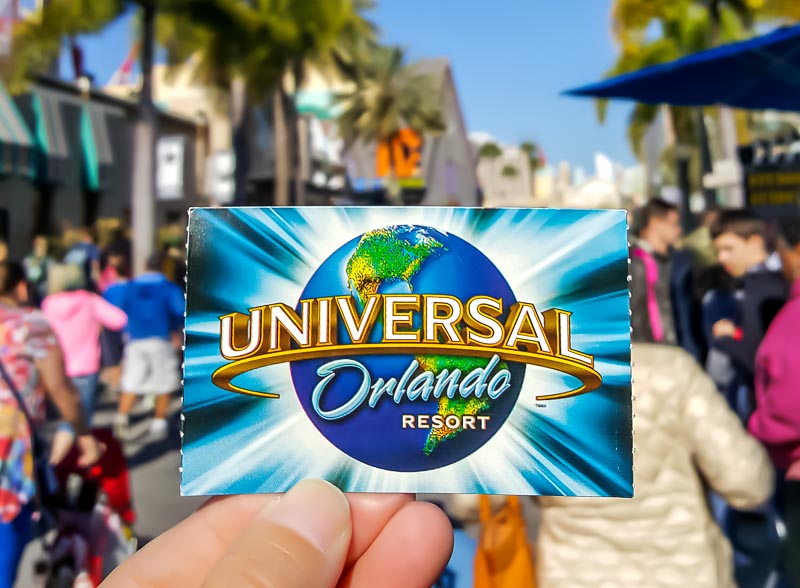 Looking for some more help? Check out our Universal Orlando tips.
If you're booking a flight down to Orlando, be sure to do a quick comparison to make sure you're getting the best deal.
Compare flight prices on Skyscanner here.
Looking for some more fun things to do in Florida? Here' some inspiration for the best Florida road trip.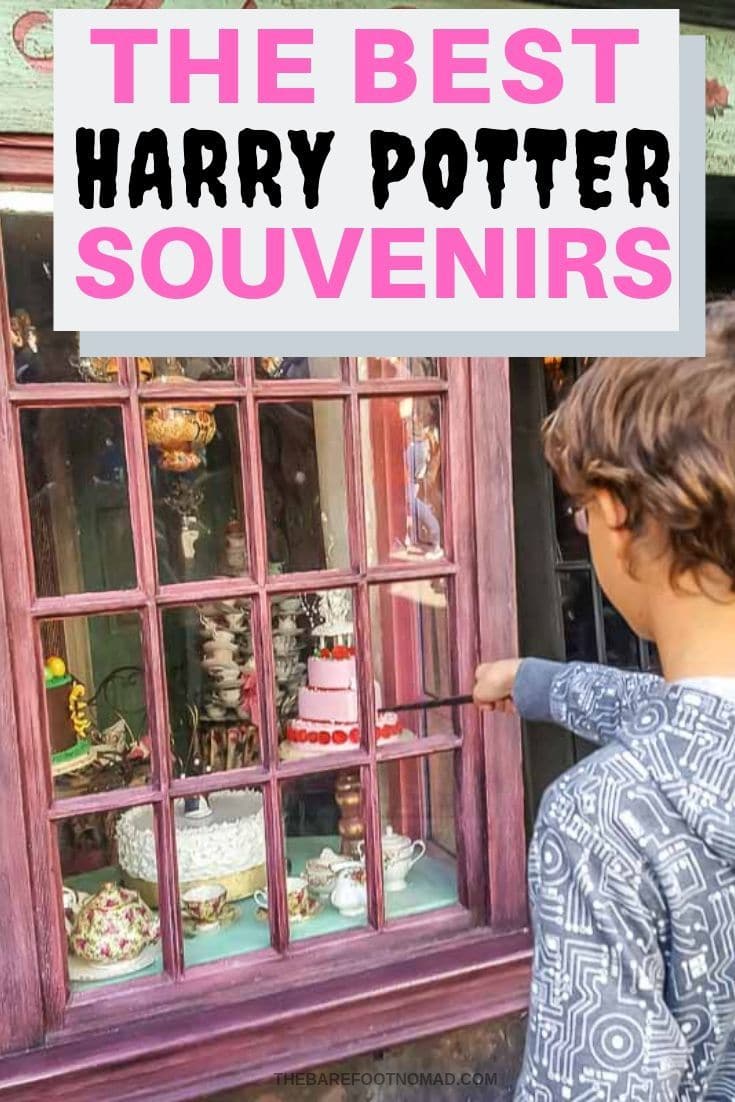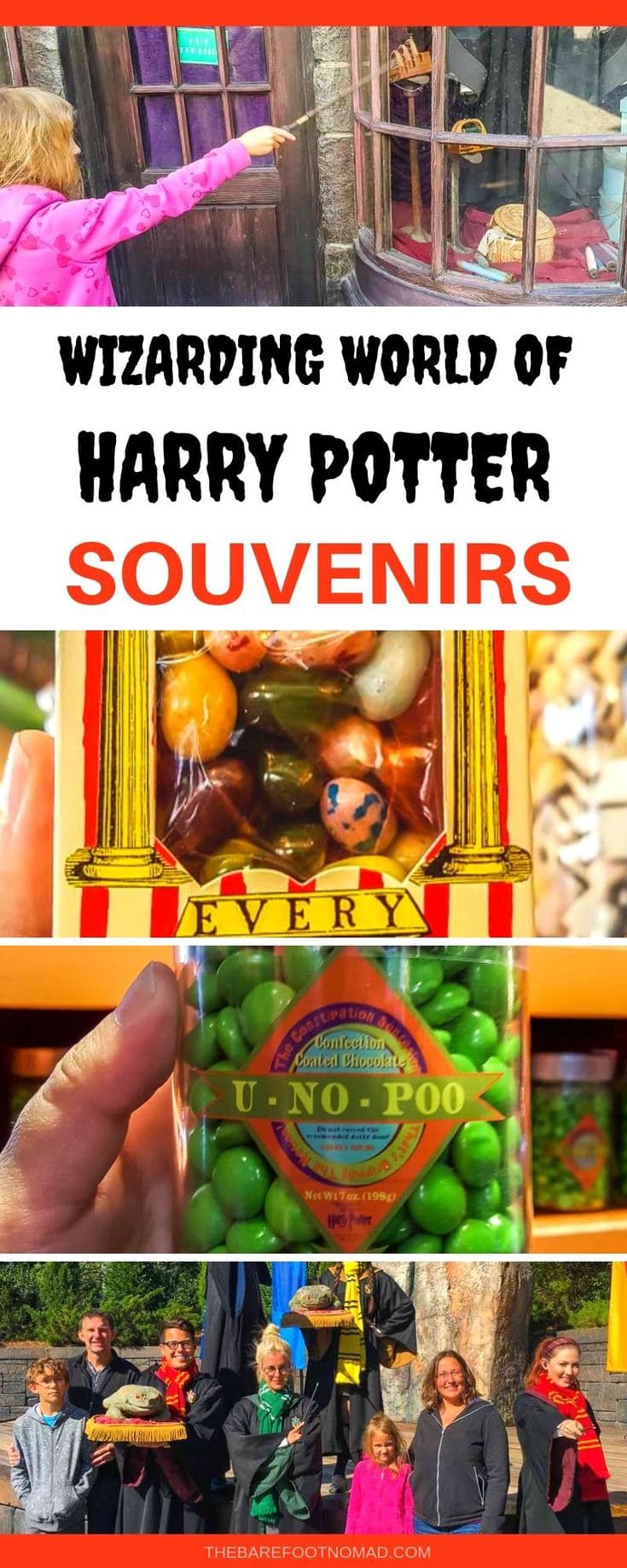 What are your favorite Wizarding World of Harry Potter souvenirs? Let us know your tips in the comments below.