Those not familiar with the show Diners, Drive-Ins and Dives need to realize one thing about this Food Network staple:  You're missing out.
There, I said it and I'm not taking it back. If you have a mad love for greasy spoon restaurants and funky, down home style cooking then I think this American food show is a great place to start.
There was a stretch of time when it seemed that late at night, when nothing was on TV and we weren't quite ready for bed, the always fun Guy Fieri with his spiky, bleached blond hair and trademark sunglasses perched backwards on his head greeted us from the comfort of his convertible. We knew there was going to be some footage of good home style eating on its way.
Having spent a couple of months in Southern USA, namely Florida, Texas, Nevada and Arizona, we always struggled with we should we eat. There are hundreds of decent chain restaurants in the US and though we enjoy consistent menus and, most of the time, decent meals, the repetitive nature of always eating in the same style restaurant can quickly grow tiring. It was with that thought that we found ourselves at one of Guy Fieri's Triple D featured restaurants, Joe's Farm Grill in Gilbert, Arizona.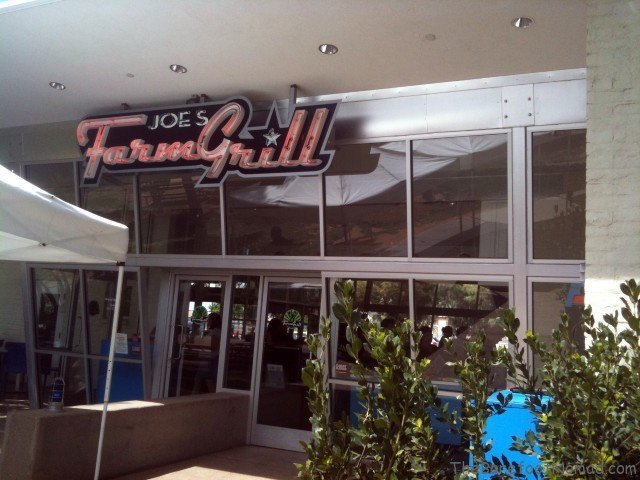 On the outskirts of Phoenix, in an area strangely devoid of your typical cookie cutter house neighborhoods, lies an area lovingly named Agritopia. It's an area devoted to an urban agriculture community that centers on the fields owned and maintained by the Johnston family. The farmhouse they built back in the 1960's is now the building where Joe's Farm Grill is located. It's hard to believe that the building was once a farmhouse, with some radical renovations turning the place into a take on a modern design of a very large 50's style burger stand.
In the renovations, they managed to keep the mature trees that surround the house intact and they make a great backdrop to the alfresco style dining that this burger shack demands. With its heated concrete patios for the cooler months and shaded canopies and strategically placed misters for the warmer months, dining outdoors in Arizona has never been so appealing.
Coupled with the urban farm surroundings of Agritopia, sitting down to eat a juicy burger and delicious fries is all the more enjoyable because everything that goes into the food at Joe's Farm Grill is picked fresh daily from the dozens of crops closest to the restaurant. Depending on the season, a broad range of vegetables, flowers and herbs can be had from these plots. Their tomato crops of yellow, red, heirlooms and plum and their leaf crops of lettuce, Asian greens, endive and others all seem to make their way into the different meals you can order. Their fruit crops include apples, peaches, plums, citrus, apricots and blackberries and I hear they even have their own date and olive groves as well.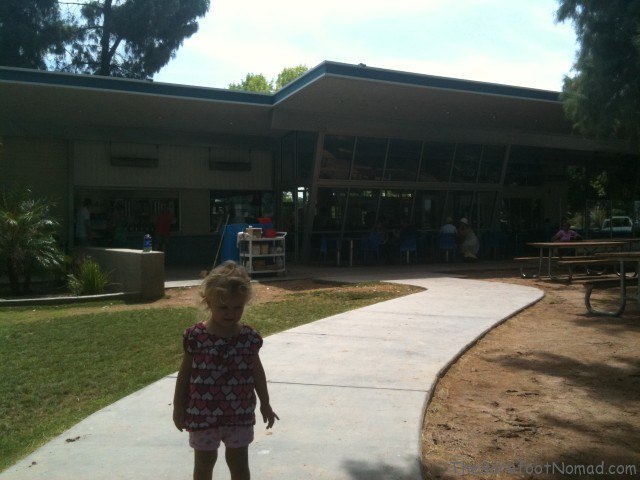 Joe's Farm Grill specializes in burgers, fries, salads, pizza and ribs. We only had a few of the burgers and fries so can't comment too much on the other entries but if they were half as decent as the burgers then they're all a home run as Guy Fieri would say.
If you really enjoy the food at Joe's, then it might be a good idea to stop at The Farm in Agritopia where you can pick up some of the fresh fruit and vegetables. Be mindful of the road runners in the parking lot though, and keep an eye out for that willy coyote, because I hear he's sometimes about.
Regardless if you go or not, I dare you to watch a few episodes of Diners, Drive-Ins and Dives and not find your mouth watering at some point in the show as the infuriatingly upbeat host Guy Fieri makes you want to jump in a convertible and cruise the back roads of America in search of the next great place to eat.