On our recent family trip to Colorado, we enjoyed some of the most fun kid friendly things to do in Colorado Springs. We had a few great days seeing everything Colorado Springs has to offer and loved our sunshine filled days exploring this part of Colorado, USA.
On this trip we rode a train, spelunked in a massive cave system, fed giraffes, played on water slides, explored nature, climbed a mountain, swam in giant pools, ate at some delicious restaurants and ran wild in a former elementary school.
It was a great experience, and since it was just my son Cole and I representing the family on this trip, we spent some amazing time together getting a chance to further strengthen our already great relationship. Read on to see our top picks for family fun!
Kid Friendly Things To Do in Colorado Springs: Day 1
So what kids activities did we enjoy in Colorado Springs? Well, the first day we rode a cog train up North America's most visited mountain, Pikes Peak. We then wandered through the beautiful Garden of the Gods. Next, we descended to the depths in the Cave of the Winds and we ate s'mores as well as went on a MagiQuest at Great Wolf Lodge Colorado Springs. And that was only a small portion of our time.
Before we even hit Colorado Springs, we had the opportunity to visit the area around Cañon City. At just over an hour from Colorado Springs and to the west of Canon City itself, is home to some of the best whitewater rafting in the state. Not only did we get our feet wet while white water rafting down the Arkansas River, we also checked out the newly opened Royal Gorge Dinosaur Experience. We even had the chance to spend a night in the newly built Royal Gorge Cabins. If you're curious, you can check out our Cañon City Colorado family experience here.

That said, overnighting in Cañon City was only one small part of our family Colorado tour.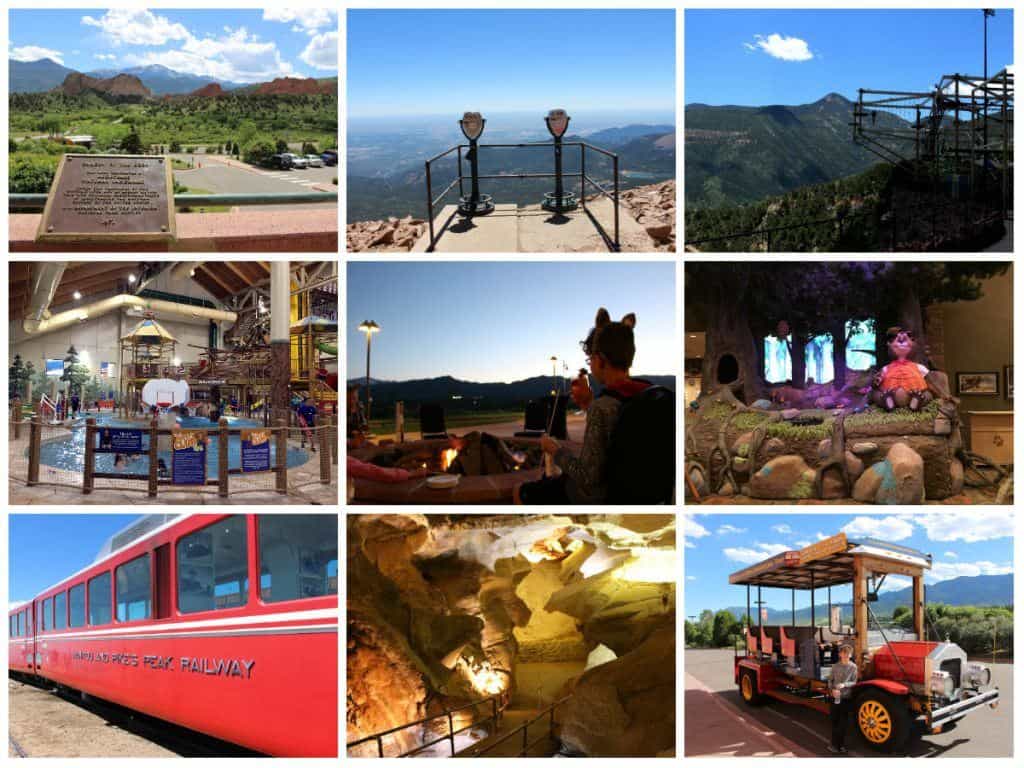 The second day we had breakfast and a pint in the re-purposed sprawling Ivywild School, fed giraffes at the Cheyenne Mountain Zoo and finally relaxed in class and comfort at the sprawling Cheyenne Mountain Resort.
Sound like fun? It was, and now here's the lowdown on all the fun things to do with the family in Colorado Springs.
Ride a cog train up Pikes Peak in Colorado Springs
The entrance to Pike's Peak is just 15 minutes west of Colorado Springs in quirky and charming Manitou Springs. Hosting nine natural mineral springs and a collection of spiritualists, visiting Manitou Springs itself can be a great way to get the kids drinking water while you do the Springsabouts Walking Tour and sample the varieties of water the springs offer (and yes, each spring does taste different).
The entrance to Pike's Peak highway is also found in Manitou Springs and though you can drive yourself up to the summit of Pike's Peak (it's about 19 miles of crazy switchbacks), or climb the 13 mile long Barr Trail (only for the fit and bold), we chose to go up via the old Pikes Peak Cog Railway train that runs year round (weather permitting).
Once we picked up our tickets and determined our departure time, we got in line and jumped into one of the three open aired coaches our train provided for that run. Luckily for us, the windows close because, as we got closer to the peak, our very hot day suddenly became much, much cooler.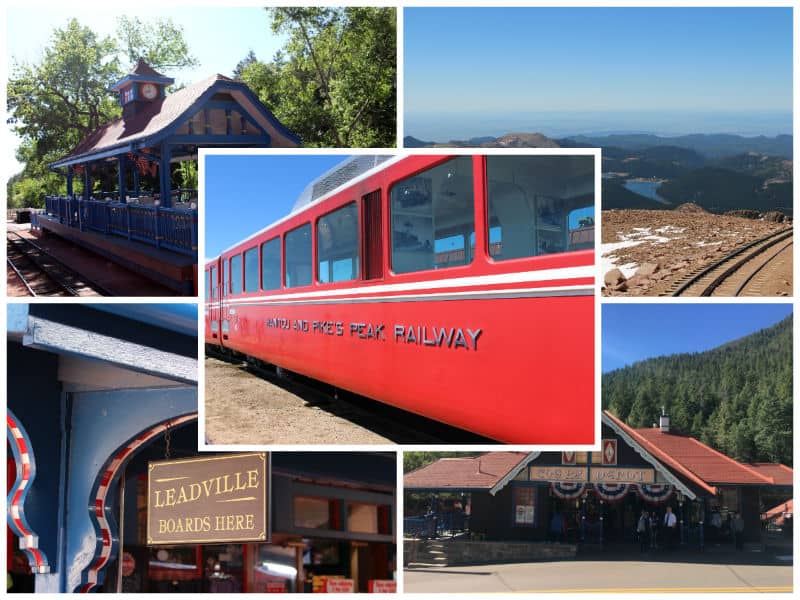 On the way up the 14,115 foot summit of America's most famous mountain, we saw waterfalls and rock formations, old miner cabins and a post office. We also saw deer and about 2/3rds of the way up we saw a bunch of yellow- bellied marmots known locally as whistle pigs. These huge woodchuck shaped ground squirrel relatives were fun to watch and the kids loved spotting them. Some days you can also spot bighorn sheep and even black bears.
Tip! Remember a jacket, even in summer! What started as a very warm summer day at the bottom became downright cold by the time we reached the top
Once you get to the summit of Pikes Peak, which takes just over an hour each way, you can stretch your legs and walk around the top before the Pikes Peak cog railway returns you to the bottom. The entire trip lasts three hours and 10 minutes, so it makes a great morning or afternoon getaway.
Up on Pikes Peak, you'll find washrooms (there are none on the train so make sure you go before you leave) as well as a snack bar featuring some unique donuts (they had to be specially crafted to rise at a high elevation) and also a gift shop. Other than that, the view in all directions is simply beautiful so make sure you have a camera with you.
Note! Departure times, seating assignments and return times for the Pikes Peak cog train from the summit are all preset in advance, so make sure you pay attention to the times otherwise you could be left at the summit.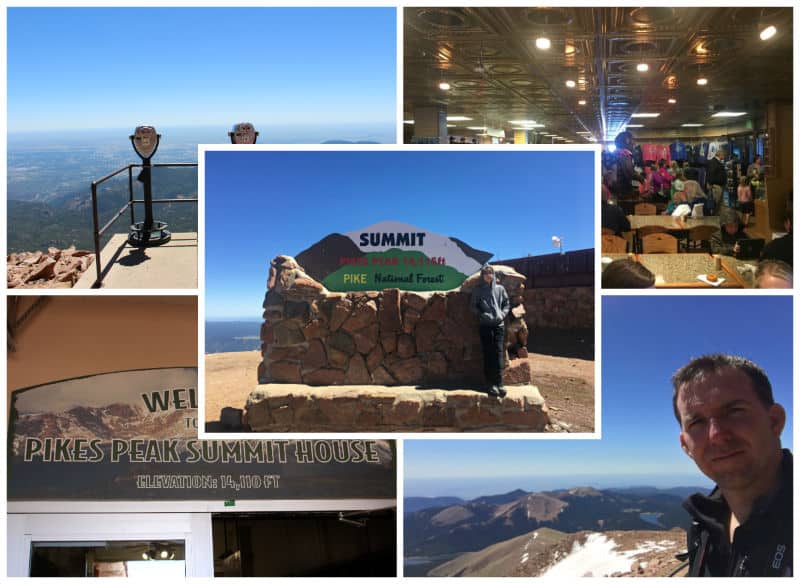 Descend to the depths in the Cave of the Winds in Colorado Springs
While we were in Manitou Springs, we also checked out the infamous Cave of the Winds. These caves were discovered over a century ago by a couple of young brothers and then later explored in depth by a slew of early adventurists.
Over the years, as new tunnels have been discovered, the Cave of the Winds has been opened up to the public and is now a major tourist destination. The huge complex features multiple cave trips, two adrenaline inducing aerial lines (the Bat-A-Pult and aptly named Terror-Dactyl free fall) as well as the Wind Walker climbing course that sits directly over a 600 foot drop. It also has a large concession area, a picnic area, a giant slide and a mining station for kids.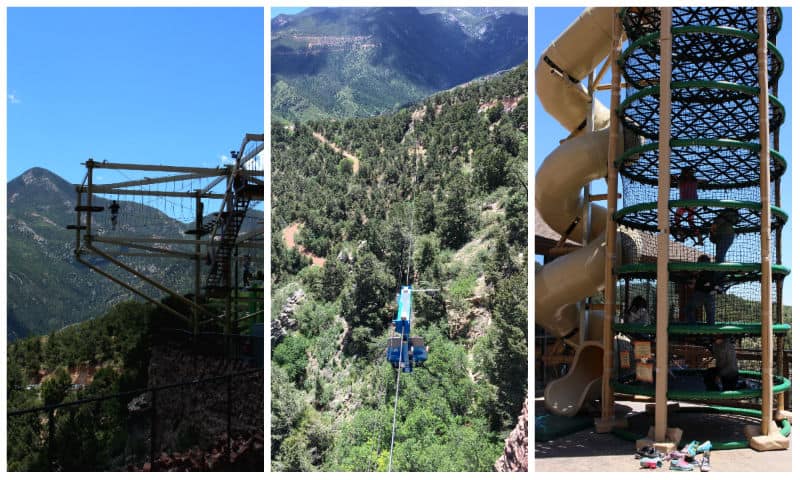 We did the 45 minute long Discovery Tour and that was perfect for the kids.  We walked up and down pathways and also stairs and ladders as we explored everything that a million year old cave system features. We saw tons of stalagmites, stalactites, amazing waterfall like flowstones, fossilized shells and other speleothems (cave decorations).
At one point, our guides shut off all the lights and, well, you haven't experienced darkness until you've stood in the middle of a cave a hundred feet below ground. It really made me want to take the special Lantern Tour where the group travels only with handheld lanterns like the early spelunkers and explorers did while telling ghost stories and delving into the caves past.
For the truly adventurist, there's also the well reviewed Cave 101 tour where you strap on your helmets, grab your flashlight and climb and crawl your way through undeveloped caves and smaller passageways. Claustrophobics need not apply for that tour.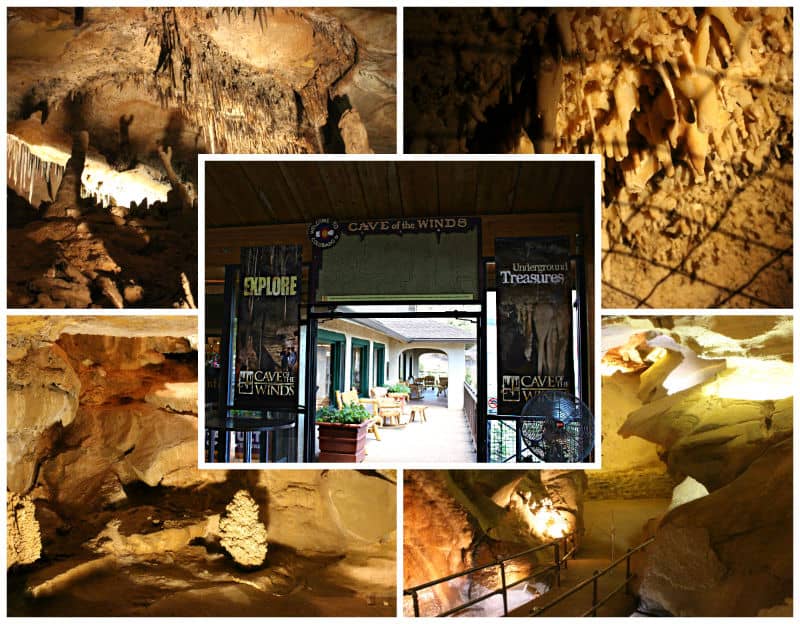 Wander the Garden of the Gods in Colorado Springs
If gods roamed gardens, you might find them in this oversize 480 acre garden of giant colored sandstone formations. The Garden of the Gods was donated to the city of Colorado Springs in the early 1900s from the head of the Burlington Railroad, Charles Elliott Perkins, after he passed away.
Set forth with strict provisions, the Garden of the Gods nature park is set to remain free for all visitors and free from all structures not prevalent to maintaining the park for all time. As such, you won't find much in the park except the world class Visitor & Nature Center and the Café at the Garden. It's simple, but still one of the many fun family things to do in Colorado Springs that's worth a visit.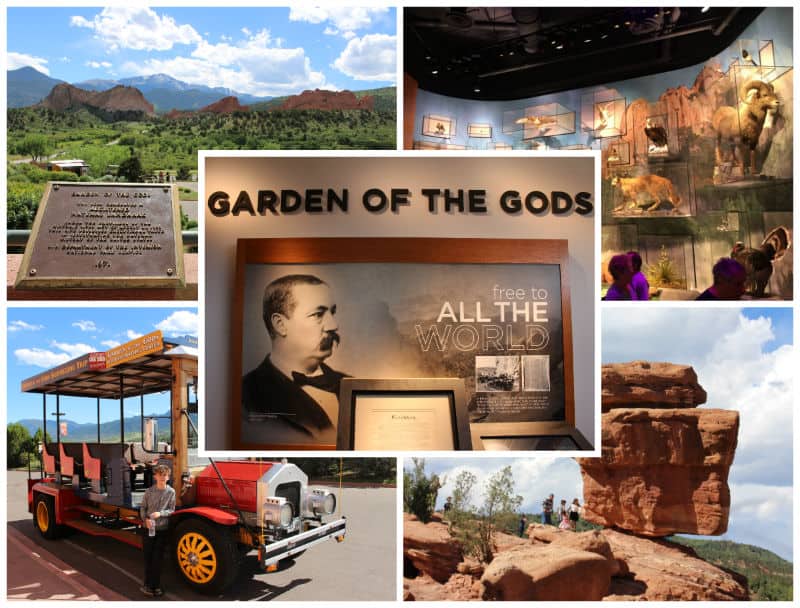 You can walk around the park, take a Segway tour or, go on an open aired Jeep excursion that drives around the park just like we did. A guide will tell you all about the history of the park and the formations you're seeing. No matter how you see the Garden of the Gods you'll be rewarded with amazing views of the main 300 foot sandstone formation as well as all the different colors of the smaller formations.
Inside the sprawling Visitor & Nature Center is a museum featuring local flora and fauna as well as the cool multi screen Geo-Trekker theater experience explaining how all the red sandstone rocks were formed and how they became part of the amazing scenery. (Shows start every 20 minutes.)
Eat s'mores, enjoy waterslides and go on a MagiQuest at Great Wolf Lodge Colorado Springs
What's the best way to end a long day seeing all the sights and sounds of Colorado Springs? Well, if you're a kid, or a kid at heart, not much beats water slides and s'mores.
The newly opened Great Wolf Lodge Colorado Springs has that and a lot more and the kids loved ending their day there. The rooms were a huge hit as well with many theme rooms and, every kids fave, bunk beds!
On the fun side, not only were there indoor water slides for the whole family, but there is an indoor ropes course, indoor mini golf and of course, MagiQuest! All it takes is a special wand and your kids will be running around the huge Great Wolf Lodge waving their magic wands at everything they see as they go on their very own magic quest.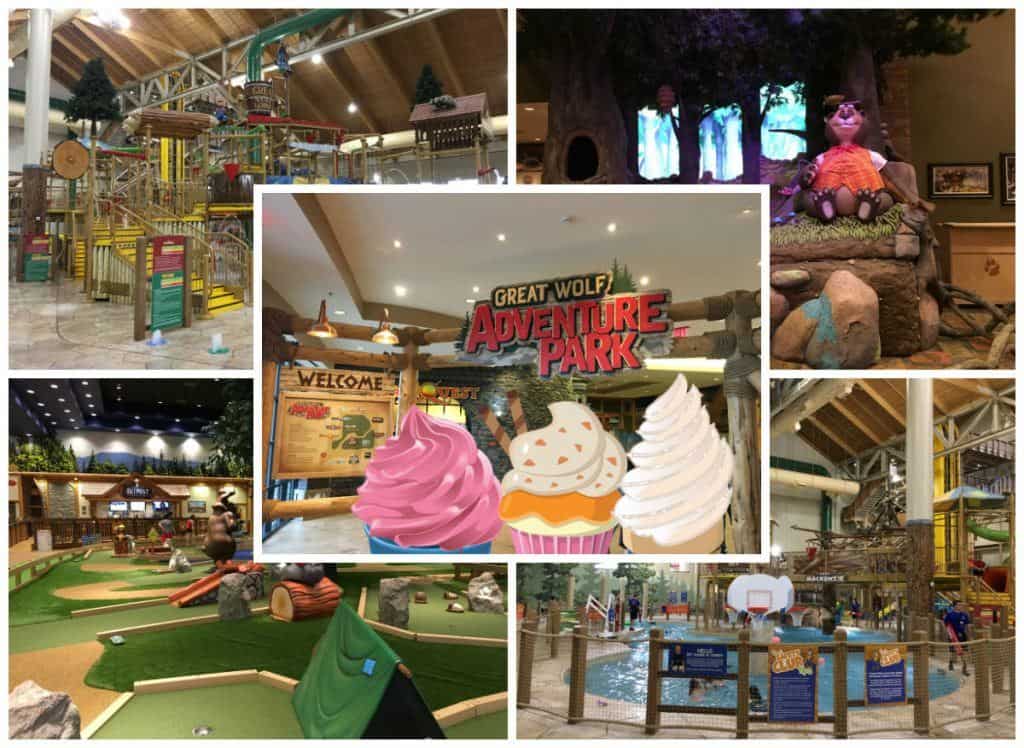 Not only that, there are ice cream parlours, candy stores, restaurants, pizza joints, and, luckily for parents, a bar you can sit in, as your kids run around burning off whatever remaining energy they have. The kids might have their own favorite memories of Great Wolf Lodge, but mine will be sharing a few delicious locally produced beers with my fellow parents.
To be honest, sitting by the campfire roasting s'mores was definitely a highlight for everyone and we all vowed we would be back to Great Wolf Lodge Colorado Springs again in the future.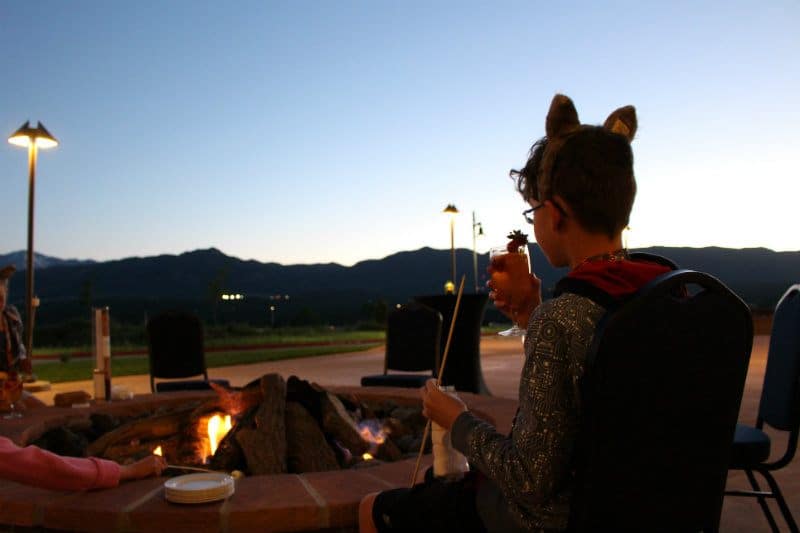 And so finished our fist day of fun things to do with the family in Colorado Springs. Want to see more things to do in Colorado outside of Denver? Check out our post of fun things to do in Canon City Colorado as well.
Fun things to do with kids in Colorado Springs: Day 2
We had so much fun on our first day in Colorado Springs that the entire group was excited to see what was in store the second day. Luckily for us, it was a little slower than the first day but we all welcomed the relaxed pace and had a good opportunity to enjoy even more things to do with the kids in Colorado Springs.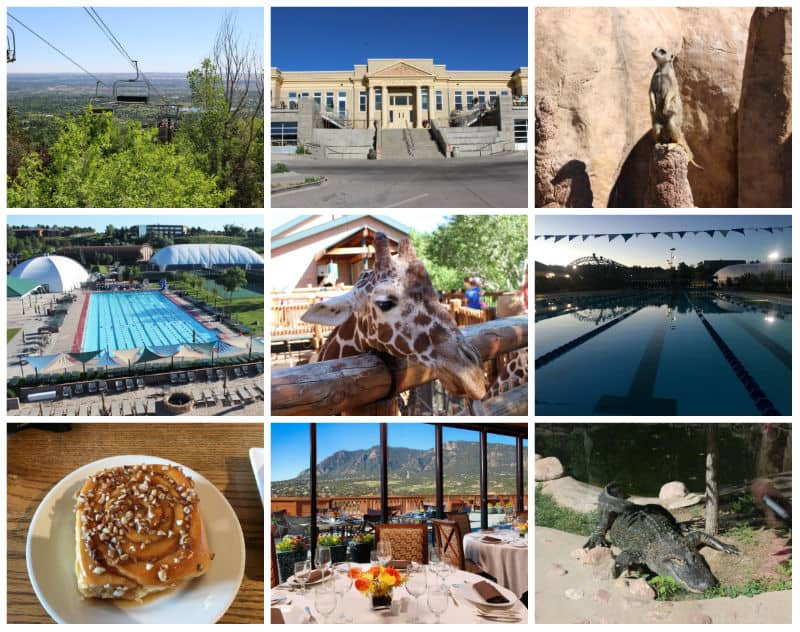 Eat, drink and be merry at the Ivywild School in Colorado Springs
Ever had that dream where you're walking through your old school but it's not quite as you remember it? Even better, ever dream that your old school has turned into a happening place filled with delicious eateries, micro brewers, art spaces and a movie theater in the gym?
Well, the former students of Ivywild sure must when they walk through the revamped Ivywild School in Colorado City. This actual decommissioned school built back in 1916 was on the verge of being torn down in 2009 before an enterprising group of individuals decided that yeah, they could work with it.
So a dream became reality and the Ivywild School has been converted into a trendy boutique of shops, eateries and micro pubs with the expansive Bristol Pub headlining the site.
The interesting part? They left the majority of the old school in place. Nowhere is that more evident than when walking in and looking at the principals office or seeing the old style urinals and the crazy kids artwork in the boys washroom.
Even walking down the halls makes you feel like you should have a hall pass for skipping class, and the fact that you can order dozens of tasty micro brews in old classrooms just highlights the surreal feeling you get while walking through Ivywild School.
Kids will love that there's no teaching at Ivywild School in Colorado City and it will definitely fuel a few daydreams of what their own classroom might look like if they put in a restaurant or a few vats of cider in the broom closet. It also doesn't hurt that the food you can get at Ivywild School is much, much better than anything I ever got in my school canteen.
The hard fact is that the Ivywild's Old School Bakery had some of the tastiest cinnamon buns I've had in some time. Even better, all the eateries in Ivywild School also practice the food to table approach with gardens planted throughout the old schoolyard and close ties with local farmers. It doesn't get much fresher than that.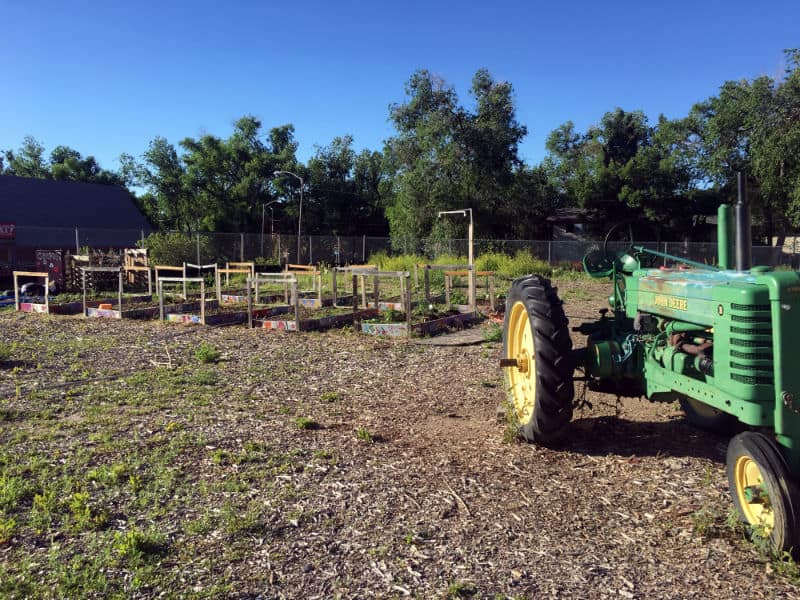 Feed giraffes at the Cheyenne Mountain Zoo in Colorado Springs
What has four legs, a blue tongue the length of a small child and has to be standing 10 feet below you to look you squarely in the eye? No, it's not a giant lizard, it's a giraffe and they're just one of the many highlights we found while walking around the beautiful Cheyenne Mountain Zoo.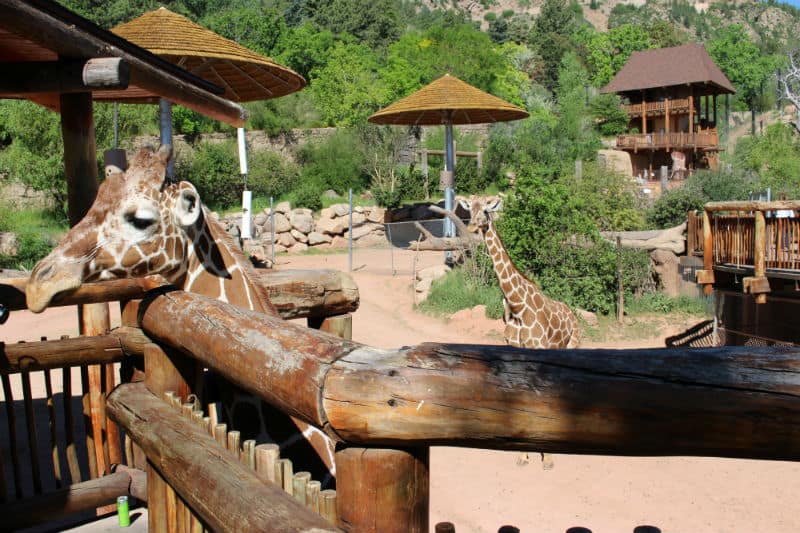 The coolest part about having these gentle giants at eye level is you can feed them lettuce right from your hands. It's still a little unnerving to see those huge giraffe tongues come out but the look of happiness they have as they grab their lunch from you is undeniable. Who knew lettuce could taste so good?
As well as hand feeding giraffes from the largest giraffe herd in the Americas, at the Cheyenne Mountain Zoo you can take a chairlift called the Sky Ride that will have you soaring above it all. Not only do you get some amusing bird's eye views of the many animals below but you get some amazing views over Cheyenne Mountain and a good portion of the valley around Colorado Springs.
Love animals? The Cheyenne Mountain Zoo has over 750 animals and 170 species from all over the the world. We thought we walked just about everywhere while we there but, as we left, we realized we still hadn't seen everything.
From lions, tigers and snow leopards in the African and Asian exhibits to learning about and interacting with chickens and goats in My Big Backyard, there are tons of things for kids of all ages.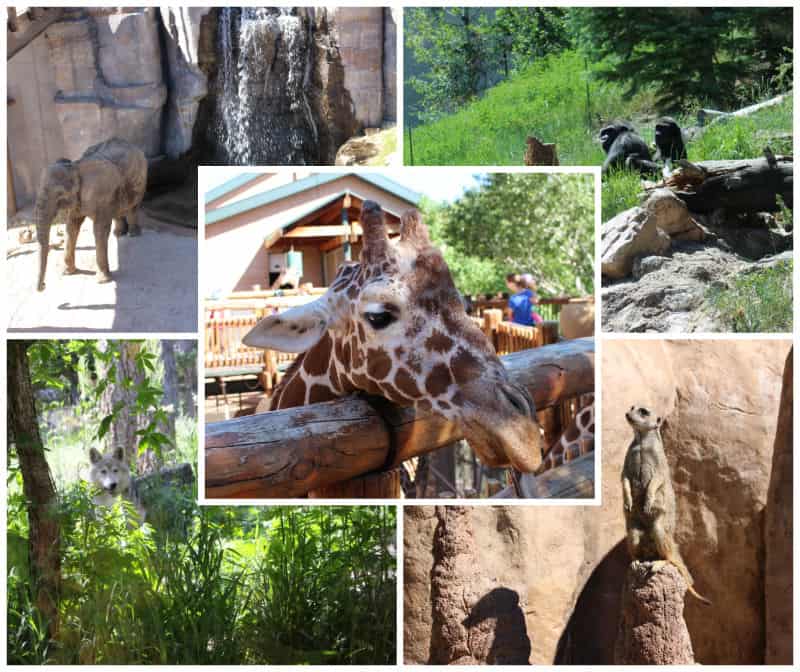 They also have some great wildlife encounter shows that get you up close to the animals and we both enjoyed the elephant exhibit and the hippo section. Their monkey and primate section were also quite extensive, especially the gorillas and orangutans.
Since the Cheyenne Mountain Zoo is also the only mountain zoo in America, they also have an extensive collection of local wildlife like mountain lions, grizzly bears, moose, river otters, lynx and porcupines. Even though all these animals exist back home, it's still nice to see them in an authentic mountain setting.
One of the kids favorite areas at the Cheyenne Mountain Zoo was their walk-through aviary in their Australia section, where you can have budgies and parakeets eating right from the palm of your hand. As you leave this area, you walk through the wallaby walkabout which has small wallabies hopping about freely everywhere around you. We had to usher the kids out of this area otherwise they would have spent all day following the little kangaroos around.
Ever dreamed of being a zookeeper? Who hasn't? Well, the Cheyenne Mountain Zoo has an area called The Loft where you get to go behind the scenes and see what it takes to make it all happen. From training and weighing, to feeding and cleaning, The Loft is designed from the ground up especially for kids (and would be kids). It's not only a great space for hands on training and learning, it also preps them for all the responsibilities that comes with taking care of animals themselves.
Relax in comfort at the Cheyenne Mountain Resort in Colorado Springs
Ever watch a summer movie of teens hanging on the beach, then playing a little beach volleyball before heading to one of a half dozen different swimming pools, tennis courts or basketball courts while the parents are off enjoying a round of golf or maybe spending the day being pampered at the spa? Well, the Cheyenne Mountain Resort is that place.
It turns out that this huge sprawling mountainside resort with their own private lake is the dream resort of my childhood. Before arcades, wave pools and fancy electronics were a thing, the Cheyenne Mountain Resort would have been my epitome of resort high life.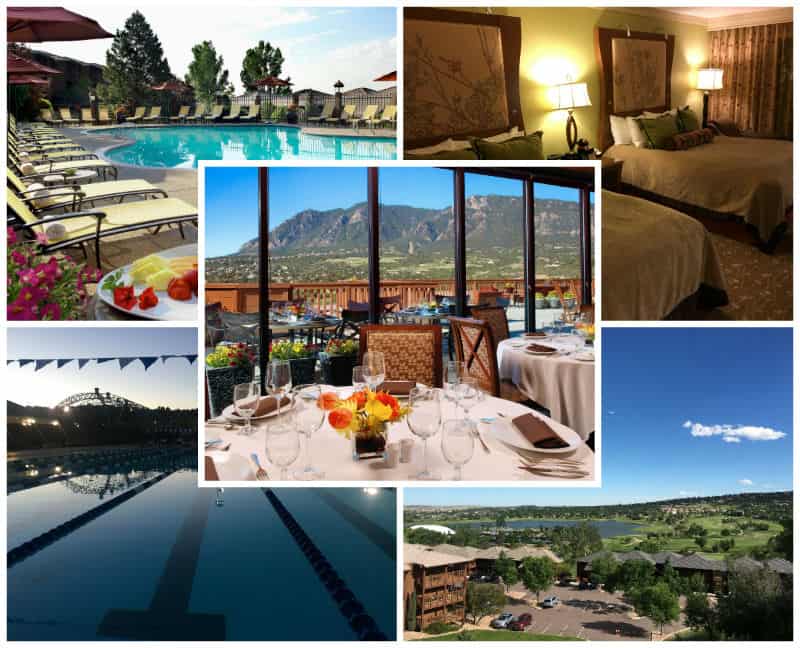 With their own private 35 acre lake complete with a sandy beach, volleyball courts, canoes, kayaks and SUP rentals, they have the outdoor enthusiast covered.
They also have an aquatics center complete with four outdoor swimming pools, including a huge 50 m Olympic sized pool with water slide, a splash pad and a kiddie pool as well as an adult only pool and spa. They also have another heated pool in the main complex.
If you're a tennis fan, they do tennis with 17 covered and uncovered tennis courts including two outdoor clay courts. For the fitness buff, there's an expansive 9000 sq. foot fitness center complete with yoga, spin and cross training group classes.
One of the coolest features of Cheyenne Mountain Resort is that the resort has its own championship grade golf course surrounding it that makes this mountain sided, lake adjacent course not only one of the most beautiful in Colorado but also one of the best. With over 300 days of sunshine in Colorado Springs, and separated by the Rocky Mountains from snow loving Denver, you can enjoy golf 365 days of the year here. For the kiddos, they even open the course at night with a mini putt glow golf course.
Not only were the grounds beautiful at Cheyenne Mountain Resort, the food was tasty as well. From their award winning Sunday brunches at Mountain View Restaurant, to tasty bites and local brews from Elevations Lounge, I always left the table satisfied.
Staying at Cheyenne Mountain Resort was a treat not only for adult me but also for 12 year old me who never got to go to a cool camp in summer. To say that I was a little jealous of my son Cole getting to stay here probably speaks more about the place than all those sentences I just wrote. It's a lovely place and you and your kids will definitely enjoy it.
Some final words about Colorado Springs
Well, that about wraps up our time in Colorado Springs. We saw and experienced some amazing things and my son and I both had a great time checking out everything the area had to offer.
If it's your first time heading to Colorado Springs in Colorado, USA, know that it borders the Rocky Mountains. It's a gorgeous hilly area with beautiful vistas and stunning plateaus's around every corner.
There are so many great things to do in Colorado Springs with kids that you might just need to come back more than once. That's okay, I'm sure you'll discover even more to do the second time. For even more ideas, make sure you check out my previous post on fun things to do in Canon City Colorado as well.
How to get to Colorado Springs, Colorado
Colorado Springs is about 70 miles due south of Denver down highway I-25 S. It's just over an hour by car from the Denver International Airport (DEN) or you can fly directly into Colorado Springs (COS) from 15 cities across the USA.
What are you favorite family things to do in Colorado Springs? Let us know; we'd love to hear!
Many thanks to Colorado Tourism, who hosted us. We definitely had a great time in Colorado. You guys were the best!