Looking for Universal Studios Hollywood tips to make your budget last longer, save time and reduce your stress? Planning a holiday with the family to California and overwhelmed by it all? We can help!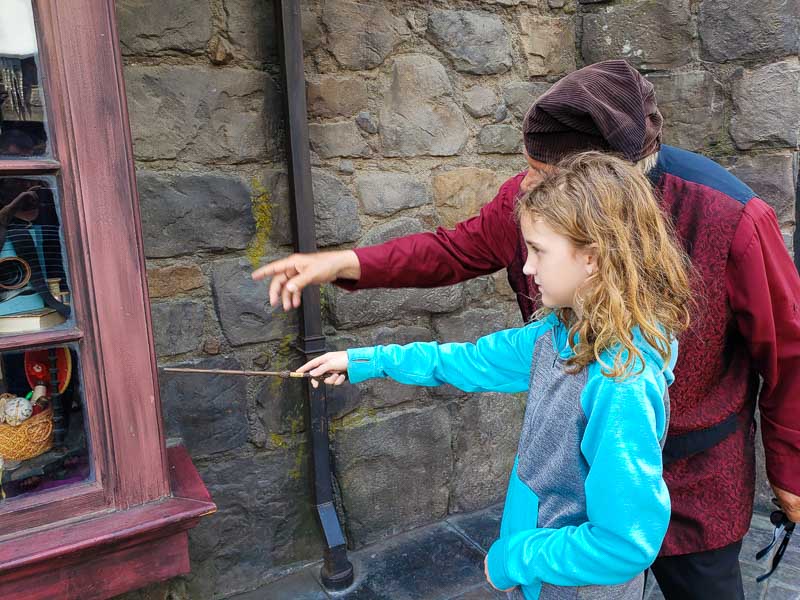 We visit Universal Hollywood whenever we get a chance, and make notes and tips for how make our next visit easier and more fun!
A visit to Universal Studios Hollywood can solid be a hit to the budget, so you'll want to make the most of every minute, and come home with great memories of your vacation!
Universal Studios Hollywood Tips
Even though Universal Hollywood is a lot smaller than Universal in Florida, you could still spend a couple of days here and not watch every show, enjoy every ride, and snack at all the restaurants. We've got tips that can help save you money, and just as importantly, help save you time and hassle, whether you're road tripping like us, or live nearby.
See our article on Universal Studios Orlando tips and tricks here!
Buy your tickets online, in advance
You can generally get a better deal if you buy your tickets in advance and online. In fact, right now Universal Hollywood has a buy one day, get one day free deal if you buy online. Deals change all the time, but we've definitely found the best prices online, rather than at the gate.
As an added bonus, tickets that we bought online got us early entry, half an hour before the park opens for ticket sales. This is huge!
See prices for Universal Studios Hollywood tickets online here at Undercover Tourist.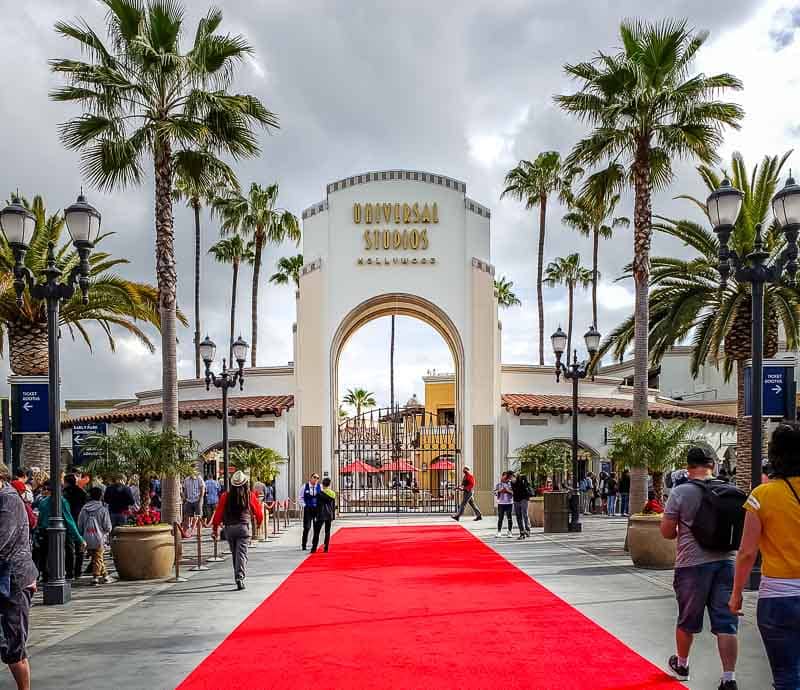 Go early and stay late
Buying your tickets online will get you 30 minute early admission, which is a huge bonus. You'll be able to get in line for one of your favorite rides, a little early, when the park's less buys.
We find that crowds drop off around 6 pm, so if you're there on a night the park is open later, you'll likely have shorter lineups.
Check opening and closing times
During our last visit, we were really surprised to notice that opening and closing times at Universal Studios Hollywood varied a lot day by day.
Depending on the day, the park can be open 9 am to 9 pm, 10 am to 6 pm or another variation. If you go on a day it's open 9 to 9, you'll get a solid 12 hours in the park, by a 10 to 6 day only gives you 8 hours, which is a huge difference. If you can, go on a day with longer opening hours.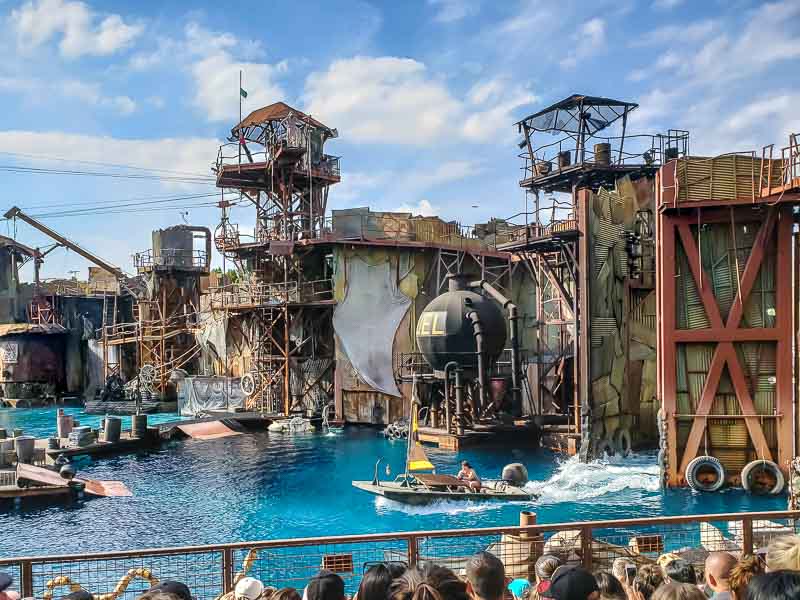 Visiting for two days is better than one
On our last visit to Universal Hollywood, we only had time for a one day visit. We managed to do all of the rides, shows and attractions on our must-do list, but it would have been nice to have time to explore some of our second choices for rides, like the Mummy.
See prices for Universal Studios Hollywood tickets online here at Undercover Tourist.
That said, one day is enough to see Universal Hollywood, but we'd suggest two days if you want to have a more relaxed time, enjoy your favorite rides more than once, try out some of the smaller rides and attractions, or take the time to leisurely stroll through Diagon Alley at the Wizarding World of Harry Potter.
Make sure you check for the latest deals on Universal tickets. We've often seen buy one day, get one day free deals (though we weren't quite so lucky over spring break, one of their busiest times). These deals are one of our favorite Universal Studios Hollywood hacks.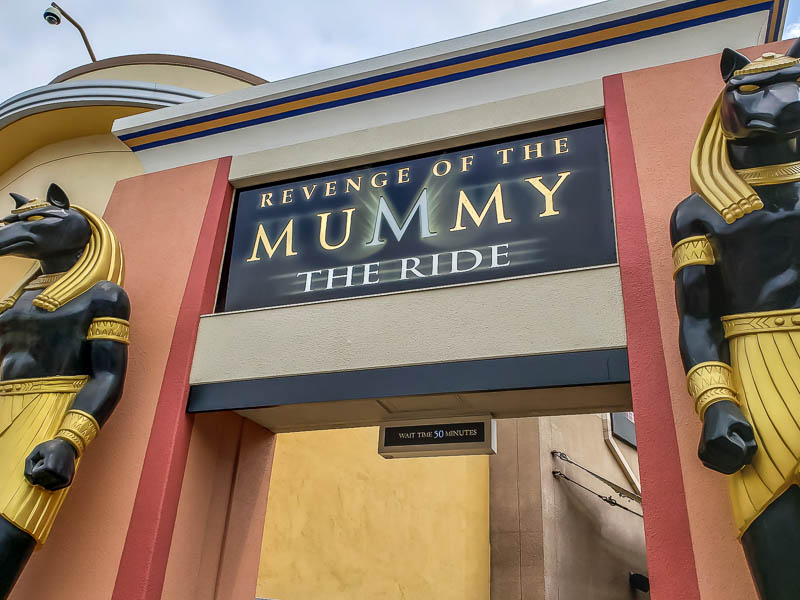 Stay nearby
Los Angeles is notorious for traffic jams for a reason. During our last visit, every time we hit the expressway or any highway, we were snarled in traffic. If you're lucky, it'll be congested and keep moving, but if you're not, you could be stuck in traffic for hours.
The best way to avoid getting stuck in traffic, and saving a lot of time, on your way to Universal Hollywood is to stay as close as possible to the park as your budget allows.
It's not well advertised on the Universal site, but there is a section where you can book your Universal tickets and hotel together. We found that prices may be a hair cheaper than booking separately, but your mileage may vary.
We generally to go the route of booking our hotel and Universal Hollywood tickets separately, since we haven't found any big perks for of booking them together, and the price for our visits is comparable either way.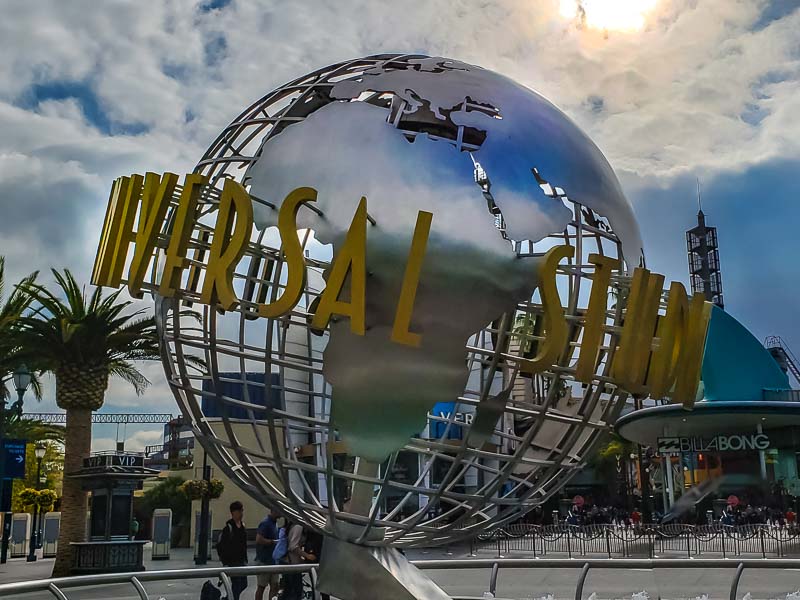 Universal's partner hotels are the Hilton Los Angeles/Universal City, Sheraton Universal Hotel, The Garland, Coast Anabelle Hotel, Best Western Plus Carriage Inn, Los Angeles Marriott Burbank Airport, Safari Inn, Loews Hollywood Hotel, Sportsmen's Lodge Hotel (and about 10 more).
If you have the budget, the Hilton Los Angeles/Universal City and Sheraton Universal Hotel are the best of the bunch. Both are within a mile of Universal Studios Hollywood in Universal City, and within walking distance to Universal Studios and Citywalk. Hilton Los Angeles/Universal City and the Sheraton Universal Hotel both have a complimentary Universal Studios shuttle to the main entrance of Universal Studios and Citywalk.
Unfortunately, on our last visit, we booked at the last minute, and there weren't any good rates at any of the Universal partner hotels. We ended up staying in North Hollywood, at the two star Colony Inn North Hollywood. It was serviceable, but I think I'd only recommend it as a budget option if your choices are really limited.
The only real advantage I found is that it was easy driving distance to Porto's Bakery and Cafe, which is probably my favorite find in Los Angeles in the last few years. There are crazy long lines at Porto's for a reason, and one of the best and biggest selections of pastries I've ever seen.
Go on the studio tour
We're huge Harry Potter fans, so the Wizarding World of Harry Potter was definitely our favorite part of the park. The famous studio tour came in a close second, and is unique to Universal Studios Hollywood.
For the tour, you hop on a tram, and you drive through the Universal Studios lot, with a very entertaining conductor narrating your tour. There are hints of old time Hollywood glamor, nostalgia driving past the clock tower from Back to the Future, and even some thrills courtesy of King Kong, Jaws, and Jurassic World.
When we went a couple of months ago, we had a personal guide for our tram, who was fantastic, but I see that the Universal site says the ride is now narrated on HD monitors by Jimmy Fallon (the star of "The Tonight Show Starring Jimmy Fallon".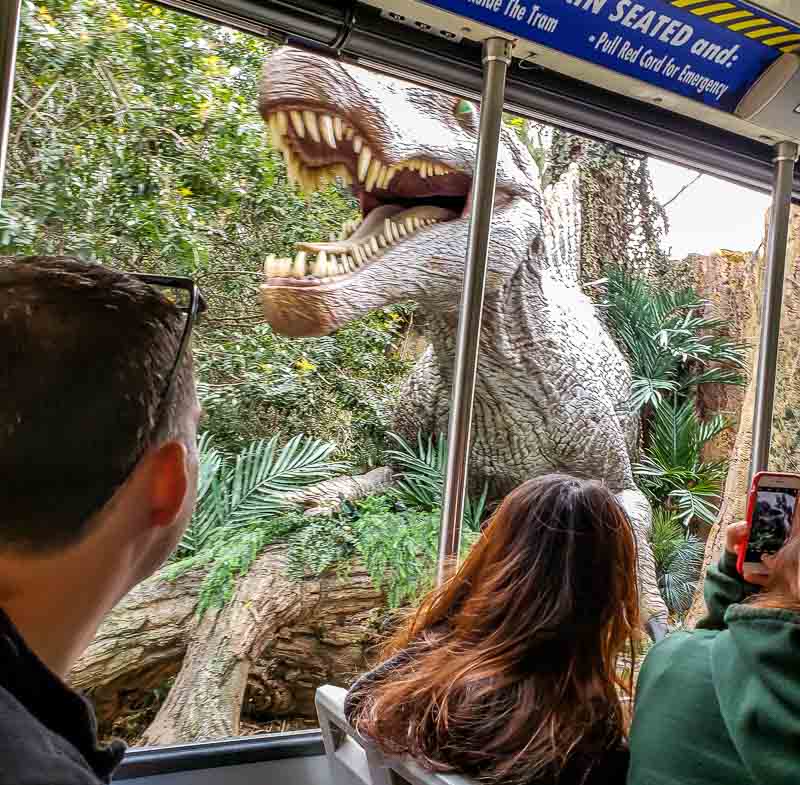 Go to the busiest big ticket rides first thing in the morning
Universal only gets busier as the day goes on, so get in line for your must-ride big ticket rides as early as possible.
On our last visit, we had early admission, so we made our way right away to Harry Potter and the Forbidden Journey first thing. We're glad we did! When we walked by later in the day, the lines were at least twice as long.
See our Wizarding World of Harry Potter tips for Universal Orlando!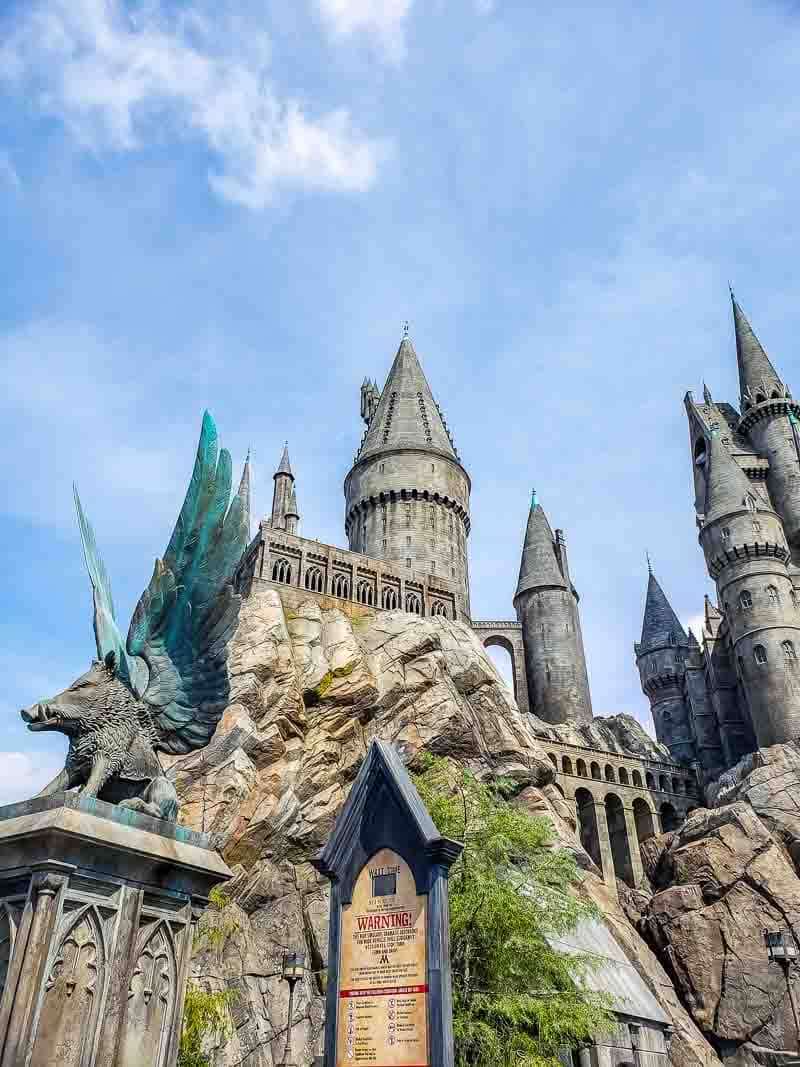 Plan the date of your visit!
There are huge differences in the business of Universal Hollywood, depending on time of year, day of the week, and whether there are any major holidays.
We visited during spring break (which is generally fairly busy), but we elected to go mid-week when crowds were less than on the weekend. Fewer crowds means less waiting in lines, and being able to sit a little closer to the shows.
This handy crowd calendar can help you pick a quieter day to visit.
Get the Universal Express Pass
If you're visiting during an especially busy time, or if you want to maximize the rides you enjoy, a Universal Express Pass can be well worth the money.
The Universal Express Pass lets you bypass regular lines. It includes park admission, but also get you ONE-TIME express access to each ride, attraction and seated show. So, you can only use it one time on each ride, attraction or show.
The downside is that it's quite a bit more expensive (sometimes almost twice the price of regular admission), but it may be well worth it if you're short on time, or visiting when it's especially busy.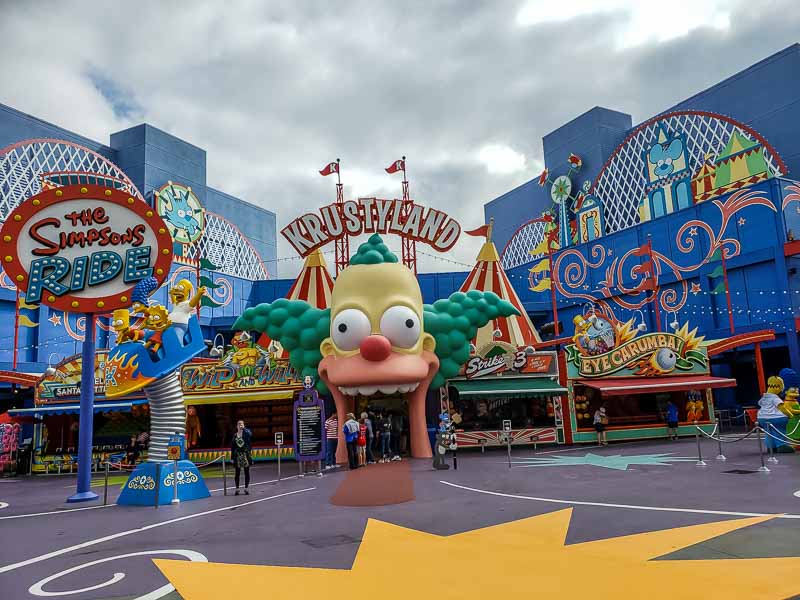 Arrive early enough to allow for for security and lineups
We got our tickets online, which gave us early access to the park by 30 minutes.
Unfortunately, we hadn't allowed quite enough time for the security line (which took about 15 minutes) or waiting in the main lineup at the gate (another 15 minutes). We still got in about 20 minutes early, but I wish we'd gotten there a touch earlier.
Eat during quieter times
If you stop by a popular restaurant like Three Broomsticks during standard lunch (noon to 1 pm) or dinner times (6 pm to 7 pm), you'll likely end up waiting in line for a while.
If you plan your meals earlier or later, lineups will be shorter, and you can save yourself some time.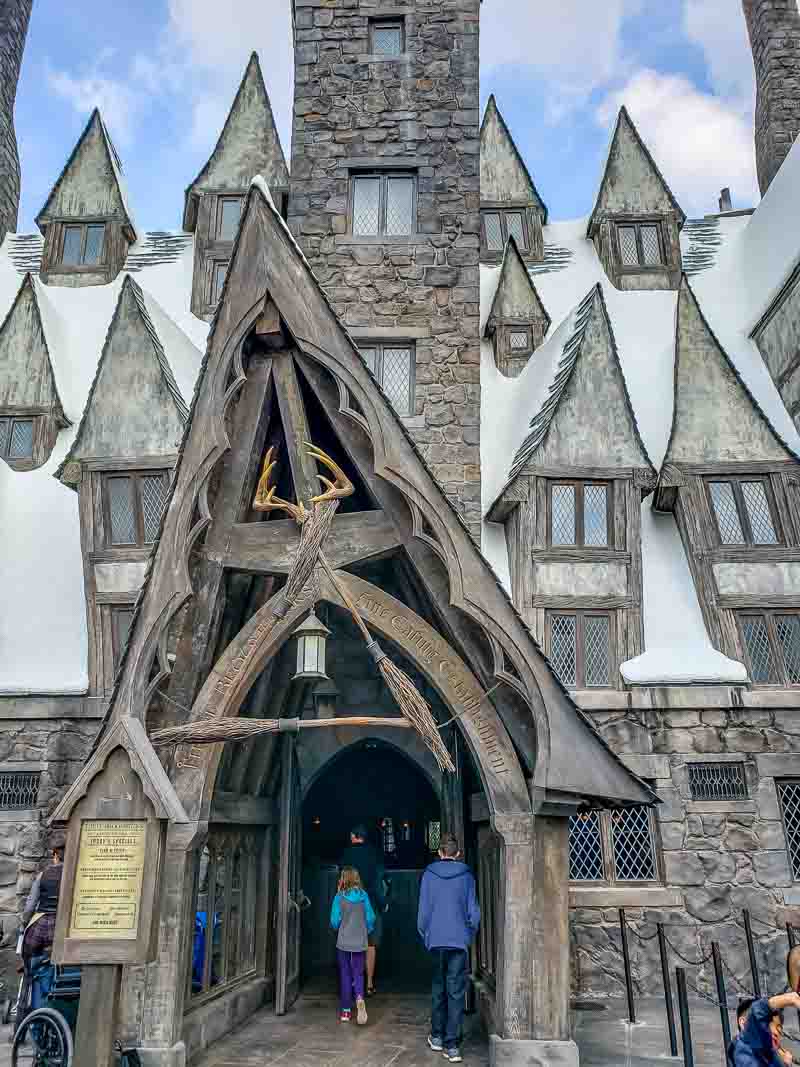 Have a plan!
While Universal Studios Hollywood is much smaller than Universal Studios in Florida, it's still a big enough park that you can waste a lot of time wandering around if you don't plan your visit.
Since Universal Hollywood is set on a hillside, there are two main areas (lots) that are separated by a series of escalators. It can take about 10 to 15 minutes to go up or down the escalators (depending on how busy it was), so you can kill a lot of time just going between lots.
Take a look at the park map here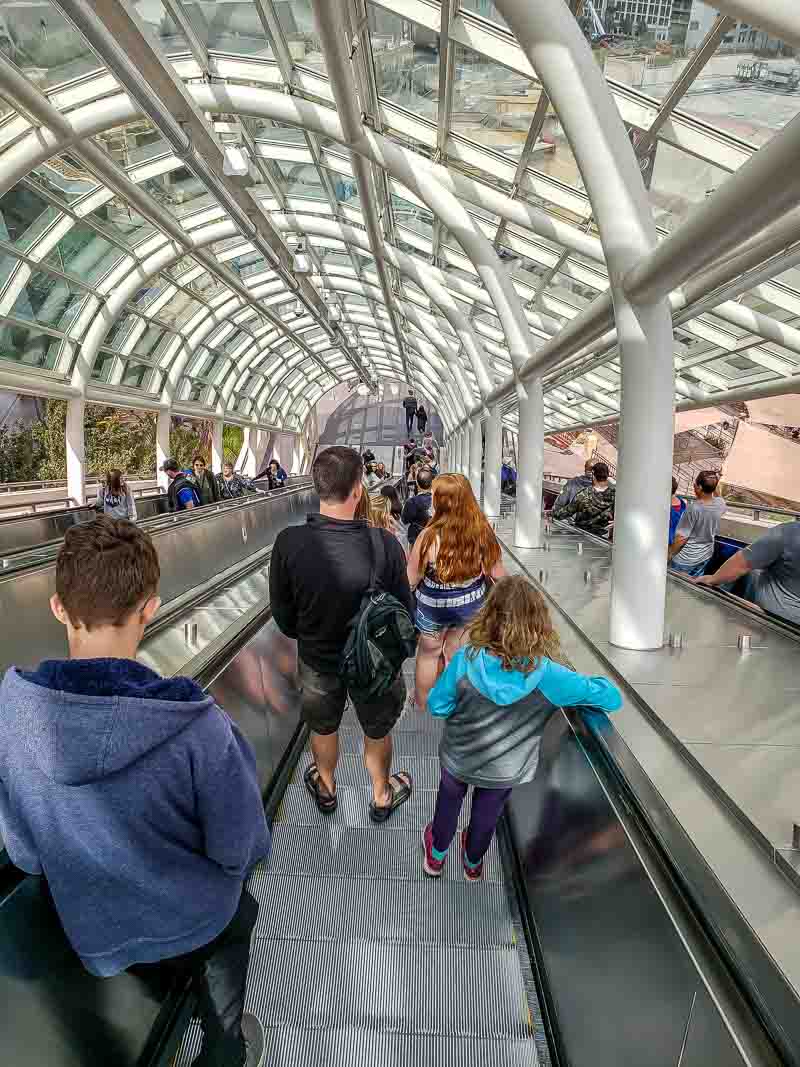 Get the Universal Hollywood app
The Universal Hollywood app is fantastic. It has a park map, plus it shows live wait times for rides, attractions and shows. Plus there's even information on restaurants and restaurant menus, which was great for planning meals for the vegetarians in the family.
You can get the app on Google Play here, or on the App Store for iOS here.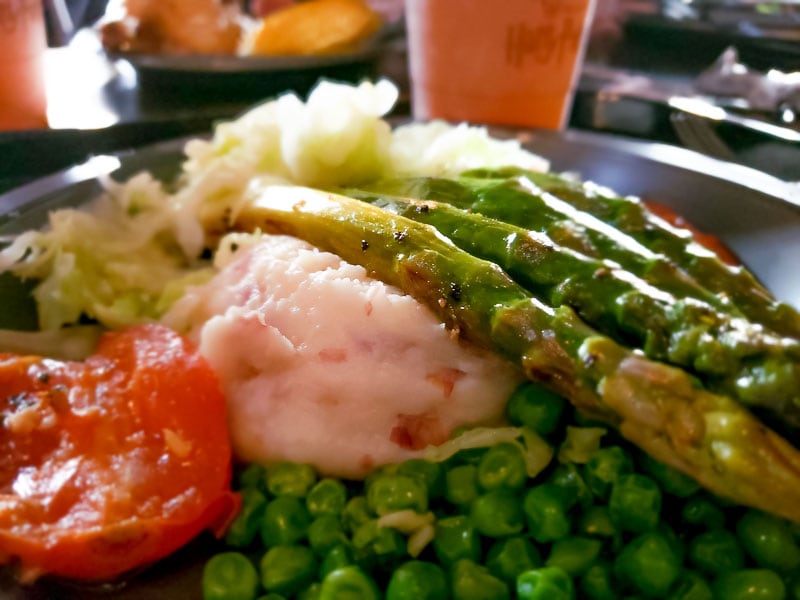 Yes, there's free WiFi in the park
We found Universal's free WiFi to be plenty fast, and managed to get a signal absolutely everywhere in the park.
Our Wizarding World of Harry Potter California tips
We're huge Potterheads, and loved nothing more than visiting the Wizarding World of Harry Potter at Universal Hollywood. It's definitely a lot smaller than the Orlando version, with fewer rides, and much less to see, but it's still a ton of fun, and well worth a visit.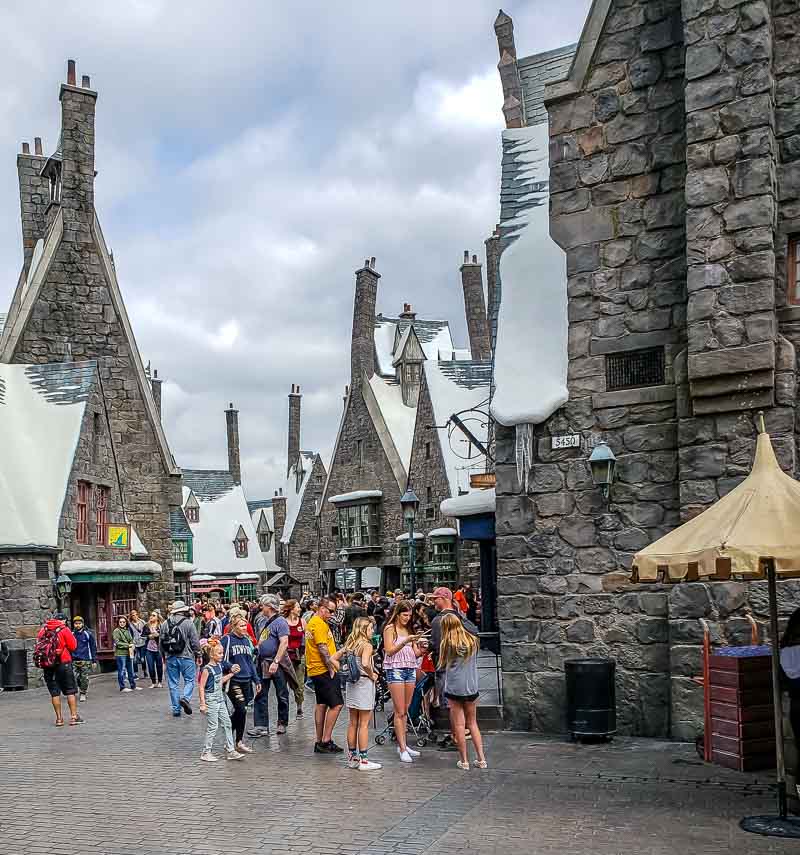 Get a wand
One of our kids favorite things to do in the Wizarding World of Harry Potter was to use the interactive wands to cast spells in shop displays. The wands really make you feel that you're a true witch or wizard, rather than a muggle.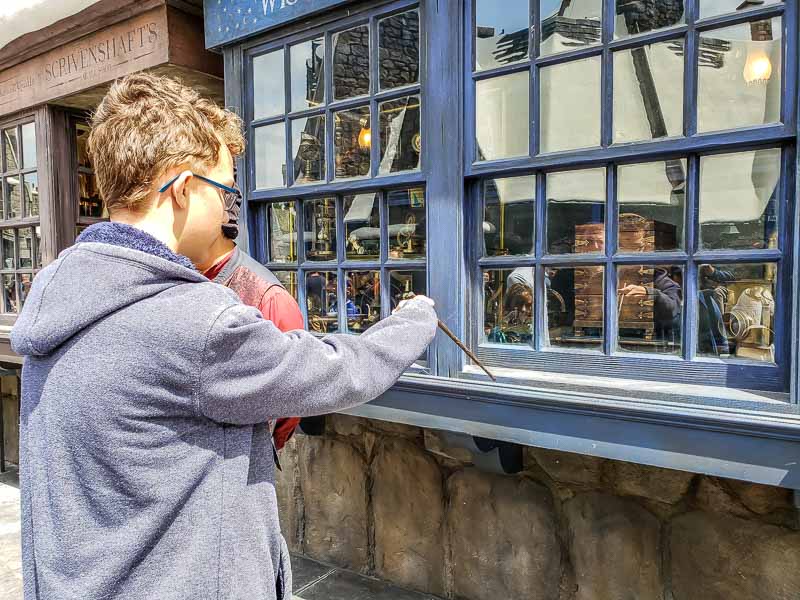 We bought our interactive wands in Universal Orlando, and were thrilled to find they worked perfectly in Universal Hollywood as well.
Each wand costs around $50, but you can use it on multiple visits. Since the wand chooses the wizard, you can stop by a wand cart or shop Ollivanders to get one.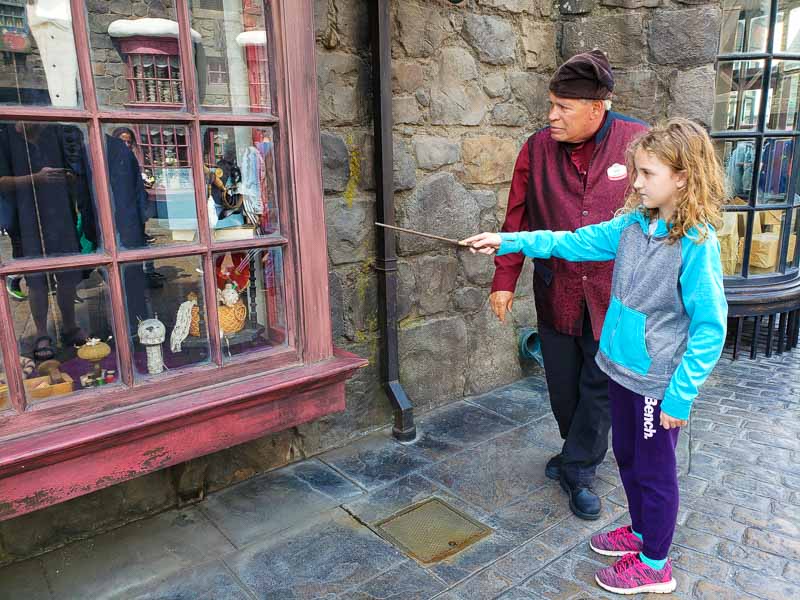 Butter beer
I'm a little hesitant to say how much we spent on butterbeer for the four of us during our last one day visit, but let's just say it was closer to $100 than $50.
You can get three kinds of butterbeer here, standard butterbeer, frozen butterbeer, and hot butterbeer.
Standard butterbeer tastes a little like a cross between cream soda and root beer, and is topped with a butterscotch caramel creamy topping. It's our favorite.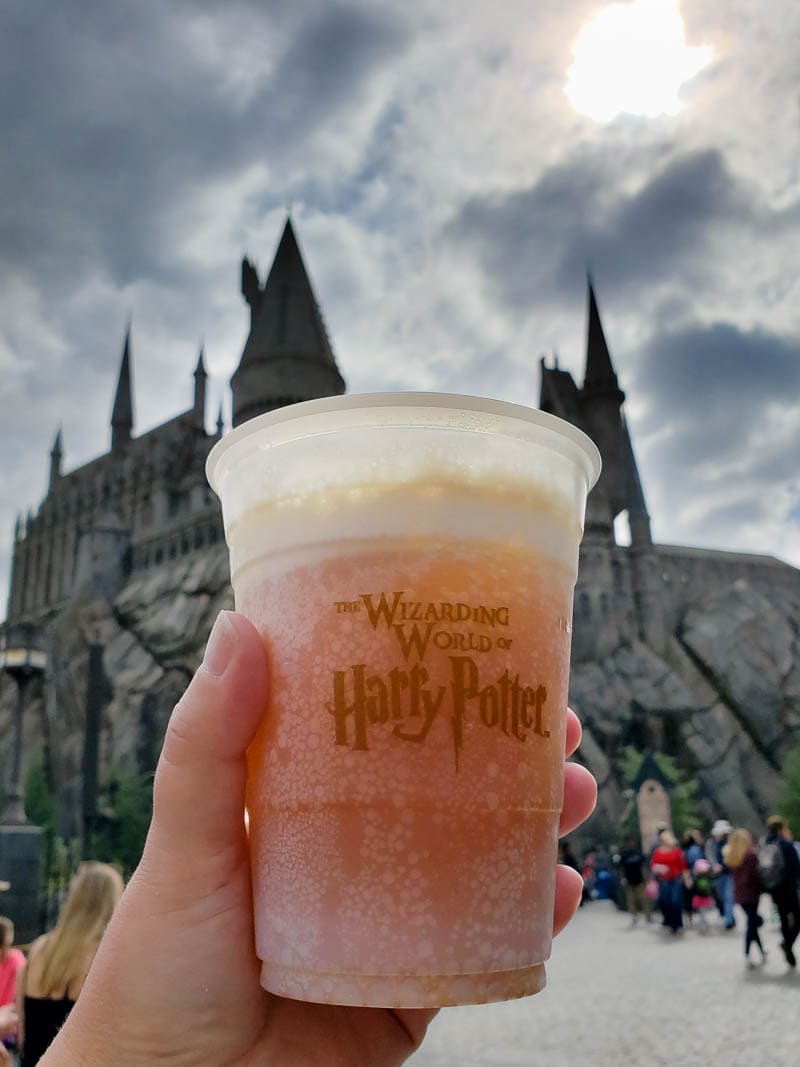 Frozen butterbeer is essentially a butterbeer slushy and great for hot days. Some people love it, but we're so-so on it.
Hot butter beer is like a caramel/butterscotch white chocolate topped with a creamy topping. It's delicious, and great for cooler days.
See prices for Universal Studios Hollywood tickets online here at Undercover Tourist.
Do you have any favorite Universal Studios Hollywood tips and tricks? Let us know in the comments! We'd love to hear about them!