What do you think of when I say Amazon? If you're like us and live five thousand miles away from South America you probably think of the online store.
Now, what happens when I say Amazon rainforest? Suddenly, jungles, animals, huge rivers and unknown dangers start popping up in your mind.
Now, what happens when I say Amazon luxury ecolodge, with gourmet meals and personalized tours based on your own interests? Conflict of emotions? There shouldn't be because that's exactly what La Selva Lodge, in the jungles of Ecuador is all about.
We had the amazing opportunity to spend five days at La Selva Lodge in Ecuador firsthand checking out what makes this the number one ecolodge in the area. I'll give you a hint, good food, good people and amazing surroundings.
We met up with Miguel, the lead coordinator at La Selva Resort at the Coca airport. We were flying in from the Ecuadorian capital of Quito where we had previously met with a La Selva spokesman who quickly helped us through the check out process and informed us about meeting up with Miguel once we landed in Coca.
After a quick 45 minute flight, we grabbed our bags and jumped in their private van with another two fine fellows from Quito to head to their office in town. Once there, Miguel explained what we were up to for the rest of the day.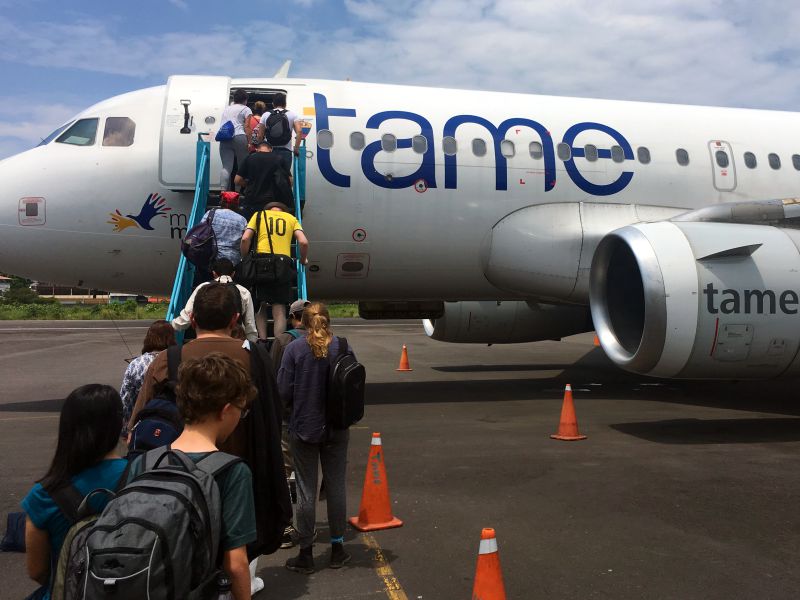 Basically, the easy part was over, now we needed to do some walking, some boating, some more walking and then boating again.
It was pretty much that way every day going forward, with constant changes on what we were doing, what we would be seeing and what times everything would be happening. Since nature waits for no one, our plans at La Selva changed as fast as the weather. That turned out to be a good thing, but I'll save that for later.
After a quick washroom break (there's no washroom on the boat) and receiving a few refillable water bottles we set off walking toward the town docks. Only two blocks away we got our first taste of the mighty Amazon.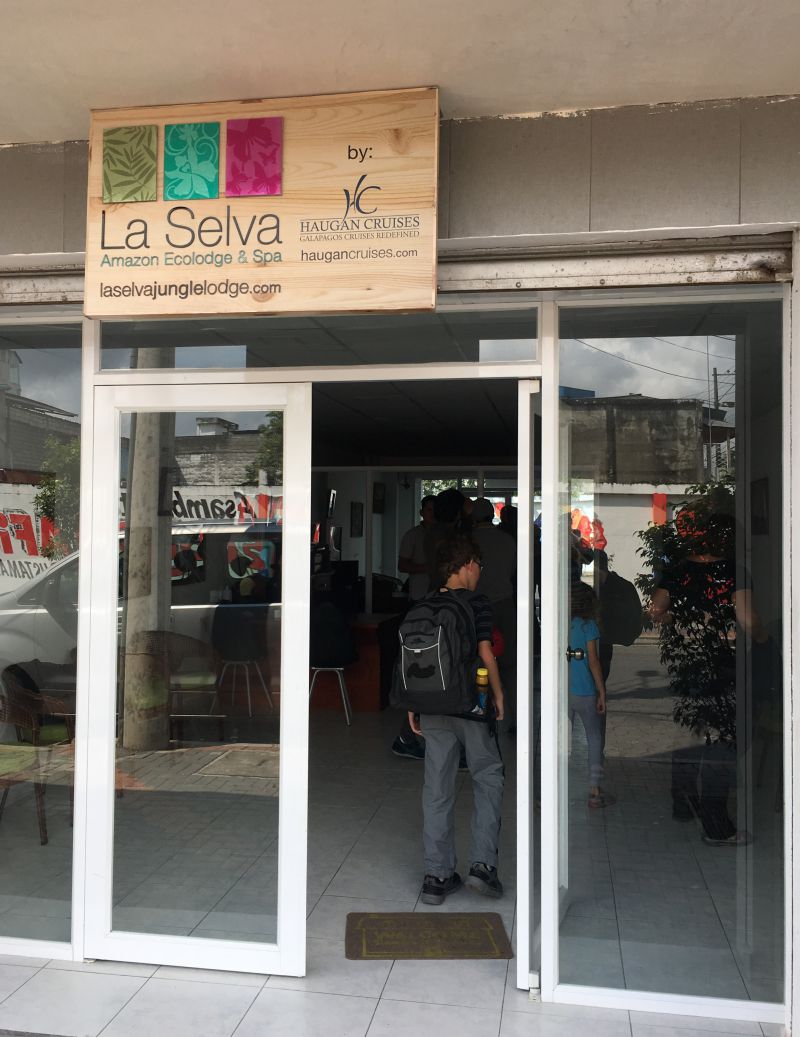 It turns out that my actual knowledge of the Amazon is far less than I once believed. For one, the Amazon river is actually comprised of several tributaries spread out over seven million kilometers starting in Ecuador, Peru, Columbia, and five other nations and continuing through Brazil before finally dumping into the Atlantic Ocean.
Here in the town of Coca or, as it's officially known, Puerto Francisco de Orellana, the river is called Rio Napo and is one of the Amazon's largest tributaries. It's also quite a large and fast river in its own right.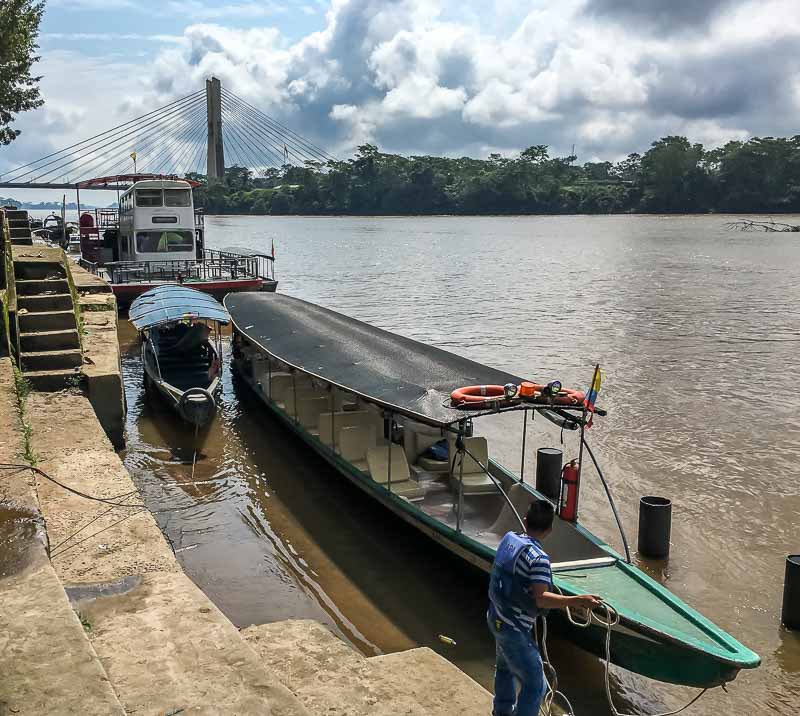 As we made it down to the docks and donned our supplied life jackets, we learnt that we were going to be traveling downstream for around 2 hours via a very long and fast boat before getting off the main river and taking a small walk over to a creek where we'd take canoes the rest of the way to the lodge. This is pretty much the way most of the Amazon lodges work in that area of the Yasuni National Park, with each lodge sitting on it's own lake or river off the main Rio Napo river.
We also received some nice boxed lunches to eat on the ride to our next stop. Ours included a burrito, apple, muffin and a tasty granola bar. It also included a tasty local beer called Pilsener.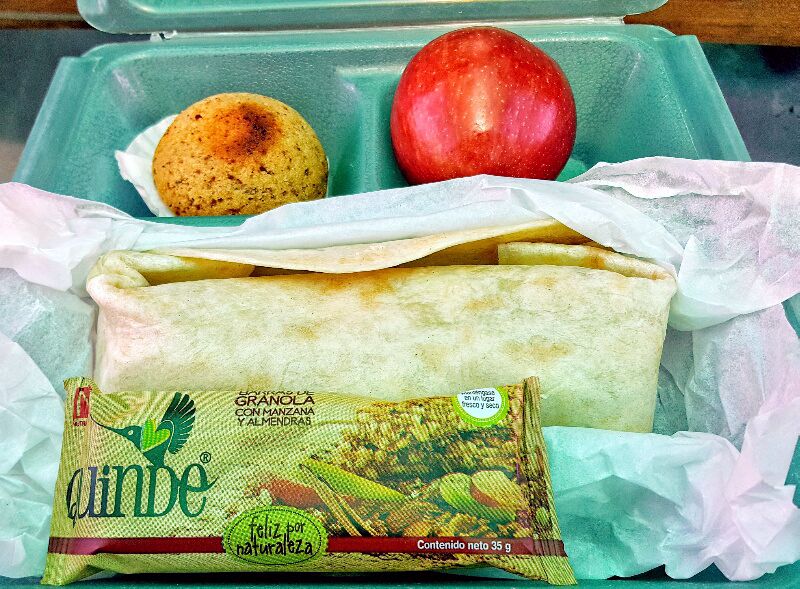 As we made our way down the river, we realized just how dangerous the river can be. Luckily, our captain was an expert driver and easily navigated the ever changing sand bars, the massive tree trunks floating down the river and the hidden dangers that existed everywhere.
Unfortunately, the elusive pink Amazon river dolphin was nowhere in sight. We later found out they're not that common around Coca and, unlike their ocean relatives, they rarely leave the safety of the muddy and turbulent waters so they're incredibly hard to spot. That never stopped us from looking though.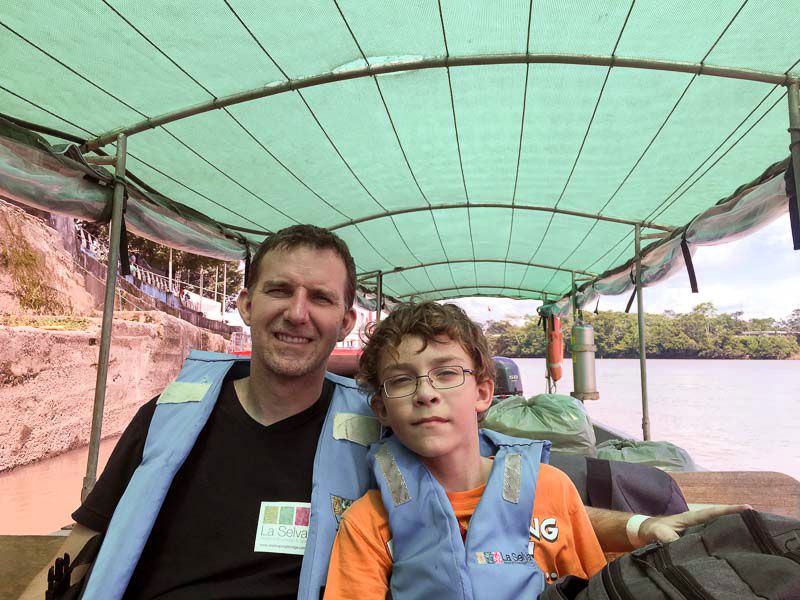 As we approached the private La Selva docks a few hours later, we were thankful for the protective canopy our boat offered and the rain ponchos we were given. During our two hour ride it had suddenly downpoured and we were quickly reminded why they call this area of the world a rainforest. It also explains why the Amazon river has more flow of water than the next seven largest rivers in the world combined.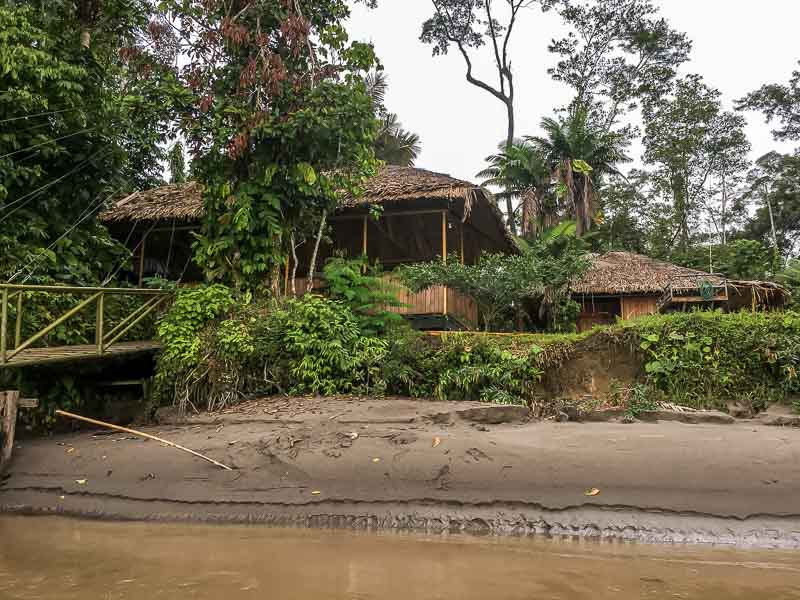 After taking off our life jackets and hitting the washrooms again, we walked the few hundred feet to a small creek while the porters moved our luggage over. Now the real adventure began.
As we climbed into the loaded down double canoe the fact that we're in the Amazon truly hit home. After spending a few days in Quito's eternal springlike cool temperatures, the hot, humid weather was both a relief and a curse. The temperatures were warm, but we learned quickly to say goodbye to nice, dry clothing.
As anyone who's spent time there will tell you, in the Amazon, there's just damp and more damp.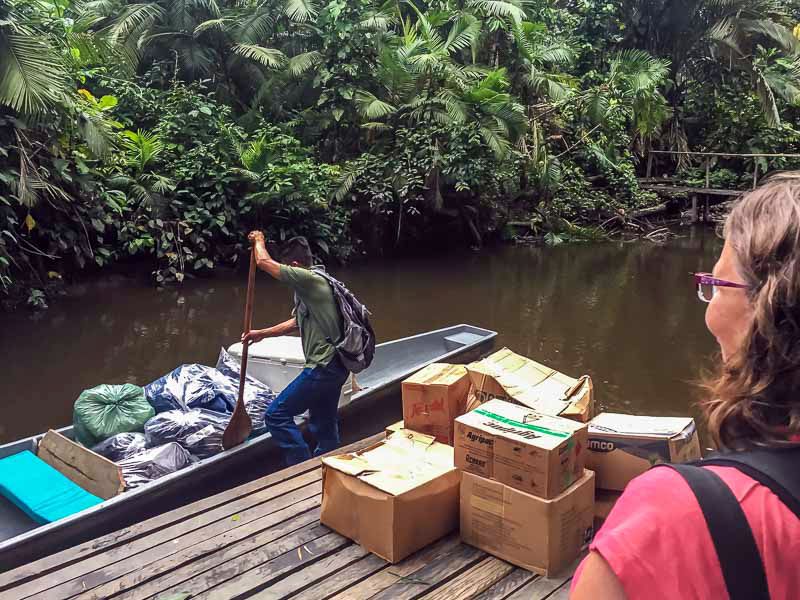 Once our canoe was fully loaded, our paddlers quickly set off down the stream. Within minutes we were lost as the mangrove filled creek branched off in several areas. Luckily, our guides knew the path and we made our way through the eerie landscape.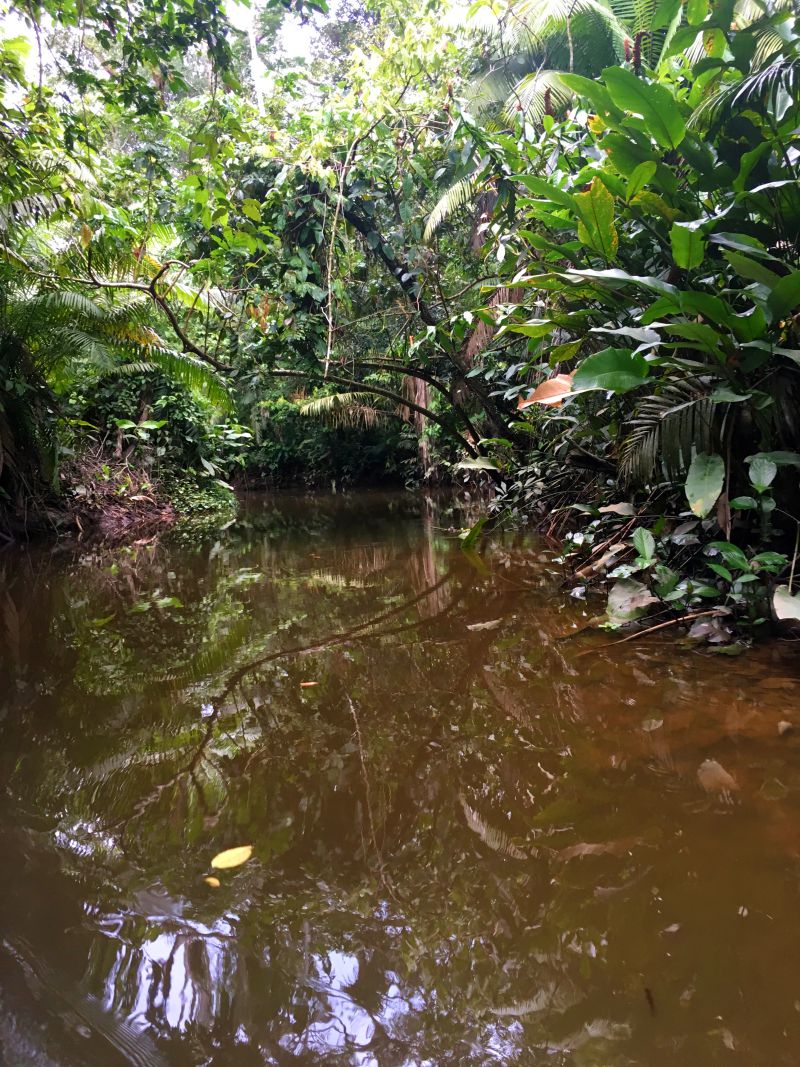 Knowing that there is everything from piranhas, to electric eels, to black caiman, to fish the size of our boat below us didn't do anything to steady our nerves as the laden down canoe slowly navigated the sharp corners. There was so much going on around us that our fears quickly turned to wonder at all the new sounds and movement.
Up ahead, Miguel, who was with us on his way back to the lodge as well, spotted a troupe of black capuchin monkeys leaping over us, scrambling to get across the small creek. It would be the first of seven encounters with monkeys for us while we were at La Selva Lodge, and the first of the five species of monkey we saw during our stay.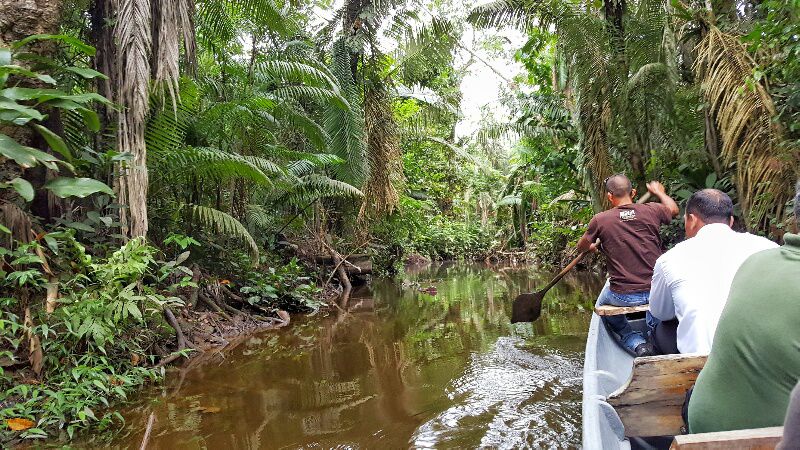 Besides for the Capuchins, we saw countless varieties of birds on that first canoe ride. I would name them, all however we were so in awe of our surroundings the first day that we never cataloged them. The hoatzin, more commonly known as the stinky turkey to the locals, was definitely one that stood out and was always found along the creek. Its crazy spiked mohawk and distinctive call made it a favorite find to everyone.
We also saw dozens of beautiful bird of paradise flowers everywhere we looked along that creek. These are found only in specialty flower shops back home, they usually sell for a ridiculous sum, so it was cool to see so many of them everywhere we looked.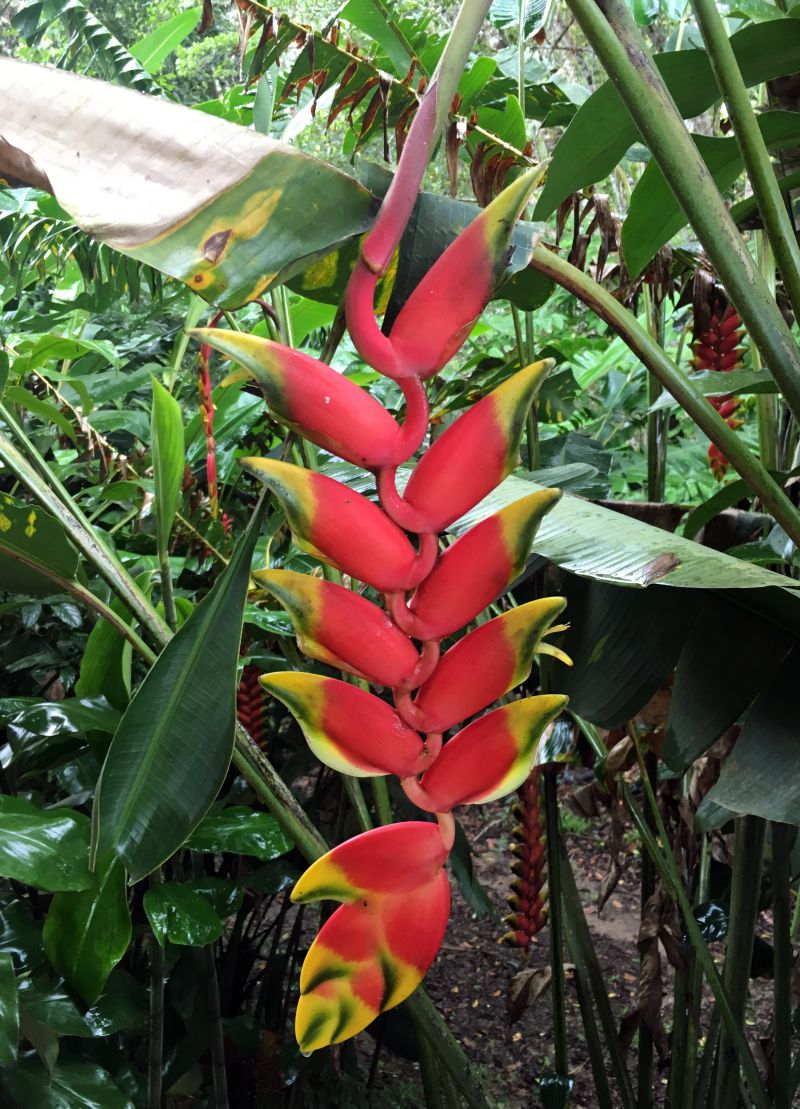 As we finally exited the creek 20 minutes later, we realized that we really hadn't researched La Selva Lodge enough before getting there. Maybe that was a good thing, because as we turned a bend and saw the La Selva Lodge sitting high above the beautiful lake it calls home, we actually gasped at the beauty of the moment.
Surrounded by calm, tea stained water, the La Selva Lodge stood out in comparison to what we had just witnessed, yet blended perfectly with the surrounding Amazonian jungle. It looked like it belonged there. Even more importantly at the time, it looked inviting after a long day of flights and boats.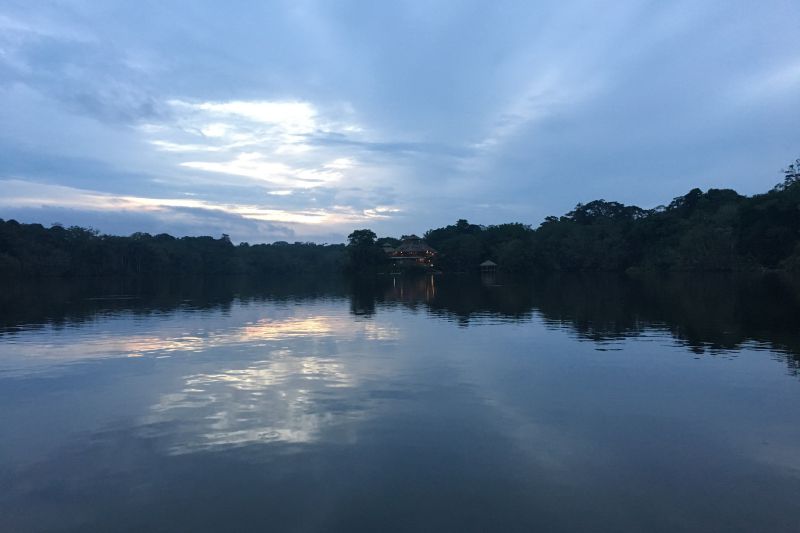 We also didn't know it, but our Amazon adventure was just beginning and it would one of the busiest yet rewarding stays our lives.
Stay tuned for our complete review of the wonderful La Selva Lodge in the coming week, including our encounters with monkeys, birds, lizards and tarantulas deep in the Amazon jungle, as well as yoga classes by the water, gourmet food, outstanding guides, our visit to a native village, parrot clay licks, fishing for piranha and climbing a 10 story tower high above the Amazon canopy to spot some of the Amazon's most sought after species.
Interested in checking out La Selva Lodge for yourself?
You can check out their webpage here, book a stay with them here, view their well ranked TripAdvisor page here or you can get an idea what a 4 day trip to La Selva Lodge entails with Gadventures.