We arrived at Santa Cruz Island in the Galapagos soaked to the bone.
The four of us were pelted by rain and salt water spray for almost the entire two and a half hour ferry ride from Isla Isabela to Santa Cruz. That ferry ride from Hades is a story we'll tell another time, but it's enough to say that we would have probably sold all our worldly possessions for a warm shower and a dry towel right then.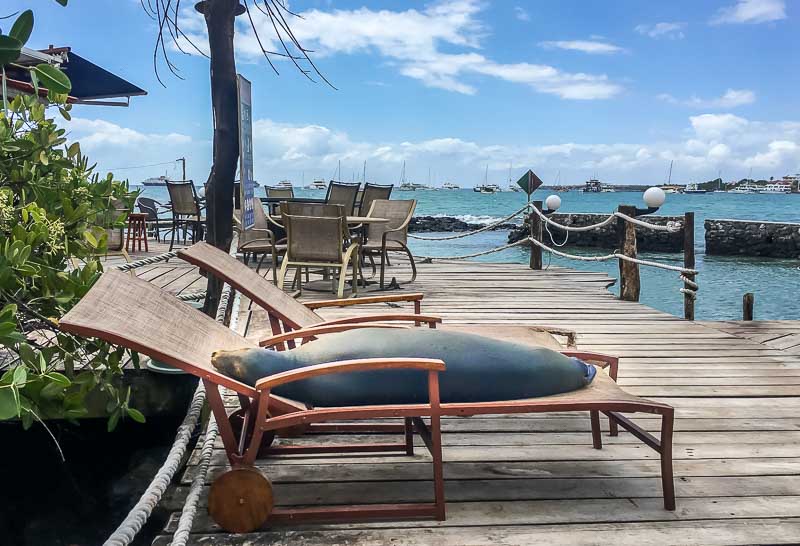 Luckily, the folks at Red Mangrove Hotel Galapagos were happy to help.
Check prices and hotel information here.
We trudged into their lobby as wet as if we'd swum right out of the ocean, and they didn't bat an eye. The staff just helped us carry our soaking wet luggage to our room, where we used their dry towels and piping hot shower to restore ourselves.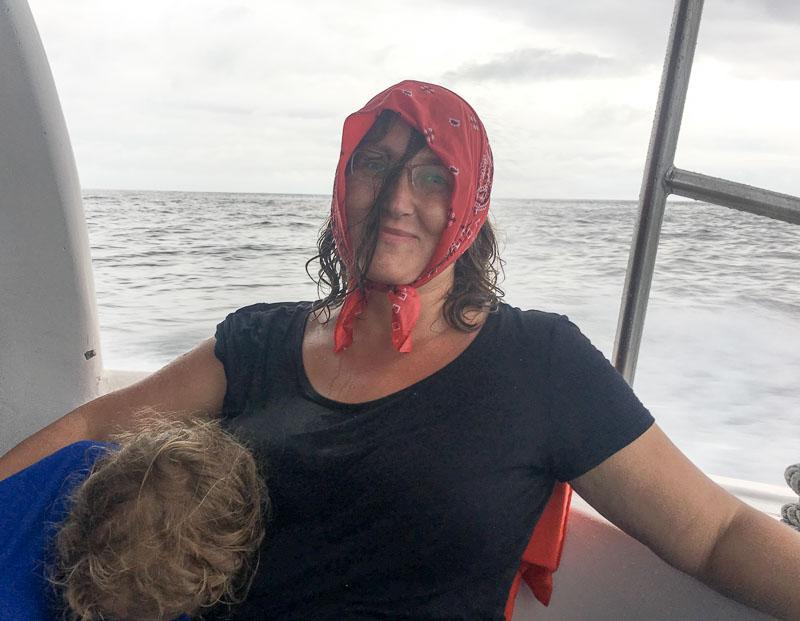 Then we got to work drying three suitcases worth of wet clothes, plus the soaking wet clothes we wore on the ferry.
Luckily for us, the Red Mangrove Aventura Lodge had a de-humidifier in our room. It's the first time we've ever been in a hotel that included one. It was a huge help drying out our stacks of clothes that got soaked by rain on the ferry from Isla Isabela to Santa Cruz and it made what could have been an otherwise long ordeal into barely an inconvenience.
The best part of Red Mangrove!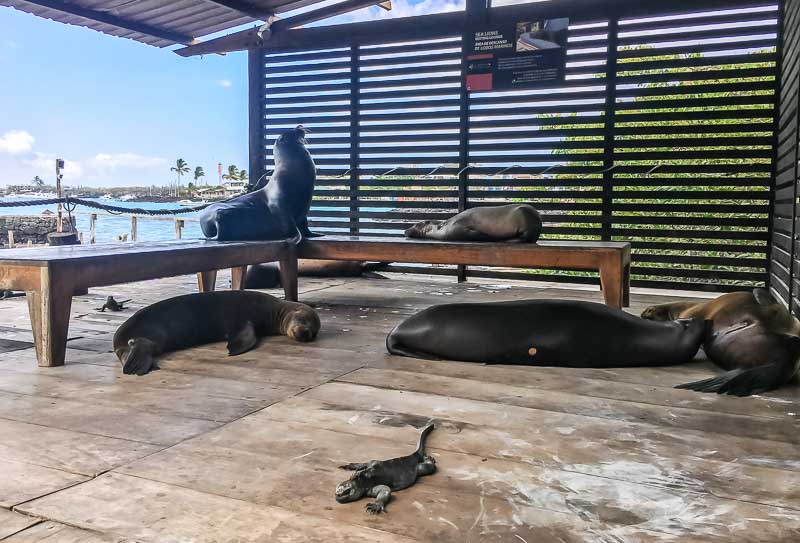 One of the best features of the Red Mangrove Hotel in Puerto Ayora on the island of Santa Cruz is its friendly residents. Yup, you guessed it, they're the sea lions that lounge everywhere on the benches and boardwalk that surround the property.
We dropped by the boardwalk several times during our stay and the sea lions were always there, often joined by some cheeky marine iguanas.
Tip! No need to go searching for wildlife on the island of Santa Cruz, when you stay at the Red Mangrove, the wildlife comes to you!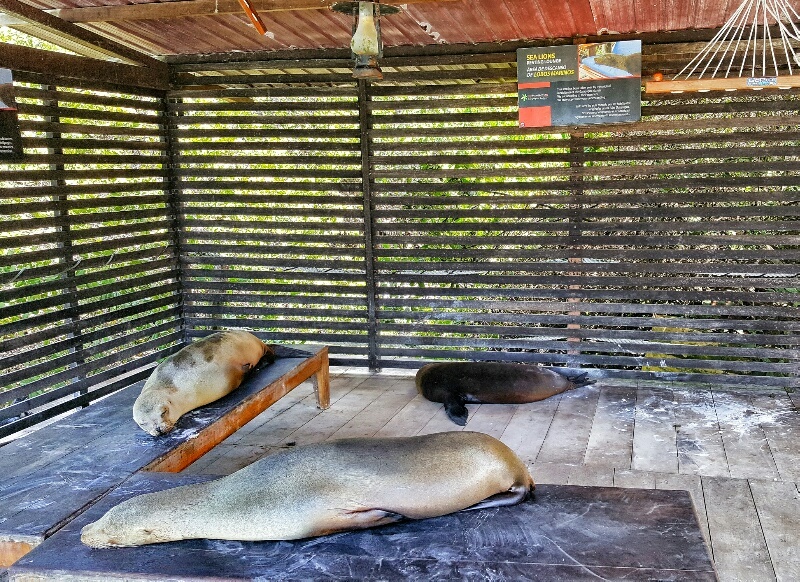 The coastal location does mean that Red Mangrove's restaurant and boardwalk have a stunning view of the azure waters of the Santa Cruz Port.

Hands down, besides for the fact that our room included a de-humidifier, our favorite parts of the hotel were the ocean side boardwalk and pier.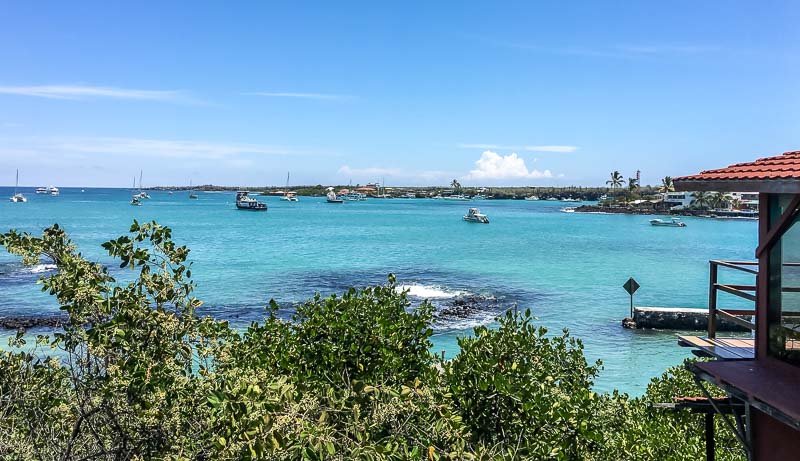 About the rooms at Red Mangrove
While I believe most of Red Mangrove's rooms are on upper floors or with great views facing Academy Bay, we had a family room on the main floor, halfway between the lobby and the hotel's entrance. It was quiet, roomy, fully equipped and clean, but if I go back, I would spend a few dollars more and stay in an ocean side or upper level room with views of the sea for our next visit.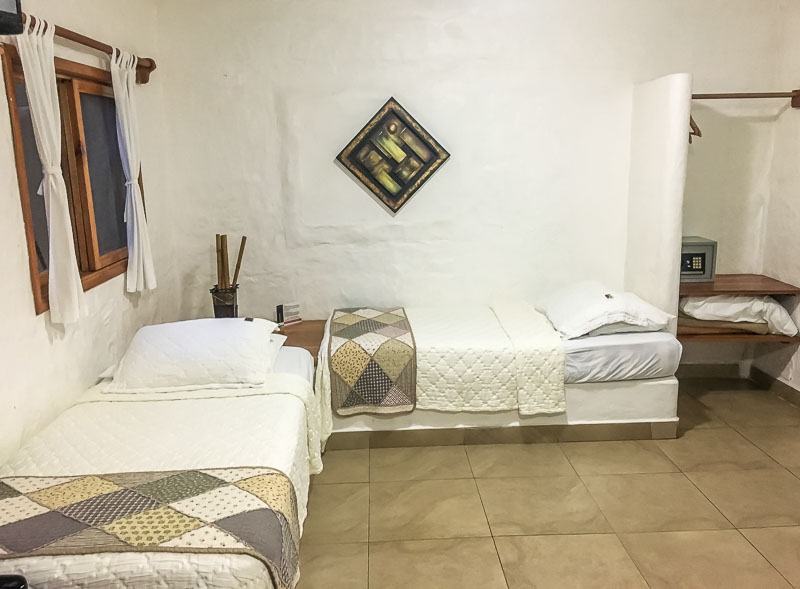 Our family room had two single beds, plus one queen. They were both comfy, but the single beds had an extra layer of comfort from a small memory foam topper. We almost kicked the kids out of their beds so we could sleep in the comfy singles!
Our room came complete with it's own enclosed courtyard so it would make a great place for families with small children to roam about safely.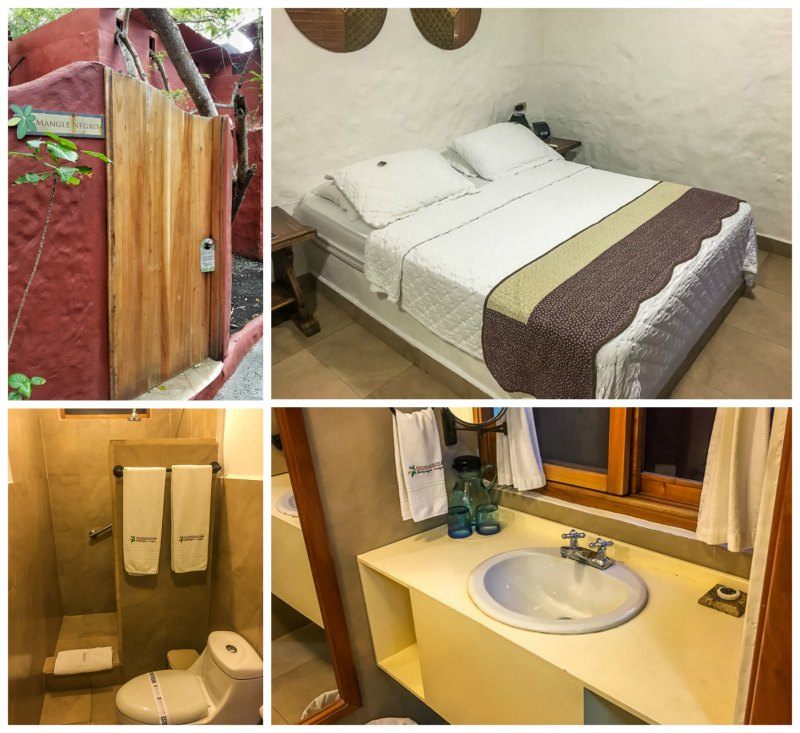 Important: Just after we stayed there, Hotel Red Mangrove was bought by the folks at Haugan Cruises, who also happen to own the same La Selva Lodge we stayed at during our stay in the Amazon a few weeks before. Haugan Cruises has a great reputation in the Galapagos, and we're looking forward to seeing the improvements they bring! While we stayed there it was called the Red Mangrove Aventura Lodge, and it's now re-branded to be known as the Red Mangrove Hotel by Haugan Cruises.
Check prices and hotel information here.
About the mangroves
The hotel has a unique coastal location among the mangroves (thus the Red Mangrove name). If you've ever spent much time by the ocean, you'll know that mangroves are a vital part of a coastal ecosystem. They provide nutrients, and are home to many species of birds and wildlife.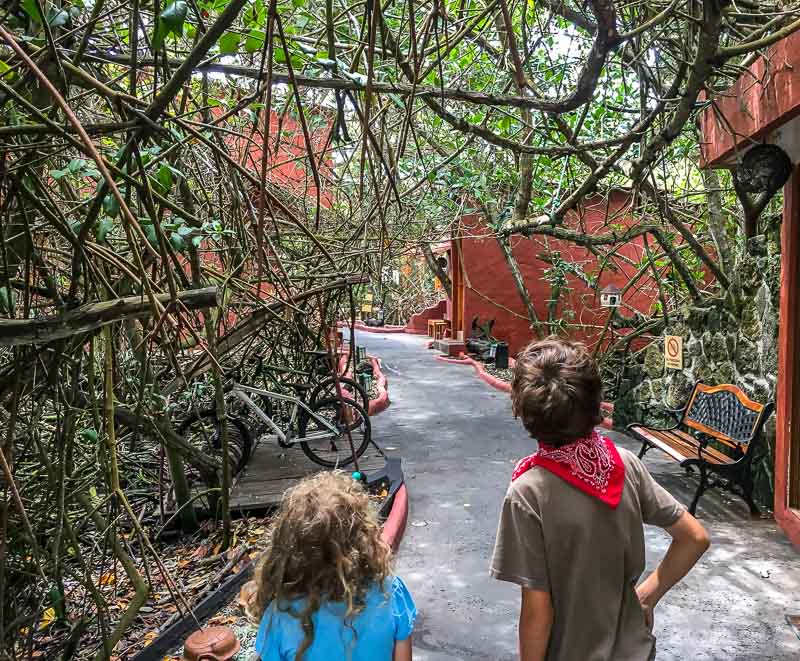 Unfortunately, mangroves often have a stagnant water smell. We found this stale smell to be minimal at Red Mangrove Aventura Lodge, however it was definitely present, especially on the walkway after the unusually heavy rains when we arrived. Also, there are only a few rooms set within the mangroves themselves at the Red Mangrove Hotel, since most of the rooms are overlooking the water.
Note: You may see the hotel occasionally called the Hotel Mangle Rojo (which is just Red Mangrove translated into Spanish).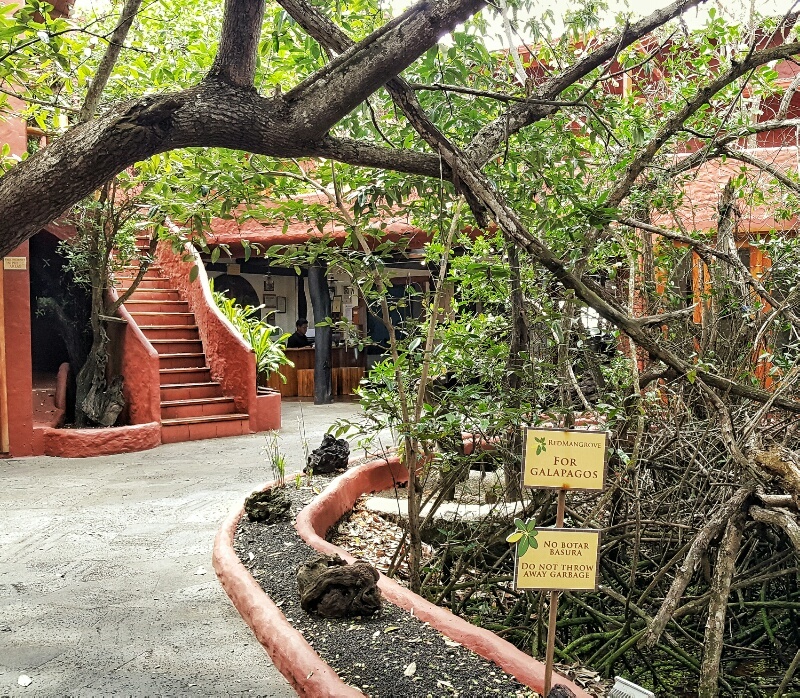 Red Mangrove restaurant – what's there to eat?
While we were there, the Red Mangrove Restaurant offered pretty much only sushi for supper. We aren't sushi lovers (and Micki and the kids are vegetarian), so we didn't get a chance to try it out though it got decent enough reviews. It was also on the higher end of the price scale.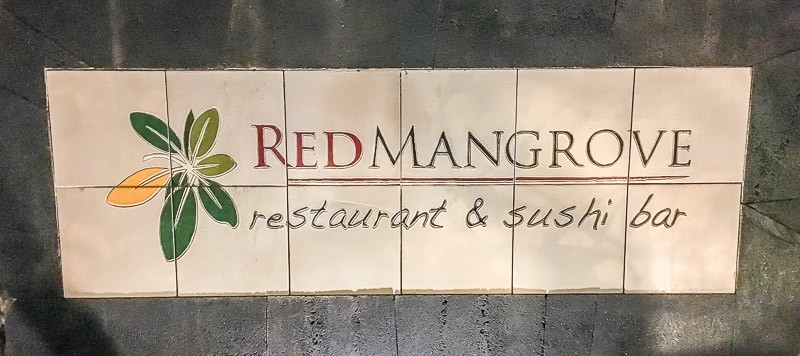 Isla Grill at the Red Mangrove Hotel
If you're a lover of sushi, you probably would have enjoyed the Red Mangrove restaurant, however we just found out that the new owners are completely redoing the restaurant at Red Mangrove. The new restaurant is going to be called the Isla Grill and will offer both traditional and international foods with unique surf and turf meals. There will also be pizzas, burgers, salads and I'm guessing great breakfast options if it's anything like the food we ate at the award winning La Selva Lodge. We want to go back just to try them out.
See TripAdvisor reviews here for the old Red Mangrove Restaurant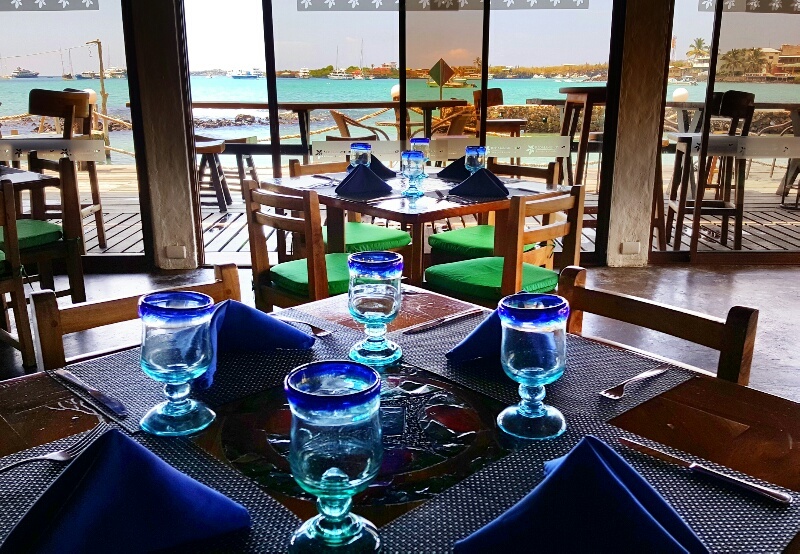 While we were there, the Red Mangrove hotel did offer breakfast and lunch as part of an inclusive meal deal, however we didn't opt for it, so we ate in town most days during our stay on the island. In some ways it's too bad we didn't get a chance to review their breakfast offerings, however the breakfasts are going to change when the restaurant soon re-opens as the Isla Grill.
Tip! If you'd like to visit the restaurant to check out the sea lions and gorgeous views, come during the evening happy hour, where you can get 2 for 1 drinks.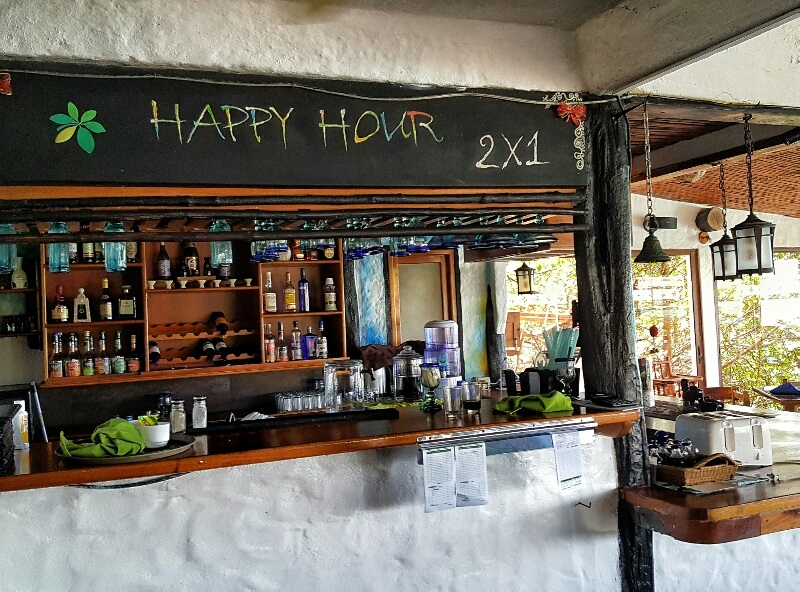 How to book
Check prices and availability here.
It may be easiest to book a room at the hotel through booking sites like Expedia or Hotels.com.
You can also book directly with the hotel, although you'll have to fill out a clunky contact form on their website.
Tip! Book an ocean side or upper level room to get gorgeous views and lots of natural light and air flow.
Check prices and availability here.
Want to find out more?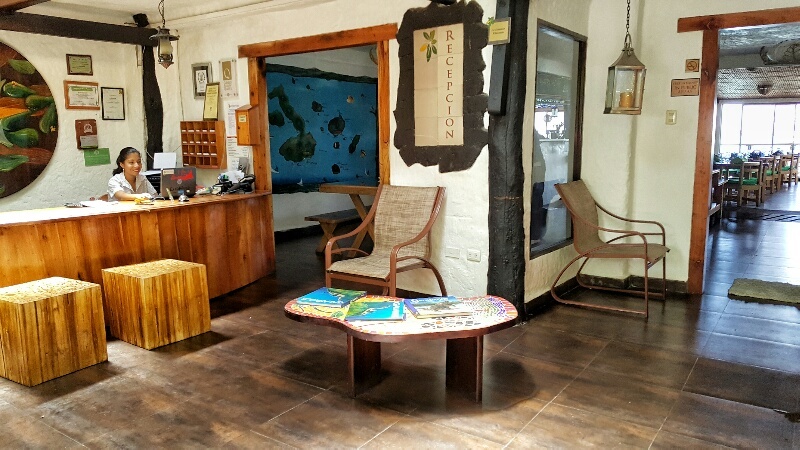 If you want to find out more, visit the hotel's website, or see them on Facebook or Twitter. Due to the fact that it's under new ownership, we expect the hotel to undergo a few changes and, if it's anything like La Selva, probably for the better.
If you're interested in SCUBA diving in the Galapagos Islands, there's also a well regarded SCUBA center at the Red Mangrove hotel. Check their reviews here.
The hotel also offers free bike rentals.
Where is the Hotel Red Mangrove Galapagos?
The Red Mangrove Hotel Galapagos is on the island of Santa Cruz, in the town of Puerto Ayora. It's on the west side of town, and a little isolated from the busy town itself. That said, it was only a quick five minute walk to the main part of Charles Darwin Avenue, where we found more restaurants and souvenir shops than we could count.
If you're flying in, you'll land on nearby Baltra Island to the north and be taken for free by bus and ferry over to Santa Cruz, where you can take a taxi to get to the hotel. If you're flying from the Galapagos Islands, the hotel can help you order a taxi that will get you to the ferry that will take you to the airport.
The hotel is about a 15 minute walk from the pier along nice paved roads or you can grab a taxi for under two dollars. If you go east, the Charles Darwin Research Center is just a few minutes down the road and is definitely worth a visit.