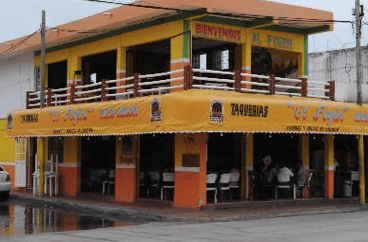 Eating out in Playa del Carmen can be expensive. Many of Playa's restaurants, especially those on Quinta Avenida (Fifth Avenue) cater to the tourist crowd. While some are fantastic, they cater almost exclusively to tourists, and the prices reflect it.
Since we were in town for a couple of months, we spent some time finding out where the locals go for a taste of the real and affordable Playa del Carmen. This is in no way a complete list of Playa's restaurants, but they are some of our favorites. Feel free to check any of them the next time you're down there.
Best Breakfast: La Cueva Del Chango
With it's unique garden style patio, and turtle and poi pond under a concrete canopy fitted with glass bottles to let in the sun, La Cueva Del Chango was by far our favorite breakfast place. The decor definitely makes the place stand out, however the food was delicious and a decent price as well. The kids loved walking around and watching the turtles. Their french toast was Charles' favorite, but Micki and kids loved their granola concoction.
Calle 38 North between 5th and 10th
Best Pizza: Pizza Bella Vita
When we first arrived and asked people for suggestions on restaurants this place came up more than once. Seems that it was on everyone's favorite list. After trying it for ourselves it quickly became a regular staple. Only a block from Mamitas Beach, we either stopped here before heading to the beach or on our way back. The pizza melted in your mouth and the calzones were incredibly light and crunchy. The place is run by a young Italian owner and is fairly new. They have some odd topping selections, but after trying most of them out you can't go...