Long, long before smart phones, Charles and I traveled with nothing more than our backpacks, a dog-eared Lonely Planet or a beat up Rough Guide, a chunky laptop (for the rare hostel that had WiFi), and a pocket of change for phone calls home.
How times have changed.
Today, a Lonely Planet is nowhere to be seen, we carry more gear than a professional sports team (that's only a slight exaggeration), and we depend on our iPhones for everything from booking apartments to finding our way around a new city.
While we do use a few other travel apps, these are the apps that we go to time and again. You can find each and every one of them on both of our iPhones.
Planning Your Trip
Evernote (free)
Evernote is a great tool for collecting all of your notes in one place.
We use it to collect all of our must see places, notes from great blog posts and even lists of great places to stay.
There's also a desktop version of Evernote, which we use every day.
---
Pinterest (free)
If you're a visual person, you really can't beat Pinterest as a way to organize great images.
We use Pinterest a lot like most people would use their refrigerator to pin photos of a place they'd love to visit.
You can follow us on Pinterest to check out some of our travel inspirations.
---
Twitter (free)
Though most people use Twitter as a way to keep in touch, it's also a fantastic tool for saving money on travel.
Many airlines and hotels announce special deals on Twitter first, and other Twitter users are a helpful source of information on great local food and attractions.
Tip: If you're a heavy Twitter user, we love HootSuite, which helps you schedule tweets and follow hashtags.
You can follow us on Twitter once you set yourself up.
---
Booking your Flight
SkyScanner (free)
Skyscanner is our go to site for researching flight costs and finding out which airlines fly certain routes.
You can't book your flights directly through Skyscanner, but the app can direct you to the airline's website. Skyscanner's especially fantastic for researching cheap flights to any destination from your location.
We love the Skyscanner app, but find the Skyscanner web interface is a little easier to use.
Click here to dowload the Skyscanner app on iTunes.
---
FlightAware (free)
FlightAware rates really highly when it comes to keeping track of flights.
It gives up to the minute updates letting you know if you're flight is still on time as well as useful info on the plane, airport and gate it takes off or lands at.
The current version is free, and it gets great reviews on the App Store.
---
Finding a place to stay
Hotel Tonight (free)
Hotel Tonight lets you book last minute hotel rooms, at a deep discount, for the same evening.
Though it's quickly expanding into other markets, including Mexico, Hotel Tonight largely offers discounts on hotels in the United States (plus a handful of Canadian cities) and a few major European cities.
---
Booking.com (free)
Booking.com has become our go to site for booking hotel rooms. It has good coverage around the world.
It's dead easy to use, and allows us to search for rooms that will fit 2 adults and 2 children (which many other hotel booking apps surprisingly don't allow).
You can also use the Booking.com desktop version. There's also a Booking.com Tonight app if you're looking for last minute deals as well.
---
Airbnb (free)
As a family of four, we've used Airbnb to book apartment rentals at least a half dozen times this year.
The Airbnb app is easy to use, fast, and lets you view conversations and itineraries when you're offline.
Airbnb is also available as a desktop version, which we prefer to the app, as it's easier to compare and view multiple apartments.
---
Getting Ready to Go
PackingPro ($2.99)
If you're a list maker, Packing Pro is your app.
It's not free however we've searched for a good free packing app and none of the free apps get good reviews on the iStore.
The pre-trip planning section is especially helpful, and can remind you to do things like buy travel insurance. PackingPro is a great app if you're taking multiple trips, and want to make quick work of making a packing list.
---
Clock (free)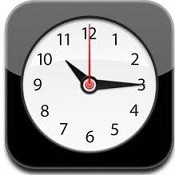 Apple's iStore is packed with probably hundreds of alarm clock apps, each shinier and more packed with features than the next.
Really, for all their bells and whistles, none of these apps can beat the reliable, easy to use alarm clock in the Clock app that is native to the iPhone.
I owe this app for helping us get to at least eight flights on time this year.
---
Driving
Google Maps (free)
The Google Maps app gives turn by turn navigation and is available for car, public transportation and walking.
We've used Google Maps everywhere from driving across Canada to navigating souks in Morocco to hiking near Goreme in Turkey, and it's been remarkably accurate almost everywhere.
Tip! We always search our destination on Google Maps before we leave, and make sure not to close the app if we'll be away from a WiFi connection and don't have a data plan in whichever country we happen to be in. This way, the map will still be in the map's history if we can't get online. If we're heading to two places, we'll open one in Google Maps and another in the default map app.
---
Gas Buddy (free)
GasBuddy gives you crowd sourced prices on the cheapest gas wherever you happen to be.
The app will let you search for different types of gas, and gives gas station addresses and amenities (like convenience stores).
GasBuddy is very popular in North America, where gas prices can vary greatly even at gas stations only blocks apart.
---
Eating
Foursquare (free)
Foursquare gives useful user reviews and recommendations for restaurants, grocery stores and attractions around the world.
Foursquare lets you check into places you're visiting, and you can leave reviews, photos and tips. When you check in, Foursquare broadcasts your location to your friends, so it's not the best app for those who want their location to remain anonymous.
We've found that restaurants outside of urban and tourist areas tend to have fewer recommendations on Foursquare, so this app is less useful when you're somewhere remote.
---
Yelp (free)
The Yelp app has great maps and user reviews of the best places to grab a bite to eat around the corner or across the country.
Yelp restaurant reviews tend to be longer than those at Foursquare, making it useful if you're looking for detailed information on a new place to eat.
---
Getting Around
City Maps 2Go (free)
Since the demise of TripAdvisor's excellent offline city maps app (sigh), we've been using City Maps 2Go (free!). If you download the city map you're interested in ahead of time, City Maps 2Go lets you see the map (including attractions, restaurants, hotels and the like), (this is important!) it works EVEN IF you don't have a Wi-Fi or data connection. When you're offline, City Maps 2Go works with your phone's GPS to let you track, real time, where you are on the map (gotta love that little blue dot).
As the name suggests, these guides don't need an Internet connection, making finding restaurants, hotels and attractions a snap when we were on the go.
The offline maps are perfect when you're too cheap to buy a data plan. If you tire of the ads in app, there's also a paid version of City Maps 2Go Pro ($6.99) if you'd like to get rid of the ads.
---
Google Translate (free)
You can use the Google Translate app to translate to and from over 60 languages with a nice auto detect feature if you're not sure which language you're inputting.
You can now download translation dictionaries for Android devices, and it's rumored that these will be coming soon to the iPhone so you don't need to be online.
It also allows speech input and you can hear the translations spoke. Very handy when trying to make your taxi driver understand you and you're late for your flight.
---
Weather
The Weather Channel (free)
Reliable, and easy to use, the The Weather Channel® app can get you weather forecasts for almost any location on the globe.
The The Weather Channel® Max app has some increased functionality, but the new user interface is getting mixed reviews.
---
Currency
XE (free)
The XE Currency app lets you convert currency with a simple click.
The app lets you type in an amount in one currency, and then see the conversion in a list of currencies. Xe can compares over 180 currencies.
XE Currency Pro ($1.99) is ad free and lets you monitor twice as many currencies as the free version.
---
Calling Home
Skype (free)
The gold standard to which all other Internet calling programs aspire, Skype is reliable and easy to use.
Calls to the US and Canada are nearly free, and you can call other countries for some of the best rates on the net.
It features video calling and speakerphone capabilities.
---
magicJack (free)
Though we primarily use Skype for calling home, there are times that it's down or not working reliably.
Reliable and simple to use, the FREE Calls with magicJack app is a great Skype alternative.
The magicJack app is an app version of the famous majicJack device that plugs into a USB port on a desktop computer.
Calling to Canada and the US is free and you can get a free number and voicemail with a new account.
---
Talkatone (free)
The Talkatone app uses Google Voice protocols to power its calls.
Like Skype and the magicJack app, Talkatone makes its calls using a WiFi connection. You'll need a Google account to use the Talkatone app.
We use Talkatone to make free calls and SMS text messages to Canada and the US. It's worked for us in Mexico, Europe, Morocco and North America.
---
Sharing
Facebook (free)
Facebook is really a must have app for sharing travel photos and updates with friends and family.
We use our Facebook page to share photos and updates you won't see on the blog.
---
Instagram (free)
An easy to use, fun photo sharing app, Instagram is a must have for anyone under 40 (and a heck of a lot of folks older than that).It's great fun to use, and easy to boot with tons of filters and fun effects.The only huge negative to Instagram is the fact that it was bought out by Facebook not too long ago, making privacy and photo ownership issues a potential concern going forward.
---
Networking
iNet (free)
The iNetapp lets us check the devices on our local network and tells us the IP address of all our other gadgets when we're trying to share something locally.
iNet also lets us know who's sharing our internet connection and lets us verify that we're not sharing anything we're not supposed to.
---
Speedtest (free)
Speedtest.net does a speed test to see how fast your internet connection is.
It's a vital tool when troubleshooting bad internet connections or even when choosing a room and decent internet is a must.
---
Tip! Because we travel with kids, we use our iPhones and iPad to help occupy our kids when they're far past the point where stories or games will amuse them. Check out Charles' list of great drawing apps for the iPad (most of these are also available for the iPhone).
Do you have any favorite apps for travel? Let us know in the comments.