As perpetual tech junkies, we're used to the constant cycle of backing up and upgrading our devices as we travel. As such, we're not newbies when it comes to Acronis. We've actually been using Acronis products to clone our computers for years. This week we've had the privilege of reviewing their newest offering, Acronis True Image 2017 backup software.
Luckily for you, before we get to that, we get to give you a chance to win your very own 9.7-inch iPad Pro Wi-Fi 128GB (Silver Edition) and Acronis True Image 2017 for 5 PCs with 1 TB Acronis Cloud subscription!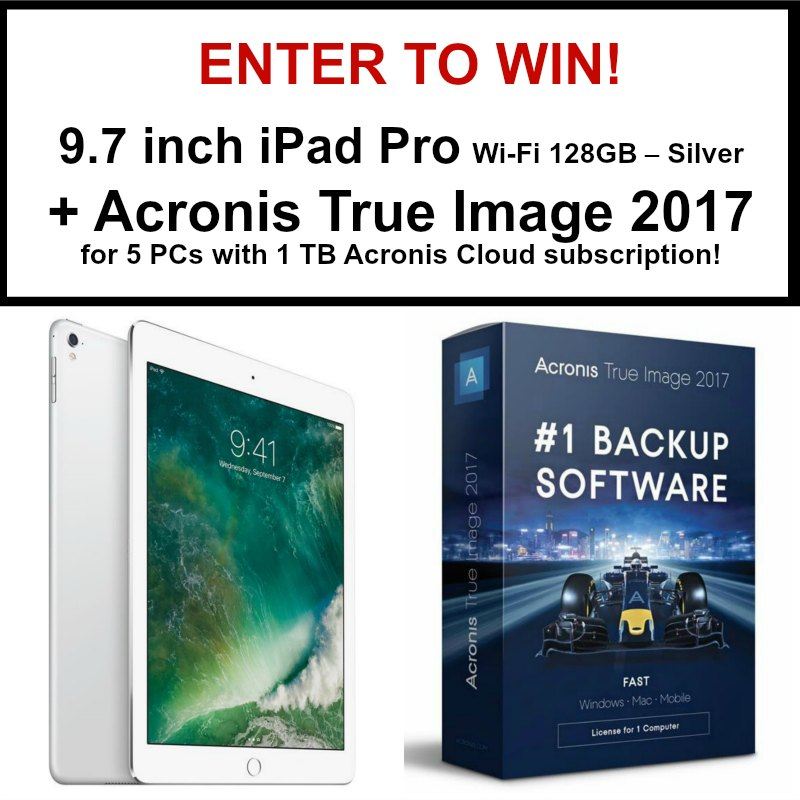 The generous folks at Acronis are letting us give away this prize package to our readers:
9.7-inch iPad Pro Wi-Fi 128GB – Silver MSRP $829.00
Acronis True Image 2017 for 5 PCs with 1 TB Acronis Cloud subscription MSRP $49.00
Here are the details:
The contest is open to residents of the United States and Canada, except Quebec (sorry!). See the entry form for terms and conditions.
Now the best part – your chance to win!
So how do you enter? It's easy.
See the Rafflecopter widget just above? To enter, all you have to do is to enter your email or log in via Facebook!
The contest runs from December 19, 2016 to January 2, 2017. The winner will be contacted by email and the prize will be shipped soon after.
Your privacy is important to us. We want you to know that the details you submit will be supplied to the prize sponsor, and they may be used for marketing purposes. You'll be able to opt out of any emails you don't want at any time.
Tip! If the Rafflecopter entry form doesn't appear, please wait a minute for it to load.
Now, for what all the fuss is about! Here's our look at Acronis True Image 2017 backup software.
Acronis True Image 2017 Review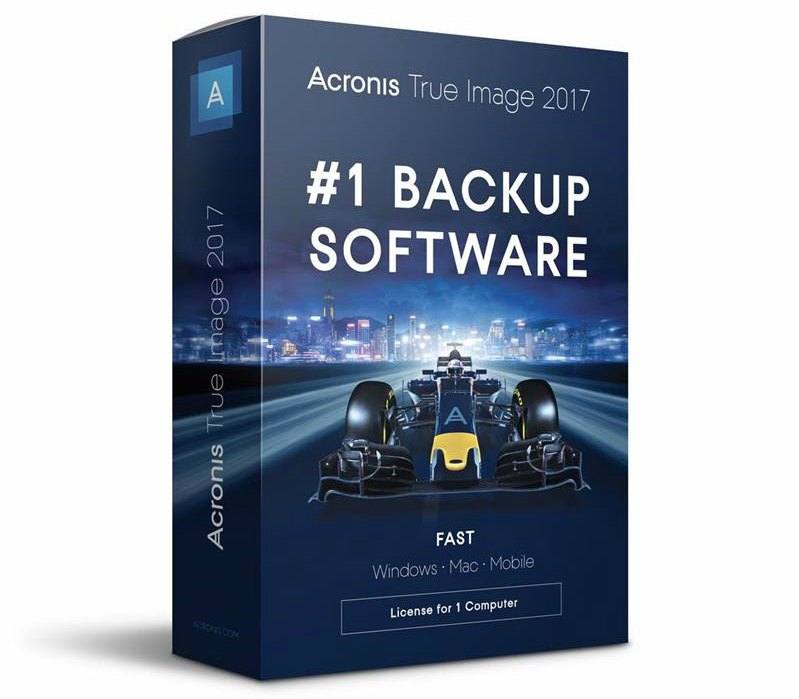 Our Acronis True Image 2017 Review
So, what do I think of Acronis True Image 2017? First, let me tell you what it is, and how it can help you keep your digital photos, work files, and even the information on your smartphone safe.
Acronis True Image 2017 is a backup software for your PC or Mac that installs in just two clicks.
You can use it to back up your photos, documents, files, Facebook account and everything else on your computer as well as your phones and tablets (iPhone, iPad and Android devices). You can even use Acronis True Image 2017 to back up your operating system, settings, NAS devices and more.
To make it easy, you can schedule backups, and even remotely run a backup for someone else.
Where is your backup stored?
You can use Acronis True Image 2017 to create a backup on an external drive, on your computer, on the Acronis cloud, or any combination of those.
What I like
I found this software to be very easy to use. The dashboard is simple, organized and logical. If you've used powerful backup tools before, you know that sometimes their dashboards feel like an intimidating NASA-level programming interface. Not so with Acronis True Image 2017, which has a lot of powerful features, but also manages to be user friendly.
The cloud backup! We travel constantly, meaning we don't always have access to our home computer. Having a cloud-based backup of our files has been an absolute lifesaver more than once!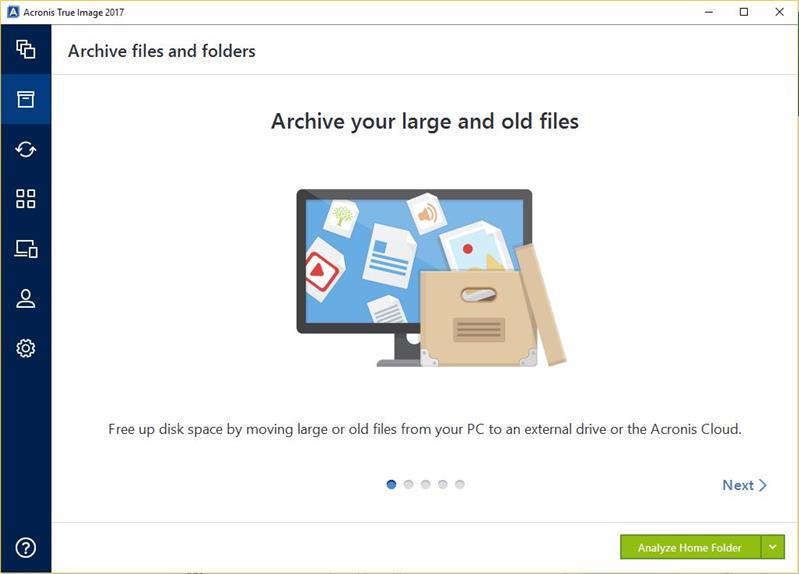 What I love
My personal favorite feature of Acronis True Image 2017 is the mobile backup.
I like to have a backup of my phone photos and videos on both the cloud and on my computer. Honestly, it's always a pain to get a PC backup from my phone. I'm on an Android phone, so I usually manually plug in a USB cable, and drag files over to my PC to back them up. It's not especially fast, and I usually only back up my videos and pictures, leaving my contacts, calendar, and messages on the phone, with no backup. I do have my photos and videos set to automatically backup to the cloud, but have no idea how to set it to backup my contacts, calendar and messages.
I have to say using Acronis to back up by WiFi is a world easier. It's so easy to use that I had my mobile phone's backup started in less than five minutes.
Here's how the Acronis True Image 2017 mobile backup works.
Make sure your mobile phone and computer, which is running Acronis, are on the same WiFi network.
Install the Acronis True Image 2017 mobile app. Start the app and pair your phone and computer by using the QR code in Acronis on your computer. This sounds technical, but it honestly only took about two minutes, and the Acronis app guided me through the whole process.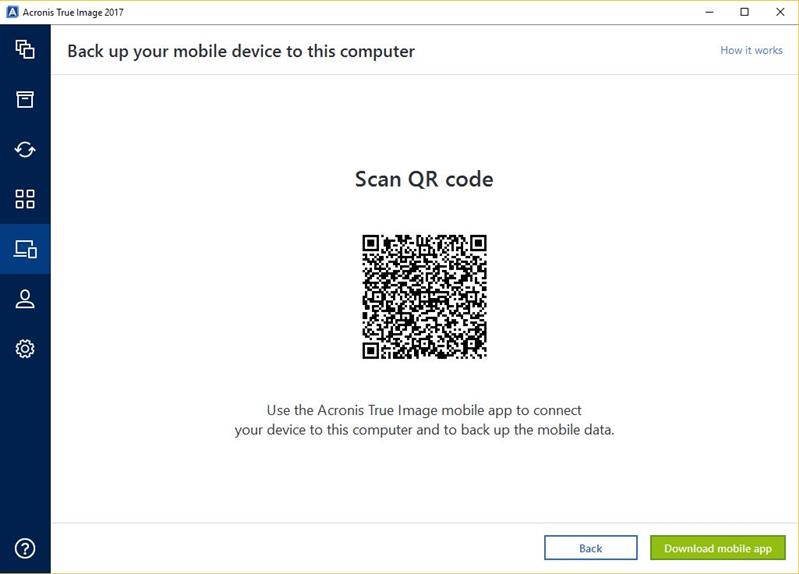 Next, set up what you want to back up, and if you want it backed up to the Acronis cloud, or to your PC. Then click Backup, and it goes to work for you.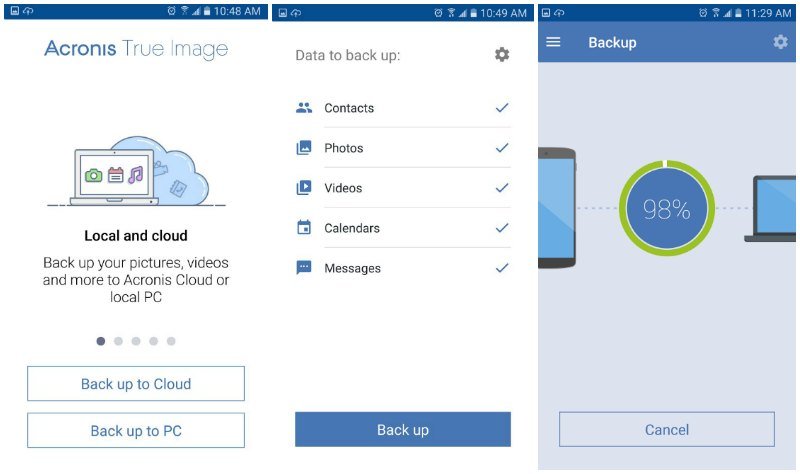 What I don't like
Honestly, there's really nothing that I truly dislike about this software.
I've read other reviews that complain that the Acronis Facebook backup doesn't restore directly to Facebook, but that's not really Acronis' fault. As far as I can tell, no backup software can restore everything to Facebook in one click, simply because Facebook's back end API doesn't allow it. Facebook doesn't even let you manually restore an entire Facebook backup in one swoop.
Instead, you need to manually re-upload your photos, manually add friends, and so on. That said, it should be a lot easier to restore a hacked Facebook account from an Acronis backup that lets you see your old friend list and grab photos from the backup.
When you use Acronis, you backup to either your PC, an external drive, or the Acronis cloud. There's no option to backup to other services like Amazon Cloud, Dropbox or Google Drive. The advantage of this is that your data's kept on the secure Acronis cloud.
Cool features
You can use Acronis True Image 2017 to back up your mobile devices like smartphones and tablets to your computer.
You can even use it to back up your Facebook.
You can also use the remote feature to run a backup for someone else. I'm going to love this feature for backing up my Mom's computer remotely!
The bottom line
I'd rate Acronis True Image 2017 a solid A. It's jam-packed full of features, easy to use, I love the mobile backup, and it offers a cloud storage option, which is an absolute essential!
Click here to get Acronis True Image 2017  from $49.99!
Want to try it out first? No problem, you can get a free trial of Acronis True Image 2017 here.
The Barefoot Nomad is not responsible for prize fulfillment.