Whenever we plan a trip, I end up with a messy list filled with links to things I want to see and places I want to eat.
If I'm feeling really ambitious, then I plan my trip on Google Maps, which means I have to do a separate search for addresses and save them as bookmarks.
Honestly, it's a bit of a pain in the butt.
So, when the folks at Tripcipe reached out us and asked us to try out their new trip planning website and app I was curious (and frustrated) enough to give it a try.
Download Tripcipe for iPhone here.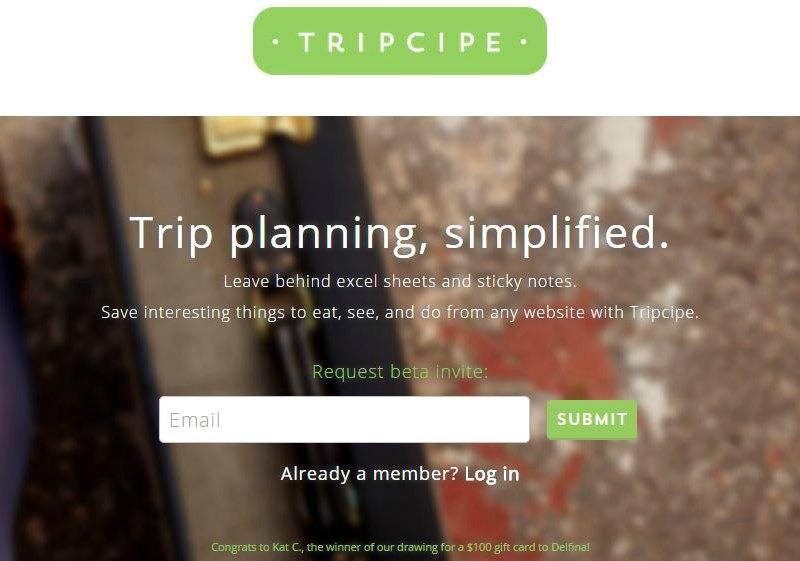 What is Tripcipe?
Tripcipe aims to be the recipe for the perfect trip.
Instead of copying and pasting info into documents like Excel or Google Maps, you use Tripcipe to save information from any webpage in one place.
Even better, all of the information that you save is plotted into a map. There's even an app so you can take your trip planning with you. Tripcipe is working hard to get the app to work offline in case you don't have a data plan on vacation!
If you want to give Tripcipe a try for yourself, you can sign up on Tripcipe using our personal invite. We only have 500 invites to give out so make sure you grab them quickly.
We're planning a trip to Vancouver Island, so I thought that would be a perfect chance to give Tripcipe a test run.
Here's a little sneak peek at our Tripcipe trip.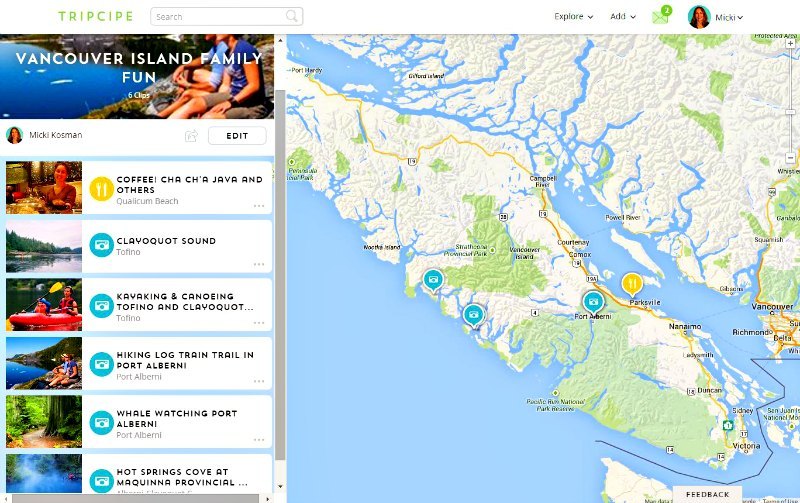 How to Use Tripcipe
To get started, just go to Tripcipe.com, create an account, and install the Tripcipe plug-in (extension) on Google Chrome.
The extension shows up as a little icon on your toolbar, and lets you save interesting things to do, see, or eat from anywhere on the web. If you're not familiar with Google Chrome extensions, the Tripcipe site has an easy wizard to help you get started.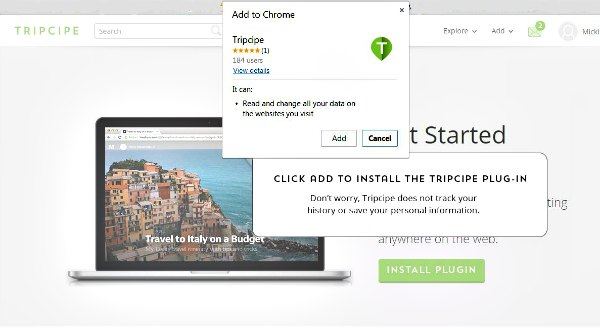 When you find something you want to save online, just click the Tripcipe plug-in icon in your Chrome toolbar.

Then, you just add whatever notes you want in your new Tripcipe clip.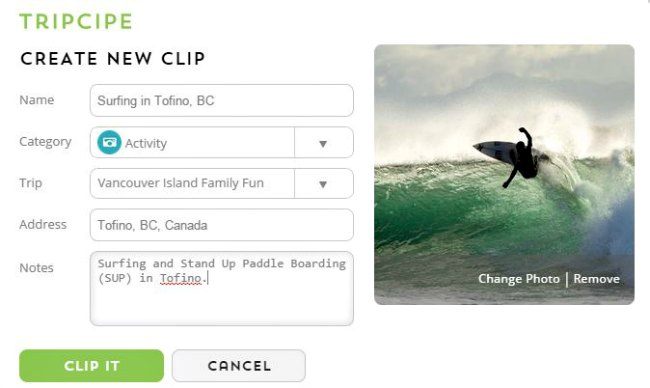 And voila! Your clip is added to your Trip map.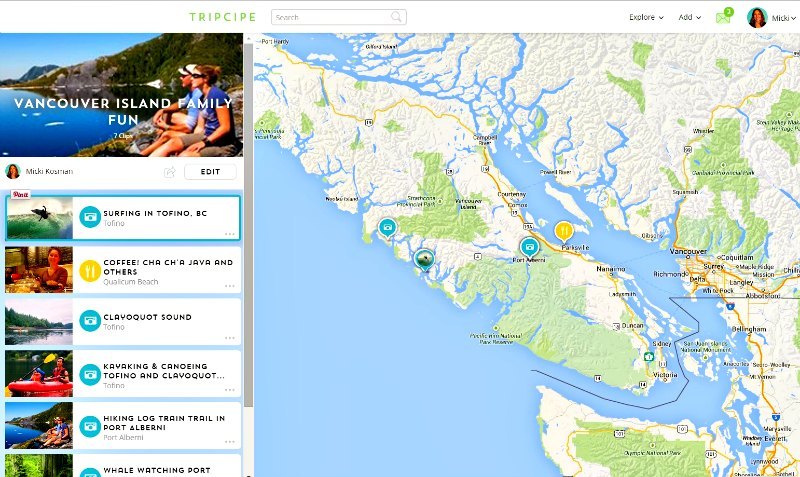 What I like about Tripcipe
It's easy
I do almost all my travel research online, so I love that adding an activity or place to eat on my trip is as easy as clicking the Tripcipe button.
The map
One of the things that used to be a huge hassle for us while planning a trip was planning our route.
I'd get all of the research together for where we'd want to go, and then I'd have to plan a route on Google Maps.
I love that Tripcipe streamlines this by mapping all of my destinations when I create a trip.
The ability to check out other user's clips and trips
On Tripcipe, you can browse trips made by others on the community for inspiration. I love the idea of being able to go onto Tripcipe and check out a trip that someone else has planned. Talk about easy travel planning!
Using a ready-made trip is a great help when getting started with your own planning. I can also see it being a big help on a last minute vacation, or even if you just don't have the time to plan your own trip but want to see the sights regardless.

You can take your trip anywhere you go
With the Tripcipe app installed on your tablet or smartphone, you can take your trips anywhere you go.
I especially like that Tripcipe is working on giving access to your trips offline, meaning that you can use the app even if you're abroad without a data plan (or if you don't want to risk huge roaming fees on your cell).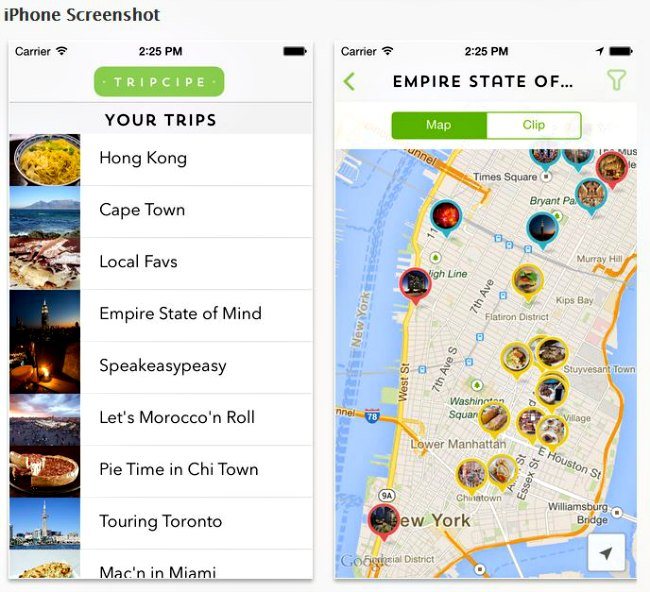 The ability to share a trip
Want to share your trip?
You can share your trip with other Tripcipe users, and even with people who aren't members of Tripcipe yet.
Tip: To create a special share link to share your trip with folks outside of Tripcipe, click the share arrow under your trip name.
Limitations of Tripcipe
There aren't a lot of trips on Tripcipe at the moment, but I think that'll change quickly now that the beta is in full swing and more people realize how handy it is.
In the time I was creating my trip for Vancouver Island, I saw dozens of new clips appearing on the board, so I'm expecting to have a lot of trips to choose from soon.
I'd love to see more social sharing options. Right now, you can create a special share link to your post, but I'd love to see an option to post it to social media like Facebook or Twitter. I do expect to see this in the future, though.
The folks at Tripcipe say that they're adding a new option to organize your trip by day. I love this option, and can't wait to try it out!
Try it for yourself
If you want to give Tripcipe a try for yourself, you can sign up on the app (Download Tripcipe for iPhone here) or on the website at Tripcipe.com.
Download Tripcipe for iPhone here. 
Tripcipe is still in private beta, but they've given us 500 invites for our readers to join through our direct invite. Just click here to create an account (the link is only active for the first 500 users).
Is there an app for that?
When you finally go on your trip, Tripcipe is working on a feature that will let you use the offline mobile Tripcipe app so that you can take all your research with you, even if you don't have a data plan. Offline app access should be available in Feb 2015.
You can download the Tripcipe app on iTunes. For now, since the app's in private beta, you'll need to create your account through this link to the Tripcipe.com website.
This post has been sponsored by Tripcipe, but we really liked the app and have added it to our personal travel toolbox.