These days, we spend a lot of time by the beach, both in the water and out. On top of that, it seems our kids love taking pictures as much as we do. That's why a few months ago we decided to pick up a tough, waterproof, point and shoot camera. We already had the opportunity to test out a Panasonic Lumix TS4 for a month and though we really enjoyed certain aspects of it, it wasn't a perfect fit for us. As travel bloggers on a budget, our camera not only needs to take good photos both under the water and out but it also has to be intuitive to use.
You'd think it would be easy to narrow our camera choices down since there are only a few decent small waterproof cameras that are both affordable and give you a decent picture for the price. The search for the perfect camera eventually lead us to the Canon PowerShot D20. Unfortunately, most reviews we came across for this camera seem to be geared toward technical users, and not especially clear and helpful.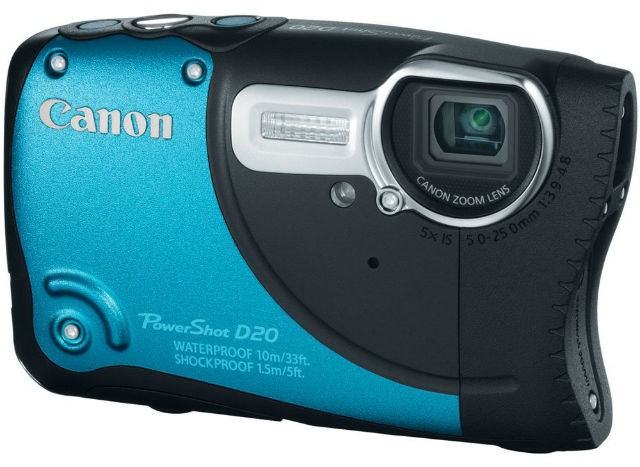 Like a lot of people, we simply want to know if the camera takes good pictures and video, if it's easy to use, and if it's truly rugged and waterproof.
So here's our hands-on review of the Canon PowerShot D20
aimed at all of us non-professional, occasional thumb in front of the lens, camera users out there.
Bottom line
The Canon PowerShot D20
shines underwater. Underwater videos taken in 1080p mode and photos are a surprisingly good quality for a point and shoot camera. The camera has many fun modes to play with, and is easy to use. The large 3 inch screen is also amazingly crisp and bright.
In daylight, colors are captured nicely and photo details are good. Not surprisingly, photos in dim light are less spectacular, but the camera does have several low light modes that can improve your photos. Overall, it's a great point and shoot rugged camera.
To get the most out of this camera, spend a little time getting to know the different shooting modes, including low light, underwater and macros. Your photos will be greatly improved rather than always relying on the auto mode.
What we need in a camera
Is affordable
Takes good photos both underwater and on land
Takes 1080p video
Small enough to fit in a pants pocket or purse
Reliably waterproof
Durable enough to survive occasional use by our seven and four year old
We narrowed our choice down to two affordable waterproof cameras, the Panasonic Lumix TS4
(reviewed here) and the Canon D20
.
We tested the Canon D20 over two months, shooting underwater, in the ocean, in pools, outdoors and indoors. To test the camera's ease of use and durability, we let our kids take it for a spin.
About the Canon Powershot D20
The D20 is waterproof to 33 feet, shockproof to 5 feet, freezeproof to 14°F, dust-resistant, with a 12.1 megapixel CMOS sensor and a 5x optical zoom, and 4x digital zoom for a combined 20x zoom.
The D20 has some fun features including a GPS, a miniature effect, color swap, underwater macro, panoramic mode and super slow motion movie recording.
Is the D20 easy to use?
Our first impression picking up the D20 is that it felt a bit larger and more awkward than the Pansonic Lumix TS4.
We started shooting immediately, and quickly figured out the basic features like zoom, reviewing photos and accessing the menu. Our kids were also both able to pick up the camera and start shooting right away without any help.
The camera looks and feels rugged and sturdy. My first impression was that the grip on the left hand side was just simply awkward, and it took a day or two of use to get used to the feel of the camera. To be honest, even after extensive use, it still feels a bit clunky in my hands.
The D20 is also a bit larger than most point and shoot cameras, and we just barely managed to cram it and the strap into our existing camera case. Size wise, the Canon is a little bigger than the Panasonic and with the fish like fin is slightly odd shaped.
We found that the removable, clip on strap that connects to the bottom right of the camera to be awkward and clumsy. The clip extends lower than the bottom of the camera and when it's connected you can't rest the camera on a flat surface (like in the picture below). We also didn't trust that it would remain connected at all times so we hooked the strap up to the built in slot on the left. It's not ideal however we like it better there and the included strap is still long enough to wear on your right wrist. This is easily the biggest fault we found with the camera though it's not a deal breaker.
The 3.0″ LCD screen was bright, and big enough to give an excellent preview of photos or watching our videos playback on screen. Buttons were well marked and in logical locations. The rear screen looks crisper and more vivid than the smaller Panasonic as well.

Menus were easy to navigate, and we were accessing modes like color replacement and slow motion video in no time.
There are a lot of features and imaging options to choose from, though we focused the majority of our time on the core functions. Most options like panorama mode and formats were only a few clicks away.
The camera's auto mode does seem to take an annoyingly long time to determine settings in some situations, like a dark subject against a bright background. I found I was waiting several seconds with the shutter pressed until the camera finally sorted itself out and decided on a mode. In bright situations it's pretty much instantaneous.
I quickly spent a few minutes looking into several of the camera's other modes, including low light, and found that using a manual mode would eliminate this delay.
Does the D20 take good pictures and video?
Photos
We tested the camera in Akumal, Mexico taking underwater photos of sea turtles, and at the swimming pool in a recreation center in Canada. Photos taken underwater in the ocean were excellent. We used both the underwater mode and regular mode, and they both resulted in decent photos. Photos taken underwater in the swimming pool were good, especially considering the dim fluorescent lighting in the pool.
Click on the thumbnails to enlarge. All photos are unedited, but reduced from a 4000 x 3000 resolution to 1000 x 750.
Outdoor pictures taken snowboarding in British Columbia, and on the beach in Mexico turned out well. Colors were bright and true to the original color, skin tones were good and photos were in focus.
Photos taken in dim light and of people moving quickly were often blurred. We had the exact same result with the Panasonic Lumix TS4
. Because the waterproof cameras in this range have several technical limits (like shutter speed), problems with low light photos and high speed subjects were expected.
A waterproof camera in this price range simply doesn't have a high enough quality sensor to take great low light photos. That said, the D20 does offer a few manual modes that improve night photos, including a low light mode, and a mode that uses digital reduction in hand shaking. The photos below were all taken using the low light mode.
Video
In full light, videos taken underwater were excellent, and the video transitioned well from underwater to above, and autofocus while zooming worked well. All videos were taken at 1080p. The video below is unedited, except for adding introductory frames.
Sound
As expected, sound was muffled underwater, but out of the water sound was acceptable for a ruggedized camera. Sound playback from the camera itself was quite quiet and here the Panasonic definitely beat the Canon. When playing back from a computer or hooked to a TV the sound from both cameras was about equal.
Is the Canon D20 truly waterproof?
We tested the D20 underwater to a depth of 6 feet, both in salt water and fresh water, and it performed perfectly. The lens didn't cloud up once. We didn't want to risk breaking the camera by dropping it, but the D20 has survived a few hours use unscathed by our four and seven year olds so it is definitely rugged.
The D20 has two separate compartments that need to be closed before the camera is underwater: the first compartment has the battery and SD card, and the second door has a USB and mini-HDMI slot behind it.
I like that the compartments lock automatically when closed properly, so you don't need to separately close and lock the door like the Panasonic.
One of the complaints about the Panasonic Lumix DMC-4 is that the automatic warning that appears whenever you close the battery compartment becomes quite annoying after a while. With the D20, there's no warning, making underwater use seamless.
I did find that water droplets would stay on the camera's lens surface longer that I would like after coming up from underwater. This would sometimes cause a water droplet distortion in photos. Either it didn't happen as frequently or we didn't notice it as much with the Panasonic. This isn't generally a problem one way or the other but if you're going in and out of the water frequently it could be bothersome. There's probably a liquid lens solution that would help as well.
GPS
We played a bit with the GPS feature, which will tag all of your photos with GPS coordinates and which makes it easy to find where your photos were taken. The GPS worked well for us, but finding the GPS feature in the menu settings was a bit awkward. It's not as easy as you would expect or hope.
Battery life
Battery life is acceptable, if not stellar. Supposedly, using the GPS feature really reduces battery life (up to about half) so we only used it on a few shots here and there to capture our location. We've only ran out of battery power once while shooting so it hasn't been inconvenient in that regards however it might be a good idea to pick up a spare battery if you're a massive shutterbug. It's always hard for us to judge battery life because our little tech obsessed kids can't resist playing with the camera every time we take it out of the bag however we have gotten hundreds of pictures out of it on several occasions.
Cost
The D20 is at the top end of our budget at around $289 on Amazon.com
. It has a higher price tag than the similar Panasonic.
Support
The camera does not include a paper manual, but a manual is included on the DVD.
Accessories and cables
The connectors are accessed through a panel on the side of the camera. The battery and SD card slot are accessed through a different hinged panel on the bottom of the camera.
The connections panel has a mini-HDMI to HDMI output (to connect the camera to an HDTV), and a standard A/V connection that also acts as the USB cable connection to a computer.
The D20 uses standard Secure Digital (SD) or SDHC media memory cards. We didn't notice any differences while shooting using a newer SanDisk Extreme 32 GB Class 10 SD card
or an older a Sandisk Ultra 4 GB Class 4
 card.
Conclusion: The Canon PowerShot D20
took good photos in full light and underwater, and surprisingly high quality video. Just like the Panasonic Lumix DMC-4, the Canon D20 didn't take excellent photos in low light. Photos of objects moving quickly or objects in low light were often blurred, which is really to be expected in any rugged waterproof camera at this price point.
Overall, the D20 is a rugged, waterproof, point and shoot camera that doesn't break the bank and it can go just about anywhere you go. Menu navigation is a breeze and with all the available shooting options, getting the perfect shot is only a few clicks away.
Having a camera that's waterproof means that you'll be able to get fantastic shots while snorkeling or on the beach, while everyone else has to lock their normal cameras away. We constantly get looks of shock when we walk into the water with our camera. Being able to use it in any situation is exactly what this family needed.
Check out reviews of the D20 on Amazon
for more info.
What's in the box?
The D20 comes with Battery Pack NB-6L, Battery Charger CB-2LY, Wrist Strap WS-DC8, Strap Mount, USB Interface Cable IFC-400PCU and a CD-ROM manual.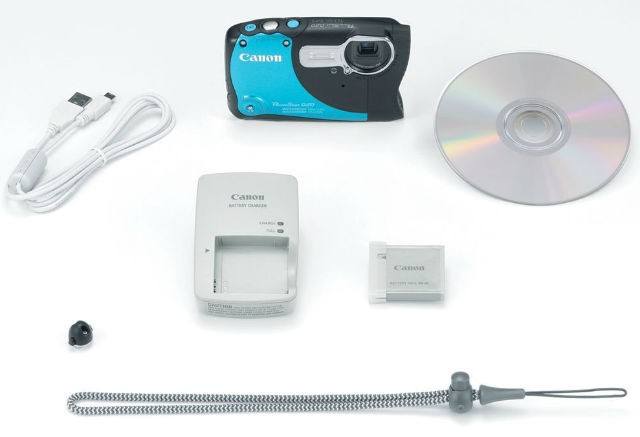 Technical specifications
Model: Canon Powershot D20
12.1 Megapixel, 1/2.3-inch CMOS
Waterproof to 33 feet
Temperature resistant from 14°-104°F
Shockproof up to 5.0 feet
1080P full HD video
3.0 LCD viewing screen
5.0 (W) – 25.0mm (T), (35mm film equivalent: 28 (W) – 140mm (T))
3.0-inch TFT Color with wide-viewing angle
f/3.9-f/4.8, 1-1/1600 sec.
Shooting Modes: P, Auto*1, Movie Digest, Portrait, Smart Shutter*2, Handheld Night Scene, Low Light, Fisheye Effect, Miniature Effect, Toy Camera Effect, Monochrome, Super Vivid, Poster Effect, Color Accent, Color Swap, Underwater, Underwater Macro, Snow, Fireworks, Long Shutter, Stitch Assist, iFrame Movie, Super Slow Motion Movie
Self Timer: Approx. 10-sec. delay, approx. 2-sec. delay, custom
SD Memory Card, SDHC Memory Card, SDXC Memory Card
Video Out: NTSC/PAL (Dedicated connector (female) with unified type of digital, audio and video), ?Mini-HDMI connector
Audio Out: Monaural (Dedicated connector (female) unified type of digital, audio, and video)
Other: Mini-HDMI cable: connection to high definition monitor; SD Memory card slot; direct connection to Canon SELPHY Compact Photo Printers, PIXMA Inkjet Photo Printers and PictBridge-compatible printers via camera's USB 2.0 Hi-speed cable
Power Source: 1) Rechargeable lithium-ion Battery NB-6L, 2) Compact Power Adapter CA-DC10 (included with AC Adapter Kit ACK-DC40)
Shooting Capacity: Approx. 280 shots
Playback Time: Approx. 5 hours
Operating Temperature: 14-104°F/10-40°C
Operating Humidity: 10-90%
Dimensions (W x H x D): 4.42 x 2.79 x 1.10 in. / 112.3 x 70.8 x 28.0 mm
Weight: Approx. 7.23 oz. (205g) (camera only), Approx. 8.04 oz. (228g) (including the battery and memory card)