Buying a new camera can be incredibly frustrating.
You have to sort through the dozens of cameras available, try to make sense of incomprehensible technical reviews (chromatic aberration, anyone?) and try to find a decent price. It's easy to feel like you're banging your head against a brick wall.
I think we're like a lot of people who just want to know a few simple things: Does the camera take good pictures and video? Is the camera easy to use? How rugged is it? Is it truly waterproof?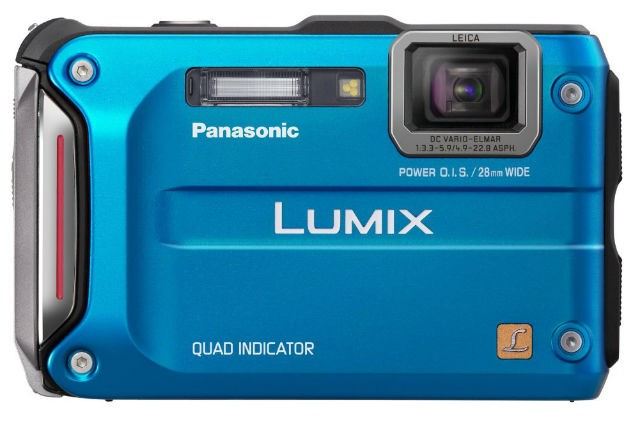 We've definitely had our share of frustration trying to find clear, not overly technical reviews for an affordable point and shoot waterproof camera.
So we contacted the folks at Panasonic to see if we could test out their new waterproof Panasonic Lumix DMC-TS4 and pass on the results. They were kind enough to loan us a Lumix DMC-TS4 for our review. Note: We didn't get to keep the camera – darnit :).
Here's our hands-on review aimed at all the non professional, occasional thumb in front of the lens, camera users out there.
Bottom line: The Lumix DMC-TS4 took beautiful, vibrant photos and surprisingly high quality video. Photos of colorful objects and colors underwater were especially good, while pics in low light and of less colorful objects (like buildings) were good, but not as spectacular. Photos of objects moving quickly or objects in low light were often blurred, which is really to be expected in any rugged waterproof camera at this price point. Overall, it's a great point and shoot waterproof camera.
Our requirements:
We don't want to spend a fortune – under $250, but less if possible
Good photos both underwater and out of the water
1080p video
Small enough to be easy to carry in a pants pocket or purse
Reliably waterproof. We're tired of having to be extremely careful with our non-waterproof camera on beaches like in Mexico, Hawaii, Thailand and Costa Rica.
The more durable, the better
We've managed to narrow our choice down to two affordable waterproof cameras, the Panasonic Lumix DMC-TS4 and the Canon D20. We're also completing a review of the D20. Subscribe to get our newest blog posts by email if you want to be notified when the D20 review comes out.
We tested the Lumix DMC-TS4 over three weeks, shooting underwater, outdoors and indoors. To test the camera's ease of use and durability, we let our three and seven year olds take a turn at the testing.
Our review sample was the bright blue version, which our seven year old fell in love with. Other options are silver, a flashy orange and black.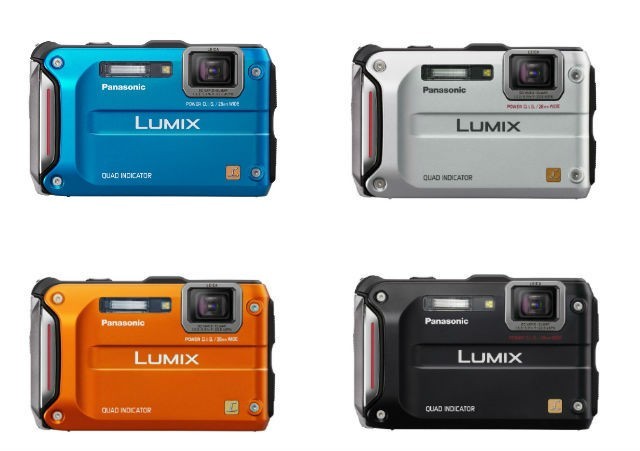 About the DMC-TS4
The Lumix DMC-TS4 is waterproof to 40 feet for an hour, shockproof to 6.6 feet, freezeproof to 14°F, dust-resistant, with a 12.1 megapixel high-speed CCD sensor, 4.6 optical zoom (9.3x digital zoom), intelligent auto feature (which includes face detection and recognition, exposure control and red-eye correction). The DMC-TS4 also has a few cool features like panorama mode, time lapse shooting, GPS tracking and a 3D recording of still images.
Is the Lumix DMC-TS4 easy to use?
We picked up the camera and just started shooting away, and managed to figure out almost all of the basic features (including zoom, replaying photos and videos and accessing menu features) without resorting to looking at the manual. I passed the Lumix to my seven year old in the pool, and after showing him how to press the video and photo buttons, he was taking pics without any further instruction. Our three year old even managed to take a few good shots with a tiny bit of instruction.
I liked the look and feel of the camera right away. It fit nicely into my hands, without being slippery, and was easy to handle and manipulate. The camera looks and feels rugged, without being awkward or bulky.
The 2.7″ LCD screen was bright, and big enough to give a good preview of photos. The comparable Canon D20 has a 3.0″ LCD, but I found the Panasonic's 2.7″ to be enough for our needs. Buttons were well marked and logically laid out.
Menus were easy to navigate, and I liked Panasonic's automatic reminder when we left the battery compartment unlocked.
There are a lot of features and imaging options to choose from, though we focused the majority of our time on the core functions. Most options like panorama mode and formats were only a few clicks away.
We did have some trouble finding and using some of the more advanced features, which required a look at the manual to find. The macro function also required a look at the advanced manual (available on the DVD provided) to sort out.
Does the camera take good pictures and video?
Photos
We tested the camera in Canada in the fall, so taking underwater photos outdoors wasn't feasible. However, we tested the TS4 in the pool at our local recreation center. The conditions were terrible, with artificial fluorescent lights and dim lighting. Despite the poor lighting, photos taken underwater in the pool were quite good. Colors stayed vibrant, and the flash illuminated without washing anything out.
Click on the thumbnails to see more detail. All photos are unedited, but reduced from a 4000 x 3000 resolution to 1000 x 750.
Outdoor pictures of our kids and a farmer's market turned out exceptionally well. Colors were vibrant, skin tones were good and all of the photos were in focus.
We also took a series of photos of faded, abandoned buildings in full sunlight, and the photos captured the range of color well, from the monochrome colors of the buildings to the blue sky and green grass.
Photos taken in low light and of people running were often blurred. Because of the technical limitations of waterproof cameras in this range (shutter speed, for one), we were expecting exactly this result. Comparing a waterproof camera against a regular camera is like comparing apples and oranges. A rugged, waterproof camera serves a specific purpose:  To survive and take great pics where a mere mortal, ordinary camera would be ruined beyond repair. You're paying for the durability of the camera.
Macro photos turned out well. Close up shots of my daughter show fine details of her skin and hair, and macros of vegetables at a local farmer's market are vibrant and detailed.
Video
In full light, videos were far better than we expected from a waterproof camera. Videos taken underwater were also good, and the video transitioned well from underwater to above. We used the autofocus when recording feature, which seemed to perform pretty much flawlessly. All videos were taken at 1080p and being able to zoom while filming is a nice bonus.
Sound
As expected, sound was quite muted underwater, but out of the water sound was as good as can be expected in this type of camera. Sound playback from the camera was acceptable and even ambient noises came out clear and not muffled.
Is the Lumix DMC-TS4 truly waterproof? 
We tested the Lumix underwater to a depth of five feet and it performed like a charm. The lens didn't cloud up, even in the humid air at our local pool (lens clouding is a common complaint for underwater cameras). We didn't dive to a depth of 40 feet, but we're trusting Panasonic's legal team wouldn't make that claim without support. We didn't want to risk breaking the camera by dropping it, but it survived unscathed after a few hard knocks from our three year old.
The latch on the battery compartment needs to be closed and locked before you put the camera underwater. Panasonic's done a good job of making this easy, with a reminder that pops up on your LCD if you leave the compartment unlocked, and a bright orange warning stripe on the unlocked compartment. To keep the camera waterproof, Panasonic says to keep all seals free of dust and sand, and even includes a small little brush for the job.
One of the reviews from Amazon
notes that Panasonic does not question leaks if the camera is under warranty. We phoned Panasonic to ask about their warranty policy for leaks, and they told us that if your camera leaks under warranty, you need to ship your camera to Panasonic (at your cost). Panasonic's repair team will then determine if the leak was due to a factory failure. If the failure was caused by a factory fault, they repair your camera, or provide you a new or refurbished replacement, depending on the specific problem. We didn't tell Panasonic that we were bloggers writing a review.
GPS
We played a bit with the GPS feature, which will tag all of your photos with GPS coordinates. This is a fantastic perk, if you're like us and take a lot of photos, which makes it easy to find where they were taken. The GPS worked well for us, even underwater in our pool to a few feet! The camera also has a built in altimeter, barometer and compass which can be helpful when trying to reproduce that perfect image.
Battery life
Battery life was excellent. We spent six hours taking photos and video at our local farmers' market, with the camera on for a good portion of that time. The battery ran out after about 340 photos and eight one minute videos. Not too shabby. Supposedly, using the GPS feature really reduces battery life (up about half) so we only used it on a few shots here and there to capture our location. We never did extensive tests with the GPS on, but it is fairly easy to enable and disable.
Cost: 
The Lumix is in our budget at around $259 on Amazon.
Too expensive for your blood? Panasonic offers a slightly less expensive version of this camera, the Lumix TS20. The TS20 runs at $134.99 on Amazon.com. The TS20 only has 720p video (the TS4 is 1080p), doesn't have a GPS, has no manual options and and it's only waterproof to 16 feet.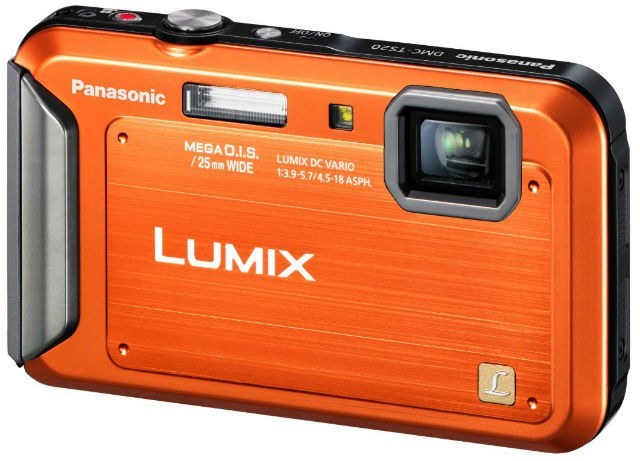 Support
The paper manual included with the camera was tiny, and covered only the most basic features. Panasonic does include an advanced manual on DVD. This was a small problem as we use an ultrabook, which doesn't have a DVD player, but we found the Lumix DMC-TS4 manual online with a quick Google search.
Accessories and cables
The connectors, battery and SD card slot are accessed through a hinged side panel with a sliding lock.
The battery and SD card compartment also holds an HDMI output (to connect the camera to an HDTV), and a standard A/V connection that also acts as the USB cable connection to a computer. Getting photos from the camera's internal memory via the small USB cable was easy once I figured out I had to turn on the camera first. Transfer speeds weren't bad using the cable, but we found it faster to pull the SD card out and put it directly into our laptop with a built in SD slot when transferring pictures.
The Lumix uses standard Secure Digital (SD) or SDHC media memory cards. We tested the camera with both a newer Sandisk Ultra 32 gb SDHC Class 10 SD card and an older a 4 gb Sandisk Class 4 card and didn't notice any differences while shooting.
An audio/video cable, USB cable, small paper manual, advanced manual on DVD, battery and wall charger, and a cleaning brush for the waterproof seals are all included.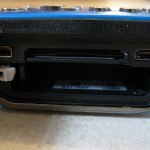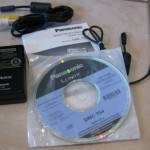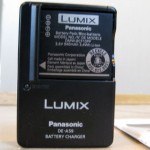 Conclusion: The Lumix DMC-TS4 took beautiful, vibrant photos and surprisingly high quality video. Photos of colorful objects and colors underwater were especially good, while pics in low light and of less colorful objects (like buildings) were decent, but not as spectacular. Photos of objects moving quickly or objects in low light were often blurred, which is really to be expected in any rugged waterproof camera at this price point.
Overall, the DMC TS4 is a great waterproof, point and shoot camera that should work well for you whether you spend your time around the pool or in the ocean. With its rugged abilities and good looks it's sure to be the envy of anybody who ever missed that perfect shot because they were too worried about getting water or sand onto their everyday camera. It definitely makes a great addition to any budding photographer's arsenal or for anybody who wants to capture every second of their once in a lifetime trip.
We'll be comparing the Panasonic DMC-TS4 in the coming weeks to the more expensive Canon D20. Can the Canon outdo the Panasonic in day to day tasks? Subscribe to our blog and receive our newest posts by email.
Technical stuff
I know, I know, we promised this wouldn't be an overly technical review, but here are the specs if you're so inclined.
Model: Panasonic Lumix DMC-TS4
2.7″ LCD, 12.1 Mpx, 4.6x optical zoom
lens: f3.3-5.9, 28-128mm (35mm equivalent)
Size: 4.1×2.5×1 inches
Weight: 6.9 ounces, including battery
Waterproof up to 12 meters (40 feet)*1
Shockproof up to 2 meters (6.6 feet)*2
Freezeproof up to -10°C
Dustproof*1
12.1 megapixel high-speed CCD
4.6x optical zoom
9.3x intelligent zoom
Wide 28 mm LEICA DC VARIO-ELMAR lens
20 MB built in memory
2.7″ Intelligent LCD (230K pixels) with wide-viewing angle
Still images (3D recording)
Intelligent auto (iA) mode
– POWER O.I.S. (Optical image stabilizer)
– Intelligent ISO control
– Face detection
– Face recognition
– AF tracking
– Intelligent scene selector
– Intelligent exposure control
– Digital red-eye correction
– Miniature effect
Auto retouch
Panorama shooting mode
Time lapse shooting
Venus engine image processor
Intelligent resolution technology
AVCHD Movie mode with audio
Micro HDMI output
DMC-TS4A (blue)
DMC-TS4D (orange)
DMC-TS4K (black)
Can shoot a continuous burst up to 3.6fps
Highest still photo resolution: 4,000×3,000 pix
Highest video resolution: 1,920×1,080 pix
Storage media: 

SD/SDHC/SDXC, also in-camera storage

Battery: Li-ion rechargeable