Serious about outdoor photos? Love impossible angles? Want to get into video? Might be time to think about getting a drone.
Since this review was posted, Parrot has switched to commercial drones and the Bebop 2 is no longer available.
You can see their new line of drones on Amazon here.
For a while now we've been eyeing up drones for some of our travel shots. I've had some serious video envy lately looking at stunning travel videos taken with drones. Like most of you, we hesitated, because the price point to get a good drone has been pretty high. As in well over $1,000 high.
Luckily, sometimes serendipity happens. Out of the blue, the good folks at Parrot Drones asked us to try out their brand spanking new Parrot Bebop 2 FPV Pack.
Now this is especially cool, because it's a great little drone with HD camera, plus the Parrot Skycontroller 2 and the FPV (First Person View) Parrot Cockpitglasses. Best of all, the whole package, including the drone with HD camera, skycontroller and FPV glasses is retailing for a fantastic deal right now.
Here's a little sneak peek at the Parrot Bebop 2 FPV in the box.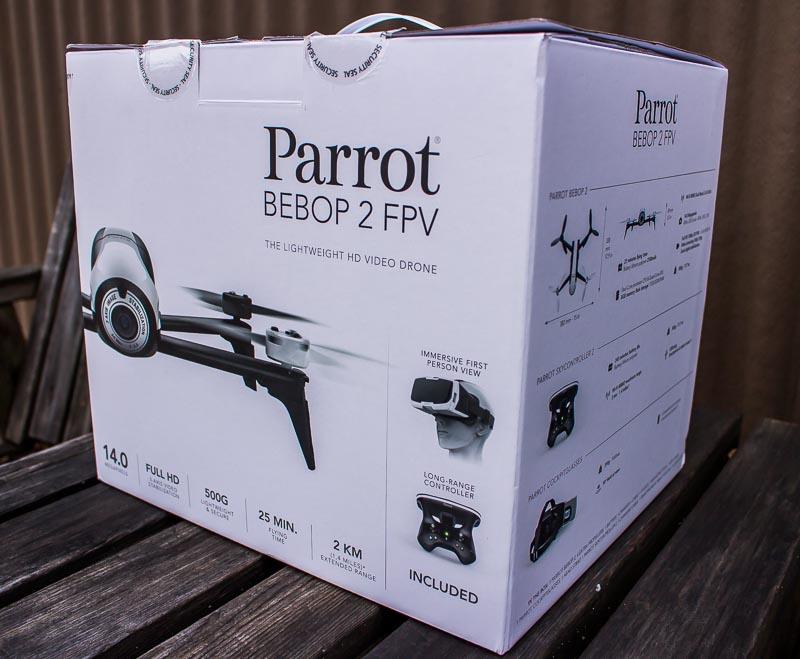 Take a look at our unboxing video below – it will give you a good idea of all the goodies included in this pack.
The Parrot Bebop 2 FPV Pack comes with much more than just a high-tech and reliable drone. The kit includes a pair of Cockpitglasses. I really love these; when you look through the FPV goggles you see what the drone sees as it flies, which gives a true first-person viewing experience.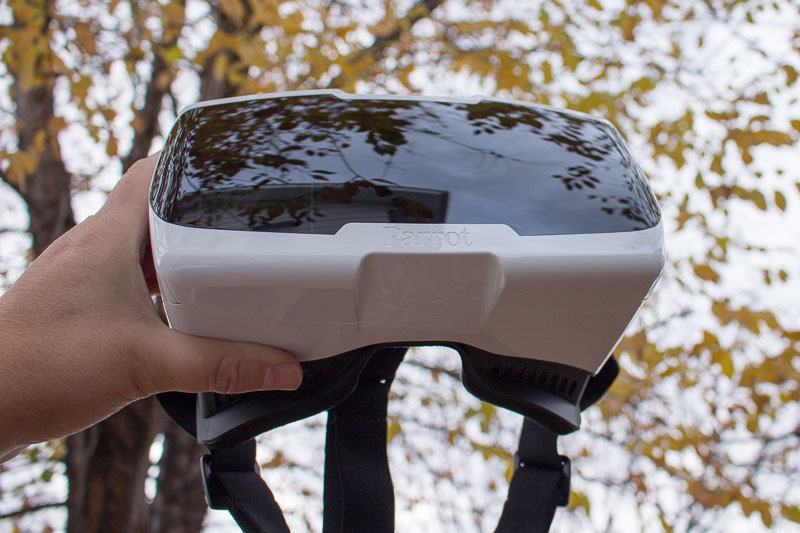 The Skycontroller 2 is the remote control unit in the kit. I really love that this is included, since I really prefer using the sensitive and easy-to-use joysticks over only a smartphone control. The joysticks allow you to control the unit during flight and there's a dedicated button for take-off and landing.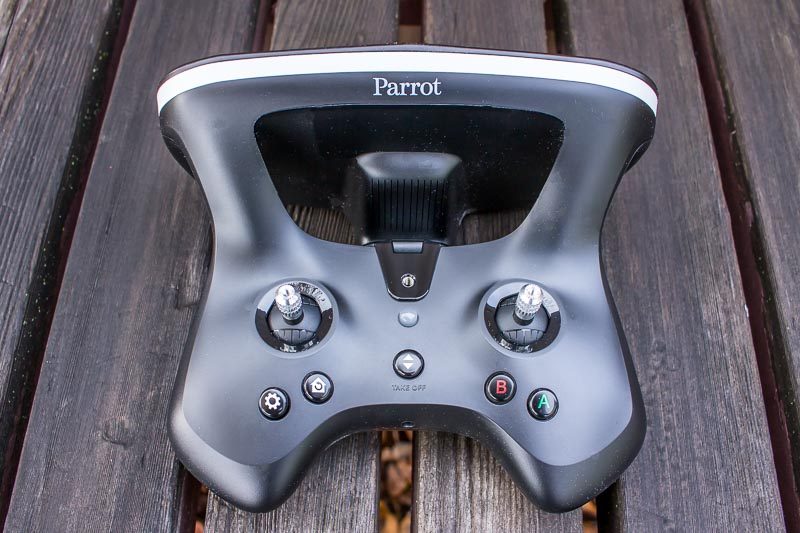 I especially love that the Bebop 2 was so easy to set up and use! This was my first drone, and I was a little worried there would be a lot of fiddling and fussing, especially when setting up the rotors. I'm happy to say that wasn't the case at all.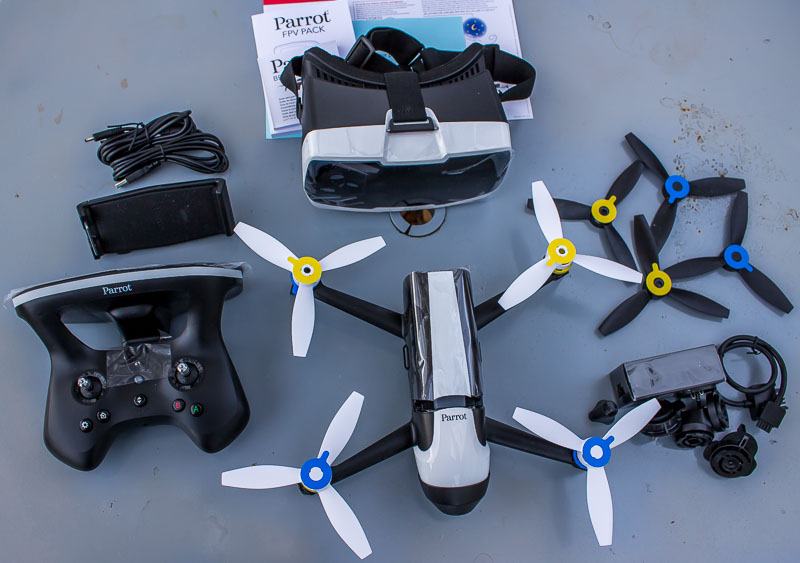 Want to learn a little more? Here are some specs to check out!
The Bebop uses a special anti-stall system that includes seven sensors and a three-axis stabilization system to make sure the images captured during the flights are perfectly stable.
The wide-angle camera is able to shoot 1080p full-HD videos and 14 megapixel photos
With 25 minutes battery life and an autonomy range of 1.24 miles, you can create footage of very wide areas
The Return Home feature makes sure your drone comes back to you, wherever it has been wandering and exploring
The Bebop 2 uses a secured wi-fi connection to link to your smart phone
The Bebop 2 is rich in cool features, but it is very lightweight – it weighs less than half a kg, making transport and handling very easy and allowing the unit to reach places that are otherwise difficult to access, taking the most impressive footage, wherever it goes.
The rotors are color coded (white for front, black for back) and marked with blue and yellow to easily tell which rotor is which when changing them out and come with an extra set
The drone flies and records, while the glasses make sure you will be able to enjoy the recordings in real time to the fullest.
3D VR Cockpitglasses:
The goggles are comfortable to wear, even if you wear normal seeing glasses as well.
The First Person View will allow you to see exactly what your drone sees, immersing you into the experience, making the world outside your glasses and out of the range of your drone disappear.
Unofficially – can be used to watch 3D VR related content like YouTube as well as play apps and games designed for Google Cardboard.
The Skycontroller 2 is the control unit:
It features two sensitive and easy-to-use joysticks that allow you to control the unit during flight
It guarantees the smoothest, most stable changes of direction
It includes dedicated buttons for video and camera control
It includes a WiFi amp for flying longer distances and ensuring smoother video playback
It also includes a dedicated Return Home button for getting the drone to return back to base
The drone, the remote and the glasses are linked with the help of the FreeFlights Pro dedicated app, able to save all your films, pics and routes. The app also comes with advanced sharing functions.
Want to find out more?
We're still playing with some of the advanced features, like Follow-me GPS & visual tracking. Check out this video from Parrot, which shows how you can put your smartphone in your pocket and let the drone film you in your activities all by itself.
*I think that I'll wait to fly over water until we're much more advanced.