Looking for a first hand Skyroam Solis review for 2022? We've used our Skyroam Solis for over four years now, and share our thoughts: the good, the bad and the orange.
2022 update: We got an email from Skyroam saying that "starting July, 29th 2021, Skyroam will no longer offer Solis Hotspot rentals." If you have an existing rental booked, they'll honor the existing booking.
Skyroam's going to be launching a new premium hotspot, so we're excited to see that, and we'll update this article as soon as we have more info.
See Skyroam Solis prices here.
What is Skyroam Solis?
The Skyroam Solis is a portable WiFi hotspot. It works in over 130 countries, using the same technology that cell phone carriers use to get you data.
Want 10% off the Skyroam Solis? Use code BAREFOOTNOMAD here.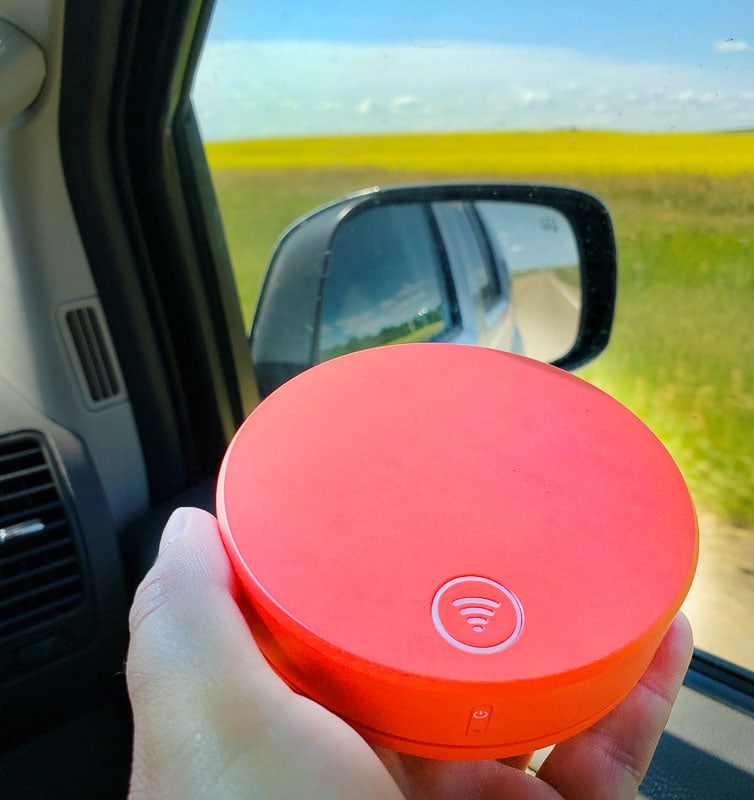 The Solis lets connect up to ten devices over WiFi at the same time. It has a built in battery that can also charge your devices on the go.
Best of all, it's easy to use. Even the most gadget-adverse traveler should have no trouble getting it up and running in minutes.
Why portable WiFi?
Getting reliable WiFi wherever we go is a huge hassle. Hotel WiFi isn't always stable, and scrounging free WiFi from a local McDonald's gets old pretty quickly.
Other options are buying a local sim card, or using our home cell roaming plan, but they both have major downsides.
We've bought local sim cards for our unlocked phones, but we tend to hit data limits quickly, and sharing our cell data with our laptops and the rest of the family can be a huge pain. Plus, it's often a hassle to figure out which plan and provider to choose overseas. Even then, a lot of countries don't legally allow visitors to purchase a local sim and, though there are ways around this, researching them is a huge hassle.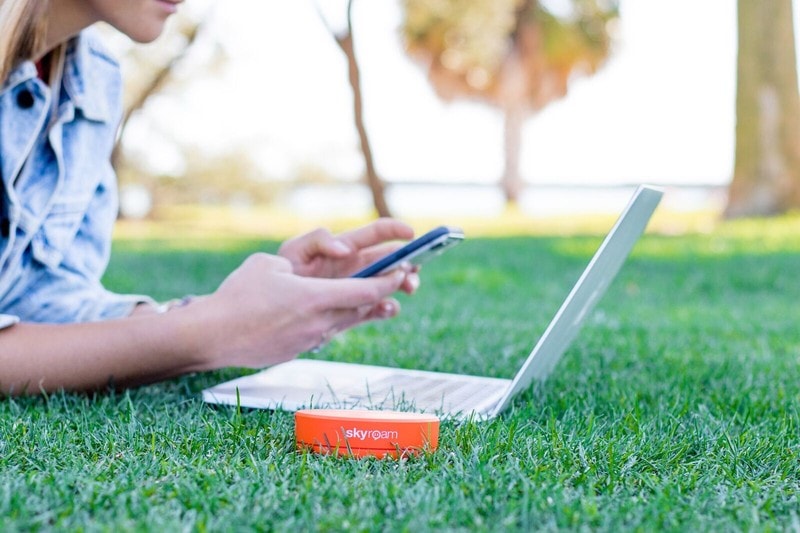 We've also thought about using a worldwide roaming plan with our home cell company while we travel, but honestly, roaming charges can be huge and the data caps are often ridiculously low on roaming plans. We usually don't need data every day we're gone, but most roaming plans charge you every day you turn your phone on.
We were looking for a WiFi solution that was affordable for the four of us, and that worked almost anywhere in the world.
Enter the Skyroam Solis. It's a 4G LTE mobile WiFi gadget that automatically works off local cell towers, with no SIM needed. Up to a whopping ten devices can share WiFi on one Skyroam Solis, making it a great choice for our family of four.
Skyroam Solis Review
Honestly, our first impression was that the Skyroam Solis is a pretty stylish unit. The bright orange case definitely stands out, and it fits easily in the palm of my hand, or my jacket pocket. Now, the orange look may not be your thing, but it definitely has the advantage that it's hard to misplace, and is easy to find in the bottom of a backpack.
The included zipper case and charging cable helps keep everything together and also helps protect that awesome orange color from getting scratched up as it gets tossed around in our backpack.
How does the Skyroam Solis work?
Skyroam gives you on-the-go WiFi by connecting you to the nearest cell network, with over 300 carriers at 4G LTE speeds (where available). It works in over 100 countries.
To use Skyroam WiFi, you'll need to:
Buy a Skyroam WiFi hotspot
Choose your Wifi Plan (more on that below)
Power up, and press start, and connect!
Where can I get a Skyroam?
We're big fans of getting a Skyroam mobile hotspot directly from Skyroam itself.
We've had great luck with their shipping being really quick, even to us here in Canada (where shipping is really slow).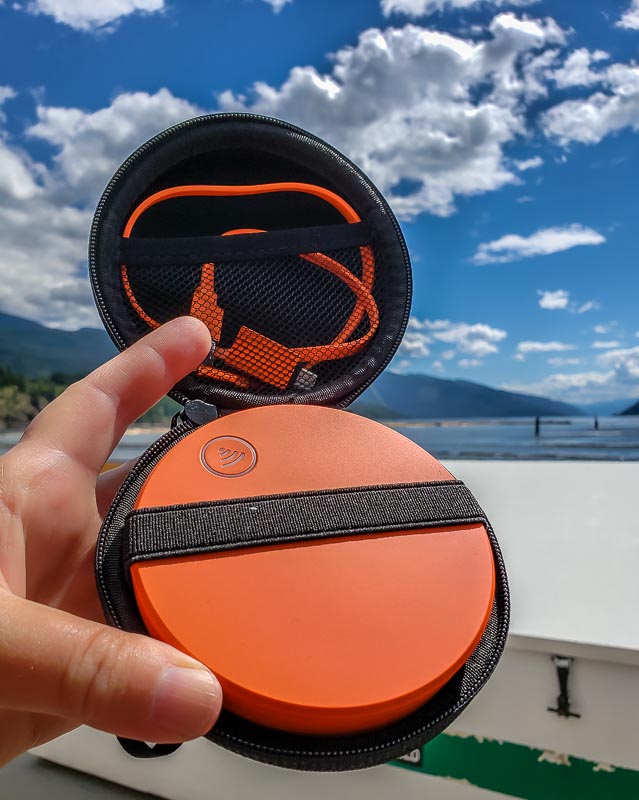 You can pick up a Skyroam on Amazon (but availability is spotty at the moment).
How much does Skyroam cost?
Skyroam costs vary, depending on the plan you choose, and the Skyroam hotspot you choose..
Skyroam Solis X vs Skyroam Lite vs Skyroam Original wifi hotspots
Because we travel so much, we own our own Skyroam Solis. Skyroam is a great choice for us, because it means that we don't need to wait for a rental to be delivered if we take off at the last minute!
If we get stuck someplace local without internet and don't want to use up all our cell data, we can just opt to enable the Skyroam for the day. This has been fantastic when we visit my Mom in the middle of Alberta Canada, and her shaky Wi-Fi services goes down again, and our Solis comes to the rescue with Wi-Fi for all!
Right now, Skyroam has two WiFi hotspots to choose from:
Skyroam Solix X

Skyroam Solis Lite
While we really liked our Skyroam Solis original, it did have a few things missing, like a battery charge indicator. So, we were happy when Skyroam upgraded to the Skyroam Solis X.
They Skyroam Solis X Wi-Fi smartspot has a power bank, smart assistant, remote camera, smart devices, and can connect to 10 devices.
Updated in 2021: Skyroam is currently sold out of Solis X's, and they won't be restocking. For now, you can buy only a Solis Lite.
The Skyroam Solis Lite is a little cheaper than the Solis X, and a little smaller, at 4.9 oz. It can also connect to 10 devices. It doesn't have a remote camera. It does have the capability to use it as a power bank, but you'll need to buy a $19.99 adapter kit.
Compare Skyroam hotspots and see prices here.
Skyroam Data Plans
There are three Skyroam data plans:
the Global Daypass,
the GoData Monthly Subscription,
or the Unlimited Monthly Subscription.
The best part is there are no contracts with the Global Daypass or Unlimited Monthly Subscription. You pay only for the days or months that you use the Skyroam.
The Skyroam Global daily pass
The daily pass (which lasts a full 24 hours from the moment you begin) costs $9 if you own your own Skyroam device. A daypass lets you connect up to 10 devices. If you decide to just rent a Skyroam Solis, the daily cost also starts at $9 per day.
See Skyroam plans and prices here.
Skyroam Global GoData per GB Subscription
The GoData plan gives you 1GB of data (at 4G LTE data speed) for $9 a month. You can buy more data, on the go, at $9/GB. Plus, there's no contract. Like the daily plan, you can connect up to ten devices. Every month you get another 1 GB of data. However, any unused data you didn't use doesn't roll forward.
Tip! Lots of people use the Skyroam GoData plan to extend their monthly cell phone plan. Depending on where you are in the world, it can be cheaper than your home cell phone company charges for data and you can boost your amount at any time if you need more.
Skyroam Unlimited Monthly Subscription
You can also get unlimited Skyroam service for $99 per 30 days. You get high speed data up to 20 GB, and then it gets slower after. The data resents after each 30 days.
Since we sometimes go a month or two without traveling, we're sticking with our the 24 hour daily passes. That said, we may switch to the GoData plan the next time we head out for an extended trip just so we're not limited to daily time limits.
Find out more about Skyroam data plans and see prices.
Skyroam USA data plans
If you're in the USA, it's worth checking out Skyroam's USA-only data plans. They have a USA Pay-per-GB, USA Unlimited, and a USA GoData per GB Subscription.
Skyroam Solis in Canada
What I really liked about Skyroam is that they only quoted me a $9.99 shipping charge to Canada. If you're Canadian, you'll understand why this is so huge – we usually pay a small fortune to have anything shipped into Canada. In fact, we checked out a competitor, and they were charging over $30 to ship to Canada.
If you're in the USA or Europe, your shipping will likely be even less.
How fast is Skyroam Solis?
For us, the most important thing about a portable WiFi is speed and reliability. Sure, the Skyroam works in over 130 countries, but that's no good if it's slow. Here's our Skyroam wifi review.
Happily, we were consistently getting speeds of around 31-32 Mbps on our first tests in Canada and at multiple times throughout our extended road trip.
A speed of around 30 Mbps is plenty fast to run email, watch Netflix or Youtube in HD, interact with social media (including watching Instagram or Facebook videos) and browsing the net.
Even with all four of us connected, with me on email, the kids streaming YouTube videos, and hubby Charles playing video games, the speed was instantaneous, with no seeming lag for anyone.
We tested the Solis throughout Canada and the USA, where cellular data speeds can often be lower than Europe and elsewhere in the world. You'll probably get speeds in the 40 Mbps range in Europe and Asia. We're taking our Solis down to Mexico and the southern USA this winter and we'll report how well it works there as soon as we can!
Our lowest speed in our tests was around 4.75 Mbps, but that was when we were in the car, traveling in the middle of the Rocky Mountains without 4G service, so the only cell service the Skyroam could pick up was old school EDGE technology. Canada gets pretty remote in places, so you may find speeds like this in more remote areas, but the same could be said of any cell data plan or any other WiFi hotspot.
We're testing our little Solis portable WiFi in the middle of the Canadian prairies in this picture. We still had a connection speed of over 30 Mbps.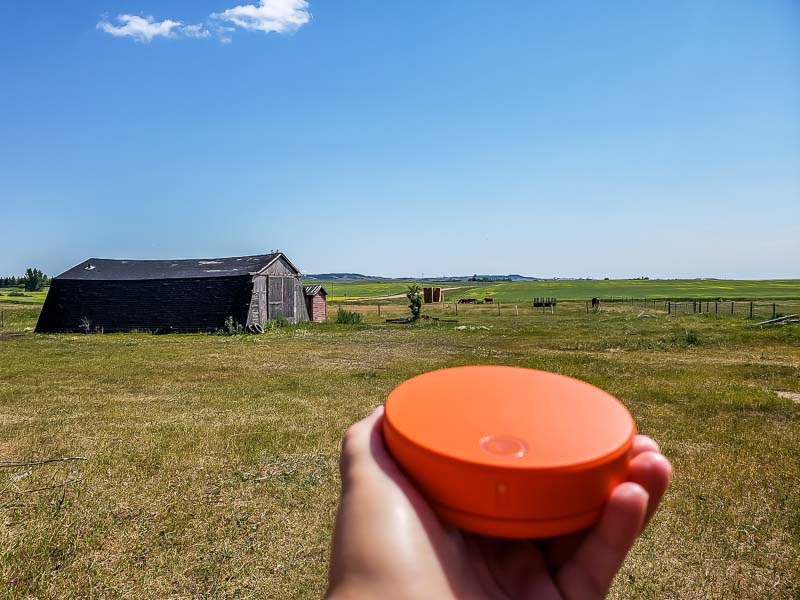 Where does the Skyroam work?
The Skyroam coverage map says you can get coverage 130+ countries, including Canada, the USA, Mexico, most of Europe, and South America as well as Asia and the Middle East.
To test it, I entered the last 10 countries we've visited: Canada, the USA, Mexico, Belize, Ecuador, Spain, Morocco, Turkey, Anguilla, and the Dominican Republic. There's Skyroam service everywhere but in Belize. Nine out of 10 is pretty good, I think.
See countries where Skyroam's available.
Is Skyroam really unlimited?
How much data do you get with Skyroam?
The amount of data you get from Skyroam depends on which of their three plans that you have: the GoData Monthly Subscription, the Global Daypass, or the Unlimited Monthly Subscription.
See Skyroam plans and prices here.
Only the GoData Monthly Subscription gives you truly unlimited speeds. Both both the Global Daypass and the Unlimited Monthly Subscription will throttle your speed if you use too much data.
How much data do you get with the Skyroam Global Daypass?
We primarily use the Global Daypass. With the Global Daypass, you get 24 hours of unlimited data through the Skyroam network. your data does not expire, however, data speeds can vary from 4G to 3G and 2G (depending on location, the specific carrier bandwith, and the total amount of data you use.
On our last trip, we used our little Skyroam Solis Global Daypass pretty extensively with the four of us, burning through at least 800 MB a day for several days in a row. We didn't notice any throttling at all, and speeds stayed consistently fast.
Does Skyroam throttle data?
Skyroam says here that "data speeds may vary from 4G to 3G/2G speeds depending on location, carrier bandwidth, and total data consumption" for the Global Daypass.
To me, that sounds like your speed can be reduced to 2G if you're using a whole lot of data. We've read other reviews that mention that they started to get throttled after the 1 GB mark using the Global Daypass plan, so I'm guessing that they don't have a hard limit and it depends on which carriers they're currently operating on.
The good news is that Skyroam data on the Global Daypass resets every 24 hours, so even if you manage to overuse the fair use amount and got throttled, your data will reset to higher speeds at the end of the day.
What's the data limit on the Skyroam Unlimited Data Subscription?
Confusingly, Skyroam's Unlimited Data Subscription isn't truly unlimited. In their fair use policy, Skyroam says "Users will receive up to 20GBs of high speed data and then speeds will reduce to 512 kbps. "
That's pretty clear to me, the Unlimited Data Subscription gives you high speeds, and then it's throttled to 512 kbps. Now 512 kbps isn't very fast – you can check email, browse the internet, and maybe even watch one YouTube video (if you adjust the video playback resolution to the lowest setting).
To avoid throttling, Skyroam suggests closing any apps that consume data in the background, like auto backups, cloud syncing, app updates, and so on. We keep those for when we have free WiFi and haven't had any problems using up a ton of data.
Does the GoData Subscription from Skyroam have unlimited data?
The Skyroam GoData subscription lets you buy WiFi by the GB, rather than in an unlimited data package.
Skyroam says that Skyroam GoData users will "receive full speed of mobile data at anytime", making the GoData subscription the only unlimited speed plan they sell.
See Skyroam plans and prices here.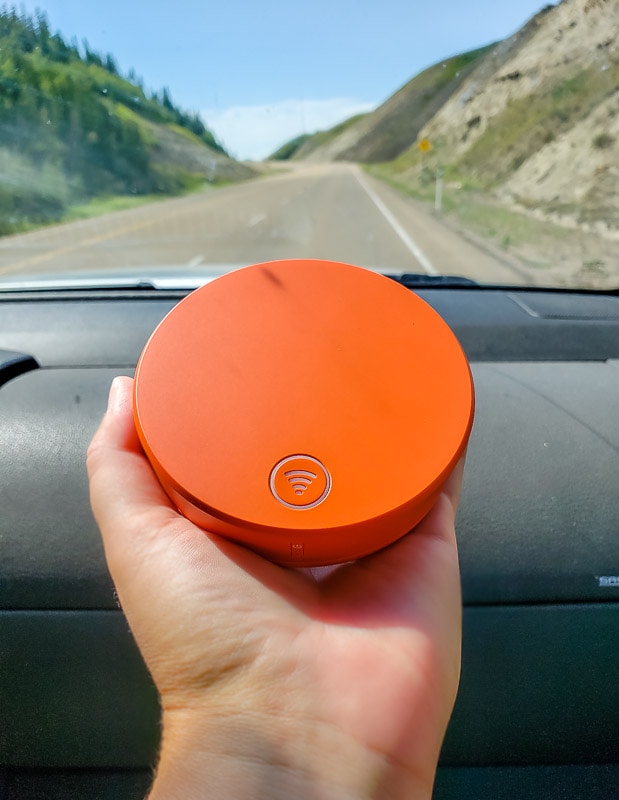 How long does the Skyroam Solis battery last?
Skyroam says the built in batteries on the Skyroam Solis lasts 14 to 20 hours, and our tests found that to be pretty close.
We tested the Skyroam for the first time on a road trip in the interior of British Columbia in Canada. The battery lasted a full 14 hours for me, from the time we hit the road at 8 am, to when we went to sleep around 10 pm, with about 15% battery left.
A cool feature about the Skyroam Solis is that you can also connect your phone or device to it, and recharge your phone while on the go. The Skyroam Solis comes with a built in 6000 mAh power bank and comes with a USB-C connection to charge all the latest devices.
Note: The Skyroam Solis uses the same battery as the built in charger, so if you're charging your phone as you go, you're also reducing the total time the Skyroam will last.
If you find you need additional power, you can either purchase a power bank to help top up the Solis or even buy extra batteries for it, since you can open the Solis and switch out batteries anytime. That said, from our experience and unless you're severely going off grid, the batteries in the Skyroam Solis should easily last you the day.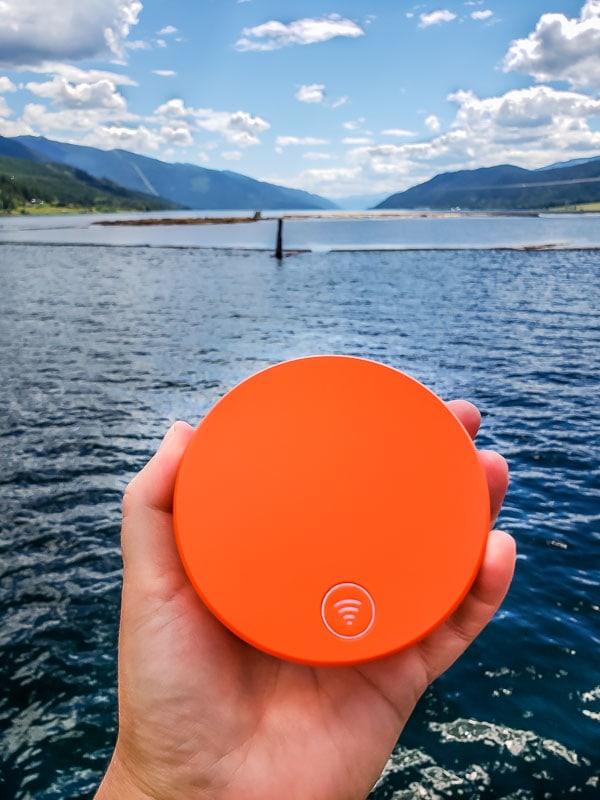 How do I know when my Skyroam is fully charged?
On the Solis X and the Solis Lite, the length of the light on the long central LED bar indicates percent of battery charge. The end of the LED battery is red if you're under 20% charge, and a flashing LED indicates the bar is charging.
For the Skyroam Solis original, the power button lights up if charge is present, and i doesn't illuminate if the batter is fully drained. During charging, the power button light is red and flashing. There's no way to see the percent battery charge on the Solis original.
Does Skyroam work on a plane?
Because Skyroam works off cell networks, it won't work where you can't get a cell signal.
That means that Skyroam won't work when you're in the air on a flight, where you can't get a cell signal.
Does Skyroam work on a cruise?
Because Skyroam works of cell networks, it will only work on a cruise ship if you're near a cell signal in port. It won't work out on the open sea. like while you're in the air on a flight, on cruise ships (unless you're near a cell signal in port), or somewhere very remote.
Does Skyroam work in remote areas?
Skyroam will only work in remote areas if there's a cell signal used by the Skyroam network.
How do you use Skyroam Solis?
The Skyroam Solis is honestly super easy to get up and running.
When you first get the unit, you'll need to pull a little plastic tab to connect the battery.
Then, connect it to your cell charger via the provided USB cable to charge. Ours came pre-charged.
To get WiFi, press and hold Power On (the side button).
Connect your Skyroam Solis to the hotspot's WiFi signal. You'll need the unique SSID and password on the bottom of the Solis.
On your phone or connected device, visit the Skyroam account portal at a.skyroam.com. You'll have 20 free minutes to register using your email, phone # or Facebook.
Press the WiFi button on the top of the unit to start using WiFi. Each day pass is good for 24 hours from the time you start using it.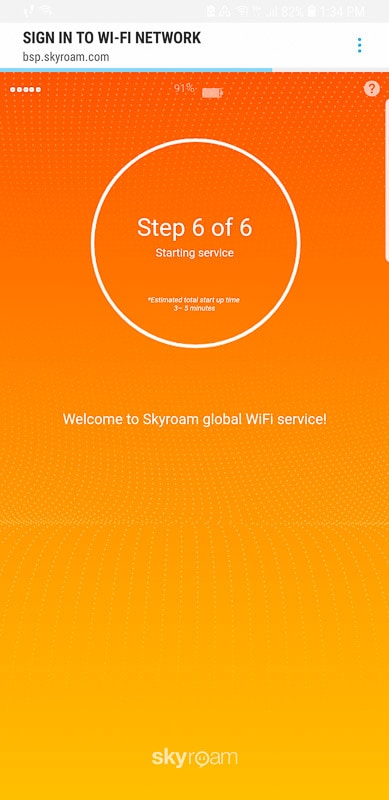 How do I load Skyroam?
If you want to add more day passes, or see how many passes you have left, switch to a $99 30-day plan, or start a GoData subscription, go to a.skyroam.com on a connected device.
The Skyroam app lets you activate your Solis, load the Skyroam with more WiFi service, troubleshoot problems, get help and more. We love it because it lets us see battery life, signal strength, the number of devices connected, WiFi status and more on the status screen.
Grab the app on iTunes or Google Play.
Is Skyroam any good?
We really love our Skyroam internet. It's saved my bacon multiple times when I've needed to get reliable internet to work on the go.
Can you stream movies with Skyroam?
Absolutely! You should have no trouble streaming movies on Netflix, YouTube, Amazon Prime, or any of your other streaming services.
Can you make phone calls with Skyroam?
Because Skyroam is a WiFi hotspot, you can't use the Skyroam to make regular phone calls on your cell phone. However, you can call over WiFi using an app like Google Hangouts, Skype, WhatsApp, Signal or even good old Skype.
Is Skyroam secure?
To start with, since Skyroam's your own, private on-the-go WiFi, I think it's a heck of a lot more secure than using hotel, cafe, or any other public WiFi.
For extra portection, Skyroam just announced the Solis VPN. It's a $9 monthly subscription VPN that's shared with all Solis connected devices. You can also get 30 days of VPN service for $12 instead. The Skyroam VPN offers serves in 16 countries.
Who is Skyroam good for?
Anyone who's afraid of being charged outrageously high data roaming charges. Tip: Don't forget to turn off roaming on your cell phone before leaving your home country, so you aren't accidentally charged in case you get a phone call, text or some app decides to run in the background before hooking up to the Solis!
Vacationers who don't want to hassle with buying a local SIM card and data plan on every trip.
Travelers who don't have an unlocked phone. If you have a locked phone, you won't be able to switch out your SIM and buy a local SIM and data plan.
Travelers who are tired of bad hotel WiFi, and sick of searching for a nearby McDonald's or cafe for free WiFi.
Anyone who wants to keep in touch with friends and family anywhere in the world.
Groups and families who want to share a WiFi connection. The Skyroam works beautifully for our family of four. We're heavy WiFi users, and we get an especially good deal because we all can share the same Skyroam. Up to five devices can connect at any one time.
Business travelers or digital nomads like us who need WiFi to work, since the Solis gives us WiFi wherever we are around the globe.
Solo travelers. I really love having my Solis when I travel alone, as it gives me the ability to reach out to let friends and family to know I'm OK.
Family day outs. We've used our portable WiFi units to have Pokemon Go adventures with the kids and their friends on their iPods and tablets during hikes and walks. With the slew of new enhanced VR games out there that require an internet connection to work, purchasing a daily pass is a great excuse to get the kids out of the house and walking outdoors while still allowing them game time.
Data toppers whose cell plans have only a limited amount of data. The Skyroam GoData allows people to buy what they need, when they need it, regardless if they're traveling or at home.
Where to buy Skyroam Solis
You can buy Skyroam Solis on the Skyroam website here, but they're out of stock until sometime late 2021, at their last estimate.
Skyroam Solis discount
Want to get a Skyroam for yourself?
Want 10% off? Use code BAREFOOTNOMAD here.
Skyroam Solis Alternatives
Looking for an alternative to Skyroam? Check out our TravelWifi hotspot review (formerly Tep) and the Keepgo Hotspot review, or the Glocalme review.
Do you have anything to add to our Skyroam hotspot review? Let us know?