Travel can be a nightmare if you manage social media accounts. Not only are you away from your desk, but you never know if you'll be able to find reliable internet access.
Luckily, there are great tools that can help you automate your social media presence. We tested every tool in this review to find which is the best for scheduling tweets and Facebook posts on the road.
Tech ninja tip!  Be careful using automated social media tools to post to Facebook, as Facebook may penalize you by decreasing the Edgerank of your automated post (meaning fewer people could see, like and share your scheduled post). Thanks to the rockin' social media guru Alex Bramwell of Sunshine Guide to Gran Carina for this tip.
The Best:  HootSuite
Bottom Line:  HootSuite
 lets you schedule tweets and Facebook posts, and allows five accounts from a long list of social media networks that include Twitter, Facebook, LinkedIn, Foursquare, Tumblr, Flickr and Myspace. HootSuite lets you send the same tweet from multiple accounts. HootSuite uses a single dashboard to let you manage all of your social media accounts.
The free plan's tweet scheduling feature is a bit clunky, with awkward and time-consuming drop downs that you need to select for each individual tweet you schedule. Bulk scheduling is only available in the Pro plan. However, you can use the new Hootlet web browser extension Autoschedule feature to automate your tweets in the free HootSuite.
Automate your tweet schedule with the Hootlet web browser:  The Hootlet Autoschedule feature automatically chooses an optimal time to share your messages. I'd love to be able to set up my autoschedule times, rather than have HootSuite do it automatically, but it's still nice to have the auto scheduling. You can reschedule the autoscheduled messages by changing the time in the HootSuite Publisher. The Hootlet is available as a Chrome Extension or a Firefox Add-on.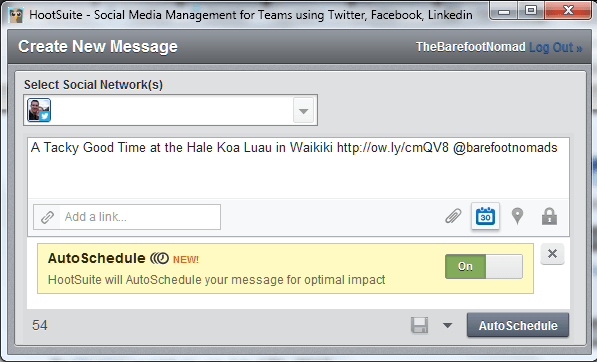 You can also use SocialBro (reviewed later) to export a best times to tweet schedule to HootSuite, but it involves a bit of cutting and pasting of tweets, and you'll need HootSuite's Pro version.

There's a slick feature on HootSuite's Hootlet Chrome extension that lets you highlight custom text or images on websites, then right click to share content. The Hootlet automatically grabs the webpage's URL for you.
Other useful features:  HootSuite is chock full of great features, including monitoring hashtags, filtering your streams, and managing lists and analytics. HootSuite's analytics let you track the impact of the tweets or Facebook posts you send out with HootSuite using the owl.y shortener. Unfortunately, HootSuite doesn't track analytics on tweets or posts sent outside of HootSuite. HootSuite also lets you create custom search streams, which can be used many ways, including tracking keywords, people, hashtags.

Tech Ninja Tip! Want to find tweets that mention your URL, but where people have forgotten to add your twitter handle? Add a stream (which will add a new column where you can see all tweets in the stream), select search and type the URL that you would like to search for -@yourtwittername, e.g., thebarefootnomad.com -@barefootnomads (it doesn't seem to work if you add the www or http).
Plans and pricing:  HootSuite Pro costs $9.99 per month, and gives unlimited social networks, Google Analytics and Facebook Insights integration. The Pro plan allows bulk scheduling. Sign up for a Free 30 Day Trial of HootSuite Pro.
Options:  HootSuite comes as a web app (which I use and like a lot) and an iPhone, iPad, Android, Blackberry and Keitai app.
The Worst:  TweetDeck
Bottom line:  Massive Fail. Once an awesome app, TweetDeck is now a huge a@*pain that's not worth your time. Use something else. Anything else. I highly recommend HootSuite
 or even the simple but elegant Buffer. TweetDeck will let you schedule tweets and Facebook personal profile updates (but not fan page updates). No analytics are available.
I was excited to use TweetDeck, based on some positive comments I've heard over the past year. Unfortunately, it seems TweetDeck, recently acquired by Twitter, has made several changes that are highly unpopular with users. Earlier versions had some great features like spell check that are now gone. The layout has an inefficient use of screen space, especially when managing multiple accounts, and there are almost no settings available to customize.
Reviews seem to agree with me, as the new version of TweetDeck for 2012 gets universally slammed.
Setup and installation was a hassle. To set up multiple Twitter accounts, I had to go to Twitter, logout as one account, and log in as another, as TweetDeck wouldn't prompt me for another Twitter login. To use TweetDeck's Facebook service, you'll need to authorize the app on Facebook. I tooled around for about half an hour trying to add our Facebook fan page, and couldn't get it to work. From what I could find on Google, adding a Facebook fan page used to be possible, but new users aren't having much luck. I give it a big thumbs down for managing Facebook fan pages.
Plans and pricing:  Free.
Options:  You can get TweetDeck as a desktop client (Mac or PC), iOS and Android clients and a Google Chrome extension. I used the Google Chrome extension. If you decide to check out this monstrosity, you'll need to set up a TweetDeck account, as you can't sign in with your Twitter or Facebook credentials.
We Love:  SocialBro
Bottom Line:  SocialBro's on the road capabilities like scheduling tweets are nonexistent. That said, I'm floored that they offer so much for free. I'd highly recommend SocialBro for when you're settled down, and ready to do some serious research into your Twitter feed.
Social Bro is a powerful tool for analyzing your Twitter account. SocialBro will let you find your best time to tweet, monitor hashtags, analyze competitors, create filters, search users and keywords, and so much more. SocialBro is a data analysts (and marketers) dream.
SocialBro does not allow you to use Facebook or other social media accounts. You will have to create a SocialBro account (free) and then give the extension permission to access your Twitter data.
If you're interested in finding the best time to tweet, SocialBro will find the best time for you, and then allow you export your schedule to either HootSuite (though it's an awkward process for HootSuite, and requires HootSuite Pro) or to Buffer (this export is easier). Check out the tutorial on how to export your HootSuite schedule from SocialBro. Did I mention their user guide is excellent?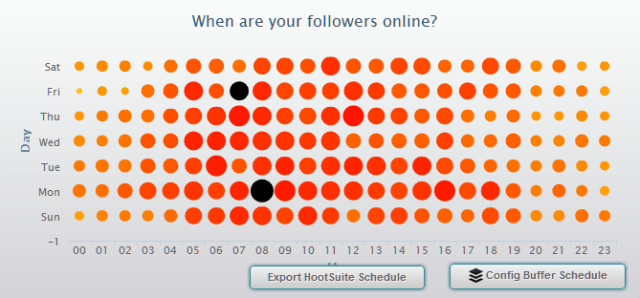 Plans and pricing:  Free.
Options: SocialBro is available as a desktop application and Google Chrome extension. It is not available as iOS or Android App.
Honorable Mention:  Buffer
Bottom line:  The basic Buffer's intuitive design makes it a pleasure to use, but scheduling limits and lack of bonus features keep it from the top of this list. Buffer just introduced analytics features in 2013, making it an even more useful tool.
The free Buffer version lets you add one each of Twitter, Facebook and LinkedIn accounts (including a Facebook fan page). The free version limits you to schedule eight tweets, eight Facebook updates and eight LinkedIn updates. Buffer provides basic analytics (including the number of retweets, mentions, clicks, favorites and potential reach for tweets you send using Buffer).
Buffer is a great tool for scheduling posts:  You first set up a schedule (which you can set up different times for each day of the week), and then add tweets (or Facebook updates) that will be sent out at the times you scheduled. You don't need to specify a time for each tweet, as the times are already set up in your schedule.

If you use SocialBro, you can automatically export SocialBro's best time to tweet schedule to your Buffer schedule with a click of a button in SocialBro's Best Time To Tweet tool.

I've been using the free Buffer for a few months, and love it, despite its limitations. The main drawback is that the free version will only let you schedule a maximum of eight tweets, which really isn't enough. That said, Buffer's simplicity makes it a breeze to use. You can add photos, edit posts with a click, and drag and drop tweets to reorder.
Plans and pricing:  If you sign up for your free account with this link, you'll get an extra space in your Buffer account. For $10/month, you get unlimited scheduled posts, 12 social profiles, and two team members.
Options:  I use Buffer as a webapp and sign in with Twitter. There are extensions for Chrome, Firefox, Opera and Safari, as well as Android and iPhone apps.
Middling: Seesmic
The Bottom Line:  Seesmic is a useful basic tool, limited by not allowing you to pre-schedule tweets, or send a single tweet to more than one account at a time.
You can only make ten tweets or Facebook posts per day, and only post a tweet through one account at at time. You can use Seesmic to schedule tweets and Facebook updates. Seesmic will let you connect with your Facebook fan page and your personal Facebook profile.
Scheduling is manual, meaning that you'll have to enter the date for each tweet or post manually, rather than setting up a schedule. Buffer allows you to pre-set a schedule, and HootSuite's Hootlet autoscheduler can eliminate the need to schedule each individual tweet.
Seesmic compared with HootSuite and Buffer. Seesmic doesn't offer any analytics, so it's well behind HootSuite here. It also doesn't allow you to post a single tweet through multiple Twitter accounts (HootSuite does). Unlike HootSuite, Seesmic doesn't have any cool additional features like analytics or filtering. On paper, Seesmic looks like it's a better tool than Buffer (because Seesmic allows multiple accounts on one dashboard), but Buffer's simplicity and intuitive interface won me over.
Installation:  I tried to install the PC desktop version of Seesmic, but the install failed because I didn't want to upgrade our .NET framework. I used Seesmic's web service, instead, which worked quite well. To use Seesmic's Facebook service, you'll need to authorize the Seesmic app on Facebook.
Plans and pricing:  The free plan gives you 10 posts per day and three accounts for posting, with $4.99/month and whopping $49.99/month plans available. Check out the plan comparison.
Options:  Seesmic has iPhone, iPad and Android apps, and is available on your desktop, or by bookmarklet or email. You'll need to install their application Seesmic Ping to use Seesmic on your desktop.
The Jury's Still Out:  PostChron
Bottom Line:  PostChron lets you schedule Facebook posts and tweets with an easy to use design that mimics Facebook's native status updates. PostChron has an unfinished feel, from the lack of documentation to the lack of iPhone or Android apps. Odds are this is an application that will disappear in the next year, unless they step up their game.
PostChron is basic web-based application that lets you schedule Facebook posts and tweets. The scheduling looks a lot like posting on Facebook, including Status, Links and Photo updates. PostChron lets you specify times to schedule tweets and Facebook posts.
PostChron lets you schedule Facebook posts from your Facebook personal profile, Facebook fan page, or both. Integration with LinkedIn is on the way, but you couldn't schedule LinkedIn updates when I did this review. Once your posts are scheduled, you can easily view, edit or delete your pending posts. You use your Facebook account to sign up and log in, and you'll need to allow the PostChron App to manage your pages and posts on your behalf.
Plans and pricing:  PostChron's free plan lets you schedule 10 posts per day. The Pro plan, at 4.95/month allows unlimited posts and teams, and lets you reschedule the same post at multiple times. The Premium plan is $19.95 per month, and you get your own private application and an automatic link to your site in each post. There's a free 30 day trial for the Premium plan.
Options:  PostChron is only available as a web application. You can't get it as an iPhone or Android app, desktop application or browser extension.
What are your favorite social media or other tech tools when you're on the road?
Like this article? Sign up for our newsletter on our About Us page for more awesome tech tips, and join us on Facebook or Twitter!