It's no secret that Turkey is one of our favorite places we've traveled.
We had the opportunity to ride in a hot air balloon over the fairy tale rock chimneys of Cappadocia, to explore historic Istanbul, sleep in a cave hotel, and even visit the natural travertine hot springs of Pamukkale. And the food, yum!
We spent three weeks in Turkey, and I honestly wish it had been a lot more.
We don't have any definite plans to go back (yet!), but that hasn't stopped us from writing out a bucket list for visiting Turkey the next time.
Izmir is one of those places we're adding to the bucket list. Known as Smyrna in antiquity, Izmir is Turkey's third largest city, and borders the Agean Sea. It's a little outside of the normal Turkish tourism hot spots, but we often find that we find some real gems when we wander outside the well worn tourist path.
Here are our top 10 bucket list of things to do in Izmir, Turkey.
Visit the Kemeraltı bazaar
It's supposedly possible to spend an entire day exploring this twisting, convoluted bazaar and still not see it all. The bazaar is home to cafes, shops selling almost anything you could possibly want or imagine, artisans workshops, mosques, tea gardens and synagogues.
Take a day trip to Ephesus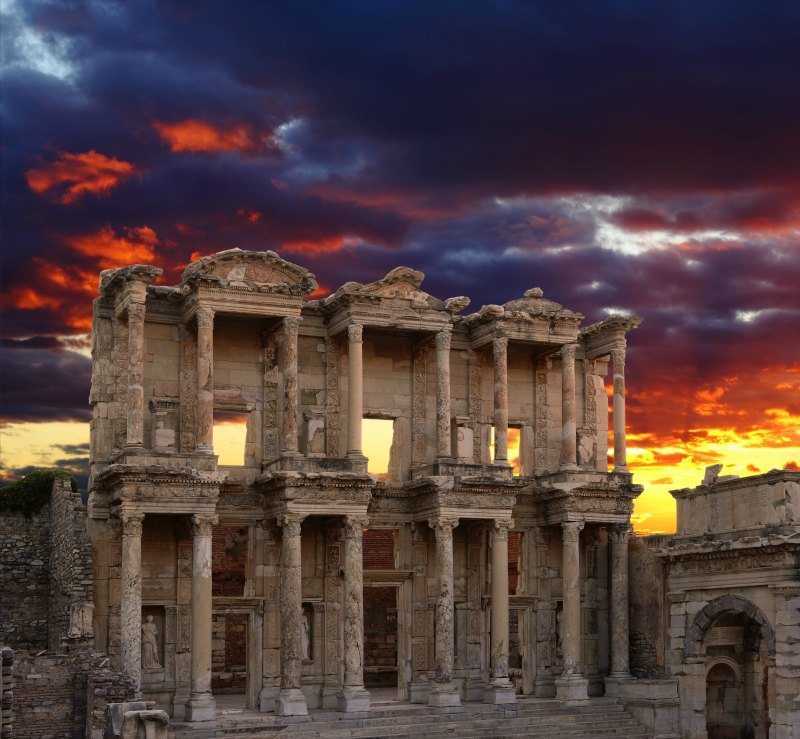 Most tourists visiting Izmir are passing through to see Ephesus, which is thought to be the best preserved ancient temple in the eastern Mediterranean. It contains the Temple of Artemis, considered to be one of the Seven Wonders of the Ancient World.
Check out the windsurfers in Alacati
Alacati is hugely popular with vacationing Turks, who visit to escape the busyness of nearby cities. Traditionally the city was known for architecture, windmills and vineyards, but today it's one of Turkey's most popular destinations for windsurfers.
Take in the International Arts Festival
Walking along the promenade and visiting windswept coastal towns isn't all that Izmir has to offer; come June and July the International Arts Festival lets you explore the deep history of the area, as some of its ancient buildings have been transformed into quirky, charming spaces. The festival also offers classical, traditional and contemporary works in music, ballet, theatre and opera with international and national performances.
Take the boat from Konak to Karşıyaka
Join the locals and take the ferry on the scenic ride across Izmir's bay. Ferries to Karşıyaka leave from the waterfront at Konak's Pier to Karşıyaka, a quiet suburb. The ride takes about 20 minutes.
Walk along the Kordon
Izmir's Kordon (waterfront promenade) is the heart of the city, and probably Izmir's most recognizable attraction. It's a leisurely walkway along the heart of the city, with bars and cafes packed with locals at the day's end.
Check out the İzmir Museum of History & Art
This museum is renowned for its collection of ancient artifacts. The sculptures from ancient Smyrna, Teos, Miletos and Pergamon are supposed to be especially sensational.
Bargain with the locals at the Kızlarağası Han market
Sometimes called the best hidden market in Izmir, this is the place to shop for carpets and jewelry. It's a traditional market that gives a true taste of Turkey, and is a beautiful wander even if you have no intention of buying anything.
Climb the parachute tower
The unfortunately somewhat unattractive parachute tower offers spectacular views. It's named for days past, when you could climb to the top and then be dropped by cable to the bottom in a parachute.
Visit Sports International
We're making a concerted effort these days to stay fit when we travel, and Sports International should definitely help. You can dance, exercise or just unwind with a relaxing yoga class.
What do you think? Have you been to Izmir? Did we miss anything on our Izmir bucket list?