Over the years, Micki and I have taken nearly every possible means of conventional air travel there is, from tiny water planes to double-decker jumbo jets. In truth, we love flying and whether it's a short hop or an 18-hour leg, we've managed to rack up our fair share of hours above the clouds.
Don't get me wrong, we love all modes of transportation and have spent many days getting from point A to point B via a train or a bus but there is something to be said about flying. Not only is it the fastest mode of travel when you need it, you also get a chance to see the world from a completely different perspective.
There are also so many different styles of flight. From serenely soaring in a glider to taking a helicopter over the mountains, you get to see areas it would take days to see by ground. Heck, in my wilder days I even jumped out of few planes with nothing but hope and a parachute to get me back down safely.
Always anxious to create more memories, I started compiling my list of destinations I wanted to see by air and have included my reasons for each. Here's hoping they all get checked off the bucket list someday.
Helicopter over a live volcano on the Big Island in Hawaii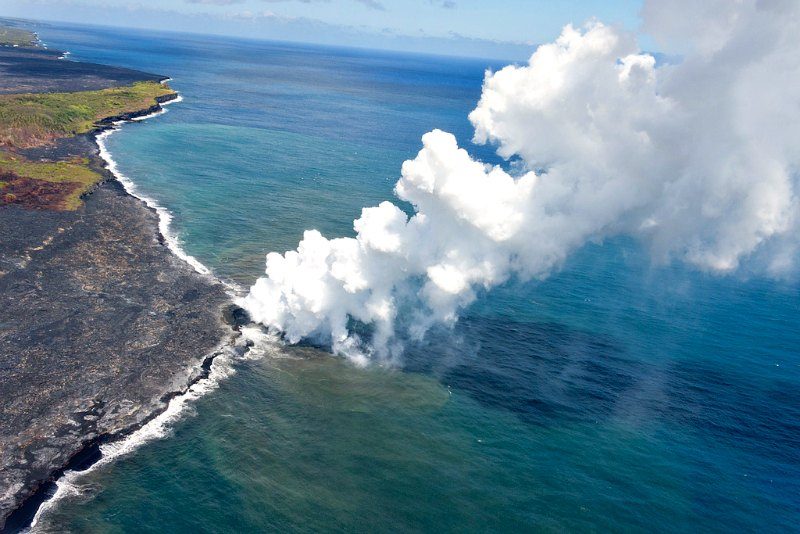 Yup, I'm going to channel Joe Banks and take on a live volcano. Of course, I plan to be hundreds of feet above it in the safety of a very comfortable helicopter.
The only mode of air transportation that Micki and I have planned and failed to make happen so far has been on a helicopter. I can think of at least three times we've been set to take a helicopter tour and it was cancelled for one reason or another.
One of the coolest I can remember, was when we planned to take a retired military helicopter from Siem Reap in Cambodia down to Phnom Penh back on our first trip in 2003. Unfortunately, they cancelled the route only weeks before we got to Siem Reap. We ended up taking some fun bus routes instead, like this bus from Phnom Penh to Battambang.
After that let down, I decided my first helicopter ride needs to include something big and special. Pretty sure a live volcano qualifies as both.
Blue Hawaiian Helicopters offers helicopter tours on the Big Island and takes you over Hawaii Volcanoes National Park. Once airborne, you can look down at the mile long lava tubes, the giant steam vents and the huge craters. If you're lucky, you can watch as volcanoes hurl chunks of molten lava into the air like New Year's Eve fireworks.
You'll also get to see Kilauea volcano which has been active since 1983. Soaring 500 feet above it, you can still feel the heat rising. On the way back, you'll pass by lush rain forests and majestic waterfalls. Sign us up!
Our son Cole is so stoked for seeing a live volcano up close that he's offered to help pay for our next trip to Hawaii!
Hot air balloon ride over the African Savanna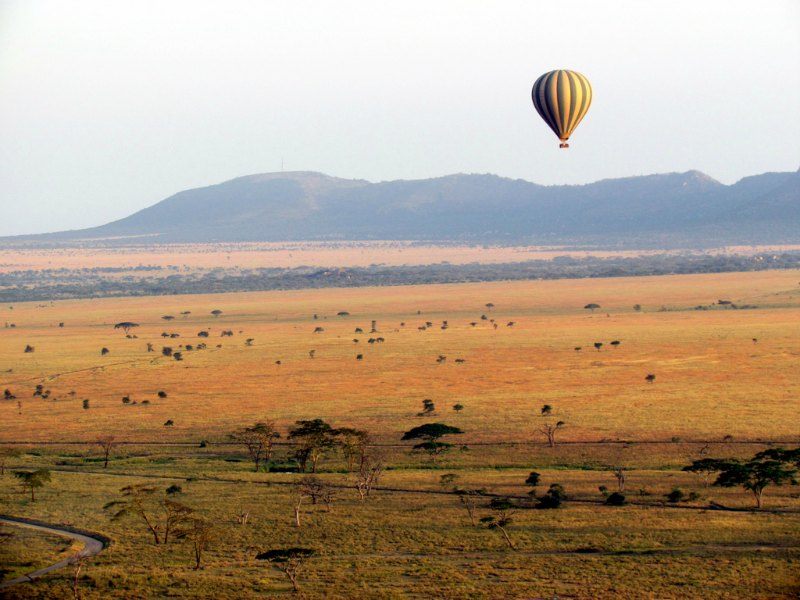 Flying over wild animals in a big balloon. I mean, what else do you need for a good time?
Micki and I saw a hot air balloon ride over the savanna years ago on an episode of The Amazing Race and it looked, well, amazing. The moment we saw the balloon ride, we put it on our travel to do list. We're just waiting until the kids are old enough to fully appreciate it, however it's just a matter of time before it happens.
Of course, it doesn't hurt that one of our most memorable trips as a family was probably when we flew over the fairy chimneys in Capadoccia, Turkey together in a hot air balloon. That was magical and is still one of our favorite travel memories.
If you're hot air ballooning in the Serengeti National Park in Tanzania, you can look down on grazing giraffes, leaping lions, haughty hippos, enormous elephants and heckling hyenas. You might also spot rhinos, vultures and a plethora of other wildlife unique to Africa.
To top it all off, if you time it right, you can see millions of wildebeest, gazelles and zebras in the largest mammal migration on the planet. How awesome does that sound?
The annual migrations occur from March to May and from October to December, however you can go hot air ballooning in the Serengeti National Park in Tanzania any time of the year.
Needless to say, the next time we head to Africa there's a hot air balloon there with our name on it.
Hang glide over Rio de Janeiro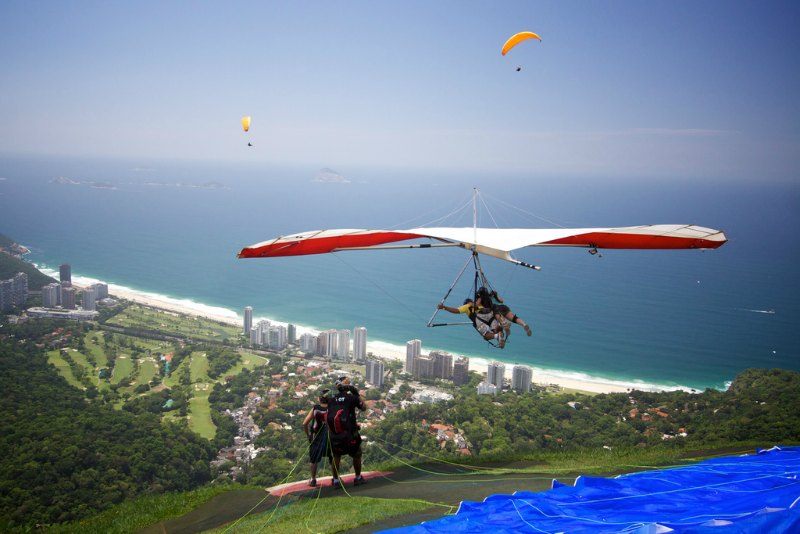 Soaring high above the mountains overlooking beautiful Rio de Janeiro in nothing more than an oversized kite? Count me in!
Okay, you need to get your inspiration from somewhere, and I'm not too proud to say that the first time I heard of hang gliding in Rio de Janeiro was in the animated movie Rio. I can clearly remember asking Micki after it was over, "Is that really a thing there?". Turns out it is, and now it's on the list.
I mean, how cool would that be? Soaring above ocean, mountain, city and beach all on the same flight? Cruising high above iconic Copacabana and having a bird's eye view of the beach that inspired the song The Girl from Ipanema without having to get my feet sandy. Yup, sounds right up my alley.
For those that have never gone before, you can do a tandem flight with a certified pilot or if you bring your own, well, just jump.
Helicopter around Oahu with the doors off in the Magnum PI Helicopter
Fly around the Hawaiian islands in the Magnum PI MD500 helicopter with no doors between me and the sky. That would be awesome!
And yes, I remember watching Magnum PI as a child. No, I'm not old enough to have watched every episode, however I am old enough to clearly remember T.C. piloting that orange, yellow and brown helicopter over the gorgeous scenery of Hawaii. After our last trip there, I think seeing it all from the sky sounds like a great way to spend the day.
Ever since I was a young boy and a helicopter landed in the little field behind our house, I've dreamed of going up in a helicopter. However, at this point in my life, when I do go up, it's going to have to be special.
How special would it be to go up in the same one that I grew up watching? Especially with the doors taken off? Yup, hand me a machine gun and then let me drive a red Ferrari and all my Magnum PI adventure dreams will be complete.
You can take the Doors Off! tour with Makani Kai Helicopter Tours out of Oahu.
Paragliding in the Southern French Alps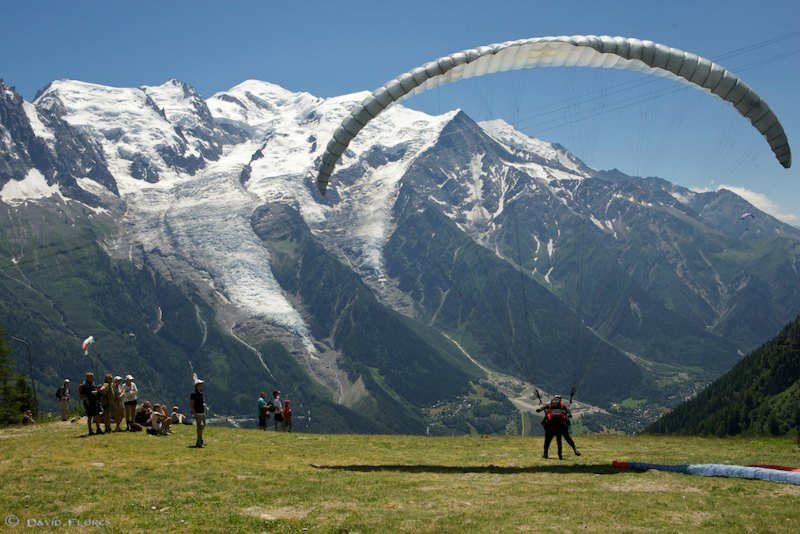 A croissant in the morning, followed by jumping off cliffs in the afternoon. Sounds like my kind of day.
Okay, if I'm willing to go hang gliding, you know I'm going to try paragliding as well! France has more paragliding locations than any other country in the world, so you might as well check it out the next time you're in the French Alps.
Not only are the French Alps the largest mountain range in Europe, they're also home to some of the best scenery you'll find anywhere in the world and you know the views from the air will be astounding.
You can fly all year in some places (however, mostly in the summer) and there are hundreds of places to choose from with some of the most experienced pilots (25,000 pilots at last count) in the world calling the France's Hautes Alpes home. Don't believe me, check out this paragliding map of the French Alps.
Not sure where to begin, you might want to look into one of the most popular tandem paragliding take off sites in the Alps, Chamonix.
Small plane tour over the Grand Canyon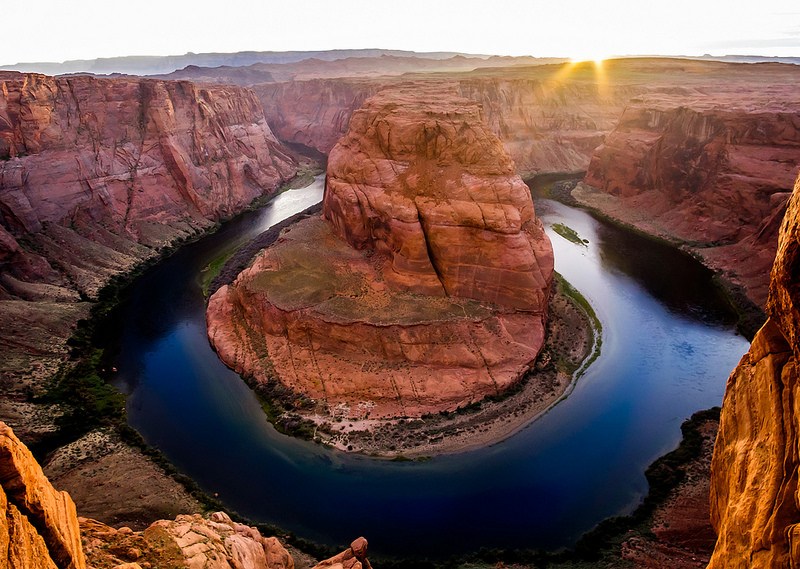 If what happens in Vegas, stays in Vegas, then you'll be glad to know the Grand Canyon is an hour away when you book your airplane tour over the Canyon.
I can vividly remember my parents taking our family to Las Vegas when I was seven years old. It was only a few nights stay in Circus Circus as part of a three week trip to California, however, for some reason, I associate the notion of taking a plane ride over the Grand Canyon with that trip.
I have no idea how the idea got there, but by the time we crossed Hoover Dam and got to the South Rim of the Canyon, the notion of taking a plane tour over the Grand Canyon was forever lodged into me psyche.
It will happen. Maybe not today, and probably not tomorrow, but it's going to happen, oh yes. And then I'm going to head back to Vegas and try to win at blackjack. Well, a guy can dream…
There are several companies that fly over the Grand Canyon with many of them leaving from Las Vegas airport.
Gliding over New Zealand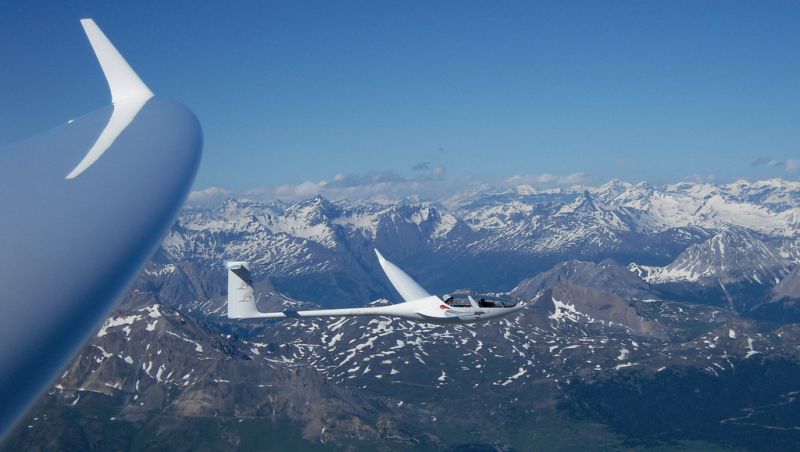 Ever dreamed of flying in an airplane without those pesky motors running? Well, sailplanes (or gliders as they're more commonly called) get by on rising air currents, and Micki has been wanting to go on one ever since we first saw them while traveling around New Zealand many years ago.
Imagine the joy of flight, high above the earth, secure in a covered cockpit complete with snacks and utter calmness. Forget the wind passing by or having to tuck in your arms and legs. You get the best of flying without getting your hair messed up.
There are numerous gliding clubs around the country but the one at Omarama lets you soar high above the New Zealand Alps and take in the mountains, lakes and rivers that cover the South Island.
Located a couple hours north of active Queenstown on the way to Christchurch, soaring in a glider looks like a great way to spend an afternoon.

You can be sure that the next time we're in the area, we'll be gliding!