On your next visit to Florida, be sure to stop by one of our picks of the best beaches in the Florida Keys.
We've had a blast on our last trips to Florida, with stops at the Wizarding World of Harry Potter, LEGOLAND Florida, and long drives on the Florida coast.
One of our favorite destinations is the Florida Keys, a string of tropical islands south of Miami. It may be a cliche, but it's true that the Keys feel like a different world than the rest of Florida. Life is more relaxed on the Keys, with a backdrop of sun-kissed tidal bars and teal water beside deep green mangrove trees.
See the Keys the easy way – check out tour options here.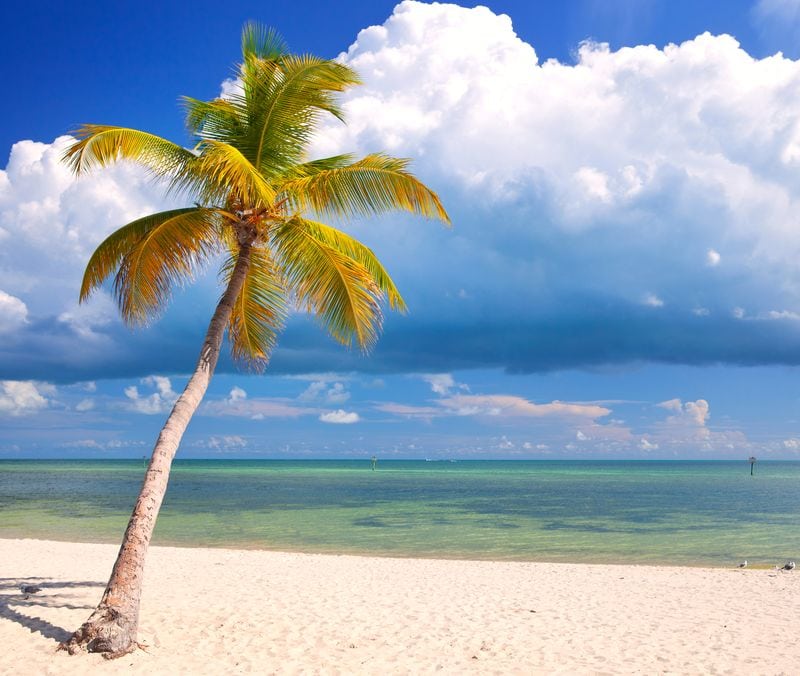 The Best Beaches in the Florida Keys
The Florida Keys are blessed with clear turquoise water, tropical sunshine, and plenty of sand. All of this means that the Keys have some of the most beautiful beaches in Florida, and that they're the most fun activities in Key West. They're also some of the best beaches in the world.
Sadly, many of beaches in the Keys (including Sandspur) suffered extensive damage from the Hurricane Irma in 2017. For the most part, the Keys have bounced back from Irma, but check recent conditions before you visit to make sure you aren't disappointed.
One of the biggest perks of visiting the Keys is enjoying the stunning drive down Florida Keys Overseas Highway (U.S. 1). We fly in, book a rental car in Miami, and take in fresh seafood, beautiful beaches, stunning views, and state and national parks, with a side trip to the Everglades on the way.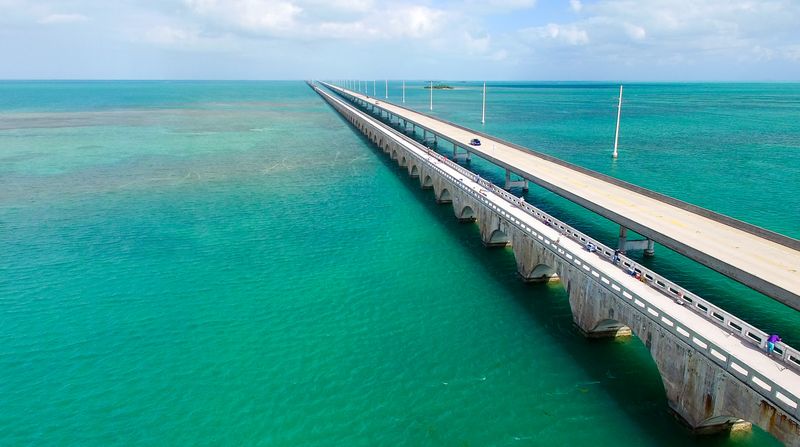 Which Key has the best beaches in Florida?
Generally, the farther south you go, the more beautiful beaches, with some stunning exceptions. The most Northern key, Key Largo, has mostly man made beaches. Sure, they're pretty, but the more natural beaches further south in Key West are our favorites.
The beaches in Key West have been mostly restored after Hurricane Irma hit in 2017, which is great news, since Key West has some of the prettiest beaches in the Keys.
What is the best month to visit the Florida Keys?
March, April and May are the best months to visit the Florida Keys. The keys can get crowded in the winter, so you'll find it a little quieter between March and May. Fewer visitors mean that the beaches are less crowded, hotel rates drop.
The Atlantic hurricane season formally begins June 1 and ends November 30, making spring and early summer a great time to visit the Keys.
Does Key Largo have good beaches?
Key Largo is the gateway to the Florida Keys. It's a fantastic place for snorkeling, since the reef here is shallow (five to 15 feet deep). It's also a great place to hit the beach, with plenty of pretty man-made beaches with long stretches of sand. Some are private, but many are fully open to the public.
Far Beach, Key Largo
Far Beach is probably the most popular Key Largo Beach. It's located in John Pennekamp Coral Reef State Park, and it's a public beach. The water here is shallow, making it great for families.
Because it's at John Pennekamp Coral Reef State Park, it's also a great place to grab a boat tour for snorkeling at the reef. You can snorkel from shore, but you'll see a lot more if you take a tour.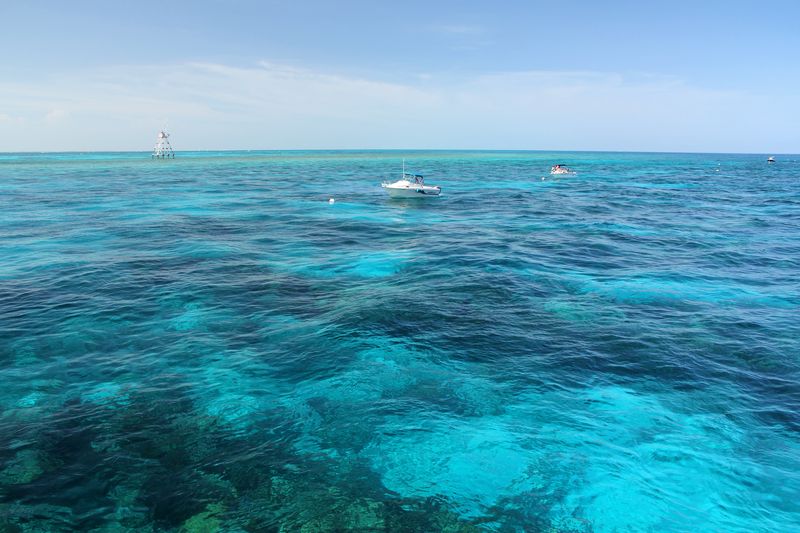 What are the beaches like in Key West?
Key West is the farthest south of the Keys, and it also has some of the best beaches in the keys. You'll find several Key West beaches on our list, including Higgs beach and Smathers beach.
Fort Zachary Taylor is gorgeous, as is Dry Tortugas & Fort Jefferson (a cluster of islands 70 miles west of Key West), and could have easily made this list.
Here they are: our picks for the best beaches in the Florida Keys.
Sombrero Beach, Florida Keys
The scenery here at Sombrero beach isn't the only thing that makes it so great: this is a great beach for wildlife lovers, too. Sombrero Beach is one of the most important nesting places of sea turtles in Florida. Sea turtles are also the reason why visitors are banned from certain areas, at certain times of year, until the baby turtles leave the beach.
Sombrero beach has showers, restrooms, pavilions, a great volleyball court, a playground for children, and it is easily accessible for people with disabilities as well.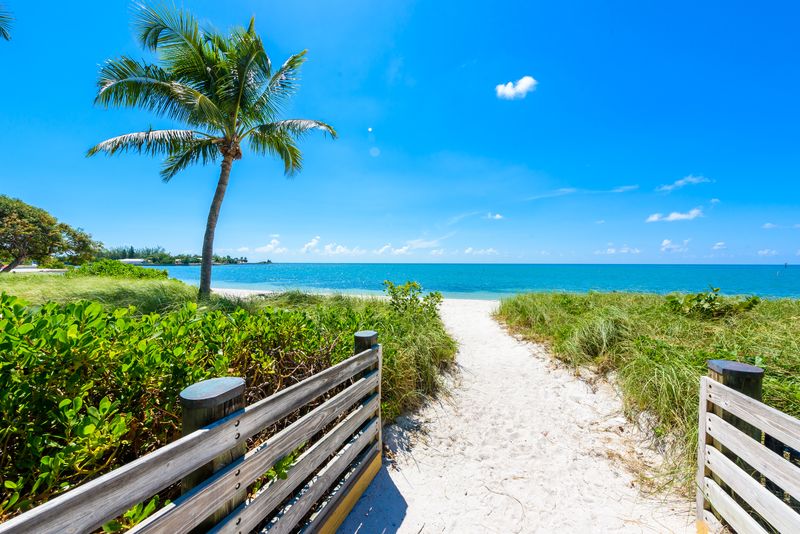 Sandspur Beach, Florida Keys
Sandspur Beach has crystal blue waters, palm trees and white sand, making it almost the perfect, typical tropical beach.
Sandspur is about a 40-minute drive from Key West, with plenty of opportunities to enjoy the sand and the water, and a short walking trail that is just as spectacular.
Anne's Beach, Florida Keys
Anne's beach is the perfect beach for a family visit. The swimming area at Anne's Beach is shallow with virtually no waves, making it the perfect spot for young kids to splash, and one of the best beaches in the Florida Keys for swimming.
The sand around the shallow waters is great for picnics, and the nearby boardwalks and the mangrove area are a great way to explore local nature.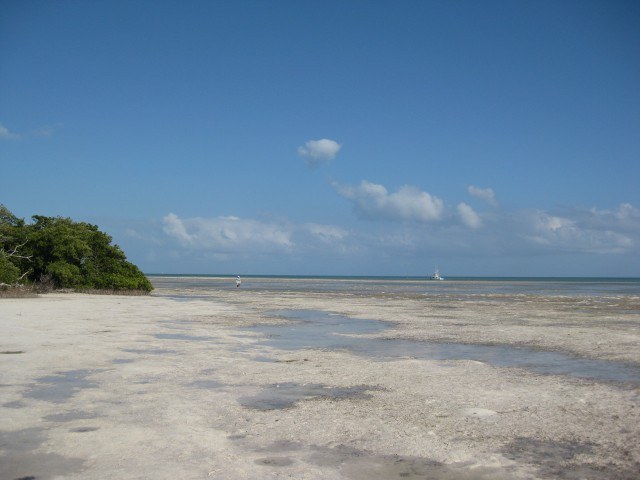 Anne's beach is on Lower Matecumbe Key south of Caloosa Cove Resort, and about halfway between Key Largo and Key West.
Anne's Beach was once known as Islamorada Public Beach.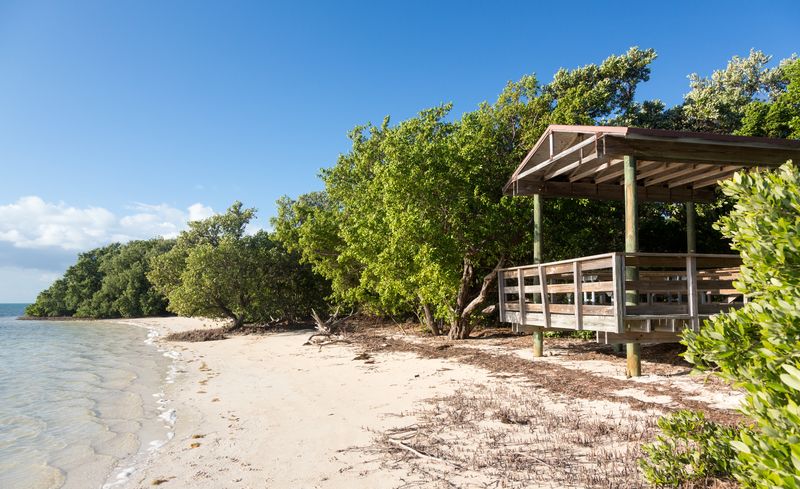 Long Beach, Florida Keys
One of the most beautiful spots in Big Pine Key, Long beach offers a spectacular ocean view, with soft sand and the remains of a 100,000 year old coral reef.
Long Beach is one of the most popular camping spots in the area and also a favorite with visitors who want to spend just a couple of hours enjoying the sea.
Despite its popularity, the beach never feels crowded and the shallow waters are perfect for families with young kids as well.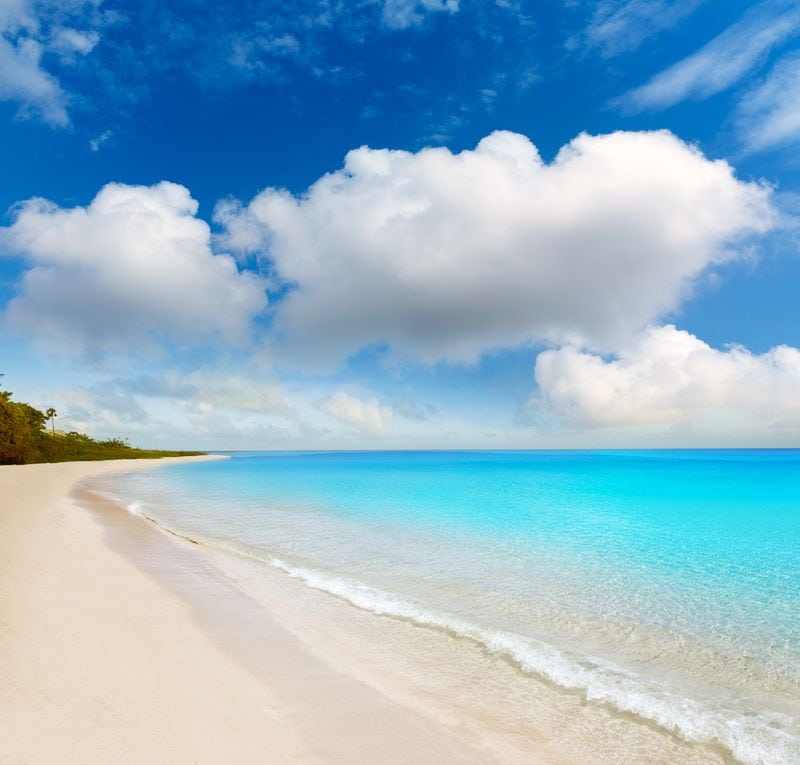 Smathers Beach, Florida Keys
One of the top beaches on Key West, Smathers Beach has plenty to see and to do. Visitors can explore the crystal waters by kayaking and paddle boarding, or they can do some windsurfing and kite surfing. The restaurants on the beach are perfect for quenching your thirst and sating your hunger after an active day in the water.
Higgs Beach, Florida Keys
Located very close to Smathers, Higgs beach has a spectacular pier where you can snorkel.
Behind the beach, there is a pretty garden where you can glimpse of local flora and fauna.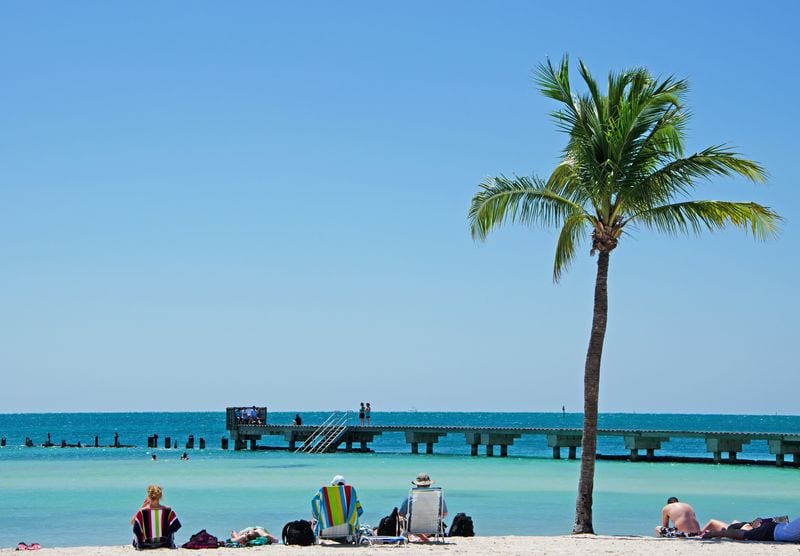 Still thinking about visiting these gorgeous beaches? What's stopping you?
Visiting is almost as easy as going to rent a car in the airport, and heading south on Florida Keys Overseas Highway (U.S. 1) from Miami.
Map of Florida Keys beaches
How to get to the Florida Keys
Our favorite way to visit the Florida Keys is to drive in from Miami. We fly into Miami (which is usually a relatively cheap flight from Canada), rent a car in the airport, and drive through the Keys.
Check out Travelocity's car rental deals here.
A road trip through the keys is definitely beautiful if you have a bit of time, but if you're short on time, you'll probably want to get to your destination quickly. In that case, you can fly to an airport right in the Keys itself. For that, there's Marathon International Airport (MTH) or Key West Intl Airport.
Marathon International Airport is located about a two hour drive from Miami, and a good choice for the middle keys.
Key West International Airport (EYW) is a smaller airport located in the city of Key West. It handles mostly domestic flights from in the USA.
Compare flight prices on Travelocity here.
Of course, the easiest way to get to the Keys is to book a vacation package with hotel and flights (and possibly car) included.
Check out vacation packages here that bundle hotel and flights.
Do you have a favorite beach in the Florida Keys? Let us know!