If you're anything like me, your YouTube home feed includes a lot of travel stories, with food and travel vloggers, around the world explorers, van life channels, and outdoor adventurers.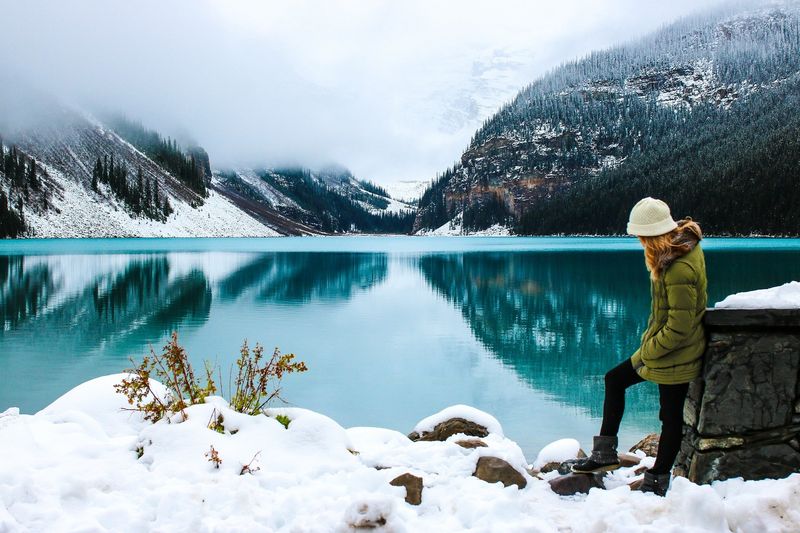 Watching travel videos helps me decide where to travel next in the world, and what exactly to do once I get there.
In person travel around the world is difficult with the pandemic right now, so I've loved watching travel adventures virtually from my favorite YouTubers. It's a wonderful way to mentally escape the stress and uncertainty of the last year.
YouTube has more than 2 billion (yes, that's billion with a b) monthly logged in users. If you're a prospective travel vlogger, getting your videos on YouTube can be as easy as filming a video, editing with a video editor, and uploading. Because getting started on YouTube can be so simple, that's meant plenty of vloggers, with interesting stories to tell, are on the platform.
Many of my favorite vloggers introduce viewers to bucket list travel adventures around the world, while others stay closer to home.
Several travel bloggers on this list, like Kara and Nate, made the transition from around-the-word travel videos to van life during the pandemic. Others have bought and renovated isolated cabins, while others continue their adventures locally.
I enjoy watching their current adventures, but it's also a great time to dig back in the archives and watch older videos. I even check out a few classic travel TV shows from time to time!
The Best Travel YouTube Channels
Check out some of our favorite YouTube travel channels. We think these are the some of the best travel vloggers on YouTube right now.
Kara and Nate 2.1 Million YouTube Subscribers
I just found Kara and Nate's channel in the last year. It's fantastic, and I wish I'd found it sooner!
Kara and Nate are a husband and wife team from Nashville Tennessee, who traveled to 100 countries before travel slowed down in 2020.
The production quality of this channel is fantastic, with high quality videography, and great audio as well. These days, they're making content driving through the USA in a van, with plenty of stops at interesting accommodations and attractions along the way.
Favorite video: We Slept Outside in Antarctica
Eamon and Bec are a Canadian couple that I started watching when they were travelling around Europe and Morocco in their self converted Sprinter van. There's plenty of gorgeous content on here about their travels, their vegan recipes (they even have a vegan cookbook), and life on the road.
These days, Eamon and Bec are vlogging about renovating their cabin in the woods of Ontario, Canada.
Favorite travel video: How to Winter in the Canadian Wilderness
Foresty Forest is the real deal, if you're interested in bicycle touring, ascending mountains, and the great outdoors. His crockpot makes frequent appearances, with simple home cooked meals made in the van.
This is old school YouTube, without paid sponsorships, or paid reviews.
You'll find yourself singing the insanely catchy theme song, "Foresty Forest, he lives in a van… Foresty Forest!"
I always catch myself smiling when there's a new Foresty Forest upload.
Favorite video: Living in a Minivan During Freezing Temperatures
Christian makes her living as an outdoor adventure and travel photographer, and was a former Abercrombie model and retail manager.
As you'd expect, her travel videography is beautiful, but the channel is also packed full of thoughtful, intelligent tips about van life, making money, and life in general.
Favorite video: Van Life | Parking and Solo Female Safety
The Wild Card: Tom Green 267K YouTube subscribers
Bet you didn't expect to find Tom Green on this list!
Tom is best known as a comedian, whose career started on MTV in the 1990s. He's known for quirky and often pretty juvenile comedy like the Bum Bum Song, the Slutmobile, and Hollywood films Road Trip and Charlie's Angels, as well as being married to Drew Barrymore in the early 2000s.
These days, Green seems a lot more introspective, as he's vlogging his van life with his adorable dog, Charlie. Green's still a quirky mix, with gorgeous cinematography, visits to stunning and out of the way places, musical offerings, and rambling, free-form live streams.
Favorite video: Lost Ancient City In America – Tom Green Visits Chaco Culture National Historical Park – Van Life
Slim Potatohead is something of an outlier among travel vlogs.
There's definitely good videography and storytelling here, but this is not the vlog for you if you're looking for fast paced, high excitement travel. Slim meanders along on his adventures, and it often seems like very little happens in a given blog. That said, he's definitely an authentic voice that's well worth checking out.
He travels pulling a small older trailer, spending plenty of time off grid in nature. Older videos feature the USA and Mexico, but these days he's focusing on travel within Canada. There are videos on frugal camper renovations, camping spots, and plenty of exploring and meandering.
Favorite travel video: Latitude High: The Arctic Circle Campout
Mark Wiens 7.28 Million YouTube subscribers
Enthusiastic and energetic, Mark Wiens is a food vlogger who shares about South East Asia from his home base in Bangkok, Thailand.
I was first introduced to Mark's Migrationology blog back in 2012, and I've loved following his transition to being one of YouTube's most popular food and travel vloggers.
He features plenty of street food videos, with a strong focus on Thai food and travel.
Favorite video: Extreme Thai Street Food – CRAZY TOM YUM Late-Night Food Tour in Bangkok, Thailand!
Tyler and Todd are one of my absolute favorite channels. They're funny, engaging, and have absolutely gorgeous videography and solid audio.
They're a Canadian couple who travel with their adorable dogs Charlie and Eddy.
Because of the pandemic, they're currently not traveling, but I've loved following along as they make a home in Nova Scotia, building an off grid cabin.
Incredibly personable and funny, they're a treat to watch each week.
Favorite video: Gay Couple's Routine | Living in an RV full time
Vancity Vanlife features Chrome and his adorable bulldog pup, Cruz.
Chrome is a former professional DJ, so this is a fantastic channel if you love great music and great audio. As a former DJ, he has a fantastic voice for audio.
He uploads almost every day, and this channel is a throwback to early daily vlogs of YouTube. Videos are based mostly around Vancouver, British Columbia, but he does sojourn around Canada and into the USA when he's able. It's a great channel to get a feel for daily van life realities.
Favorite video: Winter Van Life In The Frosty Canadian Mountains… Is It Lonely Out Here?
Drew Binsky 2.34 Million YouTube subscribers
Drew, an American YouTuber, is definitely an engaging, entertaining presence on YouTube. He's also controversial, as he continued traveling during the pandemic, and he's garnered criticism for visiting countries like North Korea.
This is the type of channel that you'll likely either love or hate.
Favorite travel video: He is the Ice Man (Wim Hof)
Project Amber follows the adventures of a UK vlogger and his adorable Spaniel puppy, Lance as they travel in a converted ex-ambulance.
There's plenty of great content in the archives that features road trips around the UK and Europe.
The man and dog duo just bought off-grid land in Portugal, and I'm looking forward to watching his local Portuguese adventures.
Favorite video: VAN TOUR – Ex-Ambulance Turned Offgrid Home on Wheels, with Log Burner & Upstairs Bedroom
Ash Pollard of Lost in Europe is a 27 year old photographer from Leicester/England.
As the channel title suggests, he mostly features van travel around Europe. There's some gorgeous videography here, and I've loved his time in Scotland, as well has his new content on van life in the winter.
Favorite video: Winter Snow Storm Living In A Van / Arctic Van Life
Bald and Bankrupt follows the adventures of English travel vlogger Benjamin Rich, who mostly focuses on visiting post-Soviet states.
This channel is much more about meeting everyday people, and getting to know them and their lives, than cinematic scenes and views. It's great entertainment, and I love that it focuses on getting to know people.
Like Drew Binsky, Rich has travelled during the pandemic. Rich was hospitalized for nine days for coronavirus in July 2020 in Serbia, which was not under lockdown at the time. He admitted that he was "blasé" about the pandemic, and has cautioned his viewers to take the pandemic seriously.
Favorite video: Inside The Belarus Chernobyl Zone
These are just some of my top picks for the best travel vlogs on YouTube channel to follow in 2022! I hope you enjoy watching their videos as much as I do.
Do you have any top travel vloggers suggestions that we missed? Let us know in the comments below.