What do you get when you cross a mountain town with a fast moving river? That's right, good times!
My son Cole and I recently had the opportunity to check out some activities around Cañon City, in the heart of wild Colorado, and to be perfectly honest, we both had an amazing time.
Quick facts about Cañon City, Colorado
First off, let's talk about the town's name. It seems a few years back they added a tilde over the Ñ so the town is actually pronounced Canyon City as opposed to Canon City. Didn't realize that? Well, neither did I until we talked to some locals on the plane ride down there and they couldn't figure out where Canon City was either.
If you're looking at a map, Cañon City is around 2 hours due south of Denver, Colorado and an hour southwest of Colorado Springs down long gorgeous highways. The city has been around since the mid 1800's and has quite a nice historic downtown.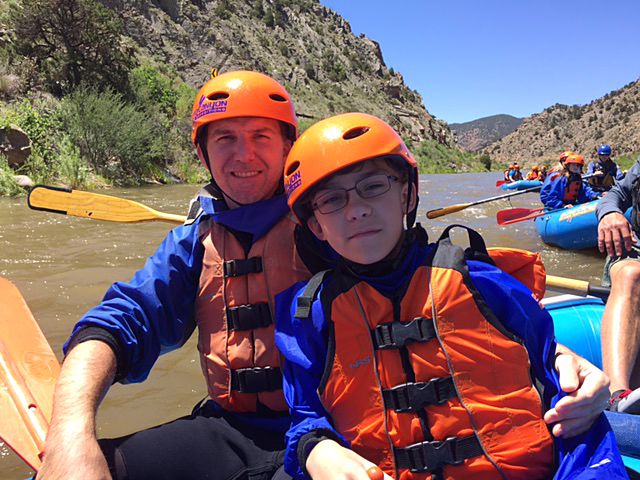 Since it has the warmest year round temperatures in the state, thanks in part to its high elevation (5,300 feet or 1,600 m) and the mountains to the West that protect it, Cañon City is also known as the "Climate Capital of Colorado".
When we were there at the beginning of summer, temperatures were already starting to soar in the high 80's (that's low 30's in Celsius), however, luckily for the residents and visitors alike, there's always a breeze in the valley and there isn't much humidity so it's a very dry heat.
Family Things to Do in Cañon City Colorado
For anyone who hasn't been to the area, Cañon City is famous for two things. The first is its many long-standing penitentiaries (there are 13 in the area) and the second is amazing whitewater rafting, climbing and exploring just west of the city.
This means that Cañon City is a fantastic place to take in outdoor pursuits for the whole family, from white water rafting to checking out dinosaurs at the Royal Gorge Dinosaur Experience.
Royal Gorge Cabins: Where to stay and eat near Cañon City
We were fortunate to be able to raft the amazing white waters of the Arkansas River with the region's biggest whitewater company, Echo Canyon River Expeditions. Not only that but we also had the opportunity to stay onsite in their brand new Royal Gorge Cabins. They have both one and two bedroom bungalows with lofts, so Cole got his own king sized bed, while I got mine. Needless to say we both had a great night's sleep.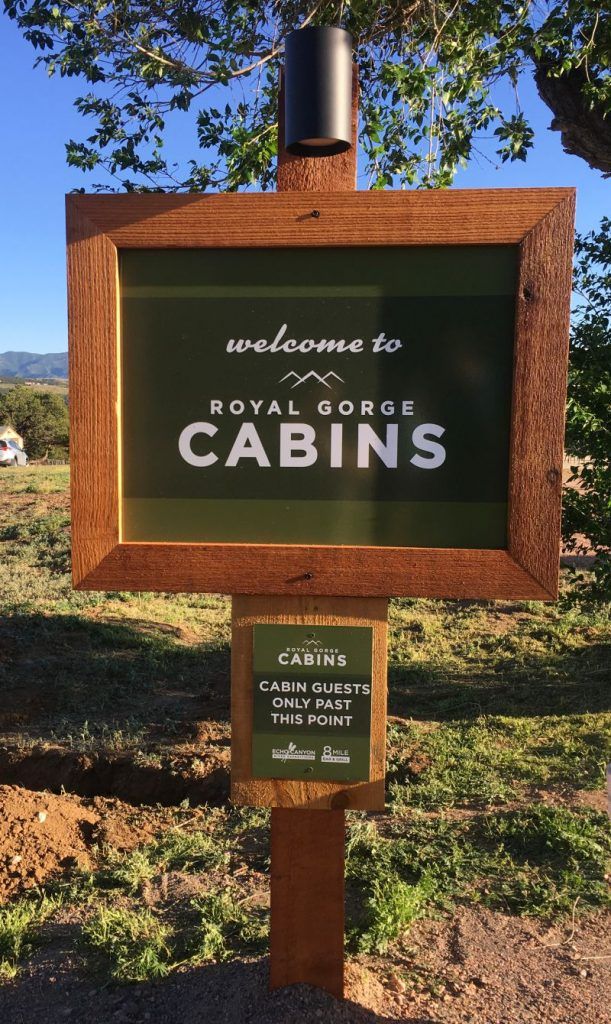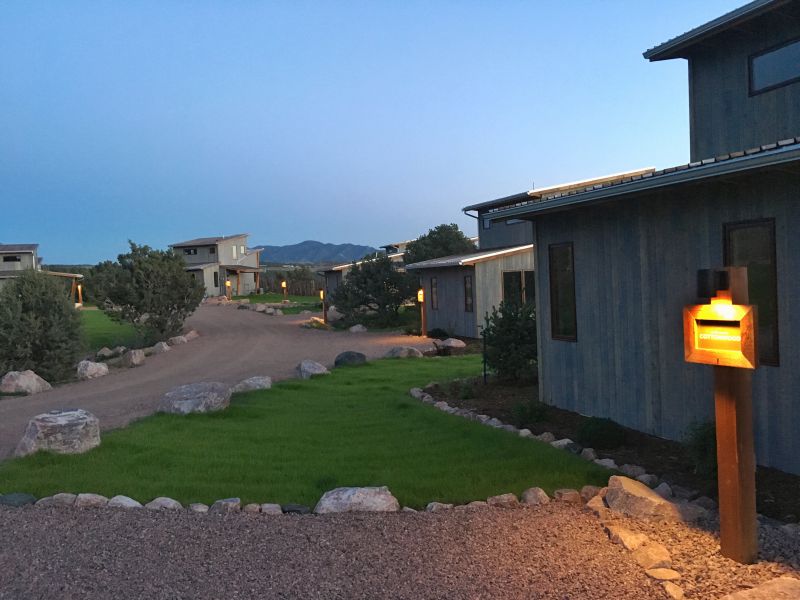 I can go on and on about the amazing views at the Royal Gorge Cabins, the understated luxury, the comfortable beds, good showers, nice kitchens and the beautiful outdoor living areas, but I think a few pictures might be better suited for this.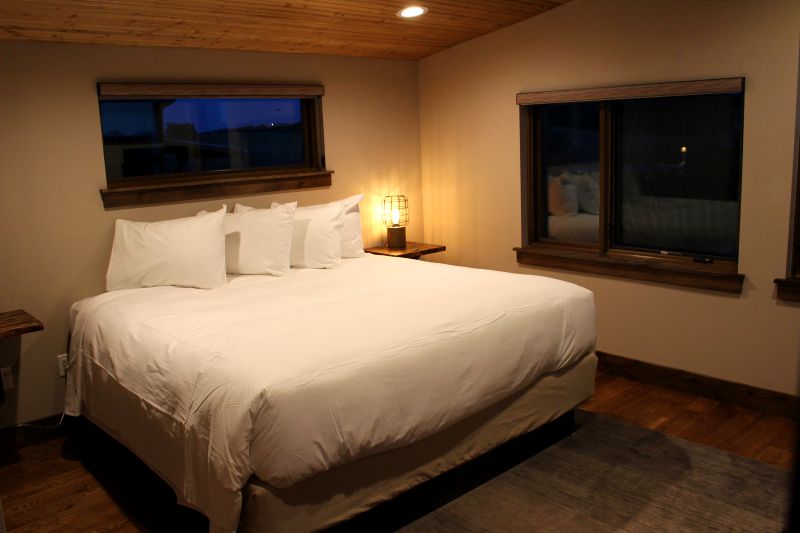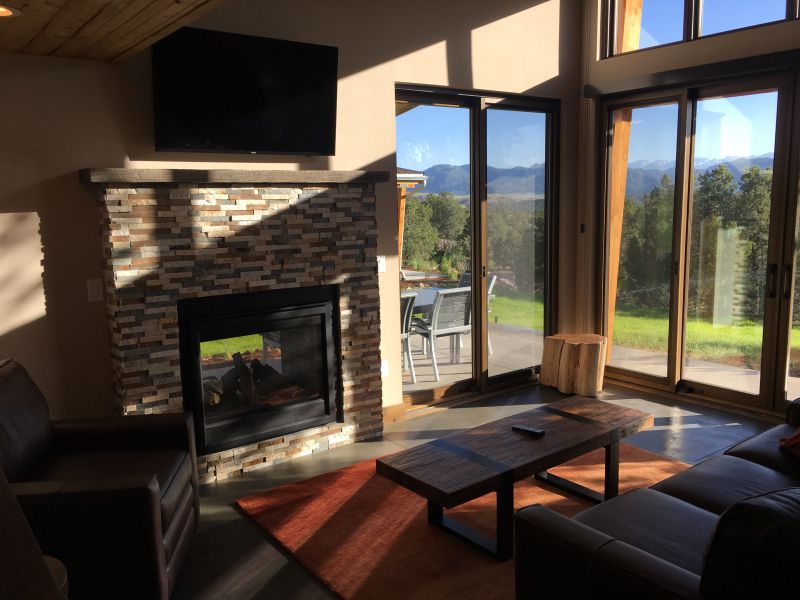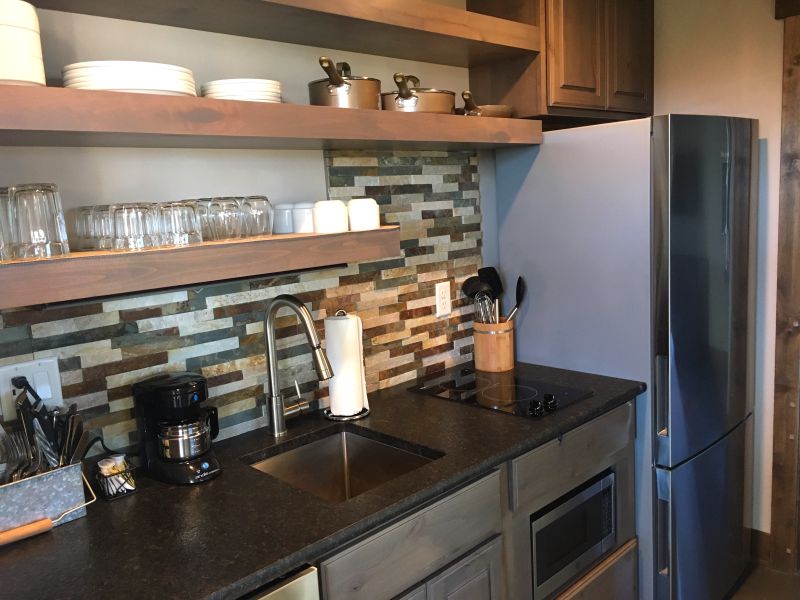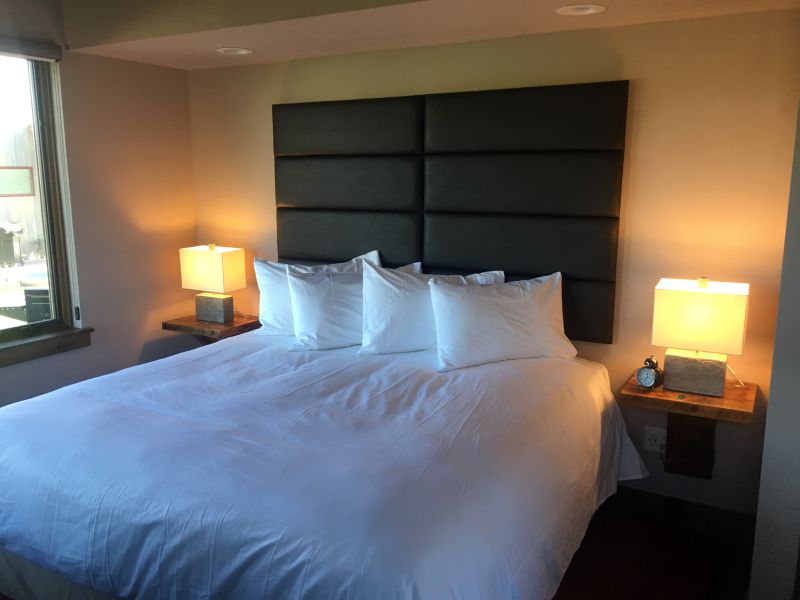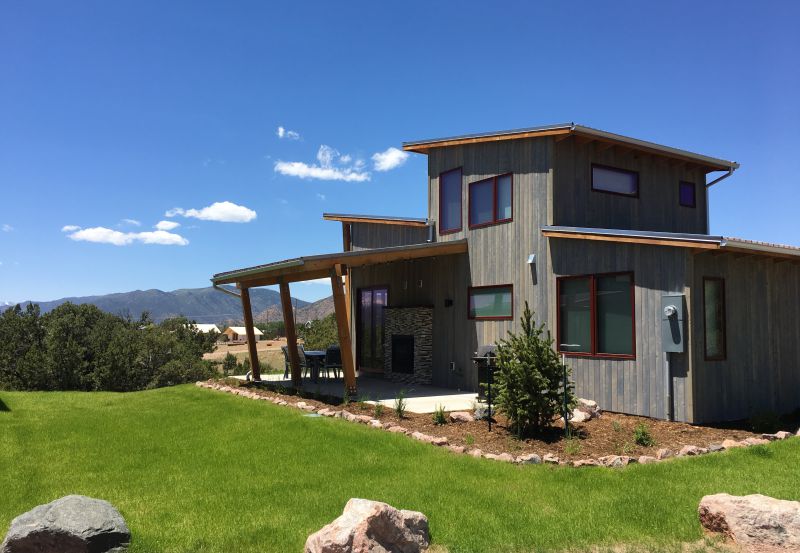 To put it simply, if I was doing a review on the new Royal Gorge Cabins at Echo Canyon it would rate five stars. Both the buildings themselves, as well as the people, were first class. I especially loved the extended outdoor area with its two way glass fireplace. It would make the perfect place to sit around with friends after a long day spent rafting on the river.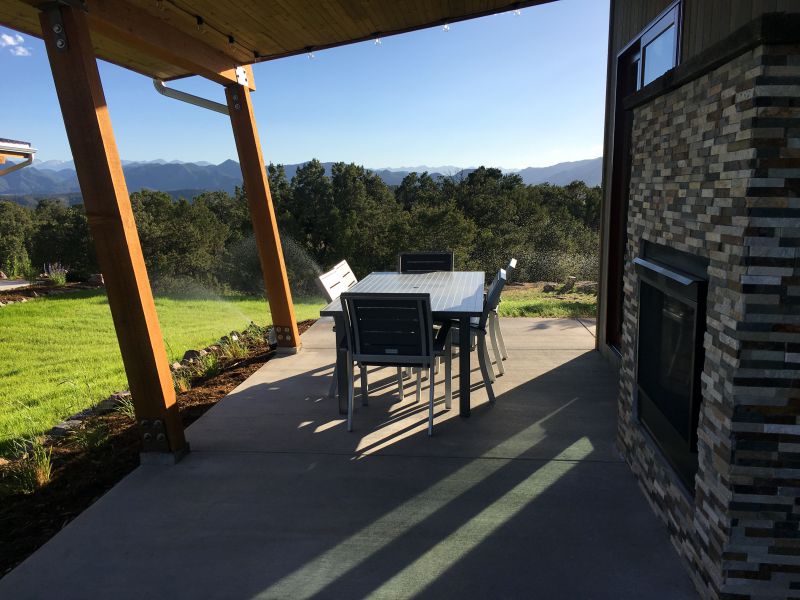 For those that truly love the outdoors,  Royal Gorge Cabins even has some gorgeous glamping tents for rent for those if you'd like to have a few s'mores around the campfire, but still want to sleep in a comfortable bed at night.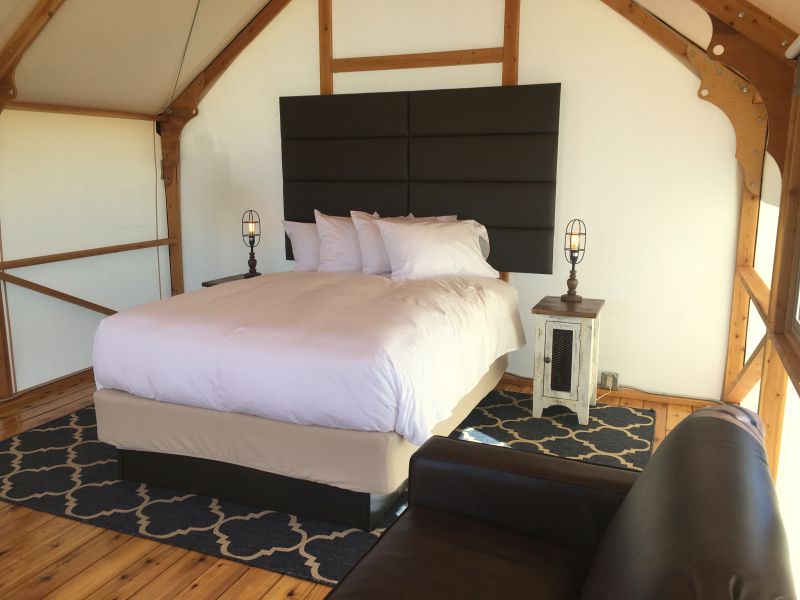 Not only that, we had some delicious fare across the street over at Echo Canyon's 8 Mile Bar & Grill. Their fresh fried waffle chips were worth the trip in themselves, and everyone raved about their fried pickles. We ended up eating there for both lunch and dinner and both times we left satisfied.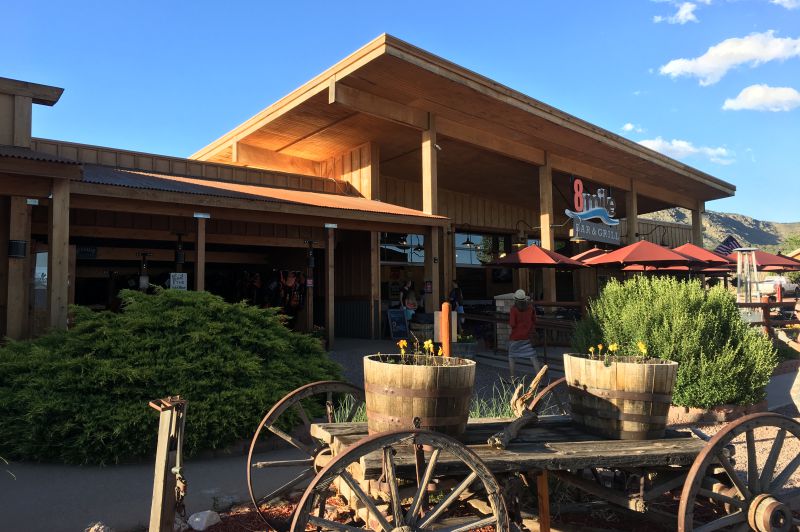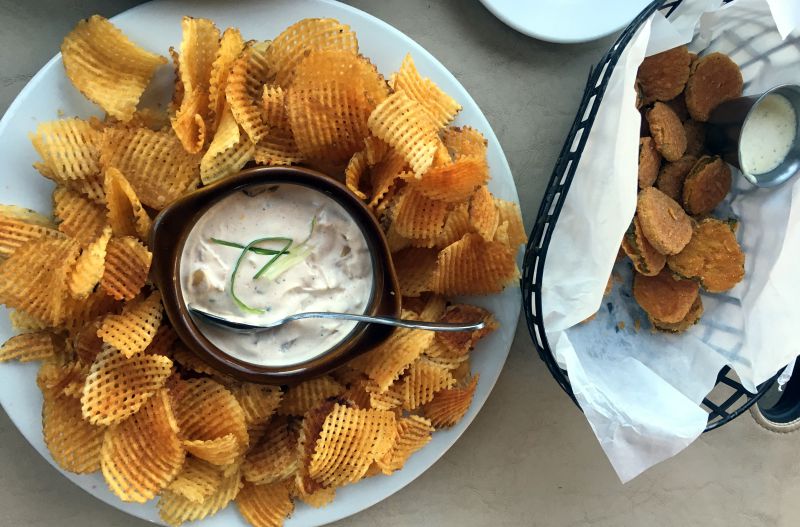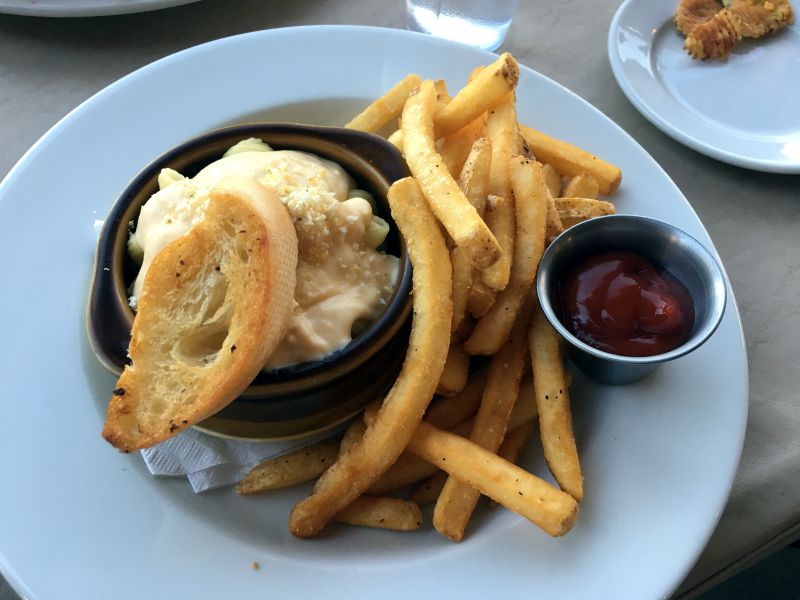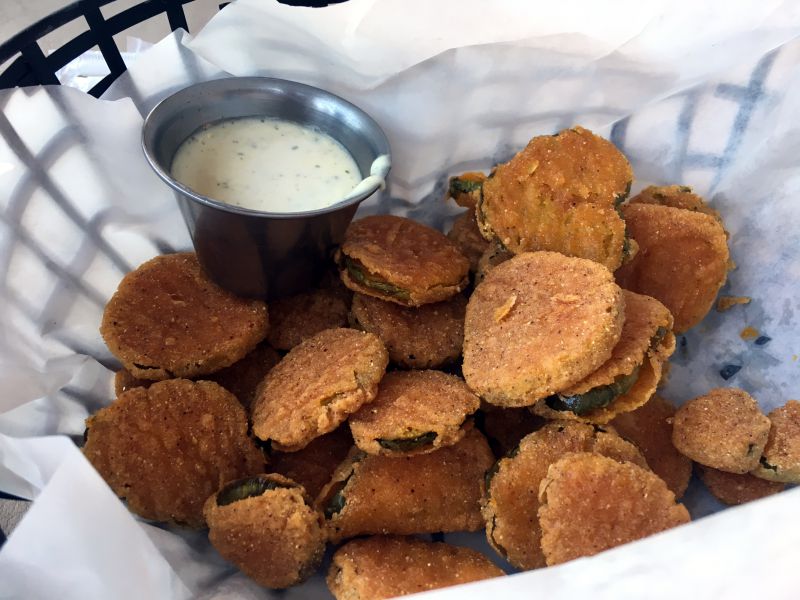 For those that like their beer cold after a day on the water, 8 Mile Bar & Grill also has 16 draft beer options. Throw in a king sized firepit, some beach volleyball courts and lawn games to occupy the little ones and what more could anyone ask for?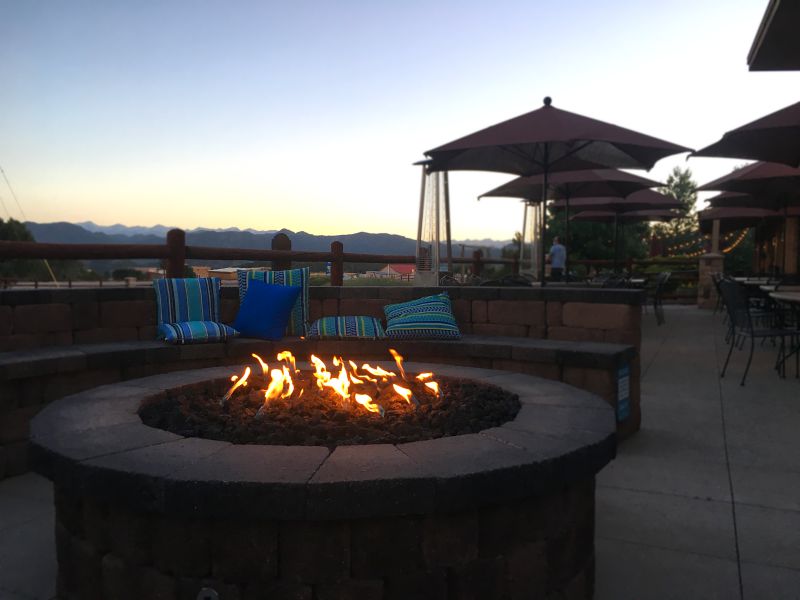 Echo Canyon River Expeditions white water rafting near Cañon City, Colorado
For anyone coming to white water raft the Arkansas River, there are several whitewater companies to choose from just to the west of Cañon City.
If your goal is to spend your day or half day on the river like we did, Echo Canyon River Expeditions is the biggest and highest rated over at TripAdvisor. All the guides, boats, buses and equipment were top notch.
On top of that, we had the pleasure of meeting Andy, the owner of the company, who was both extremely friendly and highly knowledgeable on the river and the area in general. What's more, even with up to 50 boats running a day during high season, he still manages to get out and guide a few times a week so he's always in touch with every aspect of the company.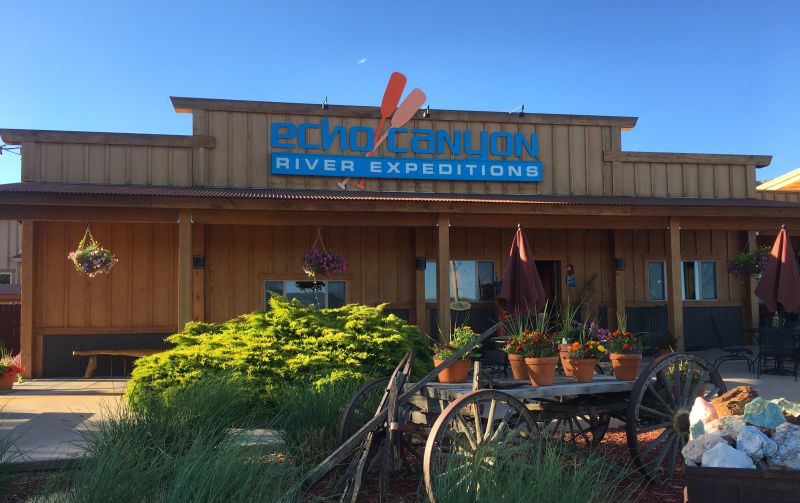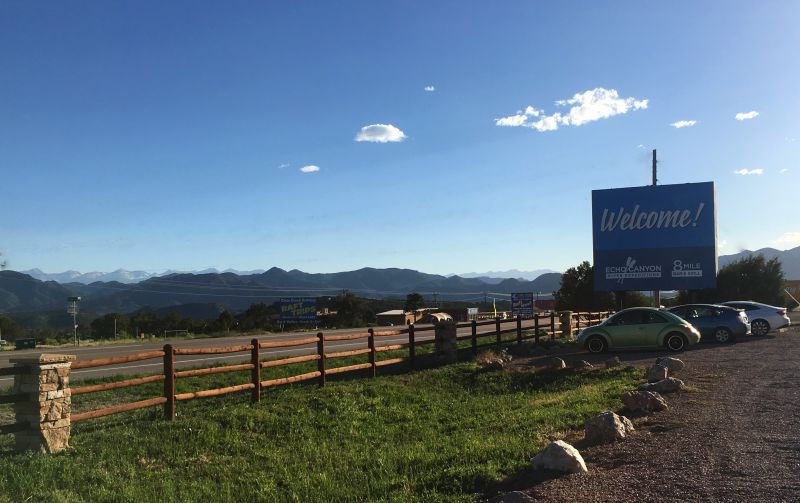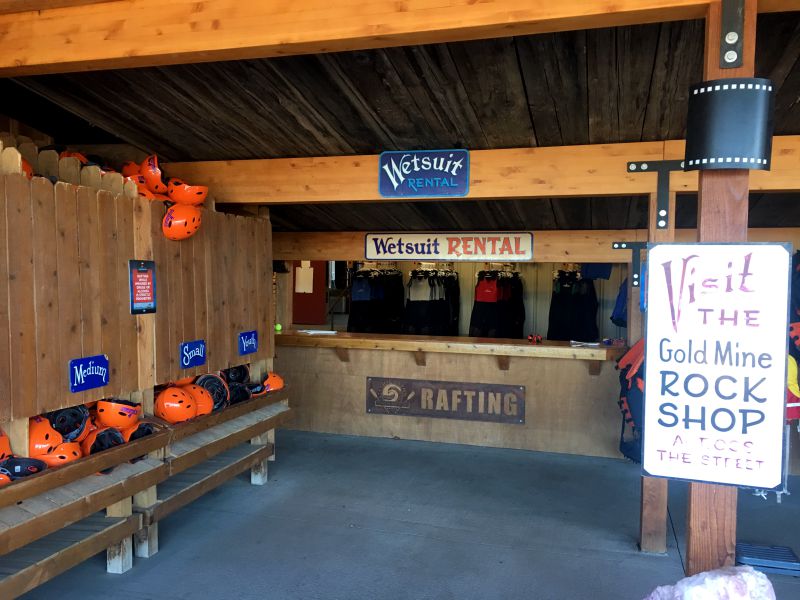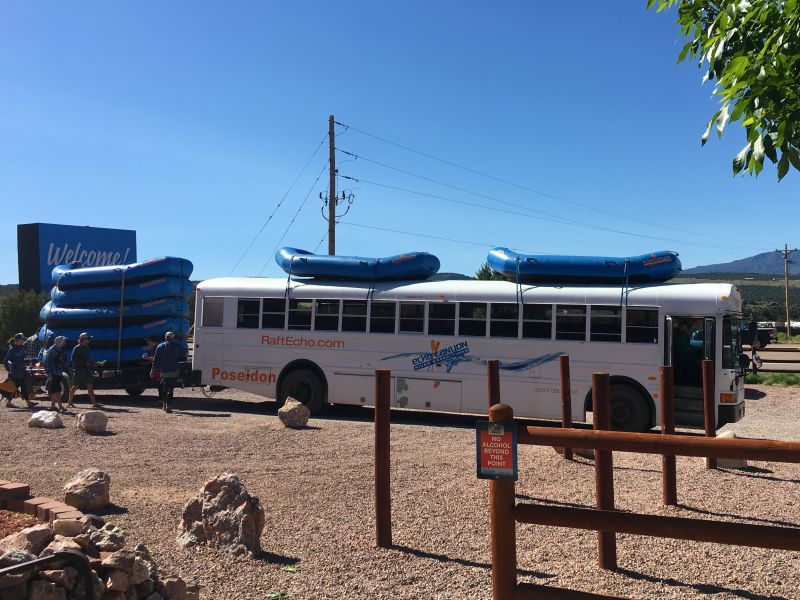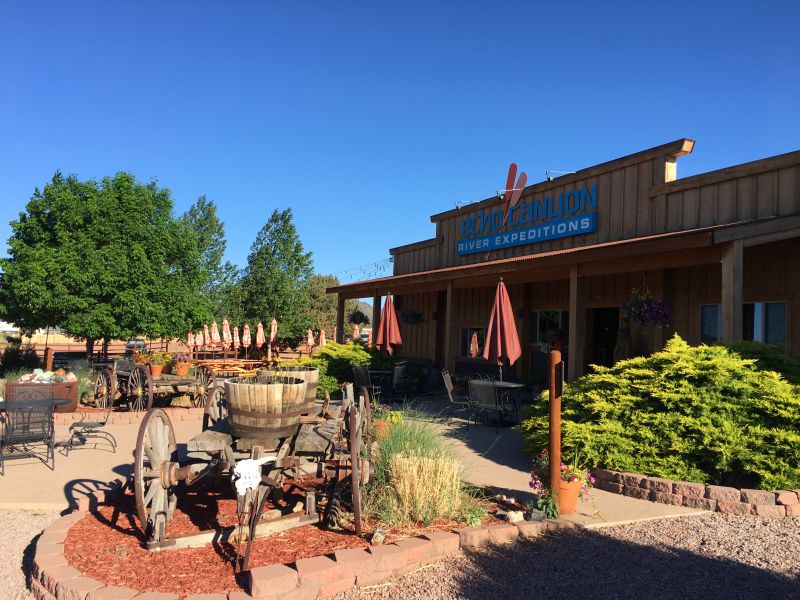 Due to the Arkansas River still being high from the late Spring thaw, and because we wanted to do a Colorado family rafting trip versus the more adventure filled one, we ended up going the Upper Arkansas River run. After being fitted for lifejackets, wetsuits and helmets, we all waited for the bus to take us to our location.
30 minutes or so later, and after the guides set up all the rafts for us, we jumped into the boats and set off. Along with Mack, our guide and seven other boats, we hit some class three and class four rapids and everyone on our boat had a great experience. Not only were the rapids fun, we even saw a black bear running along the river beside us!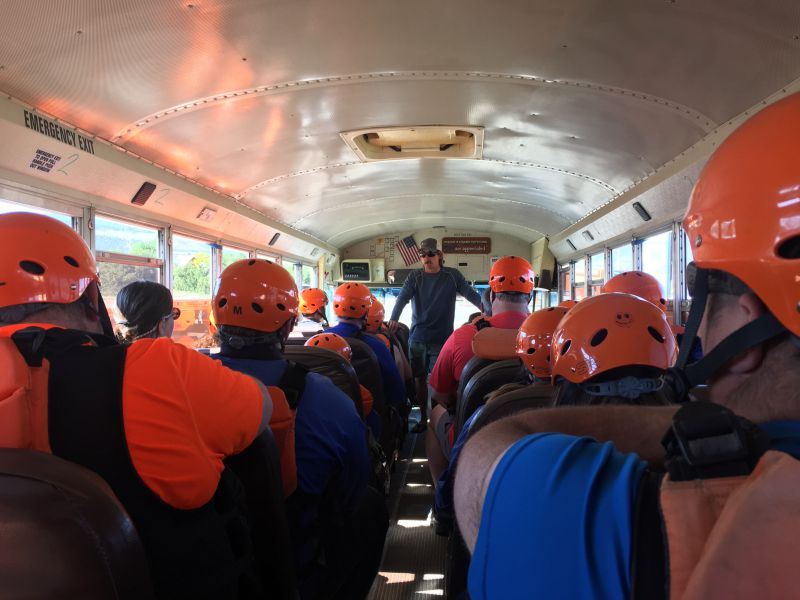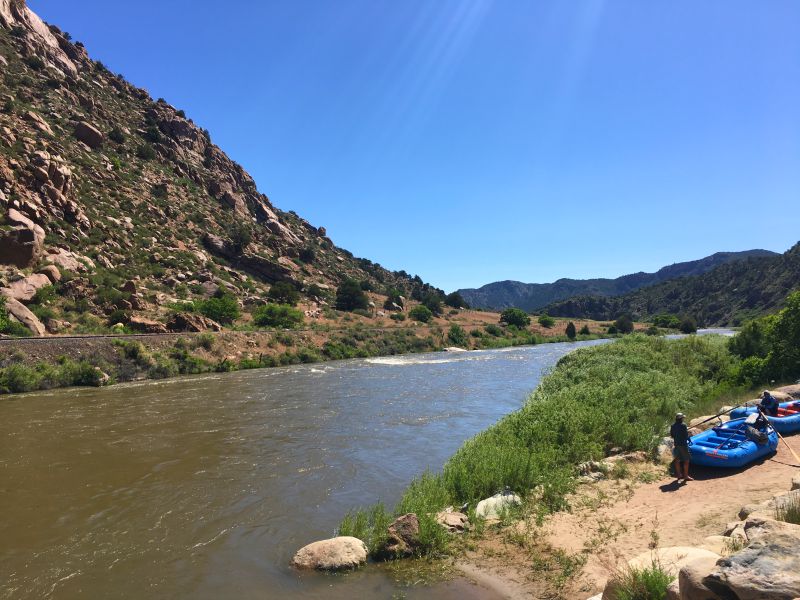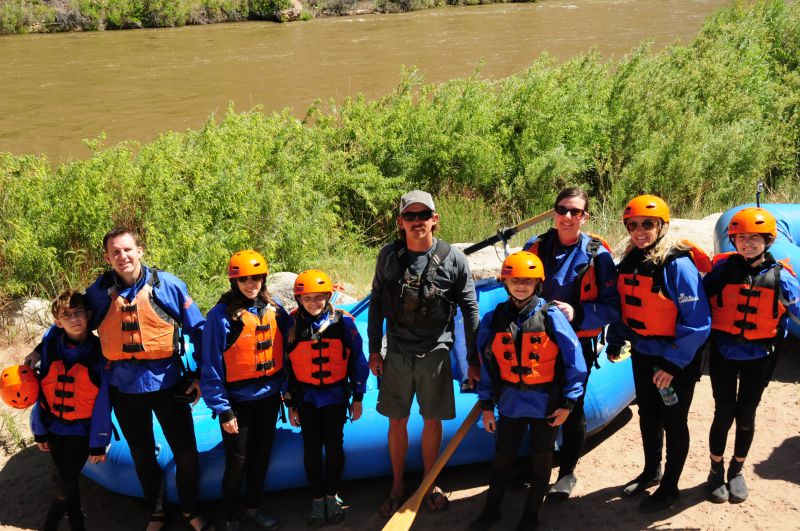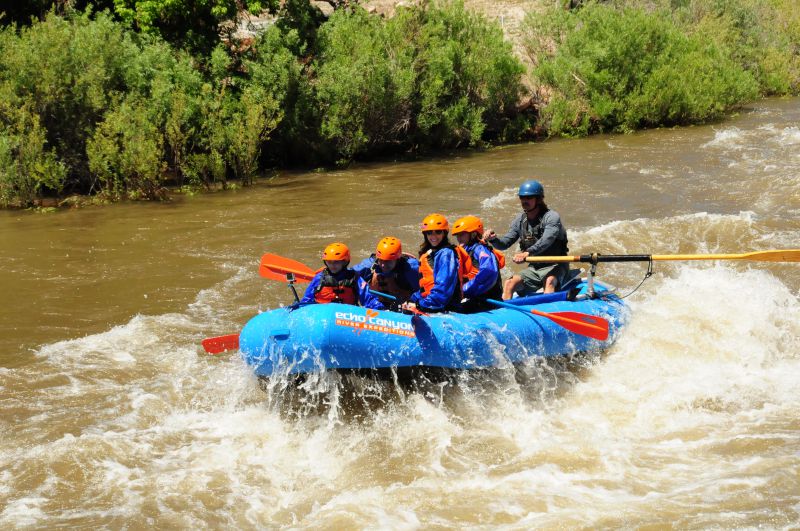 We enjoyed white water rafting so much in Cañon City that Cole and I both want to go back and raft the famous Royal Gorge canyon section of the Arkansas River. After numerous tales from the owner and some of the experienced guides, the class 4 and 5 rapids sound like an exhilarating ride filled with breathtaking scenery.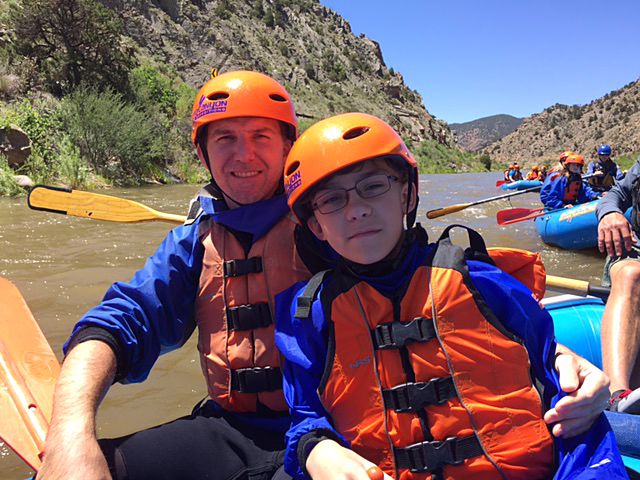 There are also some gorgeous views from the Royal Gorge Bridge, which is one of the highest suspension bridges in the world, and some good zip lining in the area, which we didn't get to try, so yes Colorado, we will be back!
Dinosaurs in Cañon City, Colorado
After our morning on the water and another quick tasty snack at Echo Canyon's 8 Mile Bar & Grill, we headed next door to the newly opened Royal Gorge Dinosaur Experience. If you or your kids love dinosaurs then this place shouldn't be missed. Not only does it have some great indoor exhibits with plenty of information, including castings of some locally found fossils, but it also has a collection of full sized animatronic dinosaurs just outside to get a feel for just how big dinosaurs were back in the day.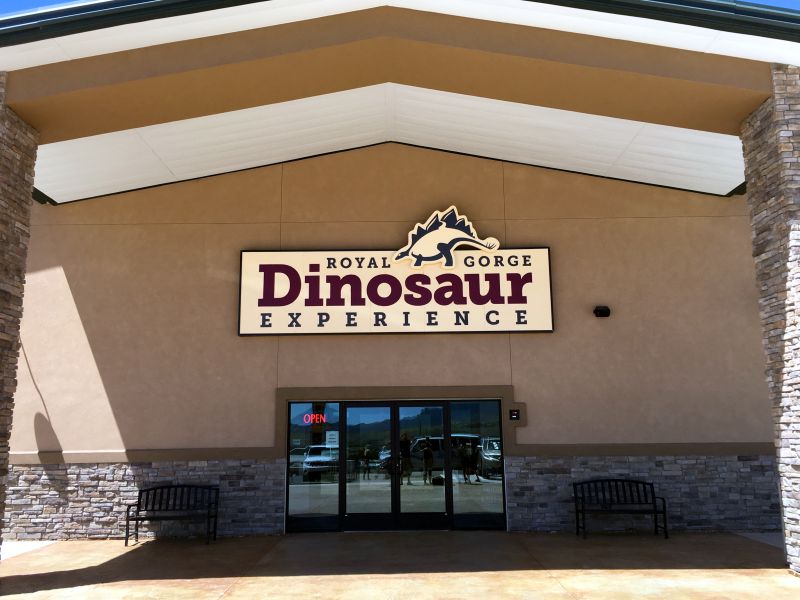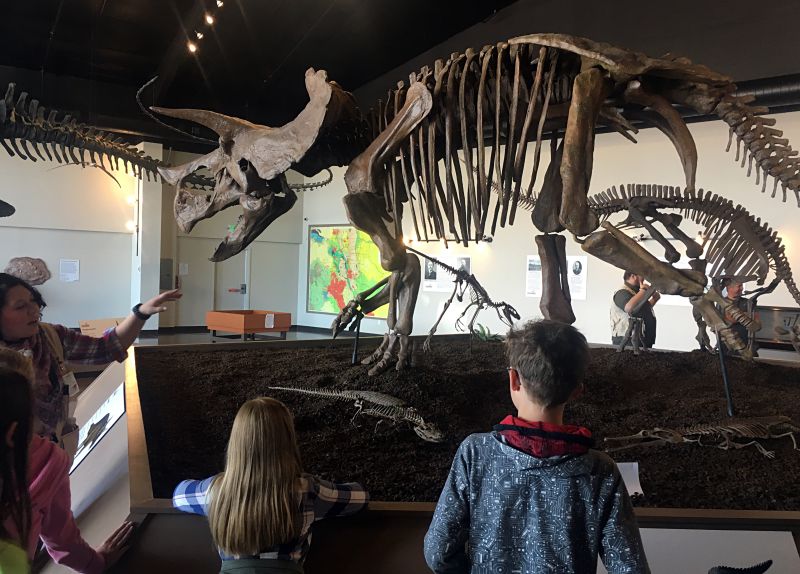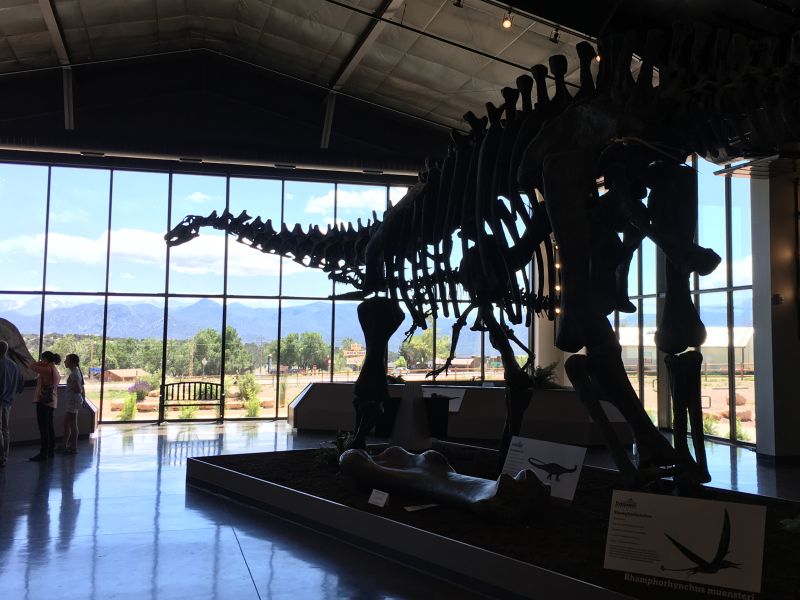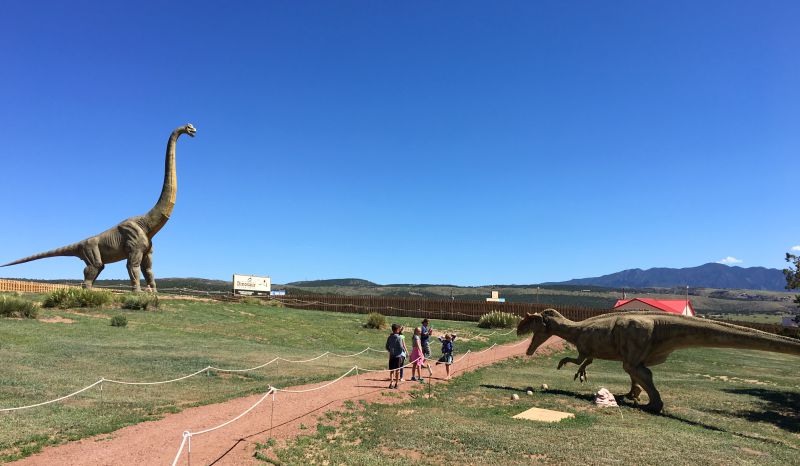 As well as the guided exhibits, the kids really loved the three story rope course outside. Ever adventurous, I decided to liberate the child within me and walked the heights as well. I think I enjoyed it more than a few of the kids but that's another story. I will say the wind can really gust near Cañon City so that coupled with the heights made the climb that much more exciting.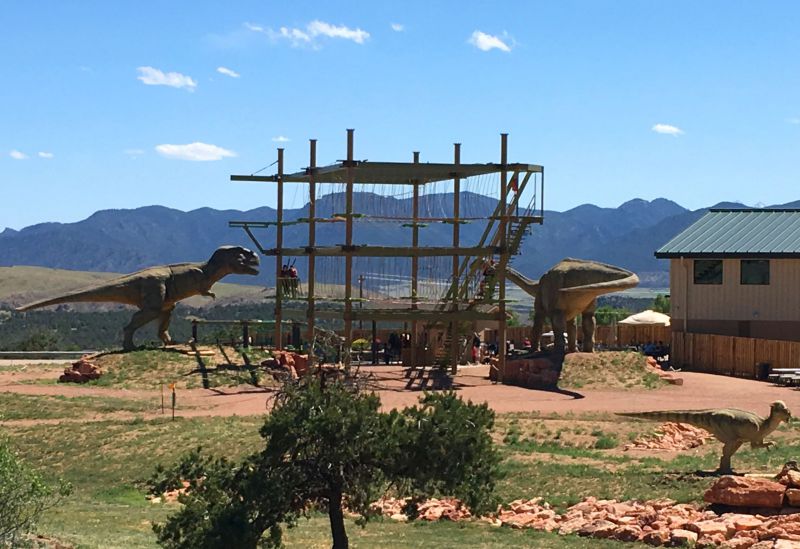 The cool part about Royal Gorge Dinosaur Experience is that they have a miniature rope course designed for three to five olds and a dinosaur dig area where kids can unearth their own dinosaur fossils. Rope courses are becoming popular the world over, but this was the first time I saw one aimed perfectly for the toddlers complete with safety gear especially designed for them.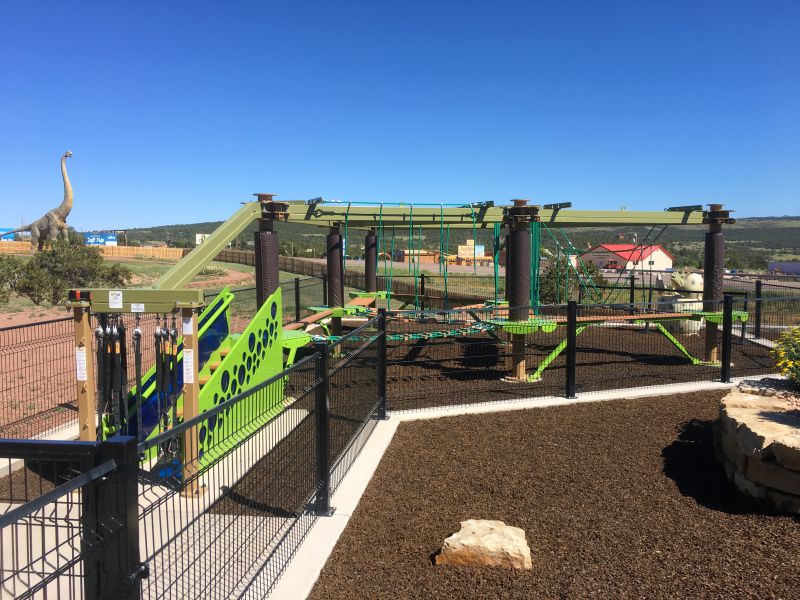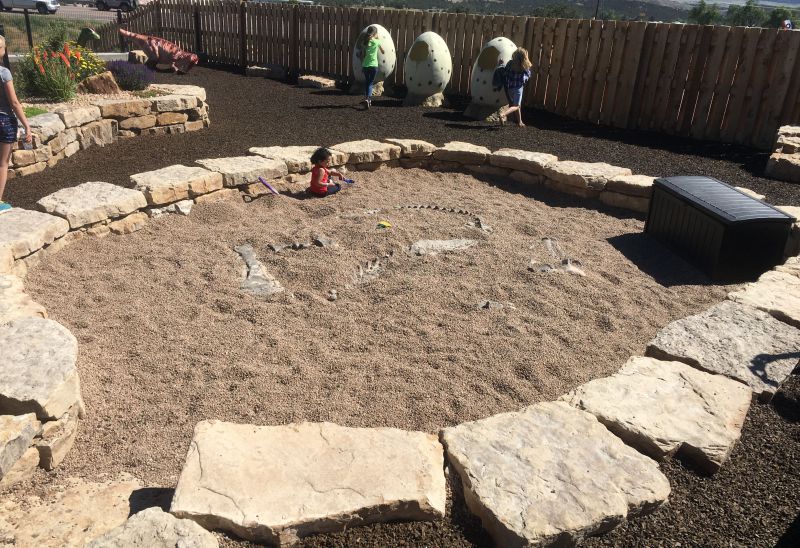 Besides for the indoor and outdoor exhibits, there's also a small canteen and a very generously sized dinosaur shop at the Royal Gorge Dinosaur Experience with more dinosaur merchandise than I think I've ever seen in one location. We walked away with tshirts, mugs, gems and dinosaur candy. All perfect to bring back to my daughter Jordan who was at home.
We also had the pleasure of meeting the family that built the Cañon City Royal Gorge Dinosaur Experience. Not only were they super friendly and knowledgeable, their love for all things dinosaur related was quickly evident. I'm curious to see what they add next to their ever growing Dinosaur Experience.
Colorado Springs and area attractions
Overnighting in Cañon City was only one small part of our Colorado tour, so stay tuned for my forthcoming review on Colorado Springs and the many things you can do in that great little city.
These include riding a cog train up Pike's Peak, checking out the beautiful Garden of the Gods, visiting the giraffes at the Cheyenne Mountain Zoo, eating s'mores and going on a MagiQuest at Great Wolf Lodge (find helpful Great Wolf Lodge tips here!), descending to the depths in the Cave of the Winds, having breakfast and a pint in the Ivywild School and relaxing in comfort at the sprawling Cheyenne Mountain Resort.
Many thanks to Colorado Tourism, who hosted us.