Want to drive around Australia? Have enough money for buying or renting a campervan and keep the fridge stocked and the petrol full? Have a good sense of adventure and a willingness to put a few hours behind the wheel? Well, if you do, you're all set for an Australian adventure.
Before we had kids, Micki and I had the amazing opportunity to spend six months driving around Australia in a campervan that we had bought and outfitted ourselves.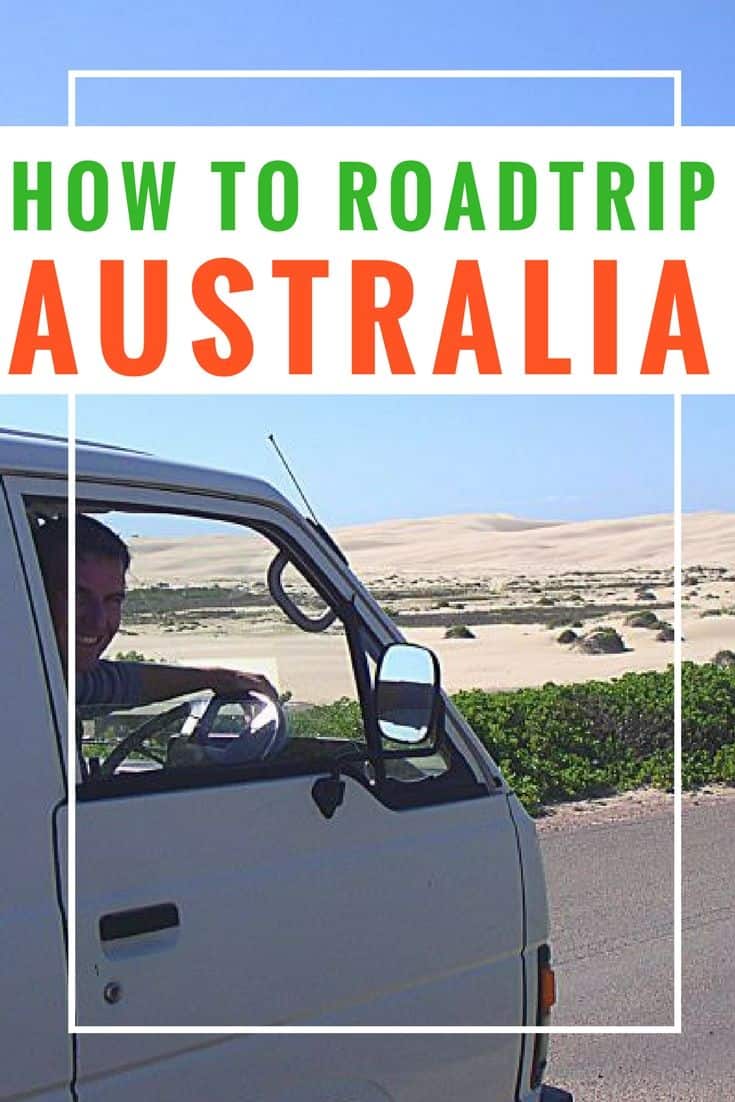 By the sixth month, we had put over 25,000 kilometers on that campervan, driving from Adelaide in South Australia, up through the untamed Outback in the center, then up to Darwin in the north, before crossing over to Cairns, and finally down the east coast of Australia to Sydney.
Even after spending years bouncing around the globe, it was an unforgettable adventure and still one of our favorite travel highlights.
A guide to driving around Australia in a campervan
Australia is the perfect country to drive a campervan or RV, since it has huge spaces and plenty great RV resorts, or Holiday Parks, as they're often locally known, in nearly every town.
I think that an Australia road trip is probably the best way to see the land down under, especially if you want to see more than just the big cities and get to know the real Australia.
The funny part about our Australia roadtrip was that our first campervan turned out to be a massive lemon. Sure, we only bought it for a few hundred dollars from a hostel where a previous backpacker had left it and managed to sell it for $50 more than we paid (once we realized it wouldn't pass a safety inspection). In case you're wondering, we actually sold it to a guy fixes cars, so he profited as well once he fixed it up.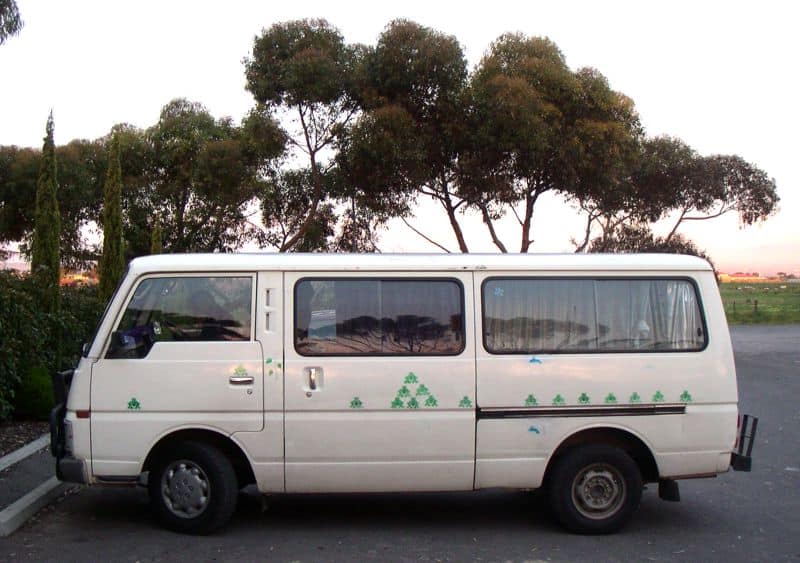 The great part about the whole scenario was that the original van was stocked with tons of extra goodies.
From an extra camping tent and sleeping bags (helpful when we rented a 4×4 and stayed on Fraser Island) to boogie boards, a portable table and even a nice propane stove that, by the time our trip was complete, we had gotten good use out of nearly everything. So, when we bought our next campervan, for about 20 times the first, we had it totally stocked up without spending an additional penny.
Even better, we bought a queen size mattress for the back, and even a TV! It was a real luxury to curl up in bed at night and watch a some true Australian TV. We were addicted to the first season on Australian Idol (and were cheering for the eventual winner, Guy Sebastian).
Australia road rules and such things as road trains
Initial problems aside, driving around Australia was a breeze. Well, that is, once we figured out that not only did we have to get used to driving on the left side of the road, but we also had to change gears with our left hand (ours had a manual transmission) and things are reversed from what we're used to in North America.
Since the gear shift was on the steering column, you have no idea how often we turned on the windshield wipers by mistake. It even became a running gag during our trip.
If you're interested in buying a used Australia campervan, you can check out Gumtree. Not only do they have thousands of Australian campervans, they also have tons of used camping supplies as well to help get you fully outfitted for your own Australia roadtrip.
I'm also not going to lie and say that we didn't almost get into trouble a few times coming off traffic circles (which weren't used much in North America then). Not having lane markers when you're first trying to remember to drive on the left can be problematic in itself, but after doing a few circles you kind of revert to what you're used to when you finally straighten out, which wasn't a good thing if you're a right lane kind of person.
Outside of that and, oh, the one lane bridges, you should be fine. Just remember to look at what's coming before you drive over them.
Oops. Did I forget to mention having to get off the road when those giant triple trailer trucks they lovingly refer to as road trains pass you by in the Outback?
That's not really a law, but if you value your vehicle (and consequently your life) it's not a bad idea to get out of their way. To say that back trailer sways a little is like calling Uluru a little rock in the Outback, and those road trains don't slow down for anything or anyone. Don't worry though, there aren't that many of them, and it's a nice change of scenery from the miles and miles of unchanging desert scrub.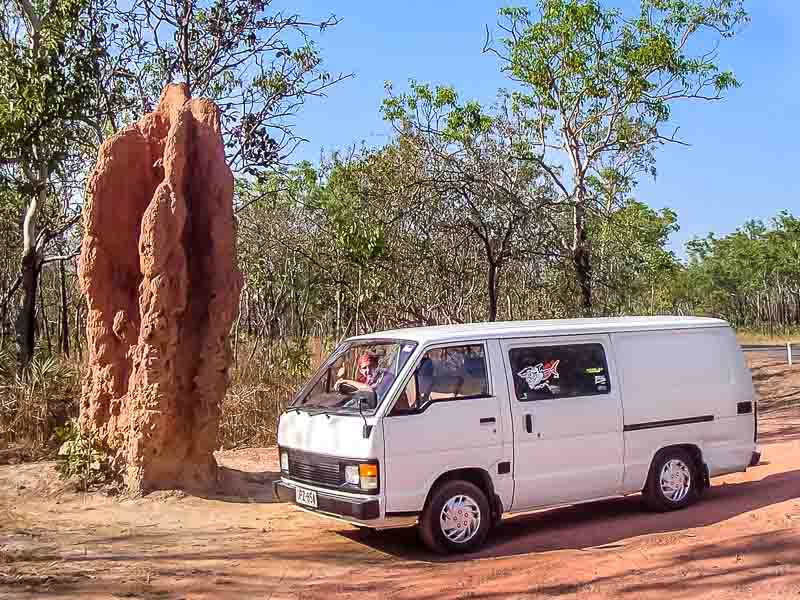 Oh, did I mention the kangaroos?
Well, you'll see those for yourself if you drive through the Australian Outback like we did. They're awesome to see hopping in the distance and don't worry, you'll see plenty of them. Just realize that they have no natural predators in Australia and there's just as good a chance as them jumping into the side of your Australian campervan as you hitting one. You have been warned!
We also learned it's a bad idea to drive most places in the Outback at night. Between the hopping kangaroos, the swaying road trains, wandering cows, an errant camel or emu and an abundance of wild rabbits in certain parts of Australia, unless you know the area well, it's best to stay completely off these roads after sundown. Of course, if you're on the coast or in one of the major cities you should be fine driving at night.
The realities of driving a campervan in Australia
All kidding aside, driving in Australia is easy once you have a few things down pat. Roads in major cities are well marked, and Australia is similar to most countries in regards to road rules and signage. Just realize that each Australian state has its own road rules. You can check them out here if you're curious.
Since 85% of the Australian population is within 50 kilometers (31 miles) of the coast (see our recent post on things about Australia you didn't know here) there are many places to stay, eat and most importantly, refuel, during your Australia road trip.
Once you get into the Outback, things are a little more spread out, so you need to make sure you have some spare gas with you or have a good estimate of how far your campervan or RV can make it on a tank. Luckily, there are usually signs saying how far the next available gas station. Trust us, you don't want to get stuck in the Outback without fuel.
Outback safety tip: If you run out of fuel, or your campervan breaks down in the Outback, stay with your vehicle and wait for the next vehicle to pass by. The blistering heat is your biggest danger so stay hydrated. It might take hours, but someone will eventually drive by who can help you out.
It's also important to realize that smaller towns that only have one gas station could close as early as 4 pm. We spent the night parked in a gas station lot, because we didn't have enough fuel to make it to the next town, more times than we care to admit.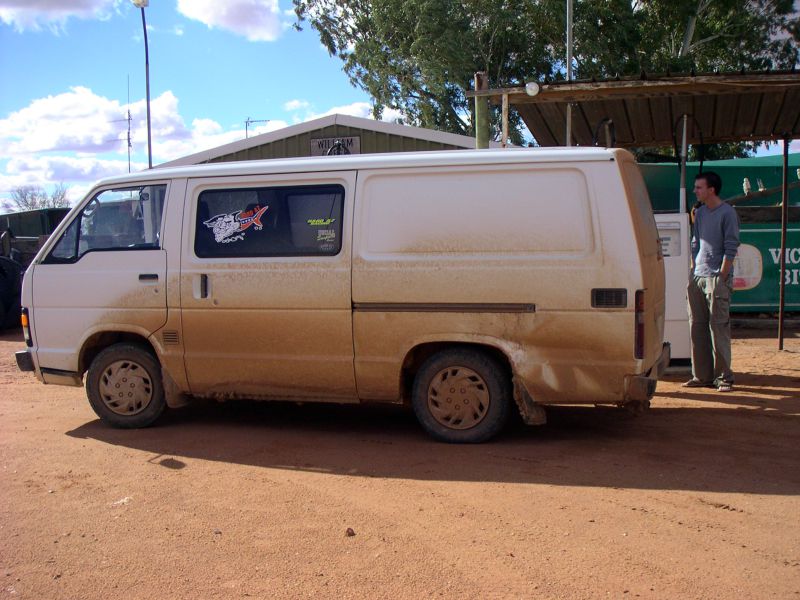 If you're looking for the cheapest gas in an area, or even how close the nearest petrol station is, you can grab the Motormouth app. Similar to North America's Gas Buddy app, their Australian user-based system continually lists the current gas prices around the country. It's also handy when that red light on your fuel tank starts flashing, and you need to refuel your campervan or RV immediately.
Even more importantly, since the Outback can get quite hot in the day and cool at night, you don't want to get stuck without water and food. Make sure you have lots of both when you drive towards the Red Centre.
It's more than likely you'll be starting your journey from one of the major cities, so make sure to stock up on everything you'll need at one of the big supermarkets. The farther you go from the big centers, the more costly food becomes and picking up essentials at gas stations is going to hurt the wallet more than a few spoiled or unused food items.
RV Resorts, Holiday Parks and campgrounds
I can honestly say that Australia has some of the nicest campgrounds we've seen anywhere in the world. Though the cost of some of the Australian campervan parks can be a little pricey, lots of campgrounds come fully provisioned with hotel quality swimming pools, multiple hot water showers and restrooms, huge cooking areas complete with lots of barbecues and even dedicated outdoor TV viewing areas for those not so nice evenings. Some even have trampolines and miniature golf for the kids.
Our favorite campgrounds in Australia even featured our own personal shower and washroom area as well as a private cooking area. Staying in those campgrounds was like having a very welcome addition to our campervan, giving us extra room to hang out as well as letting us cook our meals far from our beds. It was also cool to pull into your spot and find out what the little half building next to your pad contained.
Important! Australia has reverse seasons to the northern hemisphere. As such, Christmas vacation for Australians lasts two months and nearly everyone is out camping and enjoying the heat in December and January. If you're planning to be in Australia during these months, I suggest you book your campgrounds far ahead of time, otherwise you'll be parking on the street or in parking lots.
One of the biggest campground companies in Australia, with 180 campgrounds scattered across the country, is Big4 Holiday Parks. They're among the priciest of the Australian campgrounds however they also tend to have the nicest amenities.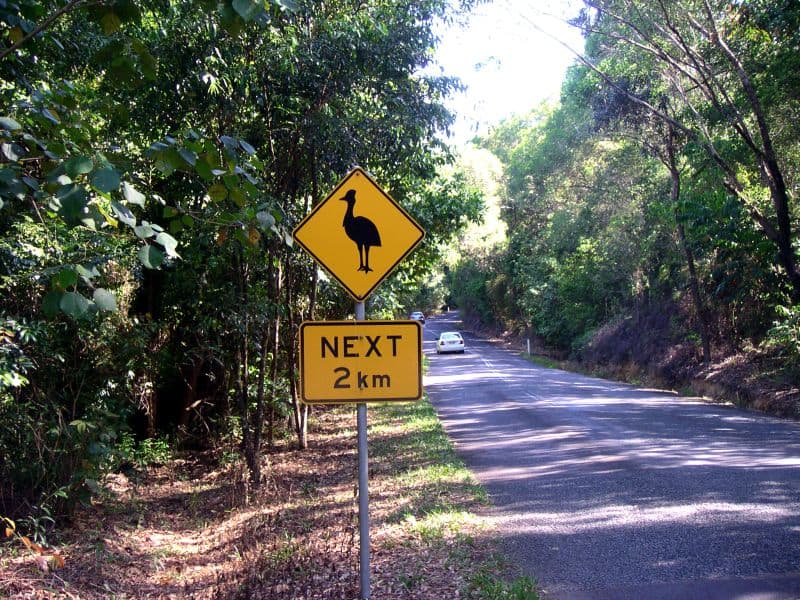 If you want to rough it a bit more, you can also find campgrounds throughout Australia's National Parks. You can search for campgrounds across all the national parks here.
For a list of cheaper campgrounds around Australia, check out Explore Australia's campground list here and the Findacamp site has a great list as well highlighting some of the cheapest campgrounds in Australia.
Buying and selling a campervan in Australia
If you're looking at buying a campervan in Australia, there are certain months when it's easier and cheaper to buy a campervan in Australia than others. The same goes for renting a campervan. Australia campervan hire can be surprisingly affordable off season, or during the shoulder season, especially.
December and January are busy across the country, and finding a rental won't be easy or cheap in these months. If you want to rent, consider going in the shoulder seasons of October or November and February or March. You'll miss the crowds and added expenses but the weather should still be great.
If you're considering buying a campervan or RV, you also need enough time to pick out your campervan and enough time to sell it. There are tons of options out there from used buying and selling sites to dealerships. You can also check out local hostel bulletin boards (even if that didn't work out so well for us).
When it's time to sell, you can place an ad or even bring your campervan to one of the local swap meets that specializes in selling vans, campervans and RV's from other travelers. There should be one in every major city.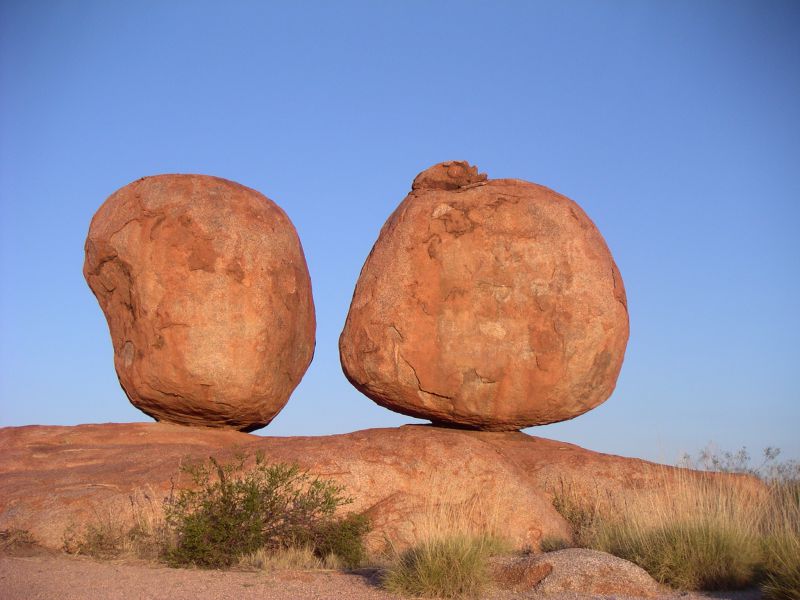 Just note that there are better and worse times to buy and sell your campervan in Australia depending on the city you're in. April to July tends to be the worst time of year to sell your vehicle in Sydney, Perth and Melbourne, however those could be great times to buy one. December to June is also bad in northern Cairns and Darwin, and both Brisbane and Adelaide can be tough to sell in year round. We ended up buying our campervan from a local in Adelaide, since there weren't that many travelers selling theirs when we were there.
Vehicle Registration is valid for a year in Australia and usually requires an address. We just used our hostel's address to sign up and it went pretty smoothly. Depending on the year of the vehicle and where it was initially registered, also note that some vehicles require a safety inspection before they're allowed to be registered to someone else, so make sure the vehicle is roadworthy before giving over the money.
Final thoughts on driving an RV or campervan around Australia
Already have your Australian campervan fully stocked and ready to roll? All you need to do now is pick a route and set a timetable.
Are you going to drive The Great Ocean Road in the south past Melbourne and enjoy beautiful beaches and light houses?
Dreaming of jumping crocodiles and pristine canyons? Maybe driving from Darwin down to Katherine Gorge is the trip for you?
Want your area a little less crowded? How about having a quiet wilderness adventure on the west cost in Western Australia?
Still too crowded? How about checking out the Red Centre and experiencing the wide open spaces of Australia's outback while you take in iconic sites like Uluru and the Devils' Marbles?
Too remote for you? How about checking out rainforests, the great barrier reef and gorgeous stretches of beach as you live up the beach bum lifestyle in tropical North Queensland?
Maybe the mainland is too much for you? All that space giving you pause. Maybe you should check out Tasmania's rural and natural beauty and check out Tasmania's sleepy towns and secluded beaches.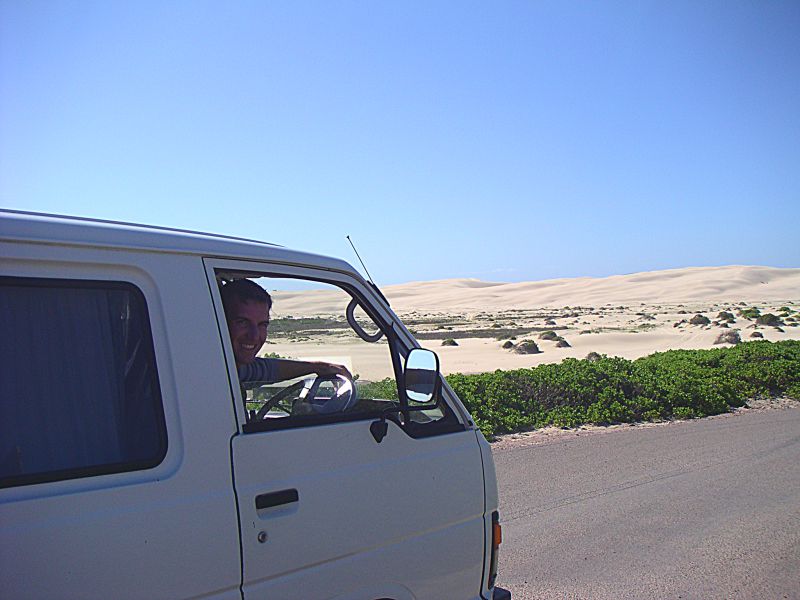 No matter where you go or which route you decide on, taking a road trip around Australia in your campervan, RV or even just a van will be a memory you'll keep forever and no matter how long you go for, there will always be something new to see on your next adventure.
Safe travels!
Got a tip about driving a campervan around Australia? We'd love to hear from you. Drop us an email or leave a comment below for everyone to read.