In this Jase Medical review, I want to share the importance of having emergency antibiotics while traveling and how Jase Medical can provide that extra level of protection and security.
As a seasoned traveler, I understand the importance of being prepared for any situation, especially when it comes to health and safety. While carrying a well-stocked first aid kit is essential, it's not always enough. That's why I highly recommend considering Jase Medical's emergency antibiotics for your next trip.
With the shortages, travel disruptions, and political unrest in the world right now, being prepared seems like an especially good idea.
In a hurry? See Jase's emergency antibiotic prices now.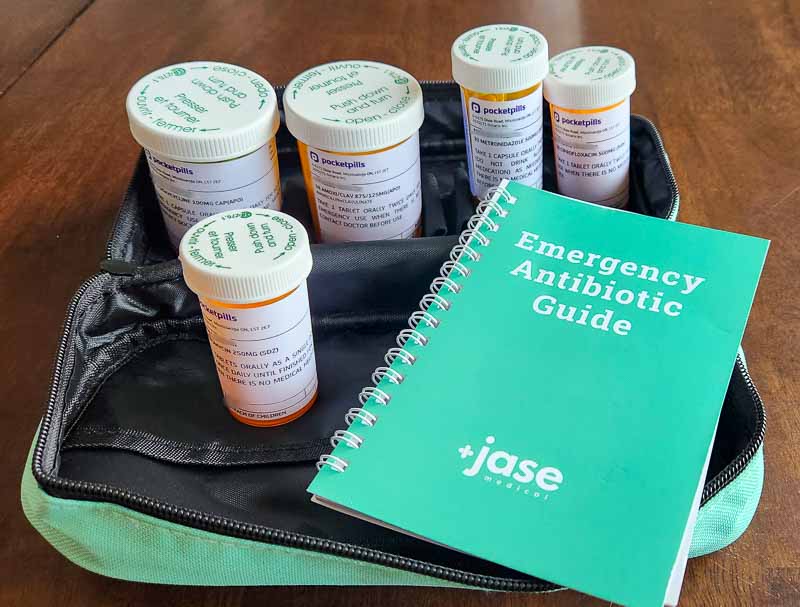 When you're traveling, the unexpected can happen. It's important to have a reliable source of medical support. Jase Medical's emergency antibiotics can give you that peace of mind, so you can focus on enjoying your adventure.
Our family of four carries a well stocked travel first aid kit, and it's come in handy many times. That said, even the best first aid kit for traveling abroad usually doesn't include antibiotics for emergencies.
There have been many times where our family of four has needed antibiotics on the road, including a kidney infection in Thailand, an E. coli infection in the Philippines, strep throat in Mexico and a nasty cut to our son's ear in Greece. (See the blue boxes for details from a couple of our personal stories).
Jase Medical Review
When I found out about Jase's emergency antibiotics kit, I was excited to get one for my family.
The Jase Case is a 100% legal emergency antibiotics kit that contains five of the most common antibiotics you might need. I think of it as a backup plan if we aren't able to make it to a doctor or pharmacy when we're traveling.
Since we'll keep the Jase Case with us wherever we are, it also serves as prepper antibiotics if we're off grid, if there's a natural disaster, or if we can't make it to a doctor or pharmacy for some reason, and for emergency antibiotics for travel abroad.
October 2023 update! While the Jase Case we review here offers antibiotic only, Jase now offers additional medications including EpiPens and Ivermectin as an add-on option to the antibiotic case. While the standard case still holds its ground, the option to customize your order with various add-ons to match individual needs is a thoughtful feature. It's a helpful and practical upgrade.
Jase Daily for daily medications. There's also a new option called Jase Daily, where you can order up to a 12 month emergency supply of your daily medications, which is perfect for extended travel!
How do you get antibiotics for travel?
In an ideal world, if you get sick as you travel, you would just visit an English speaking doctor and pharmacy and have medications prescribed.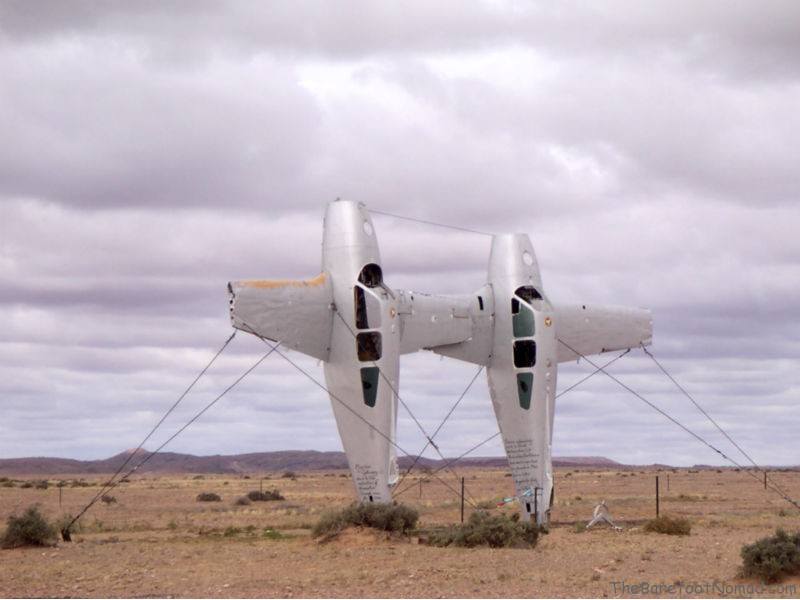 Unfortunately, it can be hard to access medical care on the road, and even harder to find a pharmacy to dispense those medications.
Another option to get emergency antibiotics for travel is to have them prescribed by your family doctor. Unfortunately, not everyone has a family doctor. In the US, doctor visits can be expensive. On top of that, a local doctor may not specialize in travel medicine, and may not know the best antibiotics to include in a travel medical kit.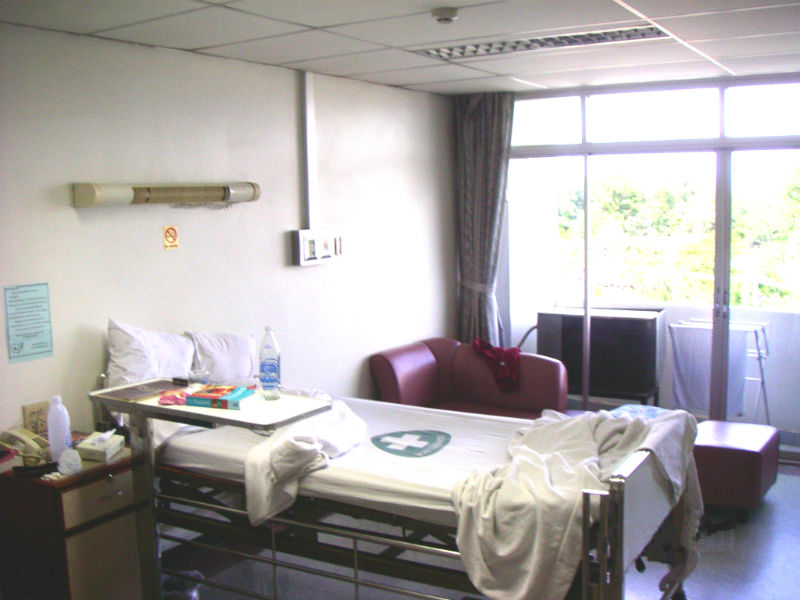 That's where Jase comes in. Jase lets you order emergency antibiotics for travel online, from a board-certified doctor, and delivered through a local pharmacy.
Wondering how to get antibiotics for a survival kit? While we got Jase for our off-grid and travel use, it's a great option for getting antibiotics for a survival kit at home.
Charles and I spent a year on our first extended trip together, back in 2003.
Our trip included visits to remote islands in Thailand, treks through the jungle in Indonesia, and prolonged camping in the remote Australian Outback. The plan was to go completely off grid often.
When we got our travel vaccinations and malaria pills, the travel nurse suggested bringing a broad spectrum emergency antibiotic for travel. She couldn't prescribe antibiotics, but she suggested we should ask our family doctor for a prescription.
Luckily, at the time Charles and I had an incredible family doctor who'd understood the importance of travel antibiotics from his time spent as a doctor in Malawi in southeast Africa. He also understood there are areas of the world where it can be hard to find a doctor, and areas where antibiotics are hard to come by.
So, our family doctor wrote us a prescription for an emergency antibiotic, with detailed instructions on when and how to take it in an emergency, and a stern reminder to call him before taking the medicine, if at all possible.
Sure enough, I ended up with a severe kidney infection in Thailand while on a remote island. Luckily, after 2 emergency boat rides and a very long taxi ride, I ended up at an excellent hospital in Trang and needed to be treated immediately with antibiotics.
Finding an English speaking doctor was more fluke than design since he was the only one in the entire hospital with understandable English. Luckily in this case, I didn't need to dip into our emergency travel antibiotics.
That said, it was a close call. I could easily have fallen sick where there was no medical care available, or where I couldn't access antibiotics.
Since Jase provided us with a kit to see how their service works, I jumped at the chance to check it out. Before I talk about my experience ordering antibiotics through Jase, here's a little info on Jase, and how it works.
Click here if you want to jump straight to my personal review.
About Jase Medical
Jase founders created the company so people have access to medical help even when professional assistance is not available.
Emergency or unforeseen medical situations can be stressful and without the proper supplies, life-threatening. Jase Medical's aim is to make sure that you have the medications you need even in times when access to medicines is hard to come by.
Jase Medical is for people who want to keep an emergency supply of medication available wherever they travel or happen to be.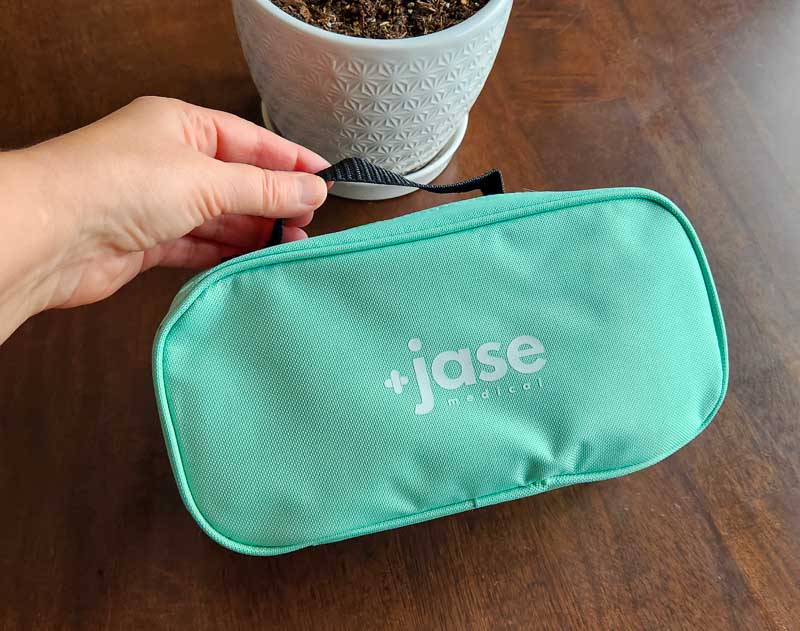 The process for ordering emergency antibiotics is simple. You just:
Fill out a simple online form, which is evaluated by a physician.
The antibiotics are sent directly by mail from Jase's pharmacy network.
What I really love is that a Jase order also includes unlimited ongoing care, so you can ask your prescribing physician any questions you may have about a particular condition or treatment.
To order online, go to Jase Medical's website here and use code NOMAD10 at checkout to get $10 off).
What medications are in the Jase case?
Jase's medical team have put together a comprehensive kit with emergency antibiotics for travelers.
The Jase emergency antibiotic travel pack contains the following medications:
Amoxicillin-Clavulanate
Azithromycin (which the CDC says is used to treat severe traveler's diarrhea.)
Ciprofloxacin
Doxycycline
Metronidazole
This isn't legal or medical advice. Make sure you consult with a doctor to see if emergency antibiotics are right for you.
Among other things, the Jase antibiotics can be used to treat:
traveler's diarrhea
kidney infections
bladder infections
pneumonia
wound infections
possible bioterror incidents
Rocky Mountain Spotted Fever (RMSF)
strep throat
urinary tract infection
How long does it take to get the Jase antibiotics?
Unlike traditional medication, you don't need to pick up your medication from a pharmacy. Instead, it's mailed to the address you provide.
My Jase antibiotics came five days after placing my order, which is lightning fast compared to other online orders that I've made with other companies.
Orders are shipped from the Jase partner pharmacy via either USPS or the Canadian Post.
Can't I just buy antibiotics overseas as I travel?
Absolutely, you can get antibiotics from an overseas pharmacy when you travel.
There are a few risks though.
First, you may not be close to a pharmacy or medical help when you need medicine.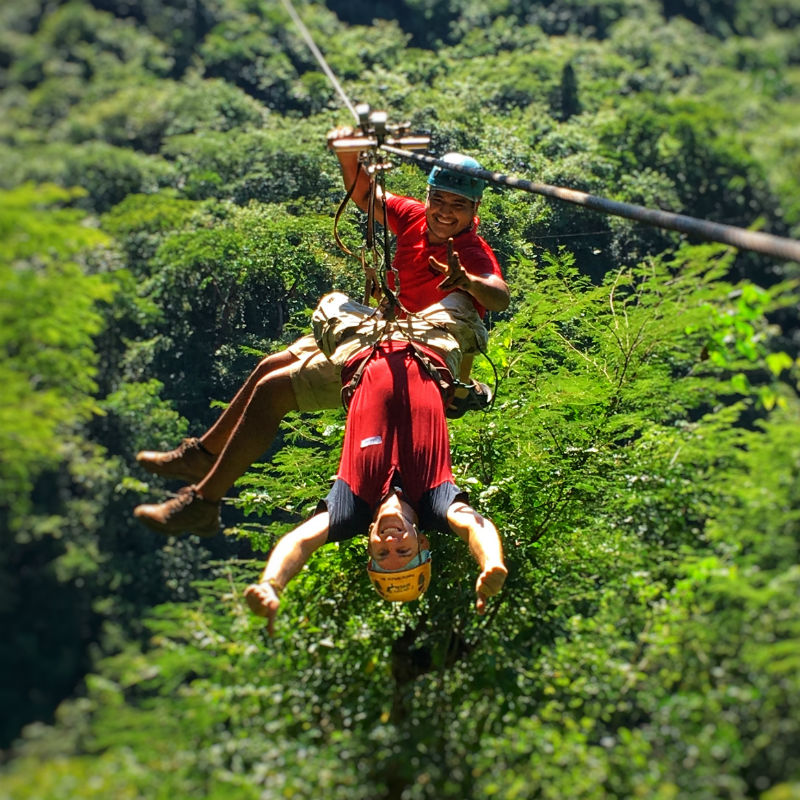 Second, you may not get the professional advice you need about usage and dose because of language barriers, or lack of access to medical professionals.
Third, and this is something that most travelers don't think about, but there's a risk the meds you get overseas may be counterfeit, especially in emerging countries.
My Personal Experience with Jase
My entire experience ordering the Jase emergency antibiotics online was smooth and simple, and only took about 10 minutes in total.
I very much like the convenience of ordering online. It's so much simpler than making an appointment with a family doctor, or with a walk-in clinic.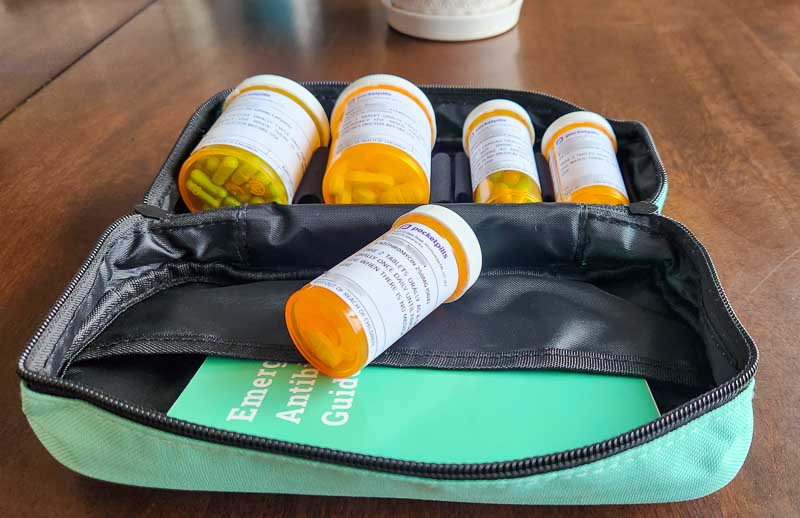 My experience ordering Jase emergency antibiotics online
To start, I went to the Jase website.
From there, I followed along with their online ordering process. Basically, it was just a few questions about my medical history and they verified my identity.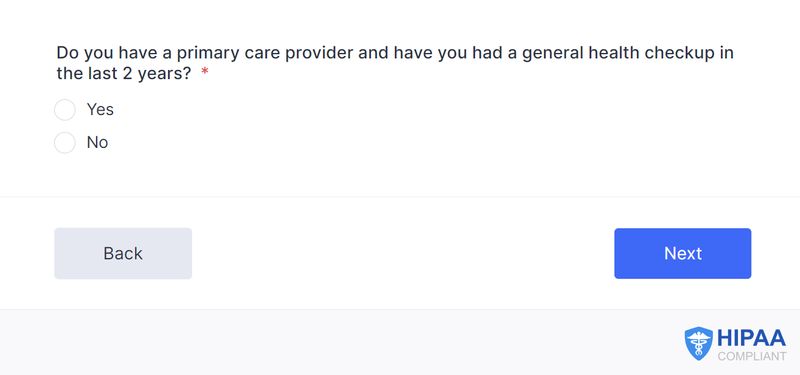 To start, I answered a few simple medical questions, including if I had any potential allergies, if I've had a general health checkup in the past two years, and if I was taking any other medications.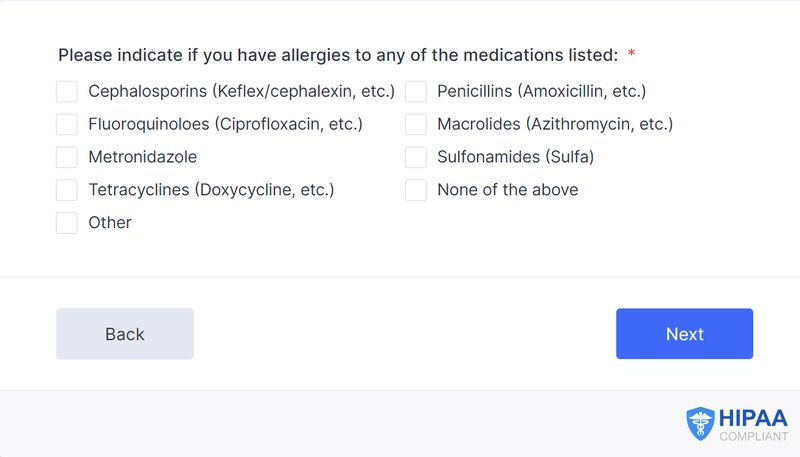 After that, I uploaded a picture of an official ID (my driver's license in my case), which was quick and secure by just holding my ID in front of my webcam. To comply with telemedicine laws, the Jase physicians are required to verify their patients' identity with a government issued photo ID.
After I was done, I got a confirmation email from Jase, saying my order was being reviewed by one of their independent board-certified physicians.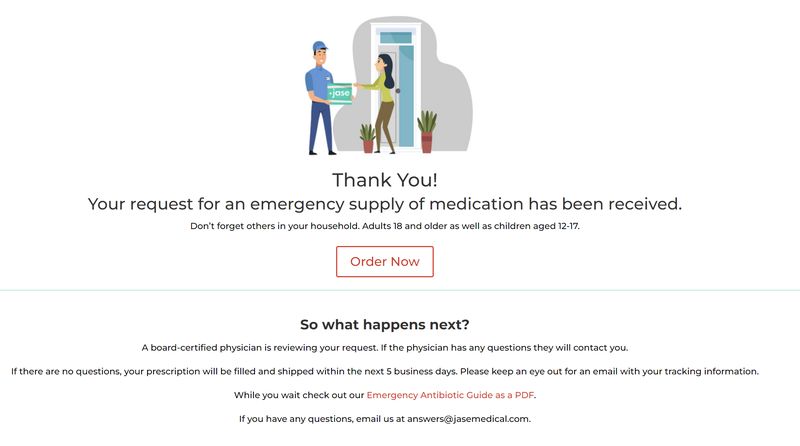 I placed my order at 3:23 pm, and got an email from the doctor at 7:10 am the next morning saying my prescriptions were ordered from the pharmacy. There was also on email where I could reach the doctor if I had any questions.
I got a text from the pharmacy the day after that, saying that they'd received the prescription order, and setting up a time to talk to the pharmacist.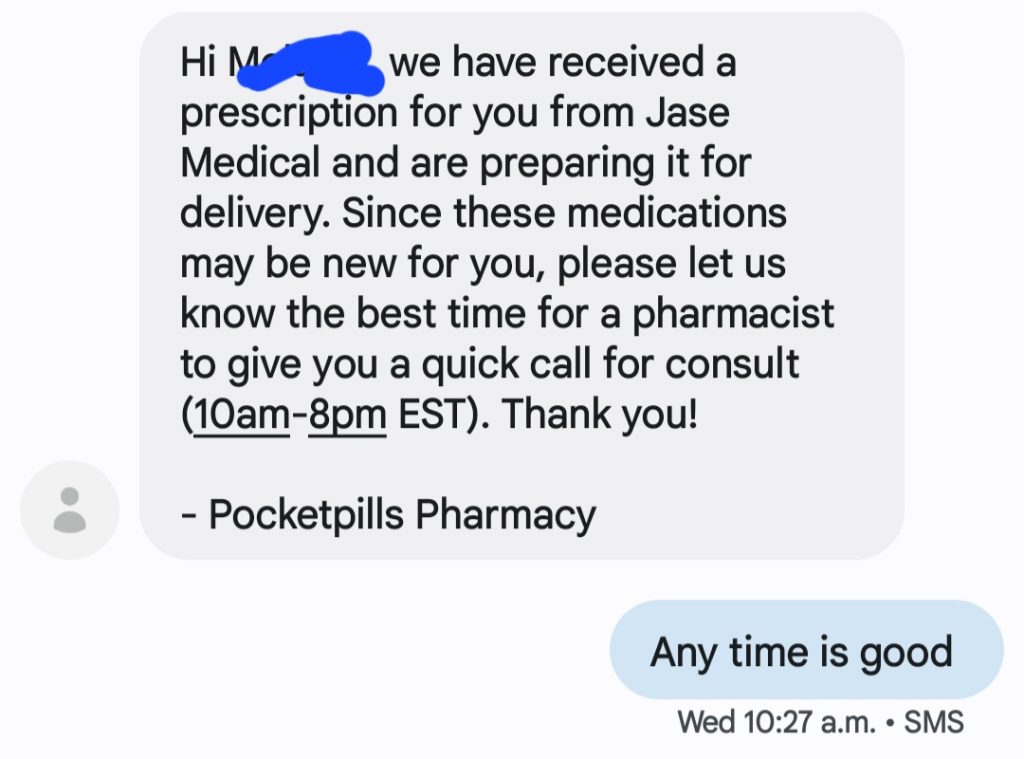 Later that day, I got a call from the pharmacist, who provided helpful education on how, and when, to use the medications in an emergency. He was also able to answer any questions I had.
Since I live in Canada, my Jase antibiotics were shipped from a partner pharmacy, Pocketpills.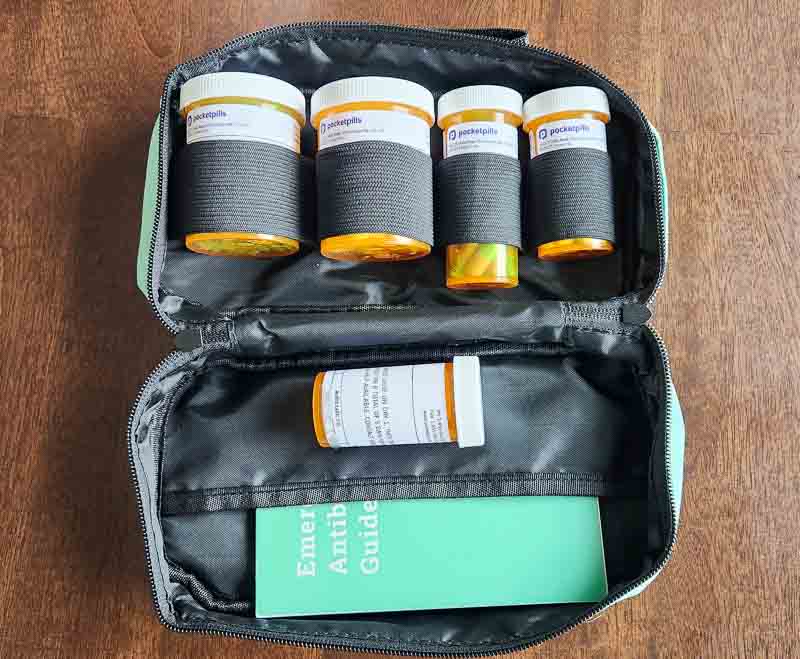 Since I didn't have any other prescriptions, or medical history, I wasn't contacted directly by a doctor after the initial consultation. Jase says that a physician only contacts you if there are questions about your medical history. Otherwise, the responses you give during the online consultation are typically enough.
My Jase antibiotics came only a few days after placing my order.
Honestly, that's pretty impressive since I live in Canada, and in a smaller city, which often makes shipping slow.
To order online, go to Jase Medical's website here and use code NOMAD10 at checkout to get $10 off.
We've had more than one brush with getting sick on the road.
In around 2008, on a trip to the Philippines, Charles came down with what was most likely E. coli that lead to an infection. However, we didn't have any emergency antibiotics with us on this trip.
He got sick while on the island of Siquijor, in the Philippines. We asked the locals at our hotel, and they suggested that we take the ferry to Dumaguete to get better medical care, as the small local hospital on the island had a poor reputation.
On that trip, we were incredibly fortunate to be a relatively short ferry ride (1.5 hours) to medical care in Dumaguete City.
Sure enough, after a couple of hours in an emergency room, Charles saw a busy, but competent, doctor who prescribed antibiotics.
He was very lucky, the antibiotics did the trick, with the infections cleared up right away.
If you have allergies, or another medical reason, the medications listed can be substituted or removed at the discretion of the physician.
Since I'm based in Canada right now, my Jase Case prescription was fulfilled by a pharmacy that serves Canadian customers.
My Jase case contained everything the Jase website said it would.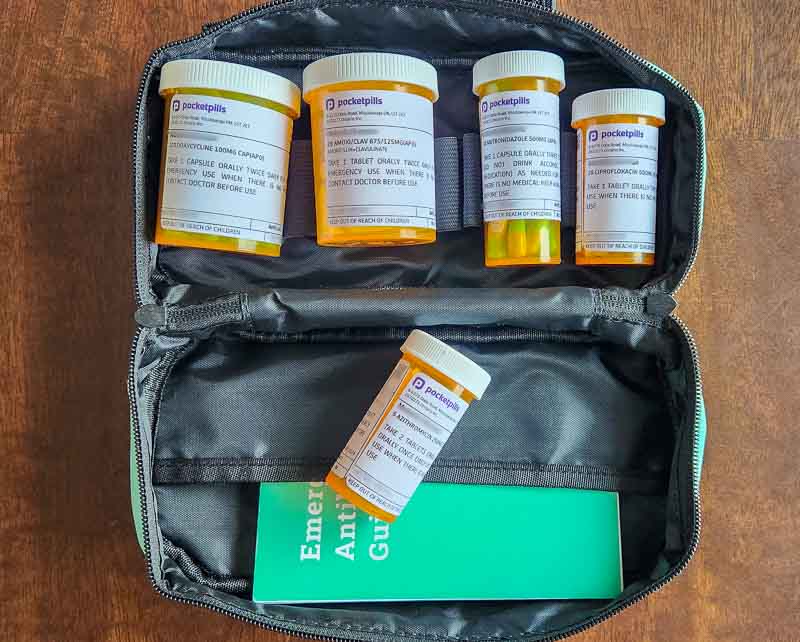 The only tiny difference was that I got Metronidazole caplets instead of tablets, but the number and milligrams in each was identical to the website. Here's exactly what I got:
30 Metronidazole 500 mg Capsules
6 Azithromycin 250 mg Tablets
28 Amoxicillin-Clavulanate 875/125 mg Tablets
28 Ciprofloxacin 500 mg Tablets
120 Doxycycline 100 mg Capsules
As a note, your pill bottles may look a bit different. Jase's medications are are sent in their typical pill bottles from independent, licensed pharmacies.
The Jase emergency antibiotic kit came in a handy zippered pouch, which is helpful for keeping the bottles organized in one space, and protecting them from light. The bag is really well constructed, with several compartments, and a sturdy zipper.
It's a small thing, but I would have liked my fifth bottle of antibiotics to have a designated place. Four of the five pill bottles were snugly held in place with an elastic band, but the fifth was just placed in the case. Again, it's a trivial thing, but maybe future cases could include this?
There's also a 33-page Emergency Antibiotic Guide Booklet.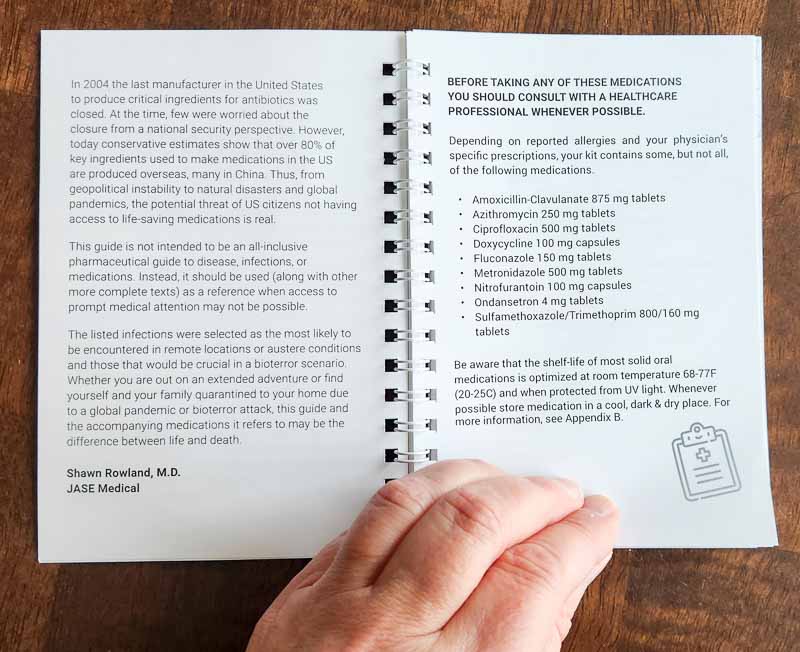 Inside the booklet, there's a description of each antibiotic in the kit, along with what conditions it's used to treat. The antibiotic description includes notes on possible dangers, including interactions with other drugs, and potential allergic reactions. It also includes when it is to be taken (e.g., during meals), expiration and storage information, and whether it is compatible with breastfeeding mothers and/or pregnancy.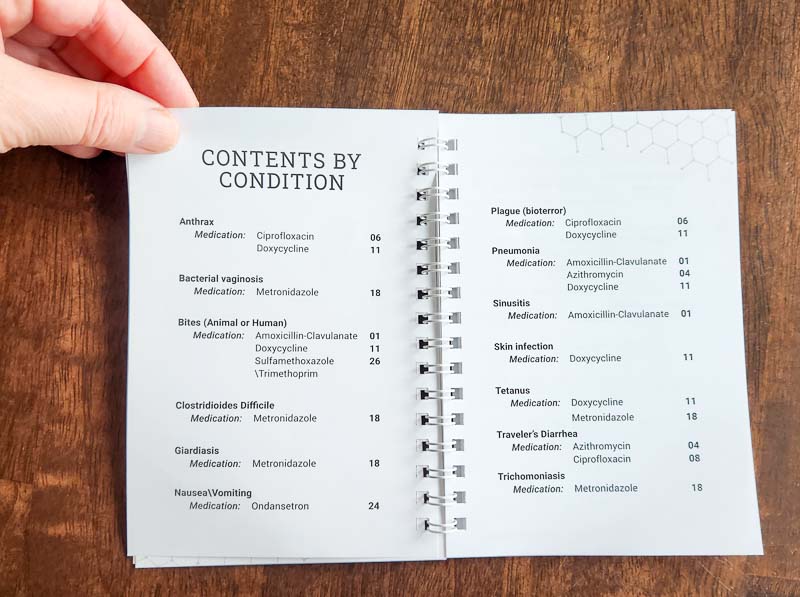 The booklet also has an easy-to-read index at the front that lists medical conditions, and then which antibiotic in the kit can be used to treat that condition, along with page numbers to find out more information.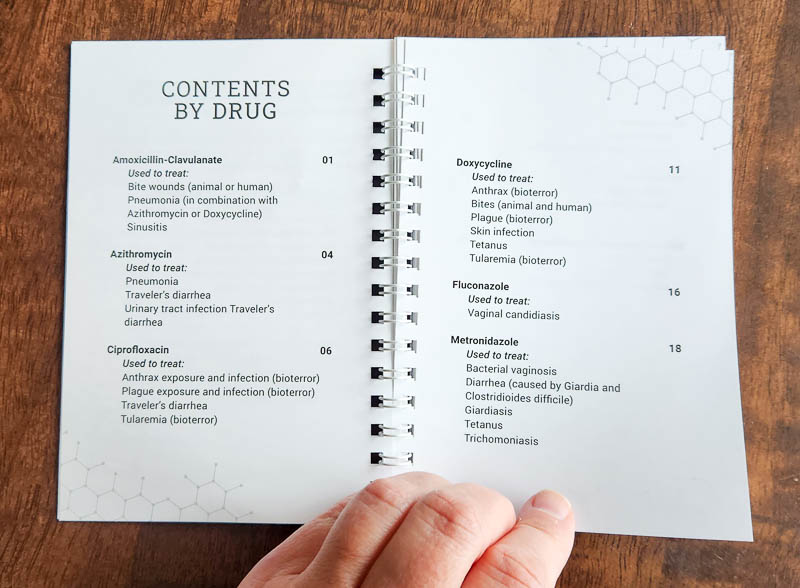 There's even information in the back on how to safely dispose of expired medications.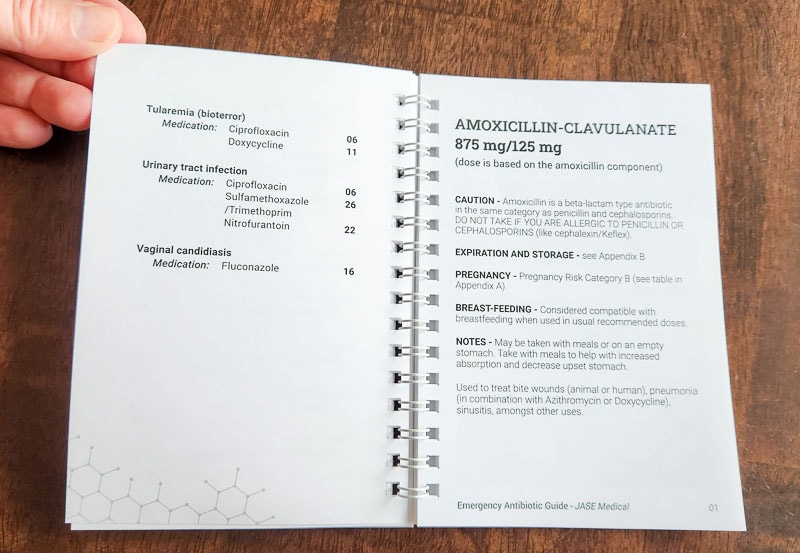 How much does a Jase case cost?
Currently, prices for the antibiotic kit are:
For US patients: $269.95 USD*
For Canadian patients: $339.95 USD*
The pricing difference includes differences between USA and Canadian costs of medications, shipping, fees and materials. Prices may change over time.
We asked Jase for a discount for our readers.
Use our code NOMAD10 at checkout to get $10 off!
Does Jase accept insurance?
Jase Medical does not accept any type of health insurance. If you're in the USA, you should be able to use your HSA (Health Savings Account) or FSA (Flexible Spending Account), but it depends on the specifics of your account.
Is there a fee for the Jase doctor's visit?
Your doctor's consultation is free and is included in the cost. If the physician determines that your order for chronic condition medication or antibiotics is appropriate, the only payment made will be for the prescribed medications.
Is Jase Medical legit?
Jase Medical was founded by board-certified family physician Dr. Shawn Rowland who is supported by a team of experts.
Jase's clinical advisors are:
Shawn Rowland, M.D., Founder – Jase Medical, LLC., board-certified by the American Board of Family Medicine.
Lissa Baird, M.D., Director of Neurosurgical Oncology in the Department of Neurosurgery at Boston Children's Hospital
Brandon Webb, M.D., Associate Professor of Research in the Division of Infectious Diseases and Clinical Epidemiology at Intermountain Healthcare in Salt Lake City, Utah.
Jase Medical contracts with physicians who are licensed to prescribe medicine and treat patients in your area, and complies with all governing medical laws.

JASE MEDICAL
Can I order medication other than antibiotics?
You can request specific medications for many chronic conditions.
However, you can't place partial orders for the antibiotic kit, or select specific medications for the antibiotic kits.
Jase Medical Canada
Jase Medical is available both in the USA and in Canada. They currently aren't in any other countries.
Canadians can order on the same Jase website as Americans, here.
How long can the emergency antibiotics be stored?
Most antibiotics have an expiration date between two or three years from the date of manufacture on the bottle. Store medications in air-tight containers in a cool, dry environment to maximize their shelf life.
The Jase website says "Under proper storage conditions antibiotics, expiration dates can be extended for a minimum of an additional 5 years. Studies have even shown 90% retained potency after as many as 20 years."
What about antibiotic shortages, and supply chain disruptions?
Canada is currently experiencing a shortage of some antibiotics, primarily liquid formulations of amoxicillin and azithromycin. Tablet forms of antibiotics aren't currently seeing shortages in Canada. See current antibiotic shortages in Canada here.
There are also shortages of some antibiotics in the USA – see this FDA list for current details.
Can I send a Jase case as a gift?
Jase offers gift cards if you're looking to send a Jase antibiotics as a gift.
Use our code NOMAD10 at checkout to get $10 off!
Is Jase Medical Worth it?
I was pleasantly surprised with how quick and simple it was to order emergency antibiotics from Jase.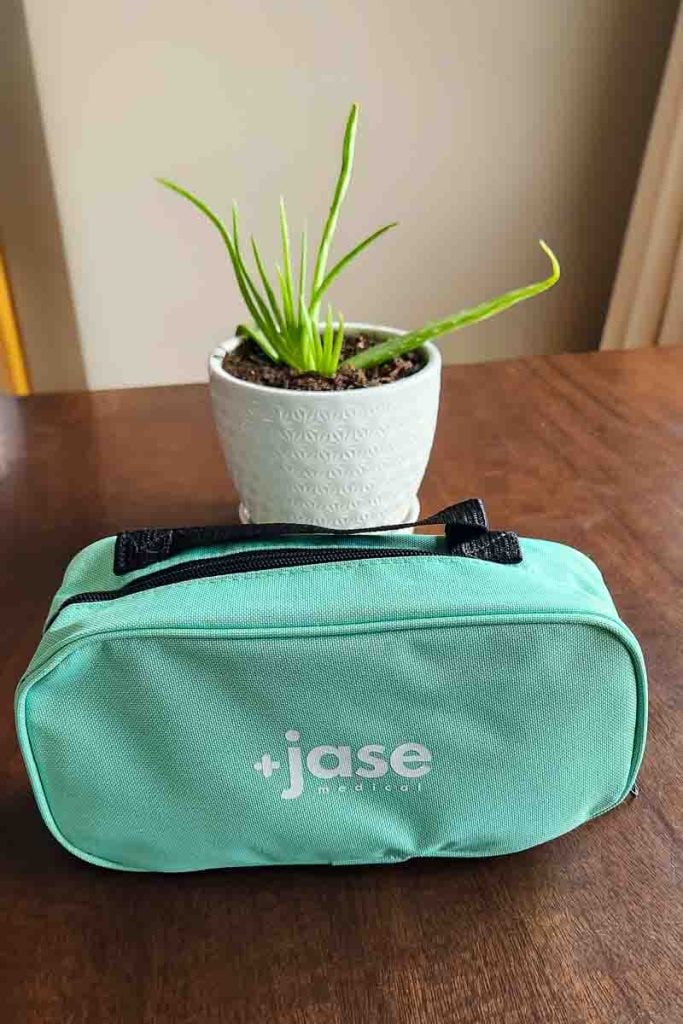 It may be a couple of more steps if you have potential drug allergies, or don't have a primary care physician, or if you're taking other medications.
It feels good to have the peace of mind that I have emergency antibiotics on hand. A medical kit stocked with emergency antibiotics may mean the difference between a ruined vacation and a memorable one.
While I really liked the quick, easy online experience, it really put my mind at ease to know that I could have any of my questions answered by a Jase physician. On top of that, talking to the pharmacist about any potential issues was incredibly helpful.
One downside is that there's currently no a la carte option, where you can just buy one or two of the more common antibiotics in the kit. You need to purchase all five in the kit.
Should you stock Jase in your DIY travel first aid kit or road trip first aid kit?
If you're like me, and want to be prepared for travel emergencies, or just want an antibiotic supply for emergency preparedness, I definitely recommend the Jase antibiotic kit.
Carrying a Jase Case just might save your life, and at the at least, you'll be able to sleep soundly knowing that you have access to vital antibiotics right away if you need it.