Jordan, four years old and all of 32 pounds, makes a beeline for a sitting camel and bounds on top without a moment's hesitation.
I exchange a tentative glance with Charles, debating how much I should worry about our little girl's sudden bond with a 1,000 pound animal. Mohammad, the camel's handler is completely unfazed by Jordan's enthusiasm, though I'm fairly sure that small girls with wild golden ringlets don't fling themselves on top of his camels every day.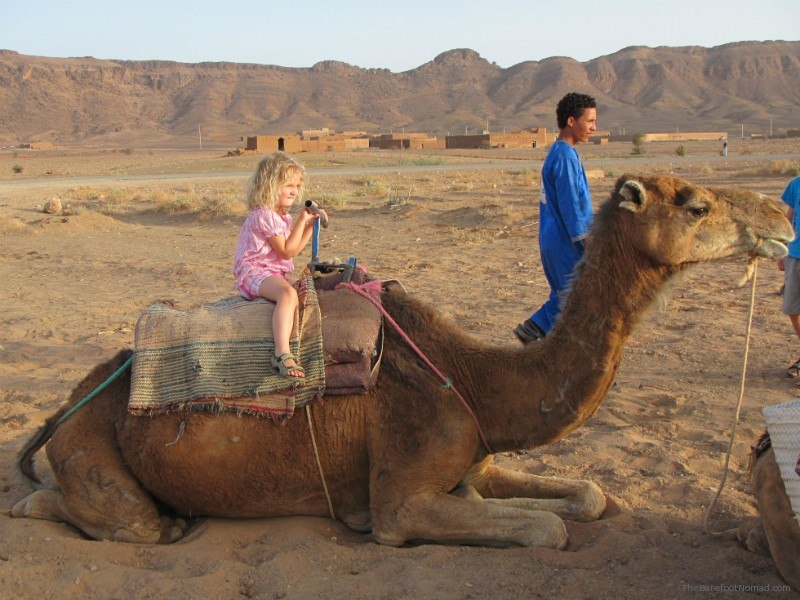 For all their size, the camels don't look terribly imposing.
Sitting down, they're as docile as sleepy kittens and lined up neatly, with their gangly legs tucked primly underneath their lumpy bodies. Every so often one of them lets out a disconcerting "nuuuuuurrrr" sound, a deep rumbling that's something between a cat's purr and an elephant's trumpet.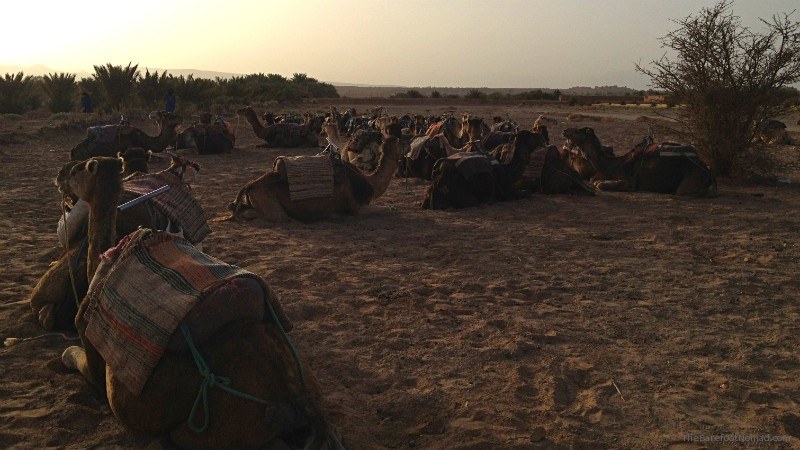 Mohammad tousles Jordan's hair with a smile, and motions Charles to climb up on the saddle behind her. Cole wiggles into position on another camel and I scramble awkwardly behind him.
After a series of commands, and a gentle tug on the lead by Mohammed, our camel's front legs straighten, and Cole and I are suddenly tilting backwards, staring at the wide blue sky. As we adjust and hold on for dear life, Mohammed gets the camel to extend its back legs, and we're quickly propelled forward. Now ten feet off the ground, we're questioning our decision to get on in the first place.
It seems like a long way down from the top of a camel.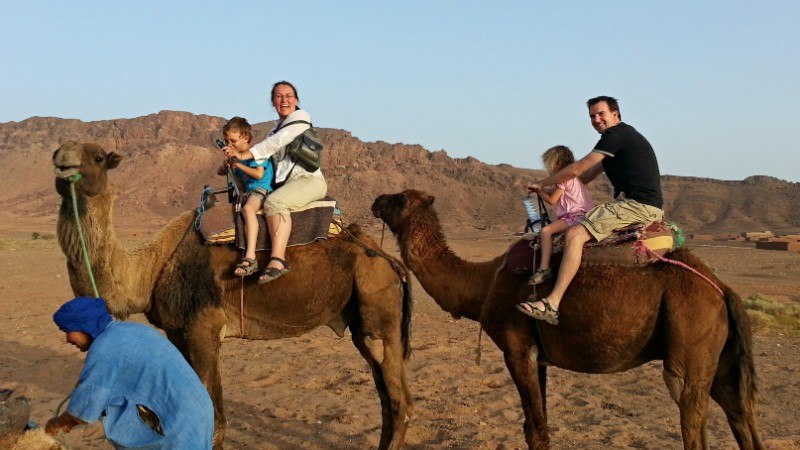 Before we have time to reconsider, all our small group is quickly saddled up and we're off, with the patient Mohammed walking ahead. He leads the first camel into the desert, with the other camels tied into a neat line behind. Each of us are laughing at the others in our group as we all try to adjust riding a camel for the first time.
Though Mohommad, the handler, leads the camels, we're traveling through Morocco with Idir, our soft spoken and unflappable guide. Idir, who speaks fluent English, French, Berber, Arabic and a smattering of Spanish, has carefully explained that these are dromedaries (sometimes called Arabian camels) as they have only one hump, and not two. Since they're all from the same camel family, we tended to use the term interchangeably to his constant chagrin.
As Idir drives away in our comfy 4×4 to help set up our camp for the night, we follow Mohammed into the desert. As our hour long ride wears on, I'm starting to think Idir's choice of the 4×4 is a very sensible choice.
It turns out that camel saddles aren't especially comfortable, especially with a seven year old perched in front of you.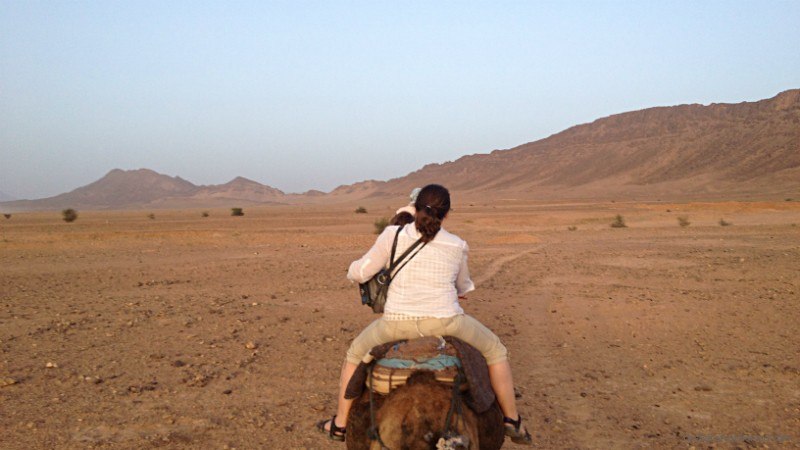 Our camels pick their way across the sand,with a lilting, rolling gait that resembles a slow motion horse's gallop. Dromedaries just like these have been used for thousands of years, as pack animals that made trade through the expansive Sahara possible.
Here, in the fading light of the desert, I half close my eyes and imagine a caravan of dromedaries from Southern Africa making their way across this land a thousand, maybe two thousand years ago.
Time wavers, and disappears just for a second.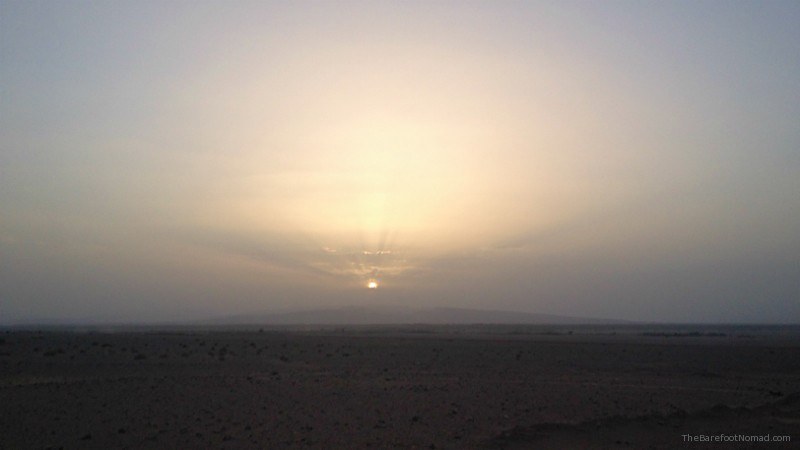 Suddenly, Cole bursts into a giggling fit. The camel in front of us has decided to pee. To a seven year old, this is the highest form of humor.
Behind us, the sun sinks slowly into the golden sand. The road, and the camel camp behind us have completely disappeared from view. There's nothing here in the middle of desert but us; our little caravan plodding slowly through the sands near the desert oasis of Ouarzazate.
The camel in front is still peeing. It seems like it has been spent about a third of our ride relieving itself. I make a note to ask Idir, who seems to have an inexhaustible knowledge of all things Moroccan, about the mysterious toilet habits of camels.
The nomadic Bedouin tents where we'll lay our heads for the night appear as we crest a tall dune. The camp has hot showers and electricity to charge our iPhones, but you'd never know it as it enters into sight. Other than the telltale row of solar panels, there's nothing here but a wide expanse of sand and our tents.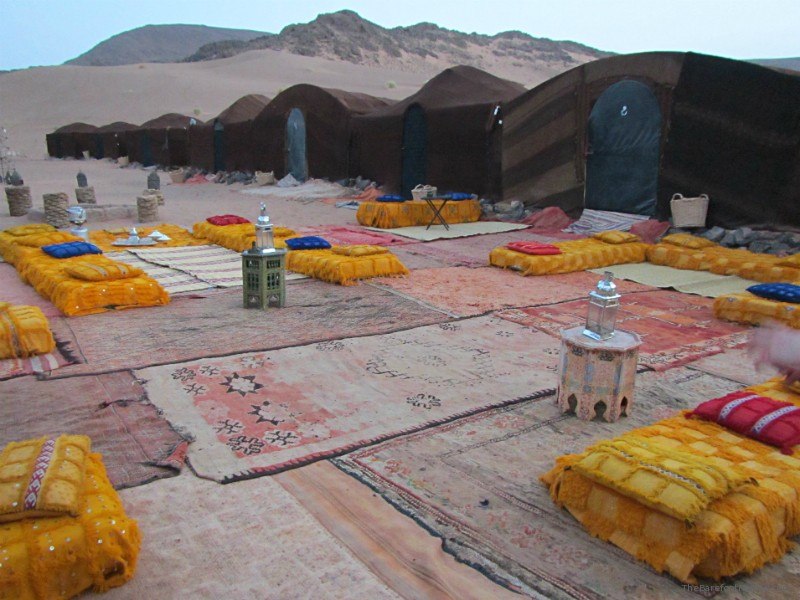 And that's it. As quickly as it started, we're off our camels and deposited just outside the camp. We walk, bowlegged and stiff towards the comfy cushions set up between the tents, where a steaming pot of delicious Moroccan mint tea awaits.
Cole is still giggling and we're all thankful to have tried it but glad to be out of the saddle. After a long day of driving and seeing the Moroccan countryside, that last hour has worn us out.
Jordan just bounds ahead, ringlets bouncing, eager for her next adventure.
Morocco Essentials
Our camel ride was part of a two day, one night, tour with Sahara Desert Kingdom tours. You can contact Sahara Desert Kingdom through their webpage, on Facebook, and read reviews on TripAdvisor here.
Where: We rode our camels on a one hour ride near the desert town oasis of Ouarzazate.
Cost: A two day tour, including meals, all transportation, a camel ride, and accommodation costs around $200 USD per adult, and children are typically half price. Tours are very customisable and can be lengthened to 3, 5, or 7 days and longer if you want to  see more of Morocco or go further into the Saharan Desert.
Where to stay: Our tour started and ended in Marrakech, Morocco. We stayed in one of Marrakech's traditional Moroccan riads in the Medina of the Old City. Check out our post on how to find the perfect riad in the Marrakech Medina.