This guest post is brought to you by Shandos of Travelnuity, who shares her top things to do in Darwin, Australia.
When most visitors to Australia consider what cities to visit, generally the big cities of Sydney and Melbourne firstly spring to mind. But up north, closer to the cities of South East Asia, is a very different Australian city: Darwin.
If you're wanting to head out on a road trip to Kakadu and Litchfield National Parks, exploring their natural beauty and Aboriginal culture, Darwin will be your launching point. But it's also worthwhile exploring its attractions for a couple of days.
Six of the Best Things to do in Darwin
Some of Darwin's top attractions explore its short but turbulent history, from being bombed in World War II to being destroyed by Cyclone Tracy on Christmas Day, 1974. Other Darwin activities and attractions take advantage of its beautiful tropical weather and surroundings. These are my top picks for what to do in Darwin.
Head to Mindil Beach Sunset Market
One of the favorite experiences of both visitors and locals in Darwin is heading to the Mindil Beach Sunset Market.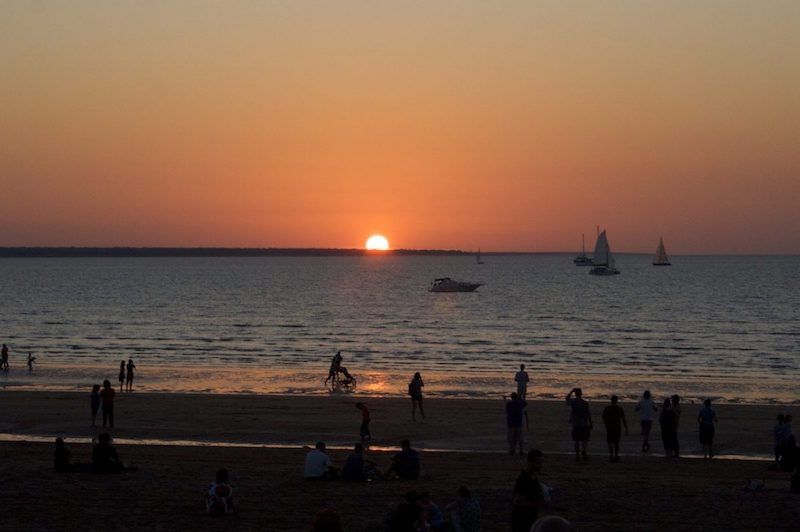 It's held at Mindil Beach, just outside of the city center, next to Darwin Casino. The market runs during the dry season (from late April to late October), and is held every Thursday (kicking off at 5 pm) and every Sunday (starting at 4 pm). There's plenty of stalls selling everything from Aboriginal artifacts and handmade souvenirs to dresses and clothing from Thailand and Indonesia, but the real highlight are the food stalls.
Perhaps start with some fresh oysters, before continuing on to a variety of dishes reflecting Darwin's multicultural population. Options usually include Indonesian, Chinese, Thai and Indian. Plus there's distinctive Australian dishes on offer, such as kangaroo and crocodile. Enjoy your dinner on the beach, hopefully taking in a beautiful sunset over the harbor, before wrapping up with dessert.
Visit the Museum and Art Gallery of the Northern Territory
Located along Darwin's long waterfront just outside the city centre is the impressive (and free) Museum and Art Gallery of the Northern Territory, one of Darwin Australia's points of interest. Don't miss the chance to explore their large collection of indigenous art, from bark parkings to ceremonial poles, perhaps catching the yearly National Aboriginal and Torres Strait Islander Art Awards.
Another highlight of the museum is the interactive display about Cyclone Tracy and the impact it had on the city, including a darkened room where you can listen to its monstrous sound. Don't also miss the stuffed body of Sweetheart the crocodile. This mammoth 5 meter long, 780 kg beast was killed locally after it attacked several fishing boats. You can even see live crocodiles on a local jumping crocodile tour, though likely none as big as Sweetheart.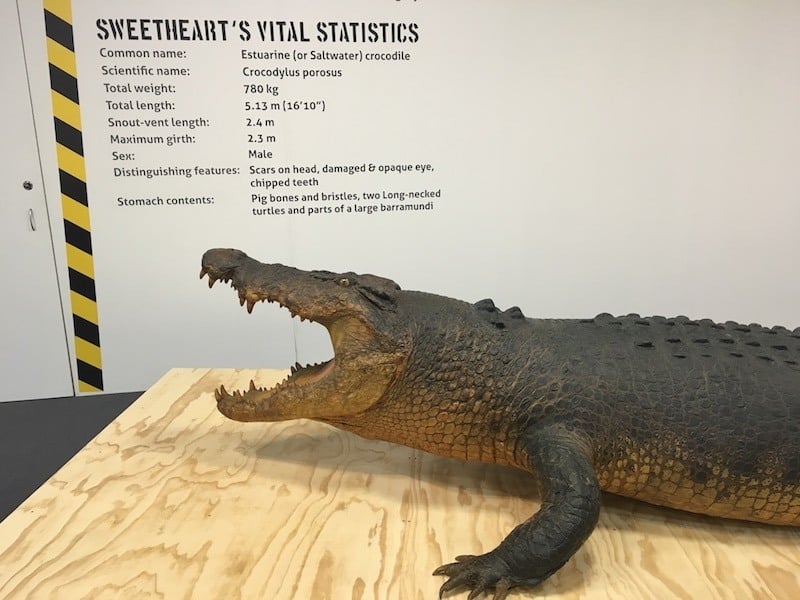 Visit the Darwin Aviation Heritage Centre
Just south of Darwin is the Aviation Heritage Centre. Due to Darwin's isolation plus strategic military importance, aviation has always played a key role in Darwin's history. The museum isn't just for aviation buffs, but for anyone interested in history or just seeing an impressive collection of planes.
The stand-out attraction of the museum is its B52 bomber. It was predominantly based in Darwin by the US Airforce during the Vietnam War era and has since been donated on permanent loan to the people of Darwin. It's one of only two such aircraft outside of the USA, and it's huge bulk looms above everything else in the air hangar.
Other aircraft on display are a mixture of military and passenger craft, including Spitfire planes, Tiger Moth biplays and helicopters. There are also interesting displays on the Australian Royal Flying Doctors service and aircraft involved in WWII and Vietnam.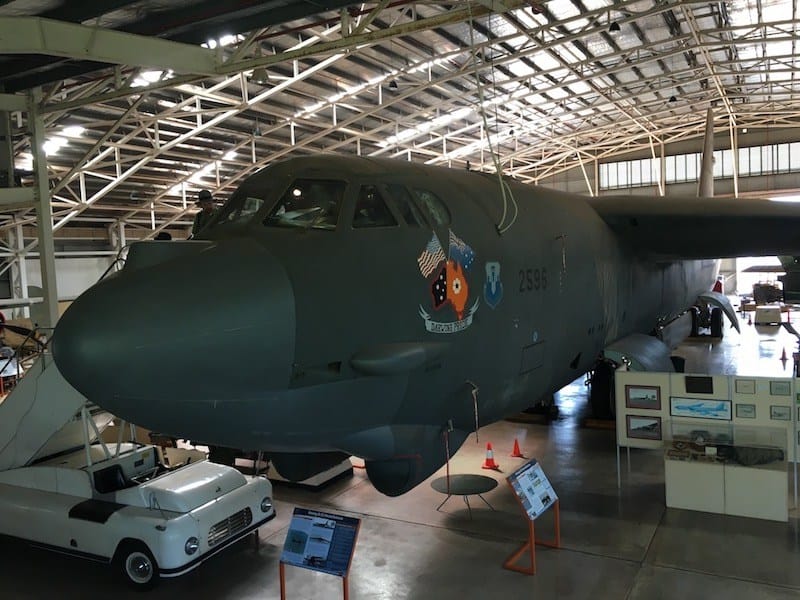 Explore the Impact of World War II
Darwin was on the front-line during World War II, particularly after the fall of Singapore and the Japanese invasion of what's now Papua New Guinea. The city was bombed multiple times and there are a multitude of sites around Darwin and further south linked to WWII. Examples include old airfields, military installations, bombing sites and memorials.
For a good overview of the WWII history of Darwin, visit the Defence of Darwin Experience and Darwin Military Museum. Both are located at the East Point Military Precinct. The Defence of Darwin Experience features numerous interactive, multimedia displays, culminating in a 20-minute show.
Another important site located just over 100 km south of Darwin on the main highway is the Adelaide River War Cemetery. It's the only war cemetery on Australian soil, and includes a poignant memorial.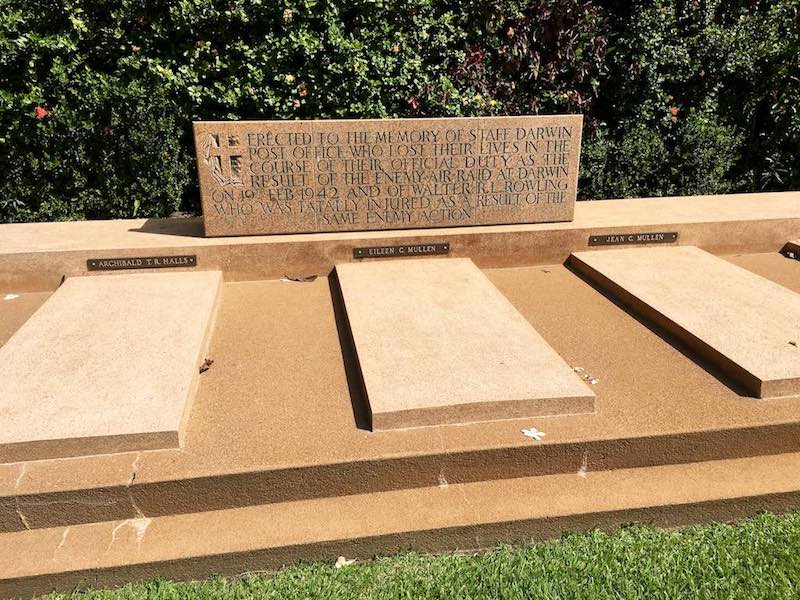 Chill out at the Waterfront Lagoons
Despite its tropical weather and large harbor, unfortunately the beaches of Darwin are largely a no-go zone for swimming, due to the presence of salt-water crocodiles and many sharks.
If you're wanting to cool off, head instead to the Wave Lagoon and Recreation Lagoon located on Darwin's waterfront. The Wave Lagoon produces 10 different wave patterns, with a 10-minute rest in between each 20 minute session. The Recreation Lagoon meanwhile has a sandy beach and stinger-filtered seawater. Both are patrolled by lifeguards. Entry is free to the Recreation Lagoon, while a fee is charged at the Wave Lagoon.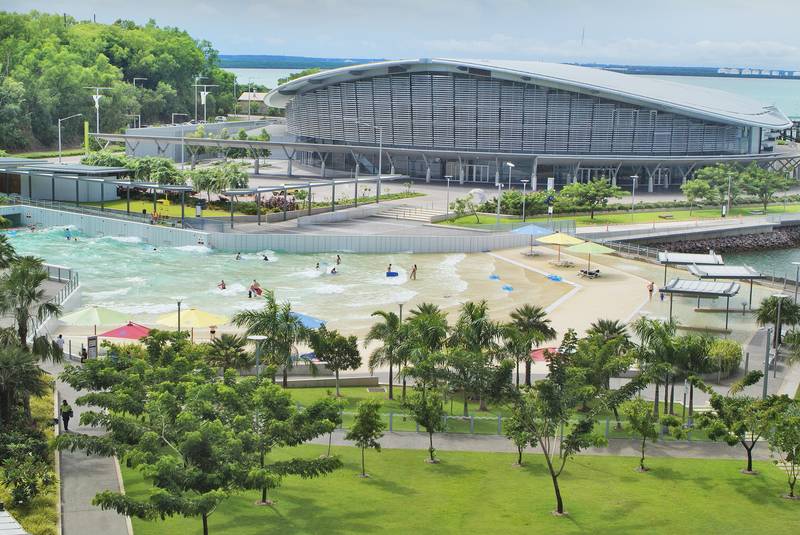 Go Wild at Berry Springs Nature Park
For a swim in more natural surroundings, consider heading to the Berry Springs Nature Park. It's just over 50 km south of Darwin, located on the Cox Peninsula Road just off the main highway. Entry is free and there are multiple meandering pools to relax in, surrounded by natural forest. There's also plenty of picnic tables and some short walking trails.
Before heading south during the wet season (from October to April), double check that the pools are open. They may be closed if conditions are deemed unsafe, including due to crocodiles (the rangers check for their presence each day).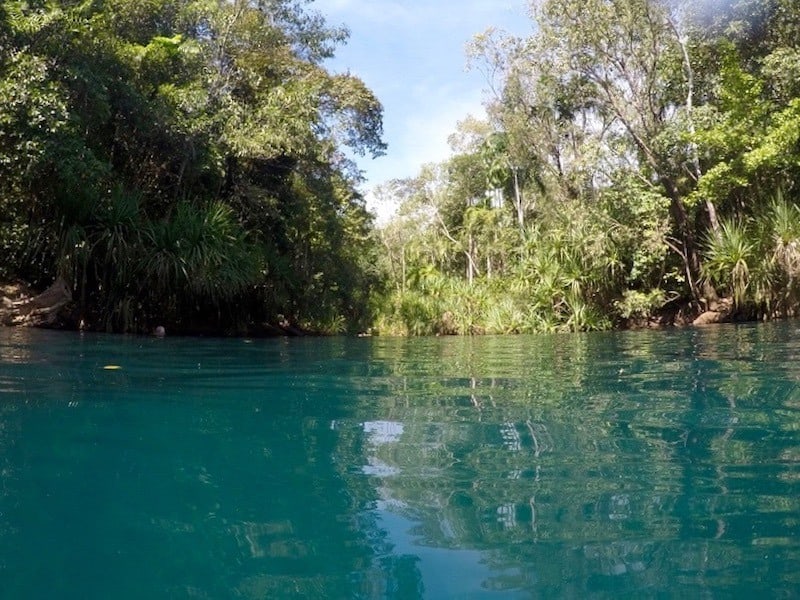 Author Bio
Shandos Cleaver is an Australian blogger who is currently travelling around Europe with her Miniature Dachshund, Schnitzel. She blogs about dog-friendly travel (mostly) on her blog, Travelnuity. She first visited Darwin while travelling around Australia at the age of nine, and is looking forward to returning to Australia soon and exploring more of the country, this time with her dog. Follow her adventures on Facebook or Instagram.
Do you have any favorites for what to see in Darwin? Let us know!