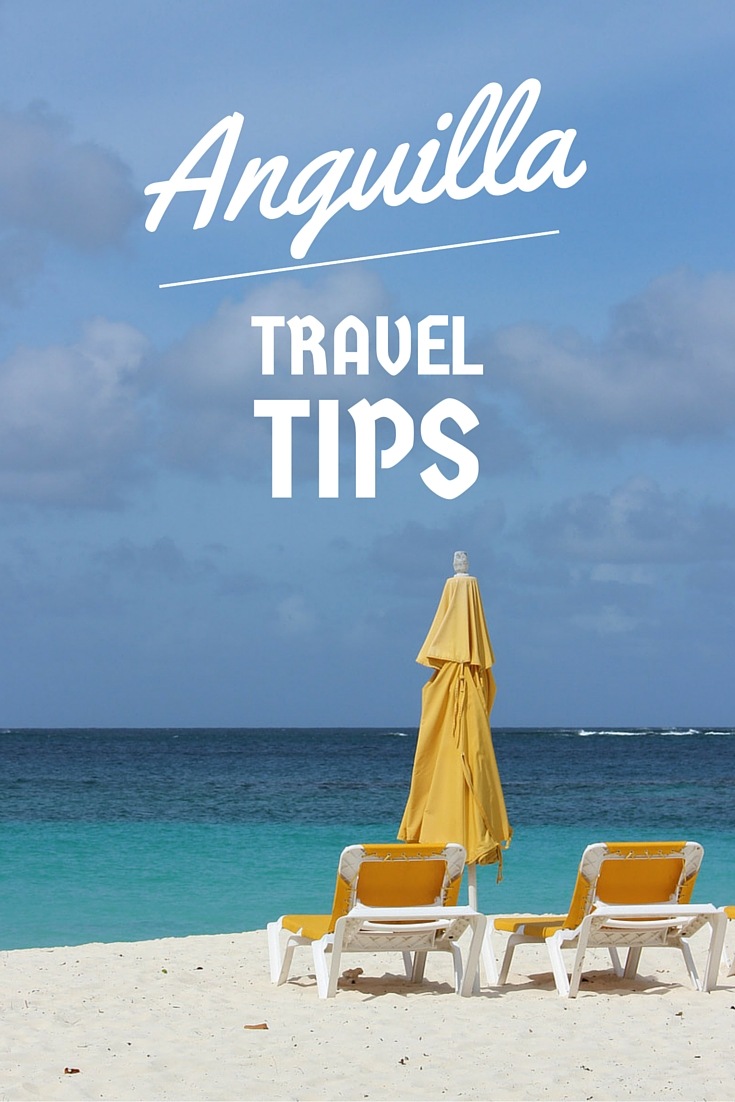 Looking for some amazing things to do in Anguilla for 2018 or 2019? These tips can help make your Anguilla holidays fun!
Why visit Anguilla? The Caribbean island of Anguilla is all about barefoot, relaxed chic, with a thriving local music scene, and a reputation for great food. There are no high rise hotels, casinos, cruise ships or even shopping malls on the island.
I've been lucky enough to spend some time on Anguilla, and I'd be hard pressed to find prettier beaches anywhere. It's the kind of island where you can go for a dip in the ocean, and come out and find you have the entire white sand beach to yourself.
I'm passing on my best tips for what to do, see and eat in Anguilla, plus some recommendations on where to stay, whether you're splurging on luxury or on a budget.
For a laid-back island, Anguilla is remarkably well Wi-Fi connected. Every hotel and restaurant we visited had an open, accessible Wi-Fi connection.
Things to do in Anguilla – Sightseeing
Sandy Island
A visit to Sandy Island is my top recommendation if you're visiting Anguilla. Sandy Island is a small off-shore cay, a short five minute boat ride from the Island. From a distance, it looks like a picture-perfect version of a deserted tropical island. Up close, it's every bit as pretty, but with a top-notch restaurant that serves fresh grilled lobster, chicken or crayfish, paired with tasty rum punches and cushy lounge chairs.
The Beaches
Most islands would be lucky to have just one beach as pretty as those on Anguilla, but Anguilla has 33 postcard perfect white sand beaches. The beaches on the island are uncrowded, public, and unspoiled by development. You won't find crowds of shoulder-to-shoulder sun seekers here, even on the most popular beaches.
If you're looking for the postcard-perfect Caribbean beach, head over to stunning Shoal Bay, where colorful beach bars are perched beside the blinding white sands.
Big Spring National Park's petroglyphs
Anguilla's original Arawak residents created petroglyphs known as Spirit Eyes inside the Big Spring collapsed cave. The cave was closed for renovations when I was there. You can also view petroglyphs at Fountain Cavern National Park near Shoal Bay.
Heritage Museum Collection
Anguilla's Heritage Museum may well be the best little museum I've seen. It's the life's work of founder founder Colville Petty OBE, and is packed with items from Anguilla's history that have been carefully, and personally, curated by Colville himself. Well worth a stop.
East End Pond
If you're interested in bird watching, this shallow 13 acre pond is the place to go. It's a protected area that's managed by the Anguilla National Trust.
Anguilla's historic Catholic Church
Anguilla's charming 18th Century Catholic Church is well worth a peek. It was built with stones quarried from the island, and it's located in The Valley.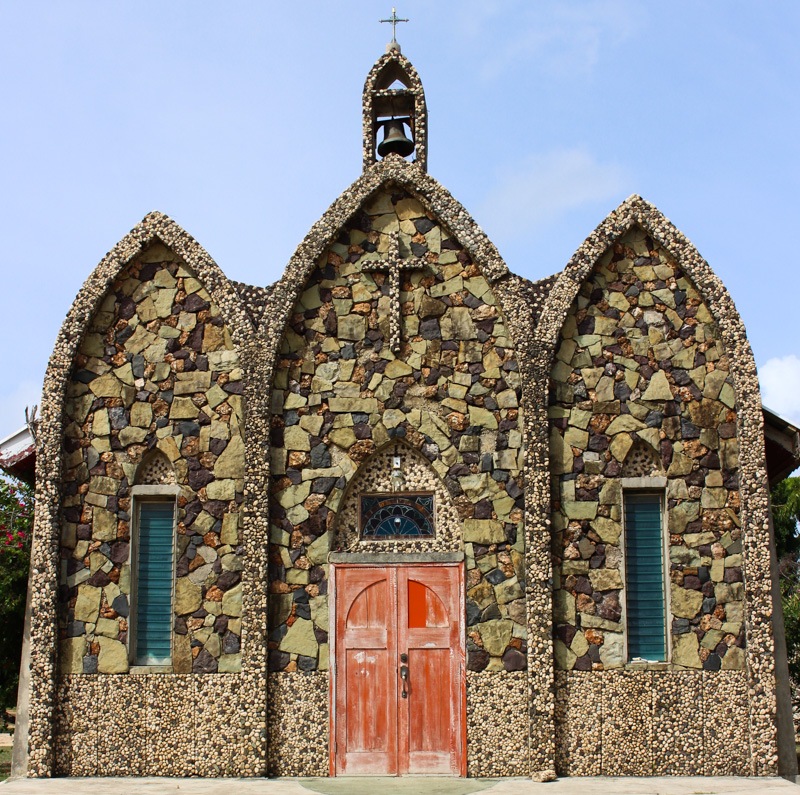 What to do in Anguilla – Anguilla Activities
Snorkeling and SCUBA
Snorkeling in Anguilla is as easy as getting some gear from your hotel or a local dive shop and slipping offshore. Shoal Bay East, Crocus Bay, Sandy Island, Prickly Pear and Little Bay are some of the most popular sites.
I love snorkeling. LOVE snorkeling. So when I got the chance to go snorkeling in Little Bay, I jumped at the chance.
Little Bay is a quiet cove, filled with clear clear aquamarine water and rock faces pocketed with caves, and ubiquitous Anguilla goats tucked among the shade of the bush. It's the kind of place where you can imagine pirates living happily in seclusion.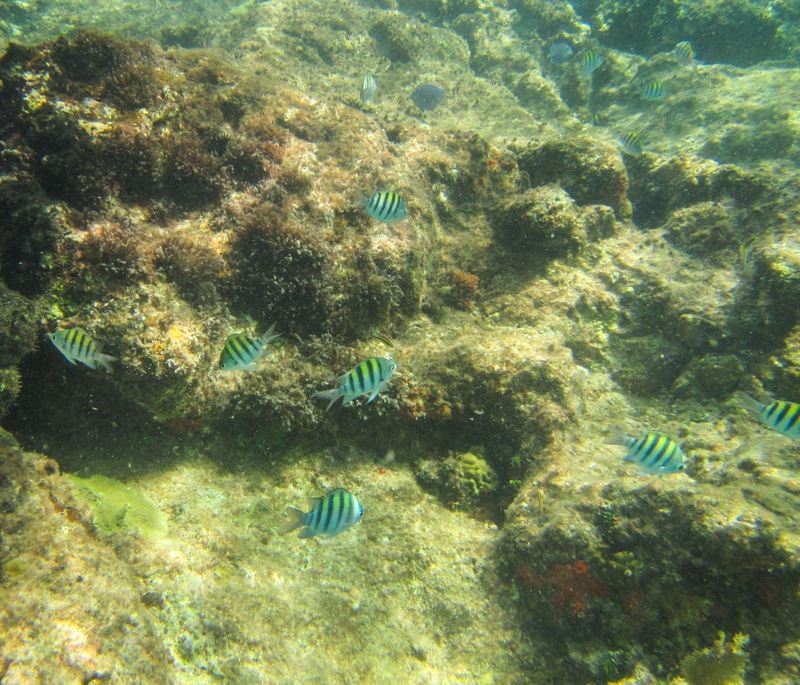 You can also SCUBA dive in Anguilla, with P.A.D.I. certification available. One interesting site (though trips are limited) is the Stoney Bay Marine Park, where the El Buen Consejo ship sunk in 1772. You can still see cannons, anchors and other remainders of the shipwreck.
Drive around the island
Because Anguilla's so small (16 miles long by three miles wide), it's easy to drive in an afternoon. Just watch out for the cute goats that populate the island. The highest point on the island is just 213 ft, and there are only six stoplights, so it's a pretty easy drive.
You can rent a car through your hotel, or through a hotel booking site. Cars drive on the left, and the the speed limit is 30 mph.
If you don't feel like driving, you'll need to hire a taxi for the afternoon, because there's no public transport on the island. If you're feeling ambitious, many resorts offer bicycles for their guest's use, and Anguilla's mostly flat terrain is perfect for bike riding.
If you're feeling like some activity, there's a lot to do, from horse riding to tennis, golf or boat racing. Seaside Stables offers horseback riding. Most resorts offer tennis, or you can play at the Anguilla Tennis Academy (ATA). Boat racing is an integral part of Anguilla's culture, with the ultimate race being the Champion of Champion race held in August.
If you're in the mood for golf, check out the CusinArt Resort Golf Course (formerly called Temenos), an 18 hole course designed by Greg Norman with stunning views over the Caribbean.
Spas
If the tranquil island vibe and turquoise Caribbean water aren't relaxing enough, there are plenty of opportunities to indulge. Your resort will easily be able to arrange for a masseuse or yoga class, or you can visit one of the island's spas. Check out Malakh Day Spa on Shoal Bay East, Spa Rituals at Cap Juluca, Venus Spa at CuisinArt Resort or indulge in the two-story Spa at the luxurious Viceroy.
Nightlife in Anguilla
Anguilla's a pretty laid back place, so it may not be the place for you if you want to party all night long on your vacation. That said, there are a few fun spots on the island.
The Pumphouse
If you're looking for a little reggae fun (after all, Anguilla is the birthplace to Reggae legend Bankie Banx), make sure to check out The Pumphouse. It's a true local vibe, with great music and good bar food. Check out reviews on TripAdvisor.
Johnno's Place
More of a restaurant than a nightclub, Johnno's is a casual place to relax, listing to some good music, and take in the beachfront views. Reviews on TripAdvisor. Elvis' beach bar is another fun, casual haunt that gets great reviews.
You can also check out Ripples (a beach pub), SandBar (more upscale), and Sammy's BBQ Bar, with a true local vibe and energy-infused live music and dancing.
If you're looking for some more fun in Anguilla, check out Viator's local tours.
Anguilla Restaurants You'll Love
Anguilla's well known for good food, as well as a relaxed vibe and white-sand Caribbean beaches. There are dozens of restaurants in Anguilla, ranging from freshly cooked street food at The Strip in the Valley to high end cuisine.
Scilly Cay
Stand on the Island Harbor dock, wave your arms, and the folks from Scilly Cay will dispatch a motorboat to ferry you out to their restaurant bar, perched alone on a sandy cay. It's a simple menu with fresh grilled chicken, lobster, or crayfish, but the view and experience are unique.
Sandy Island
I can't say enough good things about this rustic restaurant on an offshore cay. We came to the beautiful Sandy Island just to explore the island, with a barbecue lunch included. Turns out, as Robinson Crusoe perfect as the island was, I would have easily gone just for the lunch.
Everyone at my table raved about their roasted chicken and lobster. I chowed down happily on all of the sides, from a creamy, fresh curried pasta salad, to fresh garden salad, and perfectly cooked rice. Highly recommended.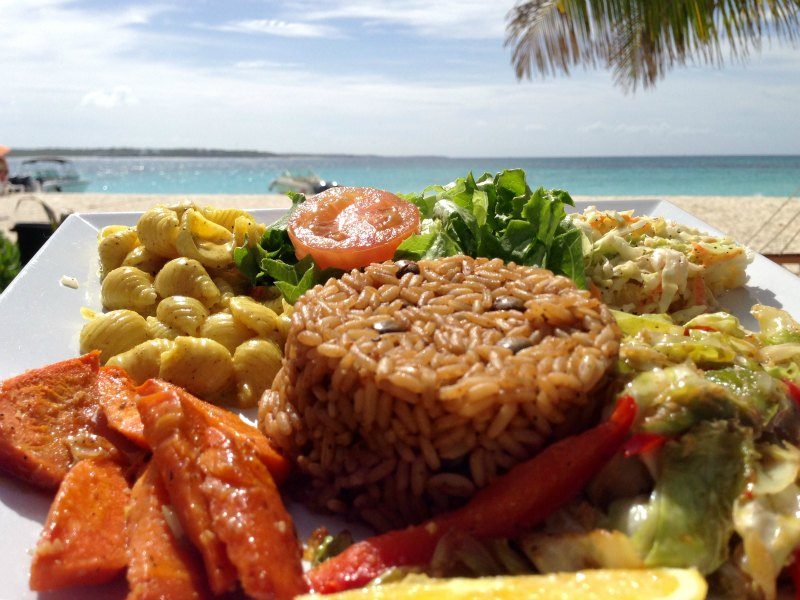 VEYA Restaurant
VEYA is the kind of restaurant that you want to keep coming back to again and again. The food's delicious, and the ambiance is perfectly casual-luxurious, where you feel perfectly pampered and perfectly at ease.
As a vegetarian, I often feel that I get dishes seem to be an afterthought on most menus. Not at VEYA, where the personable and talented chef Carrie Bogar gives the vegetarian dishes get as much attention as any other. I ordered a risotto primavera with local vegetables, basil goat cheese, and white truffle oil.
We splurged on dessert, and loved the Key Lime Pie in a jar, and trio of coconut, ginger and vanilla creme brulees.
Make sure you try the complimentary rolls. The night we were there, the rolls were lightly fried, and honestly some of the best I've tasted in a long time.
If I lived on Anguilla, this is where I'd want to eat every night. I gave a bite to my dinner companions, and they raved about it, and raved about their dishes as well. Highly recommended.
Smokey at the Cove
Smokey at the Cove is casual, relaxed, and welcoming, with fresh, tasty food. I loved my mixed garden salad, and the lightly fried onion rings were delicious. The other folks at my table had the fried seafood and raved about it. I ordered a wrap with coriander (expecting it to be cold, which is common in North America). It came hot and grilled, and was quite good nonetheless. Beach chairs and umbrellas are free if you eat here.
Mango Seaside Grill
Mango is a romantic spot overlooking the ocean with candlelight at night and listening to the ocean outside. I ordered the one vegetarian entree option, fresh veggies with noodles (Asian style, not Italian), and the others at the table raved about the fresh seafood.
Straw Hat Restaurant
At Straw Hat, the rolls come in a cute straw hat container, and you can buy hats at the front entrance. There's a new chef, and they were still updating the online menus when we ate there. The food was carefully prepared and tasty, with innovative dishes like beet ravioli (for vegetarians like me).
The Strip in the Valley
If you're looking for budget food options, check out food stalls at The Strip in the Valley. You can get anything here from freshly grilled seafood to johnny cakes (delicious fried dough) to fresh local coconut. You'll find more options here on the weekends, but some stalls are open weekdays at all
If you're yearning for cheap eats and bit of local color, check out Hungry's. It's an old UPS-style van, painted with flowers, which serves sandwiches, stews and wraps. I didn't get a chance to eat there, but it gets good buzz, and you can fill up for about $10. It's almost always parked near the Post Office in the Valley.
Best Hotels and Resorts in Anguilla
Anguilla's hotels are mostly boutique places with not a lot of room. In fact, I'm not sure there's a true all inclusive in Anguilla, as it pretty much goes against the island's exclusive, uncrowded vibe.
We have a few great choices here for the best places to stay in Anguilla, with everything from luxury villas to more budget hotel options.
The only problem you'll have is deciding where to stay in Anguilla!
Budget
While budget accommodations in Anguilla are still far from rock-bottom prices, you can still score a great stay for around $150 a night per couple.
Blue Waters Apartments
Blue Waters is a family-owned place that gets rave reviews from past guests. As a result, it books out almost a year in advance, so plan early if you want to stay here. Prices are affordable and it's right on the beach.
Cost: Starting at $160 (1 bedroom suite)
Anguilla Great House
Anguilla Great House is a great budget option. Painted in shades of blue and yellow pastels, the rooms are a good size, and some come with a small fridge. There's a definite chill vibe here, and it's a great place to get away from it all. Restaurant food is good, but I found the to-go pastries delicious but on the small side.
Cost: $200 (double).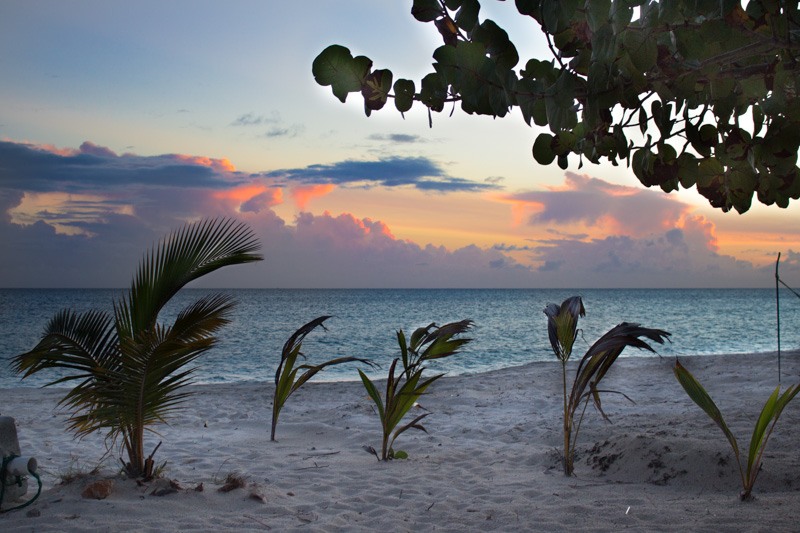 Anacaona Boutique Hotel
I only stayed one night at Anacaona, but loved the two pools and inviting bar and restaurant. Rooms are good value for Anguilla, and the hotel's right on the beach with a large garden.
Cost: $170 and up (double)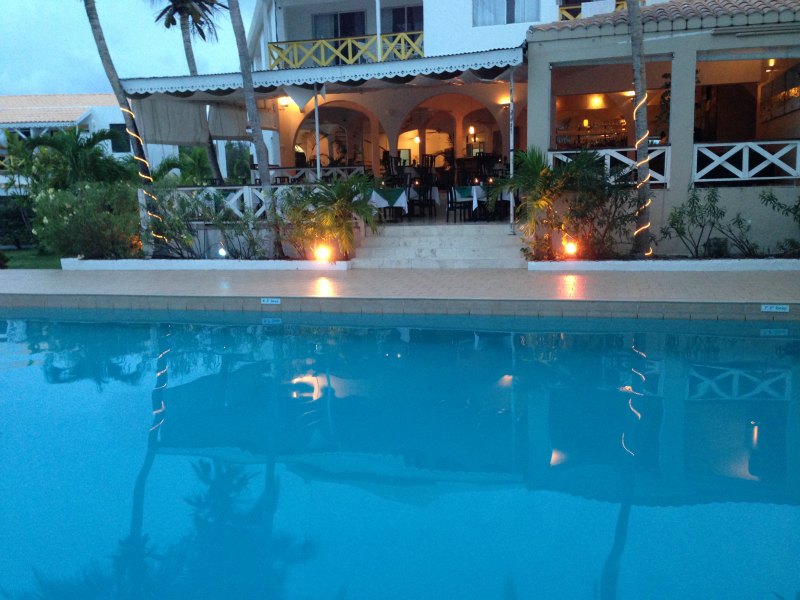 CuisinArt
CuisinArt is well known as one of Anguilla's luxury resorts. It's a great family vibe, with a lovely long pool, with plenty of shallow areas for kids, which leads down to the ocean.
Cost: $700 and up (double)
Viceroy
The Viceroy is Anguilla's luxury hotel. There's a funky dark beach theme, with quirky art scattered around the property. The infinity pool has a stunning view of the turquoise Caribbean Sea, and rooms are expansive, spotless, and stylish.
Cost: $500
Getting to Anguilla
Anguilla is located in the Eastern Caribbean, and is neighbors to St. Maarten. Most people fly into Stt. Maarten and take a 20 minute ferry that runs daily from St. Maarten to Anguilla.
Want to learn more?
You can find official the Anguilla tourist board on their website, Instagram, Facebook and Twitter.