This is a sponsored post written by me on behalf of Marriott Rewards Credit Card from Chase. All opinions are 100% mine.
Things change. Travel changes.
Back when we first started traveling together in 2002, iPhones were just a germ of an idea in Steve Job's brain. They didn't debut until 2007 and most smart phones came well after that.
We didn't even carry a cell phone; instead, we called home at special booths in Internet cafes.
Since Kindles and Kobos weren't even invented, we lugged around paper copies of guidebooks and books to read, making our backpacks pretty full and very heavy.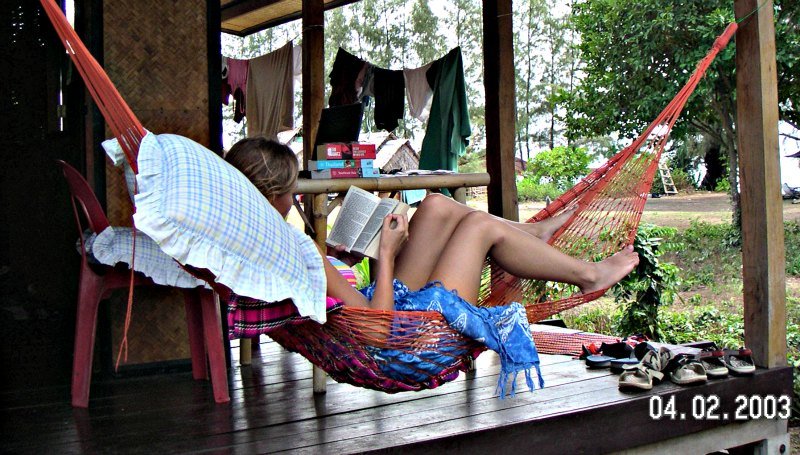 We carried a then top-of-the line 3.0 megapixel Minolta digital camera in a time when most people still used film. We could only take a handful of pictures at a time because our memory card was so small and they were super expensive to buy.
The Internet was far too slow and most remote areas were still on dial-up. We couldn't upload our digital photo backups to the cloud (not that anyone had even heard of the cloud back then), so we would stop in Internet cafes and physically burn the images onto a CD for safekeeping. USB thumbdrives weren't even invented back then and external hard drives were still in their infancy.
To get on a plane, we needed a physical, paper ticket, printed specially by our travel agent. On our first trip together, we had to carry our return tickets through New Zealand, Australia, Malaysia and Taiwan for 365 days in advance of our return. If we lost the tickets, it would have meant time-intensive trips to a central Malaysia Airlines office in each country.
While a few progressive hotels were booking online, we made a good chunk of our hotel bookings by phone or by walking into a hostel directly. Even companies that did allow online booking, asked you to submit all your information and wait for them to get back to you if they had a room.
Today, we take many of our photos for this blog on our smart phone and upload them to the cloud instantly. We book everything from our hotels and planes to our taxis online, and never need to print a ticket or hotel reservation.
Now, 2002 was only 13 years ago.
It makes you wonder how travel is going to change in another few years.
A new survey from Marriott Rewards Credit Card from Chase asked Americans to imagine the near future and predict what the travel experience could look like by the year 2030. The top predictions have a few interesting surprises, from unique travel experiences to putting the real in virtual reality.
So what do people think travel is going to look like by 2030?
It turns out that 35% of people surveyed think it'll be possible to travel to space. Interestingly, 40% of men vs 29% of women thought space travel would be a reality. With the development of private spaceflights by companies like Virgin Galactic and XCOR Aerospace, they may be onto something.
Even more people surveyed (58%) think that passports may be available for digital devices. 50% of people think that human face recognition technology could replace passports altogether.
Over half (58%) think that smart watches and other mobile payment options will rise in popularity for travelers.
We love that 40% of people think underwater hotels would be a big thing. I mean, how cool would that be to look out your window directly into the ocean?
Our thoughts on the future of travel
We have a few thoughts about the future of travel as well.
Digital will definitely rule and paper will be all but obsolete. Few people will carry paper books or even have a paper passport any more.
Our smart phones, smart watches  or even an implantable chip will be ultra powerful and contain every piece of information about us from our passports to our medical records. This will also become our way of paying for anything with digital payments becoming the standard payment platform worldwide.
One-click trips will also become a reality, and you'll be able to purchase them directly from companies like Amazon just like you buy electronics or books today. You'll also never need to input all of your credentials anywhere again, because there will be a global database with all your information, and all it will take is a swipe of your finger or tap of your smartphone to verify your identity.
We're not sure hover cars or transatlantic trains will be the norm by then, but everyone will be driving electric or super-efficient hybrid vehicles with batteries lasting for days before needing to be charged. You'll also see an explosion of electric bikes and electric personal transportation devices like monowheels and scooters everywhere. If you don't own one, you'll be able to easily rent everything from cars to bikes via quick kiosks all around major cities.
Have any predictions about the future of travel? If so we'd love to hear about it.
This post was sponsored by Marriott Rewards Credit Card from Chase, which lets you earn Marriott Rewards points on all purchases, accumulate free night stays and more to help you get the most out of your travel.
Like earning points to put towards your next trip? Visit Marriott Rewards Credit Card to learn more.