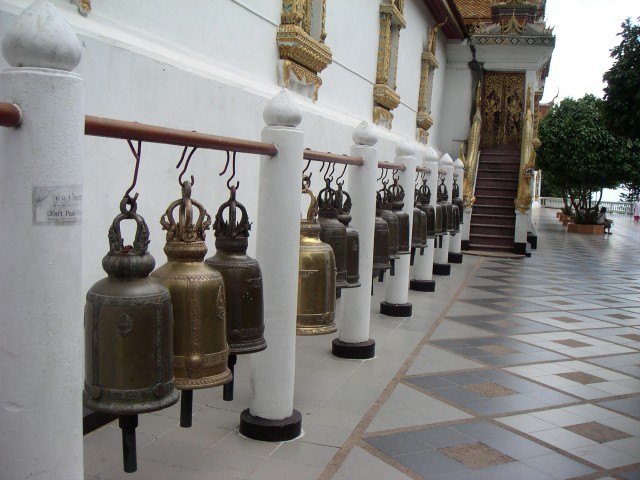 Chiang Mai's Buddhist temples are some of the oldest in Thailand. Open to the public, they're great examples of Thai architecture, and a wonderful way to see true Thai culture and history.
Doi Suthep can be seen from almost anywhere in Chiang Mai, clinging to the mountainside close to the summit of Doi Suthep hill. Doi Suthep temple was built under King Geu Na in the late 14th century.
It's believed that striking the bells will bring good luck.
Legend holds that the temple's site was chosen by a sacred white elephant charging through the forest. King Geu Na ordered the temple built where the elephant trumpeted its last breath, and fell to the ground near the summit of Doi Suthep hill.
The walk to the top of the temple is about 306 steps up a steep serpent (Naga) staircase, or by cable car for about $1. The outside plaza holds several buildings and a great lookout point over Chiang Mai. The temple is a 15 km drive from Chiang Mai.
Thai Temple Etiquette: While not required at most Thai temples, it's considered respectful to cover your arms and legs. Pointing is considered rude, and it's polite to remove your shoes and hat. Sit with your feet underneath your body, facing the door, don't point them to the front of the temple. Remember, you're in a place that Thais consider sacred and holy, so be respectful.
Travel Tip: To get to Chiang Mai, in northern Thailand, take the night train from Bangkok to Chiang Mai. We took a private sleeper car for about $20/person, with a private toilet. Just don't drop anything down the loo by accident. Ours had no bottom, and opened directly onto the tracks rushing below.