Often, it's the little, quirky things that seem to capture the spirit of wherever we travel, so today we thought we'd let you have a peek into the unique street tile art of Lisbon, Portugal.
The tiles, appropriately called Portuguese pavement or calcada portuguesa, come in many mosaic patterns. Even today they're painstakingly laid down by hand, following a process created hundreds of years ago. We found these tiles everywhere on the streets of central Lisbon in an incredible variety of artistic patterns.
They're one of our favorite unusual things to see and do in Lisbon.
The origin of the Portuguese street tile is a bit hard to track down, though they first appeared in Lisbon near the Castelo de São Jorge. They became so popular that their use spread quickly throughout the city. Today, the tiles are found all over Portugal, and even in former Portuguese colonies, including Macau, Rio de Janeiro and São Paulo, Brazil.
Sadly, these tiled streets and sidewalks are in danger of disappearing. Not only can they can be incredibly slippery, there are fewer and fewer tradespeople interested in learning the backbreaking art of maintaining these sidewalks.
Luckily for all of us, they are still popular in certain historical areas as well as numerous high end locations in Portugal and abroad.
About Rue Augusta
The photo above was taken on Rue Augusta, in the busiest part of Lisbon. Rue Augusta is a pedestrian only street filled with street cafes, flower stalls, bakeries and specialty shops selling everything from shoes and hats to Portuguese ginjinha liquor. Many old buildings, from the reconstruction of Lisbon by Marquês do Pombal after the 1755 earthquake, are still standing.
More Info
Check out our Pinterest board on Portuguese street tiles, where we've curated some of the best photos of these street tiles from around the world.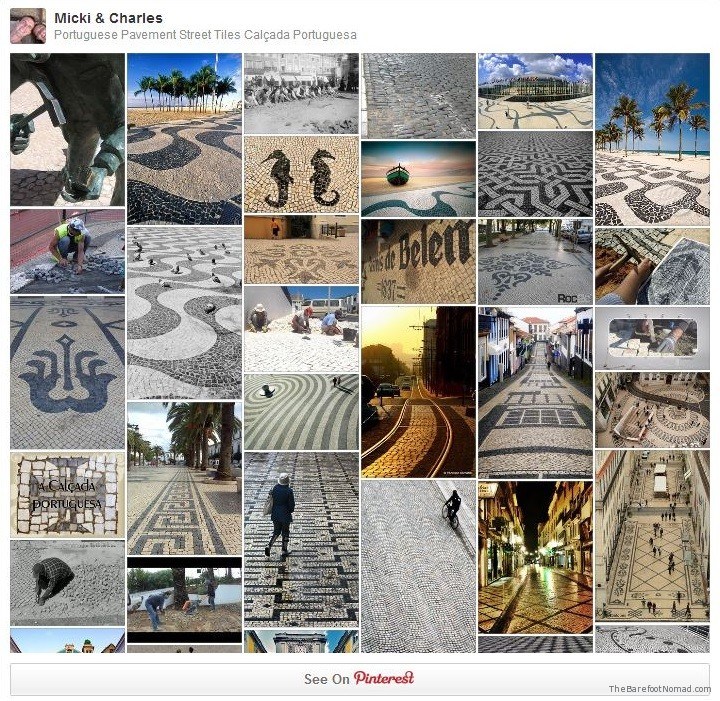 If you're interested in how the pavement is made, the Portuguese Pavements Handbook (Manual da Calçada Portuguesa) has a detailed look at calçada portuguesa, covering everything from origin to detailed building specifications.
Creating the calçada portuguesa is backbreaking work, and even today the tiles are laid in much the same way they were hundreds of years ago. This video gives some idea of the backbreaking work required to create and maintain Portuguese street pavement.