Looking for the best castles in the world?
We've visited dozens of castles on our trips to six continents (we haven't made it to Antarctica yet, but there are no castles there, anyway), and we're always amazed by the sheer size and beauty of the castles we've visited.
Of course, the best or most beautiful castle in the world really depends on your point of view. In this post, we've included some of our favorite castles that visually made us say "wow", and that have a cool history or story behind them.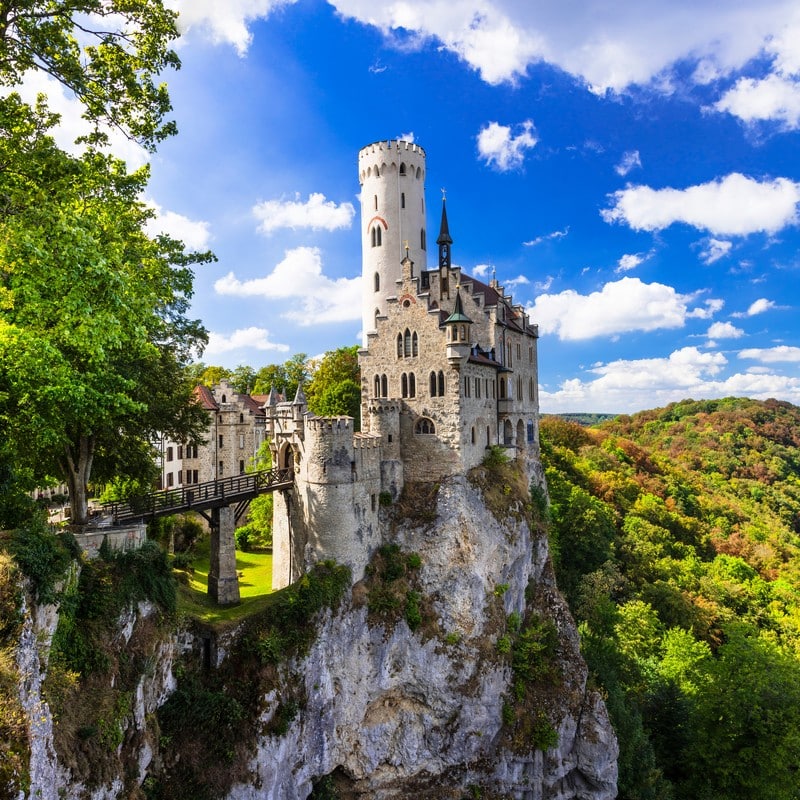 Our best castles in the world list includes the biggest castles in the world (either the Prague Castle or the Windsor Castle depending on who you're talking to), what we think may be one of the oldest castles in the world (Goreme Castle, Turkey), as well as cool and unusual castles built into the surrounding rock like the mountainside cave covering Predjamski Castle or castles built on Tibetan mountaintops (Potala Palace) and so forth. Some of these are among the most famous castles in the world as well as some you probably have never heard of before.
What got them on this list is that in their own way, each one is an amazing castle in its own right.
So, before we start, what exactly defines a castle? Can a monastery or church be a castle? Turns out, the definition of a castle is pretty simple. The Merriam Webster dictionary says a castle is "a large fortified building or set of buildings", "a massive or imposing house" or "a retreat safe against intrusion or invasion".
The Best Castles in the World
Here they are: our top 20 most beautiful castles in the world, with beautiful castle photos to prove it.
Schloss Schwerin Castle, Germany
The Schloss Schwerin Castle in Germany is about as close to a fairy tale castle that you're ever likely to find. It's surrounded by lakes and forest, and features stunning towers that reach into the sky that are topped with golden domes and pinnacles.
Schwerin Castle was built between 1847 and 1857 by Grand Duke Friedrich Franz II of Mecklenburg-Schwerin. It's said there has been a building on the site since around 1160. You can visit this castle at the Schwerin Museum, Germany.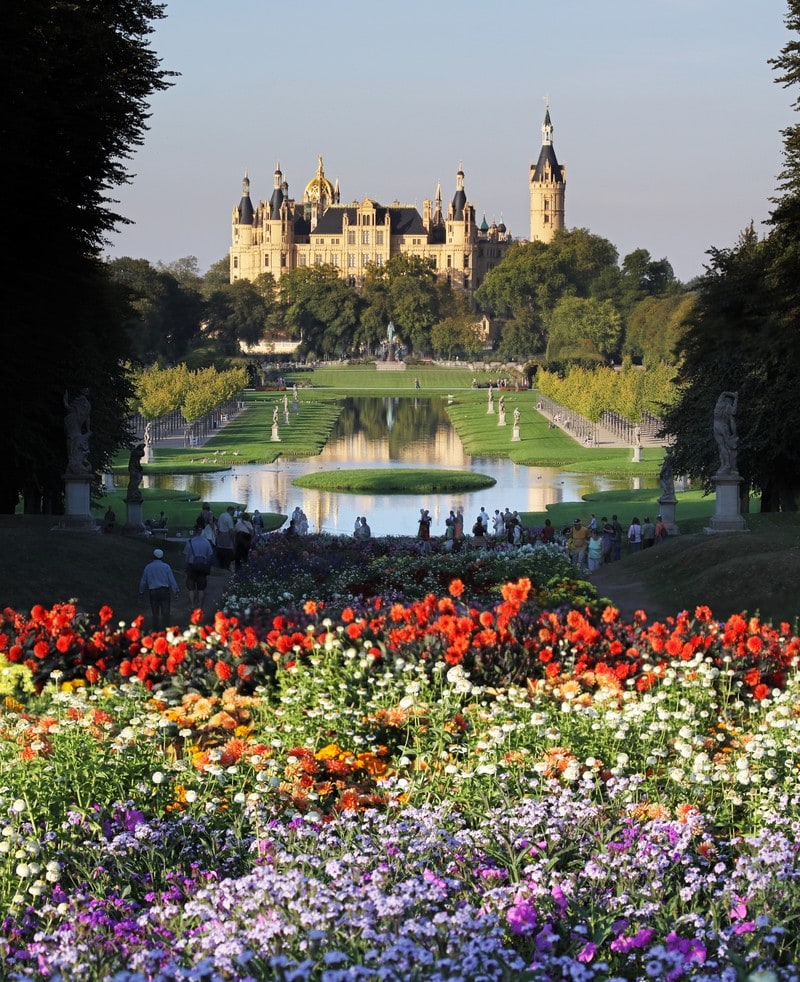 Blarney Castle, Ireland
The medieval Blarney Castle is near Cork, Ireland, and it dates from way back in 1446. It's one of Ireland's most famous attractions, and brings in thousands of visitors who want to climb to the top and kiss its famous Blarney Stone.
While there's the castle itself to visit, there's also over 60 acres of gardens, waterways, and grounds to explore.
There's an admission fee to visit, but it can be well worth the cost if you take the time to walk around the ample grounds and check out the castle's interior.
Osaka Castle, Japan
Osaka Castle is beautiful in and of itself, but it really comes to life during cherry blossom season, when the blooms turn the landscape of Osaka Castle Park gorgeous shades of pink.
The castle is one of Japan's most well known attractions, and was built in 1583 by feudal lord Hideyoshi Toyotomi, whose love of gold is seen in the gold embellished exterior of the castle.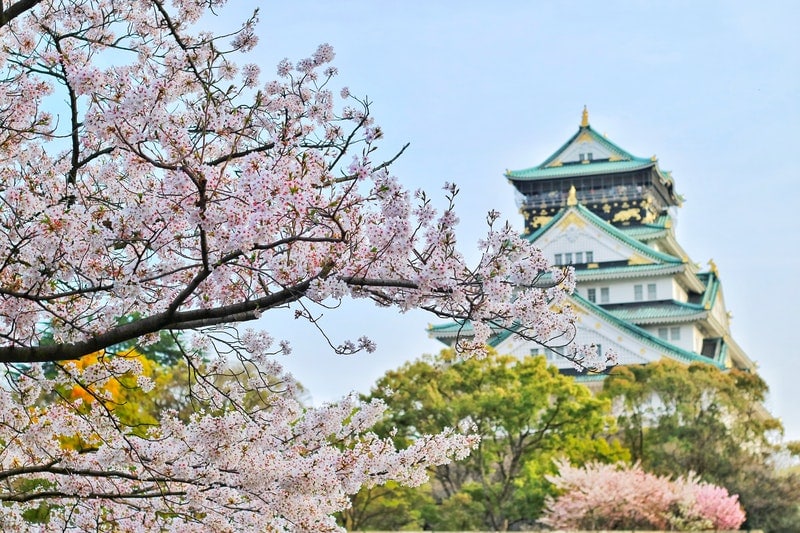 Uchisar Castle, Goreme, Turkey
We caught our first peek at this ancient castle in Turkey on a balloon ride over Cappadocia. (See the video here).
The castle is made out of solid rock, with rooms and stairways hollowed out of the rock itself. I couldn't find any confirmed information on the castle's age, but UNESCO says "It is believed that the first signs of monastic activity in Cappadocia date back to the 4th century at which time small anchorite communities, acting on the teachings of Basileios the Great, Bishop of Kayseri, began inhabiting cells hewn in the rock."
Today, Uchisar Castle is largely a crumbling ruin, and visitors are banned from visiting due to the risk of collapse. Most of the rooms on the north side of the castle are now used as pigeon houses.

Neuschwanstein Castle, Germany
Neuschwanstein Castle looks like it was plucked straight from your favorite fairy tale, and it's easily one of the most famous castles around the world, with up 6,000 people visiting a day.
It's located in Bavaria, Germany, and was built for King Ludwig II. The name means "new swan stone", and was named after Wagner's the Swan Knight.
There are only 14 rooms currently finished inside the castle, and they're all on view for visitors.
Bonus Note: Neuschwanstein's white limestone facade and blue turrets are rumored to the inspiration for the castle in Disney's Cinderella.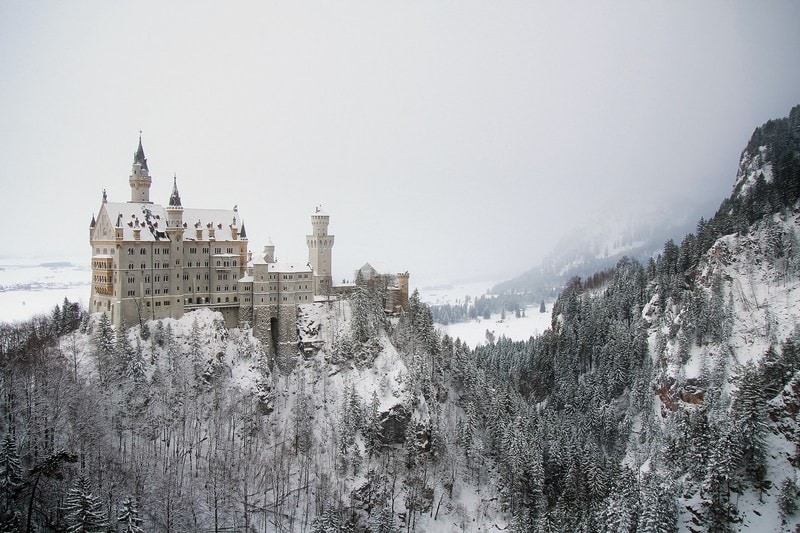 Lichtenstein Castle, Germany
Lichtenstein Castle (Schloss Lichtenstein in German) is privately owned, and operates as a tourist attraction today. It's located in the Swabian Jura of southern Germany, an hour's drive south of Stuttgart.
The Lichtenstein Castle is popular with German tourists, but fewer international tourists visit these days. The current castle was built between 1840 and 1842, however the original castle on the site was built back around 1200.
In terms of size, Lichtenstein is a relatively small castle, however, with stunning views of the Echaz Valley and Swabian Alps it more than makes up for that with its beautiful scenery.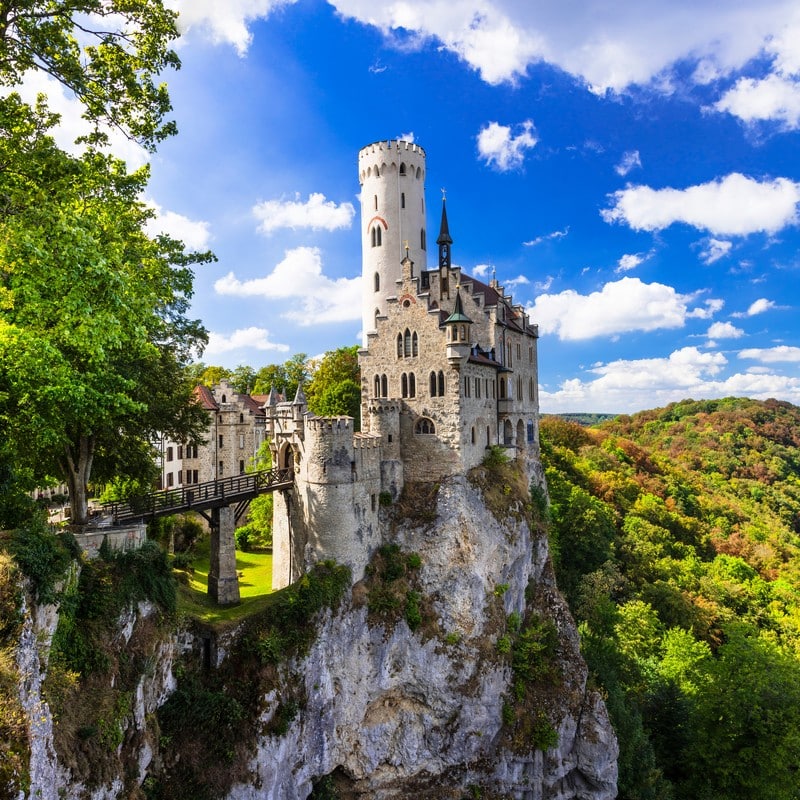 Pena Palace, Portugal
We visited the Pena Palace on a cool spring day a few years ago, and it absolutely wowed us.
You'll find Pena Palace (Palácio da Pena in Portuguese) just outside of Lisbon, standing high above the municipality of Sintra, Portugal.
It's a fine example of 19th century Romanticism style of architecture. It was built by King consort Ferdinand II in 1847, and purchased by the Portuguese State in 1889. Today, it's a museum and tourist attraction, and we'd say it's well worth a visit.
Tip! Don't forget to check out the expansive grounds when you visit. It makes a perfect place for a picnic!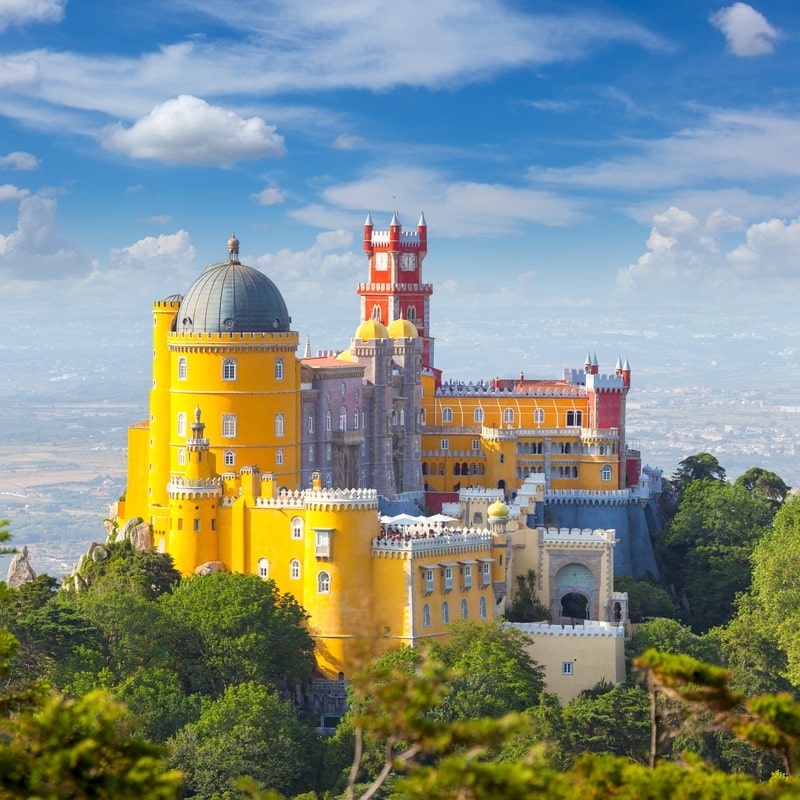 Prague Castle, Czech Republic
The Prague Castle is thought to be the largest ancient castle in the world, at about 70,000 square meters (750,000 square feet).
The castle has a long history, dating back to the 9th century, and it has been used by kings of Bohemia, Holy Roman emperors, and presidents of Czechoslovakia. Today, the castle is the official office of the President of the Czech Republic.
Bonus tip! Don't expect to be alone when you visit. With 1.8 million visitors every year you'll have plenty of company.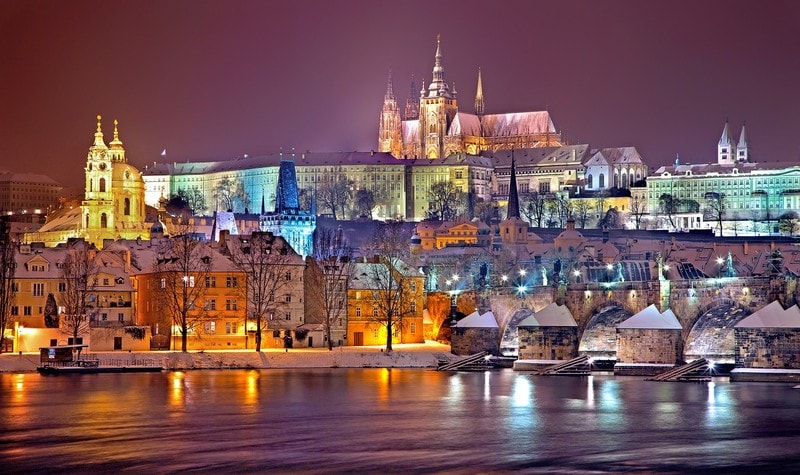 Mont Saint Michel, France
The Mont Saint Michel is one France's most stunning sights. Mont Saint Michel is a medieval monastery that's perched high on top of a small island.
The island is located about a kilometer off the coast, and dates back to 709.
Today, Mont Saint Michel is one of France's most iconic tourist attractions.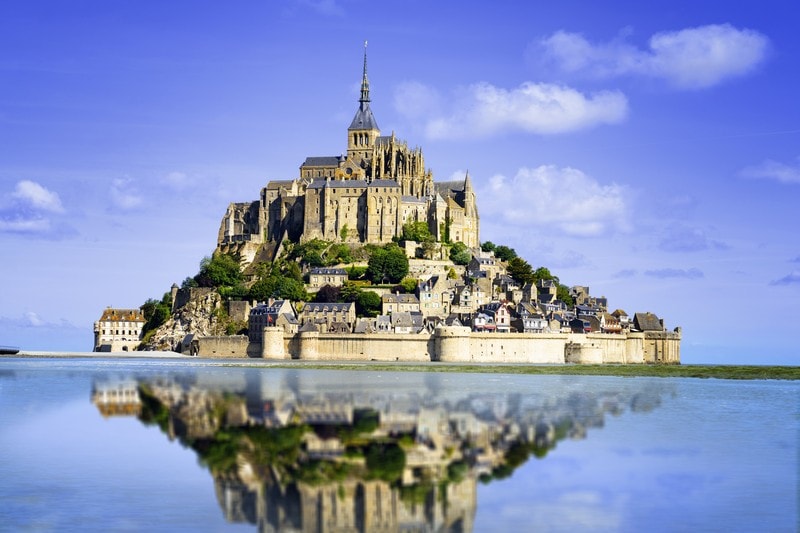 Matsumoto Castle, Japan
Matsumoto Castle is an easy day trip from Tokyo. A National Treasure of Japan, and the current structure dates back to 1594.
The Matsumoto Castle is also known as the crow castle because of its black exterior.
It's a beautiful place, and an especially good choice for visiting Japan with kids.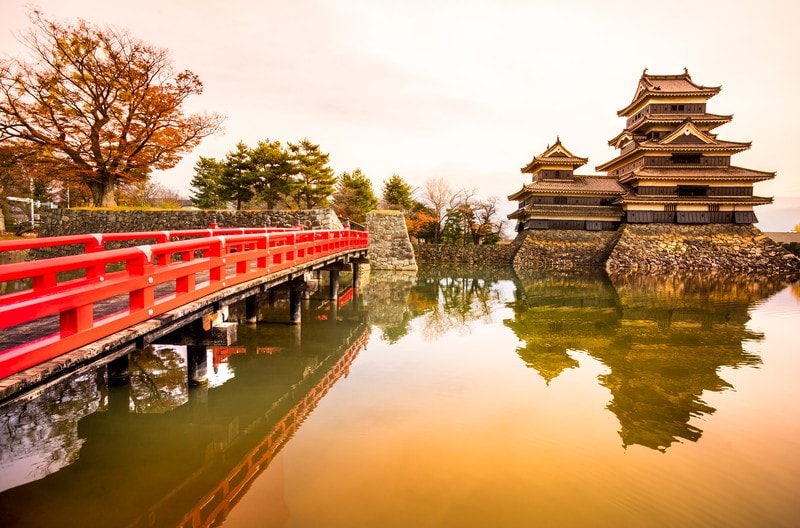 Eilean Donan Castle, Scotland
The 13th century Eilean Donan is one of the most iconic and visited castles in the Highlands of Scotland. It's situated on an island at the point where three great sea lochs meet, making for some stunning views.
Want to stay on the grounds at the Eilean Donan? It's possible to stay on site at the Eilean Donan Cottage only a stones throw from the ancient castle.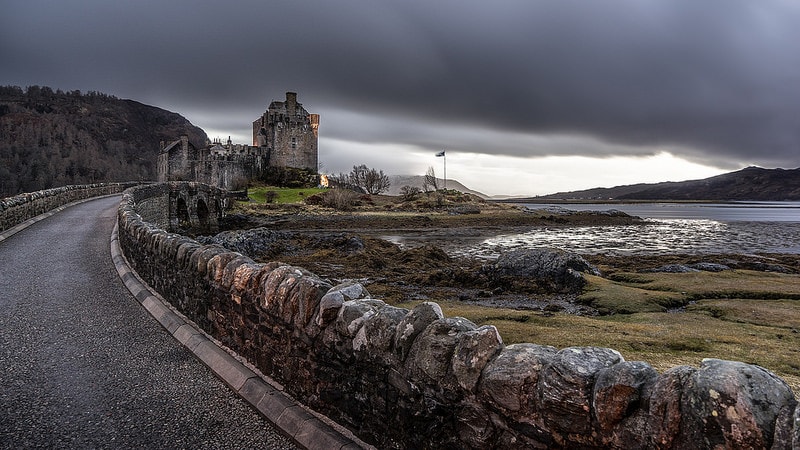 Egeskov Castle, Denmark
Egeskov Castle opened in 1554, and it is Europe's best preserved Renaissance water castle. It's located near Kværndrup, in the south of the island of Funen, Denmark.
There's a lot to enjoy here, from touring the castle and grounds, to enjoying exhibitions and events involving lots of amazing local food and drinks.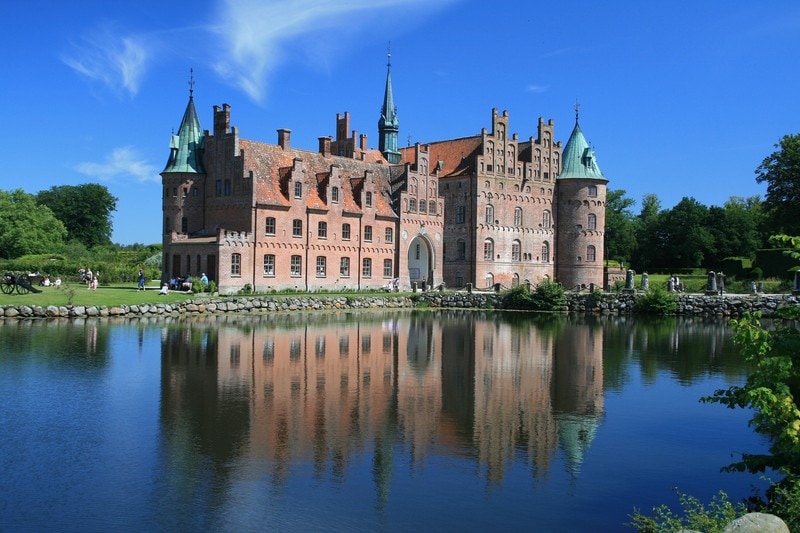 Windsor Castle, England
Windsor Castle is unique in that it's a currently active royal residence. In fact, it's the oldest and largest inhabited castle in the world. The original castle was built in the 11th century, and it's still possible to visit. If you're lucky, you may even catch the Queen in residence!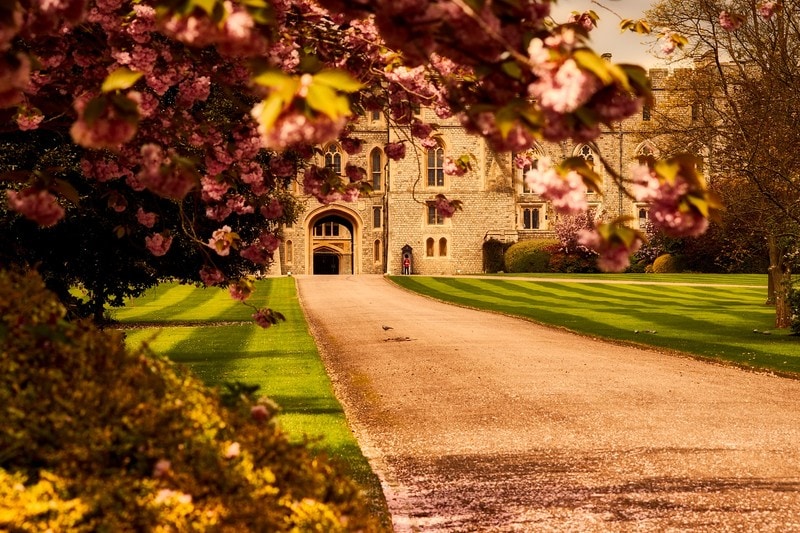 Duart Castle, Scotland
Duart Castle (Caisteal Dhubhairt in Scottish Gaelic) is a castle perched on a craggy cliff on the Isle of Mull, off the west coast of Scotland. The castle dates back to the 13th century.
It was brought back from ruin in 1911, and to this day, it's still privately owned by the MacLean clan.
Swallow's Nest, Ukraine
Swallow's Nest is a small castle perched precariously over the Crimean Sea.
It overlooks the spa town of Gaspra. While it looks like a castle architecturally, it's not a castle in the truest form, because it wasn't built to protect its occupants.
A large earthquake in 1927 closed the castle for close to 40 years because of damage to the underlying rock. Today, it houses an Italian restaurant.

Peleș Castle, Romania
Peleș Castle is a Neo-Renaissance castle in Romania's Carpathian Mountains. It was built between 1873 and 1914 for King Carol I.
It was originally used as a summer residence, and today it operates as a museum. Its extravagant looks led to it being featured in the 2009 movie The Brothers Bloom as well as many TV movies.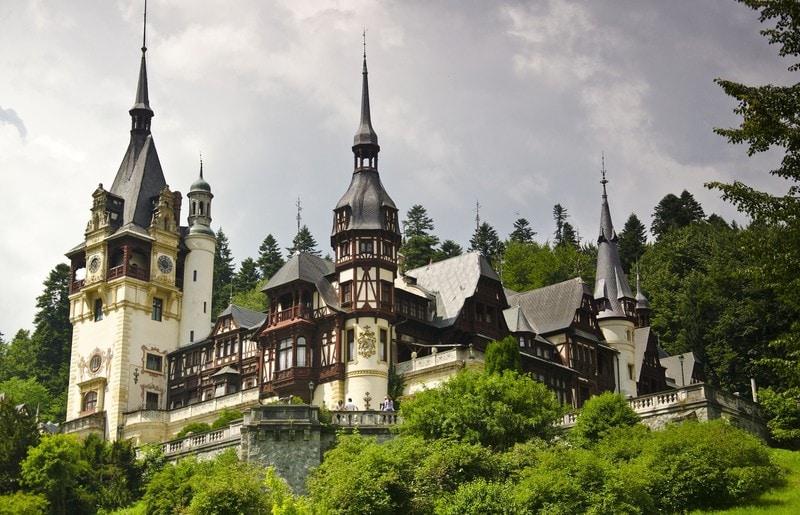 Potala Palace, Tibet
Admittedly, Tibet isn't the first place you think of when trying to picture a castle.
That said, the Potala Palace has a long history, and was the residence of the Dalai Lama until the 14th Dalai Lama fled to India during the 1959 Tibetan uprising. Today, it's a museum, and on the UNESCO World Heritage List.
It's located in Lhasa, Tibet Autonomous Region, China.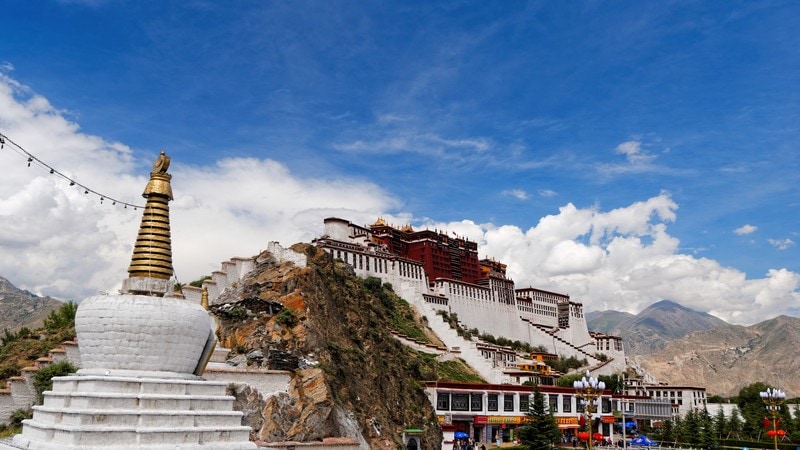 Predjamski Castle, Slovenia
One of the world's most dramatic castles, Predjama Castle is a Renaissance castle nestled within a cave mouth in south-central Slovenia. It's in the village of Predjama, and was built around the 12th century.
In the summer, you can visit the caves underneath the castle.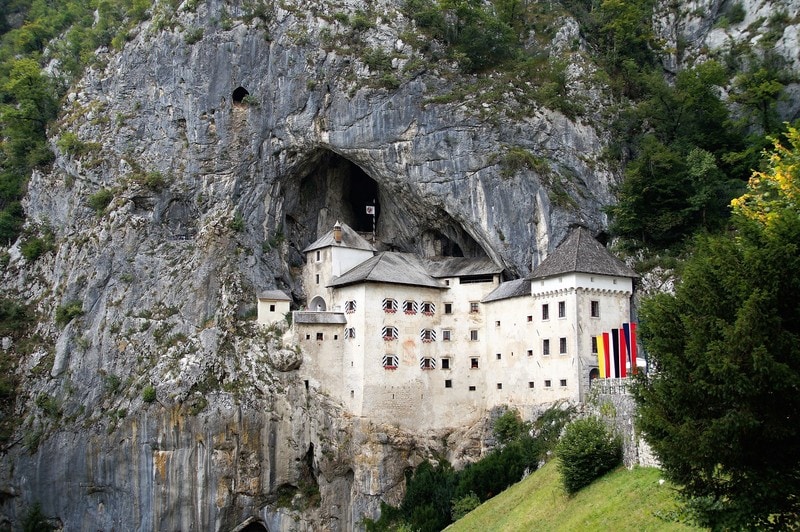 Dundas Castle or Craig-E-Clare, New York
Dundas Castle is the lone castle from the USA in this list. It was built between 1915 and 1924, and is located in Roscoe, New York, and was modeled after Dundas Castle. It is also known as Craig-E-Clare.
Sadly, it's currently abandoned, and has a long history of misfortune. The original owner, Ralph Wurts-Dundas, died in 1922 as the castle was being finished. His wife Josephine Wurts-Dundas, was committed to a sanitarium soon after. It was inherited by their daughter, who was swindled out of a great deal of money by the caretakers of the castle. She was admitted to a mental institution herself.
After that, the Dundas Castle went through various owners, including a time as a children's summer camp. It was bought by a Masonic chapter as a retreat, but it was abandoned by the Masons (who still own the building).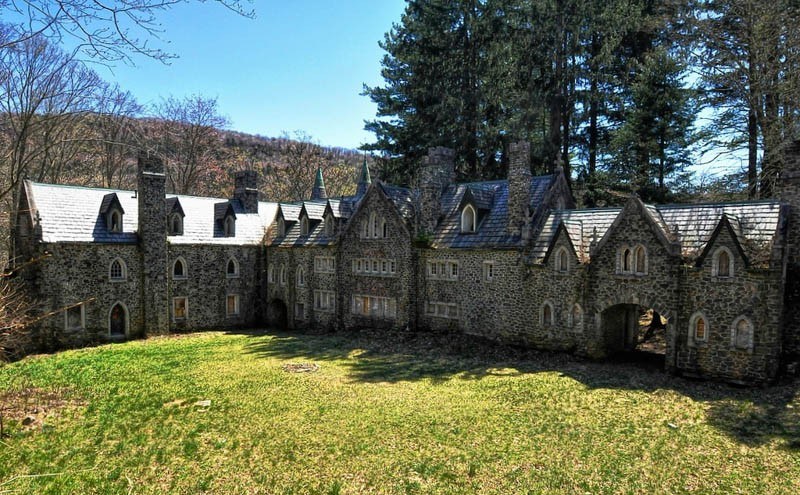 Arolsen Castle, Germany
Arolsen Castle was built in the early 1700s, in Bad Arolsen, Hesse, Germany.
The baroque-style castle is still inhabited by Wittekind, Prince of Waldeck and Pyrmont and his family.
The castle is now a museum with daily tours.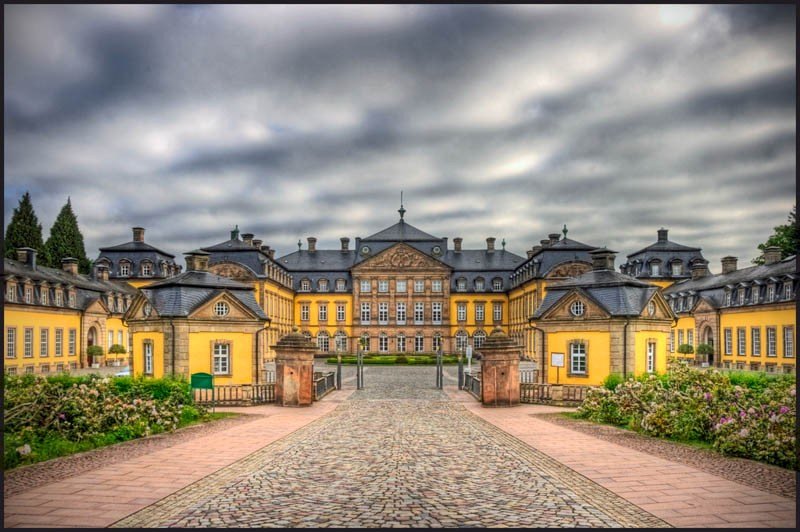 Bride on the Steps of Cathedral Se, Porto, Portugal
While the Cathedral Se in Porto, Portugal doesn't technically count as a castle (as it wasn't built to protect its occupants), it's so beautiful, and one of our favorite buildings in Portugal, that we've included it in this list.
Cathedral Se is located in the historic city center of Porto, and it's still a working church, with mass celebrated at 11 am every day.
If you're lucky, you'll even see a wedding in progress, like the day we did!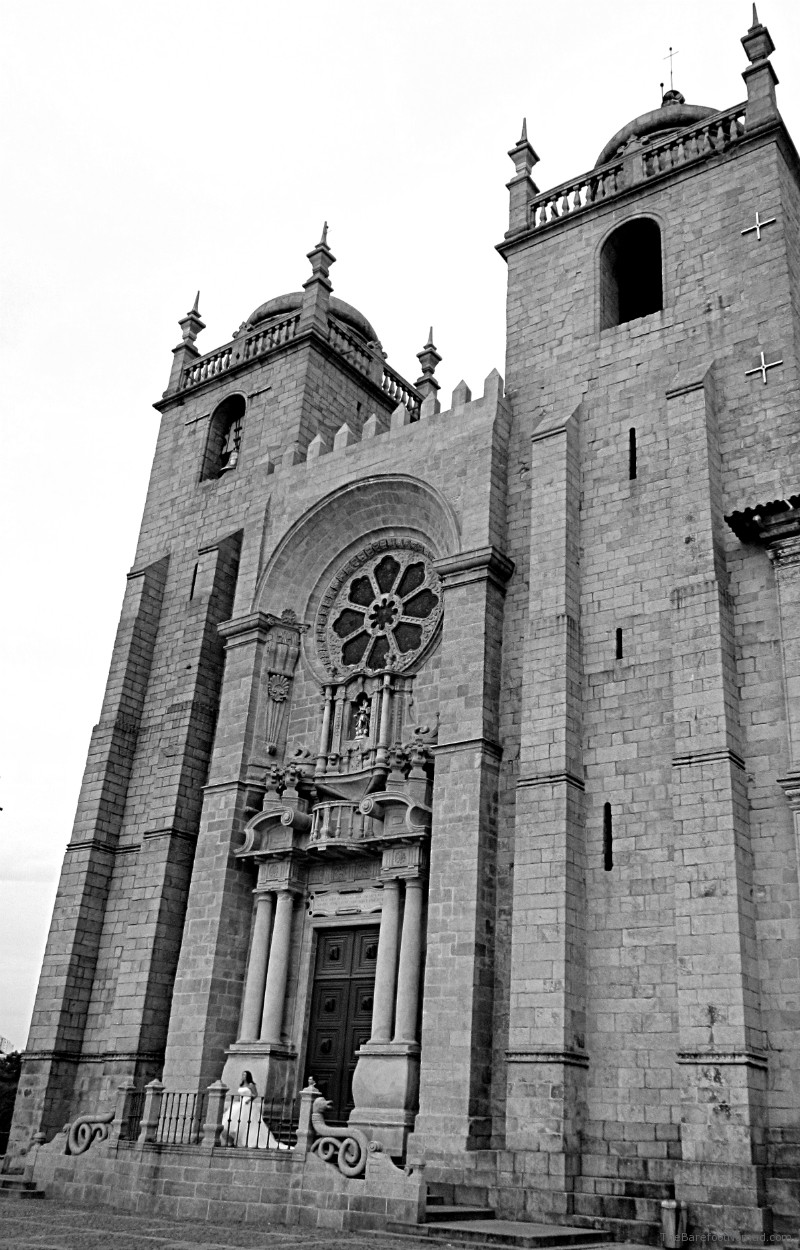 Tip! Are you lucky enough to have visited one of these amazing castles? We're always looking for ways to remember our travels. We realized long ago that if we took a souvenir from every place we've visited around the globe we'd now have a house full of fridge magnets and t-shirts!

Instead, we love to preserve our travel memories in other ways. There are a lot of amazing things you can do with your travel pics, including creating custom, photo themed smartphone covers, HD metal prints, and framed collages.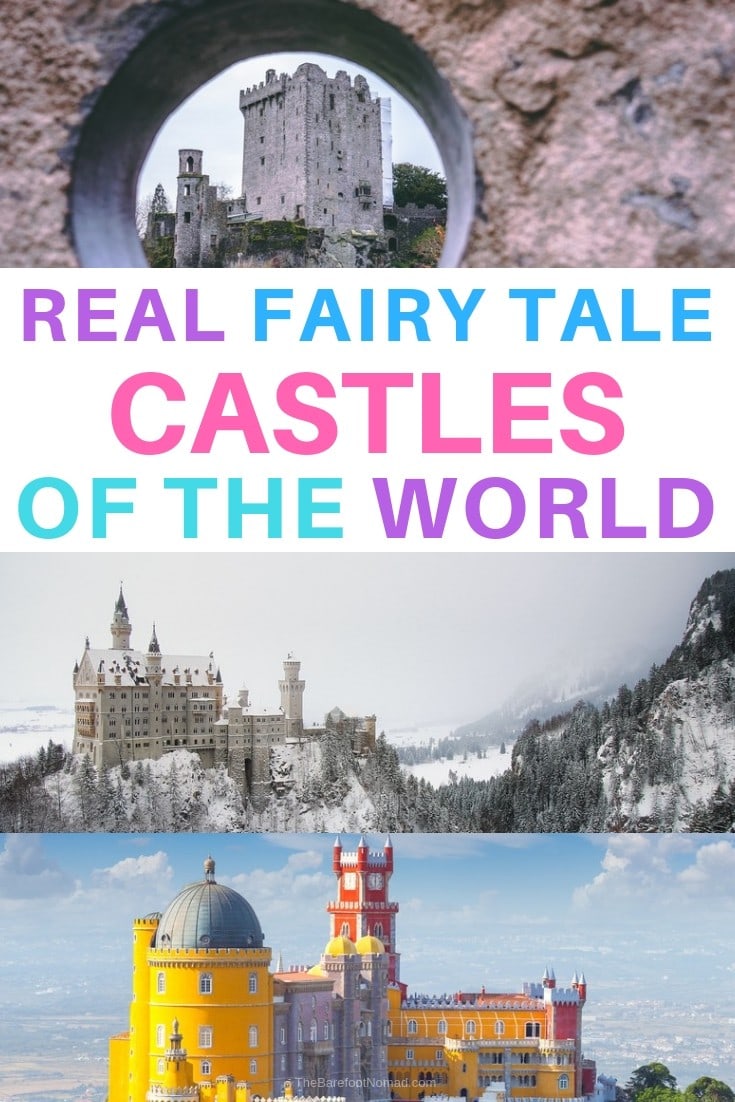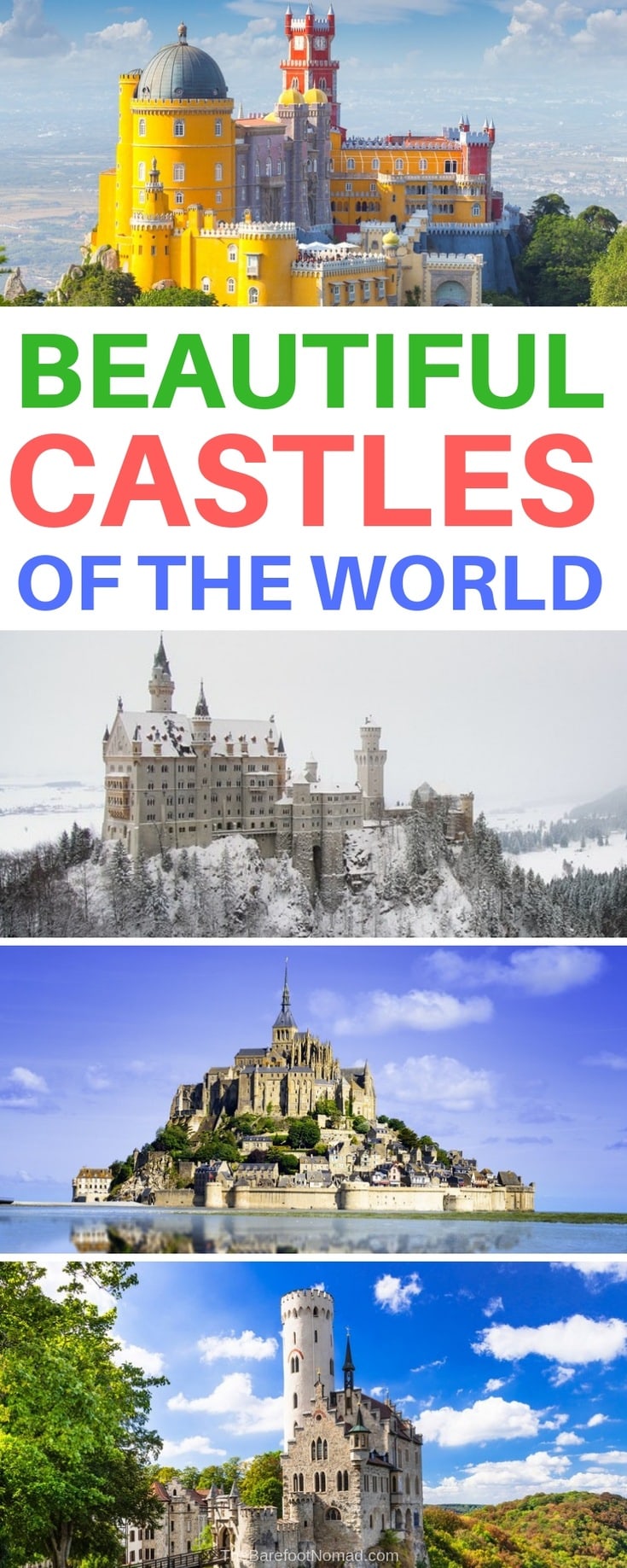 Would you visit any of these castles? Let us know in the comments.