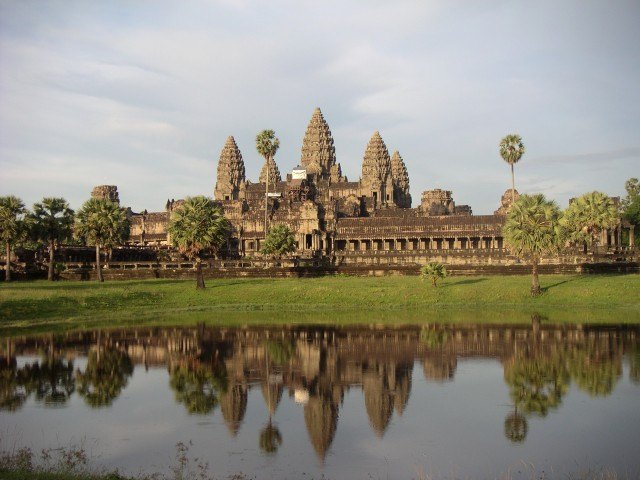 The Angkor Wat Temple in the Siem Reap Province of Cambodia is a gorgeous example of Khmer architecture. It was built in the 12th century and is the only temple in the area that has seen consistent use since it was built. It is a large complex spanning over 500 acres.
It has become a major tourist destination in Southeast Asia and is the number one tourist destination in Cambodia. It's located around 6 kilometers from the town of Siem Reap and passes are required to enter the Angkor area. They are on sale at the front gate for 1-day ($20), 3-day ($40), or 7-day ($60) intervals. The 3-day pass is valid for any 3 days within a week, while the 7-day pass is valid for any 7 days within a month.
When we were there we hired a tuk tuk driver in Siem Reap (imagine a scooter pulling a modified 2 seater cart) for around $10 a day that drove us to Angkor Wat and the surrounding areas. There are tons of other temples and ruins scattered around the countryside in that area.  There are also a lot of scams in the area so be mindful of overly good deals.
Here's a travel tip: If you're brave enough to cross the Thailand/Cambodia border on your own, you can get a taxi to take you to Siem Reap. The cost was only a few dollars more than the bus but we passed a few slow buses on our trip. The taxi can do the trip in under a few hours compared to the bus which can take as many as five. When we were there, the road was horrendous however I've heard that it's a lot better now. There a lot of touts at the border however the best way to deal with them is to completely ignore them.