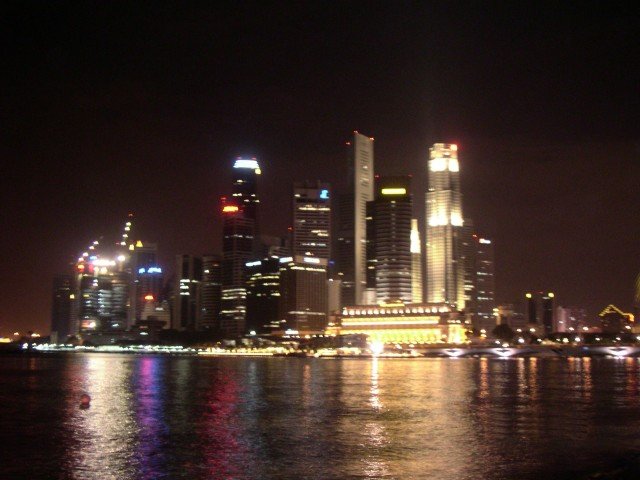 Marina Bay, in the sovereign city-state of Singapore, is a vibrant section of the city that includes the diversified Central Area or CBD (Central Business District). It is a 24/7 lit up wonderland that includes 3 1/2 kms of paths along the Waterfront Promenade, numerous hotels, commercial shops, high end residential buildings and lots of entertainment options.
Home to the famous Merlion and Marina Centre, this area of the city is well lit up regardless of the hour. The lights and views (especially at night) almost put Las Vegas' neon strip to shame.
Singapore has one of the busiest water ports in the world and the city-state uses water as a backdrop to highlight it's success at every opportunity. Whether you're walking down the Promenade, sipping a Singapore Sling at Raffles Hotel (home of the Singapore Sling) or marvelling at the creative wonder of The Helix Bridge you'll feel safe and comfortable regardless of the hour. This is a part of Singapore that never sleeps.
With the slogan of Explore, Exchange and Entertain, this area of Singapore is continually expanding and is becoming synonymous with Singapore's propulsion into the new millennium.
Travel Tip: Don't spit your gum on the sidewalk or you might go to jail. Seriously. Singapore is one of the harshest countries in the world on criminals. A Rattan Cane is a legally allowed and acceptable form of punishment and is widely used for such acts as robbery, assault and even vandalism.  Some of the things that are prohibited are chewing gum, littering, spitting in public, smoking in public and jaywalking just to name a few. If you're caught doing any of these it could lead to stiff fines. Drug trafficking and even possession is punishable by death in Singapore so it's best to keep your nose clean while in this area of the world.
While it's a good idea to keep to your best behaviour while in Singapore, there are countless things to do and see and the likelihood of having problems is small if you mind your P & Qs. Actually, thanks to those same laws, Singapore is often regarded as one of the safest cities in Asia and walking along Marina Bay is enjoyable at all hours of the night.